2021 UnitedHealthcare US OPEN Recap
2021 UnitedHealthcare US OPEN
October 6-10, 2021
Life Time Target Center, Minneapolis, Minnesota
Well, you blink and it's over! All that's left now are a bunch of fun keepsake photos, maybe a bruise or two (badges of honor, we don't care!), and a whole collection of warm interactions and happy memories to last until next time! Here are some "snapshots" of a most enjoyable time with the Racquetball Family.
STATS
Players: 708 (585 men/123 women)
Divisions Entered: 110 (1 division); 298 (2 divisions); 226 (3 divisions)
PRO DIVISION RESULTS -- LPRT / IRT
Women's Pro Doubles -- Samantha Salas Solis/Paola Longoria (Mexico) def. Alexandra Herrera/Montse Mejia (Mexico), 3-15, 15-11, 11-6
Men's Pro Doubles -- Daniel De La Rosa/Alvaro Beltran (Mexico) def. Alejandro Landa/Samuel Murray (USA/Canada), 15-11, 15-11
Women's Pro Singles -- Paola Longoria (Mexico) def. Maria Jose Vargas (Argentina), 15-3, 15-8
Men's Pro Singles -- Daniel De La Rosa (Mexico) def. Carlos Keller Vargas (Bolivia), 15-13, 11-15, 11-3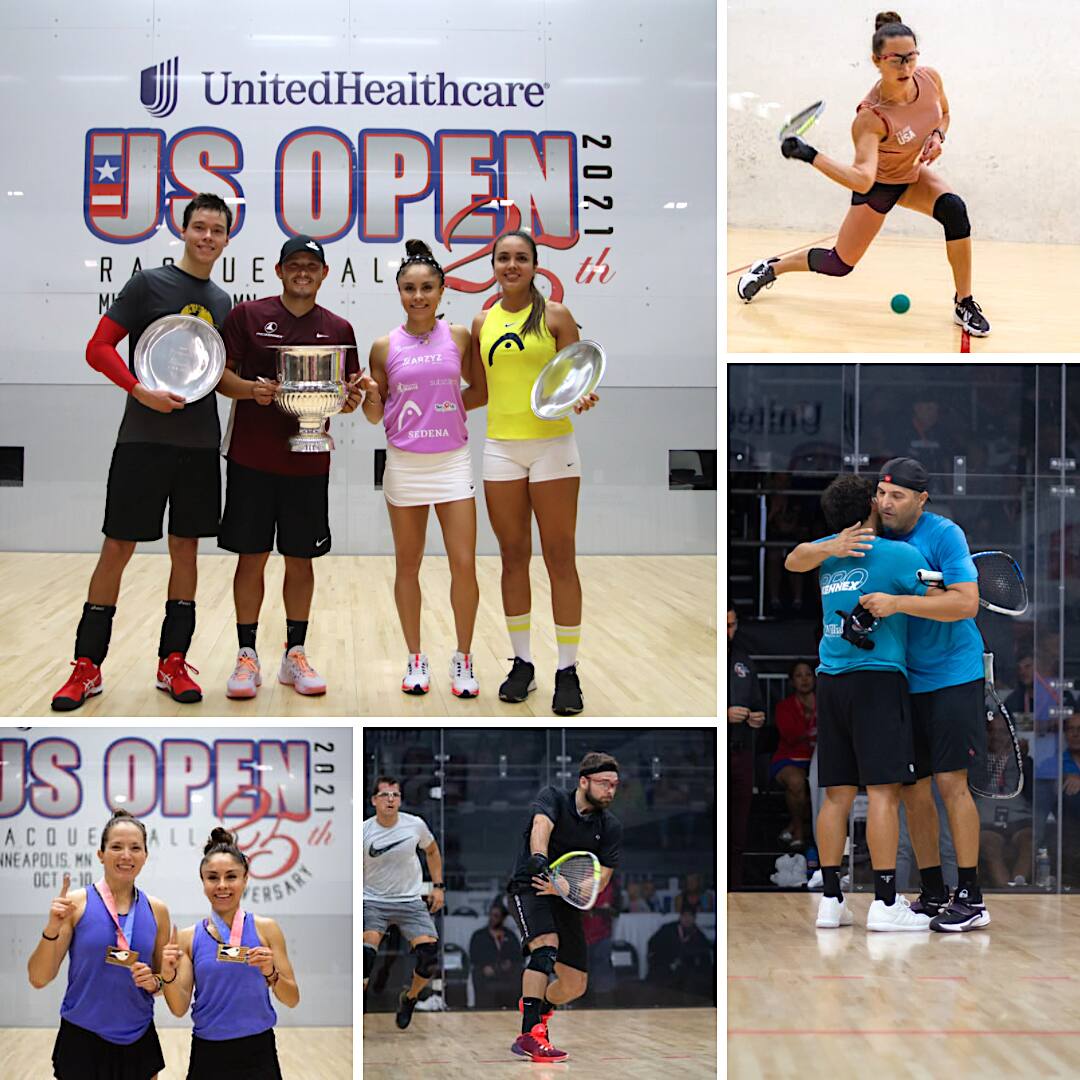 Photos Courtesy of KSphotography
SIGHTS AND SOUNDS
Players Village -- Life Time Target Center
The Players Village and the Stadium Court are the nerve centers of the US OPEN. In the Players Village, manufacturers showcased their latest equipment and connected with players. The tournament and registration desks were there along with athletic trainers and the St. Jude/Rapha International table where many Silent Auction items were on display as well as items for sale made by girls in the Rapha sewing program.
Portable Stadium Racquetball Court
One of the most exciting aspects of the UnitedHealthcare US OPEN Racquetball Championships is the stunning "made-for-TV" portable racquetball court used for all featured matches! The unique construction of the court allows stadium seating for more than 1,300 in addition to courtside luxury Gold Seats for sponsors and VIPs. Dramatic player introductions complete with laser light shows and booming music treated racquetball fans to a total entertainment experience. The crystal clear acrylic walls made you feel like you were in the court with the players.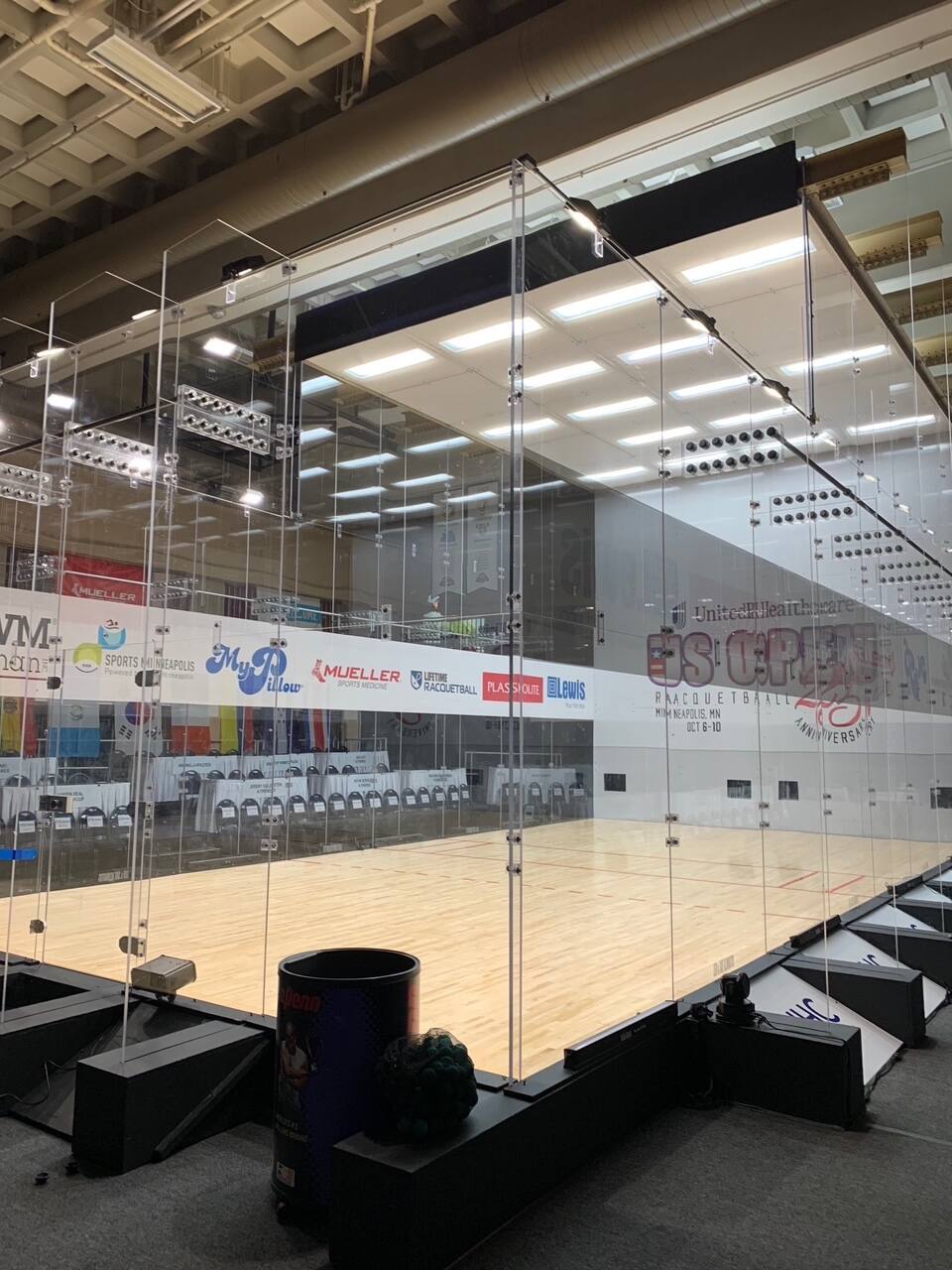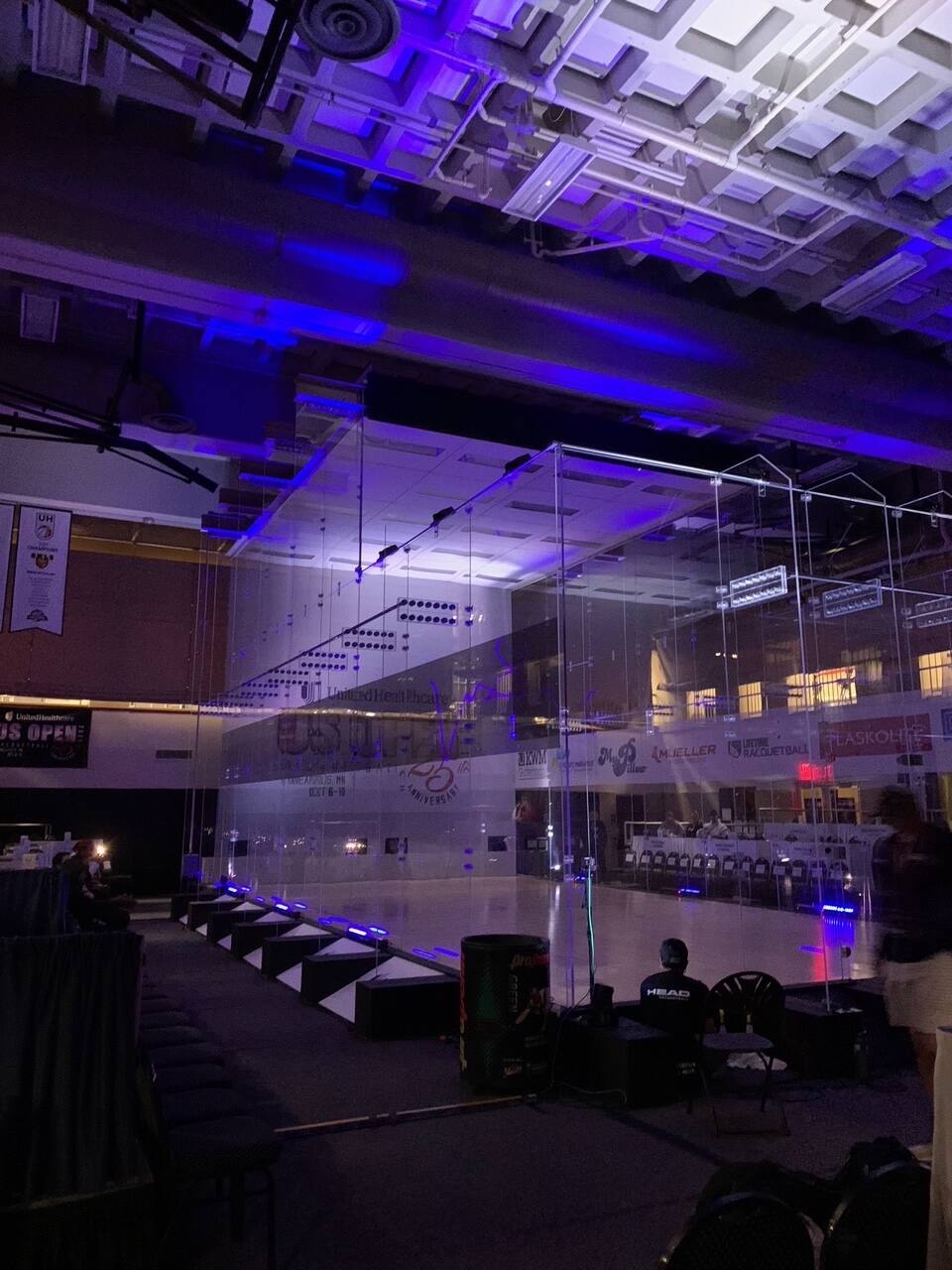 Photos Courtesy of Cheryl Kirk

Legends Pot Luck Doubles
This once-in-a-lifetime special US OPEN event featured 10 racquetball legends who signed up to play doubles...but not knowing who their partners would be! Names were drawn out of a hat to match up partners, then they hit the courts and played a division that culminated in a Saturday 5:00 final. Scheduled to compete were Mike Ray, Mike Guidry, Scott Oliver, Dave Peck, Javier Moreno, Ruben Gonzalez, Todd O'Neil, Cliff Swain, Doug Cohen, Tim Hansen, Chris Crowther, and Eugene Coyle. The results? Crowther/Peck bested Gonzalez/Ray, 11-4 in a tiebreaker!
EVENTS WITHIN THE EVENT
Did you think the UnitedHealthcare US OPEN was just about playing racquetball? Oh, not by a long shot (clever, right?). There was so much more, which illustrates why attending the US OPEN is so compelling. It's the full experience!
Hall of Fame Induction and Awards Breakfast
Hall of Fame Class of 2020 -- Jason Mannino, Hank Marcus, Gregg Peck
Hall of Fame Class of 2021 -- Kelley Beane
Lifetime Achievement Award -- Geoff Peters
Joe Sobek Outstanding Contribution Award -- Mike Coulter
Among many other Hall of Famers (https://www.teamusa.org/usa-racquetball/programs/hall-of-fame), notably present at the breakfast were Dr. Bud Muehleisen (Class of 1974) and Dr. Shannon Wright (Class of 2004). Our cherished Dr. Bud turned 90 years old on October 15! For more about Dr. Bud, visit http://racquetballmuseum.com/fatherofrb.html.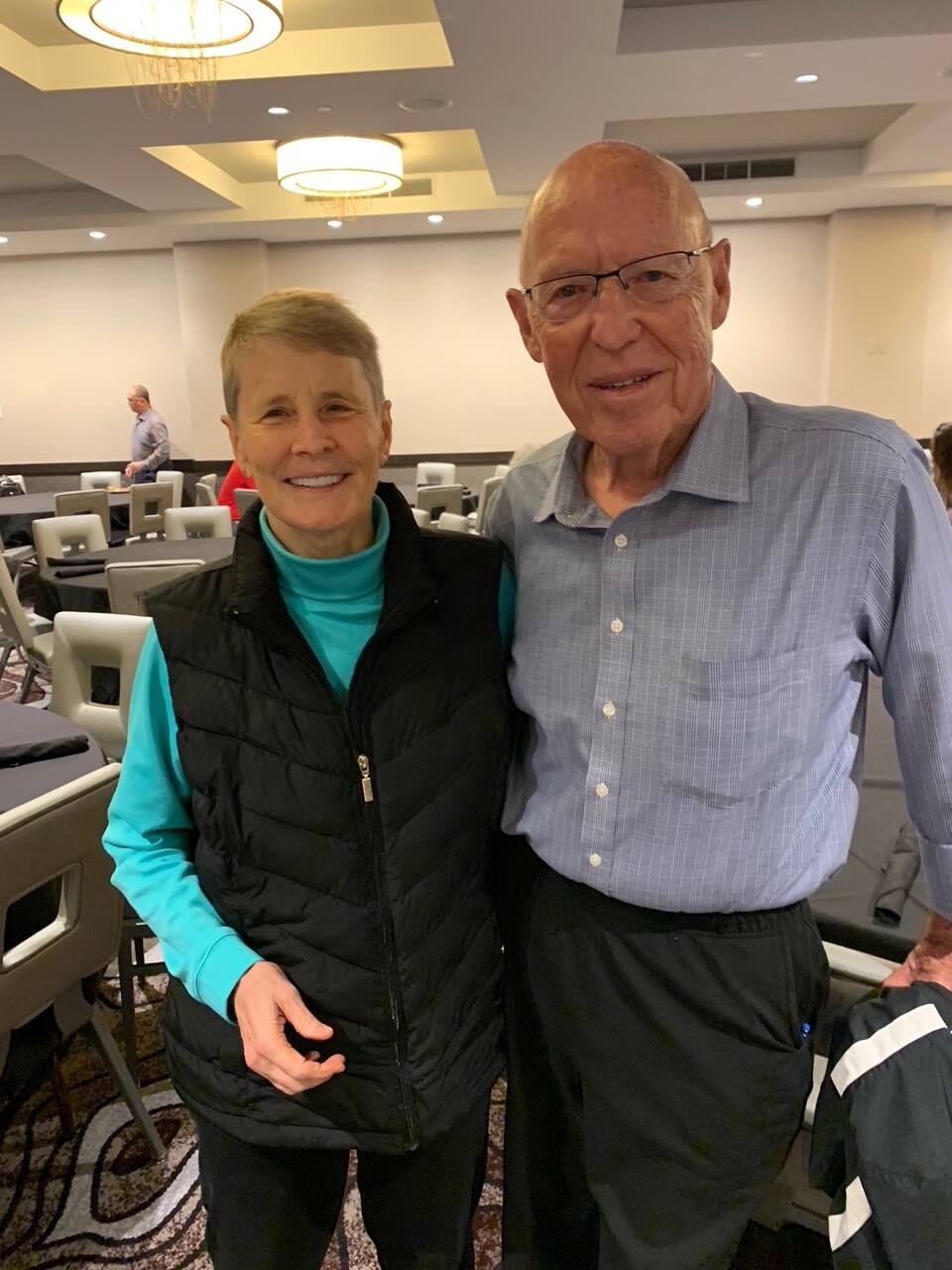 Dr. Bud Muehleisen (Class of 1974) and Dr. Shannon Wright (Class of 2004). Photo by Cheryl Kirk

Parties, Parties, and More Parties
For those who like to enjoy their evenings, the UnitedHealthcare US OPEN provided a solid week of non-stop fun, kicking off with a Thursday night Players Gathering at The Lyon's Pub…and that was only the beginning! On Friday evening, the action moved to the Rock Bottom Brewery for a Players Meet & Greet Mixer. Saturday night topped off the party calendar with the gala racquetball bash of the year – the 25th Anniversary US OPEN "CELEBRATION OF CHAMPIONS" Grand Gala at the red-hot Pourhouse nightclub where Special DJ and Former Top IRT Pro Javier Moreno entertained the crowd throughout the evening.
Charity Fundraising Events
Since the inaugural US OPEN in 1996, racquetball players from around the world have donated more than half a million dollars to St. Jude Children's Research Hospital, the Juvenile Diabetes Research Fund, and Rapha House (now known as Rapha International).
At this 25th Anniversary Celebration, in addition to the traditional Pro-Am Doubles for St. Jude on Wednesday evening, Dee and Sal Perconti once again ran the online auction to benefit St. Jude and Rapha International. Approximately $8,000 was raised by the auction this year, and an additional $11,500 (and climbing!) has been raised for Rapha International by Richard Aal's fundraiser centered around the Sunday morning "Grandpa Can Plank" activity on the Stadium Court. Richard's donation site remains active, and his goal is to hit $20,000 by the end of December. Racquetball Family, to make a difference, please visit https://give.rapha.org/grandpacanplank.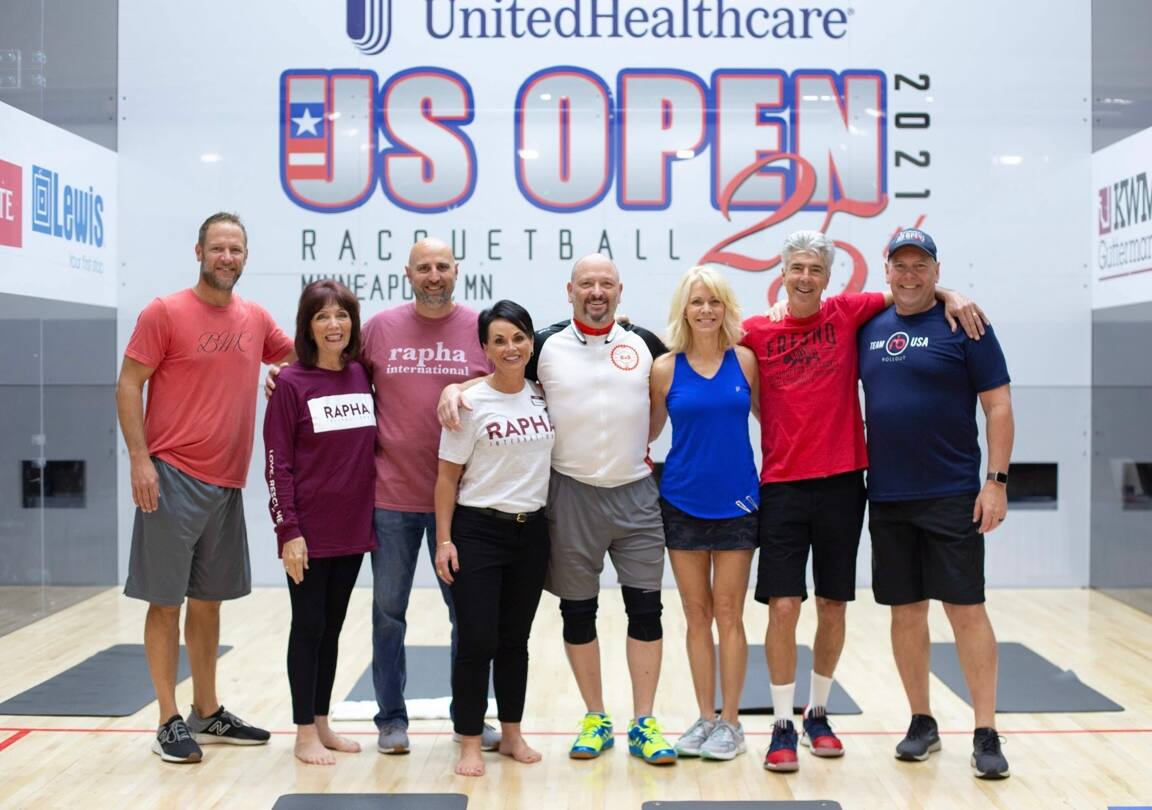 Photo Courtesy of Richard Aal
A HEARTFELT THANK YOU FROM DOUG GANIM
Doug wrote in the 10/10/21 Daily Racquet,
"It has been the honor of my lifetime to serve as the Executive Director of the UnitedHealthcare US OPEN Racquetball Championships for the last 25+ years. As I pass off the tournament's reins, it is the two-plus decades of racquetball memories, moments, and friendships I will cherish most. An event of this size is simply not possible without the dedicated support of over 100 volunteers and staff. To everyone "behind the scenes" this year and for any of the previous 24 US OPENs, I sincerely, thank you! I also give my gratitude to all the professional and amateur players who have traveled to the US OPEN from every corner of the globe over the past quarter century. Your energy and passion for the sport of racquetball is amazing!" ~ Doug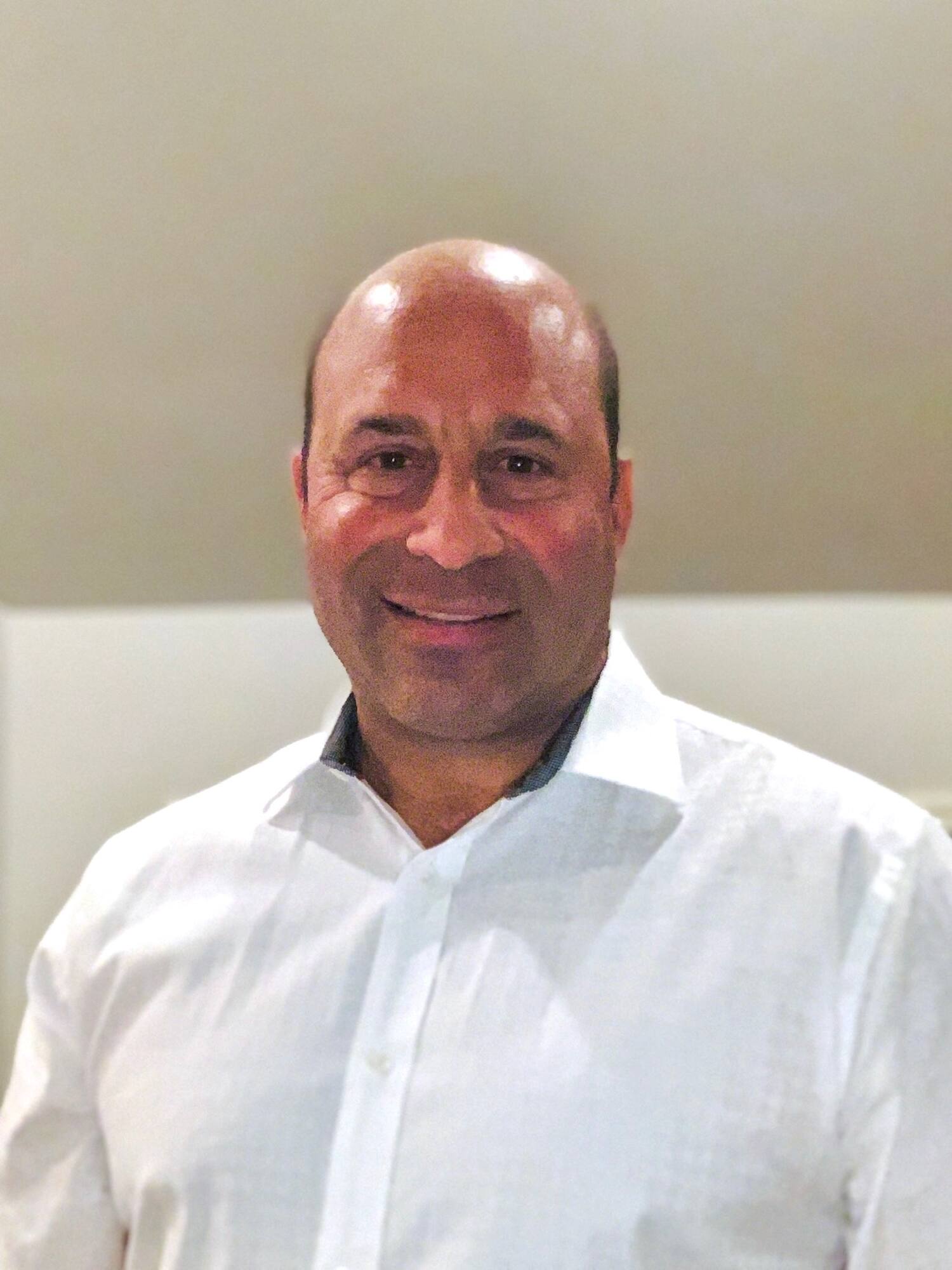 AN EXTRAORDINARY TEAM EFFORT
USA Racquetball wishes to deliver a very special shout-out of appreciation to Doug Ganim and his fabulous team who have made the US OPEN so enjoyable for all of us over these many years. Your hard work and sacrifice are valued and admired more than you'll ever know. We wish you all good things, especially relaxation and calm minds and golf and warm weather and the enjoyment of spending time with family and friends. And Racquetball! THANK YOU!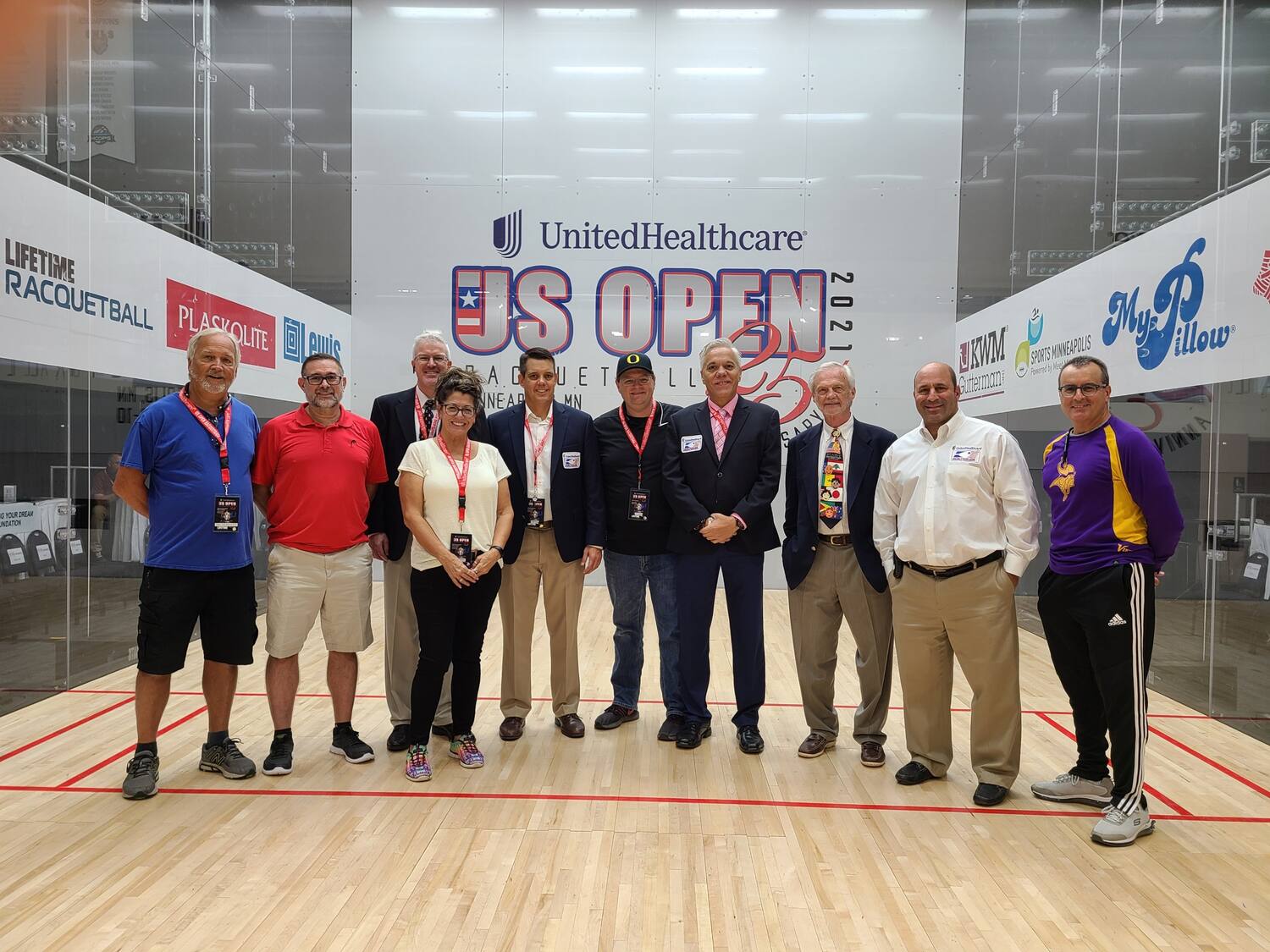 SPONSORS
To our Title Sponsor UnitedHealthcare, and to our Presenting Sponsors, Supporting Sponsors, Gold Patrons, and Silver Patrons: the Racquetball Family could never fully express our gratitude for bringing the US OPEN to us at a time when we all needed to be together. Thank you a thousand times for supporting this sport that brings so much to our lives!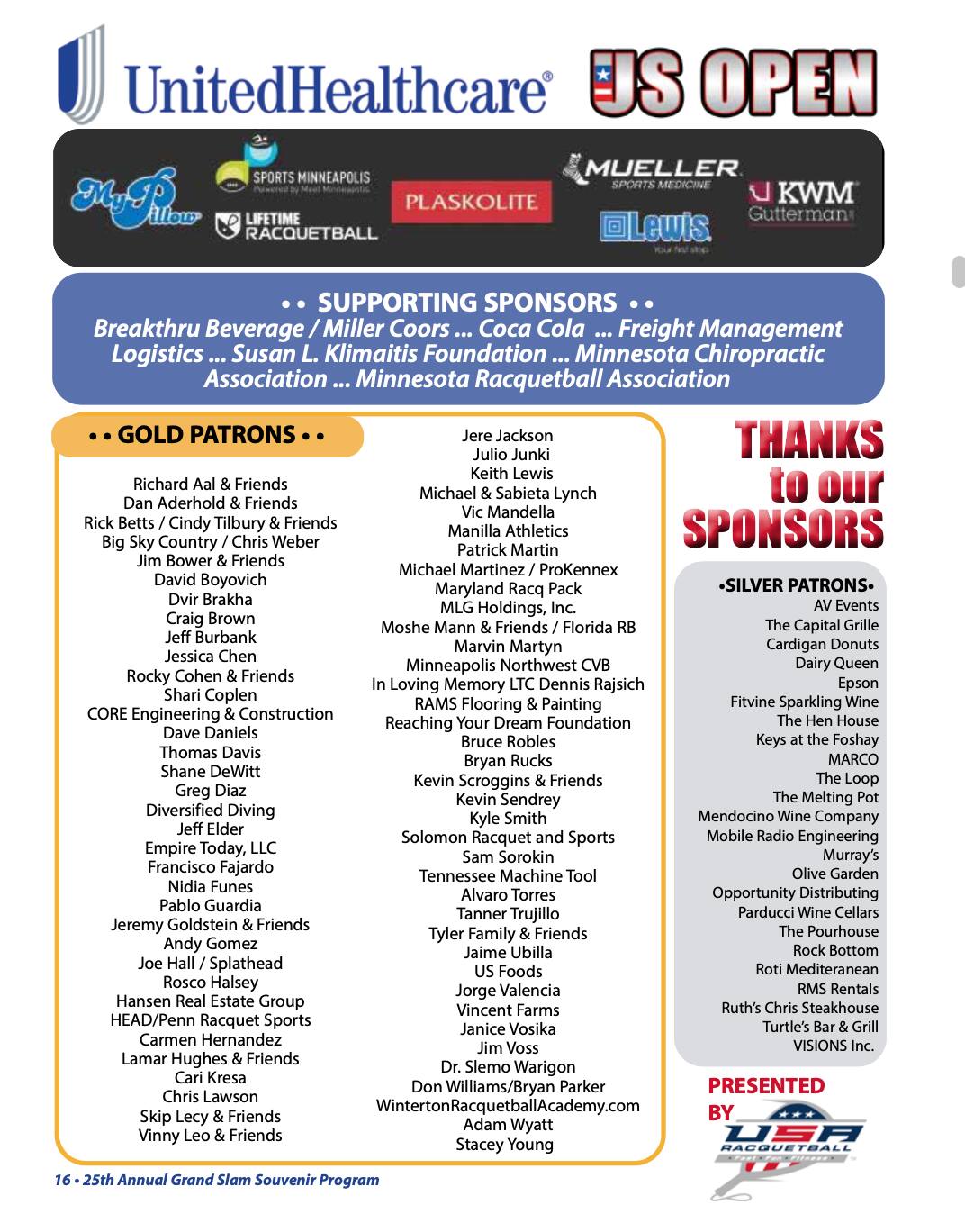 TAKE A CLOSER LOOK!