USA Racquetball 2023 National Doubles & Singles Championships: In the Record Books!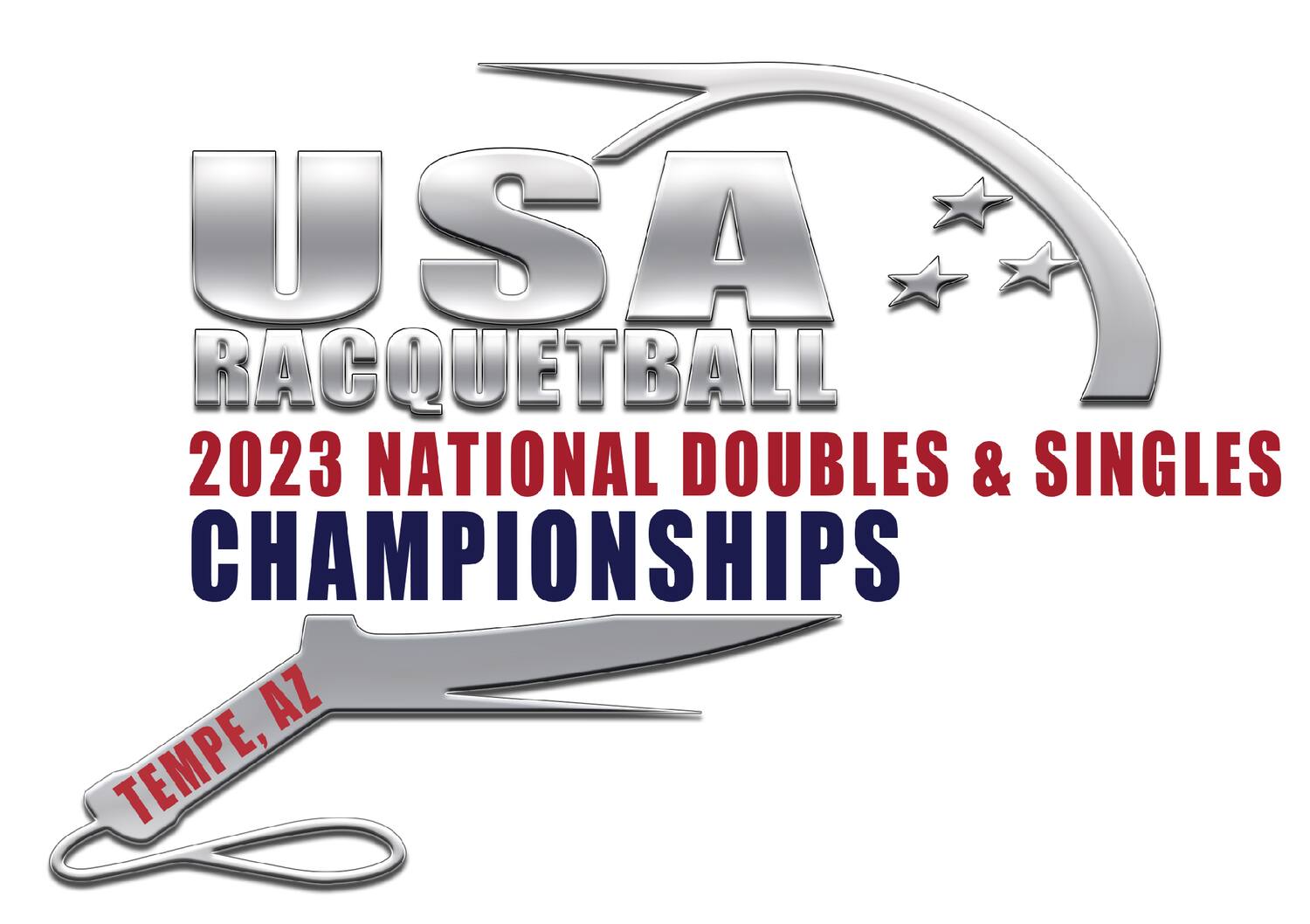 It had been three years since USAR National Doubles (and now Singles as well) were competed at the beautiful Arizona State University Sun Devil Fitness Complex in Tempe, Arizona. February 1-5 saw the Racquetball Family come together again for what resonated* as a very special privilege to see our friends once again.
* Resonate: to evoke or suggest images, memories, and emotions.
Yep, that's the right word.
So read on for this recap of the event, and for a full look at the divisions and results, visit: https://www.r2sports.com/tourney/viewResults.asp?TID=39974.
Starting with Stats...
Total players: 268
Male/female: 199/69
Divisions: 61
States: 31 of 50 (62%) – Top 7: Arizona 63, California 56, Texas 21, Oregon, 16, Colorado 13, Minnesota, 13, Hawaii 11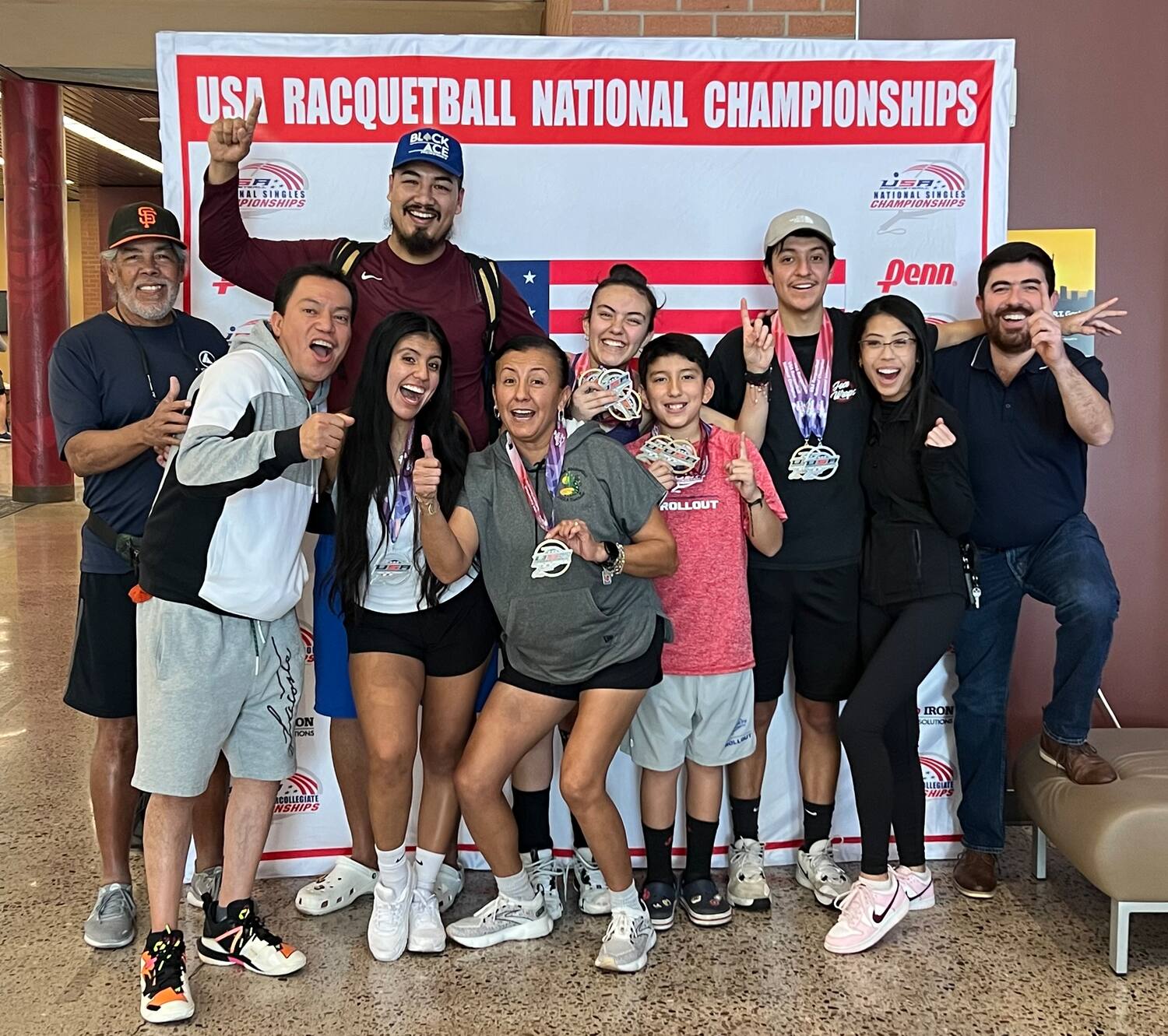 Team California represented!
U.S. Team Qualifying
All finalists (1st and 2nd) secured positions on the 2023-2024 U.S. National Adult Team, effective June 1, 2023. Rally scoring, adopted by the International Racquetball Federation in 2022, was used: "Best 3 games of 5 to 11 points, win by 2." With an impressive turnout of teams in each of the Qualifying Doubles Divisions, here's how the finals wound up:
Men's Team Qualifying – Daniel De La Rosa/Alejandro Landa def. Adam Manilla/Wayne Antone IV, 15-13, 11-5, 11-8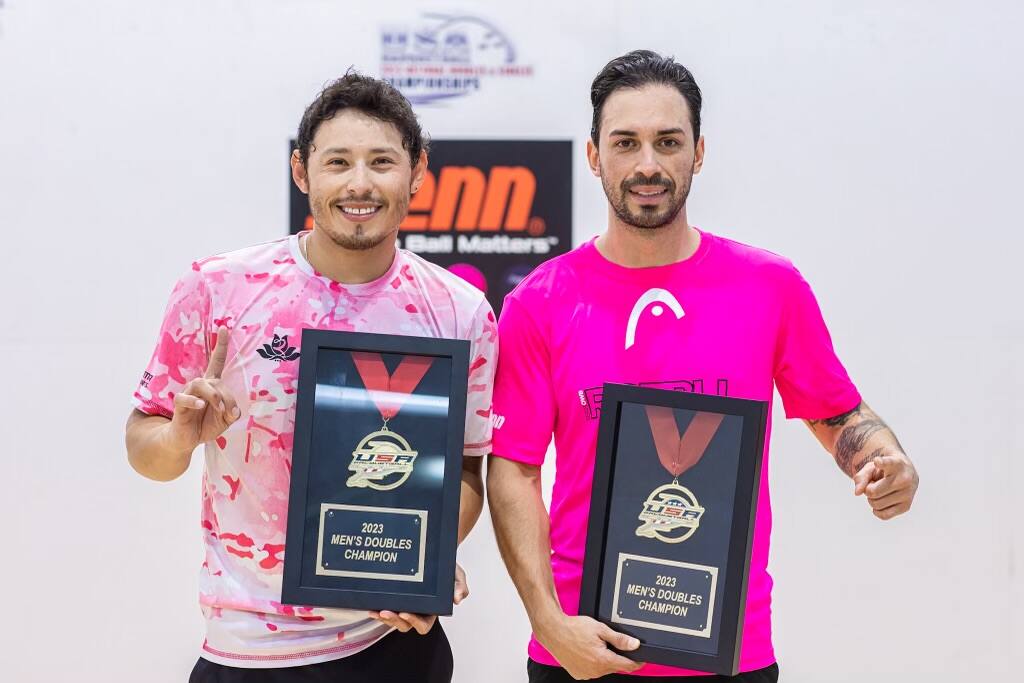 Women's Team Qualifying – Michelle De La Rosa/Erika Manilla def. Kelani Lawrence/Hollie Scott, 7-11, 11-4, 11-6, 11-7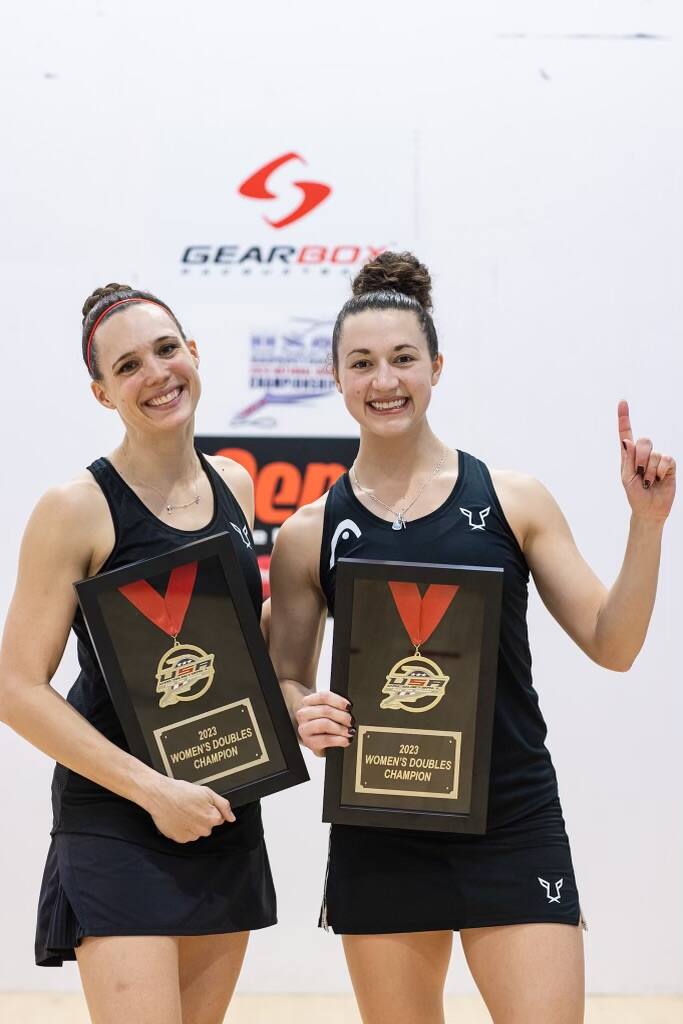 Mixed Team Qualifying – Adam Manilla/Erika Manilla def. Daniel De La Rosa/Hollie Scott, 11-6, 11-8, 10-12, 11-9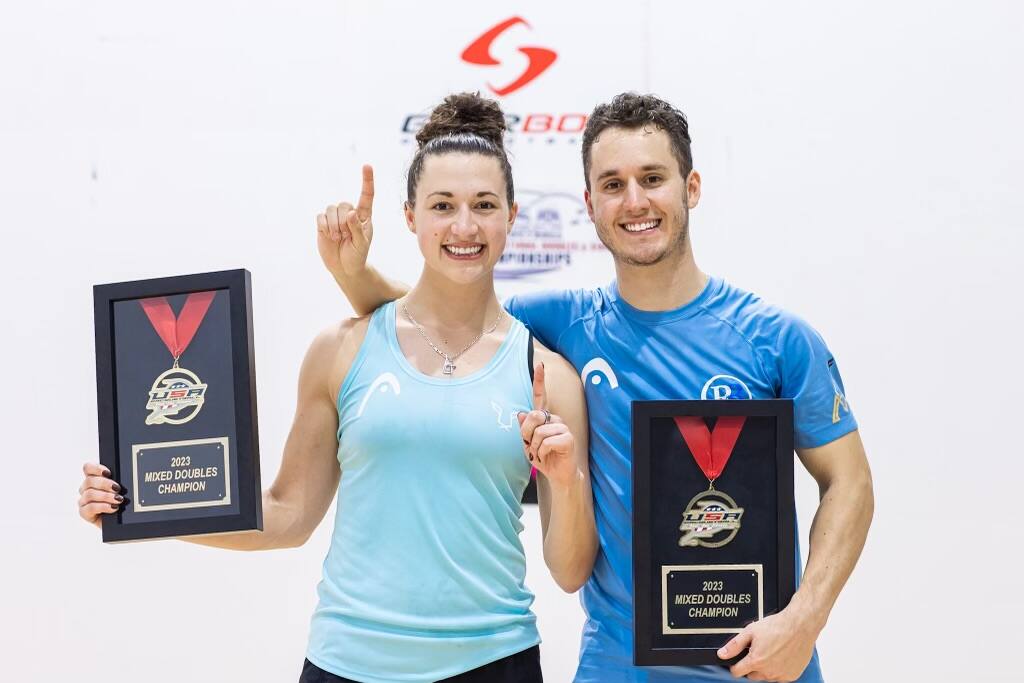 A Few Highlights
It was a bit chilly on The Graduate's outdoor patio for Ladies Night Out on Friday, but the fire pits and the excitement of the raffle prize drawing (where some fortuitously won fleece jackets or neck wraps) generated some heat. The well-attended gathering was hosted by Terry Rogers and the USAR Women's Committee.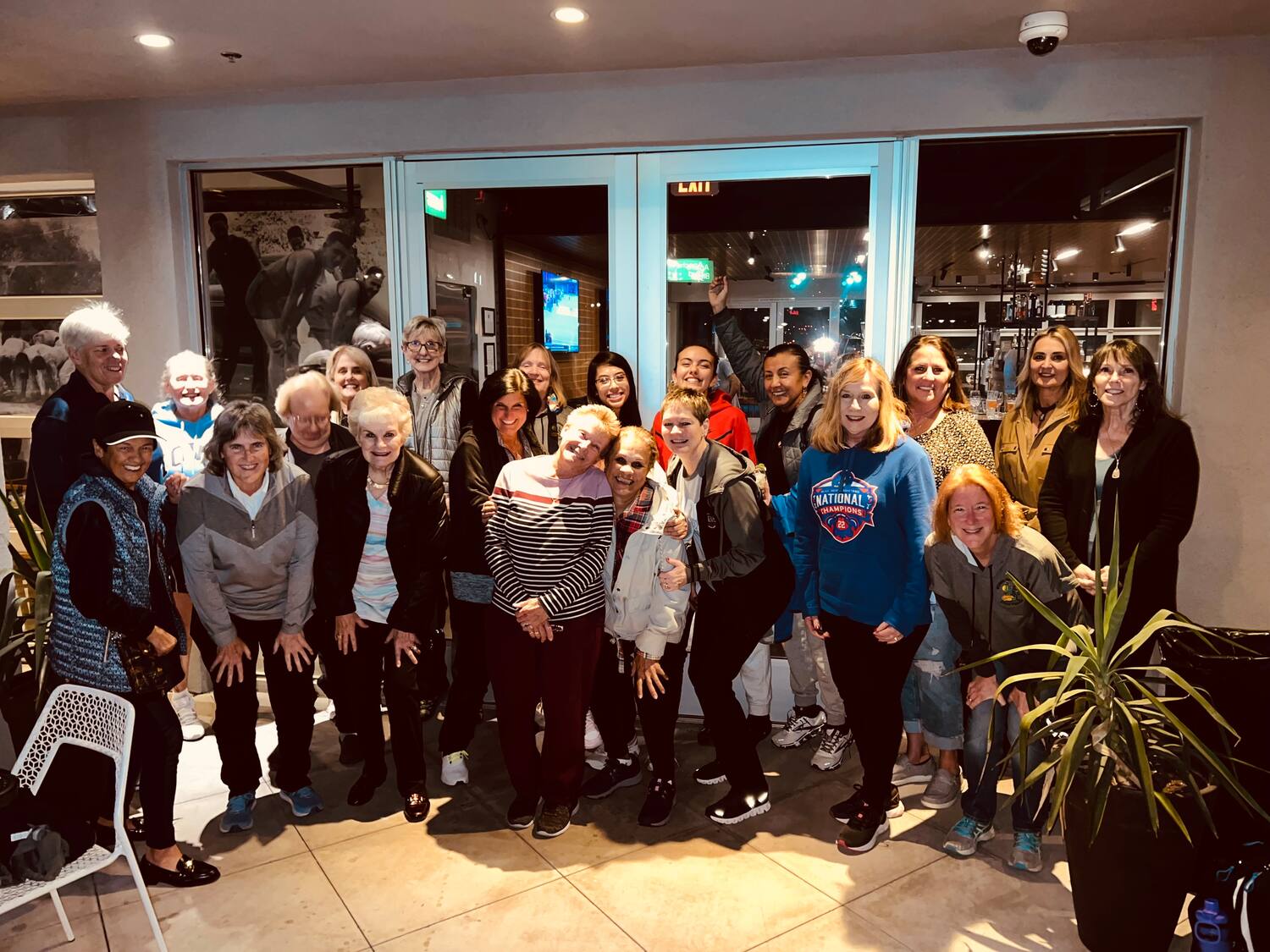 Six members of the U.S. Junior Team who competed in Guatemala City at the IRF World Junior Championships last December also competed in Tempe. They were Elizabeth Denler, Annie Roberts, Naomi Ros, Paul Saraceno, Andrea Perez Picon, and Alejandro Robles Picon!
Team Hawaii, via long flight times, earned the honor of not only 7th among the states in number of athletes competing but also traveling the farthest to join the party -- 4,251 miles!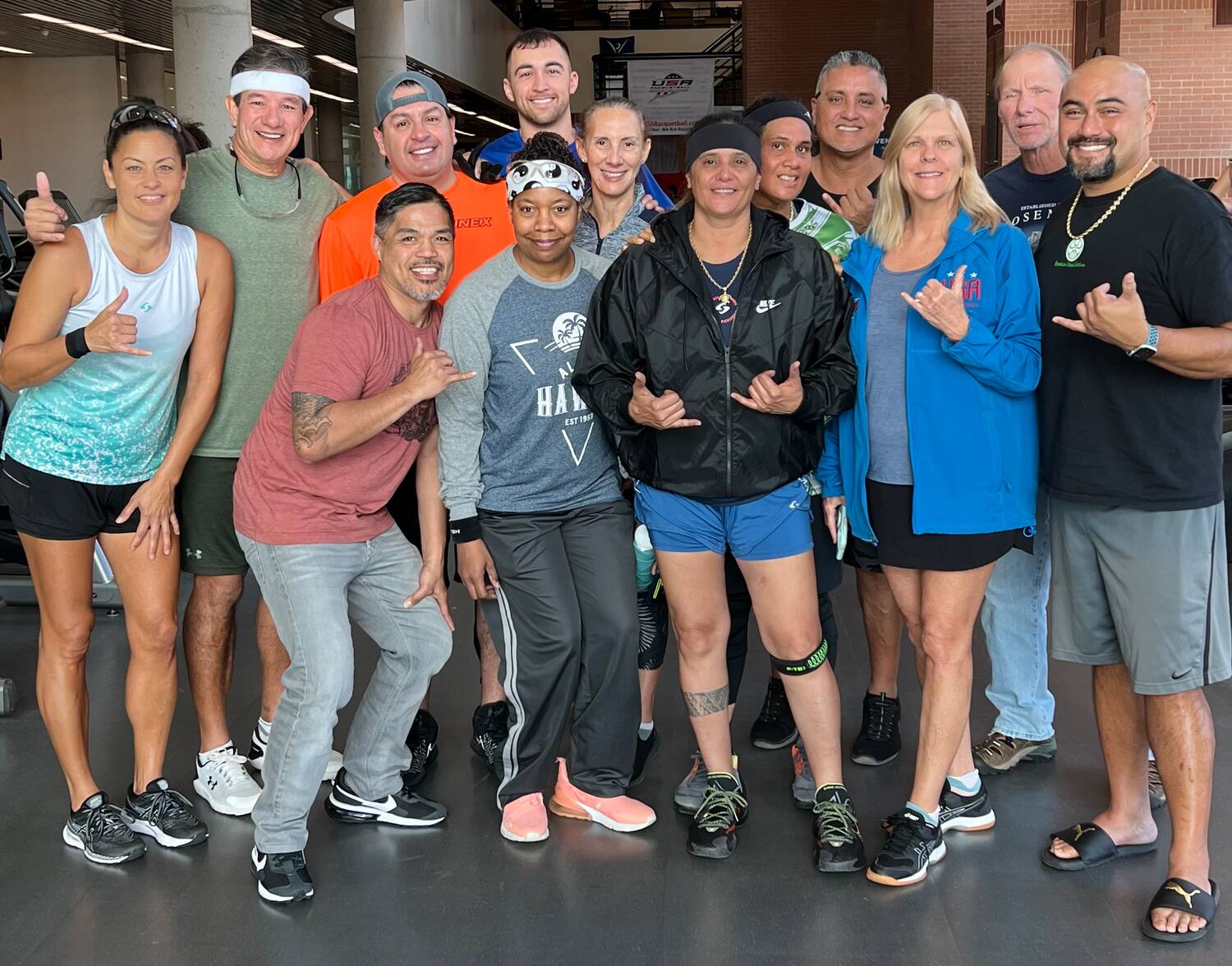 Back row: Sarah Houghtailing, Don Dietz, Roberto Cardenas, Tanner Trujillo, Michele-Lynn Luke, Frans Transfiguracion, Doug Fulp, Richard Kosak, Front Row: Ricky Villanueva, Mimi Green, Fran Fulp, Janet Kelley, Russell Collier

A WHOLE LOTTA GRATITUDE
Operations of National Doubles & Singles were described by many as smooth, friendly, and efficient. Music to our ears!
USA Racquetball is grateful to the sponsors, staff, and volunteers (aka the Racquetball Family). Each and every one contributed in their own unique and special way!
Sponsors at Nationals (see their info at the end of this article): Penn, Gearbox, OneWallBall.com, Talty Bar, Team Dovetail
USAR Staff: Jonathan Greenberg, Karen Grisz, Mike Grisz, Connor Shane
Note: Good luck to Connor Shane as he begins a new step in his career in mid-February!
Event Staff: Nidia Funes, Cheryl Kirk, Amy Pivovar, Carrie Reitmeier, Sandy Rios, Terry Rogers, Stewart Solomon, Cindy Tilbury, Jazmin Trevino
And, these folks saw needs and jumped in to help...or, when asked, the word "no" was not in their vocabulary: Patti Adams, Will Costanza, Ron Denler, Jeff Grace, Susan Hendricks, Kit Lawson, Tish Rodgers, Kathy Stellema, Arnold Thomas
Referees are unsung heroes! They were instrumental in keeping the tournament on time and providing a fair experience. Some stepped up many times to help as well as to earn some significant cash to help defray the cost of their trip!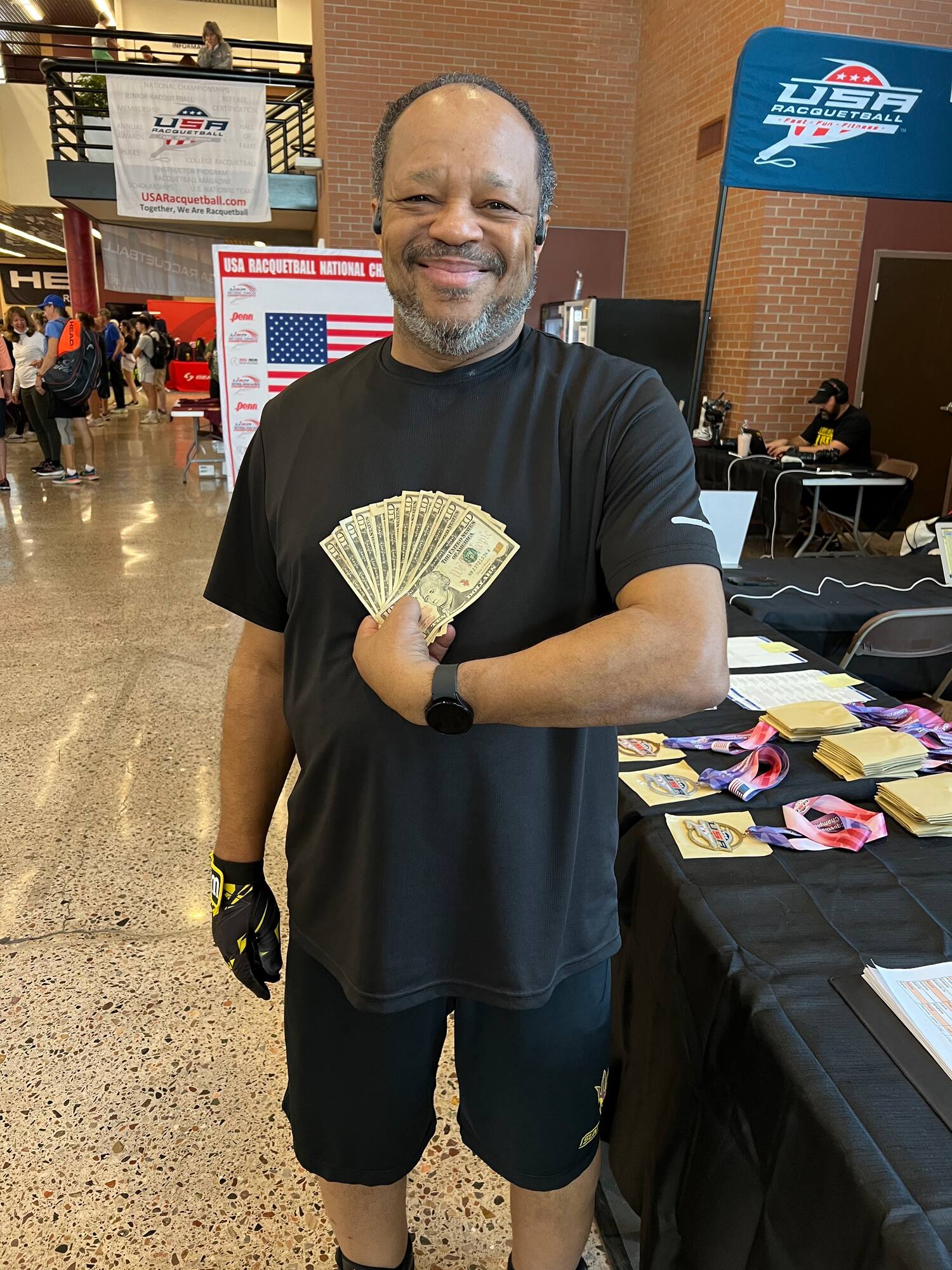 Michael Miller, Jr.

Streaming: Jeffrey Thompson (JT Rball) arrived Thursday and streamed U.S. Team Qualifying matches for the next four days. Commentators adding texture to the on-court action included Richard Eisemann, Karen Grisz, Charles Rankin, Carrie Reitmeier, Sandy Rios, and Stewart Solomon.
Social Media: Aimee Roehler (ABR Communications LLC) managed the event's social media presence for USA Racquetball before, during, and after the tournament ... U.S. Junior Team member Annie Roberts provided additional event presence on Instagram and provided a behind the scenes Instagram Stories Takeover.
Photography and videography coming out of this event is spectacular and so very valuable when used in many ways to showcase this great sport of Racquetball. Warm thanks to Dylan Shoemaker (DSK Photography and Design) and Enrique Villaseñor (EvillMedia) for their creativity and ingenuity in producing images that do us all proud.
Rodger Fleming, much respected by U.S. Team athletes, was on site to provide support for elite players and amateurs alike. Rodger is a Licensed Massage Therapist, Certified Athletic Trainer, and Corrective Exercise Specialist in Macon, Georgia. https://www.bodyawarenessmacon.com.
EMTs on duty for the entire event were appreciated for their expertise with several on-court situations that were happily not life-threatening.
Printed On Site was in Tempe producing the tournament shirts for players. They also have a line of high-quality shirts, tanks, and hoodies that can be customized with the tournament logo. More information about Printed On Site can be found at https://printedonsite.com.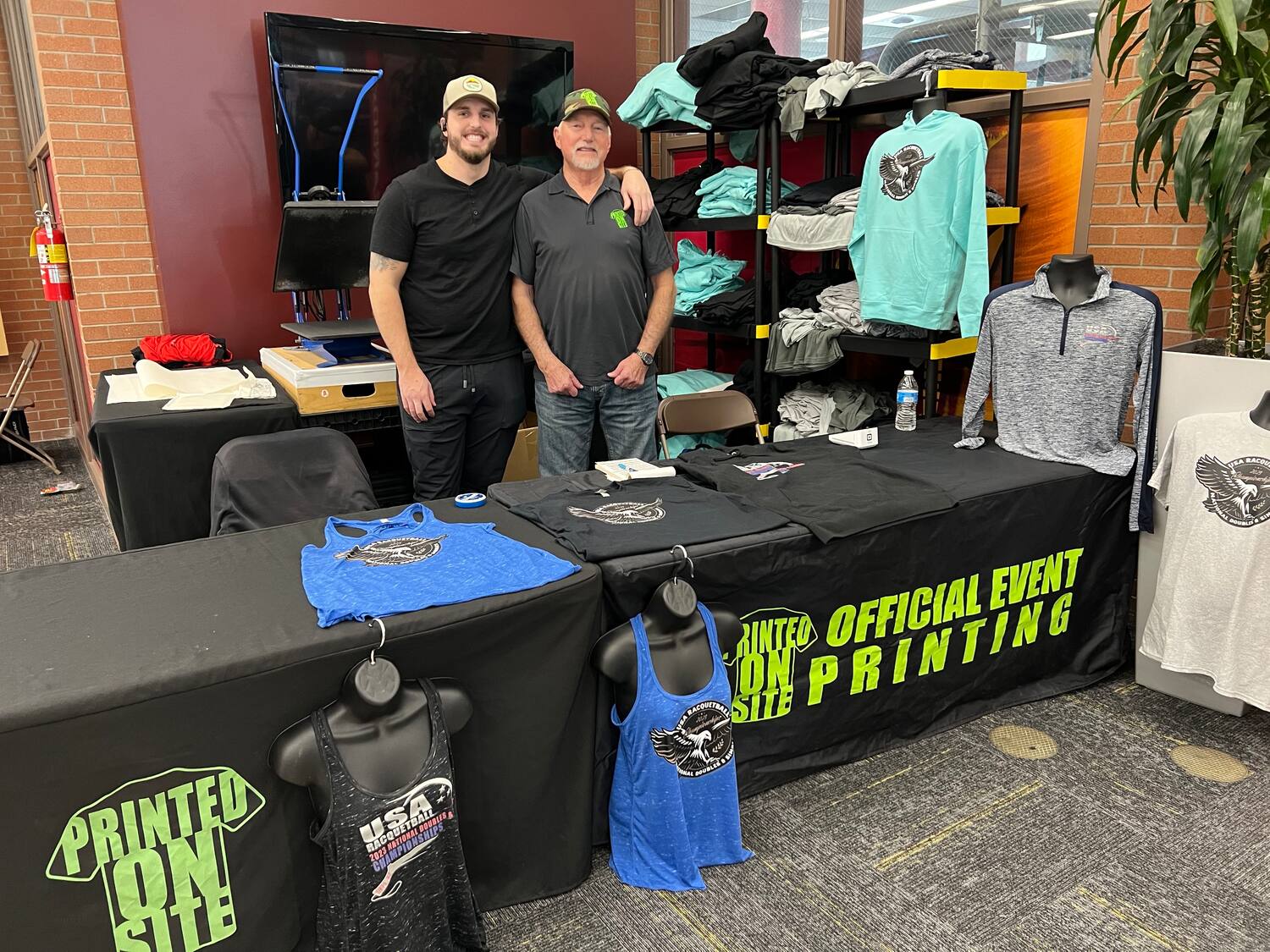 Thanks to Phil Carter (Assistant Director of Special Events/Facility Operations), Isabella Pugliese (Special Events Coordinator), and the excellent staff at the ASU Sun Devil Fitness Complex for their immediate assistance whenever a need arose.
Lifetime Members and Hall of Famers in attendance – thank you!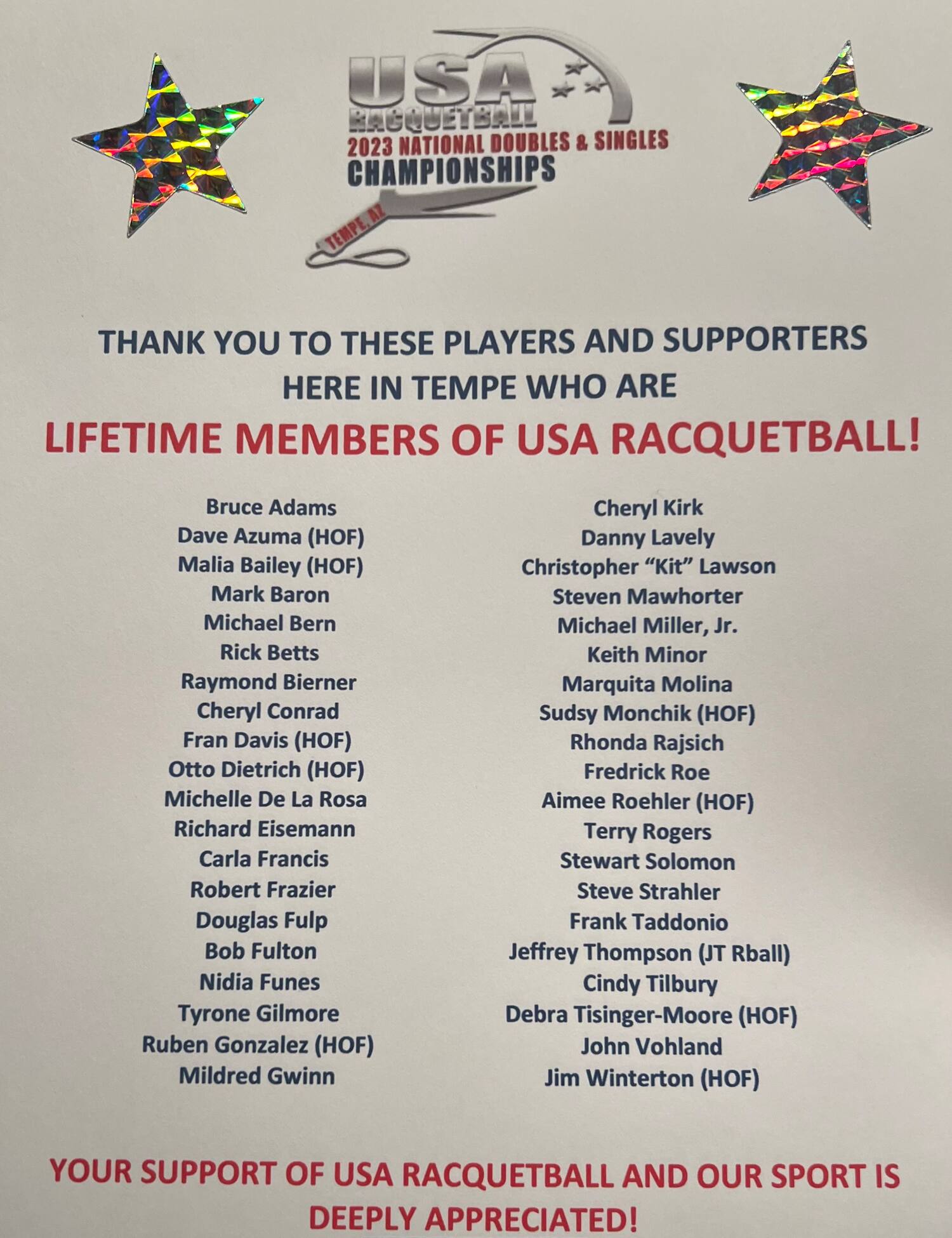 Players and Spectators – We appreciate every one of you who competed, supported, or were just there with us at this very special event. See you next year!
"Honorable Mention"
The Weather – fabulous, especially speaking from a Midwest perspective. Hey, to us, 40 degrees in February is a heat wave.
Cool and cute little delivery robots (Aramark/Starship Technologies) that deliver food all over campus. They exude a special type of personality not frequently observed in inanimate objects.
USA Racquetball Leaders offer their closing thoughts:
USAR Board President Stewart Solomon said, "Congratulations to all the champions from our first National Championship of 2023! And a big thank you to all the players that made the event so successful. This was my first trip to a USA Racquetball event at ASU and it was an amazing experience! With such a strong showing of support, it's a very positive sign of things to come this year."
Mike Grisz, at his first national event as Executive Director, added, "USA Racquetball is ecstatic about our event in Tempe, Arizona. Great turnout, fantastic Adult Team Qualifying, on time throughout the event. It was a needed gathering of our racquetball community. Can't wait for next year!"
MORE ABOUT ON-SITE SPONSORS!
Penn has been the Official Ball of USA Racquetball for over 30 years, and they support state racquetball associations with their State Ball Program as well. Fran Davis, National Promotion Manager and USA Racquetball Hall of Famer said, "I regard it as an honor and a privilege to be a part of this organization." Click on http://www.pennracquet.com/racquetballs.html for more information.
Gearbox was in the building! As the Official Racquet of USA Racquetball, Gearbox wants players of all levels to experience first-hand how its quality products can improve their game and continue to support their love of sport. With their advanced collections of racquets, paddles, edgy apparel, and high-quality accessories, the future is limitless. Visit Gearboxsports.com to view their entire line of products!
Team Dovetail is a valued partner of USA Racquetball in supporting the next generation of racquetball players. Mike Kinkin and Team Dovetail are so appreciated for their partnership in ensuring the success of the upcoming High School, Intercollegiate, and Junior National Championships in March and June of this year. Learn more at teamdovetail.com!
OneWallBall.com designs customer racquetball apparel. They don't cater only to outdoor athletes – they customize indoor/outdoor gear so players can look their best! Look good, feel good, play good with onewallball.com!
Thanks to Tim Talty of Talty Bar, the Official Bar of USA Racquetball, for providing his great protein bars in five delicious flavors for the players in Tempe! Visit taltybar.com to find out more about Tim, his company, and his product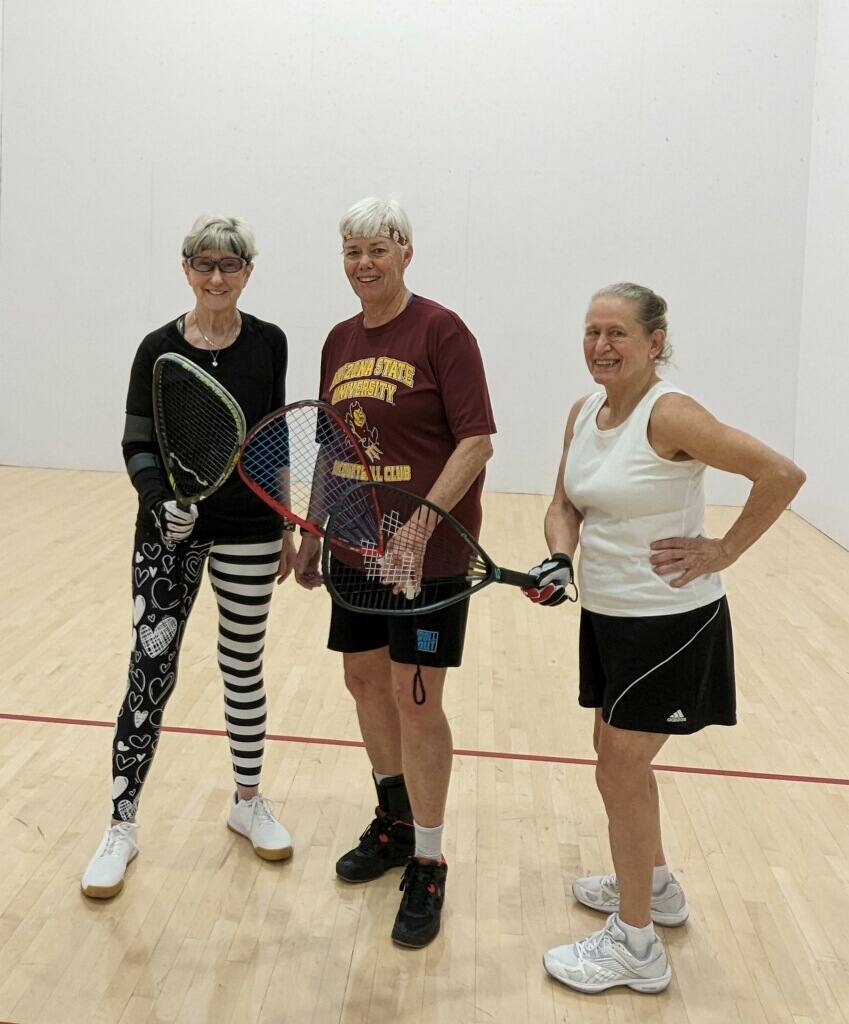 "Three Cheryls" Cheryl Conrad (R) reffed Cheryl Kirk (IL) and Cheryl Jones before taking to the court for her own match!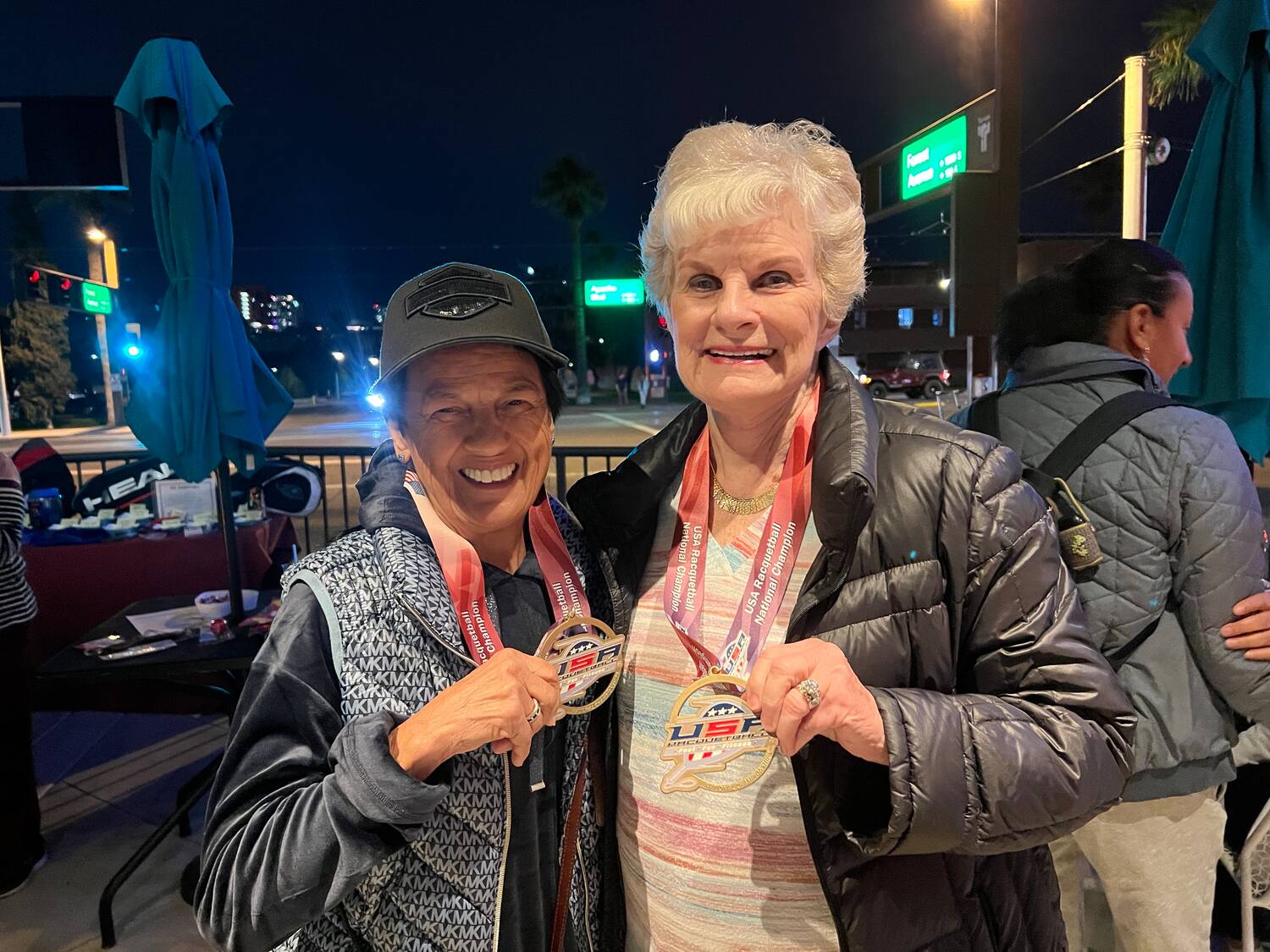 Marquita Molina & Mildred Gwinn - Women's 80+ Doubles Champs!

Championships photos by Dylan Shoemaker

All other photos courtesy of Cheryl Kirk