XXI International Racquetball Federation World Racquetball Championships
XXI International Racquetball Federation (IRF) World Racquetball Championships
San Luis Potosí, Mexico
August 19-27, 2022

U.S. Team members traveled to San Luis Potosí on Wednesday and Thursday, August 10 and 11, to compete against a number of other countries (North, Central, and South America, Europe, and Asia) in Singles, Doubles, and Mixed Doubles. The beautiful La Loma Centro Deportivo hosted the event.

Fifteen countries for a total of 71 players vied for a coveted World Champion designation: Argentina, Bolivia, Canada, Chile, Colombia, Costa Rica, Cuba, Dominican Republic, Ecuador, Guatemala, India, Japan, Mexico, Spain, and the United States.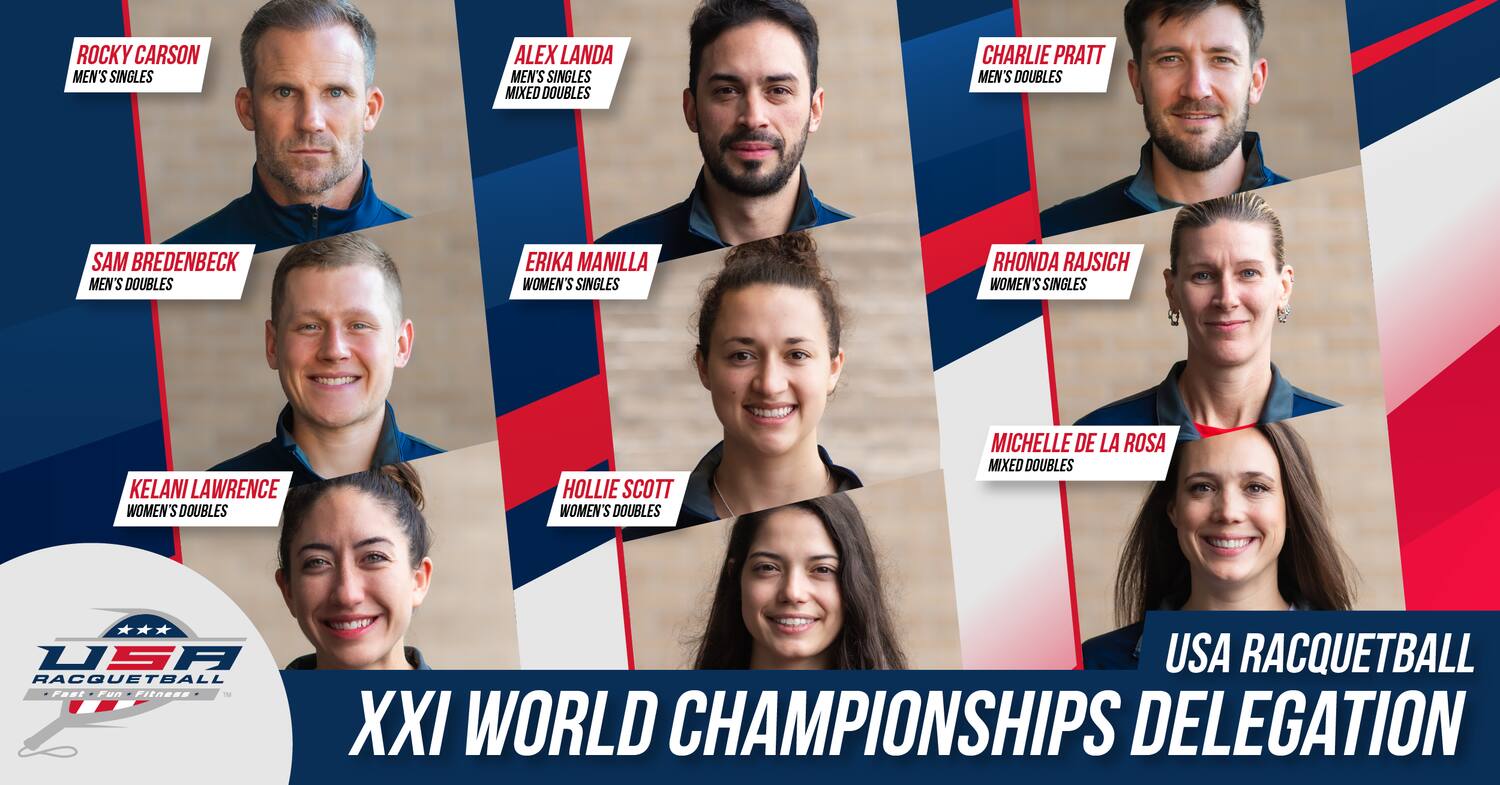 The U.S. Team
*Rocky Carson, California: #1 Singles
Alejandro Landa, Texas: #2 Singles/Mixed Doubles
Sam Bredenbeck, Minnesota: Doubles
Charlie Pratt, Oregon: Doubles

Erika Manilla, Colorado: #1 Singles
*Rhonda Rajsich, Arizona: #2 Singles
Kelani Lawrence, Virginia: Doubles
Hollie Scott, Texas: Doubles
Michelle De La Rosa, Arizona: Mixed Doubles

*Team Captains

The Staff
Jim Durham, California: Head Coach
Malia Kamahoahoa Bailey, Virginia: Assistant Coach
Rodger Fleming, Georgia: Athletic Trainer
Michelle De La Rosa, Arizona: Team Leader (double duty!)

Chocolate...and Other Stuff
On Thursday, Daniel De La Rosa was kind enough to chauffeur Michelle, Hollie, Charlie, Cheryl, and his mom Gloria over to Costco about 15 minutes from the hotel. This was an entertaining trip that began with the challenge of realizing they required masks but didn't have any available. After some deliberation and sadness outside the door, Charlie took charge and walked over to a nearby business, grabbed a handful (thank you, Home Depot!), and the expedition continued. Inside, it was a lot like herding cats with associated banter and calling out across aisles, and the job got done in the end. The usual staples were procured: PBJ, bread, bananas, oranges, chocolate, water, lots of water, and more chocolate. Loading the vehicle was a successful game of Tetris, and waiting back at the hotel to help unload were Jim, Rocky, and Sam. The first U.S. Team success of this trip was in the record books!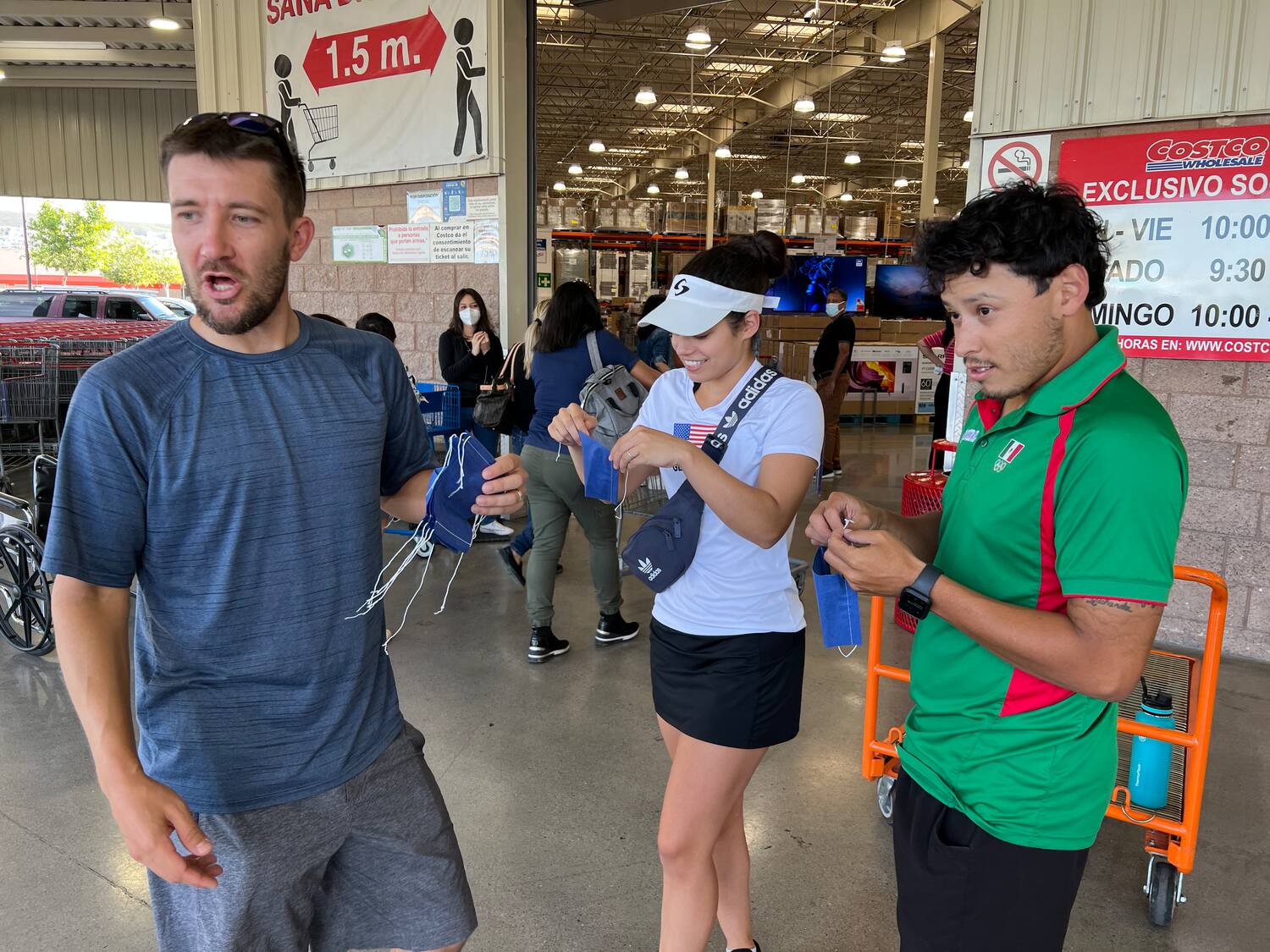 Photo by Cheryl Kirk

Friday in SLP
While the athletes were at their second practice on Friday adjusting to the courts, the ball, and the altitude (6,115 ft.), the Coaches and Delegates meeting was held at La Loma Centro Deportivo where a great deal of information about the event was provided, especially the draws/match schedules for the first phase of competition (round robin/pool play).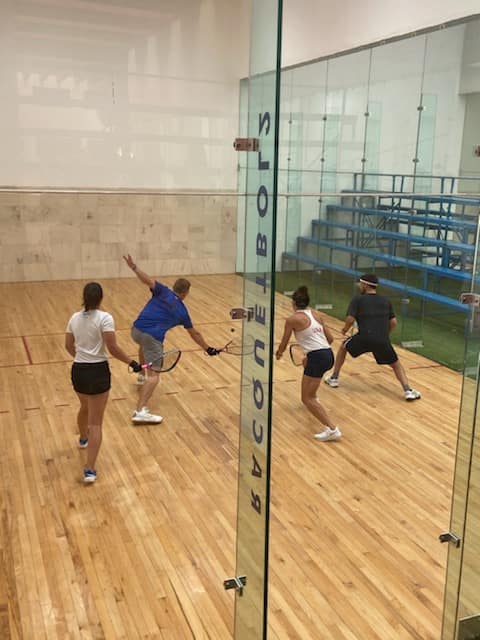 Photo by Cheryl Kirk

World Championships Format
The format was Best 3 Games of 5, all to 11 points, all win by 2 points.

Rally scoring was used, which means that a point is scored on every rally, by the winner of the rally, whether the rally winner was the server or the receiver.

Referees Rock
The Official Referees (Arbitros) met on Friday to discuss the week ahead. Thirteen referees from various countries were there to serve the IRF and the athletes. For referees not at PARC in Bolivia this spring, additional sessions were held to bring them current on recent rules and format modifications that went into effect just this year (i.e., rally scoring format and appeals rule change).

Thanks to the 13 IRF referees who were there to provide a consistent experience––as much as humanly possible in a sometimes-challenging environment!

Mexico: Ricardo Gonzalez (aka Tucky Kravitz), Jaime Martell, Diana Aguilar, Ivan Valdez, Alejandro Morales, Christian Longoria; Colombia: Fabian Torres (aka Potro), Francisco Gomez; Argentina: German Coppolecchia, Sebastian Digon; Chile: Alvaro Yañez; Bolivia: Kadim Carrasco; Costa Rica: Allan Chacon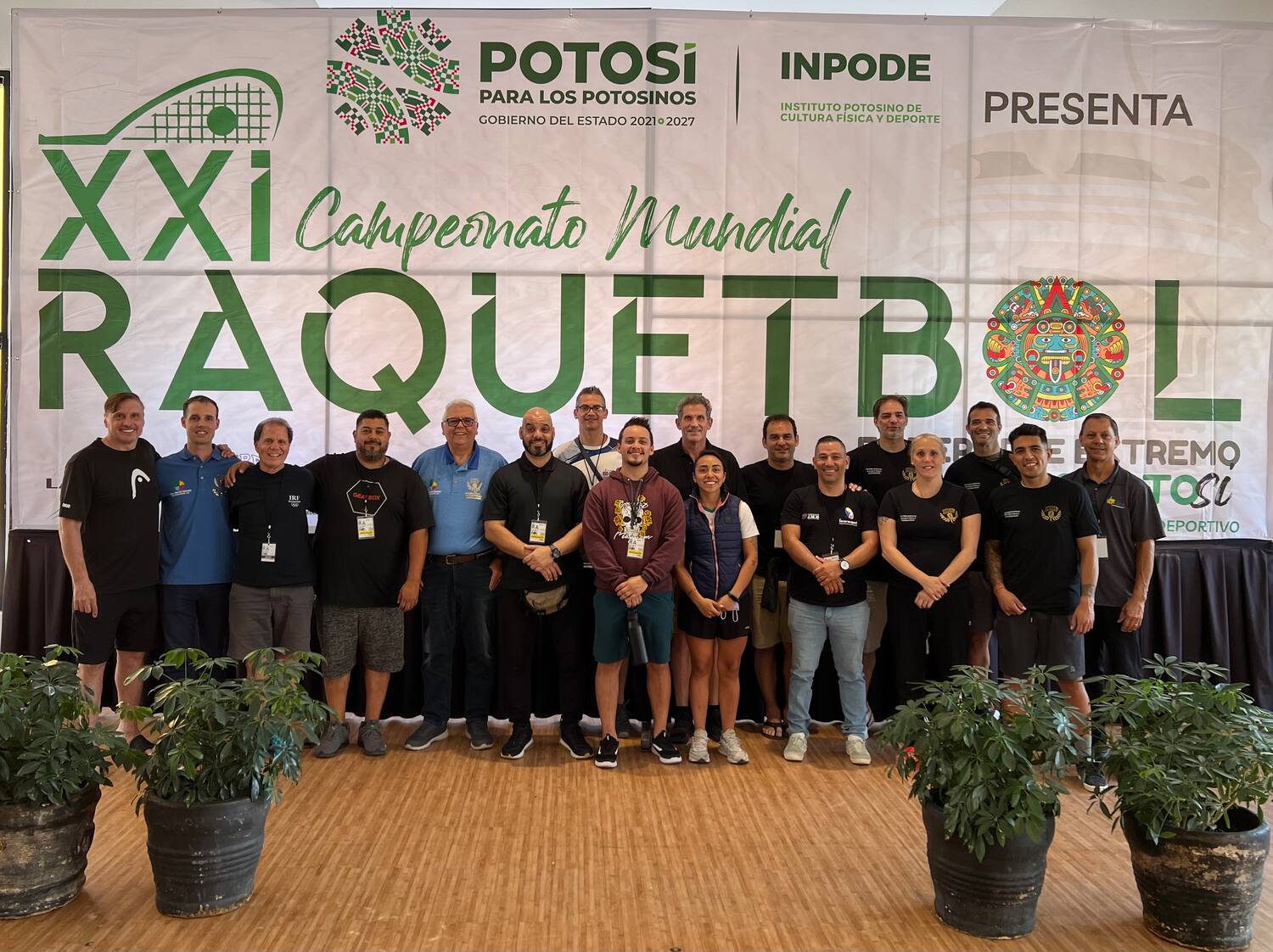 Photo by Cheryl Kirk

Americans in San Luis Potosí
Gustavo Farell (Texas), Cheryl Kirk (Illinois), Gary Mazaroff (New Mexico), and Dean Schear (Texas) were there in support of the IRF and all countries in attendance.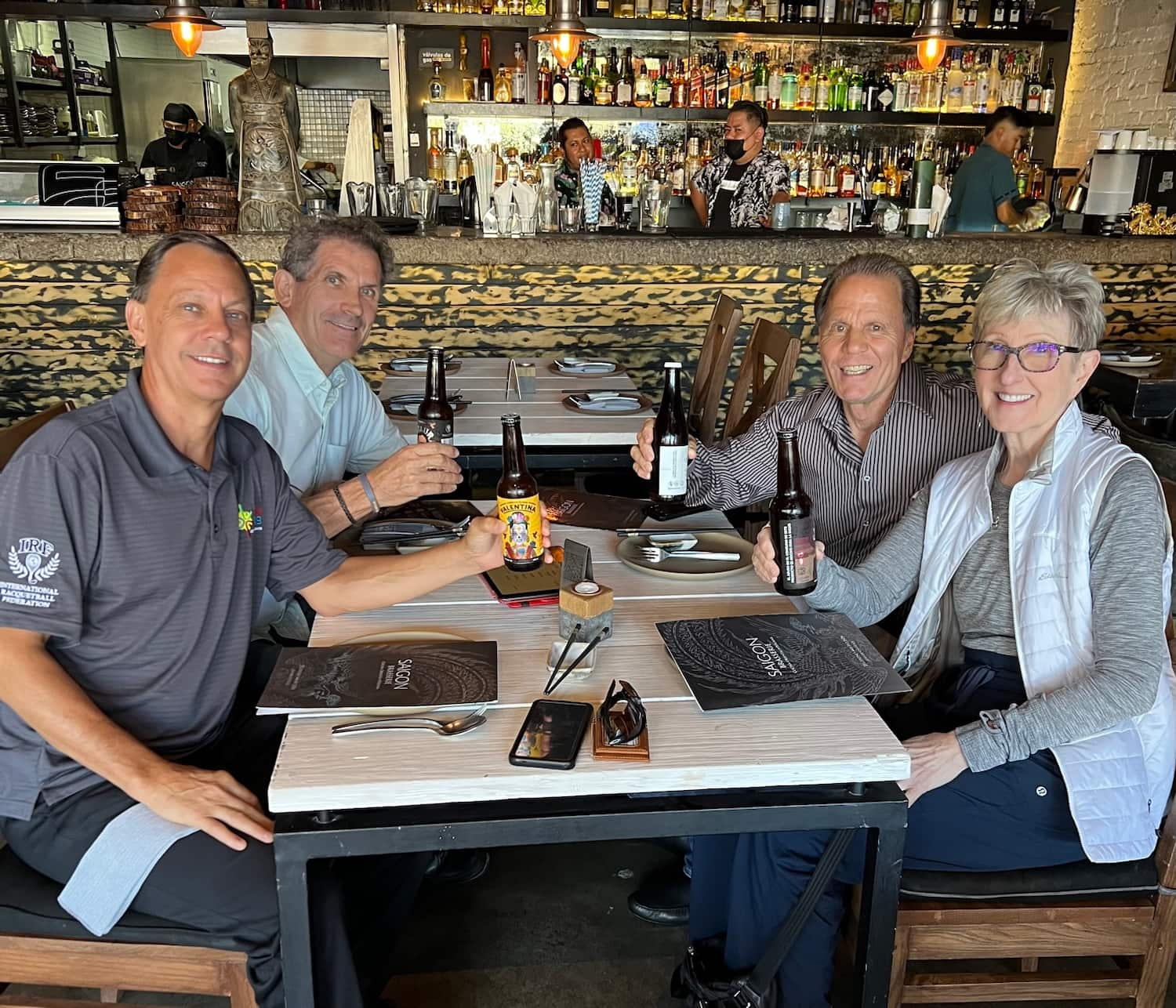 Photo courtesy of Cheryl Kirk
U.S. Delegation "Cheerleaders" were Darold Key; Raelynn and DJ De La Rosa; and three more arrivals who arrived Tuesday, August 20: USA Racquetball Board President Stewart Solomon and Nancy and Victor Manilla (Erika's mom and dad, of course!)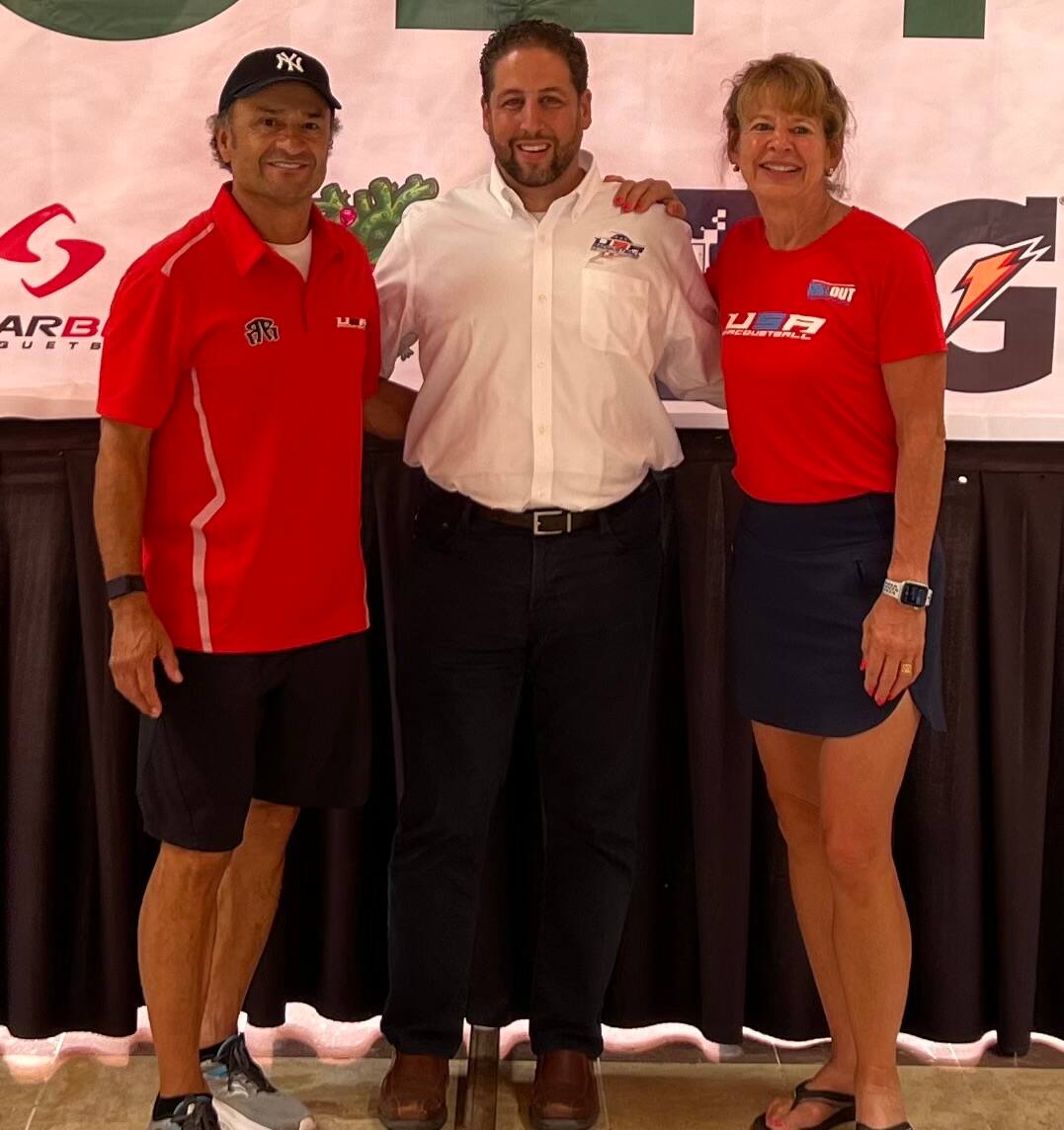 Victor, Stewart, and Nancy. Photo courtesy of Nancy Manilla

Also on that same flight was Jerry J. Josey from South Carolina, an LPRT staff member in his spare time, who was in SLP the rest of the week supporting his wife, María Renée Rodriguez of Guatemala.

Schedule for Tuesday – Day #4
And just like, it was time for the Main Draws of the individual portion of this World Championships event. The results of the preliminary seeding matches (pool play/round robins) that were competed Saturday through Monday positioned the top two players/teams from each pool into the higher draw (Open Playoff #1), while those who placed third and fourth in the pools competed in the Open Playoff #2 draws.

IRF World Congress Held Tuesday Night
Delegates from the countries in attendance in San Luis Potosí met for the World Congress meeting held at every IRF World Championships. The agenda included a financial report from Dean Schear; a recap of the World Games last month that included appreciation expressed to USA Racquetball for the use of the stadium court there; a future events update; and elections for Regional Vice President positions on the IRF Board of Directors. Joining President Osvaldo Maggi (Argentina), Vice President Marcelo Gómez Pacheco (Costa Rica), Secretary Cheryl Kirk (USA), Treasurer Carlos Ruiz (Venezuela), and Secretary General Luke St. Onge (USA) are Miguel Perea (Mexico; North America VP), Estuardo Wer (Guatemala; Central America/Caribbean VP), Patricio Gatica Tagle (Chile; South America VP), Dr. Wangki Cho (Korea; Asia VP), Jimmy Gannon (Ireland; Europe VP), and Yuni Cobb (USA; Women's VP).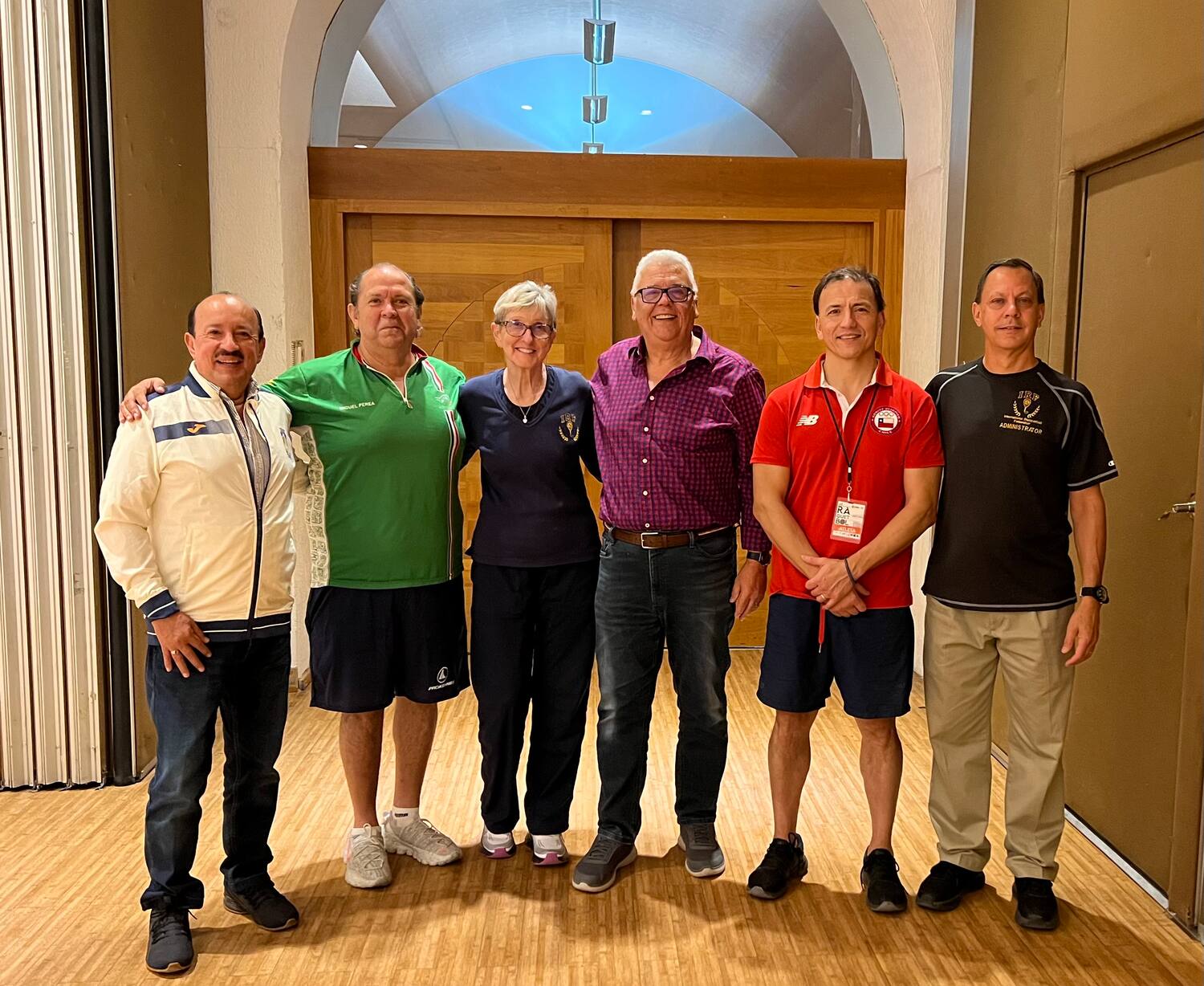 Estuardo Wer, Miguel Perea, Cheryl Kirk, Osvaldo Maggi, Patricio Gatica Tagle, Dean Schear. Photo courtesy of Cheryl Kirk

Additionally, Paola Longoria joins the IRF Board as Elite Athlete representative, having been selected by an assembled Athletes' Commission earlier in the event.

Wednesday Semifinals – Two Matches for Team USA
The U.S. Men's Team athletes took to the courts in the semifinals, striving to secure a spot in the finals:

Men's Singles: Rocky Carson (#1) vs. Andres Acuña (#13, Costa Rica)
Men's Doubles: Sam Bredenbeck/Charlie Pratt (#4) vs. Alvaro Beltran/Daniel De La Rosa (#1, Mexico)

After the individual portion of the World Championships was completed on Thursday, the Team Competition began and continued on through Saturday.

Team Competition
Eight of the Men's Teams and four of the Women's Teams (Singles and Doubles) square off to represent their countries on Thursday to begin the 3-day Team Competition. This constituted the last phase of this multi-format championships event. It was "best two out of three," so if one team won the first two matches, the third match was not competed.

The Team USA Men's and Women's teams had first-round byes, so their action began on Friday. Mixed Doubles did not compete in this last phase of competition.

The Finals
While the Team Competition was heating up on Thursday, Court #2 (the streaming court) was on fire with five finals matches from the Individual phase of these World Championships. Of particular interest to Team USA was the Men's Open Singles Final that pitted Rocky Carson (#1) vs. Conrrado Moscoso (#6; Bolivia).

Rocky was looking to bring home the 2022 World Champion gold medal to add to his collection of five (yes, five!) others over the course of his racquetball career! While the outcome did not bring this to fruition, Rocky added a sixth medal to his career collection from the IRF World Championships, and Team USA couldn't be prouder of his representation of his country and all of us over these many years!
Final Division Standings – Individual Competition
Men's Singles
1st -- Conrrado Moscoso (Bolivia)
2nd -- Rocky Carson (USA)
Semifinals -- Andres Acuña (Costa Rica), Rodrigo Montoya (Mexico)

Women's Singles
1st -- Paola Longoria (Mexico)
2nd -- Gabriela Martinez (Guatemala)
Semifinals -- Stefanny Barrios (Bolivia), Alexandra Herrera (Mexico)

Men's Doubles
1st -- Alvaro Beltran/Daniel De La Rosa (Mexico)
2nd -- Roland Keller/Conrrado Moscoso (Bolivia)
Semifinals -- Sam Bredenbeck/Charlie Pratt (USA), Coby Iwaasa/Samuel Murray (Canada)

Women's Doubles
1st -- Paola Longoria/Samantha Salas Solis (Mexico)
2nd -- Valeria Centellas/Natalia Mendez (Argentina)
Semifinals -- Gabriela Martinez/María Renée Rodriguez (Guatemala), Michele Morissette/Frédérique Lambert (Canada)

Mixed Doubles
1st -- Rodrigo Montoya/Samantha Salas Solis (Mexico)
2nd -- Frédérique Lambert/Samuel Murray (Canada)
Semifinals -- Valeria Centellas/Diego Garcia (Argentina), Conrrado Moscoso/Jenny Daza Navia (Bolivia)
Phase II – Team Competition
The team competition is formatted "best two out of three," so if one team wins the first two matches, the third match is not competed.
_________________________________________________________________________________

Saturday's Team Competition Finals: Last Day at the IRF World Racquetball Championships
Team USA did not compete on Saturday. Their results in the individual and team competitions had been solidified on Friday, and all would be celebrated in the Saturday evening Awards Ceremony that will cap off a week's worth of hard work and achievements.

The Team Competition finals matches took place on the stadium streaming court, and another IRF World Racquetball Championships event was in the record books! This event is now officially back on its biennial schedule after being pre-empted by the pandemic.

The Awards Ceremony took place directly after the conclusion of the last match, and here are the results for Team USA and all the other countries who placed as well.

Team USA Medalists – Individual Competition
Rocky Carson – Silver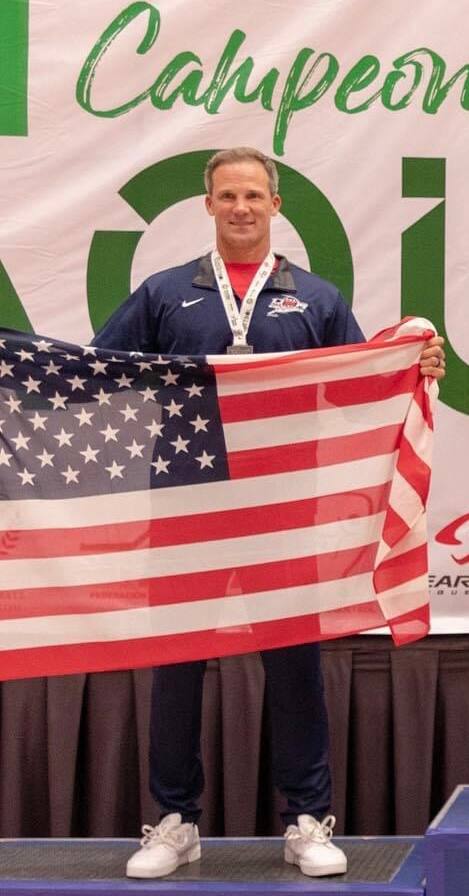 Photo courtesy of IRF
Sam Bredenbeck/Charlie Pratt – Bronze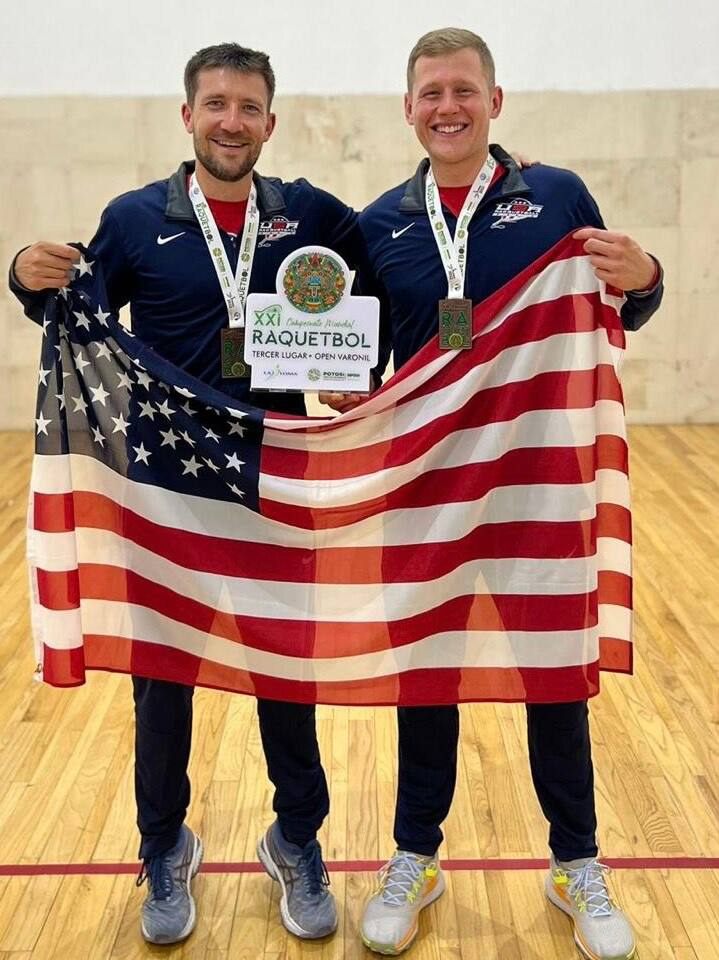 Photo courtesy of IRF
Division Winners – Individual Competition
Men's Singles – Conrrado Moscoso (Bolivia)
Women's Singles – Paola Longoria (Mexico)
Men's Doubles – Daniel De La Rosa/Alvaro Beltran (Mexico)
Women's Doubles – Paola Longoria/Samantha Salas Solis (Mexico)

Team USA Medalists – Team Competition
Men's Team – 3rd place
Women's Team – 3rd place
Overall Team – 3rd place

Country Winners – Team Competition
Men's Team
1 - Mexico
2 - Canada
3 - USA
4 - Bolivia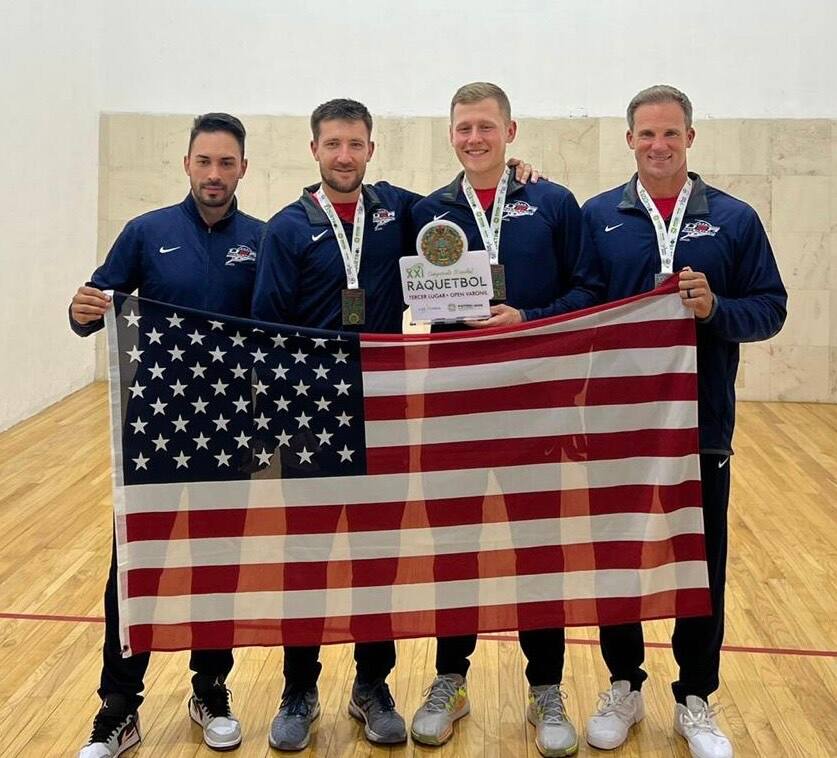 Photo courtesy of USA Racquetball

Women's Team
1 - Mexico
2 - Bolivia
3 - USA
4 - Argentina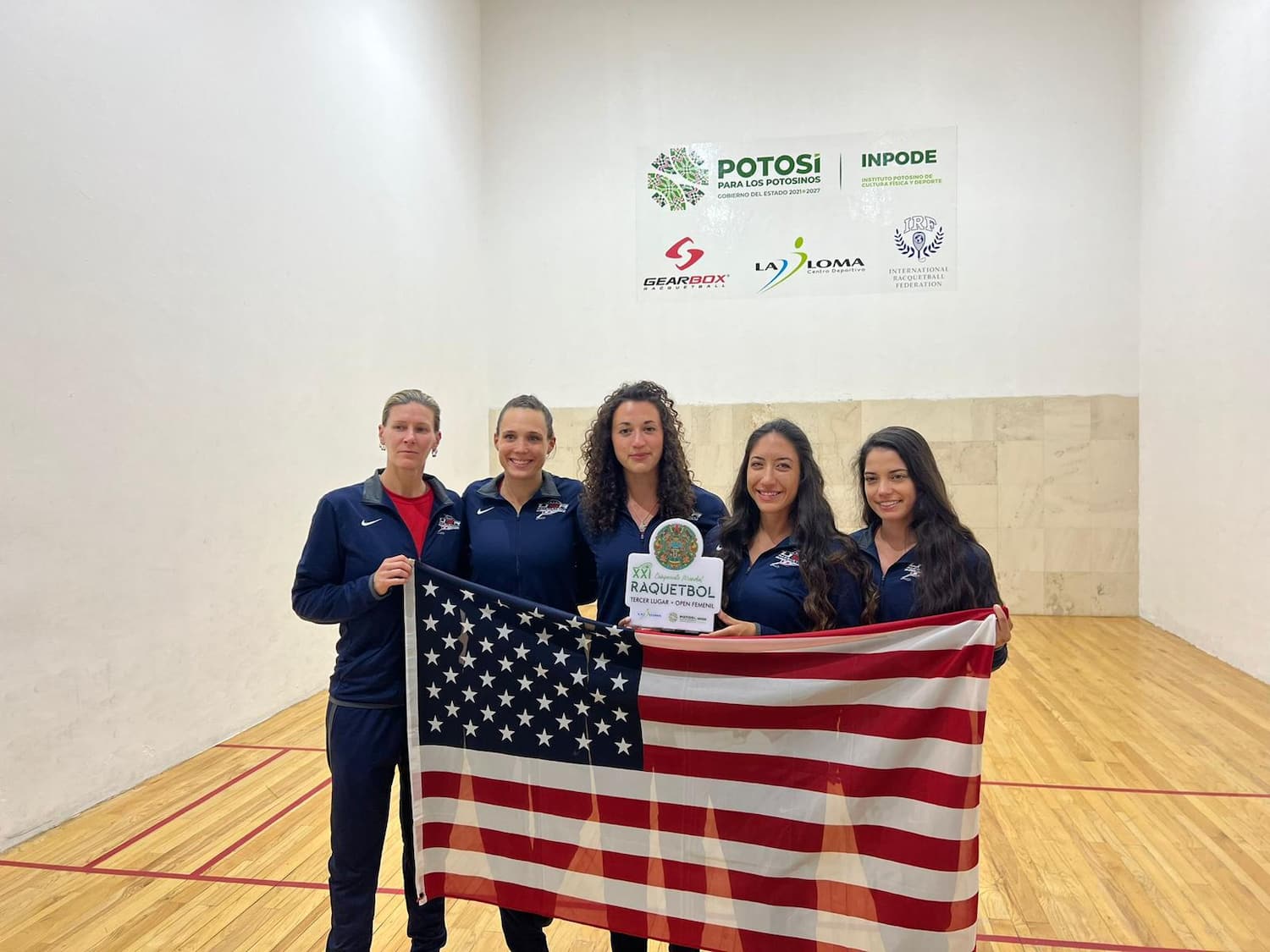 Photo courtesy of USA Racquetball

Overall Combined Team
1 - Mexico
2 - Bolivia
3 - USA
4 - Canada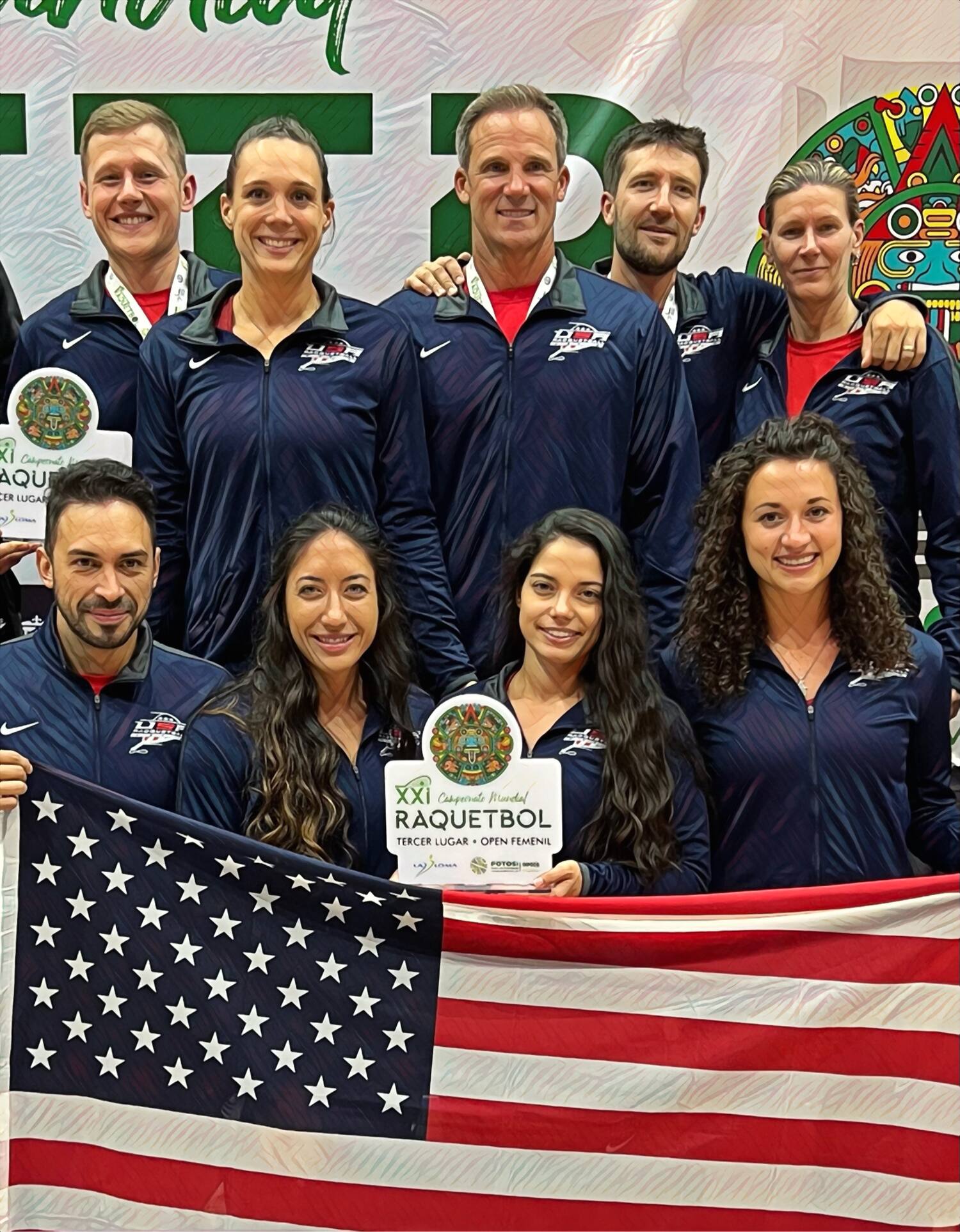 Photo courtesy of USA Racquetball

MORE INFO AND MATCH VIEWING AVAILABLE!
For results and links, visit https://www.internationalracquetball.com/xxi-world-racquetball-championships/.

Live streaming was featured on the IRF's YouTube channel and the IRF Facebook page, and many can be viewed on YouTube at IRF TV – International Racquetball Federation or on Facebook: International Racquetball Federation – IRF.

Additionally, there are U.S. Team non-commentated matches posted on USA Racquetball's Facebook page.

Daily Blogs, including many behind the scenes photos at the IRF World Racquetball Championships, can be found on USA Racquetball's website – https://www.teamusa.org/USA-Racquetball/Features/2022/August/15/World-Championships-Blog.

Fighting for Racquetball – Our Sport for Life
Congratulations from USA Racquetball to every athlete and country delegation who placed in the standings as well as to those who did not. Everyone represented their countries with honor, and we are proud to be a member of the Racquetball family.

The past 2+ years have been rough, with the pandemic wreaking havoc on families, businesses, organizations, sports, schools, really everything. With financial burdens at every turn, we want to take this opportunity to express our thanks to the countries who were able to send their teams and to players who competed at the IRF World Championships in Mexico on smaller teams or individually, many as a result of personal investment and sacrifice.

We also wish to extend our greetings to the players of the countries who couldn't send teams this year that we are looking forward to the next time we can all be together again as a Racquetball family!

Thank You's
The US Team Delegation wishes to deliver our gratitude to those who made this event so truly memorable:

The Host Country of Mexico (Miguel Perea, President) and the Local Organizing Committee, headed by Fabian Parrilla, for hosting a very successful event. The work behind the scenes to host a tournament of this magnitude is extensive. Congratulations for a job very well done!

Carla Garcia of La Loma Centro Deportivo whose leadership and management of so many aspects of the tournament did not go unnoticed (transportation, hotel reservations, billing, and so much more). She and her staff made a big behind-the-scenes difference in everyone's enjoyment of the event.

Staff members who deserve so much gratitude and respect for their time and expertise. Mauro Grandio (Argentina), who has and is expertly organizing so many of the behind-the-scenes IRF functions, was joined at the tournament desk by Pablo Berriel, Adrian Macrino, and Veronique Guillemette (all Argentina). Alexis Iwaasa (Canada) and Kadim Carrasco (Bolivia) did a great job on the social media aspects of this event.

Pablo Fajre, Gary Mazaroff, Gustavo Farell, and Alexis Iwaasa for bringing many hours of live streaming for a solid seven days, Sunday through Saturday.

IRF Sponsor Gearbox (owner Rafael Filippini) whose contributions are so valuable to international events. Also, a warm thanks to Mike Lippitt (RYDF) and Keith Minor (KWM Gutterman) who significantly supported this U.S. Team Delegation.

IRF President Osvaldo Maggi and IRF Vice President Marcelo Gómez Pacheco for their leadership and dedication to Racquetball and its development around the world. Also, to Luke St. Onge and Keith Calkins whose earlier work set a solid foundation for the future.

USA Racquetball Director of Operations and National Teams Renée Isherwood for her considerable behind-the-scenes support such as booking flights, arranging insurance coverage for Team USA, and so much more. Aimee Roehler joined Renée in making sure that the website and social media were kept updated each day.

AND to all the readers of this blog who helped Team USA feel the love from back home!