Junior Worlds Announcement

The U.S. Junior Team, 29 players strong, will compete at the International Racquetball Federation (IRF) World Junior Championships, December 2-10, 2022, in Guatemala City, Guatemala. These athletes qualified to play at the USA Racquetball National Junior Championships in Des Moines, Iowa, in June 2022.
Singles and Doubles will be competed in all age divisions and now include Mixed Doubles (added by the IRF this year). Medals will be awarded (Gold, Silver, Bronze) as will Overall, Boys, and Girls Team trophies. The Team competition is divided into two overall age categories: World Cup (21 & Under, 18 & Under, and 16 & Under) and Esprit Cup (14 & Under, 12 & Under, and 10 & Under).
In forming the competition roster, a few U.S. Junior Team athletes who qualified will be unable to travel to Guatemala City. Therefore, players who qualified just behind them in Des Moines were invited to attend as members of the Team.
The players who will compete in Guatemala represent 8 states: California, Texas, Florida, Illinois, Iowa, Minnesota, Ohio, and Oregon. They include, in order of their age divisions:
WORLD CUP
21 & Under
Assuan Castaneda, Florida
Shane Diaz, Texas
Cody Elkins, California
Micah Farmer, Texas
Annie Roberts, Oregon
Graci Wargo, Florida

18 & Under
Timmy Hansen, Florida
Heather Mahoney, California
DJ Mendoza, Texas
Paul Saraceno, California
Julia Stein, Ohio

16 & Under
Benjamin Horner, Iowa
Ava Kaiser, Minnesota
Nikhil Prasad, California
Naomi Ros, Texas
Cole Sendrey, Texas

ESPRIT CUP
14 & Under
Eshan Ali, California
Elizabeth Denler, Minnesota
Axel Lopez, Illinois
Andrea Perez Picon, California
Nathan Rykhus, California
Montserrat Torres, Illinois

12 & Under
Sarah Bawa, California
Vaishant Mangalampalli, California
Adrian Nelson, Texas
Chris Nelson (also Boys 10 & Under), Texas
Alejandro Robles Picon (also Boys 10 & Under), California
Aarya Shetty, California
Leah Trejo, Texas

U.S. Junior Team Staff
Head Coach – Tim Baghurst (Florida)
Team Leader – Cheryl Kirk (Illinois)
Assistant Coaches – George Bustos (Texas), Jennifer Meyer (Colorado), Abraham Peña (South Carolina/Mexico), Sandy Rios (Texas)
Athletic Trainer – Delaney Farmer (Washington)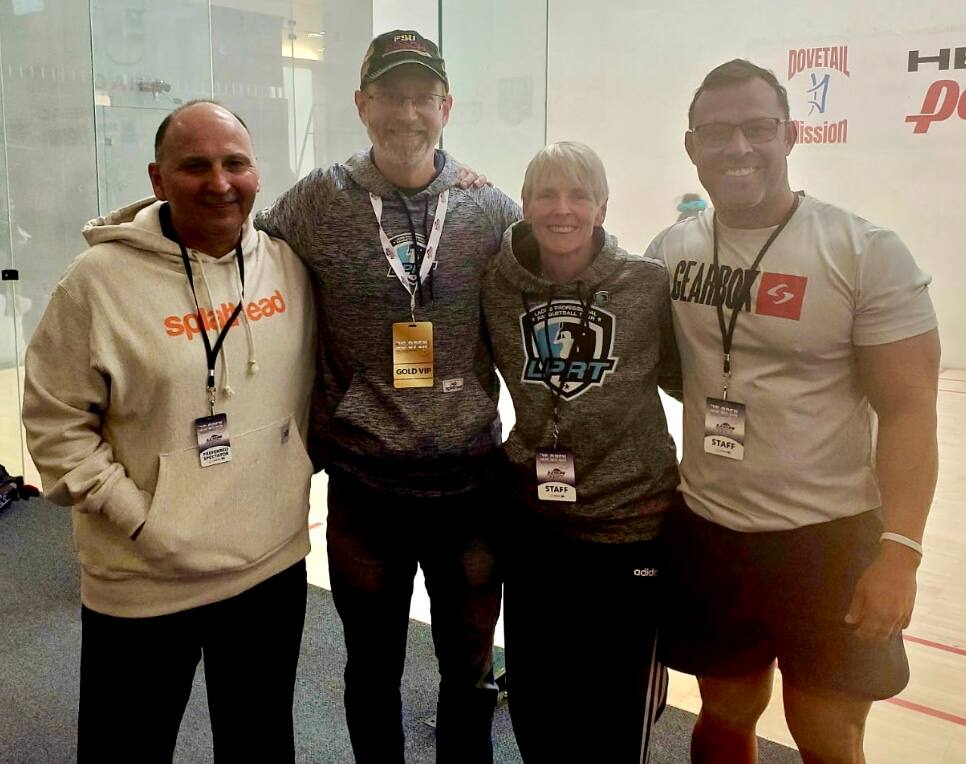 U.S. Junior Team CoachesGeorge Bustos, Tim Baghurst, Sandy Rios, Abraham Peña
Not shown: Jen Meyer (Coach), Delaney Farmer (Athletic Trainer), Cheryl Kirk (Team Leader)
Photo Courtesy of Tim Baghurst
Family and Coaching Support
Lest anyone think that the athletes and staff members are making the trip alone, the fact is that the U.S. Junior Team Delegation will near 80 persons once everyone has arrived in Guatemala! Family members, friends, and private coaches will also be there in support of the Team. And, seven parents will do double duty as coaches for their own players and others alongside the U.S. Junior Team Coaches.

For the Fans Back Home...
It's so important to the Delegation that the love is felt from home! To help everyone back in the States feel like they're right there courtside, the following will be offered:

1. Daily Blogs with plenty of photos posted on the USA Racquetball website.
2. Social media posts from the staff as well as the families and the athletes themselves.
3. Live streaming provided by the IRF for quarterfinals, semifinals, finals, (and the Awards Ceremony on December 10th), for fans from participating countries including the USA.

World Championships Scoring
Rally scoring will be used, which means that a point is scored on every rally whether the rally winner was the server or the receiver.

The format will be Best 3 Games of 5, all to 11 points, all win by 2 points. In other words, the first player/team to win three games is the match winner. If one player/team wins the first three games in a row, the match is over. If they split with the opponent(s), two games each, they go to a tiebreaker fifth game.

Support Gratefully Accepted
In the months and days leading up to "liftoff", we would be honored to have your support for the U.S. Junior National Team with a tax-deductible contribution via the Team USA Challenge. Your assistance is vital to the delegation as they prepare to represent the United States in international competition. Donations over $100 are matched by a group of benefactors. Funds raised for the Junior Team are used for expenses like staff travel, player/coach insurance, meals, etc.

Donations are gratefully received at: https://www.teamusa.org/USA-Racquetball/Donation-Programs/2022-Team-USA-Challenge.

Thank you from the U.S. Junior Team Athletes, Staff, and USA Racquetball!

GO TEAM USA!