World Games Recap
by Cheryl Kirk and Renée Isherwood
RACQUETBALL AT THE WORLD GAMES
BIRMINGHAM, ALABAMA, USA
JULY 2022
In the May issue of Serving Up the News, a World Games article (https://go.teamusa.org/3LwW9Fg) described the coming event and what Racquetball's involvement would be.
Over the 11-day timeframe, more than 3,600 of the world's best athletes from 100+ countries competed in over 30 unique multi-disciplinary sports. More than 600 medals were awarded to competing athletes, including 200 gold medals for the champions of each discipline. The 40th Anniversary of the World Games marked the return of the event to the United States for the first time since the inaugural World Games in Santa Clara, California, in 1981.
Racquetball took the stage, July 10-13, at the University of Alabama Campus Recreation Center, and it was very much one of our finest hours. On the USA Racquetball side of things, five Daily Blogs were provided by USAR Team Leader Renée Isherwood -- check out the day-by-day coverage and photos at https://go.teamusa.org/3OmH2j7
U.S. DELEGATION
Members included Athletes Alejandro Landa (Texas), Jake Bredenbeck (Minnesota), Kelani Lawrence (Virginia), and Rhonda Rajsich (Arizona), Coach Jim Durham (California), Athletic Trainer Rodger Fleming (Georgia), Team Leader Renée Isherwood (Colorado), Executive Director Mike Wedel (Kansas), and National Events Director Connor Shane (Colorado).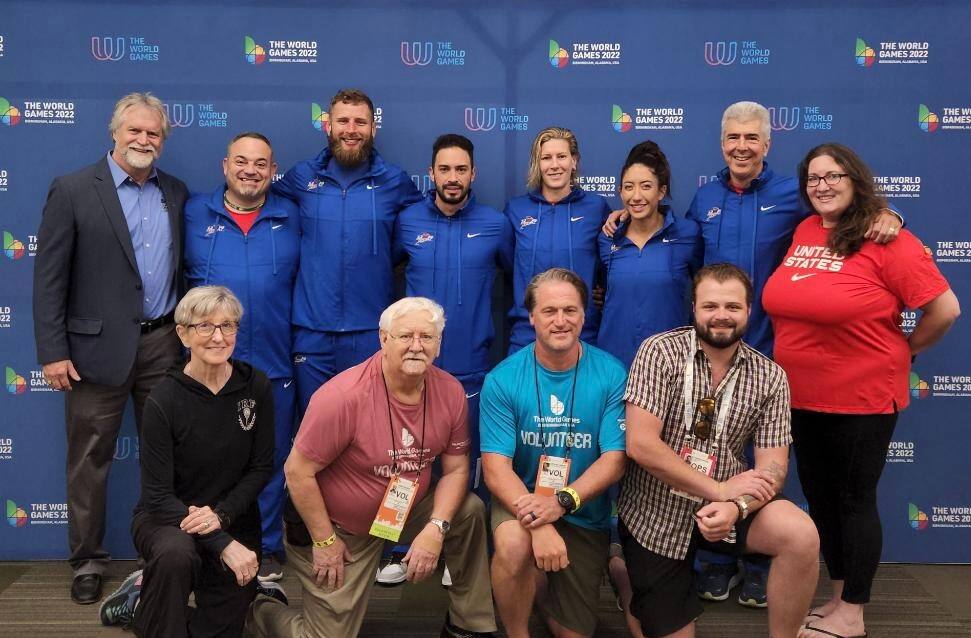 L to R (rear): Mike Wedel, Rodger Fleming, Jake Bredenbeck, Alex Landa, Rhonda Rajsich, Kelani Lawrence, Jim Durham, Renée Isherwood
L to R (front): Cheryl Kirk (Illinois); Bob Frazier (Alabama); David Graves (Mississippi); Connor Shane
Not pictured: Gary Mazaroff (New Mexico); Photo Credit USAR
Family members of Rhonda Rajsich, Kelani Lawrence, Mike Wedel, and Renée Isherwood supported the delegation with their enthusiastic presence.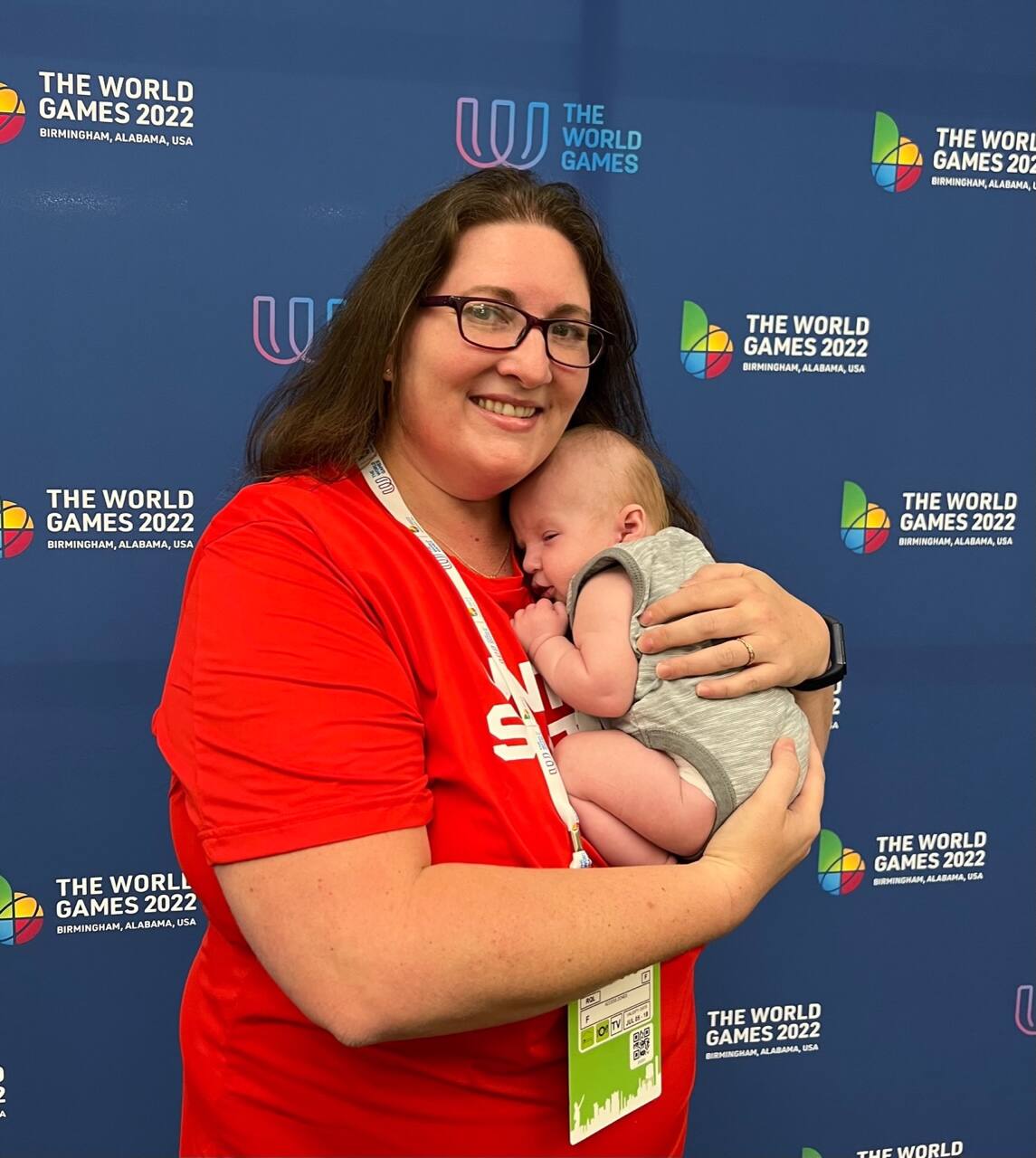 New mom Renée Isherwood brought Racquetball's youngest cheerleader: Oliver! Photo Credit Cheryl Kirk

32 Athletes from 14 Countries -- Argentina (2), Bolivia (3), Canada (1), Chile (1), Colombia (2), Costa Rica (2), Dominican Republic (1), Ecuador (2), Guatemala (3), Ireland (4), Japan (1), Korea (2), Mexico (4), USA (4)
# Matches -- 32 -- Round of 16 (16), Quarterfinals (8), Semifinals (4), Third place playoffs (2), Finals (2)
THE SCORING AND COMPETITION FORMAT
Rally scoring was used, i.e., a point is scored by the winner of every rally, regardless of whether they were serving or receiving. The same scoring was used as in the individual competition at the Pan American Racquetball Championships (PARC) in Bolivia: Best of 5 games, with the first four games to 15 points and a tiebreaker game if necessary to 11 points, with just that tiebreaking fifth game won by 2 points. (Note: rally scoring will continue in the IRF World Championships and the IRF World Junior Championships in August and November, respectively.)
The difference with the World Games is that with the single elimination format and only 32 athletes competing, matches that are too brief would not provide a full look and desired exposure for the sport.
THE COMPETITON
In this Singles only/single elimination format, 16 men and 16 women vied for Gold. These players competed at the IRF World Championships in Guatemala last December, not only as part of that World Championships event but also to individually qualify for The World Games.
ATHLETES - 32 (16 men/16 women)
Men's Singles
Alejandro Landa -- USA

Andrés Acuña -- Costa Rica

Mario Mercado -- Colombia

Jake Bredenbeck -- USA

Andree Parrilla -- Mexico

José Daniel Ugalde -- Ecuador

Juan José Salvatierra -- Guatemala

Rodrigo Montoya -- Mexico

Diego García -- Argentina

Felipe Camacho -- Costa Rica

Juan Francisco Cueva -- Ecuador

Ramón De León -- Dominican Republic

Lee Connell -- Canada

Ken Cottrell -- Ireland

Gunhee Lee -- Korea

Eoin Tynan -- Ireland
Women's Singles
Paola Longoria -- Mexico

Kelani Lawrence -- USA

Rhonda Rajsich -- USA

Natalia Mendez -- Argentina

Angelica Barrios -- Bolivia

Ana Gabriela Martinez -- Guatemala

Samantha Salas -- Mexico

María Renée Rodriguez -- Guatemala

Carla Muñoz -- Chile

Cristina Amaya -- Colombia

Michele Morissette -- Canada

Micaela Meneses -- Bolivia

Sumin Lee -- Korea

Aisling Hickey -- Ireland

Majella Haverty -- Ireland

Ayako Hanashi -- Japan
THE MEDAL ROUNDS
WOMEN
Semifinals
Paola Longoria (Mexico) def. Angelica Barrios (Bolivia)
Gabriela Martinez (Guatemala) def. Samantha Salas (Mexico)
3rd Place Playoff (Bronze)
Angelica Barrios def. Samantha Salas
Final (Gold/Silver)
Paola Longoria def. Gabriela Martinez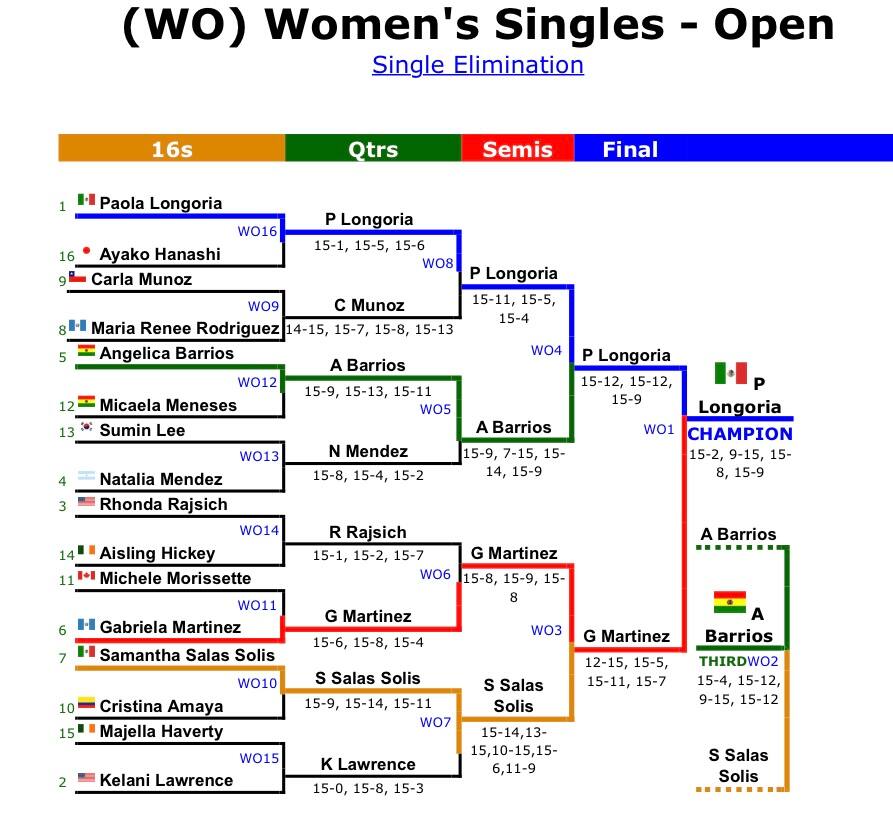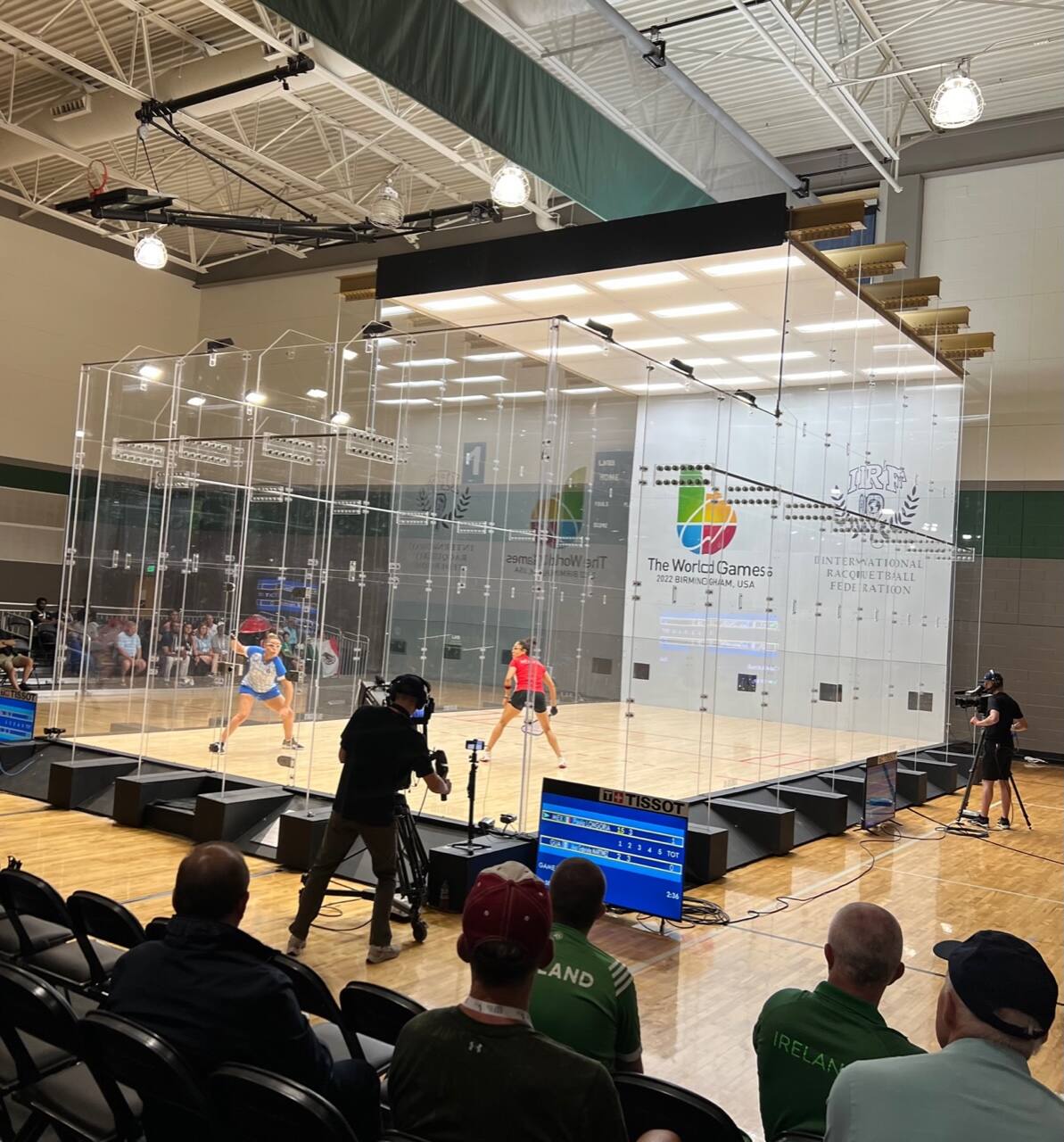 Women's final on Wednesday -- Martinez vs. Longoria. Photo Credit Cheryl Kirk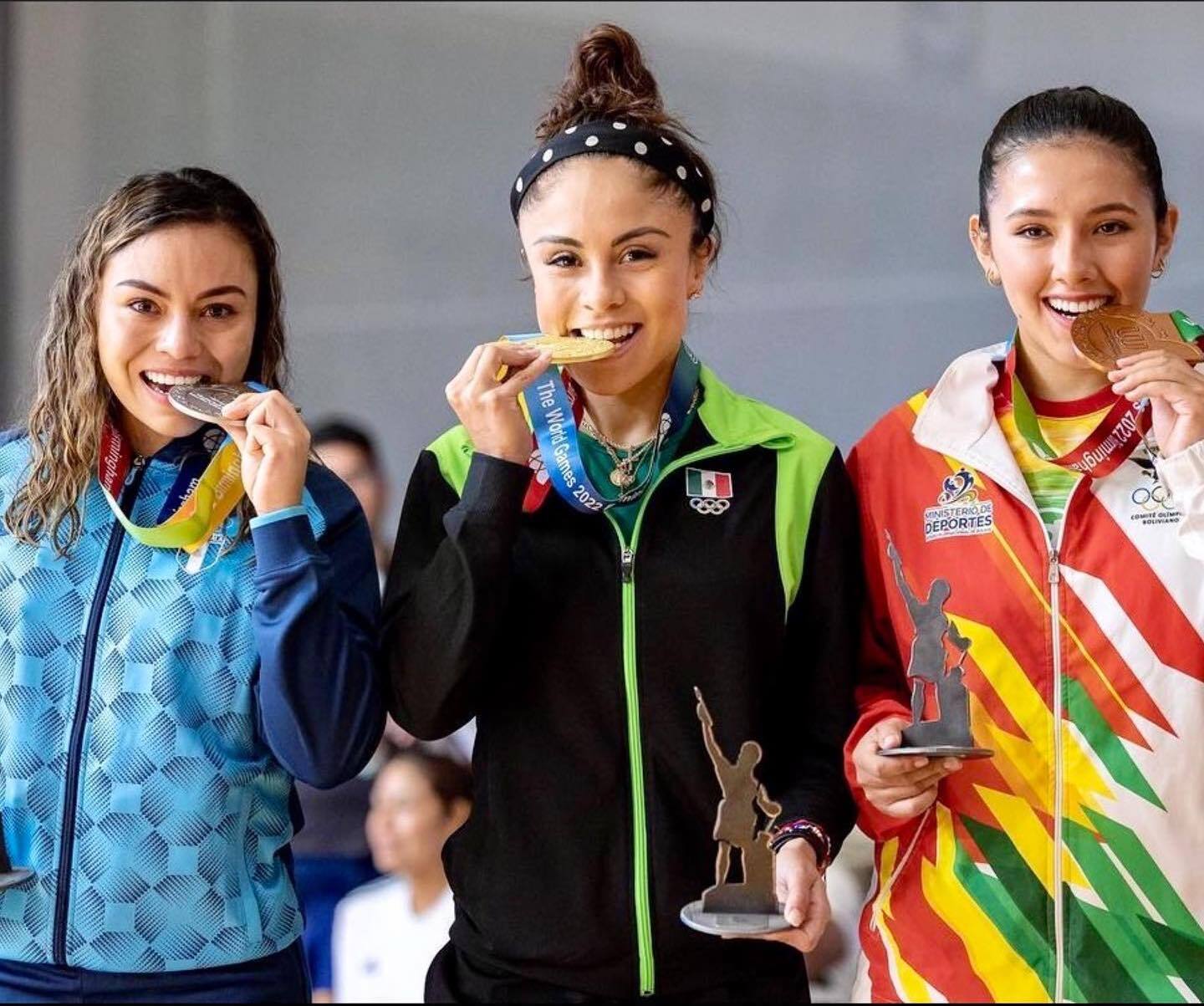 Medalists Gabriela Martinez (Silver), Paola Longoria (Gold), and Angelica Barrios (Bronze). Photo Credit International Racquetball Federation
MEN
Semifinals
Rodrigo Montoya (Mexico) def. Andree Parrilla (Mexico)
Andres Acuña (Costa Rica) def. Mario Mercado (Colombia)
3rd Place Playoff (Bronze)
Andree Parrilla def. Mario Mercado
Final (Gold/Silver)
Andres Acuña def. Rodrigo Montoya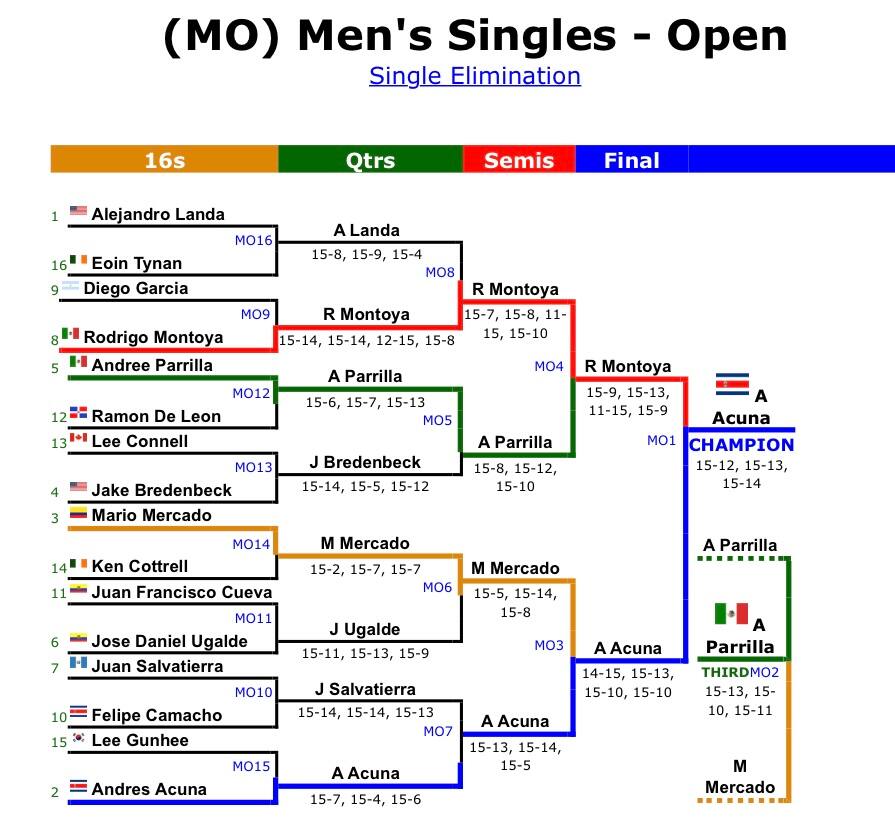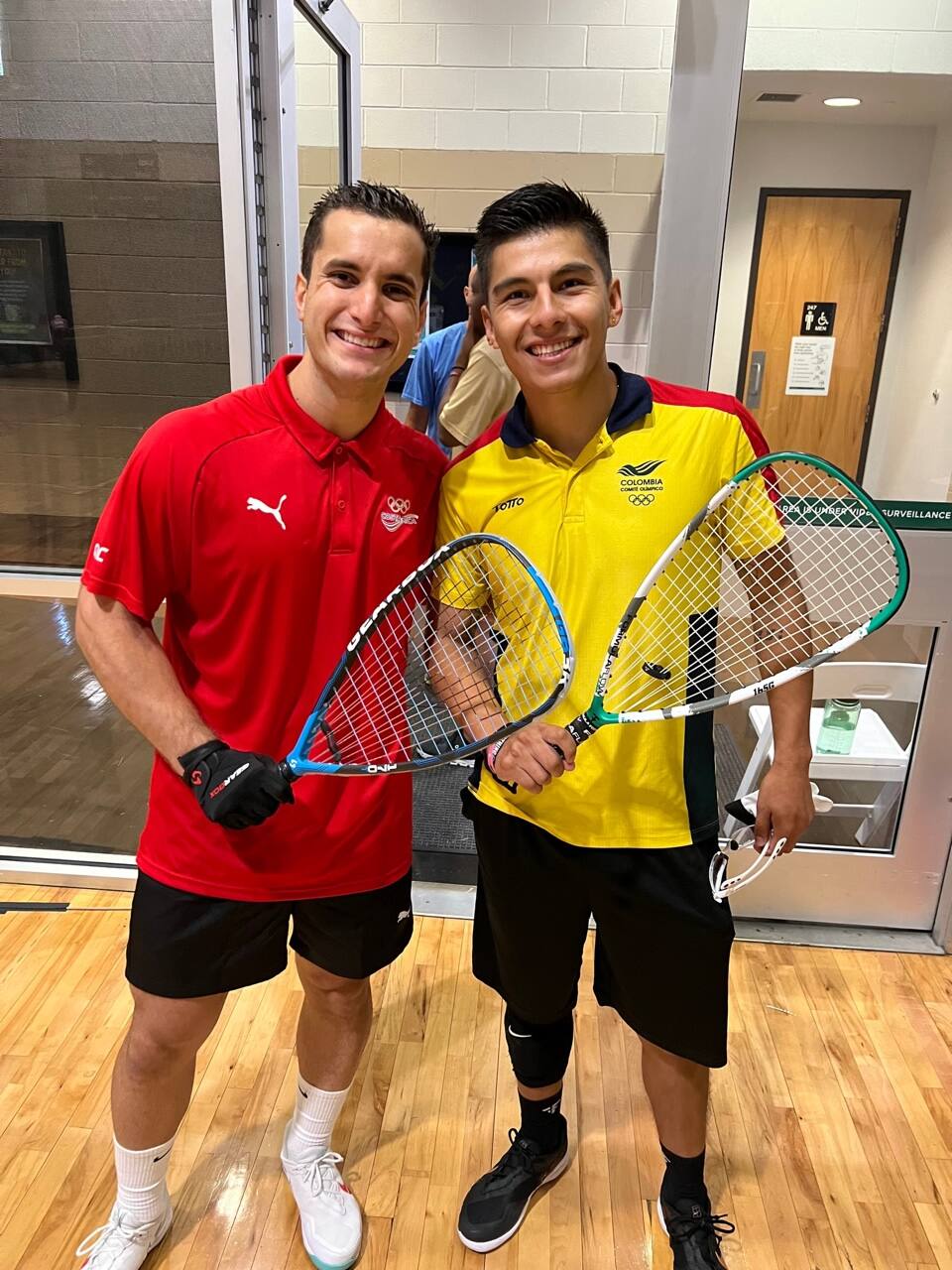 Men's Semifinal Match-Up -- Andres Acuña and Mario Mercado. Photo Credit Cheryl Kirk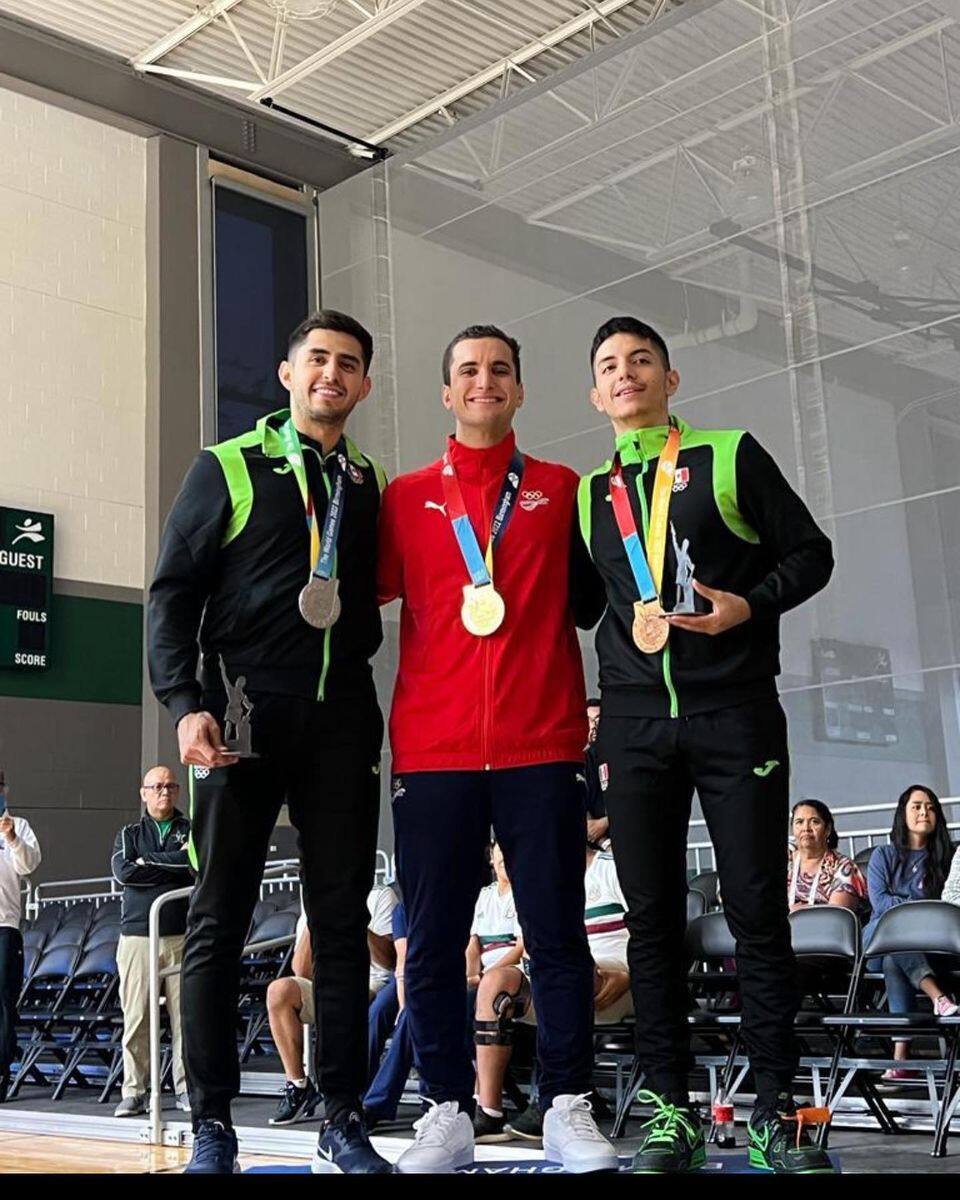 Medalists Rodrigo Montoya (Silver), Andres Acuña (Gold), and Andres Parrilla (Bronze). Photo Credit International Racquetball Federation

VENUE OPERATIONS
The venue was operated by the International Racquetball Federation (Board Members, Staff, Referees) with assistance from the USA Racquetball Staff (Mike Wedel, Renée Isherwood, and Connor Shane) and a number of volunteers.
Besides the stadium court itself, the venue set-up included practice courts, the tournament desk, production staff area, and live streaming. Official referees were on hand, of course, to provide a first-class racquetball experience for domestic and international spectators.
PEOPLE!
To illustrate the care and attention given by the Racquetball Family at The World Games:
COURT CONSTRUCTION -- Eddie Meredith, Anthony Herrera, Trent Stewart, Connor Shane, Adriana Riveros, et al. Heroes all!
Trent Stewart, Eddie Meredith, and Anthony Herrera -- Court Construction Magicians. Photo Credit Cheryl Kirk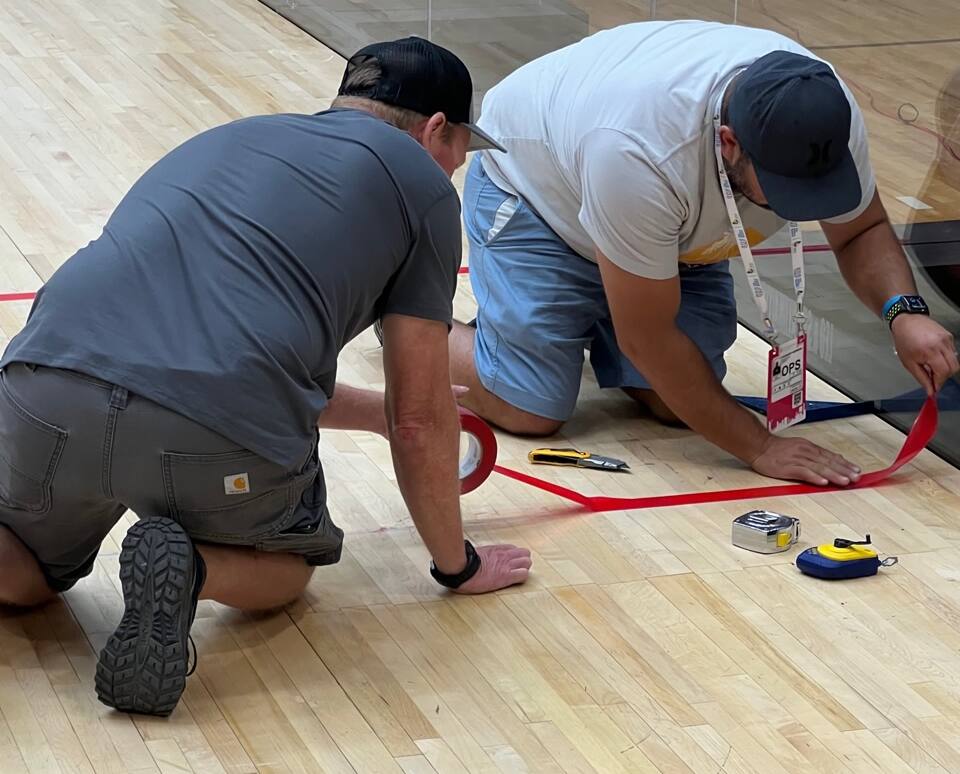 Trent and Anthony: Finishing Touches! Photo Credit Cheryl Kirk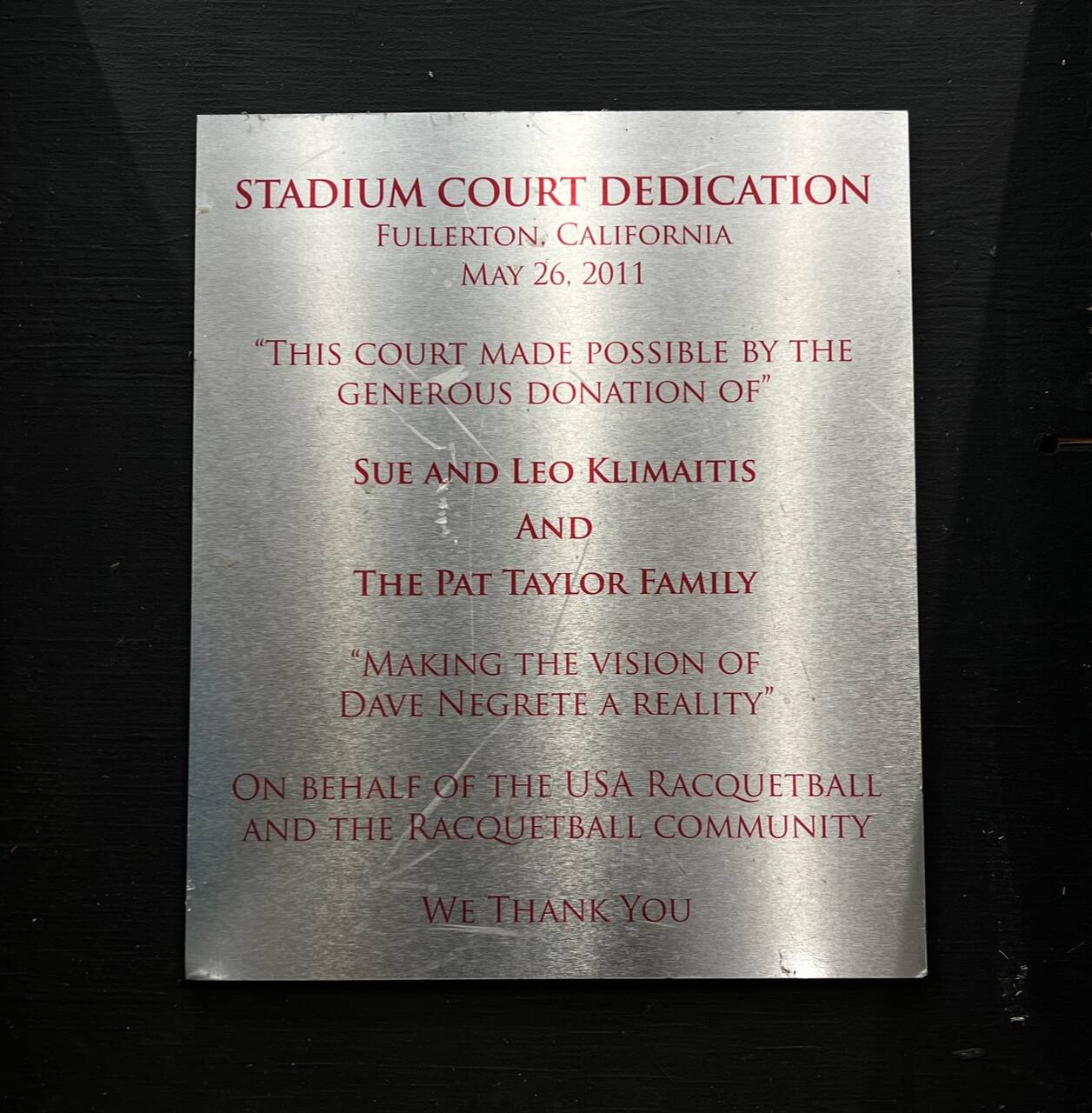 Stadium Court -- An Enduring Racquetball Legacy
VENUE VOLUNTEERS
* Bob Frazier (Team Captain/Volunteer Management; President, Alabama Racquetball Association)
David Graves (President, Mississippi Racquetball Association)
Destry Everhart
Bill Lawrence
Kay McCarthy (Concierge; streaming assistance)
Jeff McCoy (Stringer)
John Sanders
David Shea
Tom Sutherland
Cindy Tilbury (
USAR Board; NMRA President; Concierge/Racket:Next** socialization )
Also:
Jennifer Buettner
Ligon Gad
Brian Hawkins
Jason McMillian
Pam Pam
Tameka Stanton
Xin Xu
*A special shout-out and a lot of gratitude goes to Bob Frazier, President of the Alabama Racquetball Association, who was "boots on the ground" in building a great working relationship with the staff of The World Games group there in Birmingham over the past several years.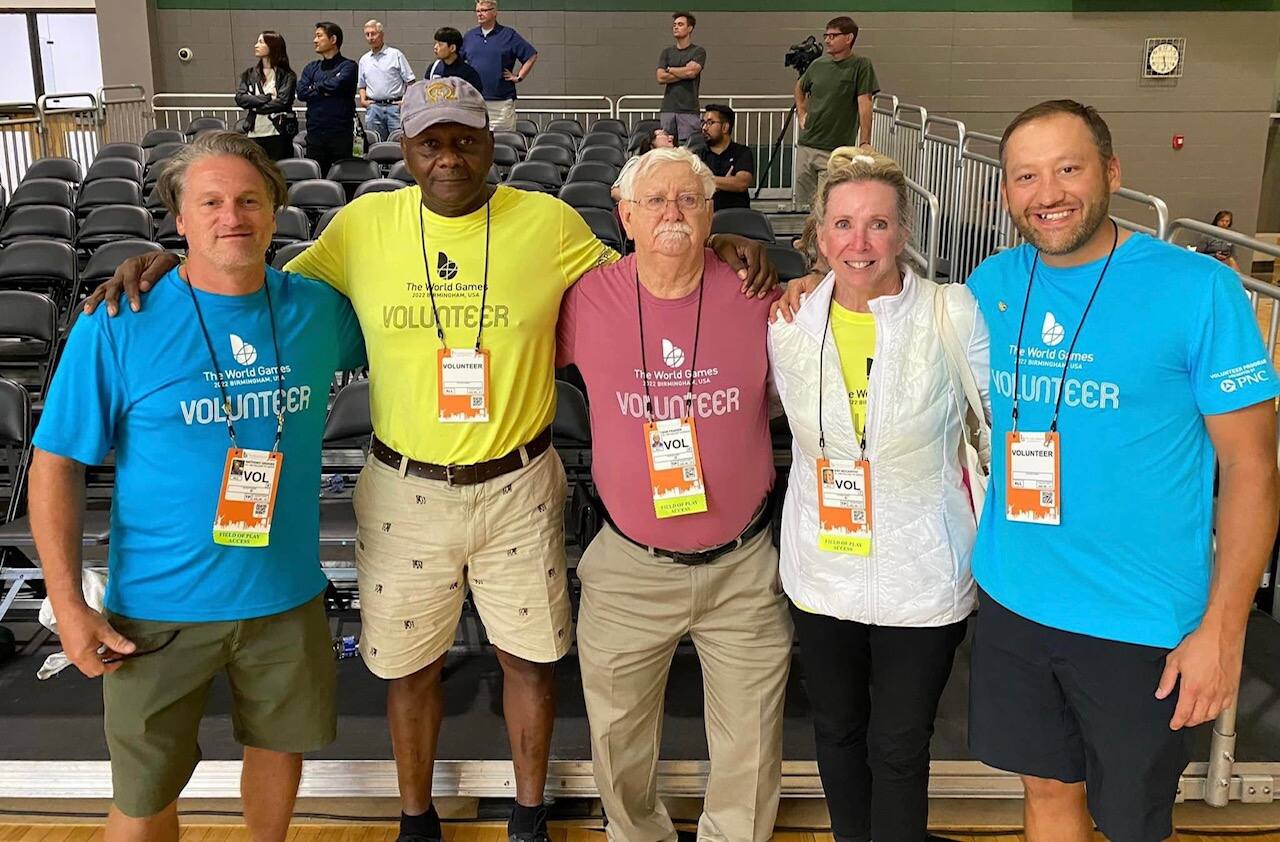 Core Volunteers: L to R David Graves, John Sanders, Bob Frazier, Kay McCarthy, Destry Everhart
Not pictured: Tom Sutherland, Cindy Tilbury, Bill Lawrence, David Shea, Jeff McCoy
Photo Credit Bob Frazier
David Shea and David Graves kept the court sparkling throughout. Photo Credit Cheryl Kirk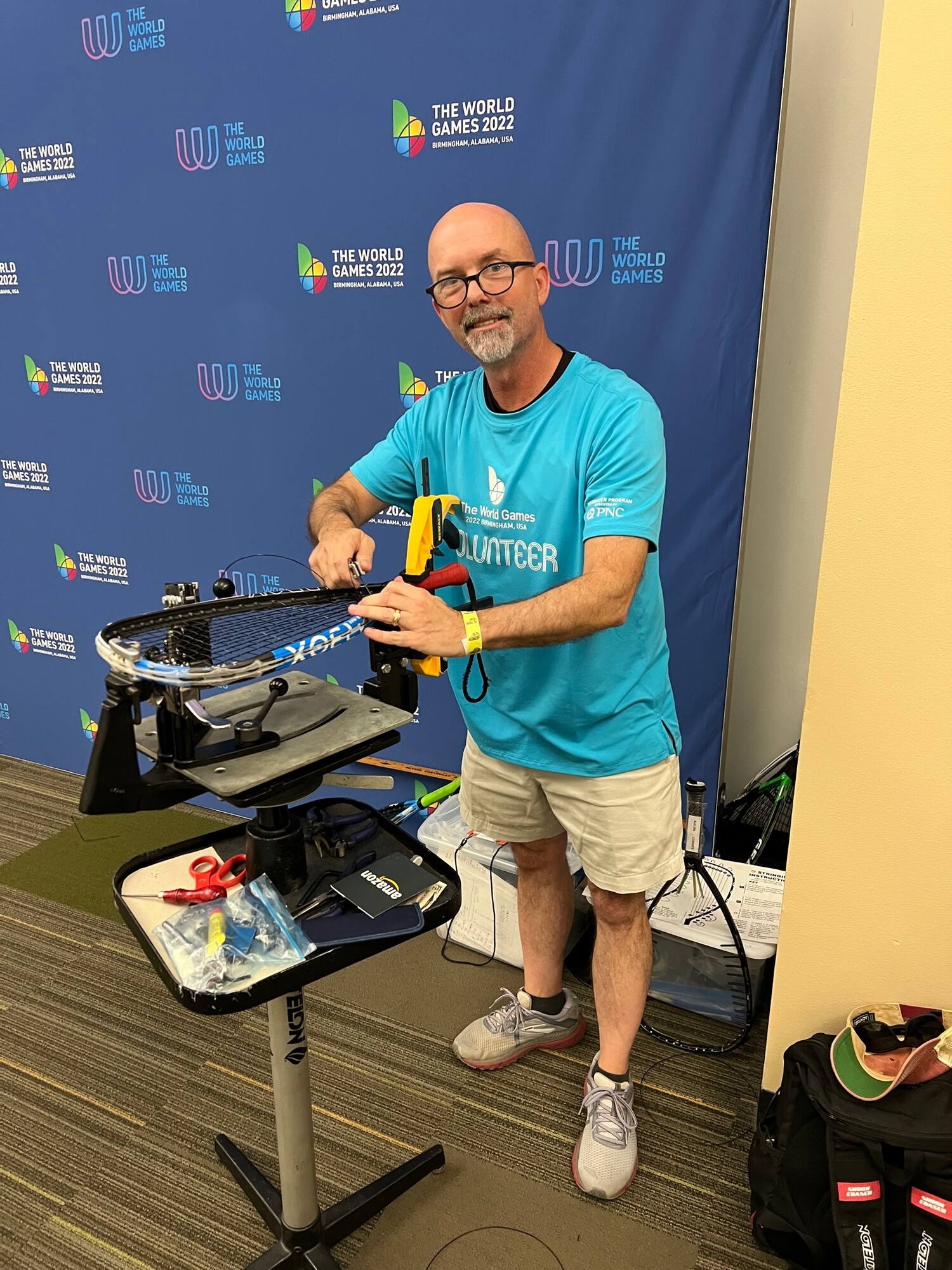 Stringer Jeff McCoy turned on a dime to be there for the athletes all week! Photo Credit Cheryl Kirk
IRF LEADERSHIP & STAFF
*Mauro Grandio (Argentina) -- General Manager
Alexis Iwaasa (Canada) -- Social Media
Cheryl Kirk (USA) -- Athlete Introduction Management (Stadium Court)
Adrian Macrino (Argentina) -- Operations
Daniel Maggi (Argentina) -- Operations/Referee
Gary Mazaroff (USA) -- Streaming Commentary
Dean Schear (USA) -- Operations

*Much admiration must be expressed for the dedication and skills of the IRF's Mauro Grandio for the detailed planning and mountain of administrative tasks he undertook to ensure all went smoothly come Games time.

OFFICIALS (aka Referees)
Diana Aguilar (Mexico), Kurtis Cullen (Canada), Roland Keller (Bolivia), Daniel Maggi (Argentina), María Paz Muñoz (Ecuador)

SPONSORS/VENDORS
The World Games (www.twg2022.com)
Gearbox (www.gearboxsports.com)
Pablo Fajre (Chile; streaming)
Tissot (Timing and Scoring)
Van Wagner (Production/Logistics)

The Production and Timing Teams -- professional and great to work with! Photo Credit Cheryl Kirk

IRF BOARD OF DIRECTORS (position/country hailing from)
Osvaldo Maggi (President; Argentina)
Cheryl Kirk (Secretary; USA)
Yuni Cobb (Women's VP; Asia Racquetball Federation; USA)
Estuardo Wer (Central America/Caribbean Regional VP; Guatemala)
María Renée Rodriguez (Athlete Rep; Guatemala)
Aisling Hickey (Ireland/European Racquetball Federation; Ireland)

PARC BOARD OF DIRECTORS
Marie Gomar (Women's Development; Guatemala)
Dean Schear (Finance and Fundraising; USA)

A MEMORABLE VISIT
On Tuesday at The World Games, the IRF was proud to welcome International Olympic Committee (IOC) President Thomas Bach to the Racquetball venue at the UAB Recreation Center. Mr. Bach viewed part of the Acuña (Costa Rica)/Salvatierra (Guatemala) match on the stadium court and afterward spoke with athletes, staff members, and volunteers. What an exciting way that was to cap off an excellent week in Birmingham!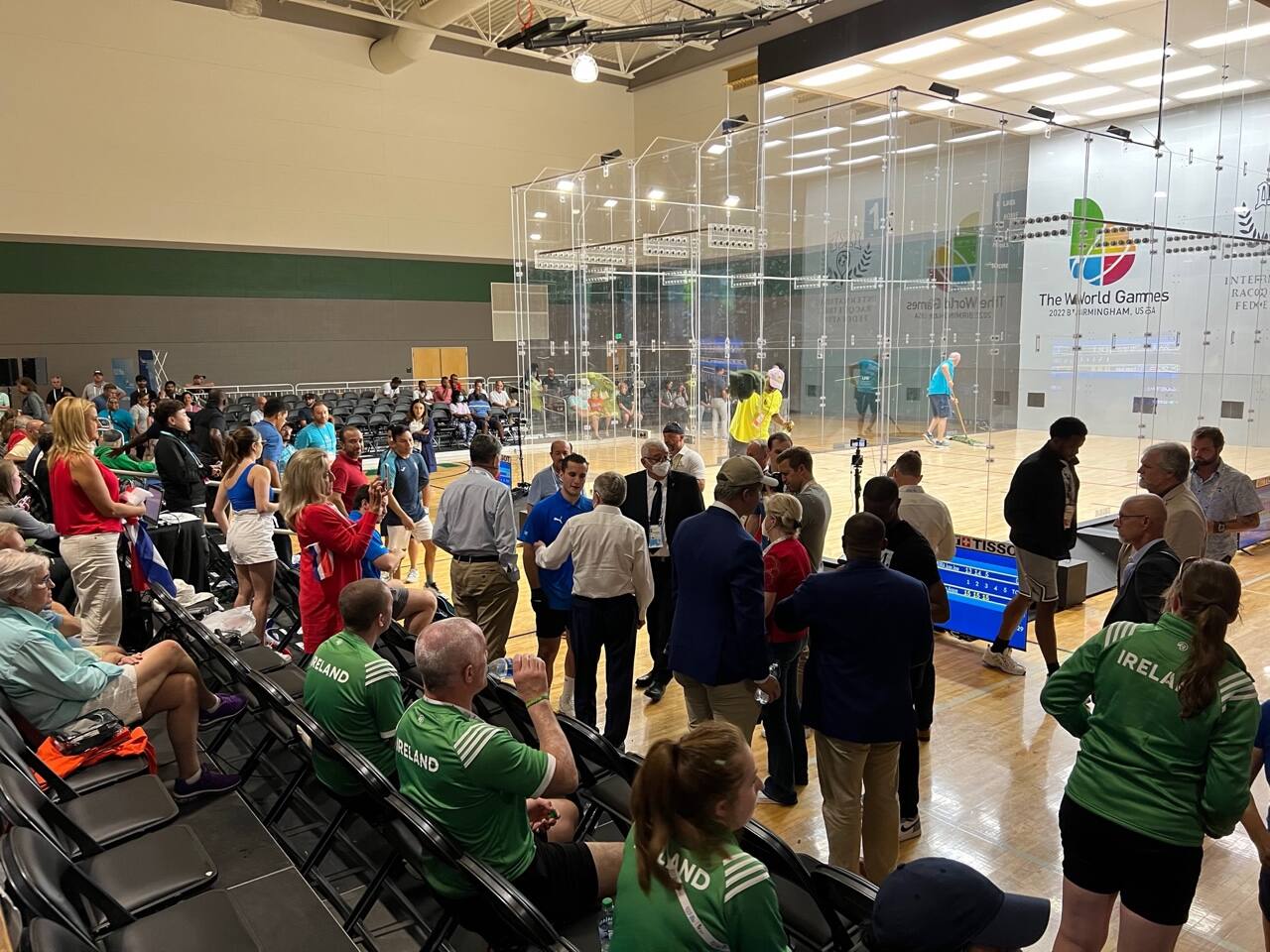 The Scene During IOC President Thomas Bach's visit to Racquetball (white shirt, center, talking with Andres Acuña). Photo Credit International Racquetball Federation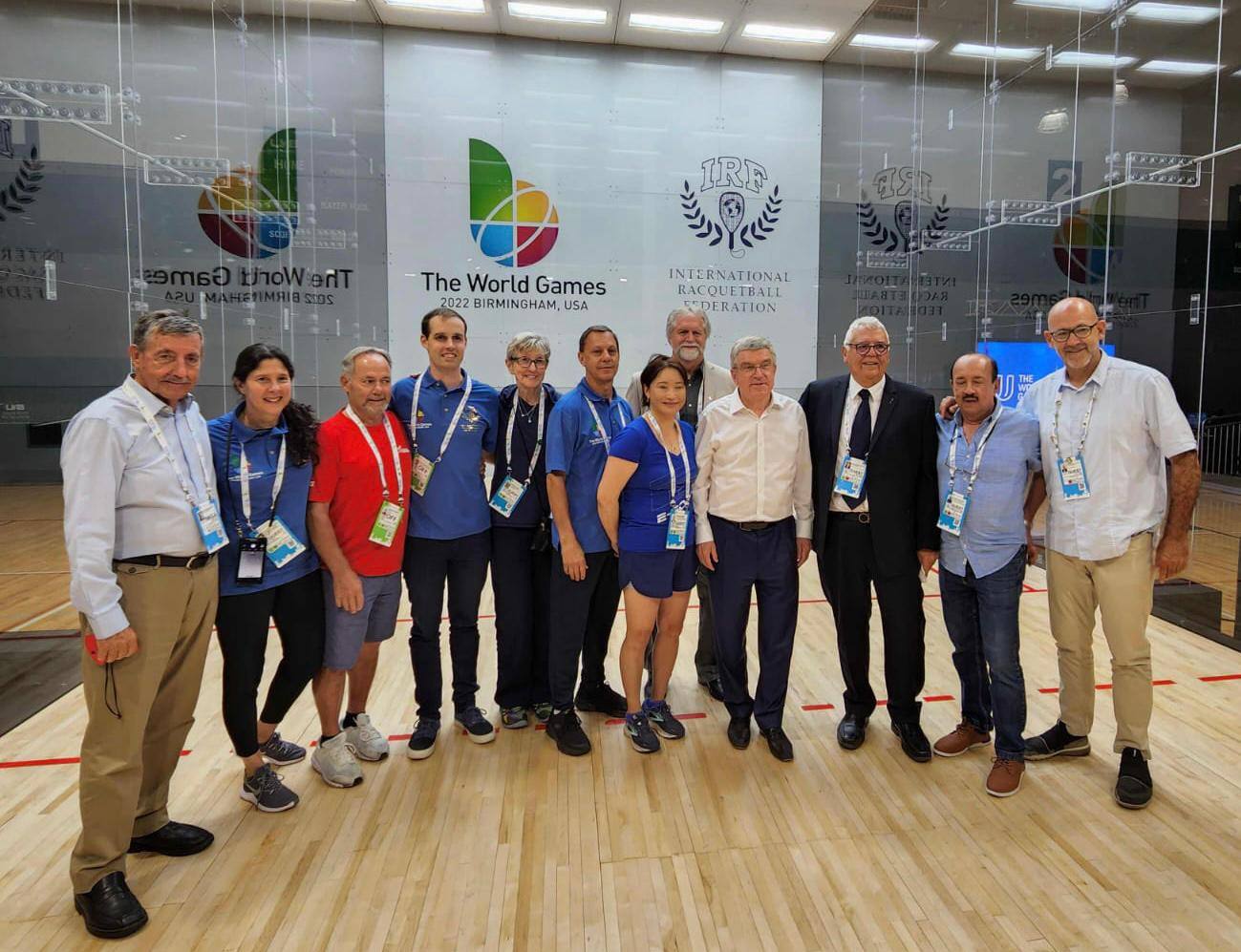 A Memorable Moment in Racquetball's History (IOC President Thomas Bach, fourth from right). Photo Credit International Racquetball Federation
**A VIRTUAL (GAME) REALITY
As an added attraction, the IRF has ventured into the E-Games arena and is one of the three sports invited to have a presence in the E-Gaming Pavilion at The World Games in Birmingham. With the IRF's move to approve the Virtual Reality racquet sport game Racket:Next (aka Racket: Nx), the game is now recognized as a fully sanctioned sports discipline of an IOC-Recognized global sports federation. Indeed, with this action, Racquet:Next has become the first electronic game of any sort to become an official global sport. At the Racquetball venue, Cindy Tilbury (who has become an enthusiastic supporter of the game) had an Oculus II headset on hand and demo'd Racket:Next for many interested parties. Fun!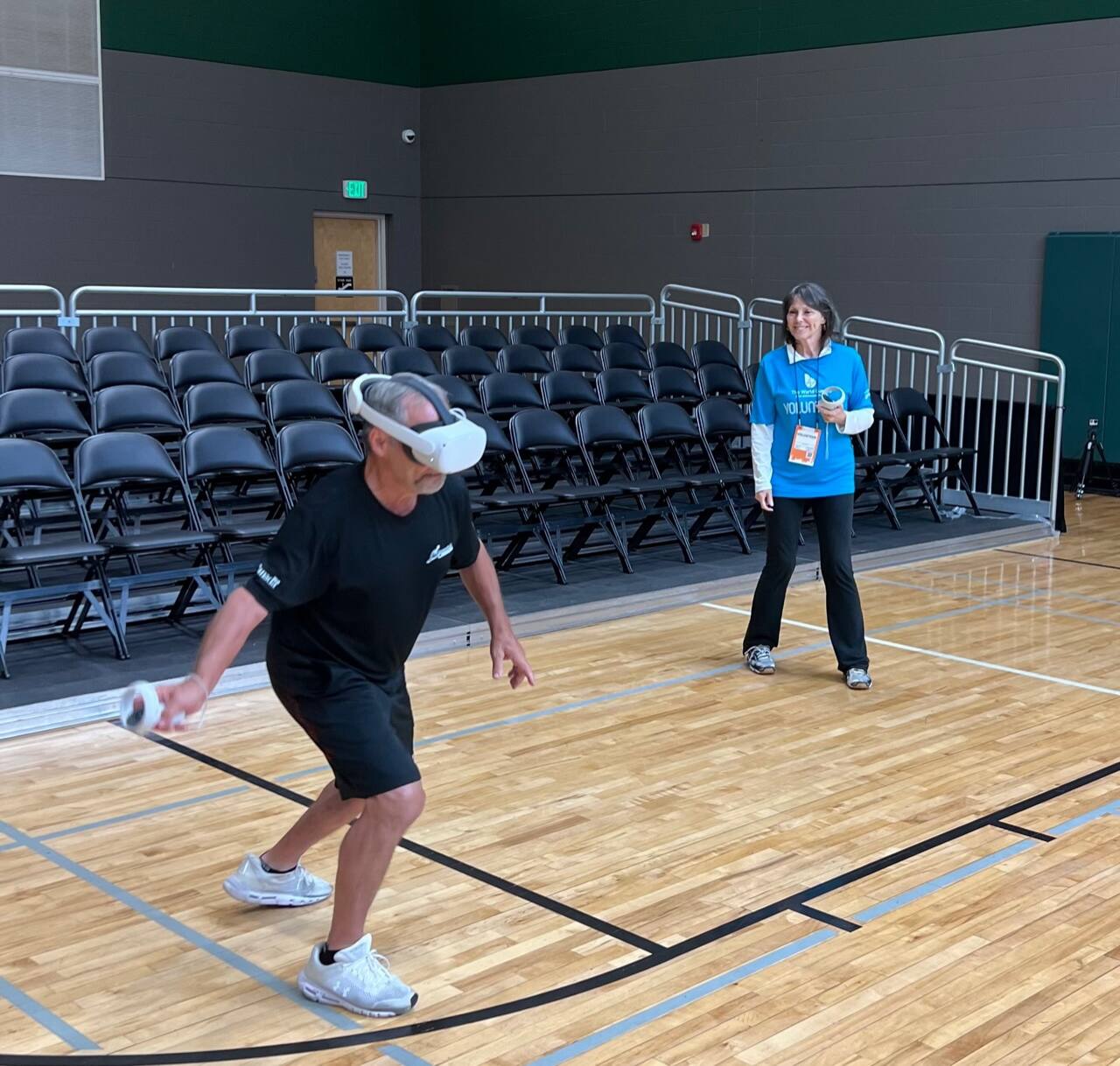 Michel Gagnon (Canada) tries out Racket:Next with Cindy Tilbury looking on. Photo Credit International Racquetball Federation
GEARBOX RACQUETBALLS
The Official Ball of the IRF is the Gearbox Sleek Black, and the racquetballs had prominent presence not only on the court but also in the hands of spectators.
Enough silver Sharpies to sink a battleship + Gearbox Sleek Black racquetballs = Kids excited and engaged! There's nothing like seeing a face light up when you put a racquetball in their hand and take them over to get their favorite player's autograph.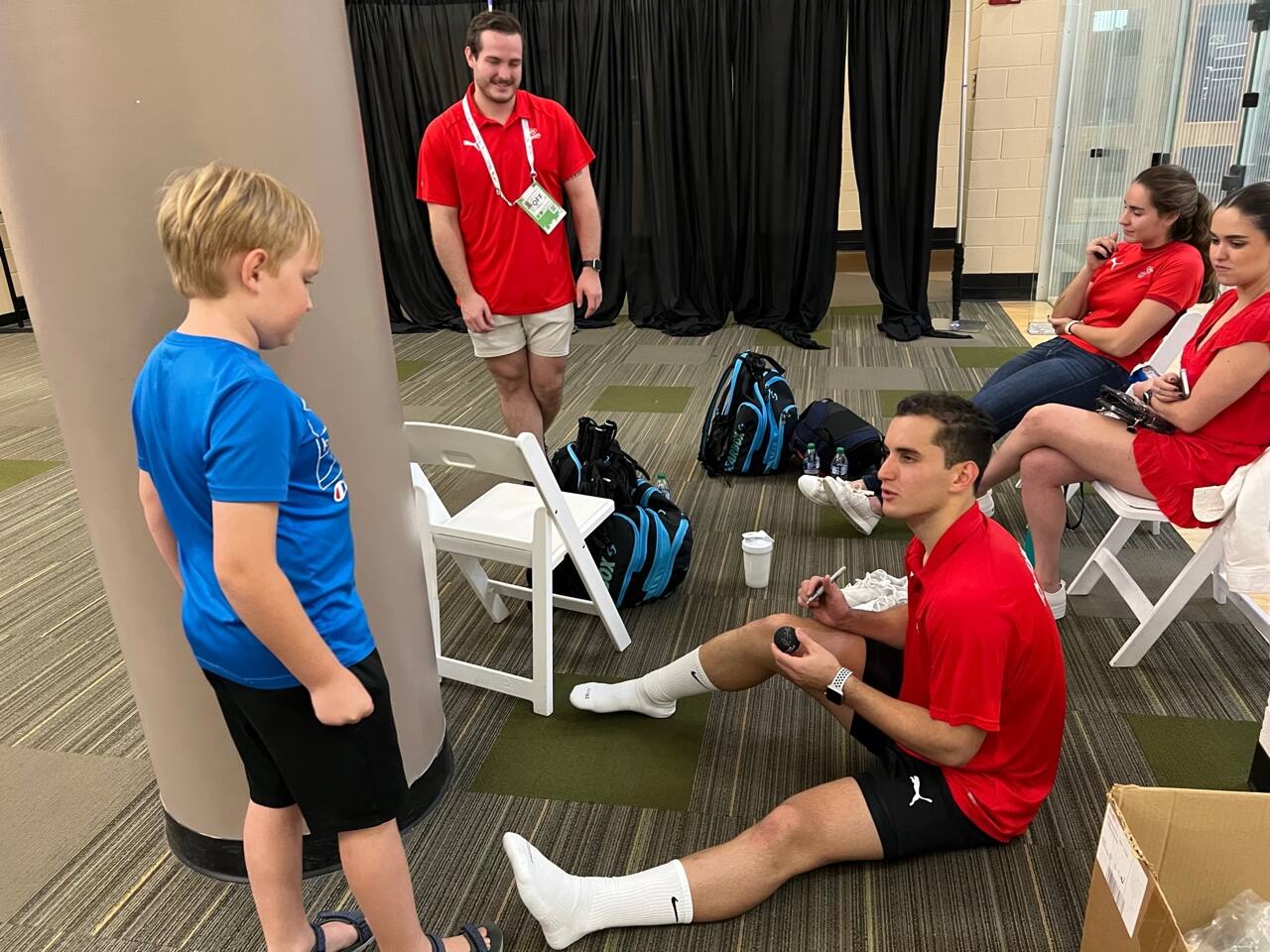 Andres Acuña (Costa Rica)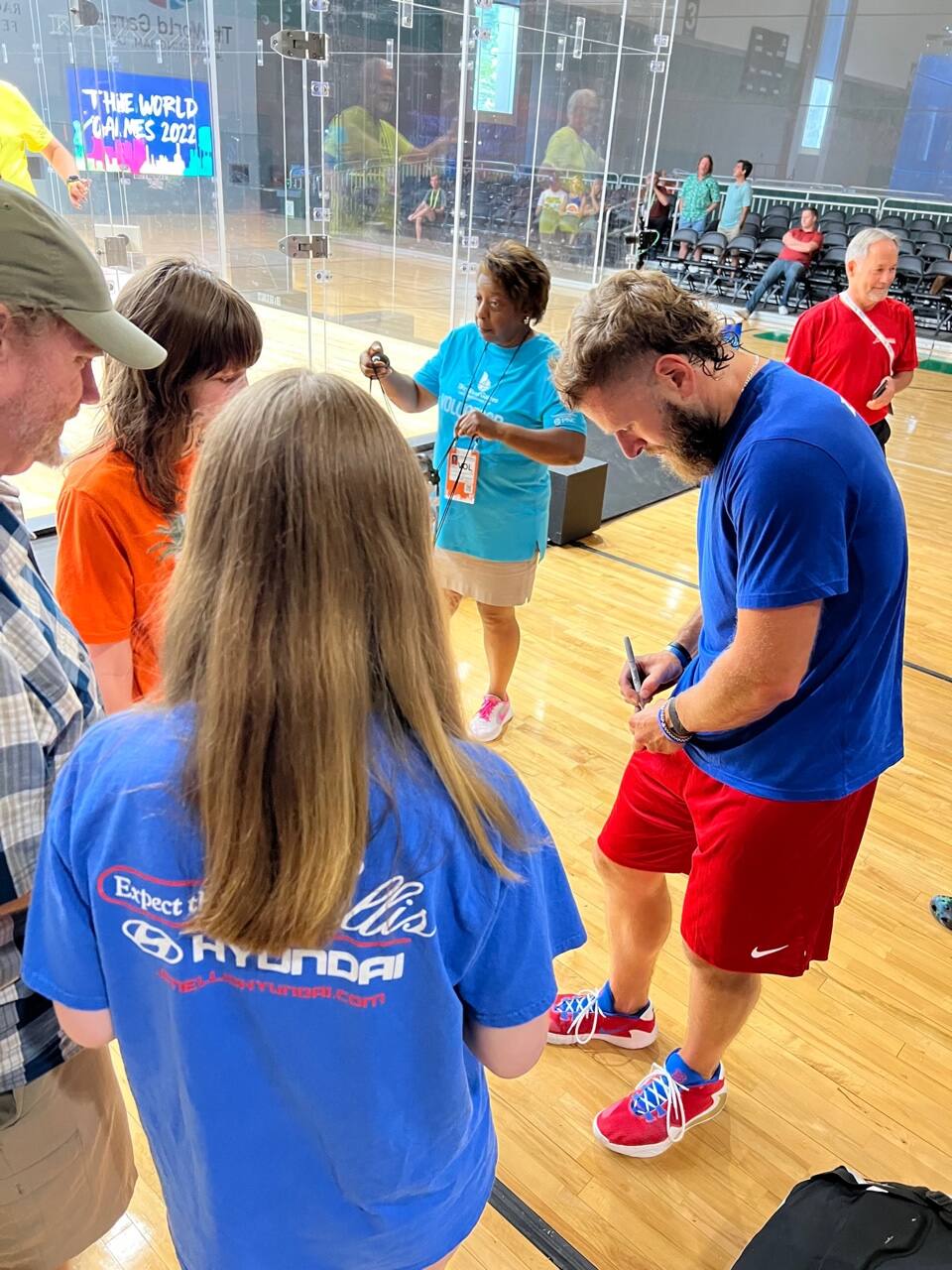 Jake Bredenbeck (USA)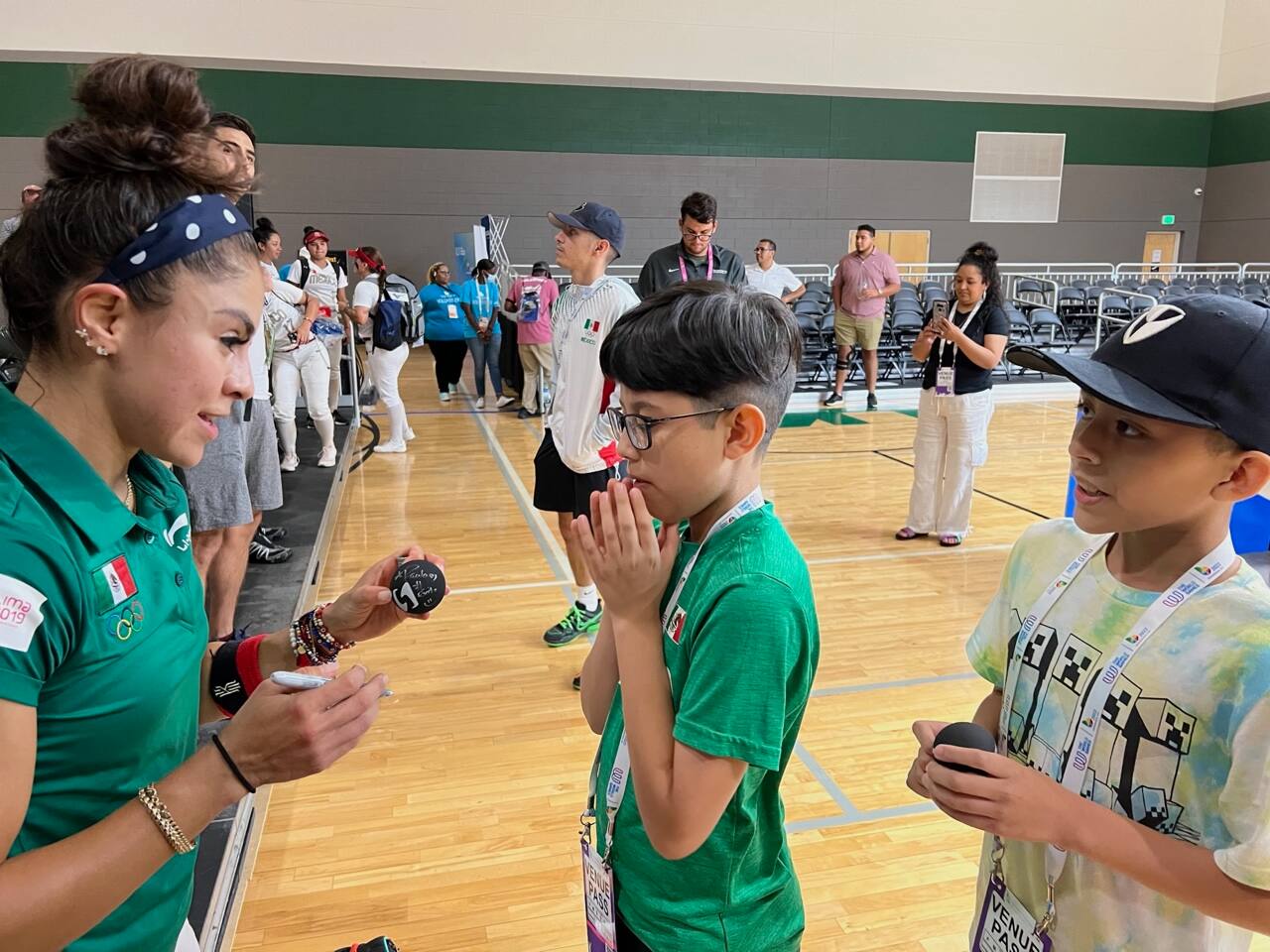 Paola Longoria (Mexico)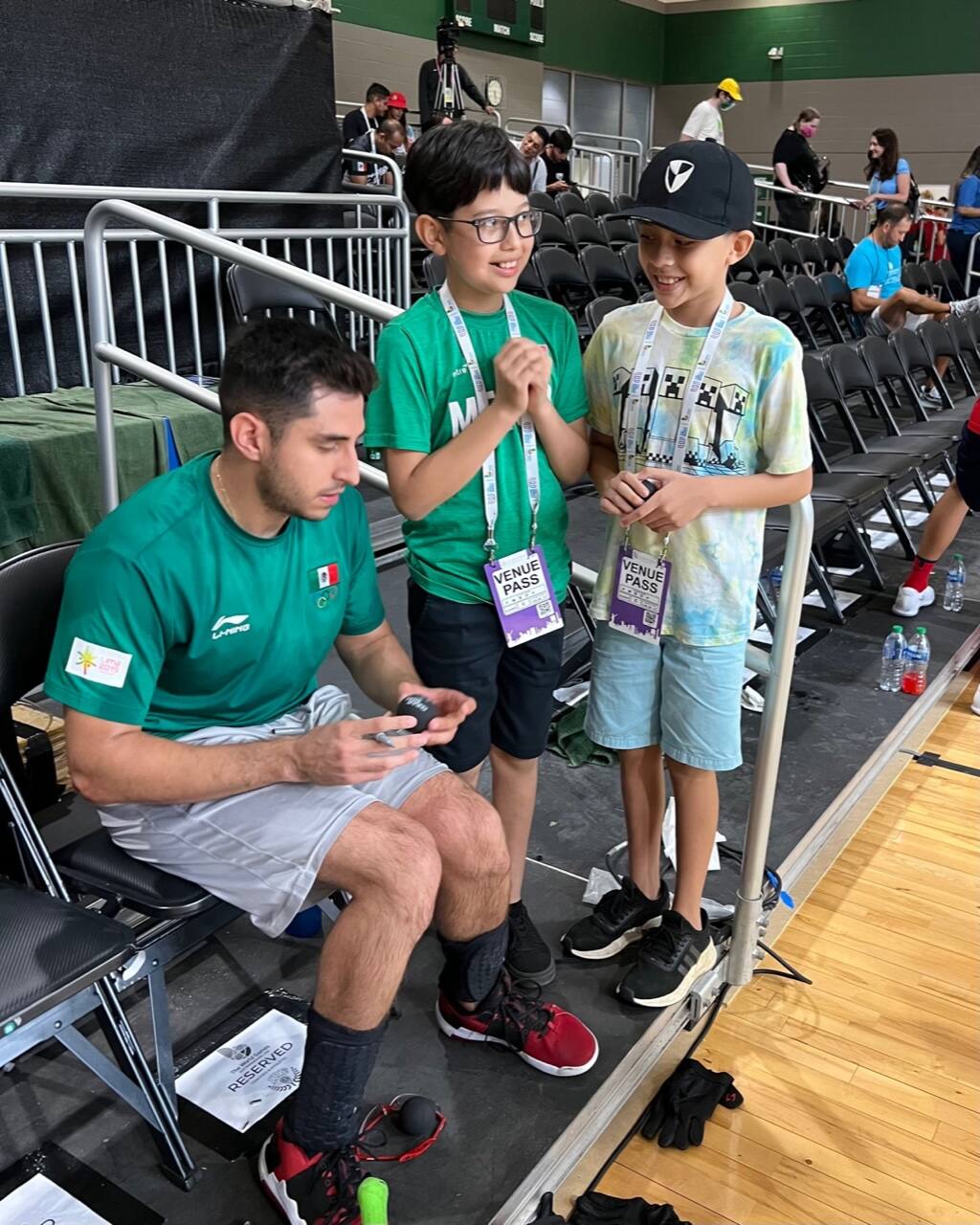 Rodrigo Montoya (Mexico)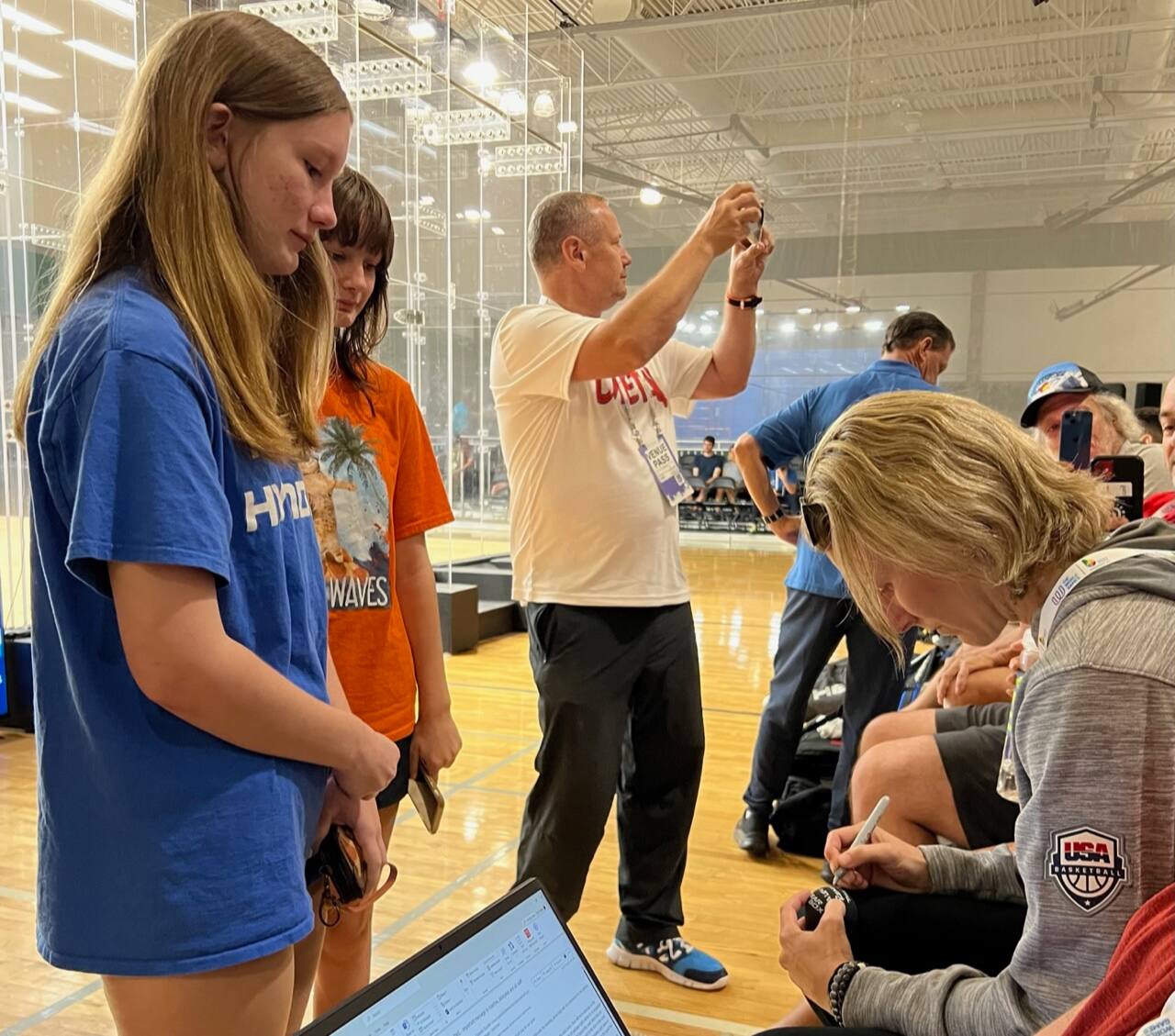 Rhonda Rajsich (USA)
SPECTATORS
Tickets were sold for eight four-hour sessions over four days, two each Sunday 7/10 through Wednesday 7/13. Racquetball players and fans were there in abundance, but there were also many who came to see us who had neither seen nor heard a lot about Racquetball before. Thanks to Luke St. Onge's excellent suggestion, a half-page flyer was developed to share with attendees.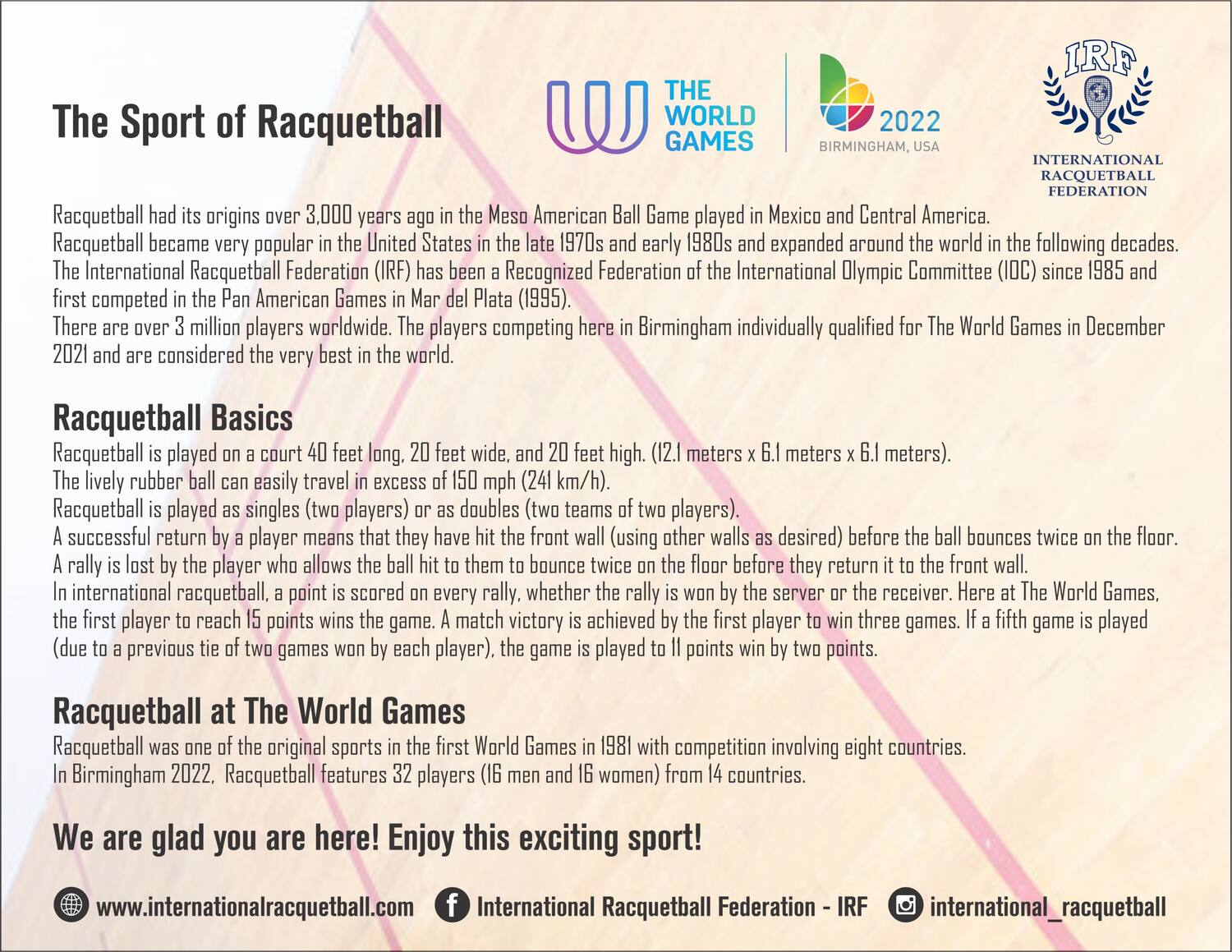 CONCLUSION
So it's a wrap, and thanks to everyone who came to help as well as to those who supported by jumping on and watching the streaming Sunday through Tuesday. We appreciated so much the positive comments on social media. For those who expressed frustration about the semifinal and final matches not being broadcast on CBS and many, many other affiliates -- we were disappointed as well. We also didn't know until the very last minute that decisions were made at the highest network levels to move over to other sports coverage. The fact is that the world of broadcast rights and international affiliates is complicated. Their streaming and broadcasting world is very different from ours.
Now that it's in the rearview mirror, Racquetball at The World Games can definitely be declared a home run on the part of the International Racquetball Federation and USA Racquetball, to include the staff, the volunteers, the supporting vendors (streaming, production, lighting, music, etc.); the spectators; and of course, the athletes! This collaborative effort was many months––for some, years––in the planning, with the end result showcasing Racquetball to the world.
On to more Racquetball in the U.S. and beyond in the coming months!
Here are a few more photos of the event to help paint the picture of what it was like to be there!

Highlighting the Asia Pacific Masters Games 2023 in South Korea. Photo Credit Cheryl Kirk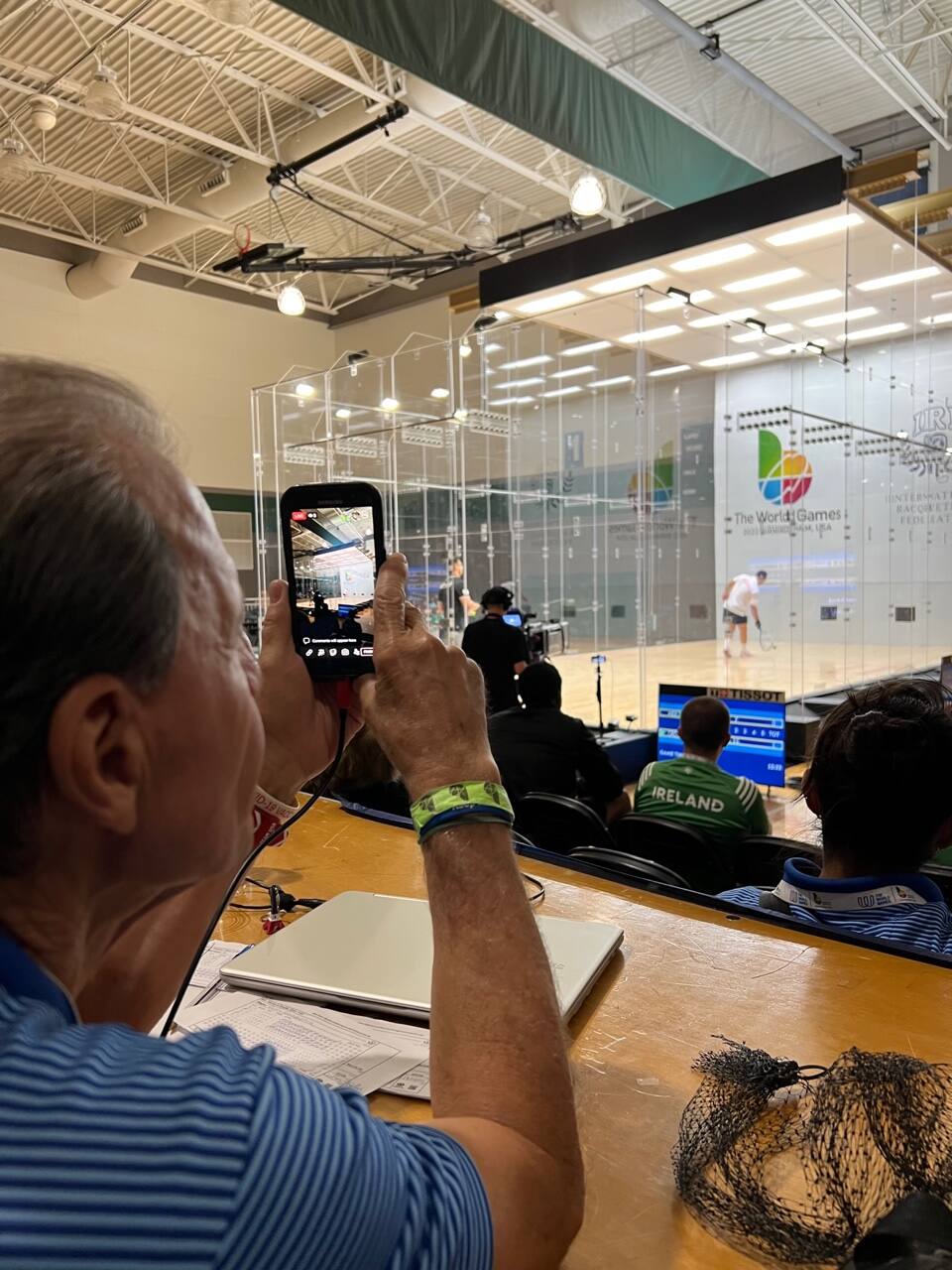 Gary Mazaroff gives his special brand of attention to the Men's Final. Photo Credit Cheryl Kirk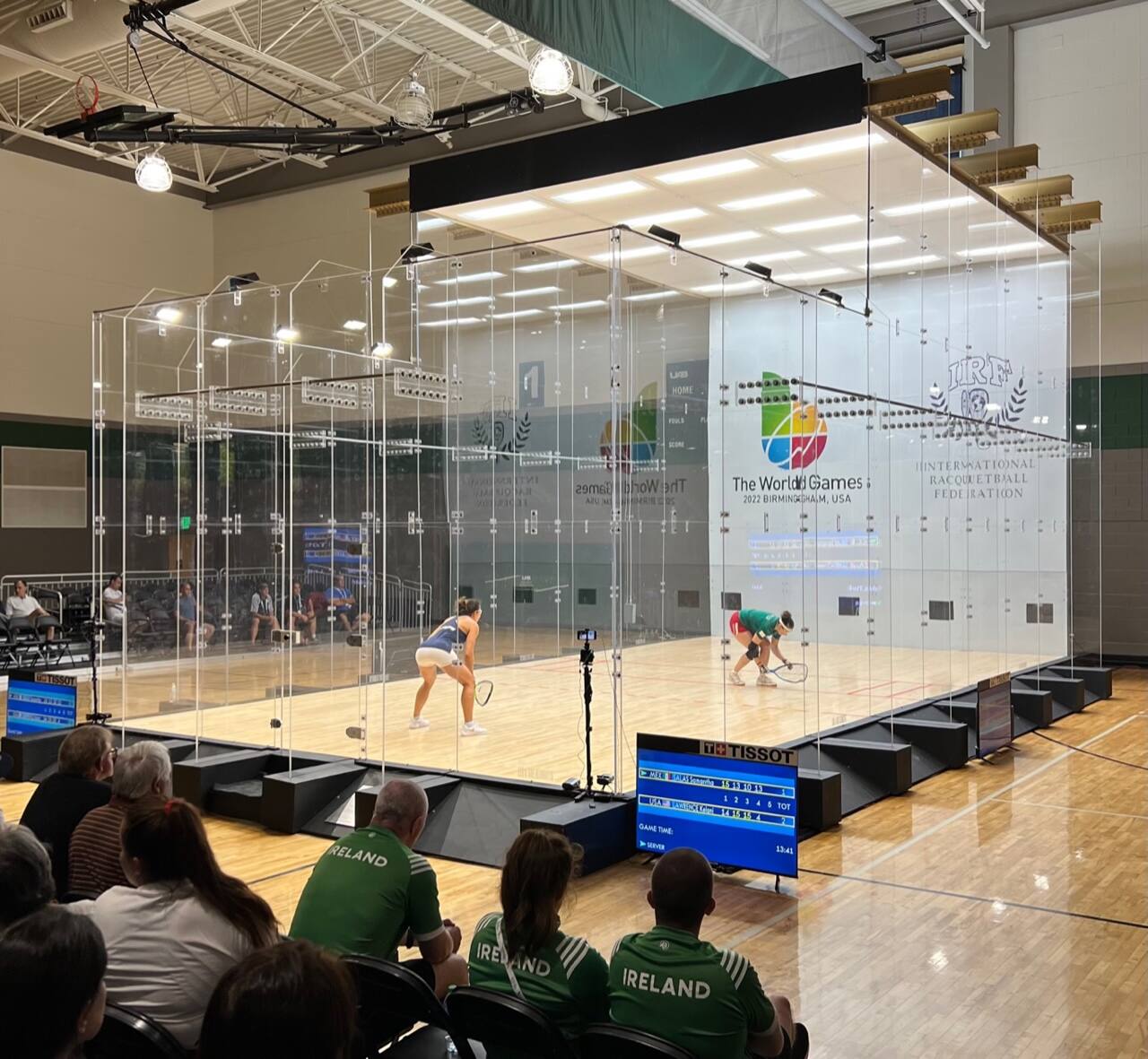 Salas serves to Lawrence in Semifinal matchup. Photo Credit Cheryl Kirk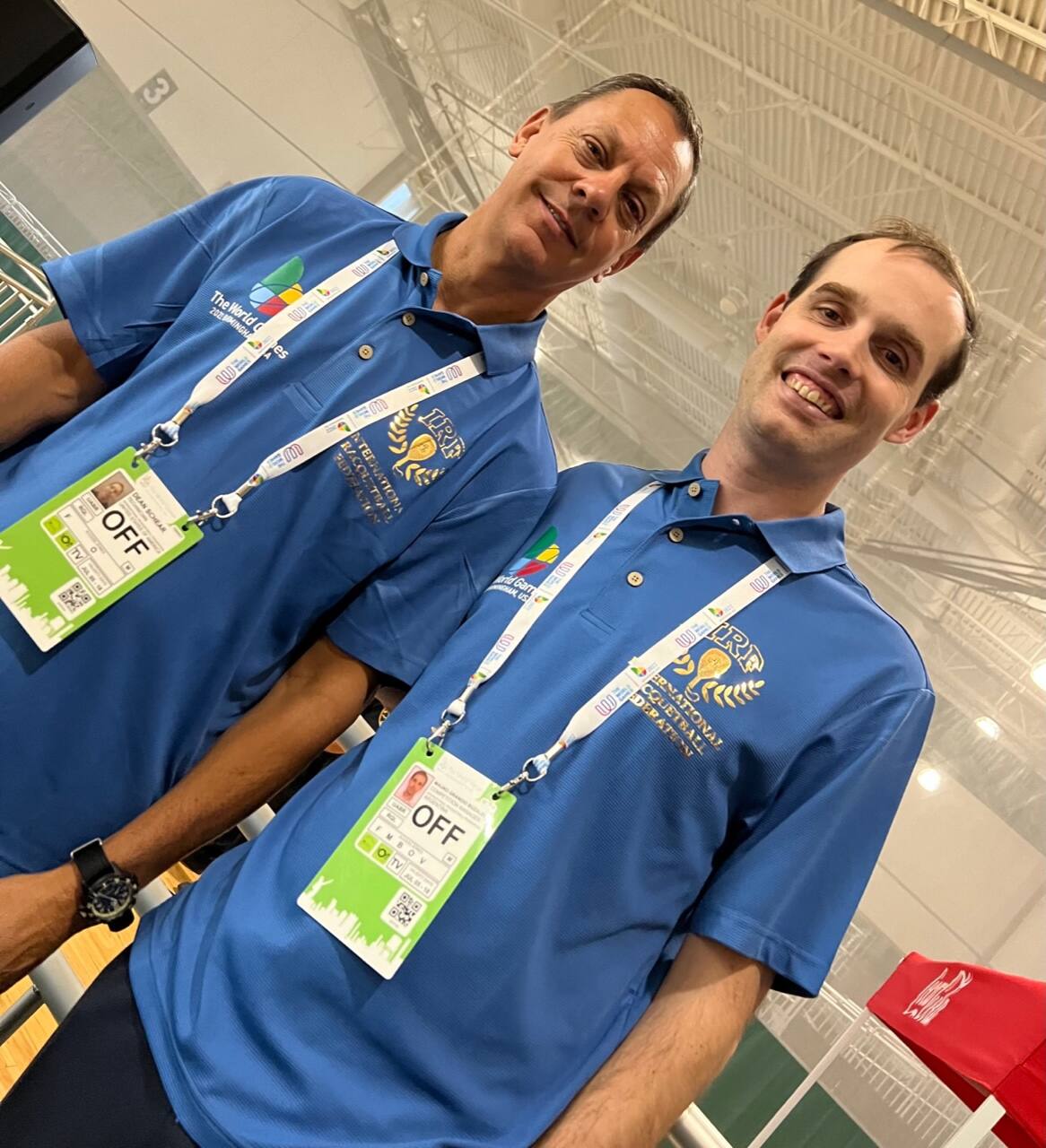 IRF Staff Members Dean Schear (USA) and Mauro Grandio (Argentina). Photo Credit Cheryl Kirk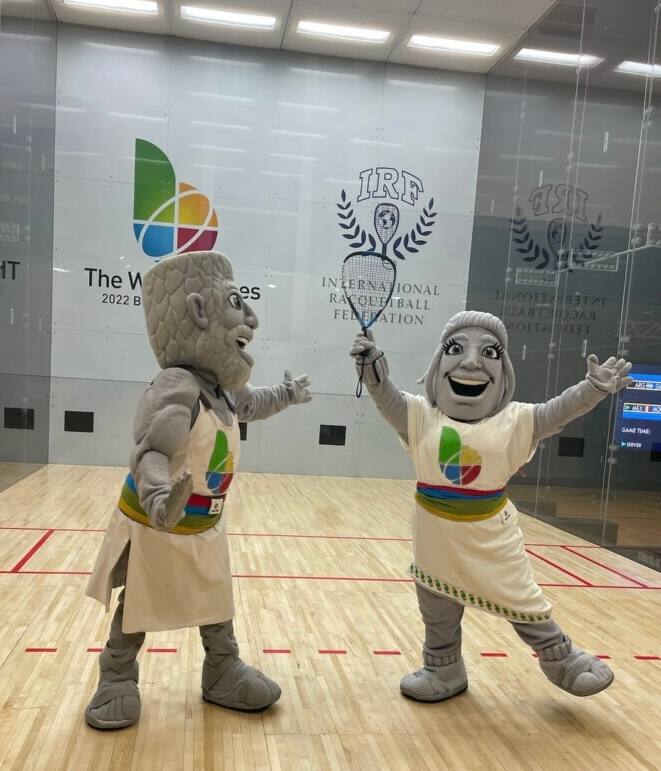 Surprise visitors to the Stadium Court! The World Games Mascots Vulcan and Vesta. Photo Credit International Racquetball Federation