Why do we love racquetball so much? I believe one of the top reasons is that we get to HIT A VERY BOUNCY BALL HARD AT SOMETHING, AND IT COMES RIGHT BACK. All of the other fun parts and health benefits may be secondary. If there are times you don't have a full 20x20x40 court available, you should know about the Racket:Next game (see info at the end of this article*) and the Oculus Quest 2 virtual reality headset. If you have about 12 square feet, you can work on your hand/eye coordination and have a LOT of fun! When you get a little more advanced, you will also want to invite other players across the Internet to compete as if you were standing in the same court with them.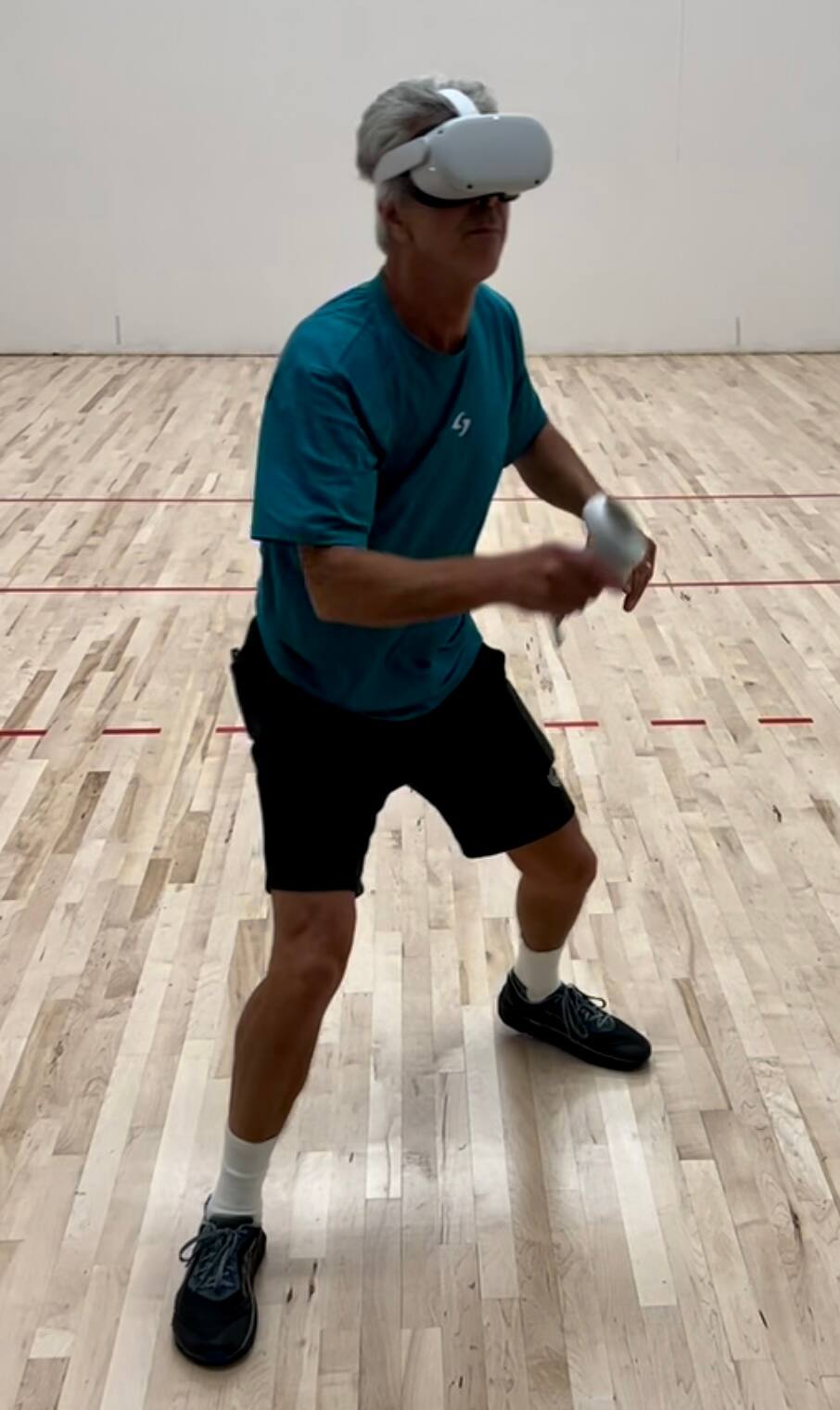 U.S. National Team Coach Jim Durham gives Racquet:Next a try.
I recently had the opportunity at National Doubles & Singles in Texas to set up an Oculus Quest 2 and the Racket:Next game to try it, and upon returning home, I had a great one-on-one lesson with the promoter, Victor Bond. Victor told me that nearly half a million people currently play the game.
Just like a racquetball court, a ball comes at you very fast. Unlike a racquetball court, you will be in a dome with targets all around you -- there's no need to worry about where the front wall is located (since there isn't one!).
There are new online game challenges every month for solo and multi-player game owners.
Playing Racket:Next when you're physically located in a racquetball court (an unoccupied one!) works really well, since there is no chance of hitting anyone or anything. Plus, instead of thinking you are crazy, anyone watching you would actually think you are hitting a ball you see in the headset!
Want to play against someone? Invite them and in a minute, you will see them standing right next to you playing singles in the dome.
I frequently bring the Oculus Quest 2 with the Racket:Next game to my racquetball club and offer to let all of the racquet people try it. I get it ready for the Arcade setup (not Solo or Multi-Player), Zen Mode. The Zen Mode allows you to whack the ball and not worry about points. You are welcome to play your own music playlists, too. Everyone who tries it wants to go out and buy the Oculus and Racket:Next game—even non-racquetball players.
A few people my age are hesitant to try it for various reasons (it's addictive, was one), but all of the younger people welcome the opportunity. I know that I would not have bought one without trying it, so I have been trying to get everyone to experience it. Old dogs, new tricks...
Although it's not yet 1080p video quality, I had a great time watching YouTube racquetball videos and Netflix shows in the headset in my hotel room at Nationals. It was like having an 80-inch TV at the perfect angle a few feet from my face. There are immersive (think IMAX) videos of far-away places like Petra and Papua, New Guinea, with more coming all the time. And many more games that I have not downloaded yet.
I believe we will be able to use the Oculus and Racket:Next to get new players of all ages interested in the physical real-world game. After developing great hand/eye coordination going in the VR dome, any kid walking by a racquetball court would rightfully assume they could play "real" racquetball in a court.
In the future, perhaps Racket:Next divisions could be included in racquetball tournaments, where anyone who has an Oculus headset and the game at home could enter a tournament without physically being in the building. Local tournament players could compete against each other right in the club using local WiFi.
I am no expert at this, but I'd be happy to answer questions and schedule a demo for you. The future is limitless for this game, and seeing Racket:Next showcased to everyone at The World Games in Birmingham, Alabama, in the EGames Pavilion was exciting.
Visit the Racketnext.com website for amazing videos, but get an in-person demonstration to REALLY experience Racket:Next!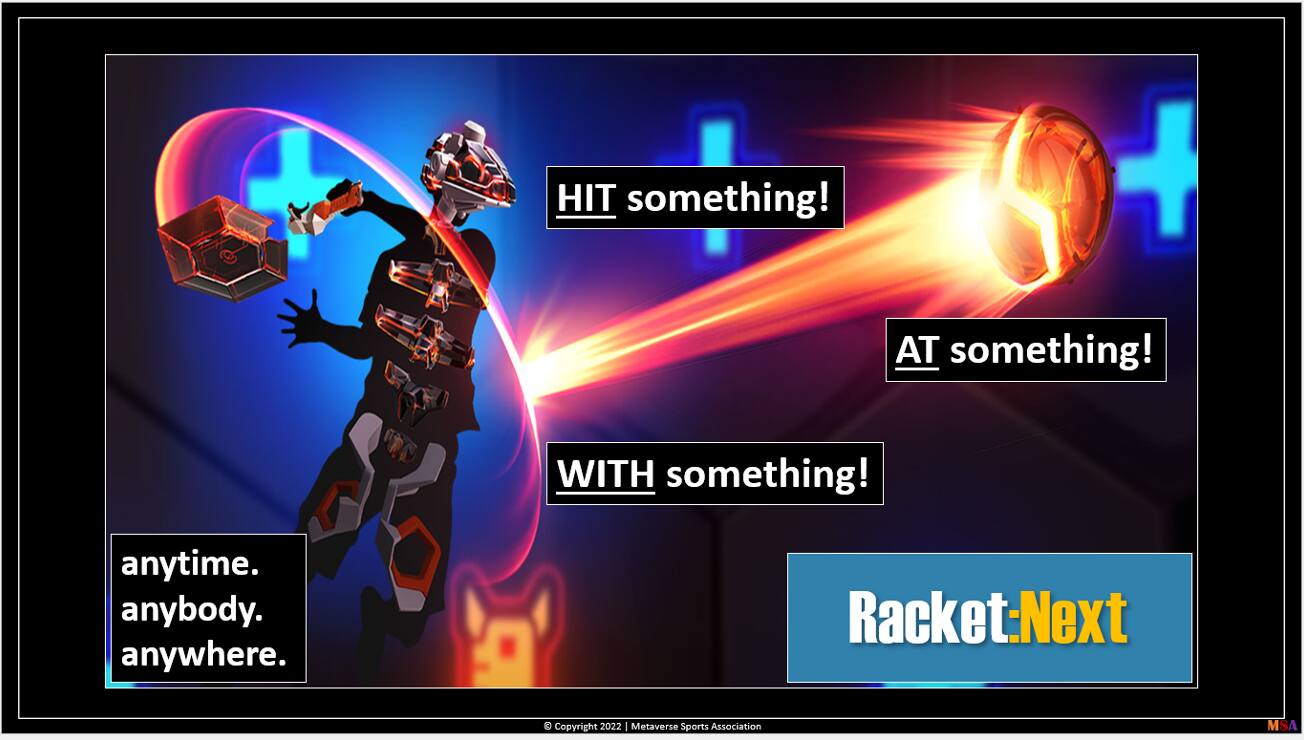 * Per their March 15th press release, the International Racquetball Federation (IRF) announced the Virtual Reality racquet sport game Racket:Next [aka Racket: Nx] as an IRF fully sanctioned sports discipline. With this action, Racquet:Next became the first electronic game of any sort to become an official global sport under an IOC-Recognized global sports federation. To view the press release, visit https://www.internationalracquetball.com/2022/03/.