2022 USA Racquetball National Junior Championships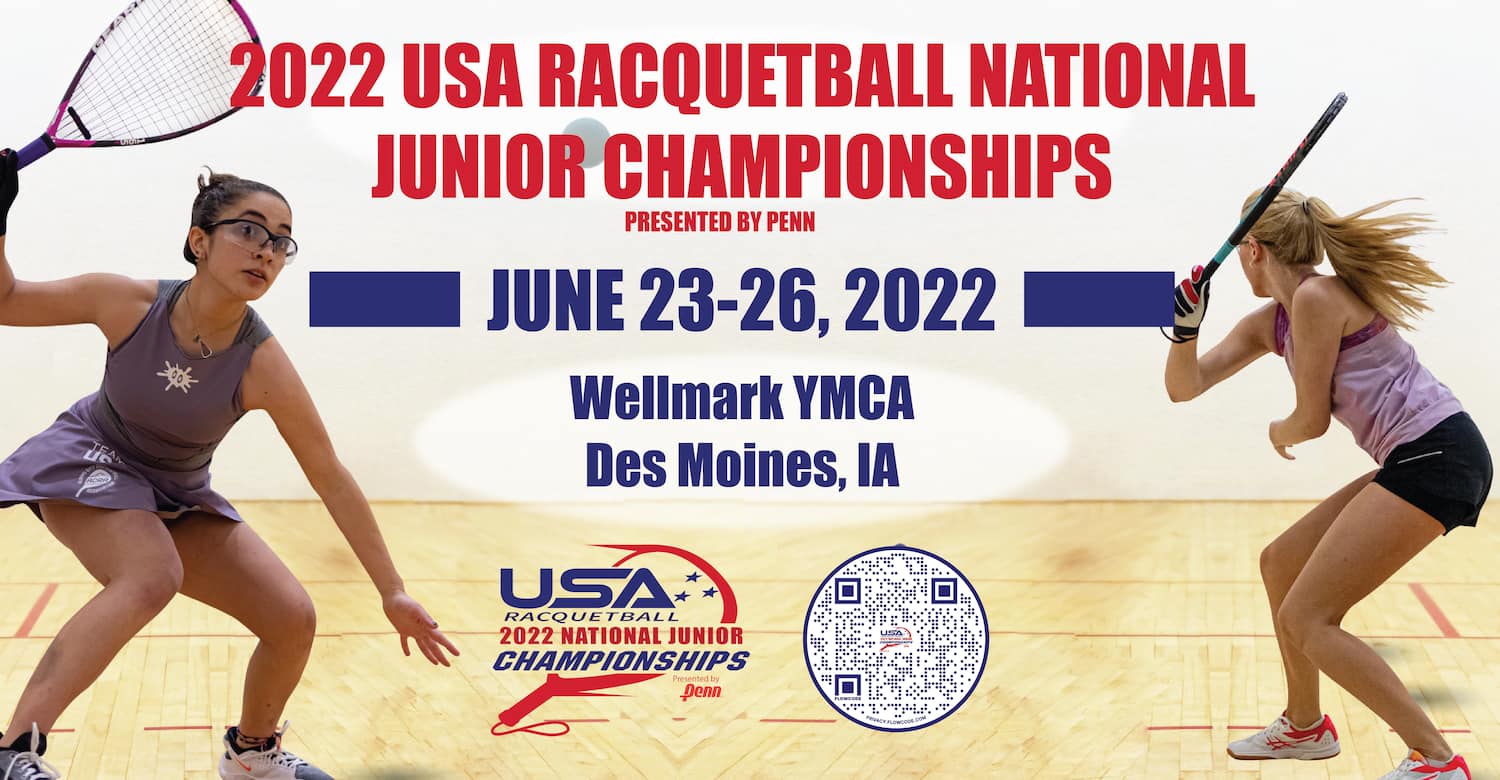 2022 USA Racquetball National Junior Championships Presented by Penn
6/23/2022 - 6/26/2022
Tournament Director: Connor Shane (USA Racquetball Director of National Events)
For a third very enjoyable trip to Des Moines since 2018, the National Junior Championships were hosted by the Wellmark YMCA of Greater Des Moines. We can't say enough about this beautiful facility and the nice people who staff it. Thank you!

The ATHLETES!
First up, let's start with stats!

Players numbering 100 competed, with 26 entering two divisions and 67 entering three.

Texas brought 19 players, California contributed 16, and Missouri brought 25, with 20 of those being students, in a repeat of last year, from Lafayette High School in Wildwood, Missouri, coached by Manny Rodriguez! What a great way to foster experience and team spirit for the next USAR National High School Championships in early 2023!

In the 56 divisions competed (both singles and doubles), 58 boys and 42 girls hit the ball against the wall Thursday through Sunday with the winners going home with medals in Olympic format (Gold, Blue, Red, and White divisions) as well as Round Robin divisions.

https://www.r2sports.com/tourney/viewResults.asp?TID=39341

The SPONSORS!
Without you, where would we be? Our sincerest gratitude goes to:

Presenting Sponsor: Head Penn Racquet Sports

Official Sponsor: Catch Des Moines

Official Partners: APS Nike, Ashaway Racket Strings, Gearbox, INTENT Beverages, Rollout Racquetball, Talty Bar, Team Dovetail

Host Hotels: Hyatt Place and Marriott Renaissance Savery Hotel

We were proud to assist Eat Great Des Moines (a local food bank charity that disseminates food donations around the city) as our Beneficiary Charity.

The STAFF & VOLUNTEERS!
Much gratitude goes to this hard-working group who teamed up OFF the courts to provide their special brands of expertise. Let's call them "Aces in their Places." Their mantra for the weekend: "Yes! Now, what's the question?"

Connor Shane (Tournament Director)
Mike Wedel (Executive Director/Operations)
Gary Beeman (Operations Lead)
Jazmin Trevino (Operations Lead)
Deb Wedel (Operations Lead & Ice Cream Party)
Bill Moulder (Ice Cream Party)
Louise Moulder (Ice Cream Party)
Jonathan Greenberg (Operations)
Samuel Schulze (Operations)
Dylan Shoemaker (Photographer)
Enrique Villasenor (Videographer)
Leo Vasquez (Live Streaming)
Jen Meyer (Live Streaming and Parents' Meeting)
Cheryl Kirk (U.S. Junior Team Admin/Parents' Meeting)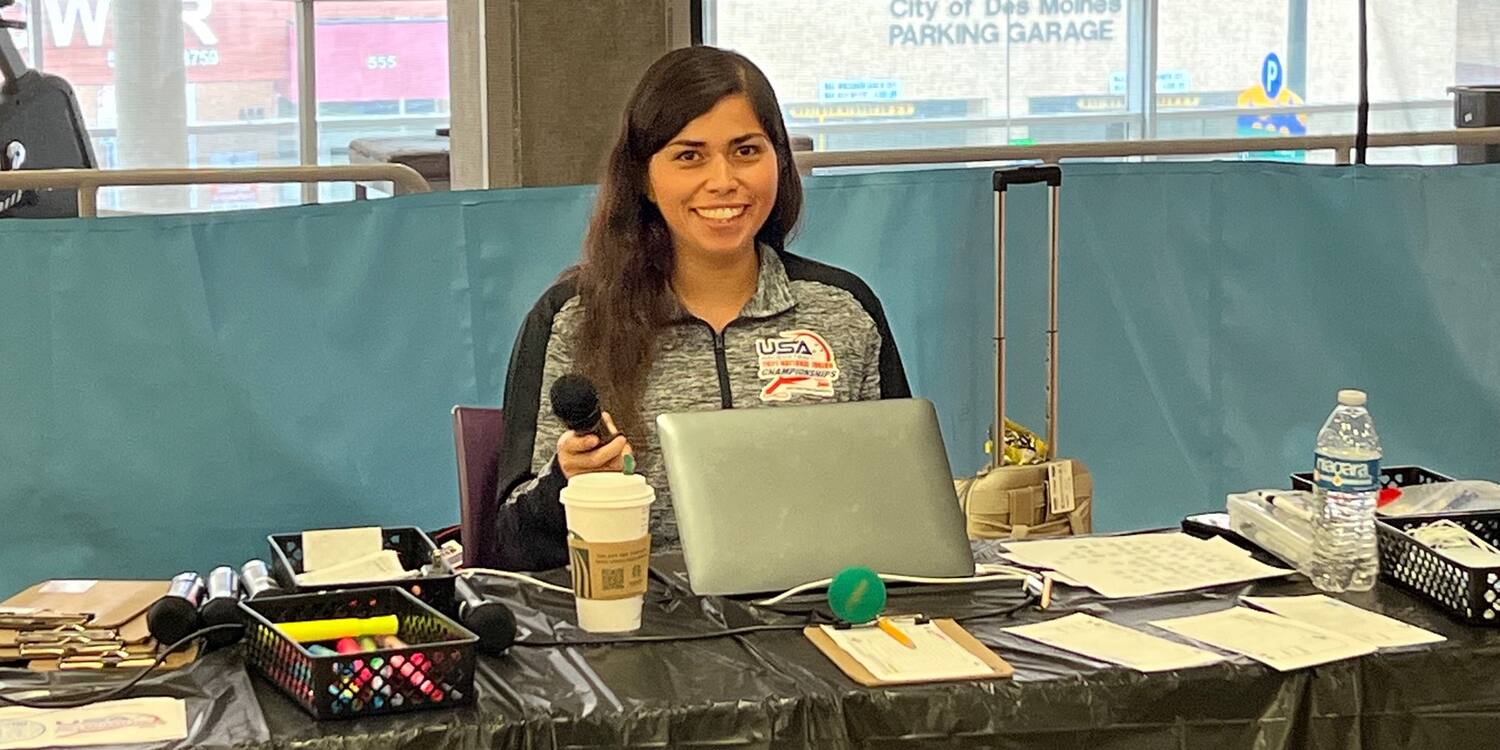 Jazmin Trevino -- Operations Desk Lead Extraordinaire. Photo Credit USA Racquetball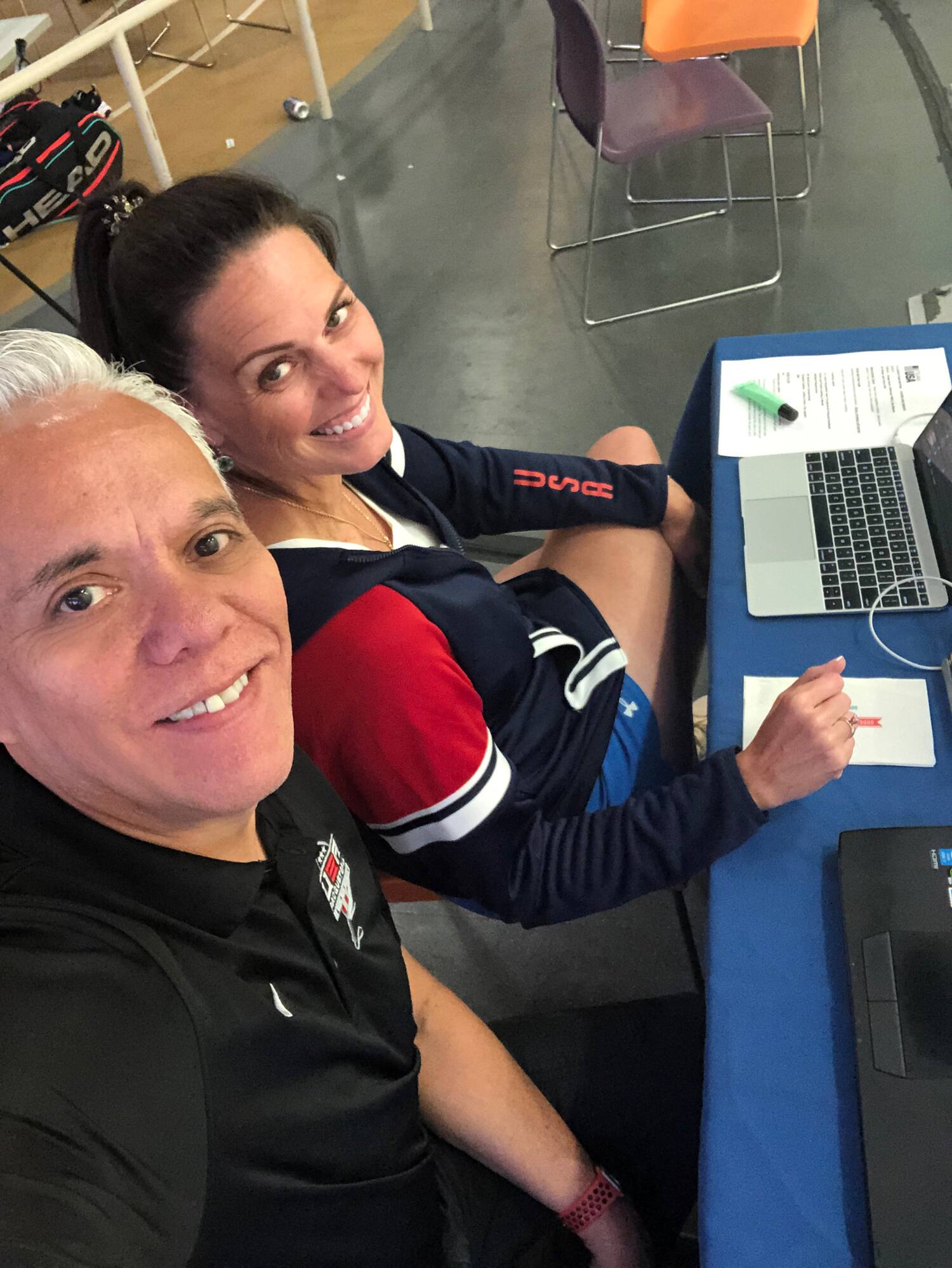 Leo Vasquez and Jen Meyer -- Streaming Dream Team. Photo Credit Leo Vasquez

The PARTY!
At the Annual Awards and Ice Cream Party, Saturday evening, June 25th, the program unfolded thusly:
Mike Wedel -- Emcee
Mike made a special point to thank the parents, guardians, and coaches who accompanied their athletes to Des Moines.
Erika Manilla -- Team USA Member / Guest Speaker
Erika led an exercise on goal setting and follow-through. She echoed Mike in encouraging gratitude for those in the athletes' lives who do so much behind the scenes to support them.
Team USA Esprit Coach Jen Meyer presented the Sportsmanship, World Cup, and Esprit Cup Awards:
Sportsmanship Award -- Joshua Tramm

Esprit Cup -- Nathan Rykhus and Andrea Perez-Picon

World Cup -- Nikhil Prasad and Sonya Shetty
Tournament Director Connor Shane awarded All-American Certificates to the athletes who placed 1st-4th in team qualifying division singles and/or 1st and 2nd place in team qualifying doubles divisions.
The evening concluded with the announcement that the 2023 USA Racquetball Junior Championships Presented by Penn will likely be held at the Bay Club Pleasanton in Pleasanton, California (confirmation by the end of this summer).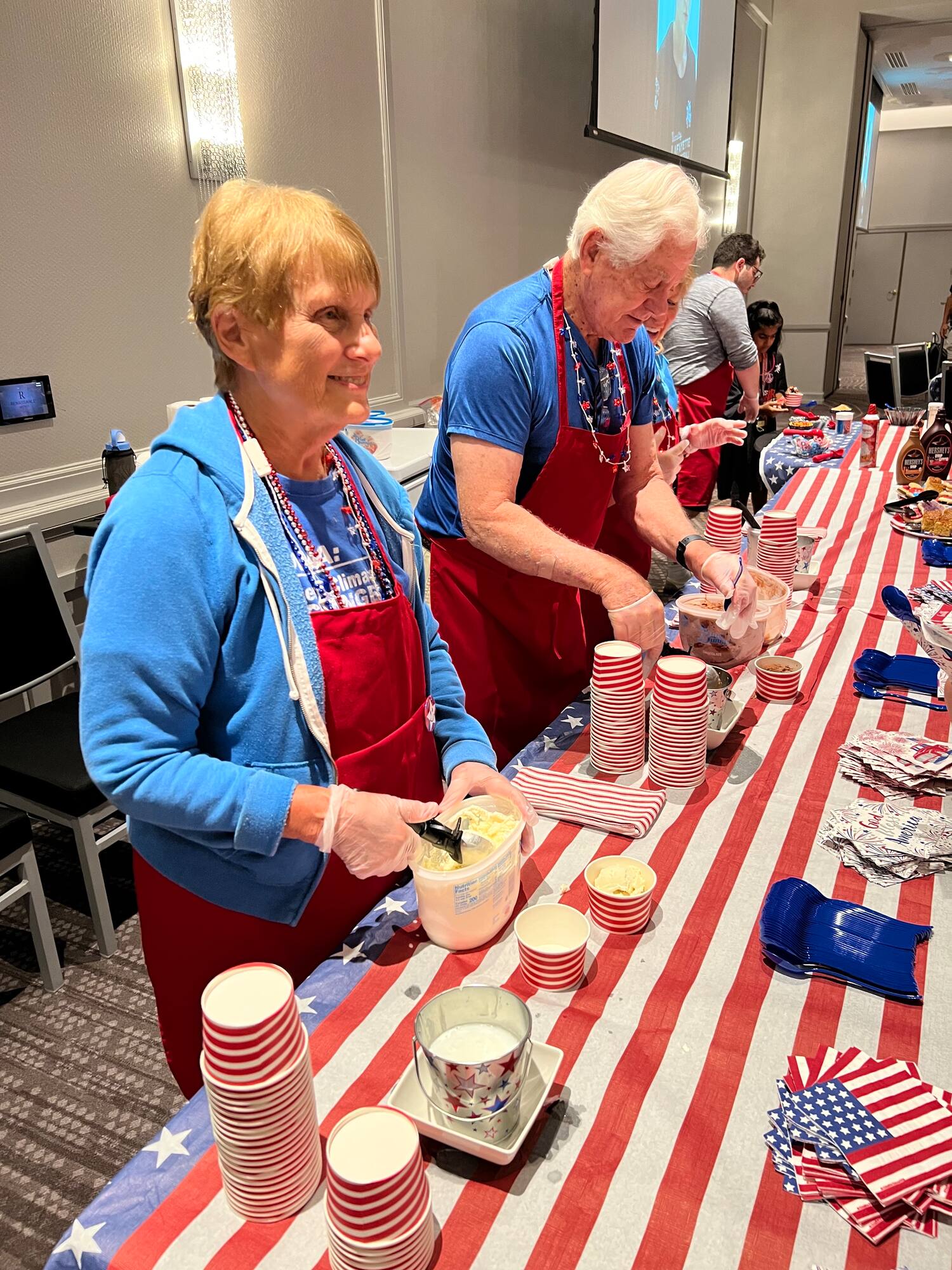 Louise and Bill Moulder served up gallons of ice cream on Saturday night! Photo Credit Cheryl Kirk

The MEDALS!
Matches concluded on Sunday, followed by medals and photo ops galore. Athletes, their families, and coaches then headed back home to continue their summer activities. Thanks to everyone who made the trip to Junior Nationals -- see you next year!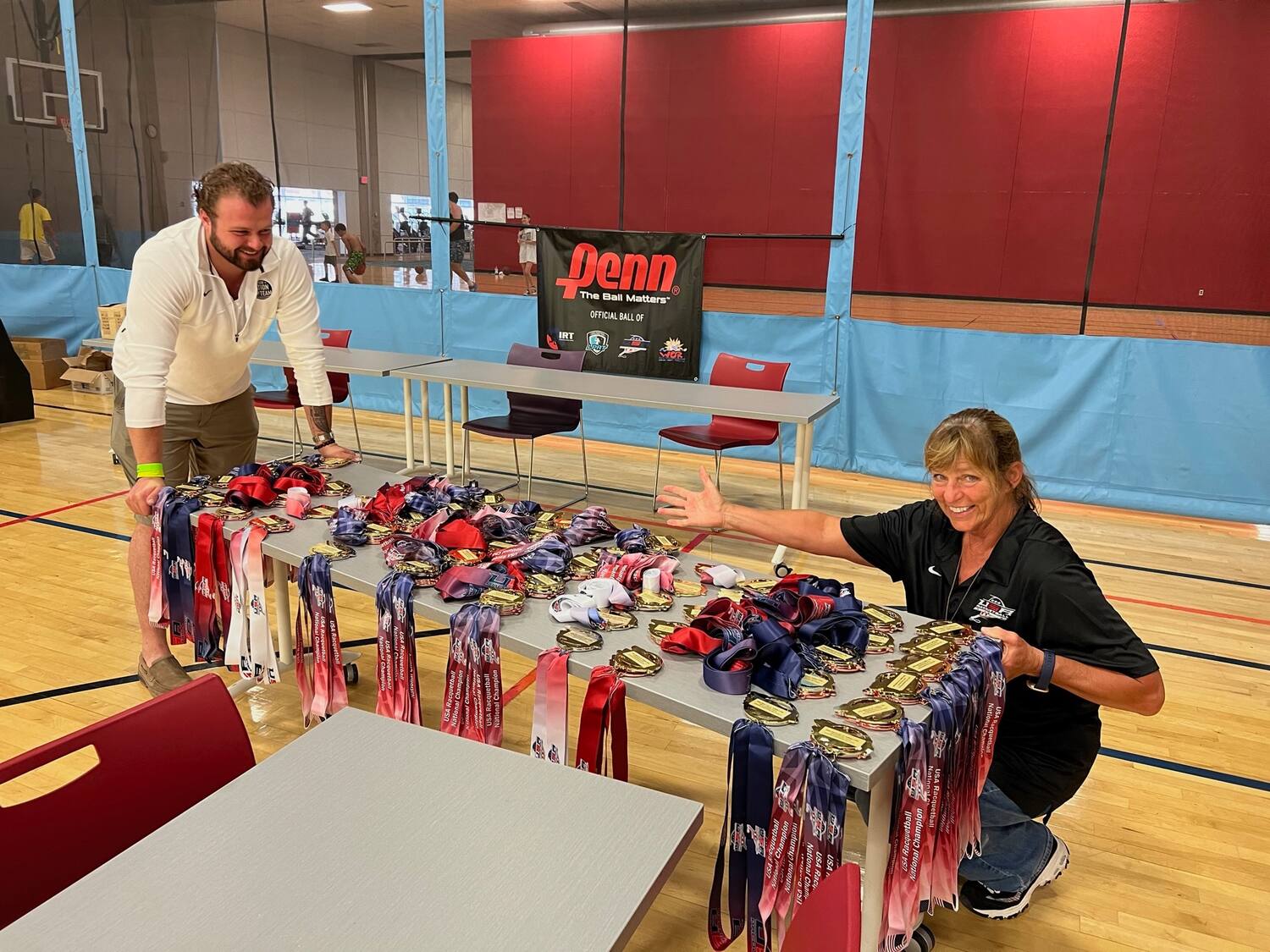 Connor Shane and Deb Wedel -- medals are ready to go! Photo Credit Cheryl Kirk

U.S. Junior Team and All-Americans
At the 2022 USA Racquetball National Junior Championships Presented by Penn, the Gold divisions had very special significance, with the Finalists in Singles and Winners in Doubles landing a coveted spot on the 2022-23 U.S. National Junior Racquetball Team.
Of note: This year, 21 & Under divisions were added along with Mixed Doubles divisions as team qualifiers.
Representing 11 states, a total of 32 players comprise Junior Team USA for the coming year. Six players "triple qualified" and 10 additional players "double qualified."
Please see the companion article (https://go.teamusa.org/3RcW51A) in this newsletter for a full listing of the U.S. National Junior Team members as well as the All-Americans who excelled at the tournament. Congrats to all!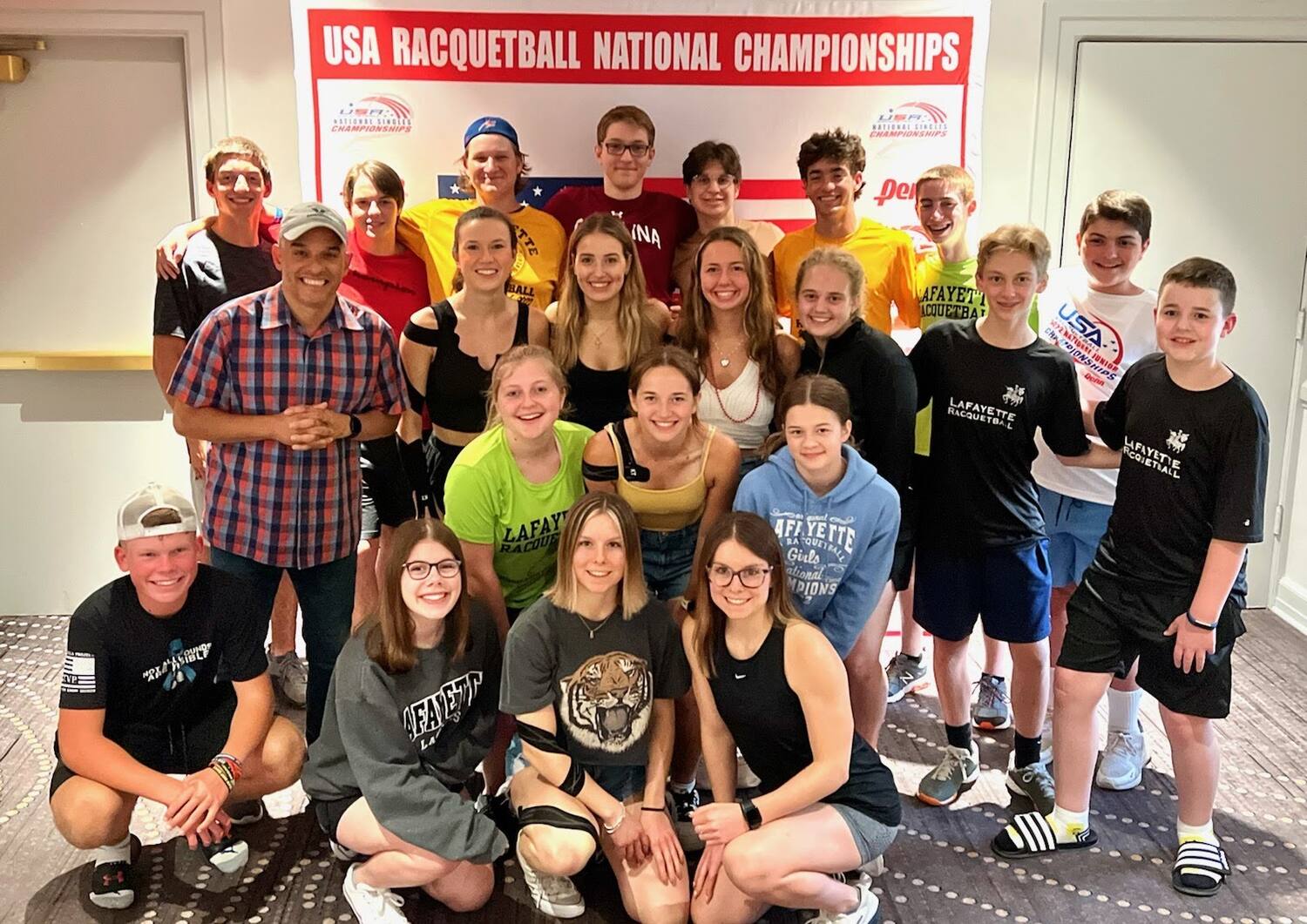 Lafeyette High School. Photo Courtesy of Manny Rodriquez
Mixed 14 & Under Doubles medalists Elizabeth Denler/Joshua Tramm (Silver), Montserrat Torres/Axel Lopez (Gold). Photo Credit Cheryl Kirk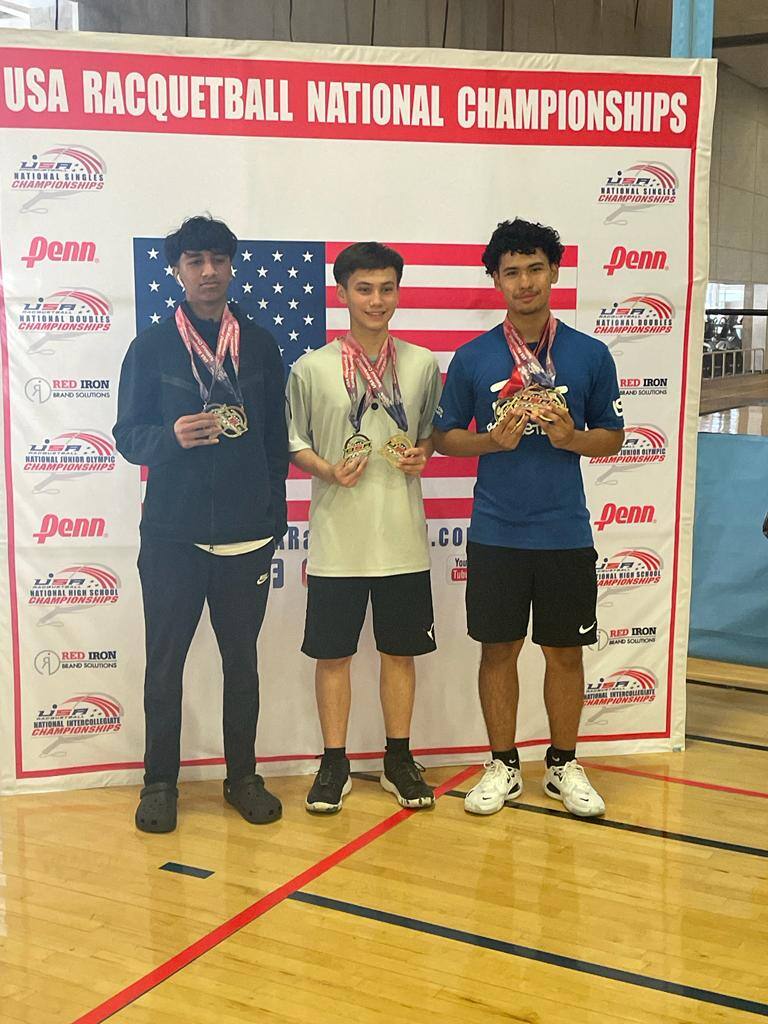 Boys 14 & Under medalists Eshan Ali (Silver), Nathan Rykhus (Gold), Axel Lopez (Bronze). Photo Credit Jesus Lopez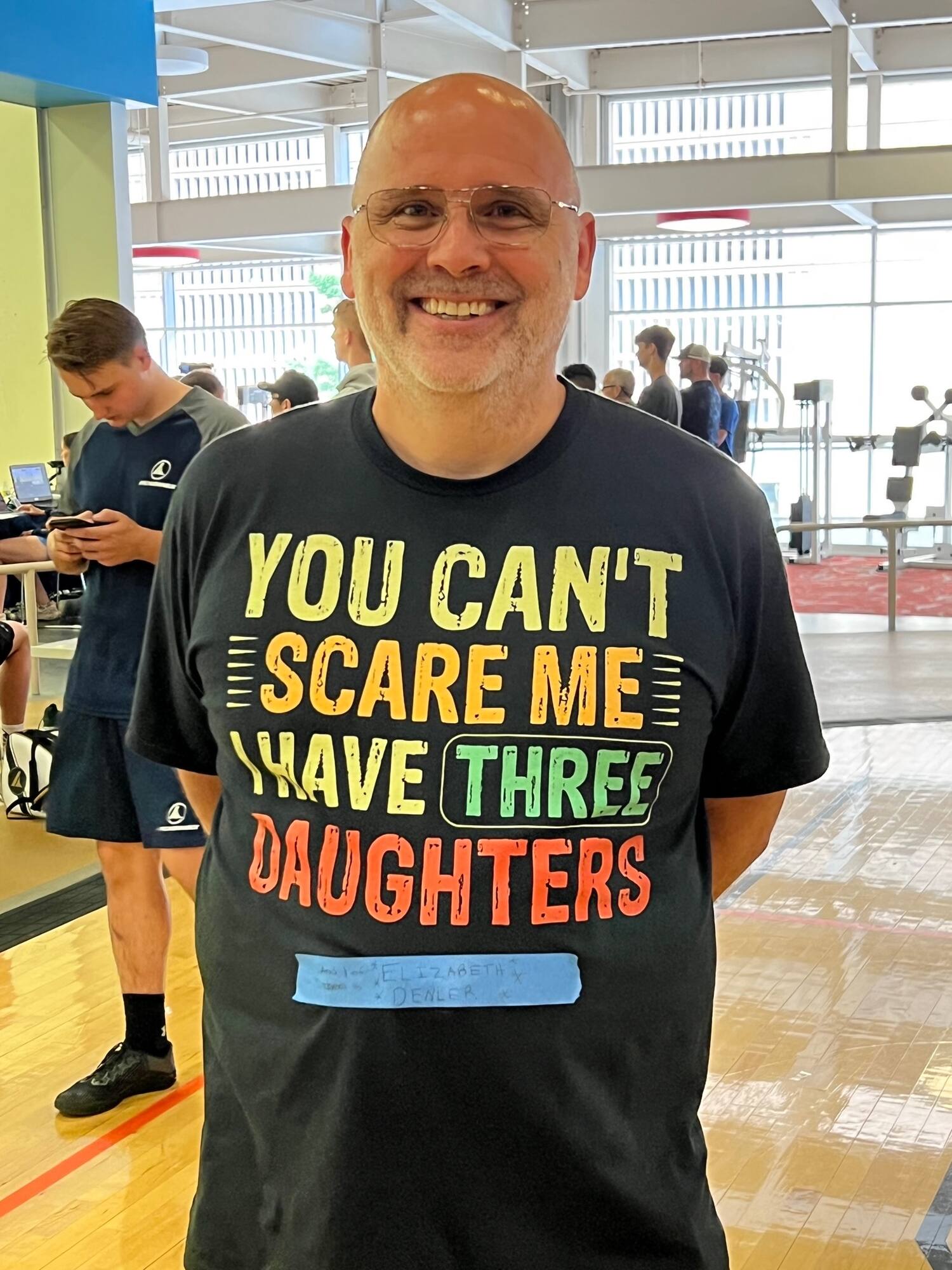 Ron Denler's shirt demonstrates exactly what he's made of! Photo Credit Cheryl Kirk