2022 World Games Blogs - Final Thoughts from Birmingham
USA Racquetball Daily Blog #5 - Final Thoughts from Birmingham
The World Games, Birmingham, Alabama
July 13, 2022
By: Renée Isherwood
As we close out Racquetball at the 2022 World Games, we are so proud of our team. From the athletes who gave it their all to the volunteers who took time away from work and their families to make the event special, so many people came together to make these Games memorable and successful.
USA Racquetball's stadium court was the perfect setting to showcase racquetball in a very special way to the most influential person in the Olympic movement, IOC President Thomas Bach, as well as to each and every person who is so proud and committed to this great sport. And, we hope the spectators who gained their first exposure to Racquetball will seek out courts and players so they can learn to play, too!
It's been our pleasure sharing the week with you. Here are a few more photos of the week.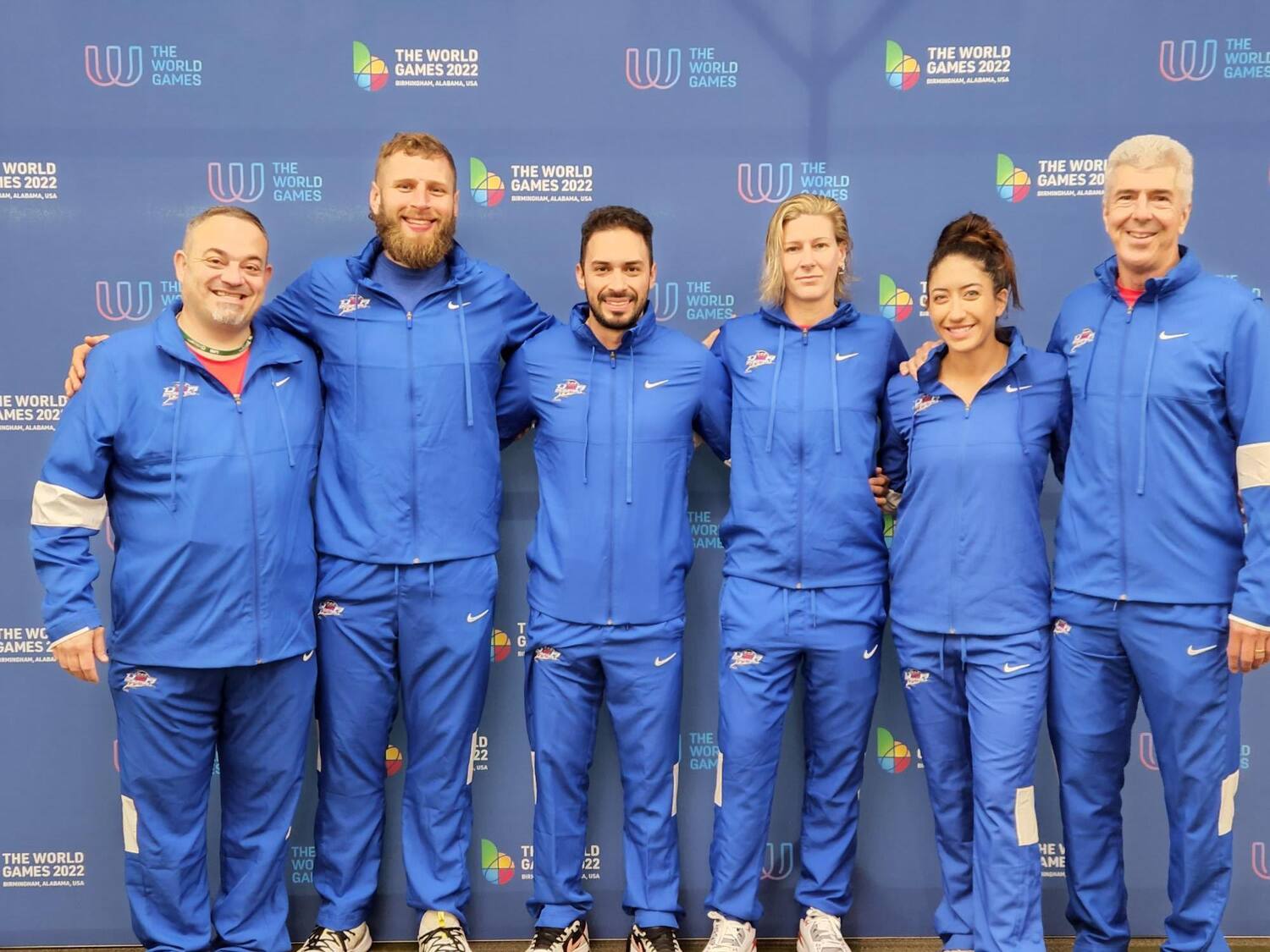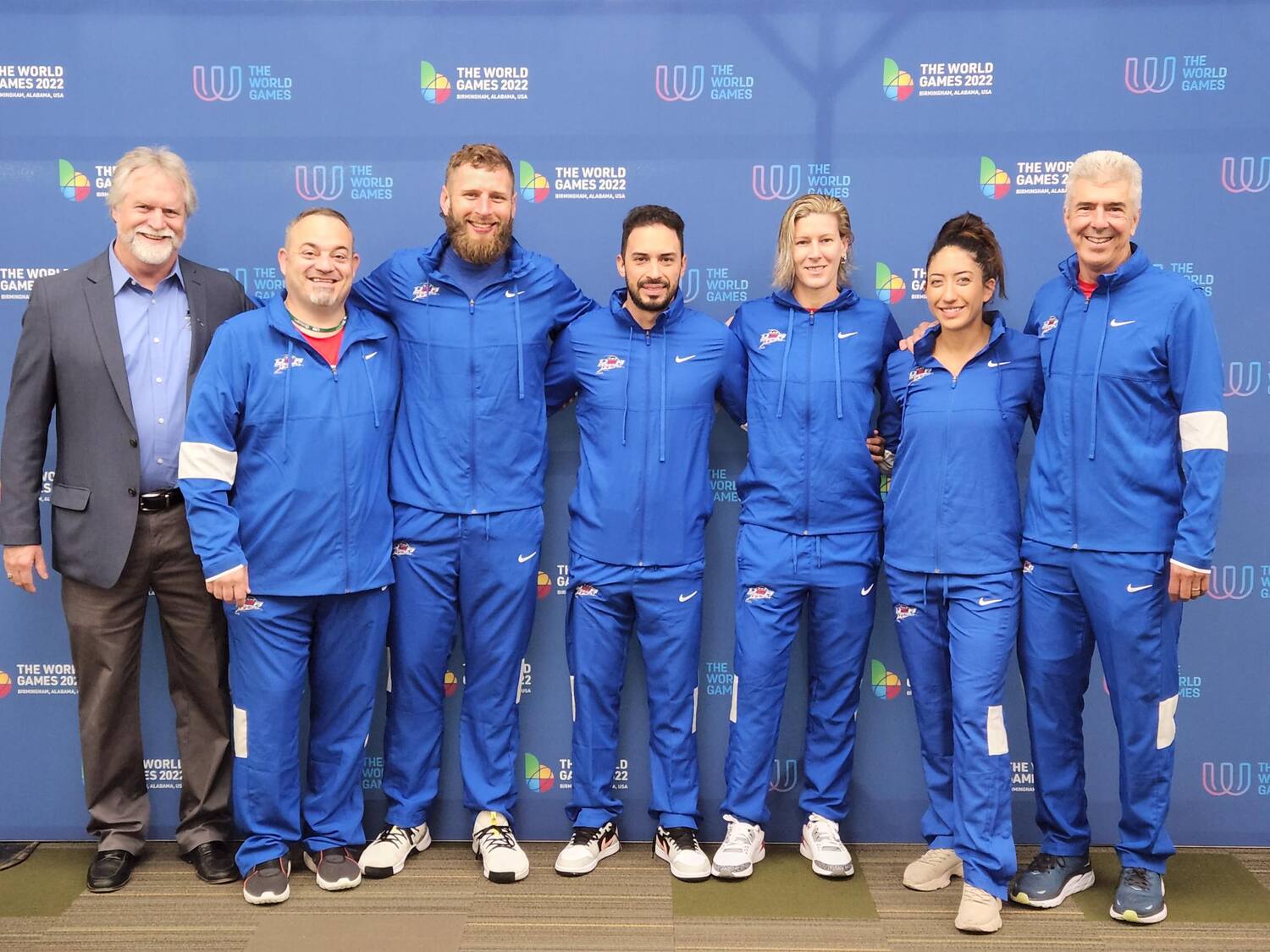 USA Racquetball Daily Blog #4 - U.S. Eliminated in the Quarterfinals
The World Games, Birmingham, Alabama
July 12, 2022
By: Renée Isherwood
All four U.S. athletes were in eliminated in their quarterfinals matches today.
The first quarterfinal match for the U.S. featured #1 seed and world champion Alex Landa vs. Rodrigo Montoya (Mexico). Alex battled a flu bug (not Covid) all week and entered the match at less than full strength. Montoya's passion was high, and his diving gets in the front court extended many rallies, consequently making Landa work for every point. Landa played well but struggled to find his breath after each point. The game was tight in the beginning, but Montoya pulled away, winning 15-7. In Game 2 Montoya extended rallies with superb dives and won 15-8. Landa dug deep and found his game a bit in the third, winning 15-11. Despite having the home crowd behind him, Alex looked tired and made some uncharacteristic skips, leading to Montoya's win, 15-10.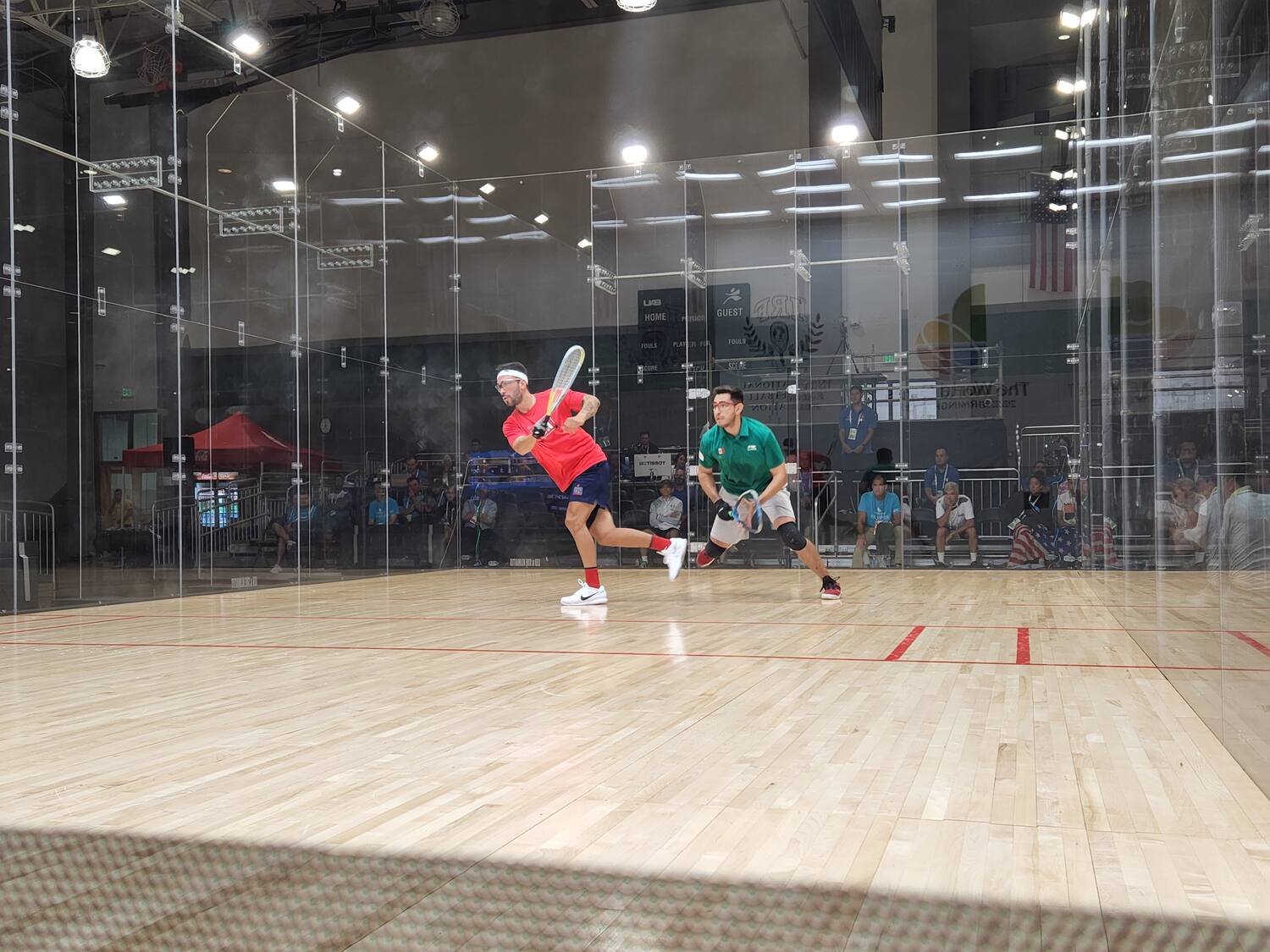 In the second match of the day for the U.S., Rhonda Rajsich faced Gabriela Martinez of Guatemala. Martinez is one of the best divers in the woman's game and it helped her win nearly every long rally in Game #1 where Rhonda couldn't find her kill game and Martinez's intensity led her to win 15-8. In the second, Rajsich started to find her stroke. While both had effective serves, the big difference was Martinez's getting ability. The game was high level but again went to Gabriela, 15-9. Every time a diving retrieval led to a point, it fed Martinez's energy. Rhonda fought gamely but the Guatemalan proved too much on this day. Martinez to take the Game 3 and the match, 15-4.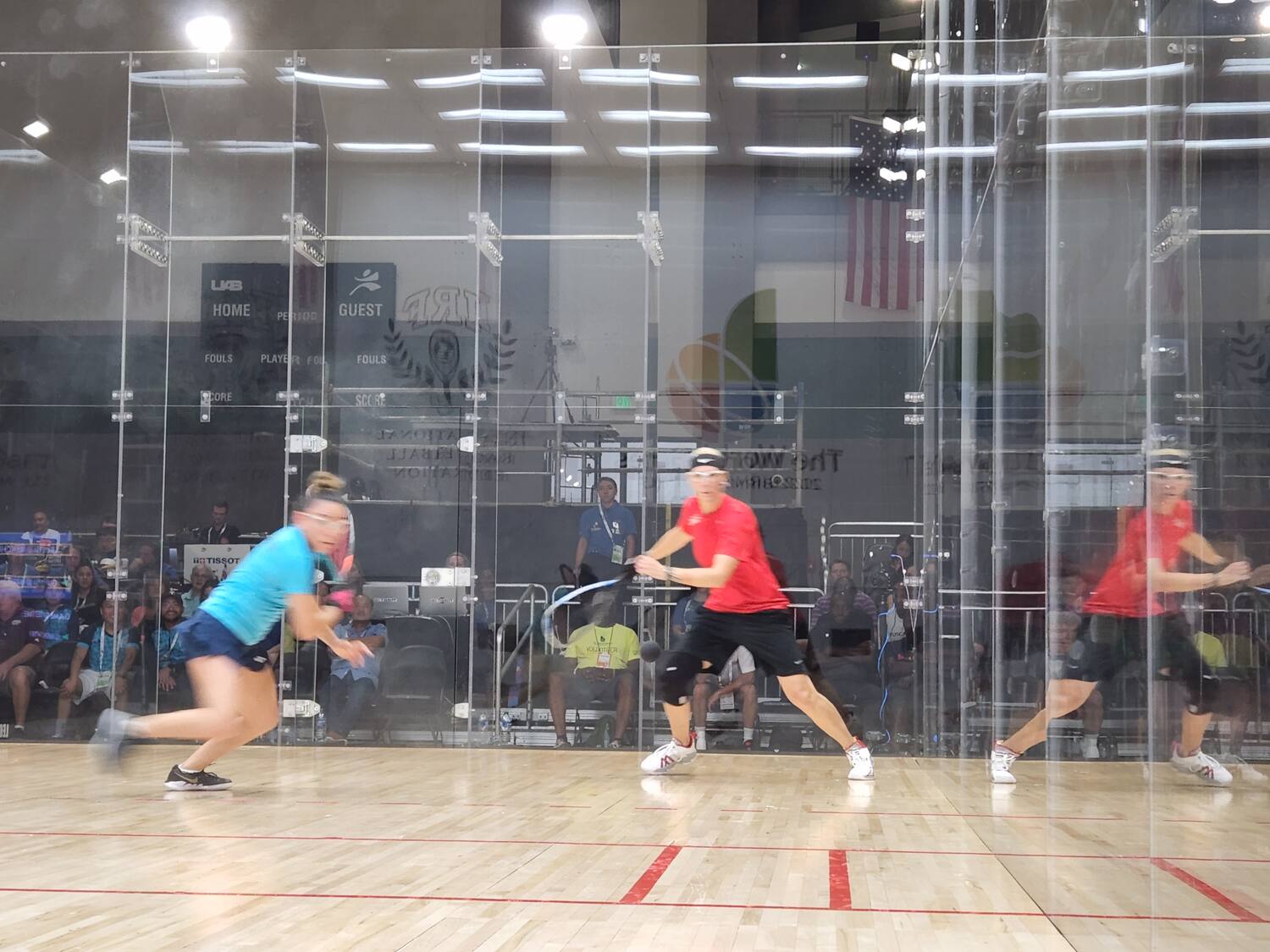 Immediately following Rhonda's match, Jake Bredenbeck took on Andree Parrilla of Mexico, losing in three straight games (15-8, 15-5, 15-12).
The final match of the day paired Kelani Lawrence against Samantha Salas of Mexico. It was a tough battle with Lawrence losing Game 1 by one point, 15-14. Lawrence leveraged her power and great ball placement abilities to steal Games 2 and 3, 15-10 and 15-13. This long match went to the full five games (the first such occurrence at this event) when Salas won Game 4, 15-6. In the tiebreaker, despite Lawrence's determination, Salas prevailed 11-9.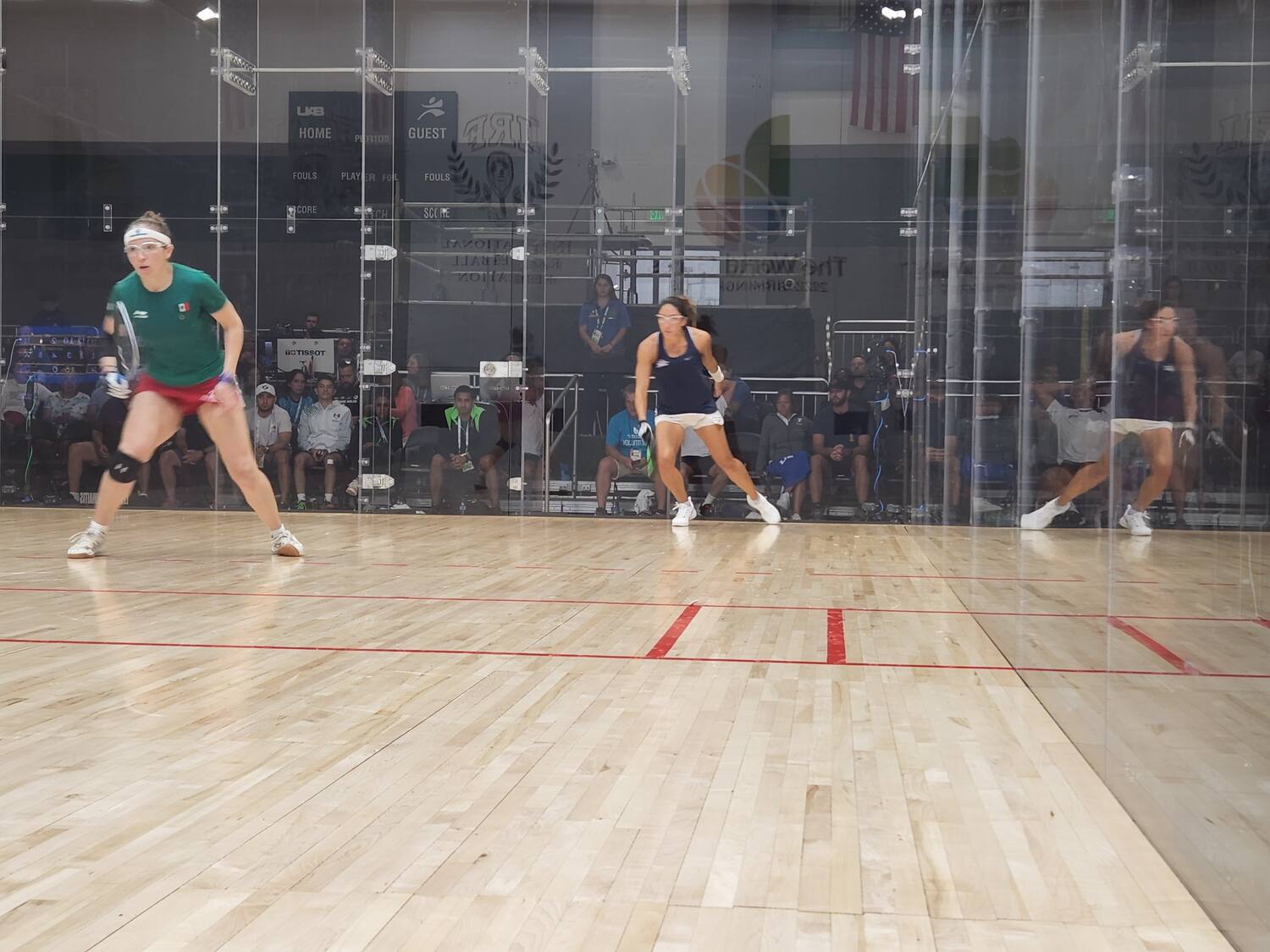 The Racquetball venue received an honored dignitary this afternoon, International Olympic Committee President Thomas Bach. President Bach watched part of the match between Andres Acuña (Costa Rica) and Juan Salvatierra (Guatemala), met several athletes, and took photos with IRF Executive Committee members and country leaders including USAR Executive Director Mike Wedel. It was great to showcase the sport and the stadium court!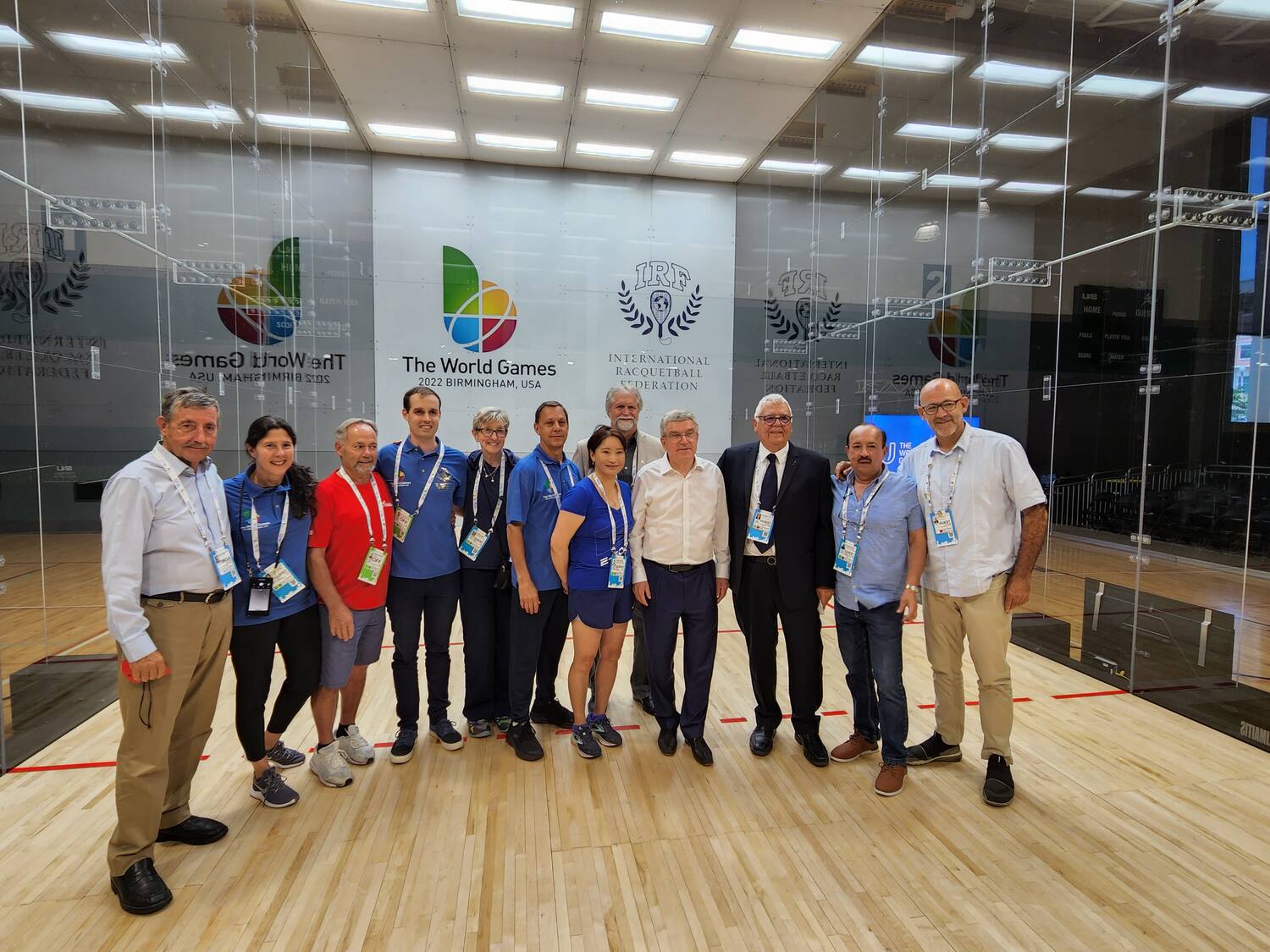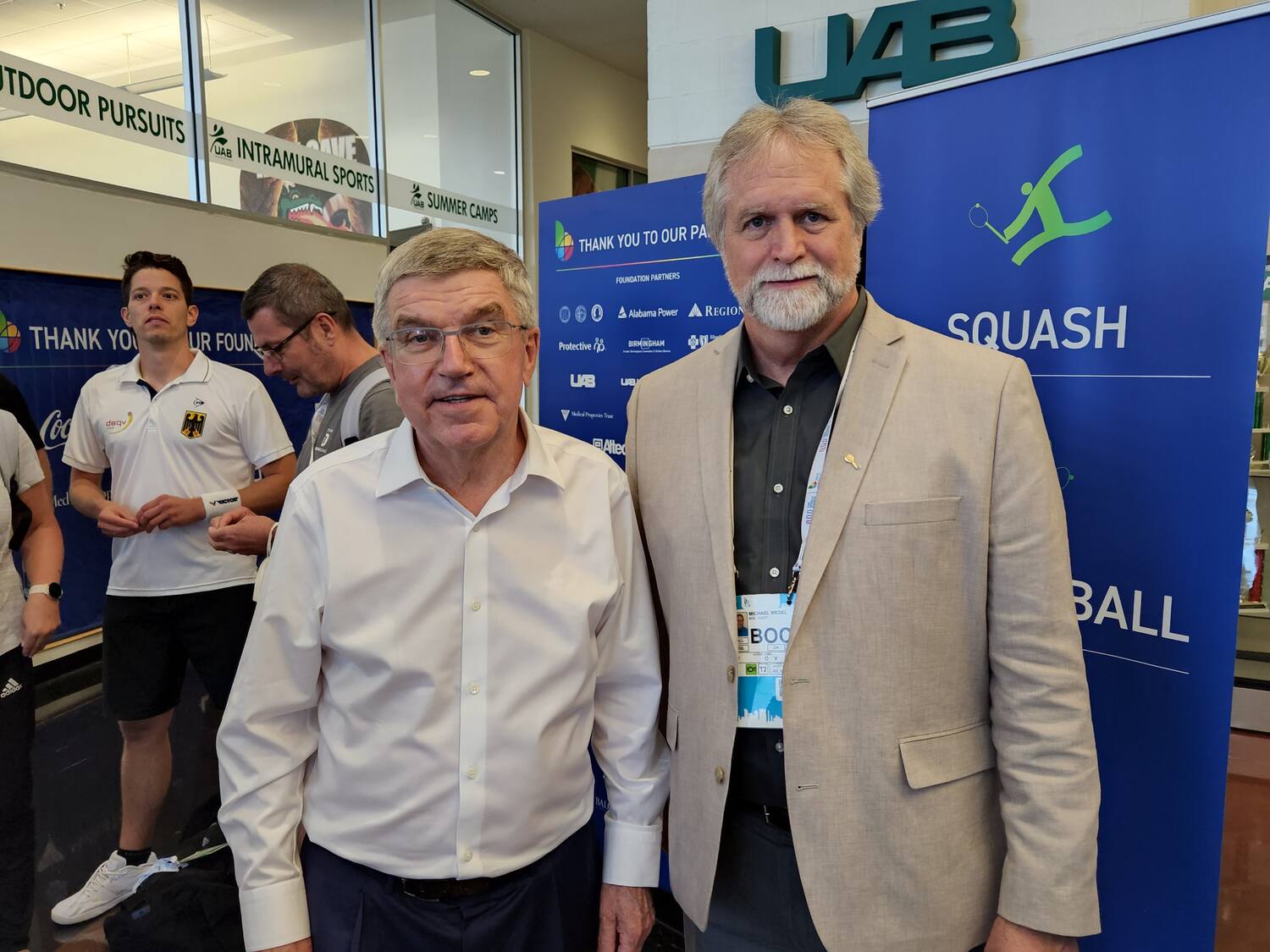 Several USA Racquetball State Board Presidents are in attendance at the World Games including Cheryl Kirk (Illinois), Bob Frazier (Alabama), and David Graves (Mississippi). Bob Frazier has not only served as Team Captain for the volunteers but has also played an integral part in bringing the stadium court to Birmingham, working with the local organizing committee for several years to make it happen.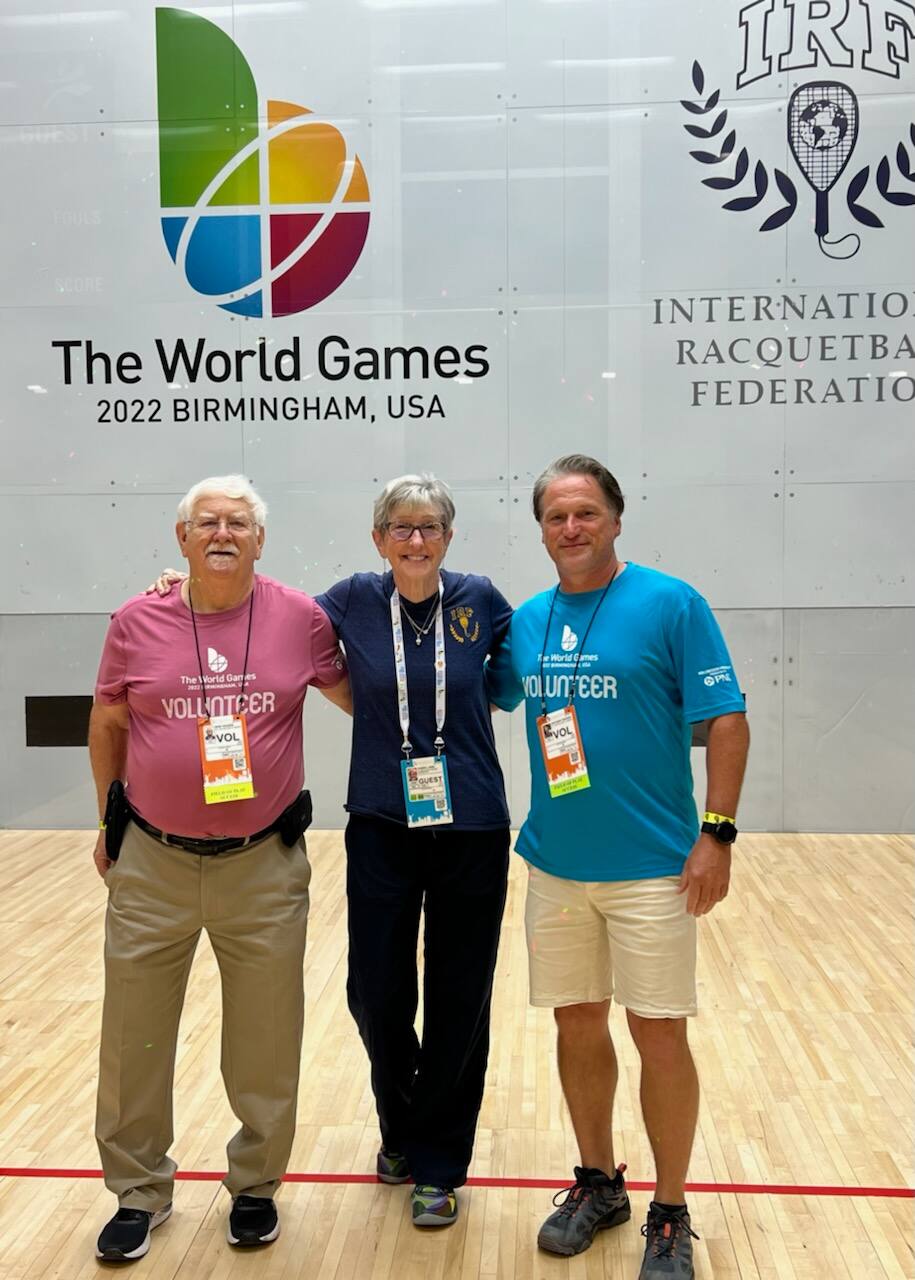 Quick Quotes:
"It's great to see the fruits of all the labor, putting The World Games together to make racquetball a premier event on the world stage with promotion and marketability, the stadium court, and spectators enjoying the sport." – Bob Frazier, Alabama State President
"Being a part of The World Games for me started as an opportunity for Mississippi racquetball to continue to be a part of USA Racquetball and to help support Team USA. What it has actually been for me fits a bigger picture. We spend a lot of time here in the U.S. working on saving courts and keeping clubs from closing. We are always trying to find new ways to get new people to try the sport. It sometimes becomes so repetitious you forget the to watch the global stage. It's an honor to support Team USA and all the athletes of this sport that work so hard to achieve high goals and entertain their fans. It has been enlightening seeing other sports, many that I've never heard of, at The World Games trying to find a global identity. I leave here invigorated to continue our daily challenges to help racquetball not just to survive but to thrive in the coming years. A huge thanks to Bob Frazier, Alabama's State President, for his three years of diligent work putting this monster together and supporting USA Racquetball." -- David Graves, Mississippi State President
On Wednesday, the official streaming of the semifinals and finals will be provided by The World Games and can be seen through the Olympic Channel/CBS Sports.
USA Racquetball Daily Blog #3 - Two for Two! U.S. Women Advance to Quarterfinals
The World Games, Birmingham, Alabama
July 11, 2022
By: Renée Isherwood
In the first match of the day, Kelani Lawrence (#2 seed) defeated Majella Haverty (#15 seed) of Ireland in three games (15-0, 15-8, 15-3). Lawrence came out firing off drive serves and putting away weak returns. In Game 2, Haverty found her footing and executed effective serves while Lawrence wasn't consistent with her setups. In the end, Lawrence was able to stay tough and ground out the win. Lawrence took charge in Game 3. Haverty had trouble finding the ball in the back left corner of the stadium court, and Lawrence took advantage. Lawrence will take on Samantha Salas Solis of Mexico on Tuesday at 6:00 pm CT.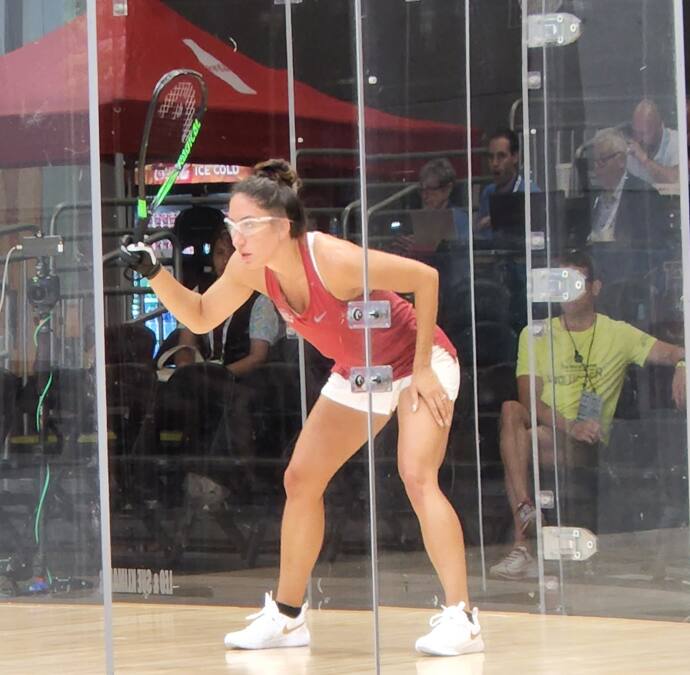 The final match of the day paired Rhonda Rajsich (#3 seed) against Ireland's Aisling Hickey (#14 seed) with Rhonda winning in three (15-1, 15-2, 15-7). Rhonda's next match will be Tuesday at 4:00 pm vs. Gabriela Martinez of Guatemala.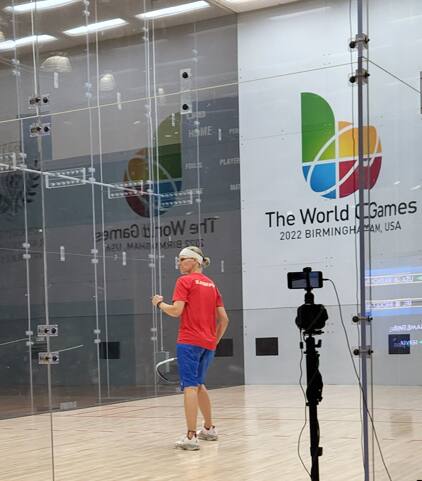 Quick Quotes:
"USA Racquetball's all-Lucite stadium court, gifted by Leo & Sue Klimaitis a number of years ago, is Racquetball's crowning jewel at these World Games. Transported via Connor Shane's (et al.) considerable efforts; constructed over nearly a week's time by Eddie Meredith, Anthony Herrera, and Trent Stewart; painstakingly maintained by dedicated racquetball volunteers from the Alabama and Mississippi State Associations; and at significant cost on the part of The World Games and the International Racquetball Federation, some might feel it's too much trouble to go to, to have this court here for 32 matches over four days. That would be undeniably WRONG. At this multi-sport event, on the world stage, and with International Olympic Committee President Thomas Bach scheduled to visit the venue on Tuesday afternoon, this is one of Racquetball's finest moments in our long history. I hope everyone who loves this sport as much as I do revels in this rare opportunity to very visibly celebrate what we all know to be true: Racquetball is the best sport EVER!" -- Cheryl Kirk, IRF Board of Directors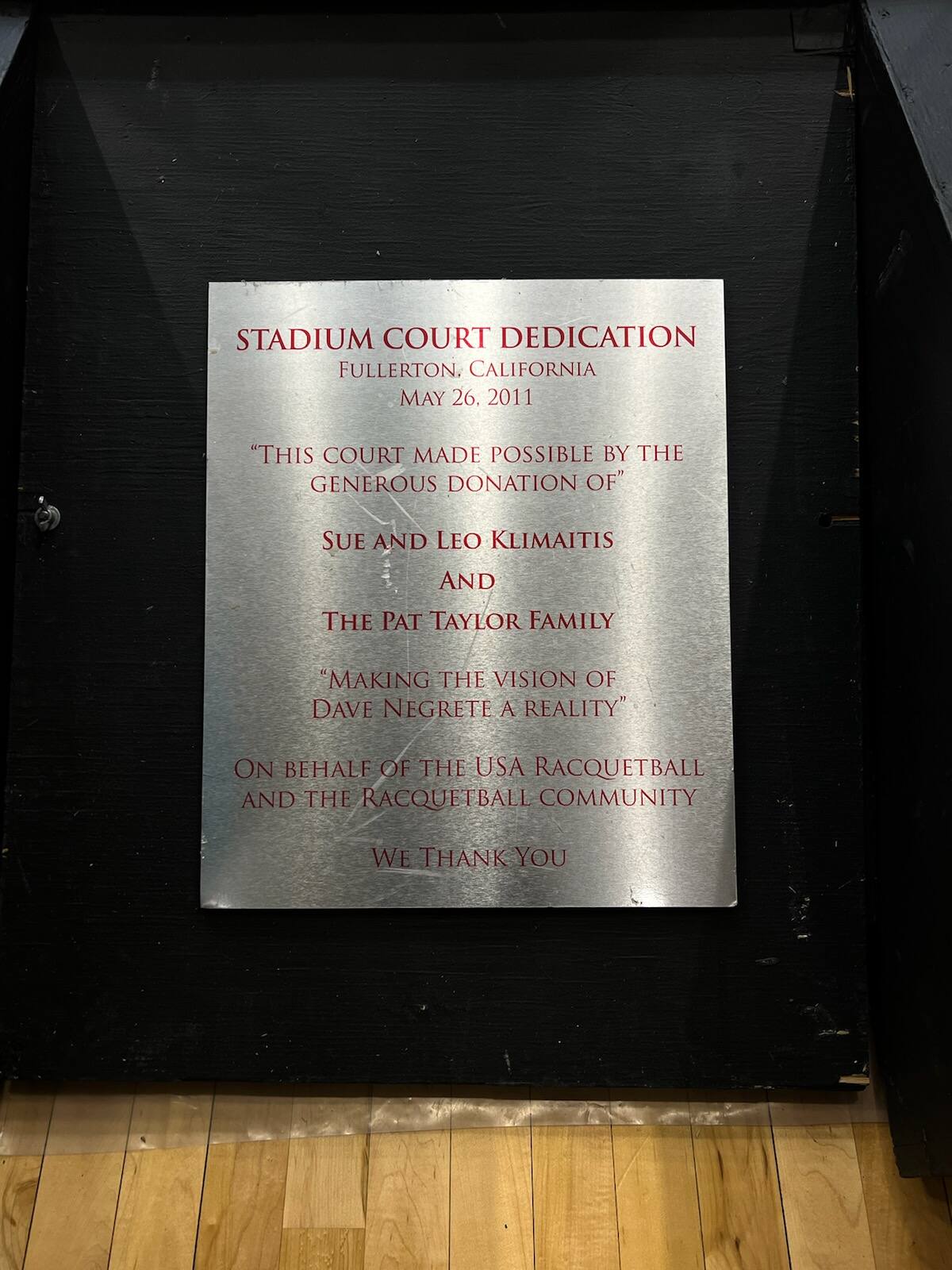 "It's refreshing to see these athletes from all over the world come together in friendly competition. Everywhere I've been, smiling faces and friendly banter have filled the air. At Kelani's 9:00 am match, US Ultimate athletes came to cheer her on. They had met at the Opening Ceremonies and bonded as fellow USA competitors. After her victory, the team came onto the court to have their picture taken with Kelani. Later on, in the Dining Hall, German athletes began clapping for one of their gold medal winners and were soon joined by the entire cafeteria of several hundred athletes. The young champion stood and held up his medal. It was a cool moment!" -- Jim Durham, U.S. Team Coach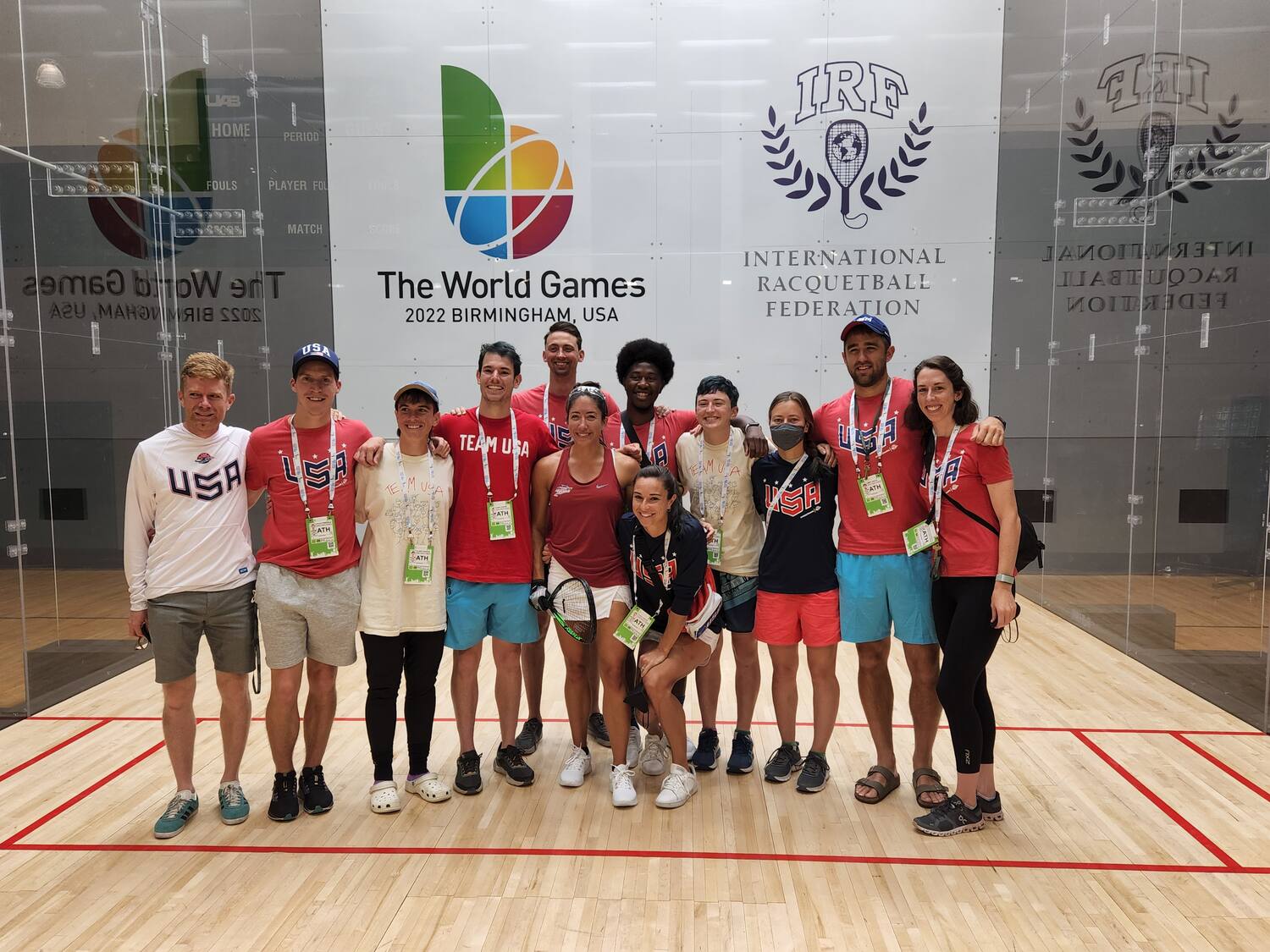 When the tournament began, the IRF gifted official balls of the tournament, Gearbox Sleek Black, to spectators. All athletes were provided silver Sharpies for autographing the balls. We hope you enjoy these photos of some of the times that members of Team USA signed autographs for fans.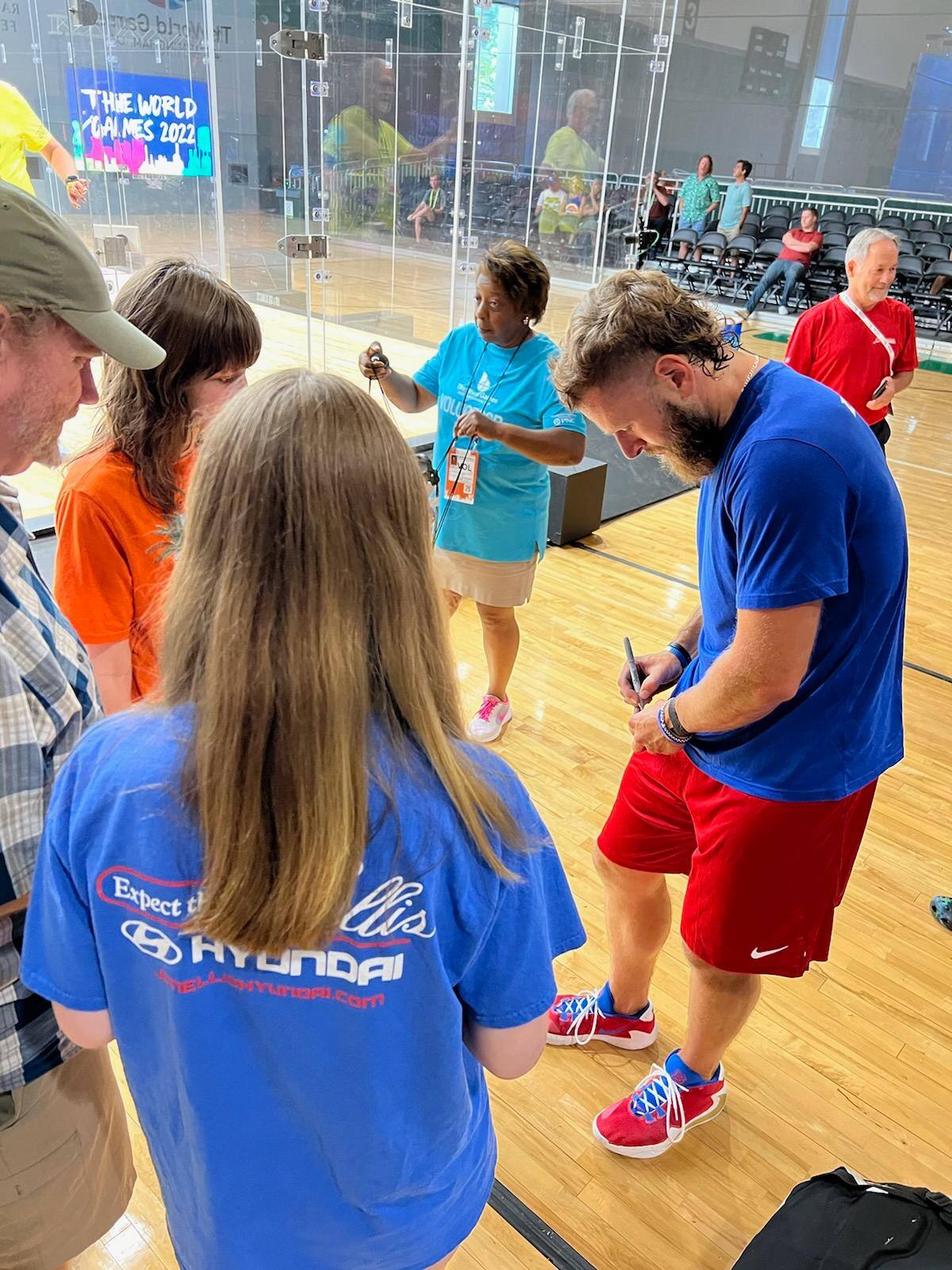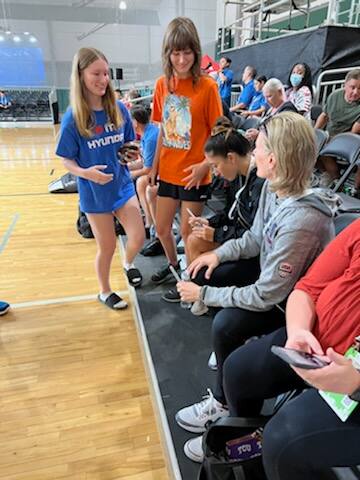 Tuesday's Matches for Team USA
Alex Landa vs. Rodrigo Montoya (Mexico) 11:00 am CT
Rhonda Rajsich vs. Gabriela Martinez (Guatemala) 4:00 pm CT
Jake Bredenbeck vs. Andree Parrilla (Mexico) 5:00 pm CT
Kelani Lawrence vs. Samantha Salas Solis (Mexico) 6:00 pm CT
USA Racquetball Daily Blog #2 - U.S. Men Advance to Next Round
The World Games, Birmingham, Alabama
July 10, 2022
By: Renée Isherwood
In the opening round of play, Jake Bredenbeck (#4 seed) and Alex Landa (#1 seed) both advanced to the quarterfinals.
Jake took on Canadian Lee Connell in his debut at the World Games, winning three straight games (15-14, 15-5, 15-12). Connell had never played on the stadium court. In Game 1, he had a difficult time tracking the ball and getting set up, but Bredenbeck left balls up, which kept the game close to the end. Bredenbeck pulled out Game 1 on Connell's errors. In Game 2, Jake found his shot and was able to put the game away quickly. In Game 3, Connell looked more comfortable and put away a high percentage of his setups, but Bredenbeck kept up the pressure with good serves, helping him take the win. Jake faces Andree Parilla of Mexico on Tuesday at 5:00 pm CST.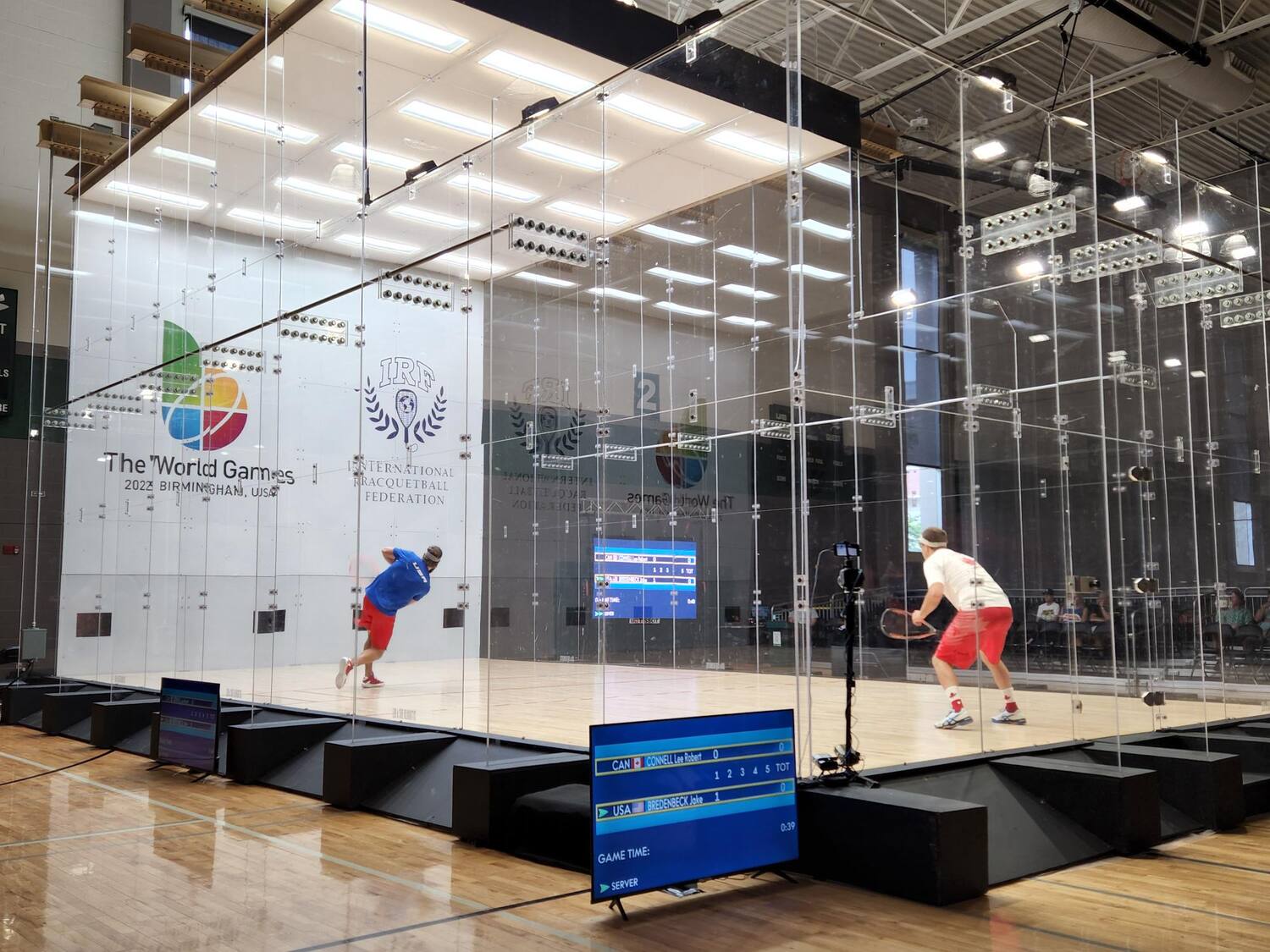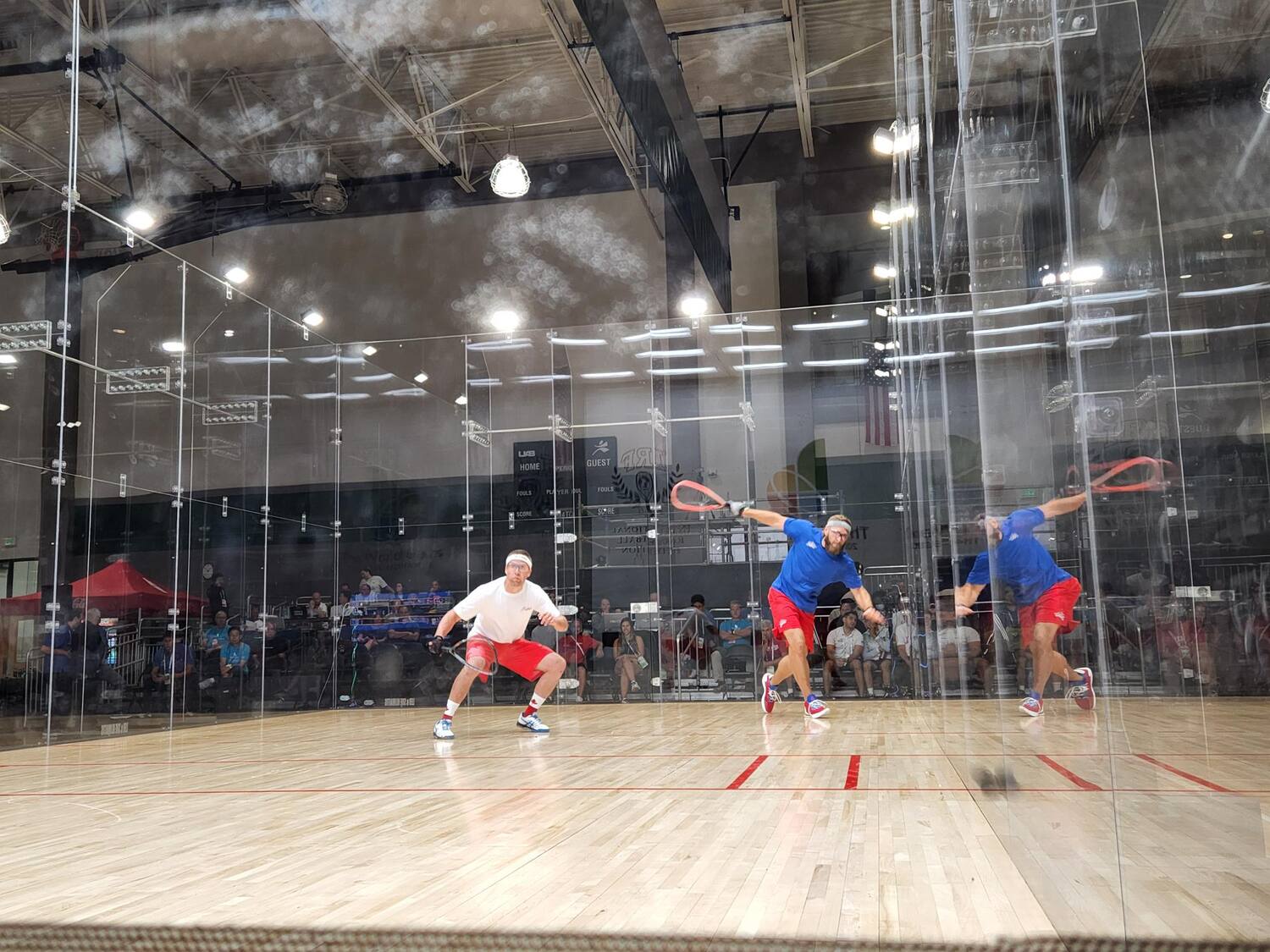 In the day's final match, Alex Landa played Eoin Tynan of Ireland, winning in three games (15-8, 15-9, 15-4). Tynan's game looked good despite never having played on the stadium court before, while Landa is a veteran and his experience on the court showed. Alex's Z serve to the backhand was sharp, while Tynan's lob serve down the right side gave Landa some trouble. In the end, Landa was too much for Tynan, and he advances to the quarterfinals against Rodrigo Montoya of Mexico on Tuesday at 11:00 am CST.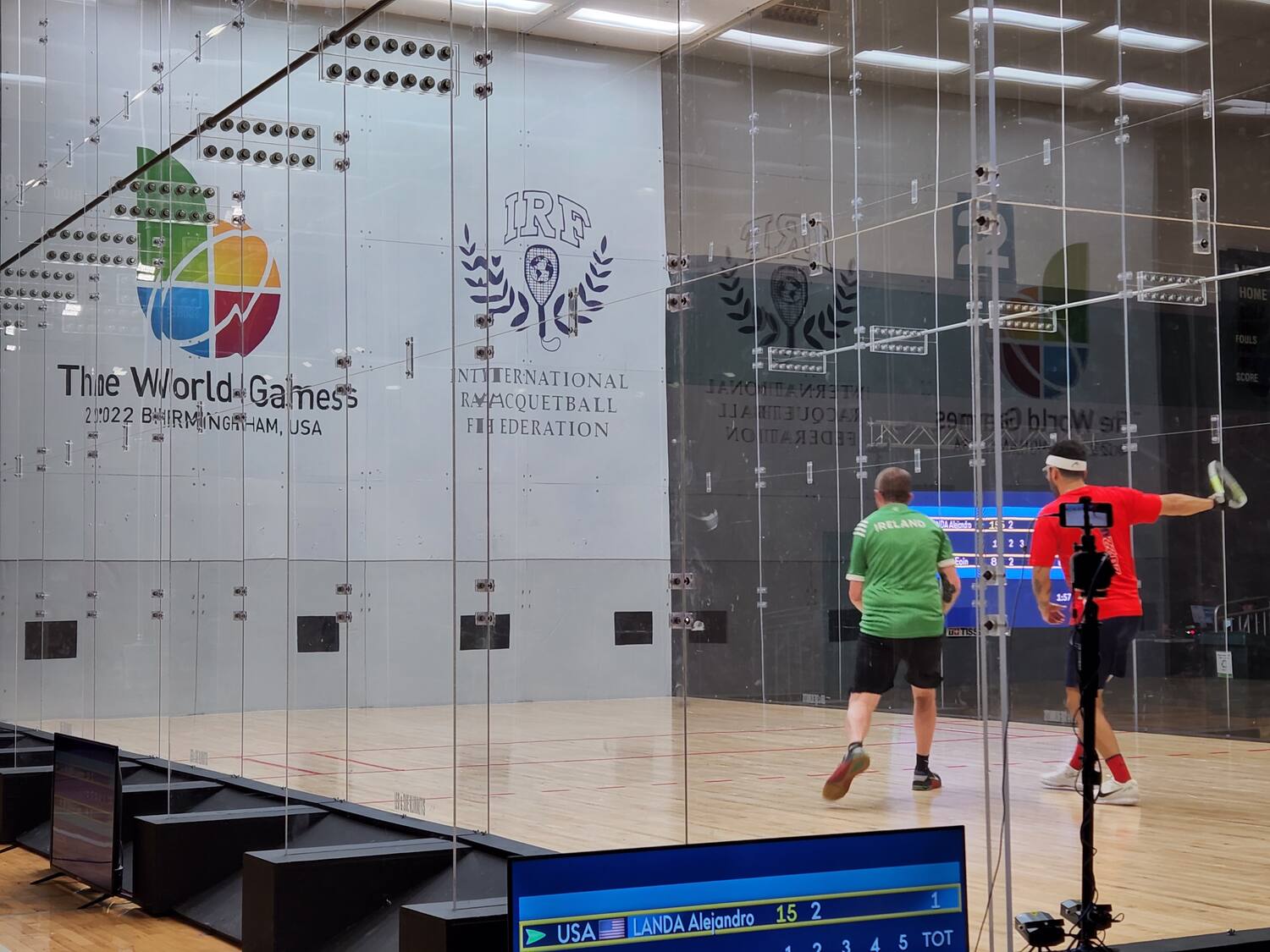 Corralled by Mike Wedel outside, the mascots of this year's World Games, Vulcan and Vesta, visited the racquetball venue. Presented by O'Neal Steel and in partnership with Vulcan Park and Museum, Vulcan and Vesta represent the city's history with iron and steel.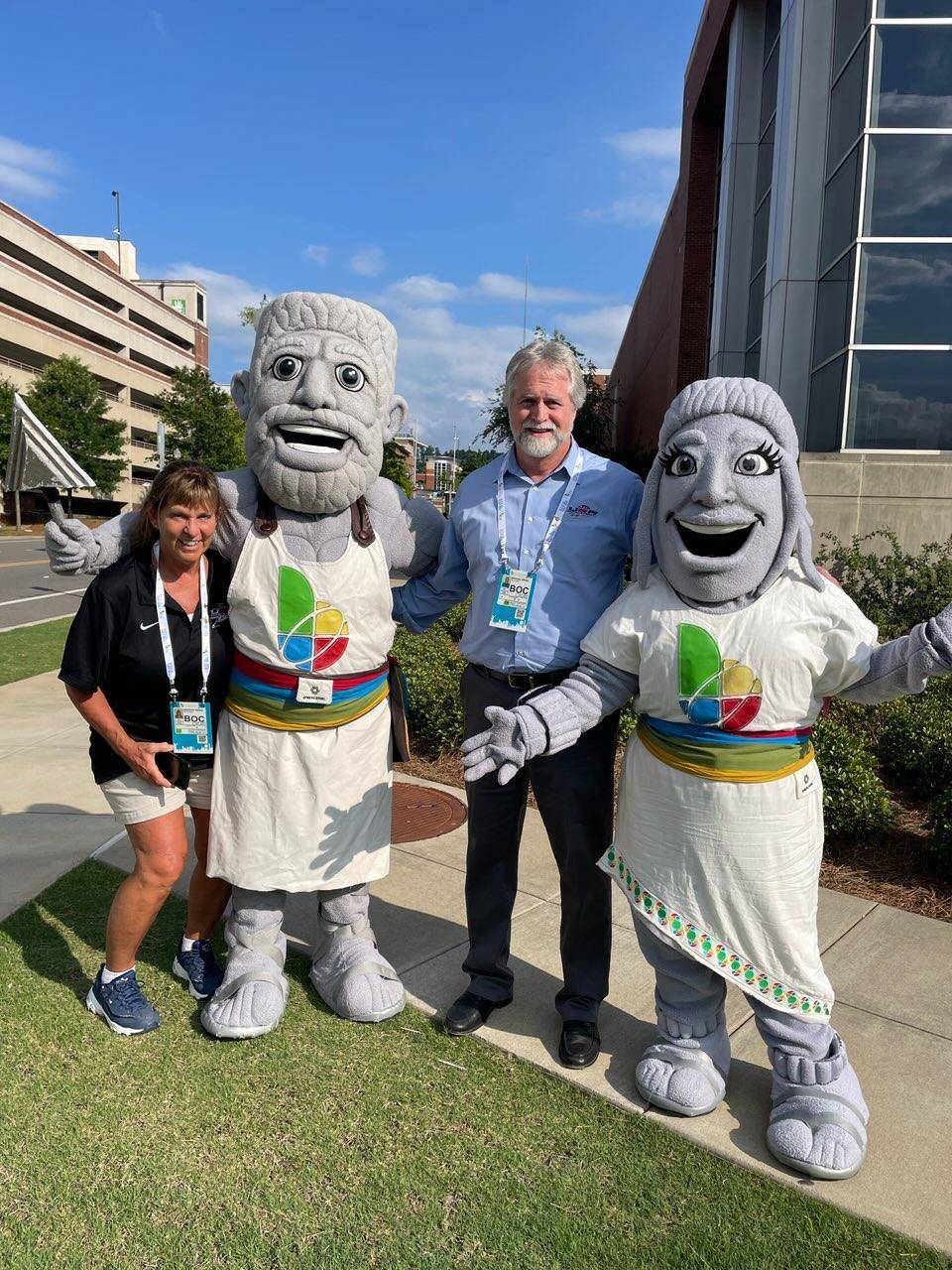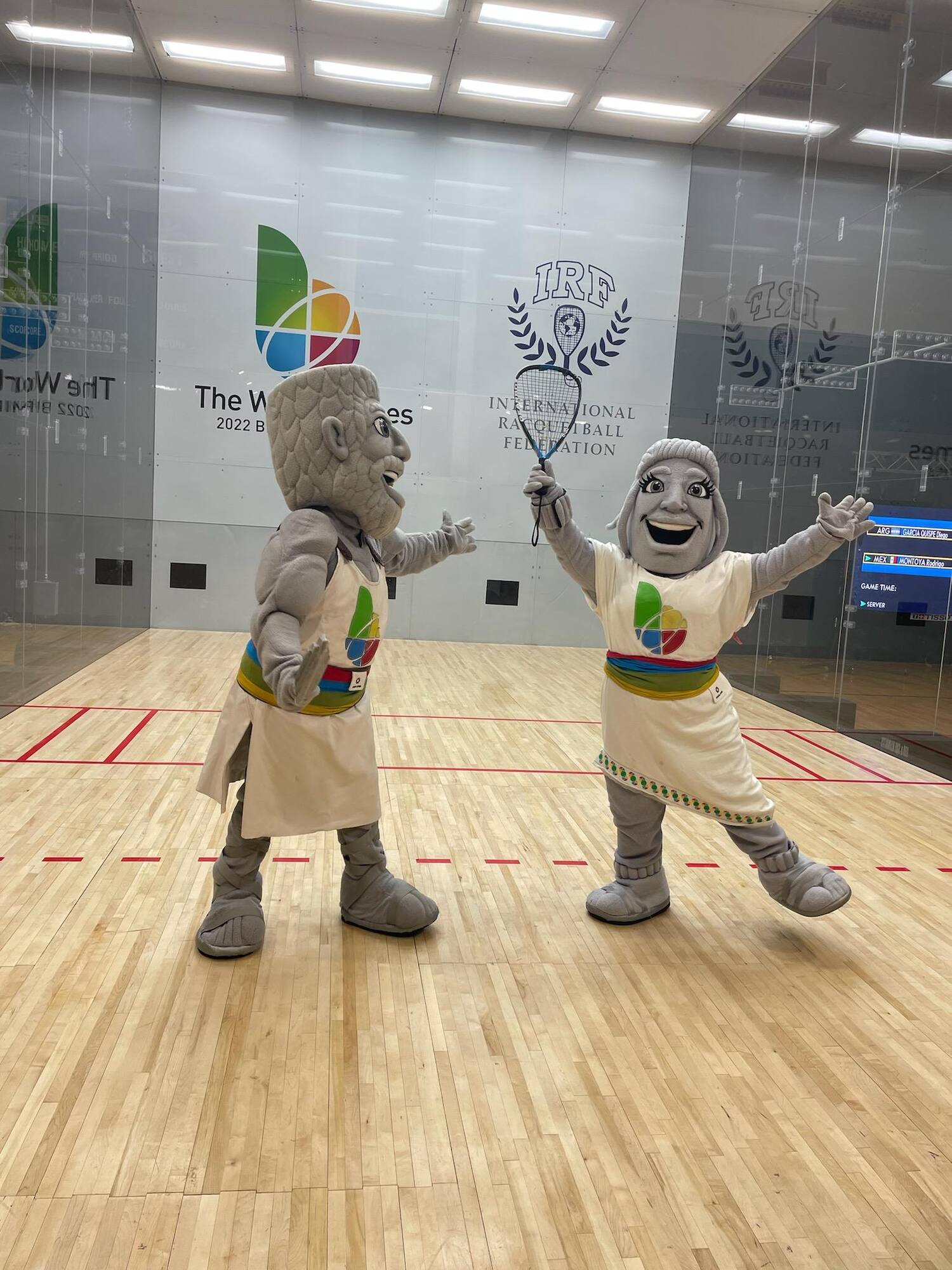 Quick Quotes
"USA Racquetball is proud to help showcase our sport on the world stage with the utilization of the stadium court. It took a lot to get it here, but the overall effect is well worth it. There have been so many positive comments made about the court. It's great to see athletes from other sports, like Ultimate Frisbee today, coming to watch Racquetball." – Mike Wedel
"Being at an event the scale of the World Games is unlike any other. It takes so much just to be here: qualifying for the National Team, making the World Championship Team, qualifying at the World Championships. Being here on this stage, in front of all these fans in our home country, is an unbelievable experience." – Rhonda Rajsich
On Monday, Kelani Lawrence (#2 seed) plays the first match of the day vs. Majella Haverty of Ireland at 9 am CST, while Rhonda Rajsich (#3 seed) plays the last match against Ireland's Aisling Hickey at 6 pm CST.
https://www.r2sports.com/tourney/home.asp?TID=39815
Remember to watch the matches on Facebook!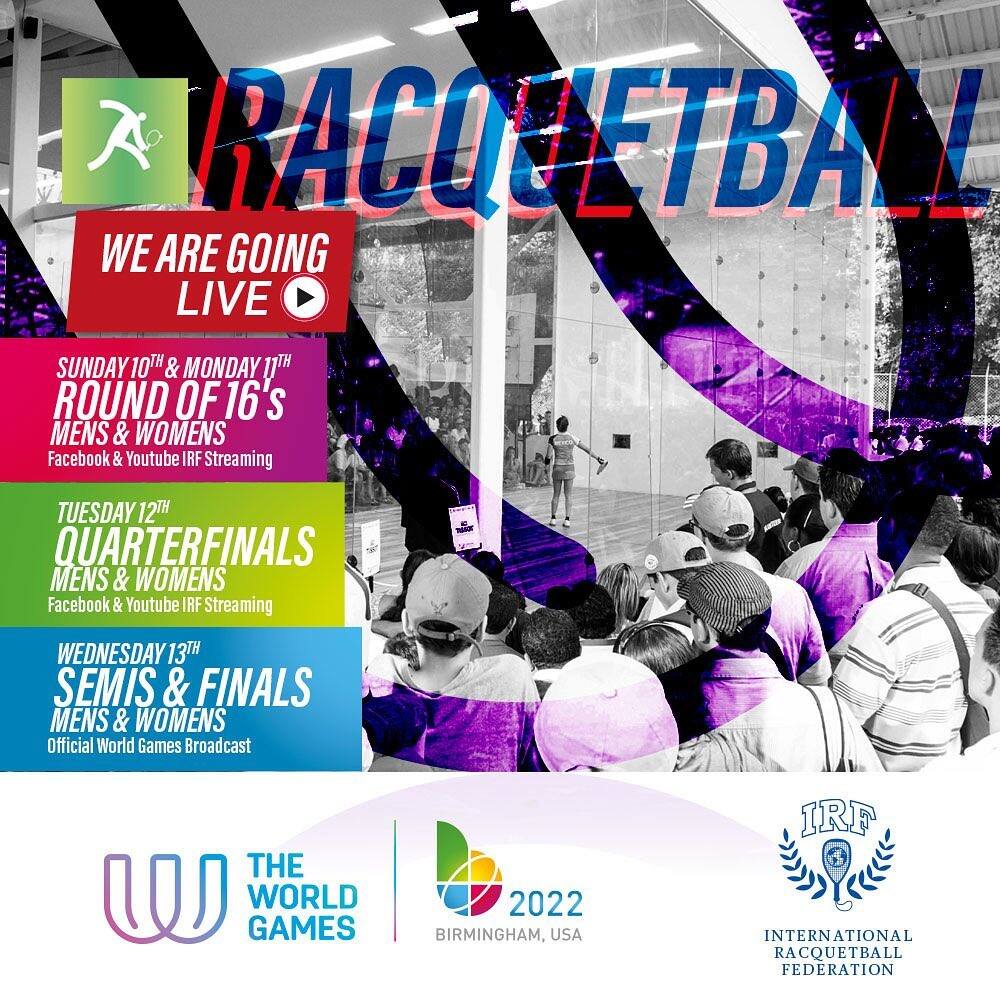 USA Racquetball Daily Blog #1 - Let the Games Begin!
The World Games, Birmingham, Alabama
July 9, 2022
By: Renée Isherwood
The eleventh edition of The World Games officially opened in Birmingham, Alabama, this past Thursday with members of the USA Racquetball delegation participating in the Opening Ceremonies. Check out the video from Team Trainer Rodger Fleming.
Over the 11-day timeframe, more than 3,600 of the world's best athletes from 100+ countries will compete in over 30 unique multi-disciplinary sports. More than 600 medals will be awarded to competing athletes, including 200 gold medals for the champions of each discipline. The 40th Anniversary of the World Games marks the return of the event to the United States for the first time since the inaugural World Games in Santa Clara, California, in 1981.
The U.S. Delegation members include Head Coach Jim Durham (CA), athletes Alejandro Landa (Texas), Jake Bredenbeck (Minnesota), Kelani Lawrence (Virginia), and Rhonda Rajsich (Arizona), athletic trainer Rodger Fleming (Georgia), and Team Leader Renée Isherwood (Colorado). Also in Birmingham is Executive Director Mike Wedel (Kansas), National Events Director Connor Shane (Colorado) and Local Organizing Committee Team Captain (and Alabama State Association President) Bob Frazier. Representing the IRF is Secretary Cheryl Kirk (Illinois), Dean Schear (Texas) overseeing drug testing and the E-Games exhibit, and Floor Manager Gary Mazaroff (New Mexico).
Today, the International Racquetball Federation held the Delegates Meeting where the draws were distributed. View the Women's and Men's draws.
Sunday's matches feature both U.S. men's players, with Jake Bredenbeck playing at 10 am CST against Lee Connell of Canada. Alejandro Landa is slated against Eoin Tynan of Ireland at 6 pm CST. Both Kelani Lawrence and Rhonda Rajsich play Monday. Stay tuned to tomorrow's blog for more match information.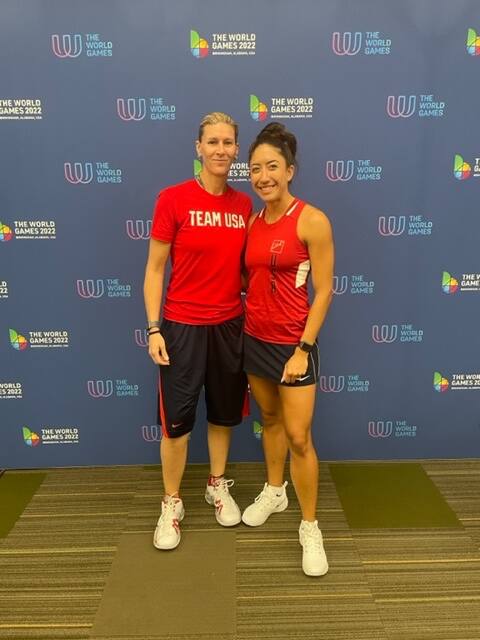 Fun fact: Kelani Lawrence has already been a part of winning a medal at the World Games. Her mom, USA Racquetball Hall of Fame member Malia Bailey, won a silver medal at the 1993 World Games in the Hague while pregnant with Kelani!
Each day, we'll hear from various members of Team USA in "Quick Quotes."
"The Opening Ceremonies was one of the most memorable moments of my life, both personally and professionally. I'm stealing a line from Kelani when I say that it was like being in a movie." -- Rodger Fleming
"I'm super excited to be here and not only compete but watch some obscure sports that I've never been able to see before, like sumo, floor ball, or drone soccer. It's exciting to be here with this delegation." -- Kelani Lawrence
"I'm so proud to be here representing Team USA in my first World Games. It's such an honor to be able to compete for our country, in our own country." -- Jake Bredenbeck
You can watch the matches livestreamed on the USA Racquetball Facebook page, as shared by the IRF.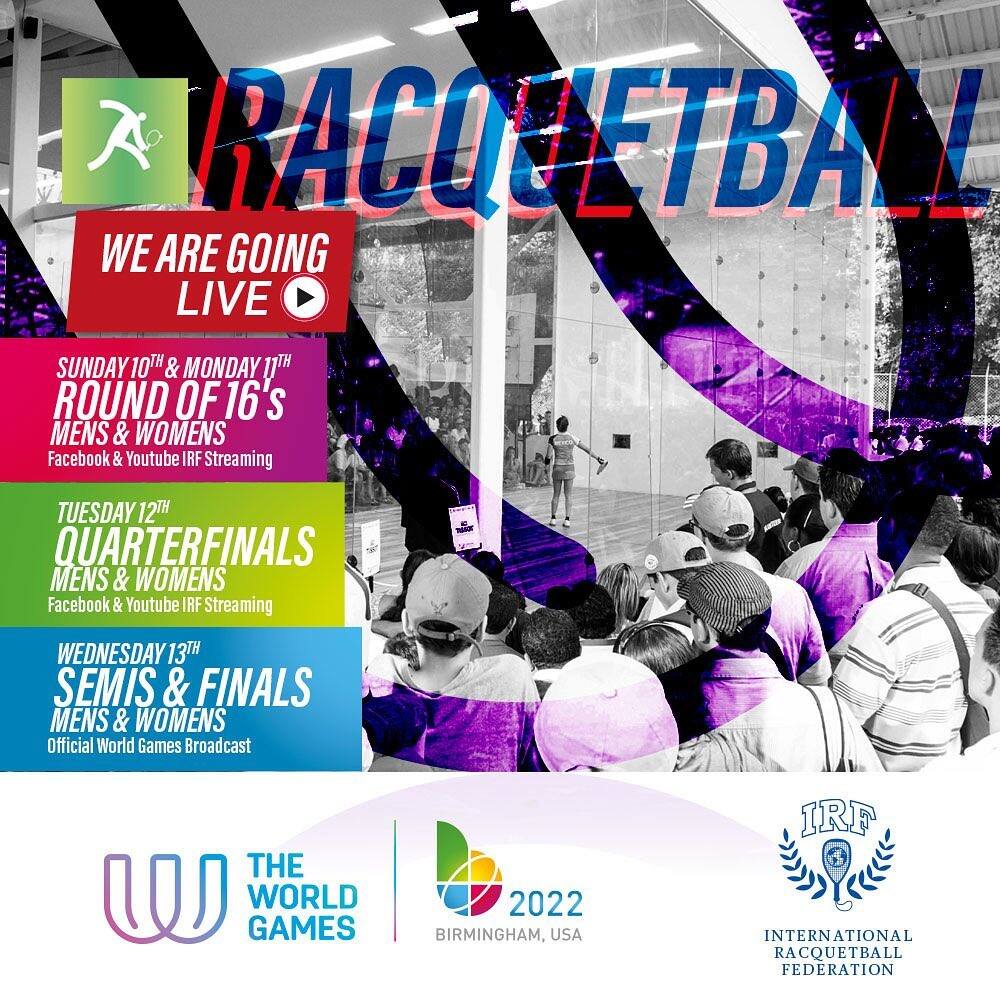 Finally, USA Racquetball recognizes and thanks Eddie Meredith, Anthony Herrera, and Trent Stewart, as well as the rest of the team, for all their hard work in assembling the stadium court. Watch a video of the court after it's been built.
Don't forget to read the Daily Blogs throughout the competition!
Please help support your U.S. Team Delegation to get to the IRF World Racquetball Championships. Make your tax-deductible donation and ensure a full delegation of athletes will be able to represent their country in San Luis Potosí, Mexico, this August. Go Team USA!