USA Racquetballs Junior Spotlight January 2022
by Brian Ancheta, President, Oregon Racquetball Association
Brielle Fernando is a senior at Beaverton High School and has been playing racquetball for four years. She caught the bug when her friends talked her into coming out for the High School Team. She is now the #1 player on her team.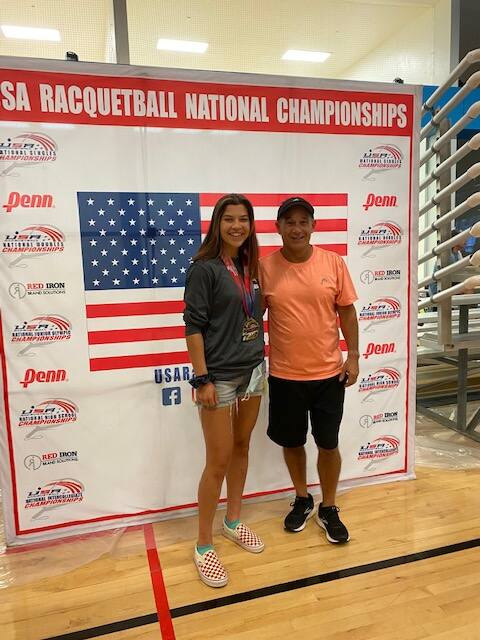 Brielle Fernando and Brian Ancheta in Des Moines
Brielle's favorite racquetball memories are traveling to High School Nationals in St. Louis during her freshman year and competing at Junior Nationals last summer in Des Moines. She enjoys being with her teammates and meeting new friends.
Of course, when Brielle hits the courts she is there to compete. She and her partner, Elizabeth Nangle, took Gold at the 2020 H.S. Nationals in #2 Girls Doubles.
Brielle is looking forward to competing in the Oregon High School State Championship, January 27-30, and at High School Nationals in St. Louis, March 2-6.
Brielle wants to mention that she appreciates the support she gets from all her coaches, including her Beaverton H.S. Coach Elizabeth Yee; her teammates; and especially from her mom, Kristine, for always being there.
Brielle plans to attend Wheaton College in Illinois next year and get her degree in Biblical Studies. Naturally, she'll start a racquetball club!
Good luck Brielle, see ya on the courts!
Website: https://www.oregonracquetball.org
Facebook: Oregon Racquetball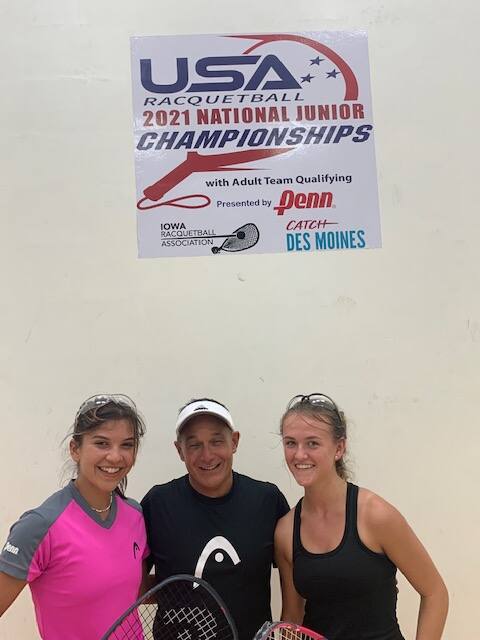 Brielle Fernando, Brian Ancheta, and Gabbie Roseman (MO) at 2021 Junior Nationals in Des Moines