APCON 2022 Beach Bash - The Return!
March 24-27, 2022
Garfield Street Courts, Hollywood, Florida
It appears that the Return of Beach Bash was a success! The weather was unbelievably cooperative and so pleasant. The players cheered for their favorites. We crowned quite a few new champions. We inspired more interest and appreciation for outdoor one-wall racquetball amongst indoor players. The IRT and LPRT Pros really lived up to their reputations for professionalism and sportsmanship. New blood! Be sure to see the results at: https://www.r2sports.com/tourney/viewResults.asp?TID=31509.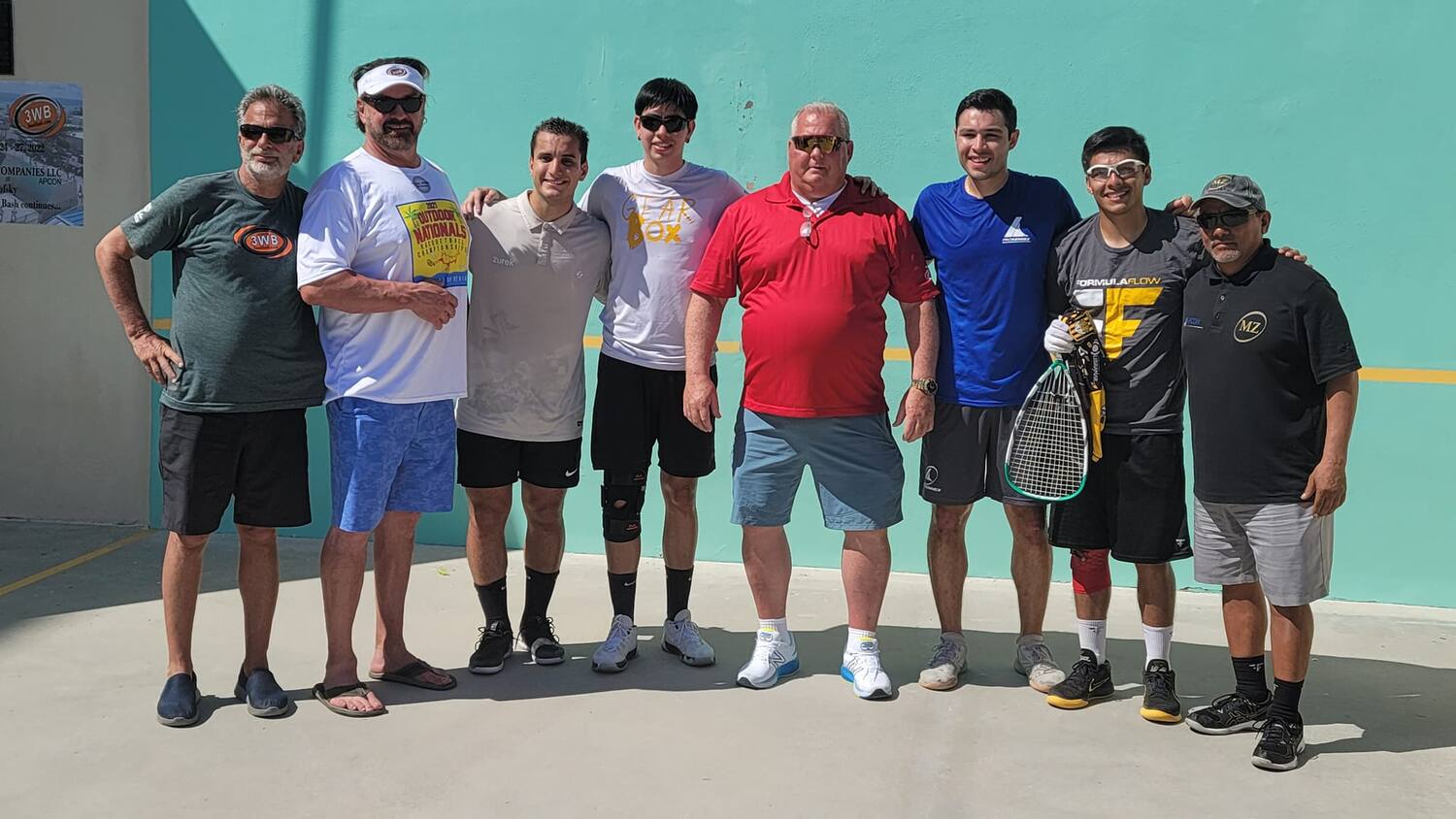 Men's Pro Doubles finalists along with Beach Bash sponsors and key personnel. L-R Vic Liebofsky, Rick Koll, Andres Acuña, Eduardo Portillo, Mike Coulter, Javier Mar, Mario Mercado, Abel Perez. Photo courtesy of Susan Stephen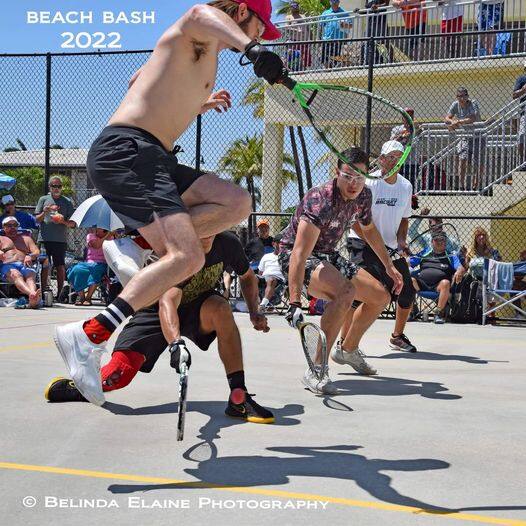 Men's Pro Doubles semifinal action. Photo by Belinda Dettman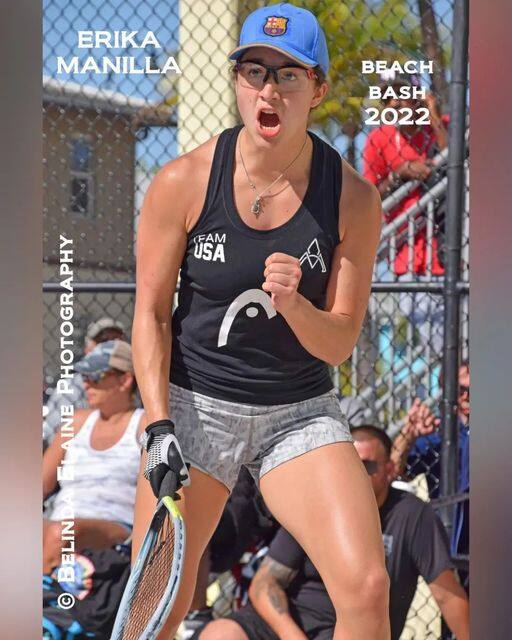 Women's Pro Doubles Champion Erika Manilla. Photo by Belinda Dettman
The legacy that Vic Leibofsky created is in good hands, thanks to his guidance of the 3WallBall Team. Vic remains the Beach Bash Ambassador, and we cherish his continued excitement to see the event return after a two-year hiatus.
The LPL Financial Cup and the KWM Gutterman Cup chase is on! The current tallies can be found on 3WallBall.com – Ladies' Cup / Men's Cup.
We are delighted with the support of our sponsors that enables match streaming and broadcasts our backers' ads and commercials to our ever-expanding audience. We thank APCON (Abel & Teresa Perez), KWM Gutterman (Keith Minor), LPL Financial (Rosco Halsey), AGE Solutions, Team Root, SodaMan (Rick Koll), Doug Fulp, Ahern Equipment, ProKennex, Gearbox, HEAD, Susan Suid, Kelley Quinn, Barcelo Cabinetry, Marcos Gravier, and others who wish to remain anonymous. Team Dovetail is bringing the excitement, looking to revive Team Challenges – are you in?
An event of this type really takes a village...the players for sure but also the staff and volunteers to keep the wheels in motion. Huge thank you's to our Court Master (Jen O'Meara); our Registration, Awards and Generalists (Jennie Cohegan and Maddie Melendez); our Court Crew (Seran Ramkissoon, Justin Conklin, Chevy Kimbrough, Kelvin Hatcher, and Rick Bernstein); and to all the folks who stepped up to serve as referees and line judges.
Now it is time to turn our attention to the "Second of Three" outdoor events on the Road to Vegas: Team Root Outdoor Nationals presented by ProKennex in Huntington Beach, July 14-17. Grab your partners and head to the other coast for some more stellar weather plus hot, hot racquetball and paddleball! https://www.r2sports.com/website/event-website.asp?TID=38652
Outdoor Cup Series Standings (compiled by Todd Boss)
The first Outdoor "major" is in the books. Beach Bash was a hit and was well attended by one-wall specialists from the east coast, outdoor specialists from all-over, and touring pros on both sides.
This was also the first of the three tournaments that will determine the winner of the 2022 Outdoor Cups. The Ladies' cup series is sponsored by LPL Financial and the Men's is sponsored by KWM Gutterman. Both companies are run by huge racquetball enthusiasts, and we thank them for their patronage.
Here's the Cup standings after Beach Bash.
Women's LPL Financial Cup Standings:
1. Michelle De La Rosa, 355 pts
2. Masiel Rivera, 245 pts
3t. Katie Neils, 212.5 pts
3t. Erika Manilla, 212.5 pts
5. Hollie Scott, 205 pts.
Michelle De La Rosa, who would have won this competition last year if it had existed, rightfully takes over the lead on the back of her Mixed Doubles title and finals finish in Pro Doubles. Rivera's two second place finishes (in Singles and in Mixed) push her to 2nd place. Doubles partners Neils/Manilla (who took the Pro Doubles title in an upset) tie for third place. Hollie Scott, despite winning the Singles draw, comes in fifth based on the small draw size in her win.
Also In the running after the first event in 6-10th place include Kelani Lawrence, Anita Maldonado, Susan Stephen, Kathy Guinan, and Aimee Roehler .
LPRT full cup standings worksheet: https://docs.google.com/.../1gUgDx40hqxGPJydLNyUR.../edit...
---
The Men's competitions at Beach Bash included more than 50 potential players who competed in one of Singles, Doubles, Mixed, or CPRT. After the first set of competitions, here's the Top 5:
Men's KWM Gutterman Cup Standings:
1. Daniel de la Rosa, 550 pts
2. Javier Mar, 510 pts
3. Mario Mercado, 375 pts
4t. Eric Faro, 325 pts
4t. Ignacio Espino, 325 pts
DLR, as expected, takes two titles and opens up a lead at the top. He'll be tough to beat as long as he continues to dominate Mixed with his wife Michelle. But, there was a chink in the armor on the pro doubles side as he and Alvaro Beltran suffered an early upset. Javier Mar had an astounding re-introduction to outdoor, winning pro doubles with 3rd place Mario Mercado and racing to the singles final. Mercado continues to show why he's one of the best doubles players in the land and may be kicking himself for not entering Mixed (where he always does well). Faro and Iggy may not be long for this leader board (as one-wall Florida-based specialists) once Outdoor Nationals rolls around, but they had a solid weekend, taking the CPRT draw.
Rounding out the Top 10 include Eduardo Portillo, Robert Sostre, Andres Acuña, Sebastian Franco, and then a tie for 10th by CPRT finalists Max Heyman and Seran Ramkissoon. So, lots of players lurking who will definitely be at the next two majors!
Men's full cup standings worksheet: https://docs.google.com/.../1HBH6v9KhPIuUkwYjjWlI.../edit...
Next stop, Outdoor Nationals for the second leg of the "Road to Vegas." The R2 Sports site for Outdoor Nationals is live now and signups have begun!