We Are USA Racquetball Infographic: #8 Partners
This WE ARE USA RACQUETBALL infographic describes the role USAR plays in the sport of Racquetball.
Read below to find out more about our partners.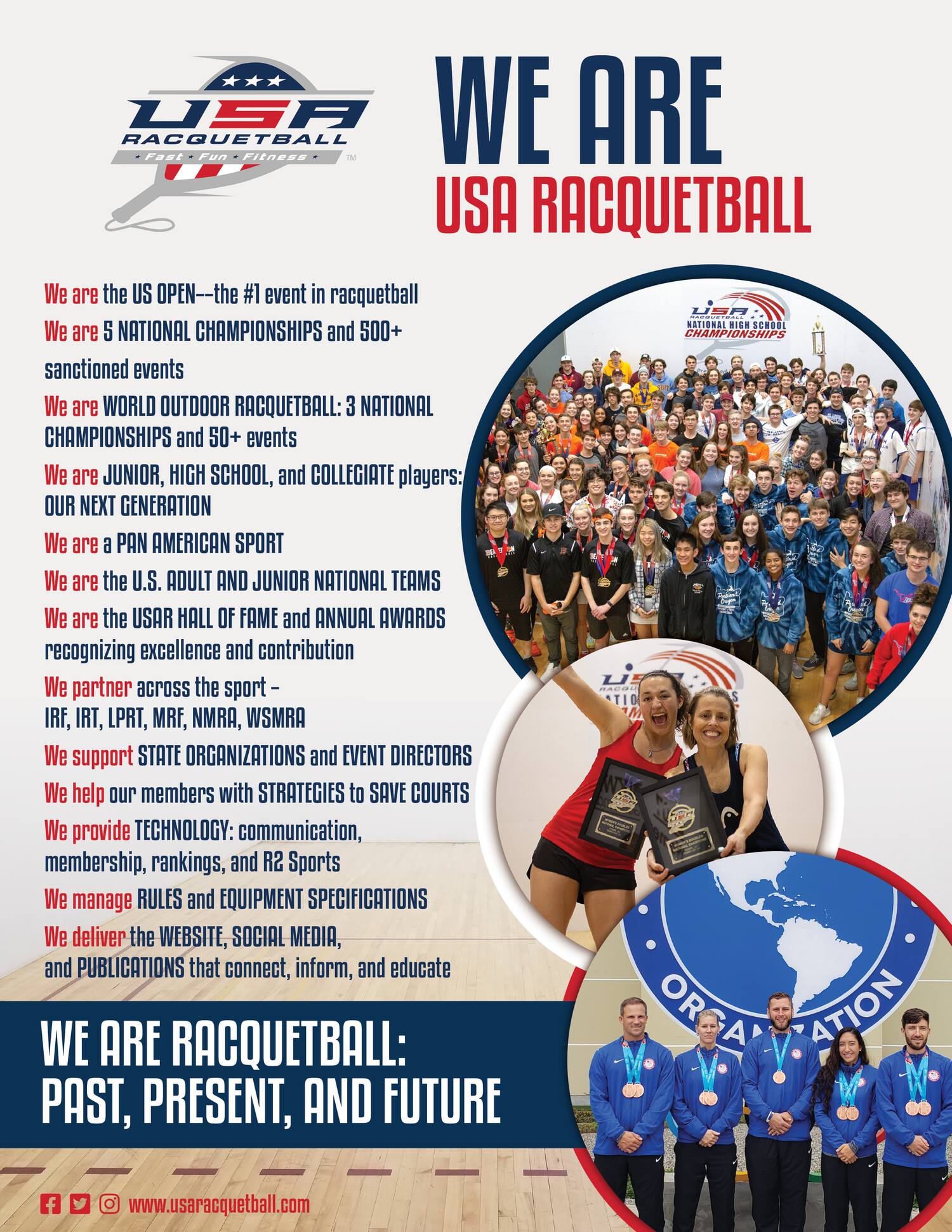 Dear USA Racquetball Members (and Racquetball Players Across the United States),
The USA Racquetball infographic above has appeared in the last fourteen issues of Serving Up the News. The contributors and editors of this newsletter have observed that while many of our members appreciate the infographic's high-level description of the value USA Racquetball brings, perhaps they would appreciate more detail on each point, to understand more about what USA Racquetball provides to the infrastructure of our sport.
We covered #1 US OPEN and #6 U.S. Adult and Junior National Teams in the May 2021 of this newsletter. In June 2021, we continued with #2 National Championships/Sanctioned Events, #4 Junior, High School, and Collegiate, #12 Rules and Equipment Specifications; August 2021 was #3 World Outdoor Racquetball and #13 Website, Social Media, and Publications; and September covered #7 Hall of Fame and Annual Awards.
We'll continue here to grab another of the 13 points on the infographic and give more detail.
#8 We partner across the sport – IRF, IRT, LPRT, MRF, NMRA, WSMRA
USA Racquetball is proud to partner with the International Racquetball Federation, International Racquetball Tour, Ladies Professional Racquetball Tour, Military Racquetball Federation, National Masters Racquetball Association, and the Women's Senior/Masters Racquetball Association. Here's a little bit about each partner:
International Racquetball Federation (IRF) - The International Racquetball Federation is the recognized International Governing Body for racquetball under the International Olympic Committee. The IRF is a member of SportAccord, The International World Games Association, and the Association of Recognized International Sports Federations (ARISF) by the IOC.
International Racquetball Tour (IRT) - Founded in 1990, the men's professional International Racquetball Tour (IRT) features 300 players competing in over 20 Top-Tier and more than 50 Satellite tournaments in Latin America, the United States, and Canada. Tournaments draw amateur and college entrants during the September through May season. The amateur players compete in divisions ranging from beginner to open level for both singles and doubles. The CEO of the IRT is Mike Grisz.
Ladies Professional Racquetball Tour (LPRT) – The LPRT is the governing body of a growing membership of the highest-level professional female racquetball players in the world. The LPRT is an organization managed by Commissioner and President T. J. Baumbaugh. The LPRT is comprised of elite female athletes representing over a dozen countries including the United States, Mexico, Chile, Canada, Colombia, Japan, Bolivia, Ecuador, and Argentina.
Military Racquetball Federation (MRF) - The Military Racquetball Federation (MRF), founded in 2008, is dedicated to promoting racquetball programs and events for service members here and abroad. The volunteer-operated, 501 (c)(3) non-profit organization assists wounded warriors with their rehabilitation efforts through Racquetball Rehabilitation Clinics (RRCs). These clinics focus on the use of racquetball as a rehabilitation tool to help overcome the physical and mental challenges soldiers face from combat, such as PTSD, Traumatic Brain Injuries (TBI), and other injuries.
National Masters Racquetball Association (NMRA) - The National Masters Racquetball Association (NMRA) is an organization of racquetball friends from across the country who first got together in 1971 in New Castle, Pennsylvania, and started inviting more friends from then on. Now associated with USA Racquetball, the NMRA aims to provide a special social, friendly, and competitive national tournament environment for players 45 years and older. NMRA believes they provide the best bang for the tournament dollar. Every player plays every day of each four-day event, and all matches are a self-refereed, round-robin format. "No more one-and-done tournaments!" They sincerely care about the players having a great tournament experience and make sure they want to come back year after year.
Women's Senior/Masters Racquetball Association (WSMRA) - Founded in 1993, the WSMRA is dedicated to introducing new women to racquetball and tournament competition and promoting the sport as a lifetime activity. Its annual tournament for women aged 35 and above emphasizes fun, friends, and good sportsmanship. The organization supports breast cancer research, the USA Racquetball Collegiate Scholarship, and the LPRT Scholarship. Visit them on Facebook or at wsmra.com.
Conclusion
We take our role very seriously in serving all of you and in saving and strengthening our sport, and we hope this resonates with you as an inspiration for working togetherto dowhatever we canto preserve this treasure in our lives.
It will take all of us to do it, and USA Racquetball accepts and embraces our sacred responsibility to lead and to inspire everyone to participate in solutions.
Sincerely,
The Staff, Board, and Volunteers of USA Racquetball