Board of Directors Update - October 2021
First things first! The Board of Directors sends our love and congratulations to Athlete Representative Danielle Maddux and her husband Jake on the arrival of Grey Tyler Maddux, born September 29th. Grey weighed in at 5 lbs. 9 oz. and 19 inches. Says Danielle, "Mom and baby boy are very healthy and happy! We were induced early (37 weeks) and we're doing great. It just meant that we got to meet the little guy a few weeks early!"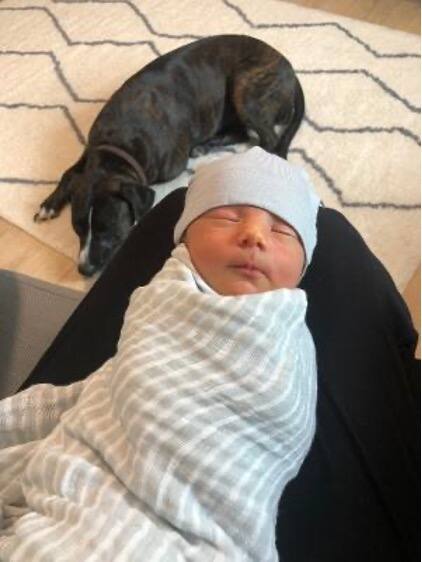 Down to business...
The Board met twice inside of 10 days, once by Zoom and the other "live" (for the first time in two years!) in Minneapolis at the US OPEN. Read on for high-level recaps of the two meetings.
­­­__________________________________________________________________________
MEETING HIGHLIGHTS -- USAR Board of Directors -- September 27, 2021
Thirteen Board members were in attendance via Zoom along with Executive Director Mike Wedel.
Following are some points of interest:
Finance Update
The 2022 budgeting process work continues, and Treasurer Steve Czarnecki requested the Board's input in several key areas to include membership revenue outlook; US OPEN financial performance; staffing; and strategic plan financial impacts.
US Team Committee
See the article in this October 2021 issue of USA Racquetball's Serving Up the News for information on the coming World Adult and Junior Championships in Guatemala.
Legislative Committee
Committee members on the Board facilitated a discussion on future board composition and athlete representation based on anticipated USOPC changes in 2022.
Strategic Planning
Board member Laura Pesek has been spearheading a planning approach to bring USAR's plans current and to prime the association with solid strategic initiatives, goals, and actions in the coming year and beyond. Projected completion is slated for year-end. At this meeting, Laura provided a comprehensive current status update that included input from Board subgroups as well as results from the recent USAR member survey.
Next Meeting: October 6, 2021, at the US OPEN in Minneapolis, Minnesota
--ADJOURNED--
______________________________________________________________________________
US OPEN
A number of Board members were on hand throughout the entire event as we celebrated the US OPEN's 25th Anniversary; extended our gratitude to Doug Ganim for his outstanding management of the event over this quarter of a century; witnessed the induction of four new Hall of Famers; and welcomed opportunities for dialogue with USAR members on the future of our great sport and the continuation of the US OPEN.
MEETING HIGHLIGHTS -- USAR Board of Directors -- October 6, 2021
Eight Board members were present in the room and two more participated via Zoom. A couple more were playing in the Qualifying rounds!
The first half of the day was devoted to the continuing steps of the Strategic Planning initiative being led by Board member Laura Pesek.
Doug Ganim stepped in mid-day to give an update on the US OPEN: past, present, and future.
A portion of the afternoon agenda was devoted to budget work led by Treasurer Steve Czarnecki.
On the last agenda item of the day, the Board further discussed USOPC athlete representation changes coming in 2022. The Legislative Committee presented its work for approval relative to bylaws revisions necessitated by the coming changes.
The final portion of the day included a briefing from the US Team Committee on the coming IRF World and World Junior Championships slated for Guatemala City, Guatemala, November 26-December 12 (travel dates included). A separate article in this newsletter includes information about the teams and the trip(s).
Next Meeting: October 25, 2021, via Zoom
--ADJOURNED--
GET TO KNOW YOUR BOARD OF DIRECTORS
The makeup of the USAR Board of Directors is diverse and robust, including four state association presidents, two pro tour commissioners, the NMRA president, several business owners, and three elite racquetball athletes. They bring a wide range of skills and knowledge brought from multiple areas of business, educational, and racquetball experience.
Visit https://www.teamusa.org/usa-racquetball/leadership/board-of-directors to view Board members' photos and profiles. Just click on each photo to see the profile, and click on the name to send an email.
Please visit the USAR website at https://www.teamusa.org/usa-racquetball -- About/Bylaws, Article VII, to learn about Board of Directors Position Categories: At Large Elected, Board Appointed, Executive Appointed, and Athlete Representatives.
We hope you are finding this newsletter feature interesting, and we always welcome suggestions and/or questions to include in future updates. Please contact Stewart Solomon (VP) or Cheryl Kirk (Secretary).
If you have questions about the Staff's activities, please contact Mike Wedel.
Stay safe and healthy, everyone!