Catching Up with...Jim Durham!
U.S. National Team Head Coach Jim Durham hails from Fresno, California. After serving the team as Assistant Coach in 2019 in Barranquilla, Colombia, he was named Head Coach on March 1, 2020, and then spent the rest of last year like the rest of us -- hoping that we could get past the pandemic so that racquetball would once again become part of our lives. In the meantime, though, Jim is an avid cyclist and a lover of the great outdoors, and he enjoys spending time with his wife, Diana, their sons, and their two granddaughters.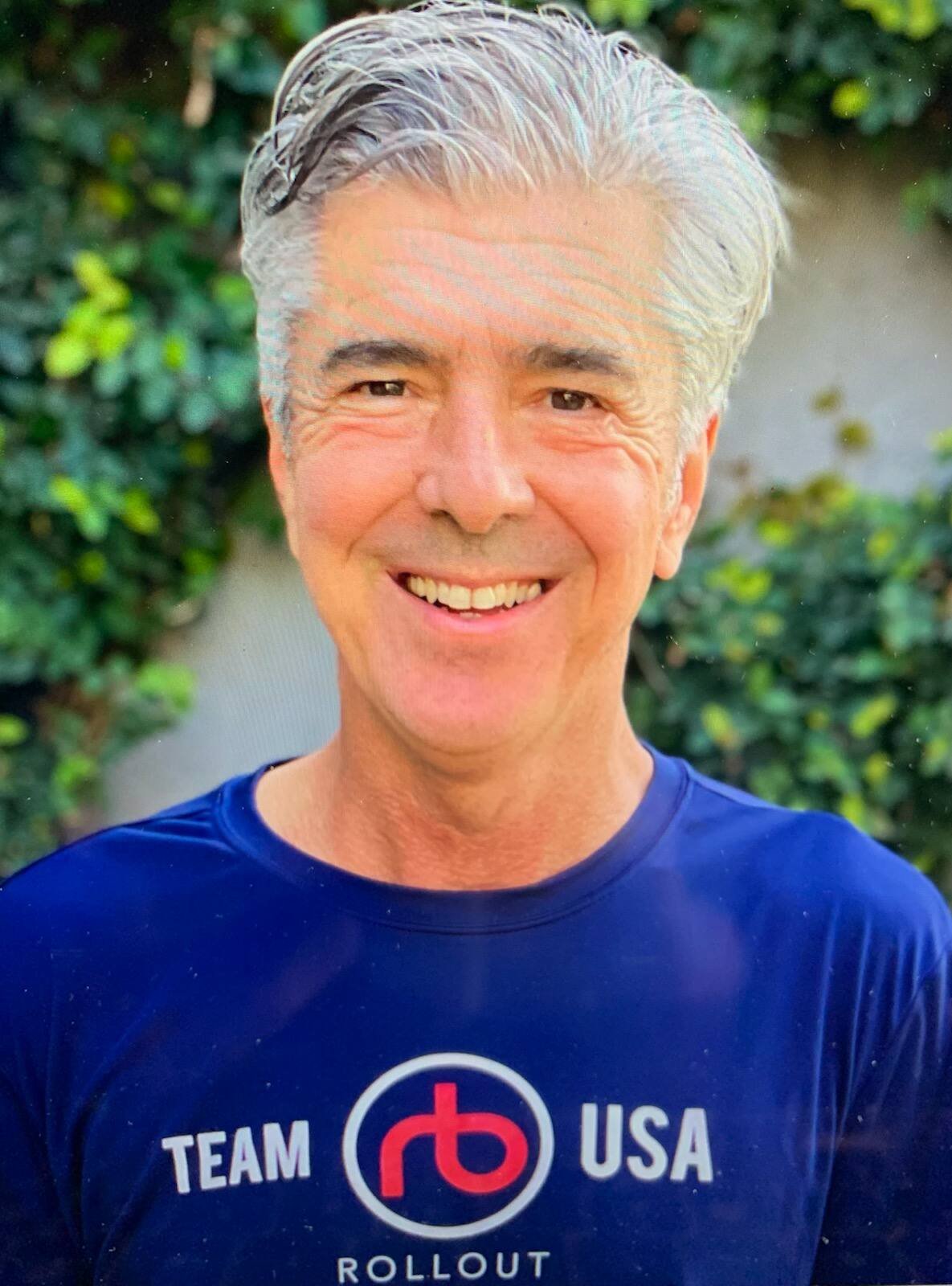 EARLIER DAYS
I spent thirty years teaching and coaching in San Joaquin, California, a small, mostly Hispanic, farming town on the Westside of the San Joaquin Valley. I coached students in the fourth through eighth grades in cross country, track, softball, baseball, flag football, and basketball. I also coached league and all-star teams and served on the board of directors of the Clovis West Little League.
I started playing racquetball in 1978 in a P.E. class at California State University at Fresno. After graduating with a degree in Psychology in 1978, I joined George Brown's Fitness Club. The club changed hands and became Raintree, whose general manager was racquetball tour professional Jay Jones. Jay was instrumental in helping a few dedicated members (Rex Hollenbeck, Scott Lisle, Steve Koda, and me) become quality open players.
One of my first tournament experiences was taking second in an event put on by Bill Dunn at Schoeber's in the Bay Area that featured only "C" players. There were 128 players in the draw. I didn't even know how to hit a ceiling ball yet. When they hit me one I just dinked it back down the line. That led to a forty-year-and-counting run of tournaments, fun, and friends.
I've lost to some of the best in the world! Ed Andrews, Stan Wright, Scott Oliver, Jerry Price, Michael Bronfeld, John Ellis, Rocky Carson, the "Roji," Jose Diaz, etc. etc. But I've also won National Age Group championships at National Singles, National Doubles, and the WOR Championships in both Vegas and Marina Park. I still love the process of working on my game, playing tournaments, and competing with my son, Tom.
Over forty years in the sport, I've learned a few things about coaching, human performance, and racquetball strategy that I'm now applying to my position as U.S. National Team Head Coach.
REFLECTIONS ON COACHING THE NATIONAL TEAM
The National Team is a different experience than coaching school or club teams that you meet with daily. It's a collection of highly skilled and motivated individuals that come together to compete as a team a couple of times a year. The team often has different members at events, and the countries we compete against have members who have played in the US OPEN and other IRT and LPRT events. Often the players know each other's games quite well. In this environment, the coach's role can still be an important one and can certainly help create a winning team.
Time management and the logistics of food, lodging, travel, team meetings, fitness facilities, trainers facilities, practice, and match schedules are all areas where the coach and the team leader are important factors in the team's success. If the players don't have to waste energy on those matters, it clears the way for them to concentrate on their game and their opponents. That goes a long way in creating a winning team formula. Cheryl Kirk and Renée Isherwood do an amazing job of making these behind-the-scenes arrangements.
A coach is also involved in match strategy and opponent evaluation. We spend considerable time analyzing our opponents and ourselves. YouTube and Facebook are remarkable resources in that quest. We are always looking for weaknesses and tendencies that can be exploited. Those might be physical weaknesses or mental ones. We also want to know our strengths and the strengths of our opponents. The objective, of course, is to play to our strengths and their weaknesses. That is an ongoing and fluid equation during the match.
Having a coach sitting outside the court can be an invaluable resource in that equation. Sometimes just one thing can make a difference between victory and defeat. It is a coach's job to look for and recognize that "one thing" that could turn a match in the team's favor. Some of the things we look for are shot selection from all areas of the court; what serves they use most often and are most comfortable with; service return patterns and weaknesses; what tempo of game they prefer; psychological tendencies such as how they react to bad calls and other adverse events. Do they like to come from behind or are they better front runners? Do they play better in a friendly, collegial atmosphere or a divisive one? Those are some of the elements we want to be aware of in order to maximize our chances of winning. Sometimes, just sitting outside the court in a supportive role is valuable. It's something the players may not get at other tournaments, and the added psychological lift may be the competitive advantage a player needs.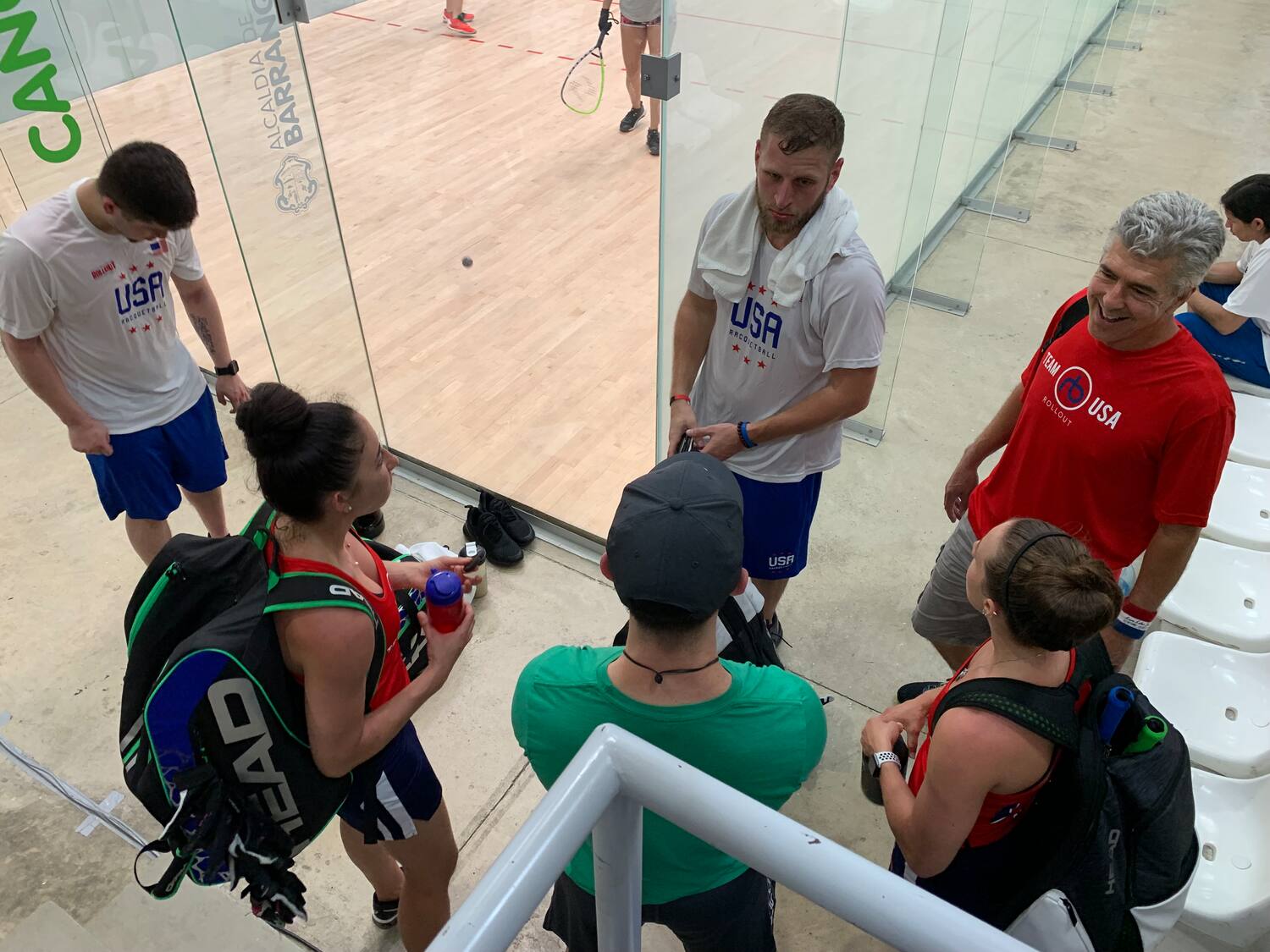 THE 2020-21 U.S. TEAM
Our current US Team is a strong one with four legendary veterans leading the charge. Rocky Carson, Sudsy Monchik, Rhonda Rajsich, and Aimee Ruiz are still competing at the top level of the sport after decades of competitive play. Their vast experience, knowledge, and positive energy give our team an incredible base to build on, and they are positive and constructive examples for our developing players. Veterans Alejandro Landa, Jake Bredenbeck, Jose Diaz, and Bobby Horn complete a deep and talented men's team. On the women's side Hollie Scott, Erika Manilla, Kelani Lawrence, and Lexi York bring young and developing talent to the team. I look forward to seeing them play, progress, and win for many years to come.
Our goal is to represent the United States of America in a way that brings respect and honor to our country and to stand on the IRF podium among the finest competitors in the world.
LOOKING TO THE FUTURE
It's also important that we keep our eye on the horizon. Our continued success depends on the development of a strong junior team and robust junior programs as well as the continued maturity of the current up-and-coming IRT and LPRT professionals. Communicating with these talented athletes and their coaches is a priority. It will lead to strong team chemistry and a competitive advantage in the future.
The U.S. currently has four women ranked in the Top 20 on the LPRT: #6 Rhonda Rajsich, #17 Kelani Lawrence, #18 Hollie Scott, and #20 Sheryl Lotts. Our female juniors in the Top 10 of the USAR Junior rankings are (alphabetically) Lily Caldwell, Shane Diaz, Ava Kaiser, Heather Mahoney, Kareena Mathew, Annie Roberts, and Erin Slutzky.
On the men's side, the U.S. currently has five players in the Top 20 of the IRT: #2 Alejandro Landa, #3 Rocky Carson, #10 Jake Bredenbeck, #15 Thomas Carter, and #17 Adam Manilla. Our male juniors in the Top 10 of the USAR junior rankings are Andrew Gleason, Timmy Hansen, Benjamin Horner, Nikhil Prasad, Antonio Rojas, Cole Sendrey, and Josh Shea.
These talented players just named, as well as others coming up behind them, give Team USA a bright future that I look forward to watching and helping to develop.