Celebrating Carrie Reitmeier, April's Real Racquetball Champion!
Carrie Reitmeier is a league and tournament player, a coach, a certified instructor, President of the Nebraska State Racquetball Association, a tournament director, a clinic instructor...she does it all!
Carrie, 54, began playing in high school at 17 years old and continued in college, quickly becoming an instructor. Her work promoting and organizing racquetball in health clubs spans more than three decades, including positions as Racquetball Director at clubs in South Dakota, Minnesota, Ohio, and Nebraska.
When asked what has kept her in the sport over these many years, Carrie explains, "I am truly addicted! Some of my closest friendships have been made on the racquetball court. It's a great 'bang for the buck': a fun workout in little time along with the camaraderie and long-lasting relationships that are built.
"In 2011, my son James (who was attending college at University of Nebraska Omaha) and I started a racquetball club there. After just one year we had up to 30 students attending practice twice a week. Many of these 'kids' attended all the local tournaments and a couple in Iowa, too! This program gained momentum, and a club at Creighton University was started in 2014. Coaching both of these club teams was a highlight of all my years in racquetball. We held practices together and hosted interclub competition regularly. To date, eleven of those club players who have stayed in Omaha have joined our club and continue to play. Many others have reached out to let me know they have found racquetballers in their cities. This is just another of many examples of how racquetball has brought people into my life who have now become lifelong friends."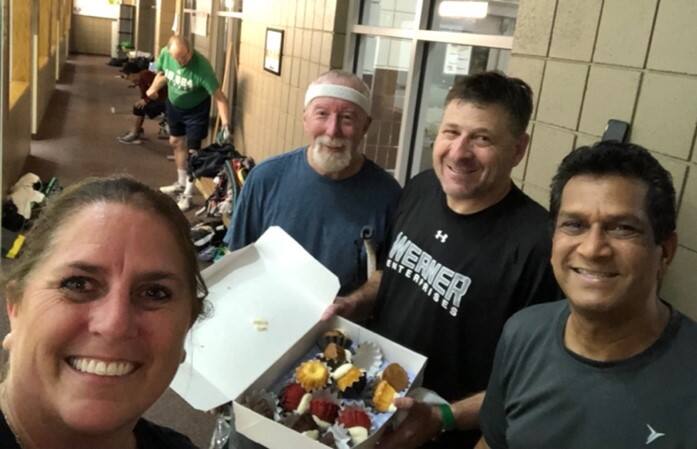 Carrie with Scott Long, Mike Lewis, and Vish Sukhram
The Reitmeiers, Carrie and Greg, have been a racquetball family since before they began their own family. Son James (29) and daughter Toni (25) have been playing since the age of 5. These days, Carrie spends her time managing their household, working as Racquetball Director (at two Genesis Health Clubs in Omaha), and volunteering whenever possible. She is especially proud of the five Racquet for a Cure events she and her colleagues hosted that have raised over $50,000 to support the Susan G Komen Foundation.
"My hope for the future of racquetball is that it will sustain the test of time." Carrie believes that the best way to help grow racquetball is to "leverage volunteers who will run free clinics and provide racquets and eyewear for them. It's a numbers game: teach 30 people how to play, and 5 of them will become lifelong players. Many clubs are not going to pay instructors anymore, so we players need to volunteer once a month, or once a week. Almost everyone that tries this sport loves it, but it takes a little more effort than, say, golf or softball, where there is a 'team' that is organized and players can just go along with the team schedule. Racquetball activities require organization and scheduling as well as cooperation from the players. It isn't quite as easy as dropping in on a spin or yoga class!
"I have been fortunate to work for Prairie Life Fitness since 1994. They have always been very supportive of our large, loyal racquetball community -- we have over 250 active players at our clubs here in Omaha! Within the last five years we added viewing windows to all of our courts. We make sure to resurface the courts every year as well as to replace all the light bulbs. PLF was bought by Genesis Health Clubs in July 2020, and they continue to support racquetball and look forward to tournaments coming back very soon!"
Carrie, congratulations on being named a Real Racquetball Champion, and thank you for everything you do for Racquetball and all who love it!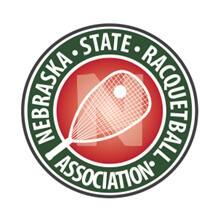 Facebook Page: Nebraska State Racquetball Association
Editor's Note: Carrie was featured in the 3/17/21 edition of Daily Racquetball's weekly feature, Women Making Racquetball History NOW. USA Racquetball thanks Daily Racquetball (dailyracquetball.com) for their teamwork and assistance in producing this article.