Moreno Bday Fullerton Shootout
by Todd Boss with Stephen Fitzsimons
2021 Rodrigo Moreno Birthday Fullerton Shootout Wrap-Up
May 22-23, 2021 at Craig Park in Fullerton, CA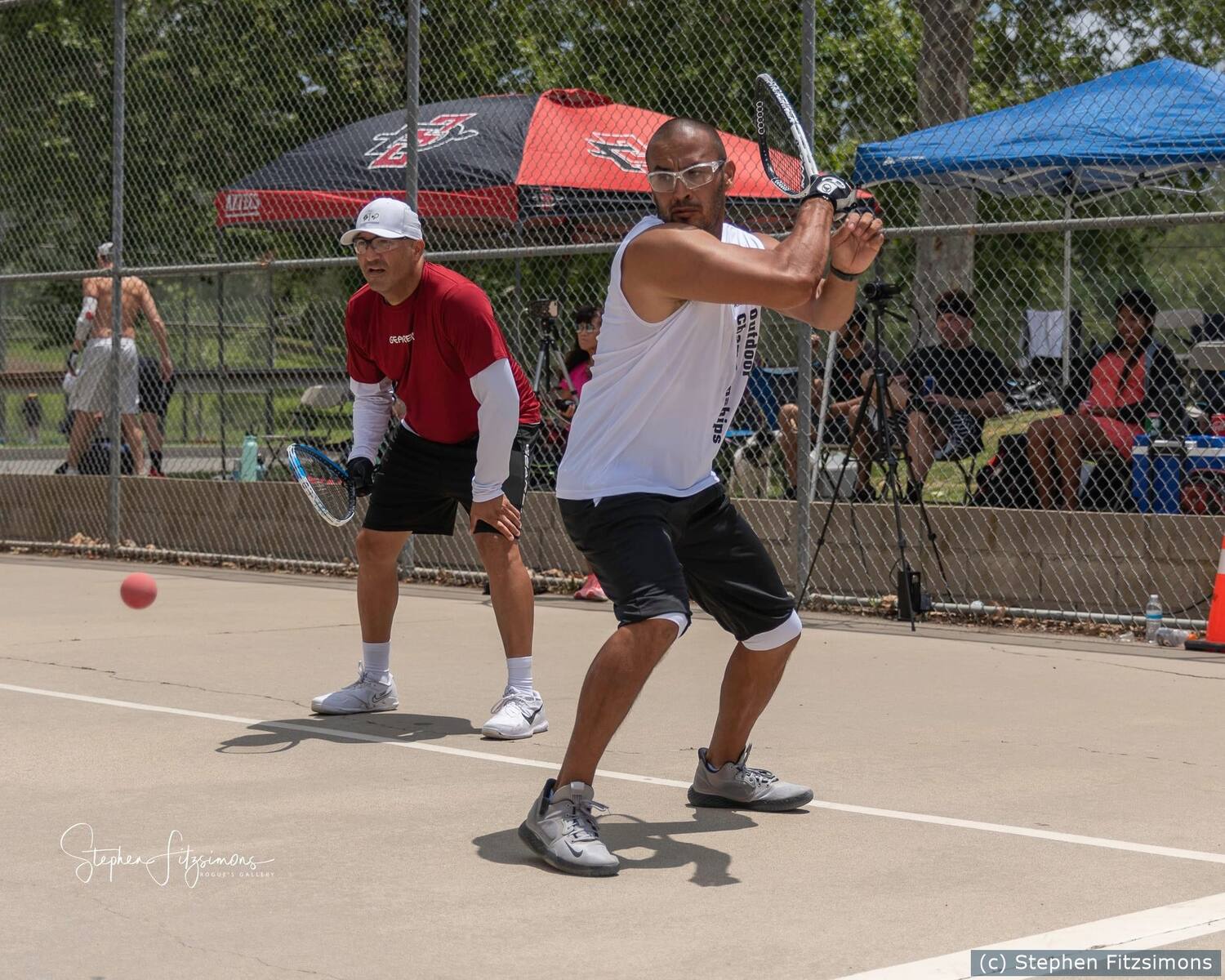 Event Home pages:
https://www.facebook.com/permalink.php?story_fbid=4149333841779550&id=100001089265760 and
https://www.r2sports.com/portfolio/r2-event.asp?TID=37653
Here's the results from the racquetball event at Craig Park this past weekend. There was a great turnout and some really top-level racquetball played.
---
In the Pro/Upper doubles division held Saturday 5/22/21, 16 teams entered. They were broken down to two 8-team groups, playing 1 game to 11 in a pure round-robin. The top 4 teams from each group advanced to the playoffs.
GROUP 1 RESULTS:
Alvaro Beltran/Daniel De La Rosa 77 -1st
Scott Sinclair/Tony Berg 72 -2nd
Majeed Shahin/Alonzo Tavares 66 -3rd
Greg Solis/Lou Orosco 61 -4th
GROUP 2 RESULTS:
Jeremy McGlothin/Daniel Lavely 77 -1st
Rocky Carson/Jesus Ustarroz 66 -2nd
Geoff Osberg/Luis Avila 66 -3rd (lost tie breaker to Rocky/Jesus for 2nd place)
Miguel (Last name unknown)/Tom Quiroz 56 -4th
From here, the teams were seeded and matched up in the opening round against a team from the other bracket. Here's how the knockout rounds went:
QUARTER FINALS
#1 Alvaro/Daniel def #8 Miguel/Quiroz 15-1
#4 Rocky/Jesus def #5 Majeed/Alonzo 15-8
#3 Scott/Tony def #6 Geoff/Luis 15-6
#7 Greg/Lou def #2 Jeremy/Danny 15-8
SEMI FINALS
#1 Alvaro/Daniel def #4 Rocky/Jesus 15-13
#7 Greg/Lou def #3 Scott/Tony 15-6
FINALS
#1 Alvaro/Daniel Def #7 Greg/Lou in the final.
---
In the Lower Doubles event held Sunday, 12 teams competed. They were broken into two 6-team groups, playing 1-game to 15 in round robin fashion. The top 3 from each group advanced to the playoffs, with the top seed in each group get the bye in the quarter finals.
Here's the group results:
GROUP 1 RESULTS:
Tony Hernandez/Manuel Unzueta 75 - 1st
Carlos Mercado/Rodriqo Moreno 71 - 2nd
Scott Greenberg/Jerry Baraga 63 - 3rd
GROUP 2 RESULTS:
Luis Espinoza/Miguel Arriola 75 - 1st
Pio Motera/Tom Quiroz 66 - 2nd
Scott Walker/Chris Sage 60 - 3rd
QUARTERS
#3 Pio/Tom defeated #6 Scott/Jerry
#5 Scott/Chris defeat #4 Carlos/Rodrigo
SEMIS
#2 Tony/Manuel defeat #3 Pio/Tom
#1 Luis/Miguel defeat #5 Scott/Chris
FINALS
#2 Tony/Manuel defeat #1 Luis/Miguel
----
The Mixed Doubles had 5 teams. They played 1-game to 15 round robin to determine the top two finishers, who played a full match in the finals
Group Results:
Katie Niles/Jeremy Mcglothin 60 - 1st
Victoria Rodriguez/George Barrera 55 - 2nd
In the final match Katie/Jeremy defeat Victoria/George 15-1, 15-11
---
In the Open Paddleball Event, Daniel De La Rosa/Alvaro Beltran were prevented from winning a double on the day, losing in the final to paddleball specialist Emmitt Coe, playing with long-time IRT touring pro lefty Todd O'Neil.
----
Thank you to Victor Rodriguez and Georges Barrera for running the event (along with POCs Rodrigo Moreno and Alex Cresencio). Thanks to major tournament sponsor Los Compadres Auto Sales for your continued support of the sport. Thanks to Jeffrey Thompson (aka JT Rball), who live streamed all day to bring live actions to the rest of the racquetball world. Thanks to Ginnie Boetel for streaming all weekend and posting lots of pictures. Thanks to the city of Fullerton for permitting the event and allowing it to grow from the initial cap of players to the big event it turned out to be. Lastly, thanks to Stephen Fitzsimons for capturing and posting the results and all your work doing photography at these SoCal events.