KRG Eustis Long-Wall Warm-up Doubles Shootout Results
KRG Eustis Long-Wall Warm-up Doubles Shootout Results
Sunday March 28th , Crystal Springs Park , Jacksonville, Florida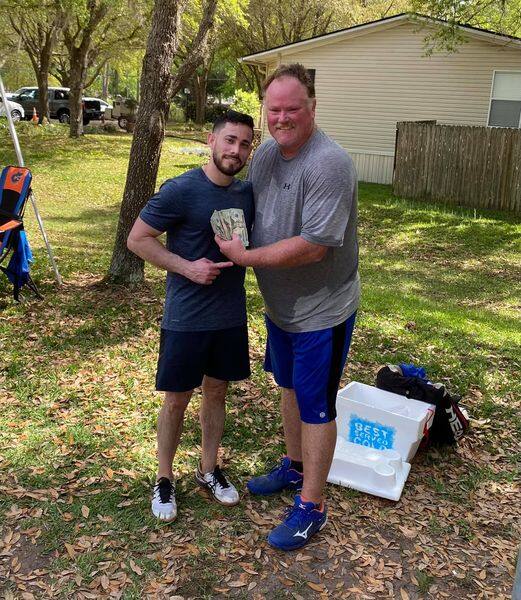 Florida outdoor racquetball enthusiast Norm McNutt organized a one-day doubles shootout on Sunday in his hometown of Jacksonville to prepare the teams for next month's big Eustis Long-Wall event. He got together 10 teams, scattered from over a half dozen parts of Florida and nearly all of whom plan on competing in the Eustis event, and had a quick one-day single elimination bracket for more than $300 in prize money.
Here's how it shook out:
In the Semis:
#1 seed Andres Ramirez/Scott Graves, who advanced in the quarters over Jacksonville outdoor legends Bill Luce/Aaron Metcalf by the skin of their teeth, topped #5 Jim Fanning /Brandon Gilliland 12,12 to move into the final.
#6 Noslen "Cuban Missile" Jimenez/James "Thunder Arm" Berry topped #2 "Doppler" David Branco/Charlie "Tuna" Giannakouros 9,14
(yes, the nickname game is strong in North Florida).
In the final, Jimenez/Berry beat Ramirez/Graves (10),12,9 to take the title on an ace serve from Barry to the right-hand side. Jimenez is the reigning State indoor singles champion and played a lot of rover in the I-formation required to dominate on the Crystal Springs Park long-wall courts to help power his team to victory.
Norm organized the prize money, refreshments (adult and otherwise) and the rest of the hospitality, earning plaudits from the participants. Thanks to Norm for organizing and streaming all weekend on the Keep Racquetball Great Facebook group.
See you all in Eustis!