3WallBall Announces CPRT/Legends Participants
3WallBall in Las Vegas has announced a CPRT/Legends division for its upcoming October event and has secured commitments from a number of the game's legends. Past Men's pro champions Hogan, Brumfield, Swain, Peck and Gonzalez (who combine to hold 18 Pro tour titles) have committed to attend, along with other indoor touring legends and outdoor champions.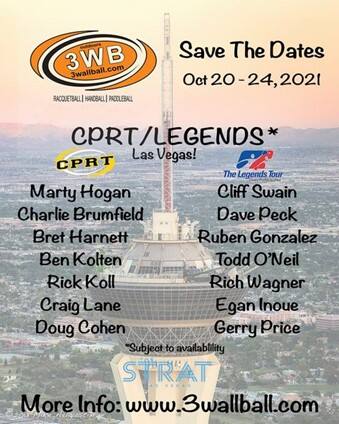 The R2Sports site for the tournament is now live. The pages has in depth tournament information, schedule of tournament play, list of planned events, and some important tournament entry information. Of key importance - the event is limited to 600 participants for 2021. Register early. With a major travelling handball community, we don't want racquetball players miss out.
Follow 3WallBall on Facebook here: https://www.facebook.com/3WallBall/
Follow 3WallBall on Instagram here: https://www.instagram.com/3wall_ball/