USAR Junior of the Month -- Ava Kaiser -- Lake Elmo, Minnesota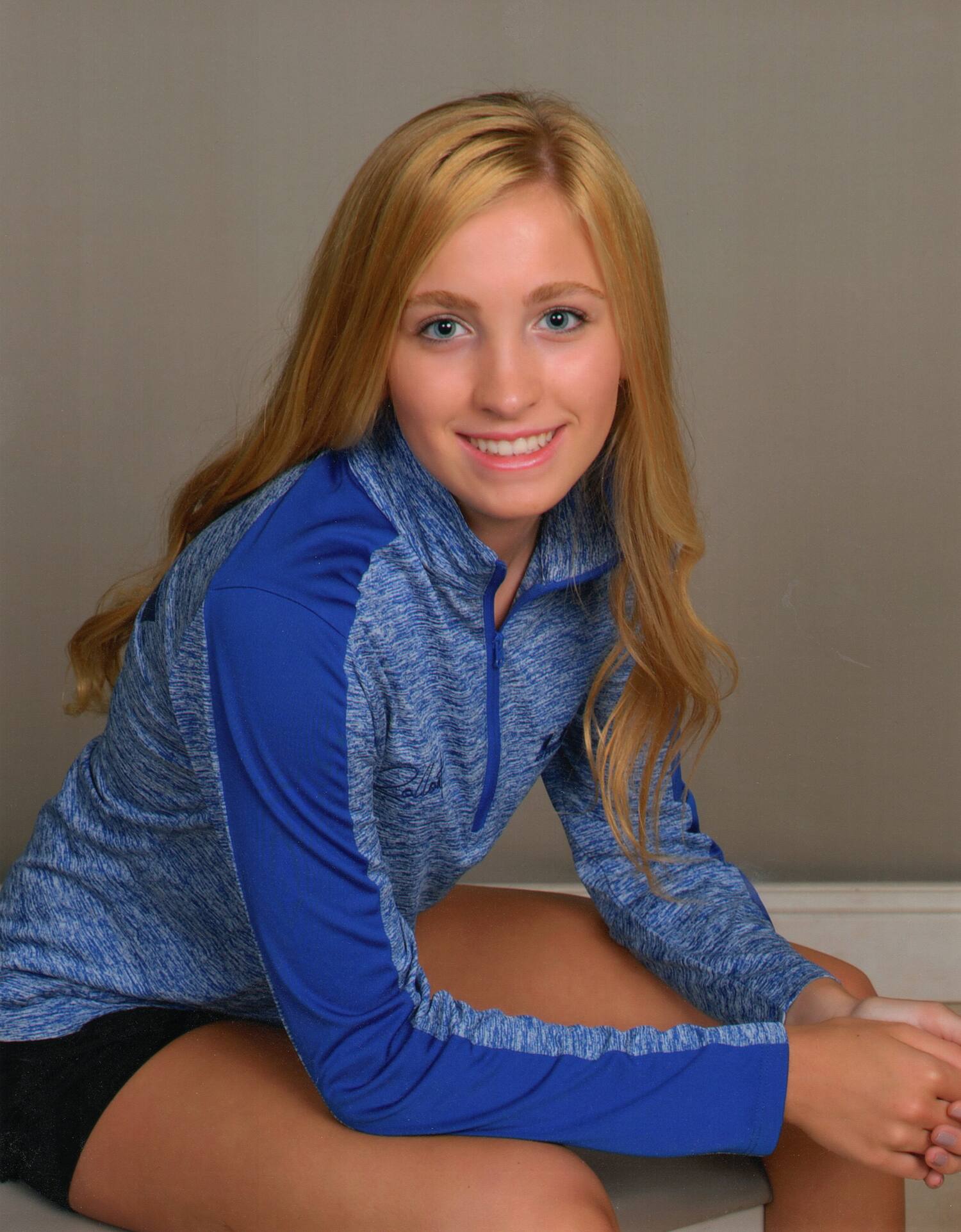 Photo by Jennifer Carlson
I started coaching Ava 10 years ago, when she was around 6 years old. One of the things I noticed about Ava very early on was her drive to be successful and her "coachability." She was always attentive to coaches' advice and was dedicated to winning, even at a very young age. Ava progressed through the group classes at Life Time Fitness and started to take more advanced classes with other junior players. She always had a desire to get better and to beat her fellow competitors, which most often were boys. Ava has always been someone who brings a big smile and a positive attitude with her to the courts. She carries herself in a very kind and respectful way in all of her interactions. This was evident in 2018 when she won the Mike Beugan Sportsmanship Award. But don't let that smile fool you -- Ava is fiercely competitive and driven to be her best. If you're lucky, you'll see the fist pump!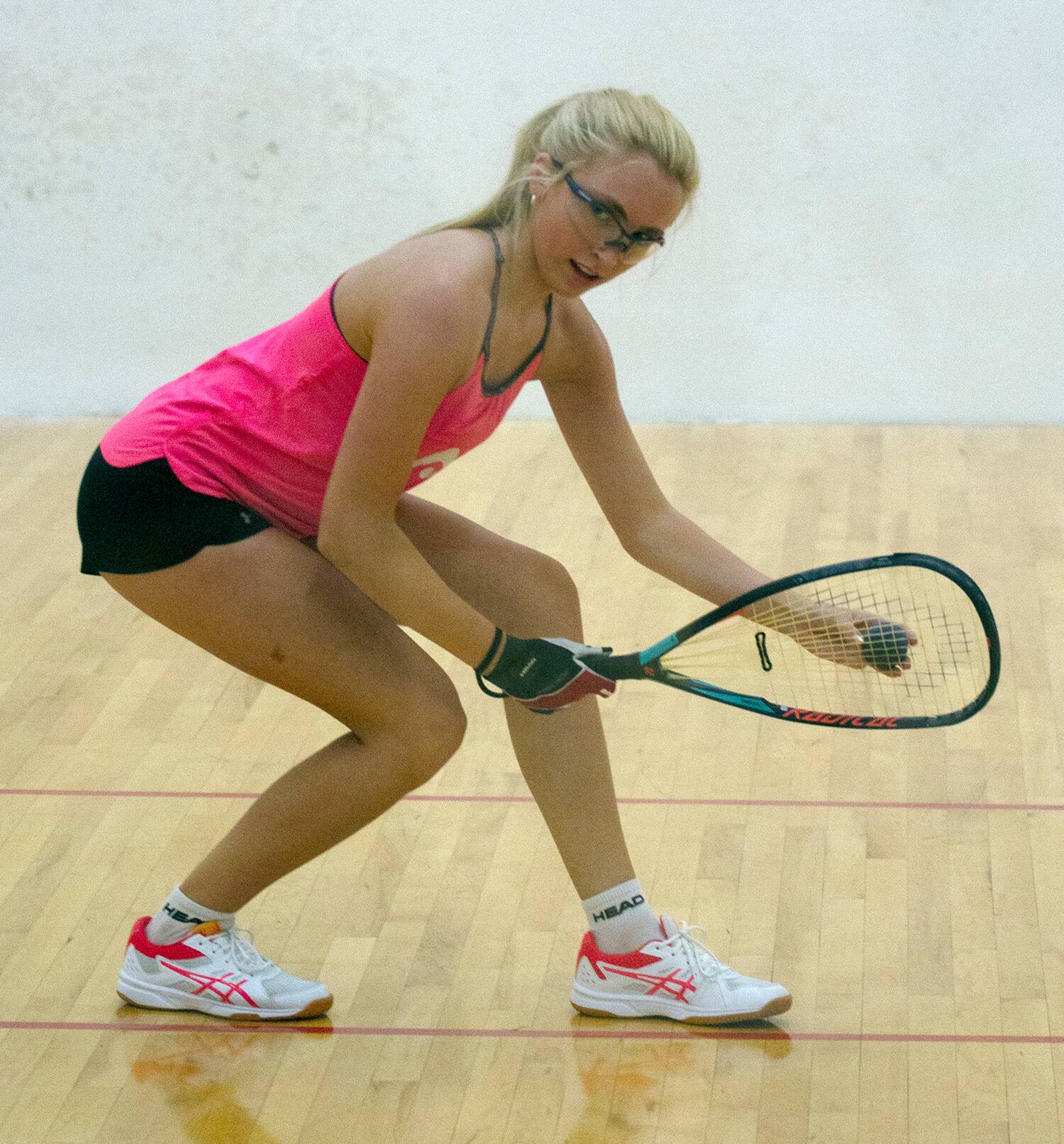 Photo by Bruce Strand

As years went by, Ava became more and more comfortable and confident with her racquetball game and in the racquetball community. She was playing many of the tournaments in the area. As her game improved, she progressed to playing against adults, both men and women with many more years of experience, but Ava started to win. This was no accident. When the door closes on the court and the score is called, Ava knows how to put her game face on. Her focus is razor sharp, and she doesn't accept any unforced errors. Ava practices drills and plays 3-4 times weekly. She took over the USAR #1 female ranking in Minnesota last year. She is sponsored by Head/Penn. Ava's training also includes biking, running, swimming, stretching, and strengthening.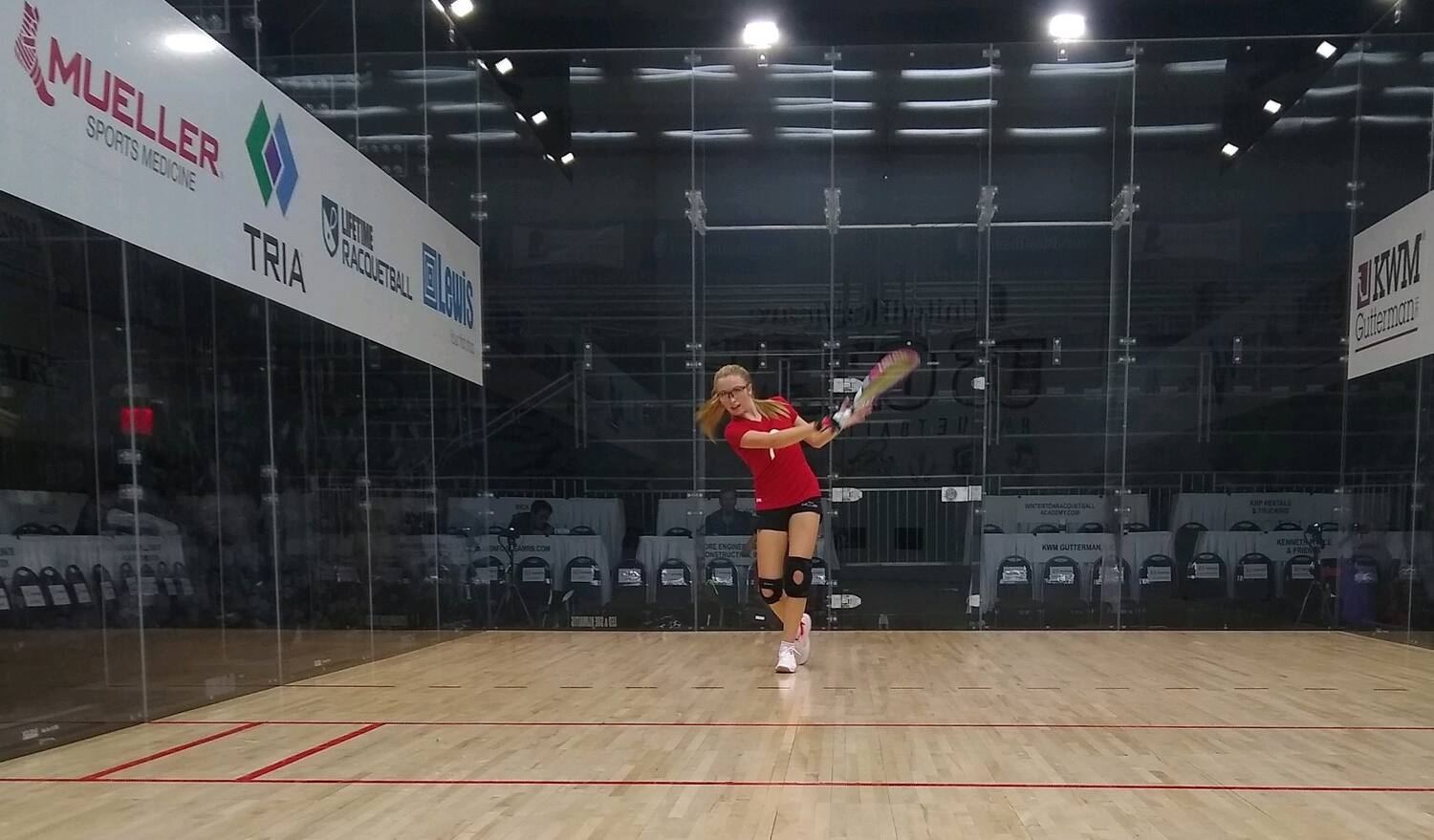 Photo by Rhonda Kimler

For the past 6-7 years, Ava has become a consistent figure at State and National tournaments. In addition to her State titles, she's won six National titles. At her first national event at the young age of 10, her hard work and dedication paid off as she qualified to represent Team USA in Mexico in Singles and Doubles. She has since qualified for the National Team for six straight years, and in 2019 she won the female Esprit Player of the Year Award. In 2021, Ava pushed herself and last October, at 16, made her pro debut at the US OPEN. Playing on the Junior National Team and at the US OPEN has given her the opportunity to travel, meet the top players and coaches in the world, and to compete at the highest level in the sport. She's won seven bronze medals in international competition, but she continues to be motivated to achieve more. Through injuries and illness over the years, Ava has continued to press on to become the best racquetball player that she can be.
Here's what others have to say about Ava:
Former #1 player in the world Sudsy Monchik: "When Veronica and I first met Ava, we knew she had 'it.' Her focus and eagerness to learn and absorb as much information as she could was obvious. Ava is a player that could one day be the best in the world. She already has many of the requirements to be a great champion. The necessities that you can't teach. Ava will be a fixture at the top of women's racquetball for as long as she wants to be."
Jonn Olson, President of the Minnesota Racquetball Association: "Ava has played at my club since she first picked up a racquet, and not long after that it was clear she had the interest, drive, and commitment to become a great player. The Minnesota racquetball community has had the privilege of watching Ava grow from an inquisitive child player into a talented female athlete that has won not only all the women's divisions in our state tournaments, but also Men's B and A and is now competing with the Men's Open players. Ava's game skills have truly been a remarkable progression to have witnessed over the years, and I look forward to watching and cheering her on as she moves even further in this great sport of racquetball."
Hall of Fame Player and Coach Cliff Swain: "Ava is one of a kind! Supremely competitive while remaining a lady at all times. I consider myself lucky to work with Ava, and I can't wait to watch her rack up LPRT victories!"
Five-time World Champion Rocky Carson: "First I'd like to congratulate Ava on this and the many other accomplishments she has achieved on and off the racquetball court. The first thing you'll notice when you meet Ava is the passion she has for racquetball. I'm also so impressed with her dedication to bettering her game every day. I hope someday she has a chance to play at the professional level, because she would be a great role model for the next generation."
Ava is an achiever in all she does. Now at nearly 17 years old, she not only is an amazing racquetball player, she's an accomplished student who strives for perfection in her education. She is taking college classes, is a member of National Honor Society, is on the "A" Honor Roll, has achieved her Academic Varsity Letter, and has won the School Board Recognition Award for the Zephyr Buddies mentoring program.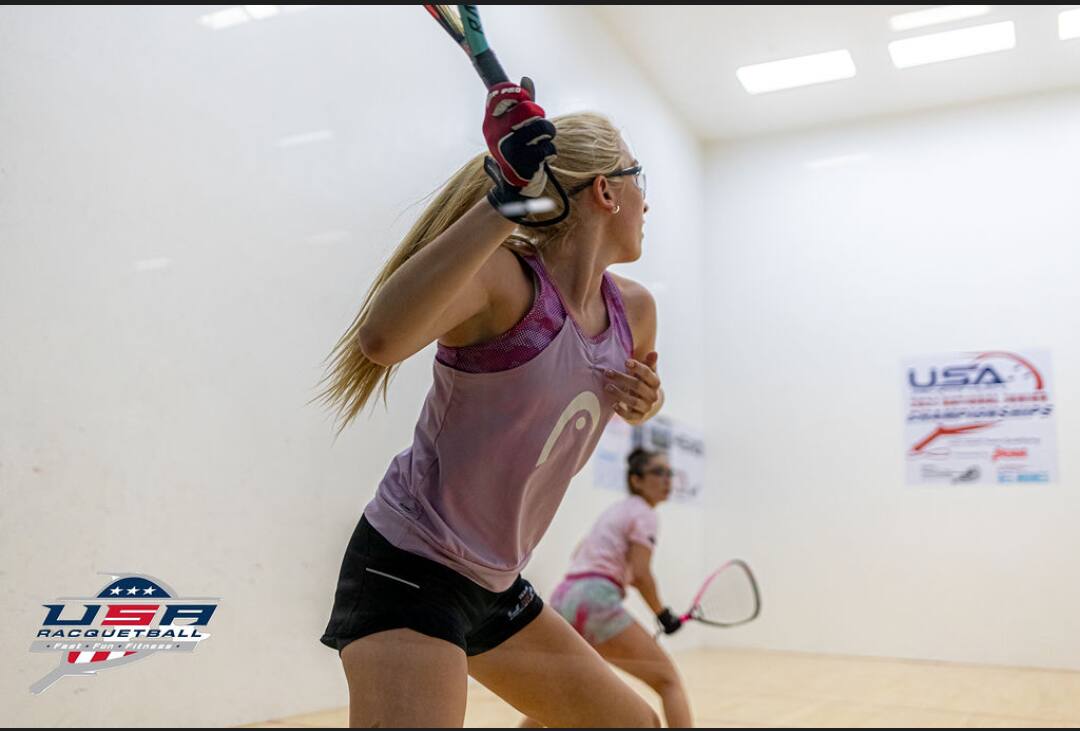 Photo by Dylan Shoemaker
Looking toward the future, Ava indicates that she aspires to go to medical school, and I have no doubt that she will achieve any goal that she puts her mind to. Her other interests and activities include all sports, running, teaching swimming lessons, pet sitting, travel, enjoying the lakes and rivers, cooking, and spending time with family and friends.
When asked about how the sport has influenced her life, Ava said, "Racquetball has opened up a lot of opportunities for me. It has proven that hard work pays off and has made me physically and mentally stronger. It is a big part of my life and a part of who I am. If I'm not in that environment, it's like something is missing. My dad (Rick) introduced me to the sport when I was 4 or 5. It is a great comfort to have him with me because he knows my game. If I'm struggling, he will help me out. My mom (Rhonda) takes care of all the behind-the-scenes activities. She always has all the details planned and is on top of things. To see both my parents cheering me on makes me smile. I couldn't do any of this without them."