USA Racquetballs Junior Spotlight March 2022
Undoubtedly, one of the best up-and-coming racquetball players in the world is in search of greatness as she continues to navigate her way up the ladder of success, here, in the USA! Naomi Ros is a 16-year-old junior racquetball player who has moved from Guadalajara, Mexico, to San Antonio, Texas, USA. Naomi is the reigning 16 & Under Team USA Junior Champion. Even though the U.S. Junior Team did not compete in the 2021 IRF World Junior Championships due to the pandemic, this disappointment did not stop this battling star. Naomi continues to compete in the Ladies Professional Racquetball Tour.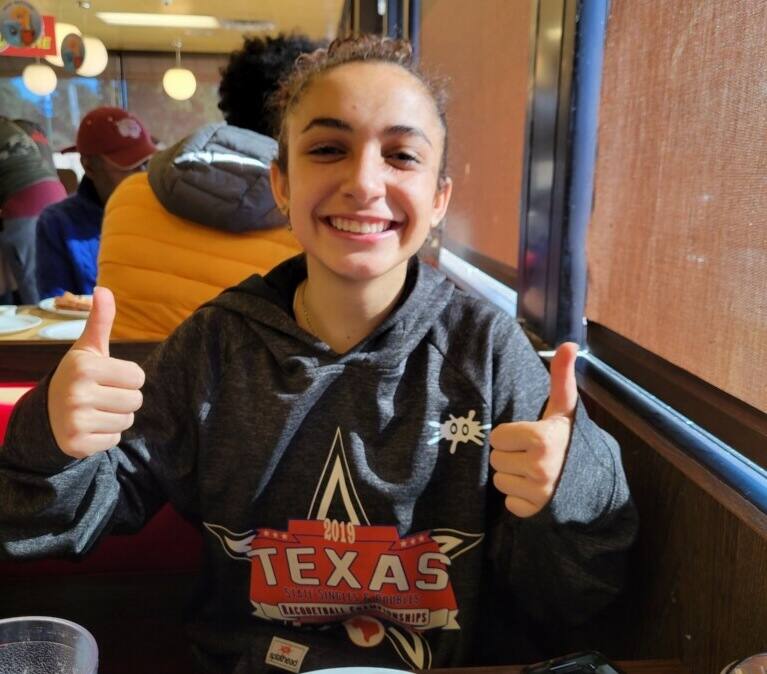 Naomi Ros. courtesy of Sandy Rios
Naomi also has multiple past victories under her belt. She used to live in Guadalajara, Mexico, and continually made outstanding appearances in various local, national, and international tournaments. Just naming a few major accomplishments from her career, Naomi won World Junior Racquetball Championship titles for Mexico by bringing home a gold medal in Girls 10 & Under Doubles. The following year, she won two gold medals 12 & Under Doubles and Singles, and she also qualified for the 14 & Under Junior Pan American Games by winning first place in her category. The list goes on and on with a few other great results. Naomi recognizes that none of this would have been possible without having her racquetball village, her family behind the scenes, and her inimitable willingness to make sacrifices in order to pursue the lifestyle and accomplishments she is experiencing now.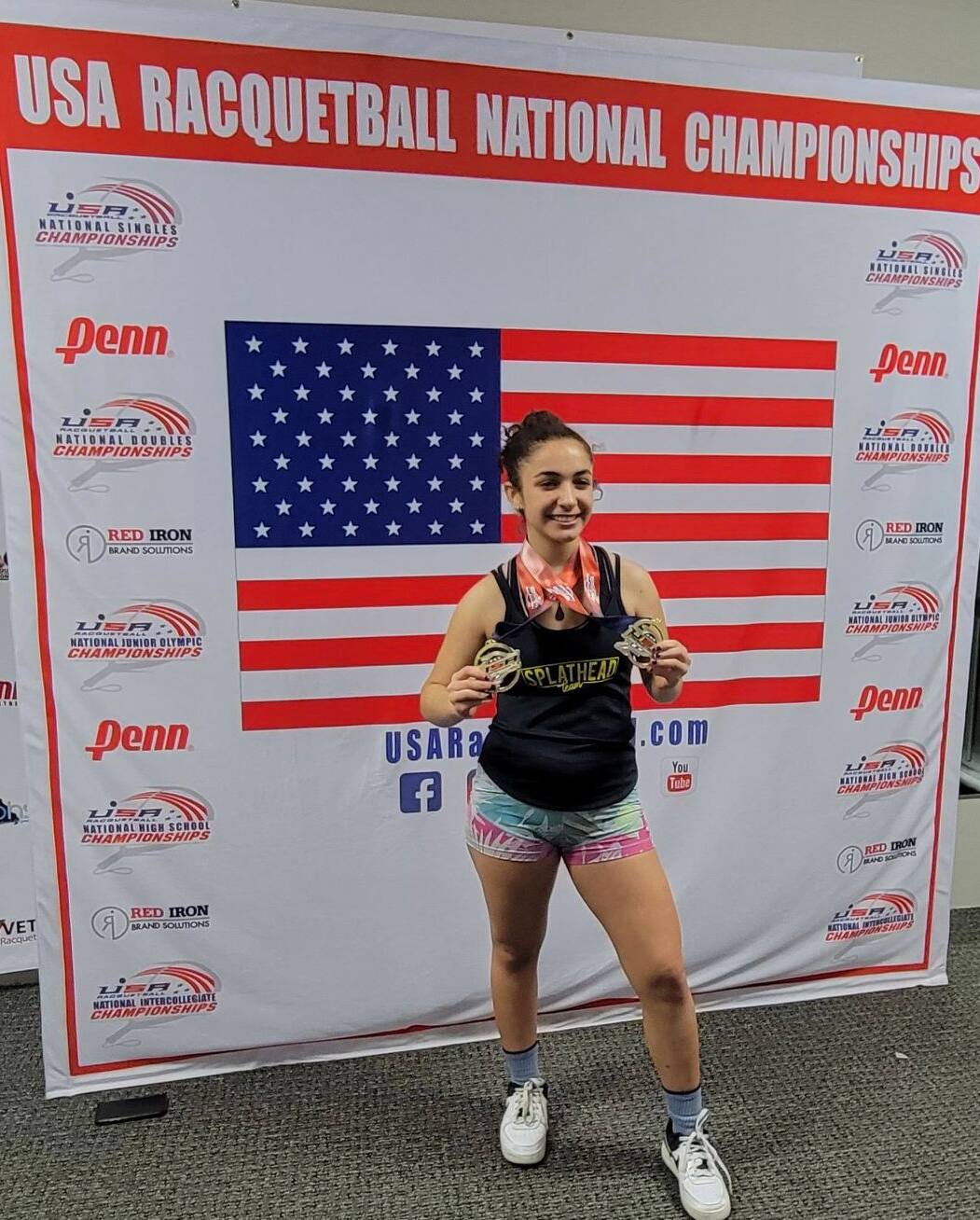 Naomi at 2022 High School Nationals. courtesy of Sandy Rios
Born in San Marcos, Texas, and then raised in Guadalajara, Mexico, by her two beloved parents and supportive brother. Naomi's mother (Shanad Ros) as well as her father (Angel Ros), her brother (Marley Ros), and her grandmother (Martha) all have made a significant effort to help Naomi's dreams become a reality. There has not been one single moment when Naomi could not stop talking about how great her family is, and it demonstrates how important her family is to Naomi's career. Naomi has been fortunate enough to not only live with great people by her side but also to enjoy dual citizenship of two strong nations, Mexico and the USA.
In 2021, after playing for the Mexican National Team for six years, Naomi was presented with a very tough decision after finding out that she could play for the USA amongst a supportive team in San Antonio. This meant she had to move in with her grandparents (Martha and Lee) and leave her hometown, parents, team, and friends in exchange for her pursuing her racquetball dreams and desires. After thinking about it long and hard along with some upsetting but equally joyful moments for the Ros family, Naomi decided to move to San Antonio.
Although it was an emotional time, Naomi realized that the move was best choice for her life and career. Knowing that she would have to start from scratch with her social life, she also knew that going back to working harder was nothing new to her but rather "a little old challenge." What kept Naomi on her feet and battling through life was the reminder that she would still end up doing what she loved the most, and that is playing racquetball!
Today, Naomi is sponsored by a few recognized companies and organizations along with her team in Texas. One that helps her very much is a non-profit organization, the Alamo City Racquetball Association (ACRA). She is also sponsored by one of the leading and growing racquetball sports apparel companies, Splathead Racquetball, which is organized by our much-loved Joe Hall. Beyond being economically supported, she is also supported in training by a respected coach in Texas, George Bustos. George dedicates most of his time growing the sport by teaching his juniors in San Antonio. Additionally, the San Antonio team also receives a good deal of assistance and equipment from Sandy Long (another recognized coach in Dallas, Texas) and from their amazing stringer, James Aguirre.
Today, Naomi continues to be coached by George Bustos and trains with the #1 player on the IRT Tour, Daniel De La Rosa, as well as two other members of the team, DJ Mendoza and Shane Diaz, who are also considered growing phenoms of the sport. Along with practicing over 16 hours a week with her team, Naomi remains patient and hardworking with the hopes of one day becoming #1 in the world!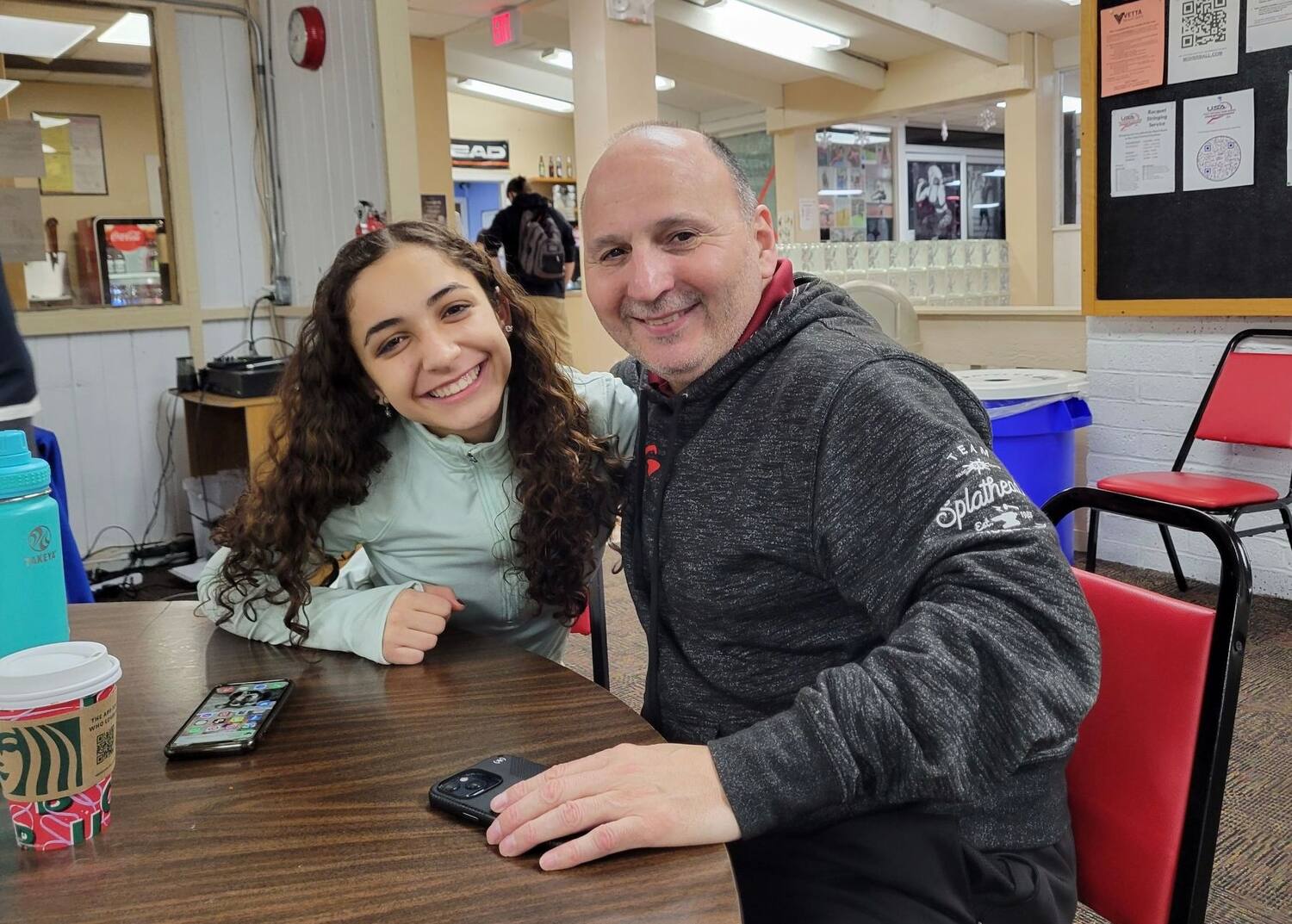 Naomi & George Bustos. courtesy of Sandy Rios
Late Breaking News -- Congratulations to Naomi, who took Gold in Girls Singles at the USA Racquetball National High School Championships on March 6, 2022! Naomi was also Gold medalist with partner DJ Mendoza in Mixed Doubles! Naomi and DJ represented Douglas MacArthur High School in San Antonio, Texas.