July 20, 2022 USAR Nationals Qualifying Divisions Determine 2022-2023 U.S. National Team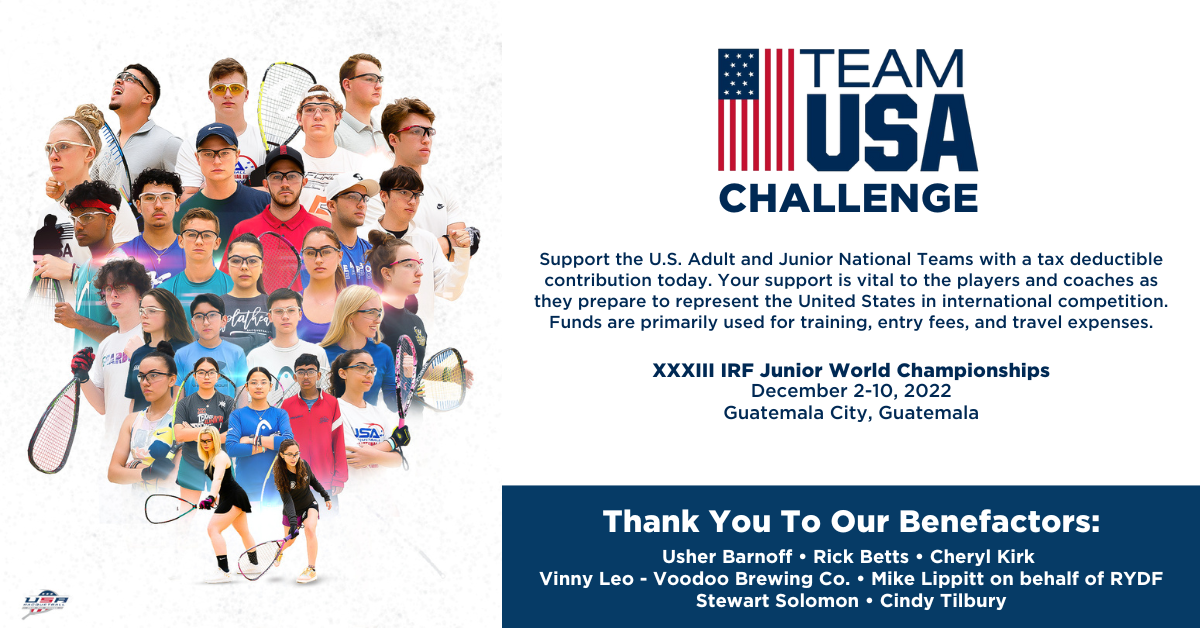 Team USA Challenge 2022 is Underway!
When it rains, it pours! After a very limited events calendar in the past two years, the year 2022 landed Team USA with four international competition opportunities: the 2022 Pan American Racquetball Championships (PARC) in Santa Cruz, Bolivia; the 2022 World Games in Birmingham, Alabama; the 2022 IRF World Championships in San Luis Potosí, Mexico; and the 2022 IRF World Junior Championships in Guatemala City, Guatemala.
The 2022 Team USA Challenge assists with sending players and support staff to these events. Thanks to generous benefactors, any donations of $100 or more will be matched, doubling your donation!*
This year's goal is $50,000 (including benefactor matches), and you can help Team USA attain that goal by going to https://www.teamusa.org/USA-Racquetball/Donation-Programs/2022-Team-USA-Challenge. Donations made to the Team USA Challenge will be applied solely to support Team USA and Junior Team USA at these international competitions.
A very big thank you goes to the benefactors of the 2022 Team USA Challenge: Usher Barnoff, Rick Betts, Cheryl Kirk, Vinny Leo (Voodoo Brewing Co.), Mike Lippitt (Reaching Your Dream Foundation), Stewart Solomon, and Cindy Tilbury.
So head over to https://www.teamusa.org/USA-Racquetball/Donation-Programs/2022-Team-USA-Challenge and maximize the matching pledges from these benefactors today! And, please remember to check whether your company might match donations to non-profit organizations. Matching donations will help us meet our 2022 goal even sooner!
*Donation matches are for donations of $100 or more and the maximum for all matching funds is $25,000.