Williams Accounting Consulting Court Wars Recap
The first-ever Williams Accounting & Consulting Court Wars pay-per-view event streamed by Manilla Athletics has come to a close. Twelve athletes traveled to Pleasanton, California, to compete in a one-day war on Saturday, December 18, 2021.
In-person attendance sold out, which provided tons of energy flowing through the building. Competing were three out of the four World Championship medalists; one former US OPEN Doubles Champion; and multiple national champions. These talented athletes brought a full day of racquetball action.
The five matches featured some of the best we have in the game today! Four out of the five went tiebreaker, demonstrating the competitive grit that these athletes brought to the event. One of the highlights of the day was the return of Markie Rojas. After years without touching a racquet, he proved he can still compete with the best.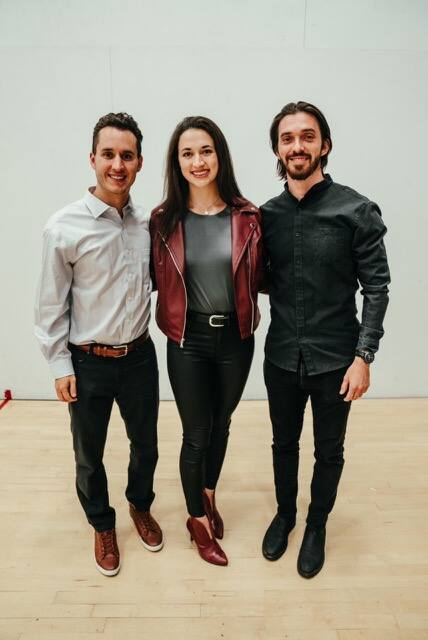 Adam Manilla, Erika Manilla, Bobby Horn
HIGHLIGHTS
Reigning 16 & Under National Junior Champion Nikhil Prasad (USA) came out on top against Antonio Rojas (USA) in a close tiebreaker, 11-7.
Andree Parrilla (Mexico) played a tough match against Mario Mercado (Colombia), losing the first game 4-11 but coming back with a creative and effective mix of serves to win the second game, 11-4. In the tiebreaker, Parrilla went on an impressive 10-point run from being down 4-1 to taking the game and match, 11-4.
Next up, Erika Manilla (USA) and Jessica Parrilla (Mexico) played an exciting match of quickness and power, and Manilla was able to pull it out in a tiebreaker.
Then the Bredenbeck brothers (USA), Jake and Sam, took on the Stockton crew (USA) consisting of formally retired player Markie Rojas and partner Jose Diaz. Rojas and Diaz are two with skill and agility, but the execution of Sam and the power of Jake couldn't be overcome, and the brothers took the match in two games.
Lastly, the finale of our event ended with a rematch of the IRF World Championships final competed in Guatemala on December 6: Alex Landa (USA) vs. Andres Acuña (Costa Rica). Acuña jumped up quick in the first game, but Landa, the current World Champion, won the match in three.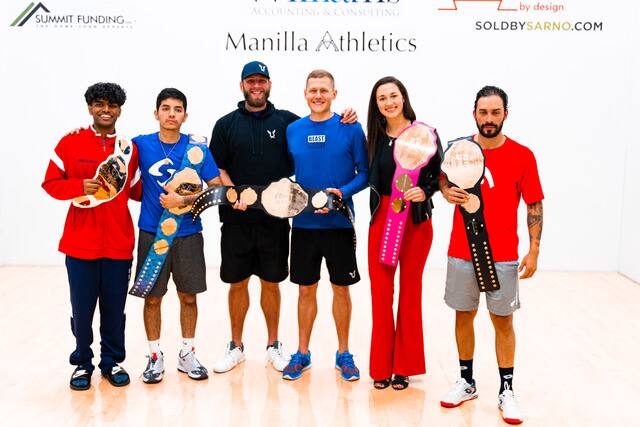 Nikhil Prasad, Andree Parrilla, Jake Bredenbeck, Sam Bredenbeck, Erika Manilla, Alex Landa
OUTSTANDING SUPPORT
All of these athletes left their hearts on the courts, and six are officially Court Wars Champions! Thanks to all of the athletes as well as to all those who were there to witness this inaugural event in person. Much gratitude goes also to those who purchased the pay-per-view option and cheered for their favorites online.
Manilla Athletics warmly thanks our sponsors and our staff of talented individuals.
Sponsors: Williams Accounting and Consulting as well as all of the other sponsors who made this event possible.
Staff: Production Team (Anthony Herrera, Brent Hoskins, Pablo Fajre, and Jordan Ellis); Announcers (Bobby Horn and John Ellis); In-Person Host (Brian Pineda); Photographer (Kellen MacDonald); Marketing and Social Media (Erika Manilla); Creator and Host (Adam Manilla)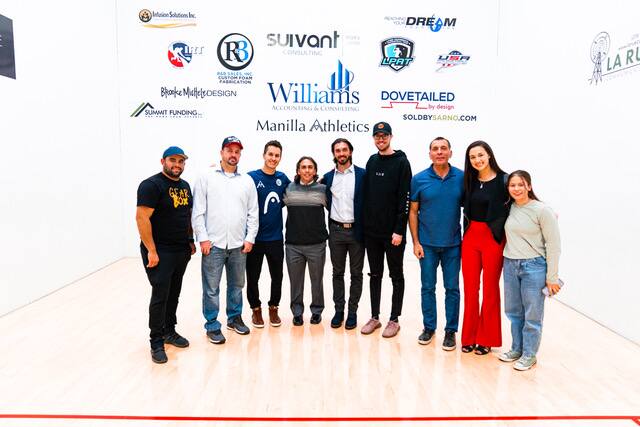 Anthony Herrera, Brent Hoskins, Adam Manilla, John Ellis, Bobby Horn, Kellen MacDonald, Pablo Fajre, Erika Manilla, and Jordan Ellis
WHAT'S NEXT?
The young Manilla entrepreneurs are shaking up racquetball and providing fans with new and exciting entertainment. Some of the Court Wars champions have already called out and challenged new competitors for the next event while others are waiting to see who will step forward and challenge them.
When and where will the next event take place? Keep an eye out on Manilla Athletics:
Website: https://manillaathletics.com (see Court Wars Review on this site)
Facebook/Instagram: Manilla Athletics