WSMRA National Championships Reboot
by Kendra Tutsch, Cindy Tilbury, and Terry Rogers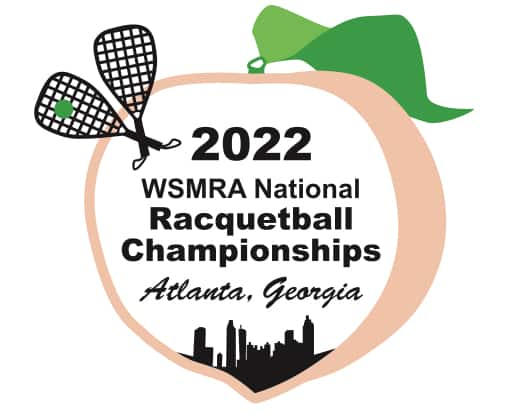 After a year off due to the pandemic, the WSMRA resumed its National Championships series with the 32nd Edition held January 14-16, 2022, at Recreation ATL in Lilburn, Georgia. Flight delays, predictions of bad weather, and general uncertainty could not deter players from all parts of the US (and Guatemala!) who arrived for the pre-tournament "Fun Doubles" kickoff event on Thursday afternoon, held every year as a fundraiser for Susan G. Komen. Everyone was looking forward to reconnecting with old friends and getting back on the courts for some exciting competition. This year Pat Meyer stepped in to organize the fun! Fun fact: the players who came the farthest (by air) were from Oregon, but special mention goes our loyal International player Marie Gomar whose travel plans are no doubt more complex!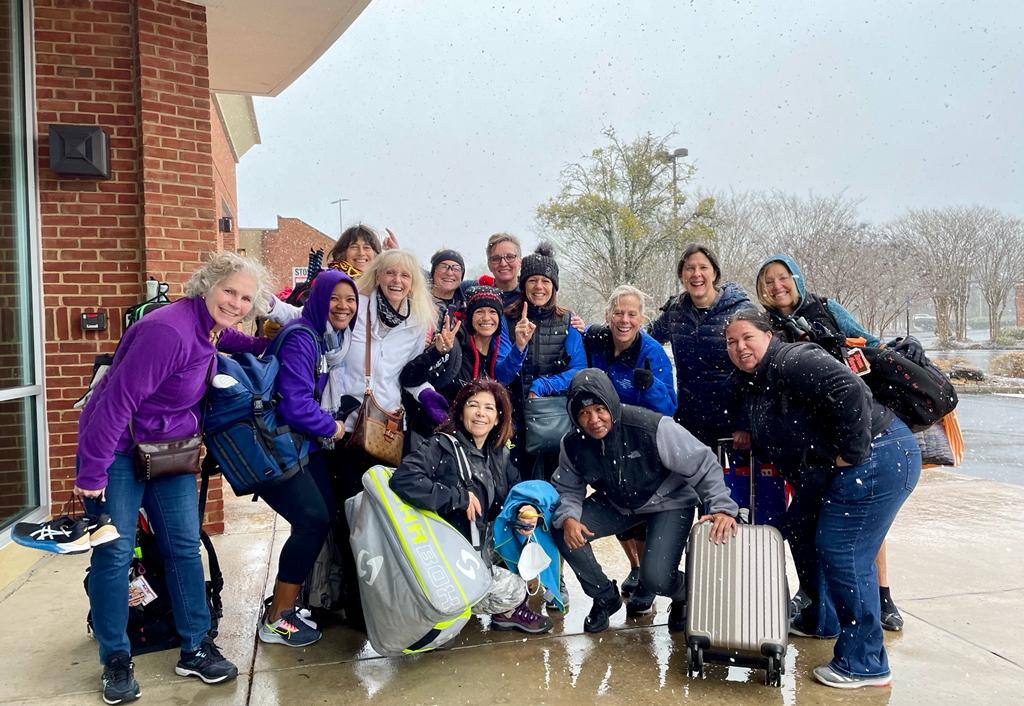 Snow Scene (Courtesy Marie Gomar)
A new event this year arranged by Marsha Johnson and Tara Borrero was a Thursday evening Mixed Doubles competition following tournament check-in. It was also a fundraiser for the Breast Cancer Research Foundation. After some spirited competition, local players Janice Kennedy and Floyd McDonald came out on top in the 16-team draw/four-team playoff. Between the two doubles events over $1,000 was raised for breast cancer research!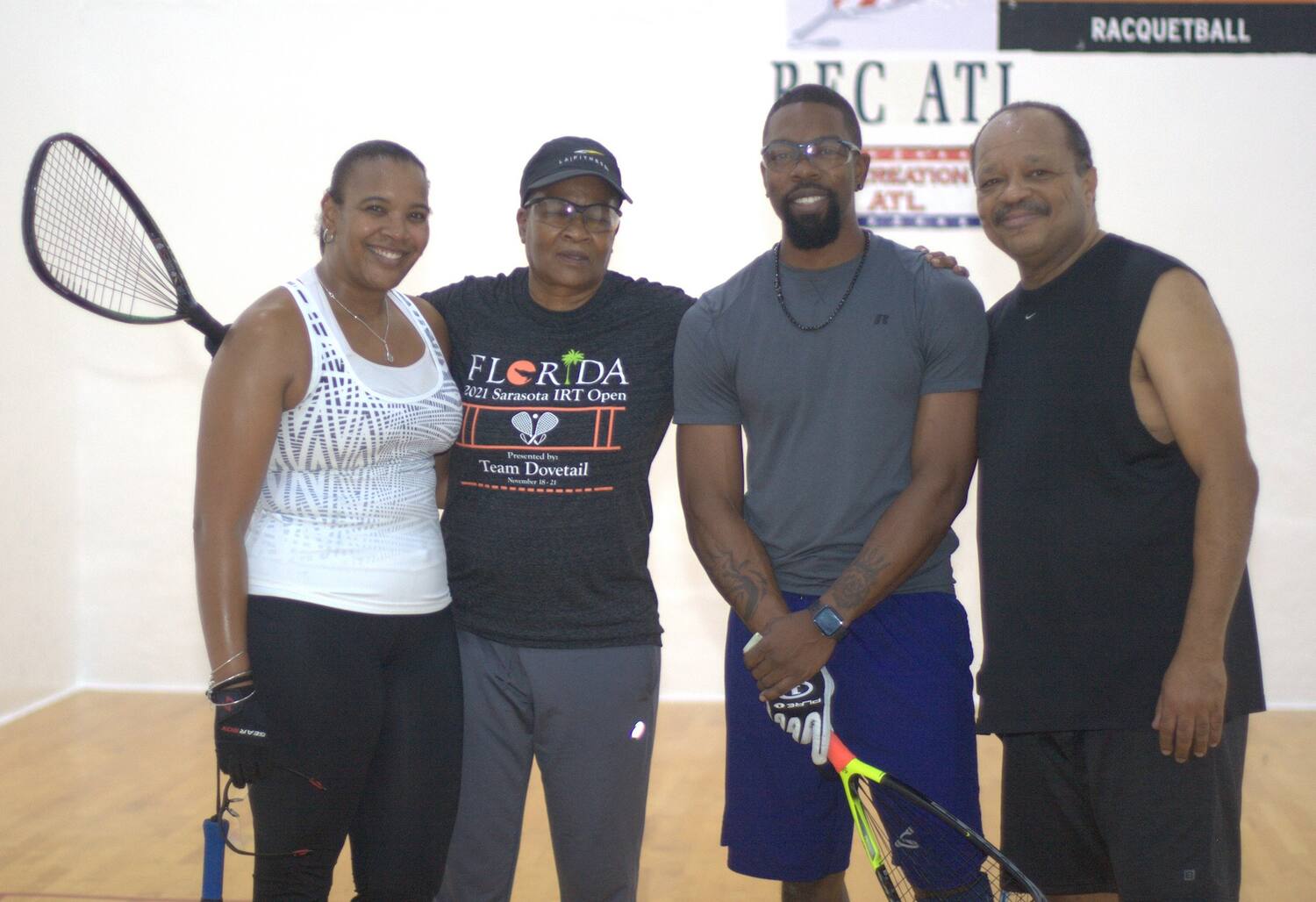 Mixed Finals: Kanesha Madison / Janice Kennedy / Floyd McDonald / Michael Miller (Courtesy Jason Chan)
At check-in, WSMRA Tournament Chair Terry Rogers and Tournament Directors Cindy Tilbury and Lynn Fonseca reviewed the format, rules, and other necessary information. Players received their hoodies with a Georgia-themed logo designed by Frossene King. The Mixed Doubles men joined in on the pizza and (later) wine as the teams were drawn out of a hat.
Friday morning, the tournament kicked off with round-robin play in both singles and doubles. Players could choose to play two doubles events (age and skill), or both singles and doubles. Some of the players played a dozen matches in 2-1/2 days! This made scheduling a bit challenging, but the tournament ran smoothly with Cindy's sister Linda Lindberg from Huntsville manning the tournament desk all weekend! Linda also took the group photo, which is not as easy as it sounds.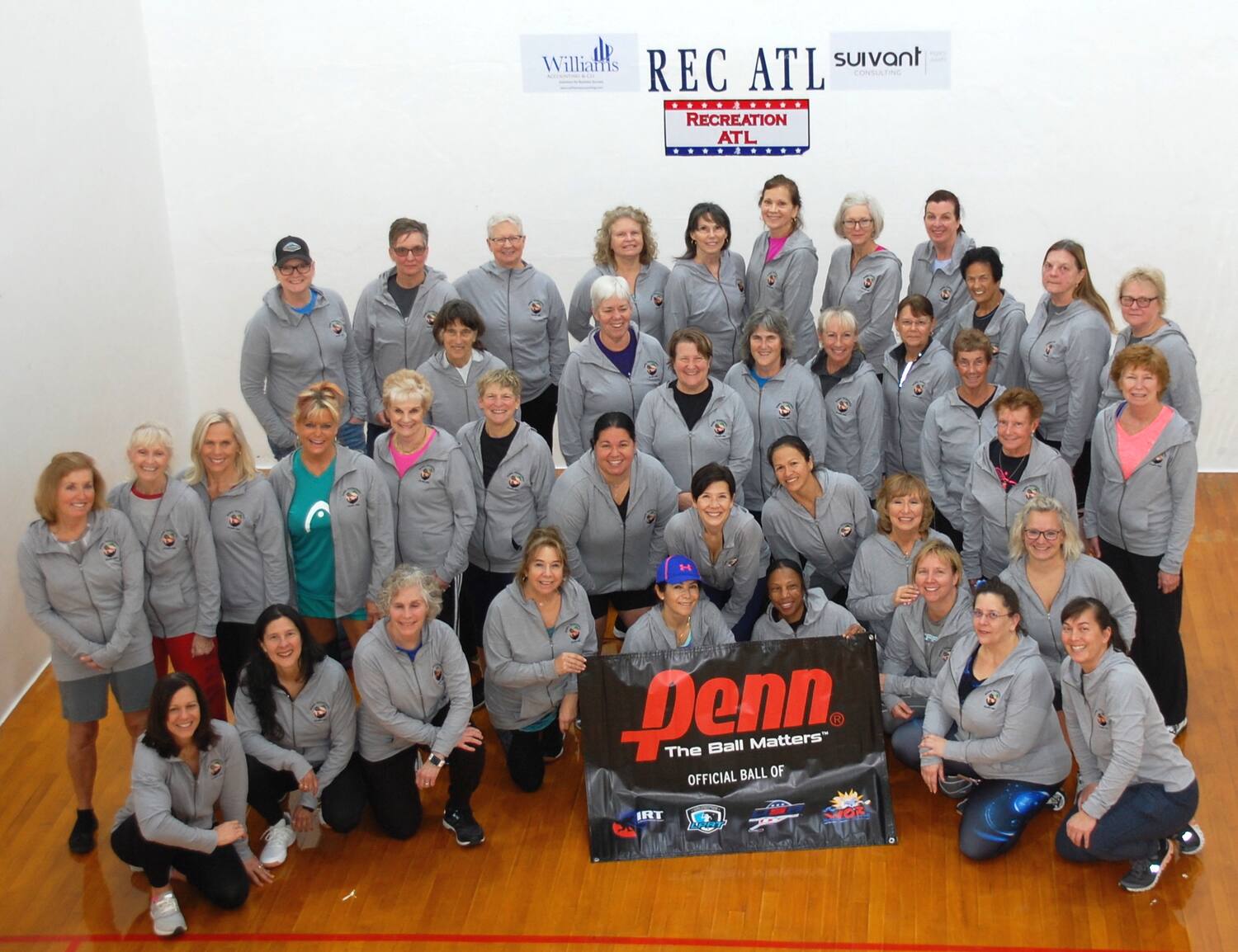 Group Photo (Courtesy Linda Lindberg/Cindy Tilbury)
Of course, players need fuel to play that many matches, and local tournament director Lynn Fonseca took care of arranging for all of the food for the weekend. Katherine Dunlap, who was in charge of the hospitality, made sure everyone was well fed! And of course, no tournament would be complete without some famous Wisconsin "cow pies" in honor of the Wisconsin roots of this tournament. They were enjoyed by all!
Between matches the players had a chance to check out items in the silent auction fundraiser organized this year by Pat Meyer and Kathy Zasucha. Along with merchandise donated by Fran Davis of HEAD/Penn Racquetball, there were jewelry, sneakers, a rare Wilson racquet, gift baskets, and miscellaneous fun donations. The silent auction raises money for the WSMRA and a local worthy charity. This year over $600 was raised with half going to the local Amanda Riley Foundation to assist families dealing with childhood cancer.
A highlight of the tournament is always the Saturday night banquet. Everyone was excited to connect with old friends and enjoy some normalcy! DJ Lou George (who also served as shuttle driver) was integral to the fun and kept everyone dancing! Many played the squares game run by Pat Meyer that raised another $335 for the WSMRA.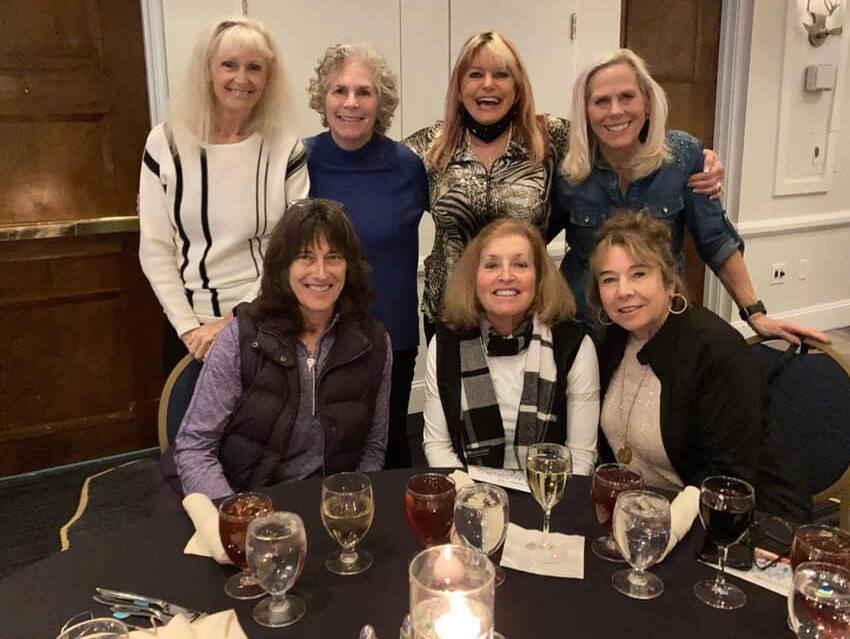 Banquet Fun (Courtesy Jean Trimble) Top row L to R: Jean Trimble, Marsha Berry, Shari Coplen, Lynette Froehlich. Bottom row L to R: Renee Fish, Lucy Ramsay, Susan Adams
There are always some unexpected glitches to deal with, and this year was no exception! Jennifer Briglia from Oregon was without luggage for a few days. Snow (in Atlanta!) and a power outage due to a "car vs. pole" altercation in the parking lot (the car won) contributed to a bit of a chaotic Sunday, but everyone took it in stride. The weekend wrapped up with the awarding of medals, and players headed out after a very successful "reboot" of our tournament! Match by match results can be found at: https://www.r2sports.com/tourney/viewResults.asp?TID=36400. The winners of each division are listed at the end of this article.
This is an entirely volunteer organization, and we couldn't do it without the many people who work hard every year to put on a great event. This starts with WSMRA Tournament Chair Terry Rogers, our long-time tournament director Cindy Tilbury, and all the volunteers, players, and friends of racquetball who contribute in ways large and small. Many players come back year after year and do what they can to help out whenever needed. We appreciate them so much! We are grateful for the generosity of all those who participated in the fundraisers. Special mention to Terry Rogers who joined the "25-Year Club" this year – players who have attended at least 25 tournaments!
Special mention and warm thanks go to Fran Davis, representing our National Ball Sponsor HEAD/Penn, for providing the balls and some items for the silent auction. We greatly appreciated the support after our cancelation last year. We are so grateful to Jason Chan, owner of Recreation ATL, for holding our weekend dates for a year. Jason and his entire staff made us feel so welcome! To our local tournament director Lynn Fonseca for taking care of all of the food and award arrangements -- thank you! Page Kern and Eddie Myers snapped photos and took videos (aka created memories) throughout the weekend. Ellen King designed and arranged for the awards from EK Studio. Warm recognition goes to Rick Betts as a contributor and also for donating Cindy year after year!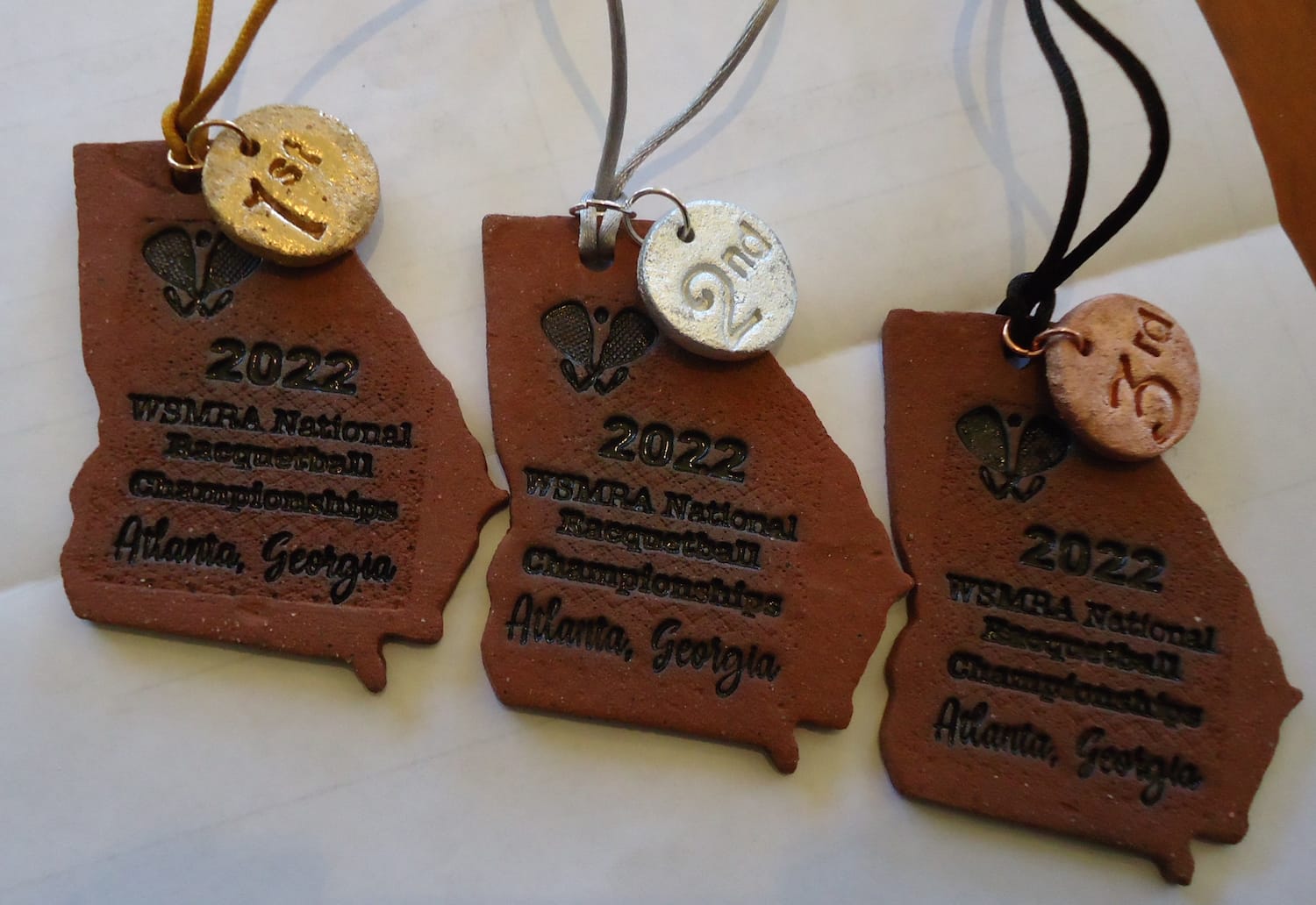 Awards (Designed by Ellen King, photo by Cindy Tilbury)
As soon as they are finalized, plans for the 2023 tournament will be announced on the Women's Senior/Masters Racquetball Association Facebook page and at wsmra.com. Stay tuned!
GOLD MEDALISTS
SINGLES
40+ -- Nora Lopez (Texas)
50+ -- Georgette Blomquist (Oregon)
55+ -- Marie Gomar (Guatemala)
60+ -- Kathy Stellema (Michigan)
65+ -- Marsha Berry (Kentucky)
70+ -- Lucy Ramsay (Florida)
80+ -- Mildred Gwinn (North Carolina)
45+B/C -- Kelly Johnson (Minnesota)
55+ B/C -- Jennifer Briglia (Oregon)
65+ B/C -- Patricia Meyer (New York)
DOUBLES
Open/A -- Kanesha Madison / Janice Kennedy (Georgia)
B/C -- Ingrid Callmann (Delaware) / Patty Lucas (Indiana)
35+ -- Kanesha Madison / Janice Kennedy (Georgia)
45+ -- Ursula Wiley (Georgia) / Melissa Bledsoe (Tennessee)
55+ -- Marie Gomar (Guatemala) / Lynn Fonseca (Georgia)
60+ -- Kathy Stellema (Michigan) / Susan Adams (Florida)
65+ -- Ingrid Callmann (Delaware) / Jane Snyder (Tennessee)
70+ -- Patricia Meyer (New York) / Terry Rogers (Nevada)
80+ -- Mildred Gwinn (North Carolina) / Marquita Molina (California)