World Outdoor Racquetball Update for April 2022

Raising the Bar for Outdoor Racquetball in 2022
3WallBall Incorporated, the leading Outdoor Racquetball tournament production organizer in the nation, is Raising the Bar for Outdoor Racquetball in 2022.
Thanks to the continued patronage of major sponsors in our sport, as well as the decades-long relationships in Las Vegas that date to the Pro Nationals days of yore, the 2022 Outdoor Major series features nearly $70,000 in combined prize money for 2022. This year, 3WB is partnering with every major sanctioning body in the sport (USAR, WOR, LPRT, and IRT) to promote and enhance the Outdoor Major tournaments, drawing in both indoor and outdoor pros to provide the best possible competition.
"We are so excited to see the Big Three Outdoor tournaments back in full swing for 2022! Thank you to Mike Coulter and friends for doing so much for the sport we love. We are beyond thrilled and grateful to see the Cup come back this year. I can't wait to see what this year brings for the WOR community. It's time to get out and play! See everyone on the courts!" -- Michelle De La Rosa, Co-Chair of the World Outdoor Racquetball Committee and USA Racquetball Board Member
"The biggest problem with racquetball is it's 'out of sight, out of mind.' Outdoor events bring racquetball to the neighborhoods where racquetball play can be rekindled at every age. I look forward to supporting the Big 3 events as well as other outdoor racquetball events throughout the year." – Jeffrey Thompson, aka "JTRBall," Leading Racquetball Benefactor and Video Streamer for the Outdoor Majors
All three Outdoor Majors are sponsored by ProKennex, a leader in the sport and a leader in Outdoor racquetball.
"3WallBall is the Gold Standard for Outdoor Tournament competition and ProKennex Racquetball is extremely proud to be a sponsor of the 2022 3WallBall Season. We absolutely love being involved with the outdoor game and supporting the players and showcasing our products. We look forward to seeing you all soon." -- Michael Martinez, President, ProKennex Racquetball
For the current standings in the Cup series post Beach Bash, click on these links:
2022 Outdoor Cup Series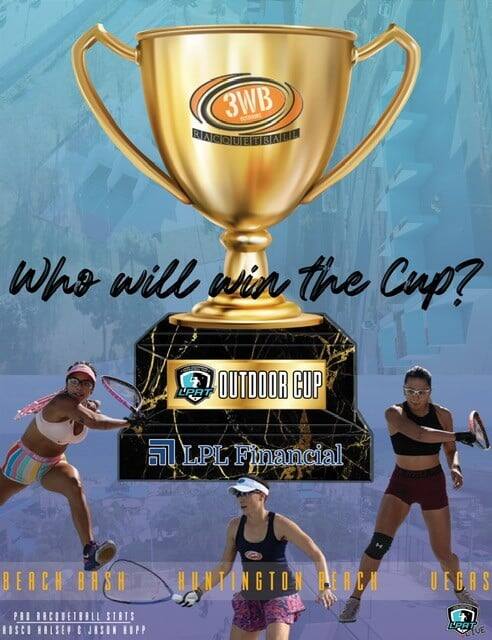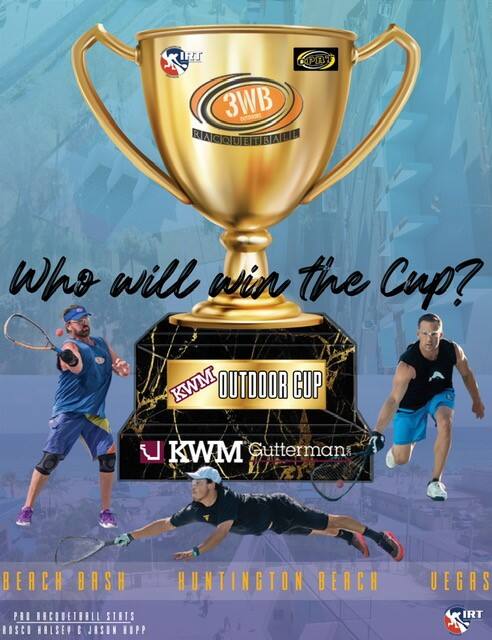 This year, we've added the Outdoor Cup series to promote a year-long competition across all three majors, we've augmented prize money at the Beach Bash and at Outdoor Nationals, and we're putting in a Grand Slam-level prize purse ($30,000+) at this year's Las Vegas 3WallBall Outdoor Championships to make a statement about Outdoor and the future of the sport. It's the "Road to Vegas" and it starts in Florida at the end of March.
"The 2022 Cup Series will help the sport in so many ways. I'm grateful to all the sponsors and organizations who helped us make this happen this year. Racquetball has always been a HUGE part of my life and I hope this gives back just a little bit." – Mike Coulter, 3WallBall owner and Cup commissioner.
One of the favorites for the Men's cup is none other than 2022 indoor pro champion Daniel De La Rosa, who also happens to be one of the top outdoor players in the world.
"I feel very excited for this year because Mike Coulter always tried to create the best for outdoor racquetball and bringing the Cup in for 2022 is going to make it even more exciting this year. The Cup Series is going to make more indoor pros come over and play outdoor. I'm ready for it!" – Daniel De La Rosa, current IRT #1 and holder of 19 Outdoor major pro doubles titles.
"3WallBall stepped up and added some great sponsors to put the Cup series together for the Pro men and women. We will see you all at the Beach Bash, then the championships in Huntington Beach in July, and then our grand finale here in Vegas in October! Keep swinging…" – Rick "Soda Man" Koll, owner of Five 3WB pro doubles titles and a perennial sponsor of Outdoor programming.
For the current standings in the cup series post Beach Bash, click on these links:
Beach Bash 2022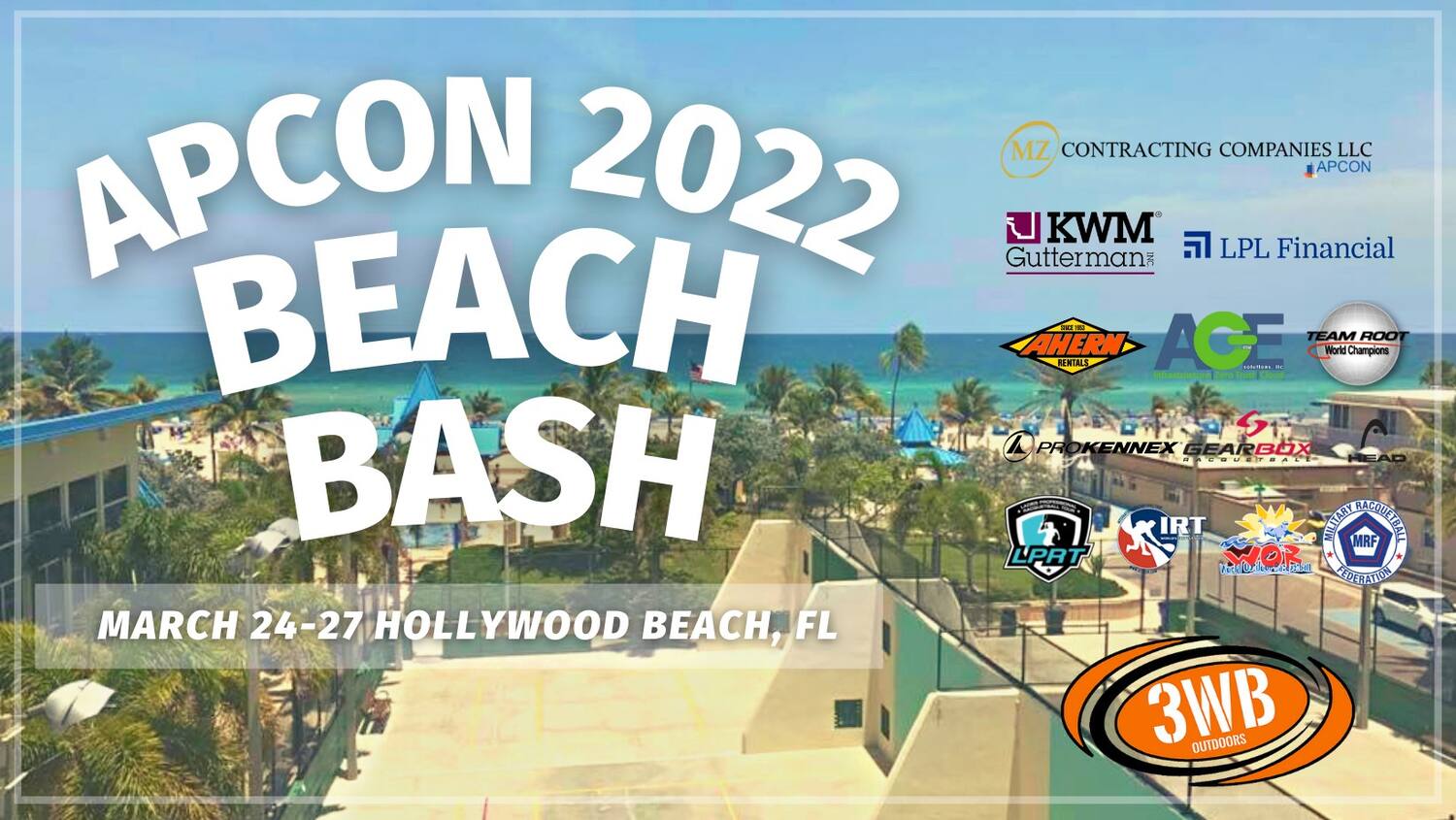 This year's Outdoor Major series started with the 2022 APCON MZ Companies Beach Bash, held at the historical Garfield Street one-wall courts in Hollywood, Florida, from March 24th-27th, 2022. The pandemic hit this tournament hard, cancelling two straight years of the event, but 2022 marks the return to competition, and the participant list reads like a who's who of the sport. This year's title sponsor is MZ Companies, thanks to Texas-based racquetball enthusiast Abel Perez who is helping to raise the profile of this event.
Beach Bash is a One-Wall racquetball player's paradise, featuring the top One-Wall racquetball players from New York, Washington D.C., Florida, and beyond. The Beach Bash was a transformative tournament in the evolution and nationalization of Outdoor Racquetball. In 2004, WOR Founder Hank Marcus teamed with Scott Hirsch to start the event, inviting out all the top IRT pros of the day and drawing in the top players from New York. The result was an exciting event right on the boardwalk in Hollywood, an event that would persevere for more than a decade thanks to the long-time directorship of Vic Leibofsky. It would lead to players from New York (most notably Hall of Famers Robert Sostre and Freddy Ramirez) becoming national-traveling outdoor players and competing all around the land.
"Beach Bash has always been a melting pot, featuring players from so many various corners of the racquet sport world coming together to play. There's a fraternity of players who travel to Hollywood and every year is like a homecoming." – Vic Leibofsky, Long-Time Beach Bash Tournament Director and Former WOR National Events Coordinator
"Beach Bash has been the event that has always kicked off the spring-summer outdoor season, and I've always looked at March as 'go time.' It is the most 'intimate' of the Big 3 Outdoor tournaments because the courts are small, you have to get in close to participate and watch, and it's right on the Hollywood beach boardwalk. I've met lifelong friends at this event. You can't show up and not have fun...it's that easy." – Freddy Ramirez, WOR Hall of Famer and Holder of Multiple One-Wall Major Titles
Outdoor Nationals 2022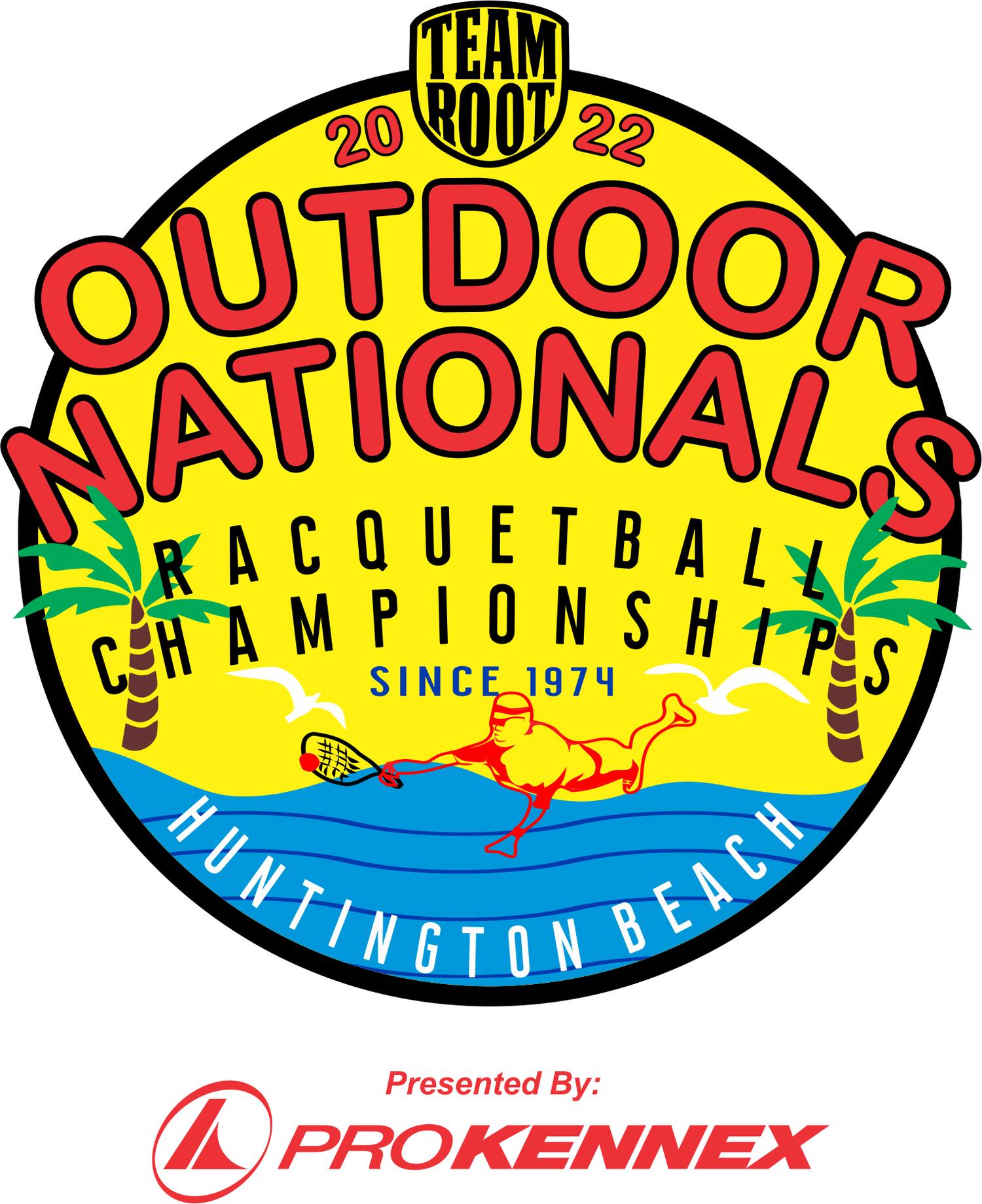 The 2022 TeamRoot.com Outdoor Nationals is the "Granddaddy" outdoor tournament in the land and is set for July 14th-17th in Huntington Beach, California. It dates back to 1974 when Outdoor racquetball pioneers Barry Wallaceand Rick Wetzel organized the first version of the tournament on the grounds of Orange Coast College in Costa Mesa, California. After a couple of relocations in and around Orange County over the years, the tournament has been held at Marina Park in Huntington Beach, California, since 2006. This year will be the 48th annual event and has created legends in the sport. This is the tournament where Brian Hawkes won 20 pro singles titles between 1981 and 2005; where Lynn Adams and Martha McDonald traded off titles for the entire 1980s decade; where Rocky Carsoninherited the title of "King of Outdoors" from Hawkes in the mid-2000s; and where future Hall of Famer Janel Tisinger-Ledkins established her dominance on the court.
"I cannot wait to get back on the courts in Marina Park for another run at the title! A few of the veteran teams from Southern California were absent last year, so I expect the 2022 draw to be even more stacked!" – Jason Geis, 2021 Outdoor Nationals Men's Pro Doubles Champion.
Tournament Directors Geoff Osberg and Jesus Ustarroz have run Outdoor Nationals for a decade, regularly bringing together Southern California's best big-court 3-Wall players for warm-up shootouts and for the Nationals itself. This year, one of the sport's biggest benefactors and a frequent Outdoor player in his hometown of Kansas City, Randy Root, is the title sponsor, and the tournament should feature the West Coast's best outdoor players competing for the titles.
"More indoor players are coming out this year, thanks to big increases in prize money. It's going to be really exciting. Racquetball with a Tan; you can't beat that!" -- Jesus Ustarroz, Outdoor Nationals Tournament Director
"I'm just happy to see everyone and play in a different environment! I love playing in the sun and hearing the crowd!" – Alvaro Beltran, Holder of 12 Men's Pro Outdoor Doubles Titles
3WallBall 2022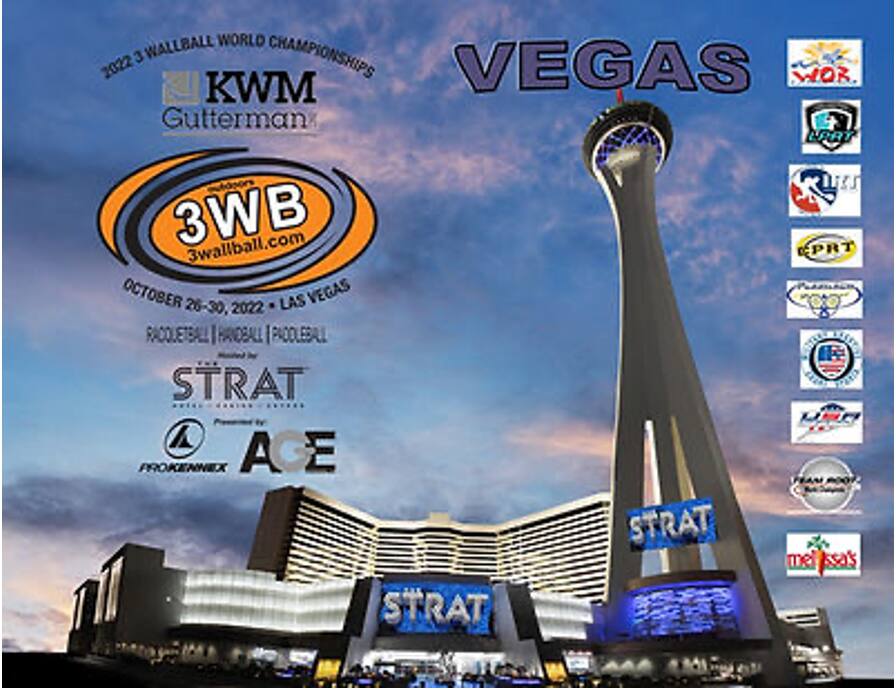 The final major of the season is the biggest: the 13th Annual 3-Wall-Ball Outdoor Championships, held on the grounds of The STRAT hotel right on the strip in Las Vegas. This year it is being held from October 26-30 and will have a fun Halloween-themed weekend vibe. This tournament was the brainchild of Mike Coulter, who envisioned the return of top-level racquetball to the most famous tourist city in America. Coulter called upon his contacts in the Vegas construction scene and has created a portable Racquetball club, constructed every year in a parking lot across the street from the iconic hotel.
Everything is bigger, flashier, and more over-the-top in Las Vegas, and this tournament is no different. For 2022, it features more than $30,000 in prize money, as much as the other two majors combined. It regularly features 400 players, competitors in multiple racquet sports, both one-wall and three-wall competitions, and a nation-wide and international competition drawing the best the sport has to offer globally. This is the tournament where the dominant outdoor doubles team of Alvaro Beltran and Daniel De La Rosa came into prominence, where the husband-and-wife pair of Daniel and Michelle De La Rosa have dominated in Mixed Pro Doubles, where the Vegas legend Rick "Soda Man" Koll has won so many one-wall titles, and where the indoor legend Rhonda Rajsich has proven that she's among the best who have ever played in outdoor as well.
"I feel that Outdoor racquetball had a rebirth when we started the 3WallBall World Championships in Las Vegas. For 10 years, the tournament flourished and led the boom of racquetball growth. When the pandemic started and indoor clubs shut down, outdoor WAS our sport. As clubs begin to reopen, outdoor still is the growth segment of our sport as players love the sunshine, camaraderie, and great experience of playing outside coast from coast to coast." – Steve Lerner, Long-time Racquetball Pro and Promoter and Original Tournament Director of 3WallBall
This year's competition features the title sponsor of KWM Gutterman and Keith Minor, a regular competitor himself in Las Vegas and a long-time benefactor of the sport. Thanks to Keith's sponsorship, 2022 3WB will continue to feature a slew of top-touring professionals from both the IRT and LPRT.
"The 3WallBall outdoor racquetball events are a great chance to combine sports and sunshine. Interactive by nature and being right at the courts creates that social/tailgate atmosphere." -- Peggine Tellez, 2022 Beach Bash and 3WallBall Tournament Director
All Roads Lead to Vegas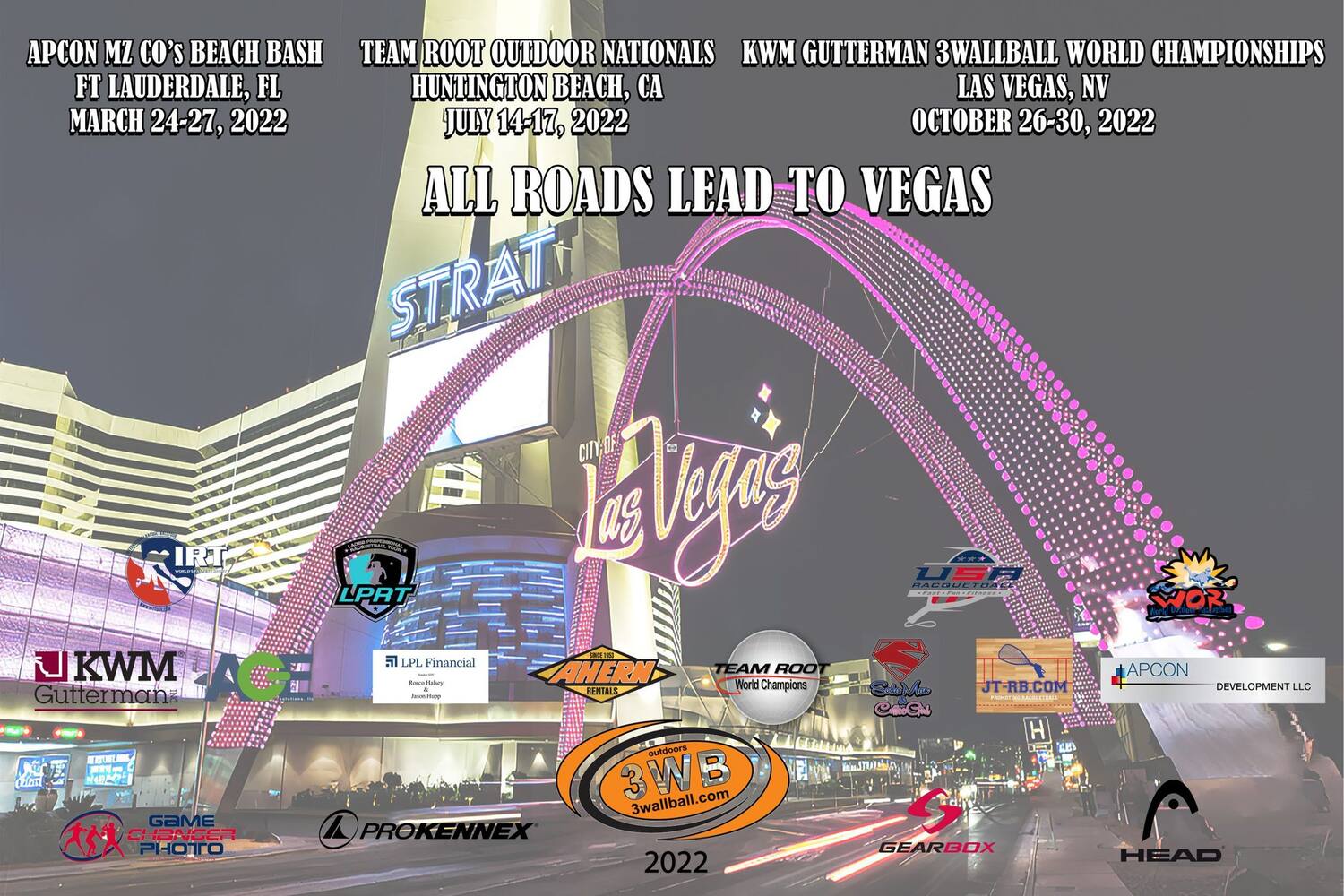 3WB works with the LPRT and LPRT Commissioner T. J. Baumbaugh to promote the sport and encourage participation amongst all their touring players. The LPRT and women's pro players were early adopters of the outdoor movement and have strong support from the player base at the outdoor majors.
"Outdoor Racquetball is a valuable piece of the sport and the LPRT is happy to promote it" – T. J. Baumbaugh, Commissioner of the Ladies Professional Racquetball Tour
3WB works with the IRT and their new commissioner Pablo Fajre and have been promoting outdoor to its historically indoor-only players.
"The IRT is extremely excited about the upcoming 2022 outdoor racquetball season. More and more of the IRT players are participating in Beach Bash, Huntington Beach, and Las Vegas 3WallBall. We are proud to support and be a sponsor of outdoor racquetball." – Pablo Fajre, Commissioner of the International Racquetball Tour
3WB works with WOR and USA Racquetball to ensure the crown jewel of the outdoor season is properly supported and representative of the sport's National Governing Body.
"I am looking forward to another great 2022 season of outdoor racquetball, especially the WOR Major Championship series. Get out and play and bring someone new along for the ride!" -- Mike Wedel, Executive Director, USA Racquetball
"The excitement for outdoor this season is at an all-time high with new players on the courts and entering tournaments for the first time. The expanded involvement of 3 Wallball is taking interest and exposure of outdoor to a never-before-seen level." – Hank Marcus, founder of the World Outdoor Racquetball (WOR) Association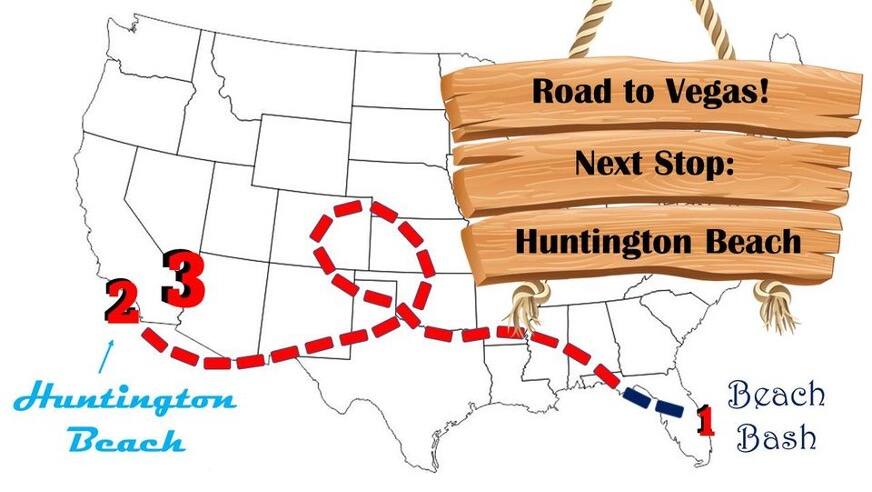 Get excited for Outdoor Racquetball in 2022!

Beach Bash Recap
Congrats to your winners on the weekend:
Men's Singles: Daniel De La Rosa
Women's Singles: Hollie Scott
Men's Doubles: Mario Mercado/Javier Mar
Women's Doubles: Erika Manilla/Katie Neils
Mixed Doubles: Daniel De La Rosa/Michelle De La Rosa
CPRT: Eric Faro/Ignacio "Iggy" Espinal
There were lots of first-time winners here this weekend and in fact both pro doubles winners are first-time outdoor major titlists. But in singles this was more of the same. It was DLR's 3rd Beach Bash singles title and Scott's 3rd as well. Faro and Espinal turned back the clock and took the CPRT title nearly 20 years after Faro made the finals of the first big-time racquetball event on these courts in 2004.
This year's Beach Bash was a great tournament that featured a ton of first-time pros who "got it" and fit into the vibe of the event. One-wall is unique, as is the culture surrounding it, and there have been nothing but positives heard about the event from all who were there.
R2 Sports App home page for event: https://www.r2sports.com/tourney/home.asp?TID=31509
WOR Triple Crown Reports: here are links to the "Triple Crown" winners of all the Outdoor Majors, updated to the 2022 Beach Bash. These reports show all the winners by division for the history of the three outdoor major events.
__________________________
Let's review the notable matches in the Singles draws. First up, and first to be mostly competed, was the Men's Singles draw.
Men's Pro Singles
Match report in the PRS database: http://rball.pro/6BFD79
In the 16s:
Slight upset with #8 Mario Mercado taking out #9 David Blatt. Blatt's a one-wall specialist from New York, but Mercado has plenty of one-wall experience from playing at Stratton Woods in DC. He squeaked out a 21-19 win.
#5 Thomas Gerhardt got a solid win over top IRT touring international Conrrado Moscoso. Gerhardt's strategy was clear: drive serve on open court to get points, then force the indoor pro into awkward overhead shots on quadrant serving. Moscoso made multiple errors going for too good of a shot early, and Gerhardt rode the lead to the win. A textbook example of how outdoor players strategize their way to wins.
#13 Sebastian Franco upset the 4th seed William Rolon, 21-14. A tough draw for Rolon, getting an "indoor" pro with a ton of one-wall experience at this juncture.
The biggest upset of all, though, was new-to-outdoor Javier Mar taking out the four-time champion, #2 seed Robert Sostre, 22-20. Mar proved to be quite a quick study to outdoor and squeaked out a close win.
In the Quarters:
#1 Daniel De La Rosa was mostly untroubled by #8 Mercado, advancing 21-13
#13 Franco advanced past #5 Gerhardt, 21-16.
D.C. area one-wall enthusiast #6 Dylan Pruitt got a statement win by taking out Hall of Famer #3 Freddy Ramirez with ease, 21-11.
Mar continued his on-the-fly education, taking out a very capable outdoor player in #7 Andres Acuña again by the 22-20 score line.
Semis turned out to be the #1, #13, #6 and #15 seeds.
In the Semis:
#1 DLR methodically topped #13 Franco 21-12 to move into the final.
#15 Mar outclassed the youngster Pruitt 21-6 to move to the final.
In the Finals, Mar and DLR went toe-to-toe for much of the game, with Mar more than holding his own and showing an amazing combination of power and touch on the one-wall courts. But, DLR was just a hair better, taking the final 21-15. He claimed his third Pro Singles title in Hollywood and second running.
__________________________
Women's Pro Singles Review
PRS Match Report: http://rball.pro/559CFB
The Women's Singles was one of the first draws to get started on Thursday morning, and right off the bat we got the #1 seed and defending champion Hollie Scott getting pressed by two fellow LPRT pros. She managed to top both Kelani Lawrence and Masiel Rivera by razor-thin scores of 22-20 to pave the way for a defense of her title. Scott finished off the sweep of the four-person round robin with a comprehensive 21-8 win over Katie Neils to repeat as Beach Bash Women's Singles Champ.
__________________________
Men's Pro Doubles Review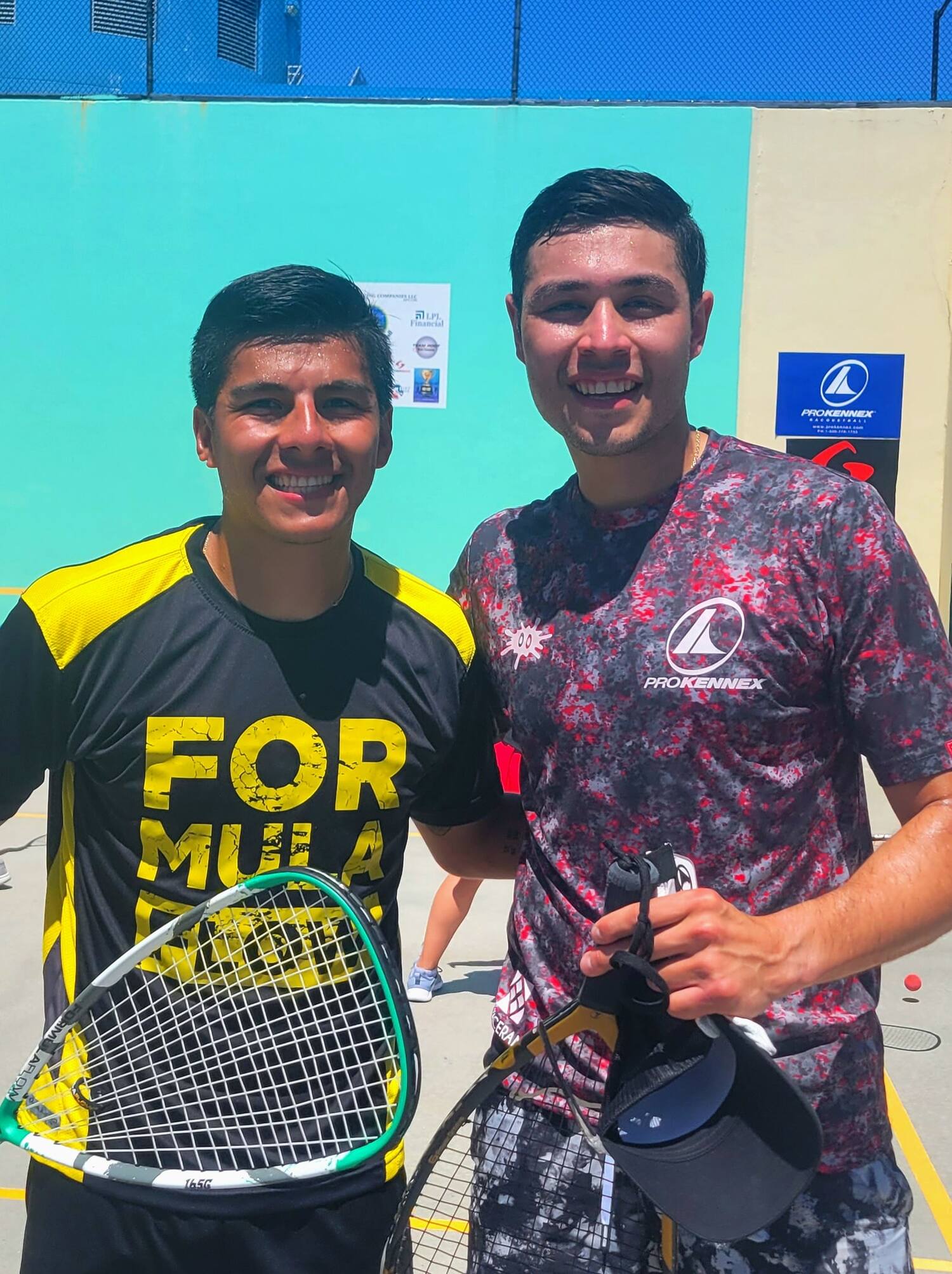 Men's 2022 Beach Bash pro doubles champions Mario Mercado, Javier Mar. Photo courtesy of Rick Bernstein
Match report in the PRS database: http://rball.pro/BA011F
There were upsets galore in the unpredictable Men's Doubles draw from the Round of 16 upwards.
In the 16s
The #1 seeds and defending champs Benny Goldenberg and Ryan Lopez were handed their walking papers by the #17 seeded team of relative outdoor newbies (but regular IRT touring pros) Andres Acuña and Eduardo (Lalo) Portillo, 9,10.
CPRT champs Eric Faro and Ignacio (Iggy) Espinal took out the #8 seeds Rick "Soda Man" Koll and Emmett Coe in a slight upset in the 8,9 match.
2021 Vegas one-wall doubles winners Adam Manilla and Nick Riffel took out the 2018 Beach Bash Champs William Rolon and David Blatt (aka "The Warrior" and the "Hulkster") in two solid games to advance.
Singles finalist Mar teamed up with experienced one-wall player Mario Mercado to take out Rocky Carson and Alejandro Barceló in an upset in the 7,10 match.
So, four of the top 8 seeds were toppled in the Round of 16. But the upsets were just starting.
In the Quarters
#17 Acuña/Lalo took out #9 Faro/Iggy in a match that went deep into the night, finishing under the lights on Garfield Street. The young touring pros collaborated to take out two of the OGs of one-wall racquetball on these courts in a breaker.
#12 Manilla and Riffel shocked the 2015 champions Sebastian Franco and Joe Young, 1,8

#3

Robert Sostre

and

David Horn

held serve over the #6 seeds and three-time champs

Richie Miller

and

Nelson Deida

in dominant fashion, 9,2, to move on.

And in a massive upset, #10

Mar/Mercado

took #2

DLR and Alvaro Beltran

in a tiebreaker. No career triple crown for DLR/Alvi this year.
Into the semis went #17, #12, #3 and #10...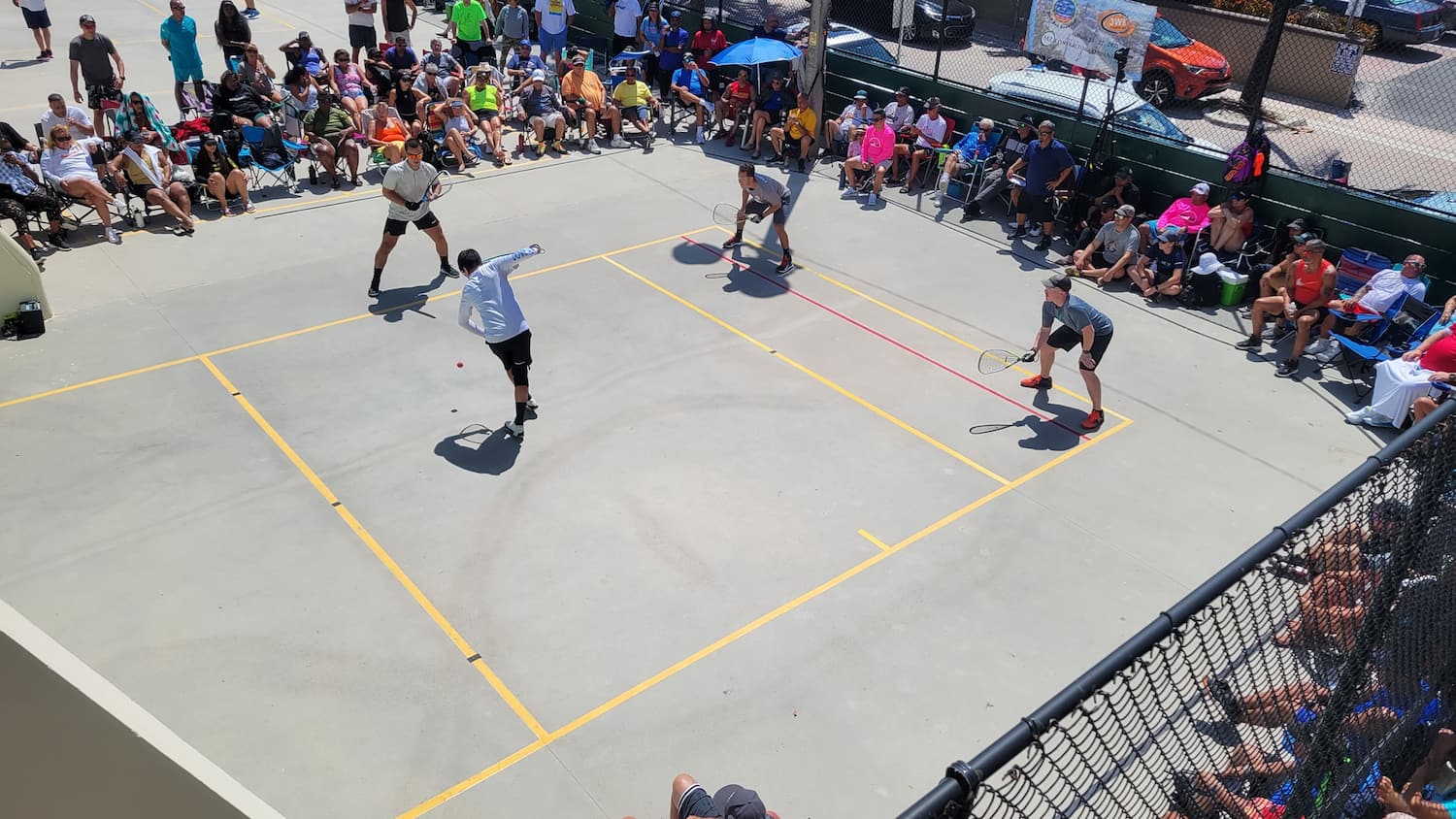 Overhead shot of the Men's Pro semifinals. Competitors L-R are Andres Acuna, Eduardo Portillo (serving), Adam Manilla, and Nick Riffel. Photo by Rick Bernstein
In the Semis
Portillo/Acuña blasted Riffel/Manilla, 5,7, to move into the final. These two IRT regulars have really taken to outdoor.
Mercado/Mar nearly got whitewashed in game one, losing it 15-2, but then made adjustments like one-wall old hats to cruise to game 2 & 3 wins, 15-7, 11-4, to move into the final over one-wall royalty in Sostre/Horn.
In the Final
The two teams of IRT pros traded games, but Mercado and Mar pulled away in the breaker to take the title. Final score (12), 13, 3.
__________________________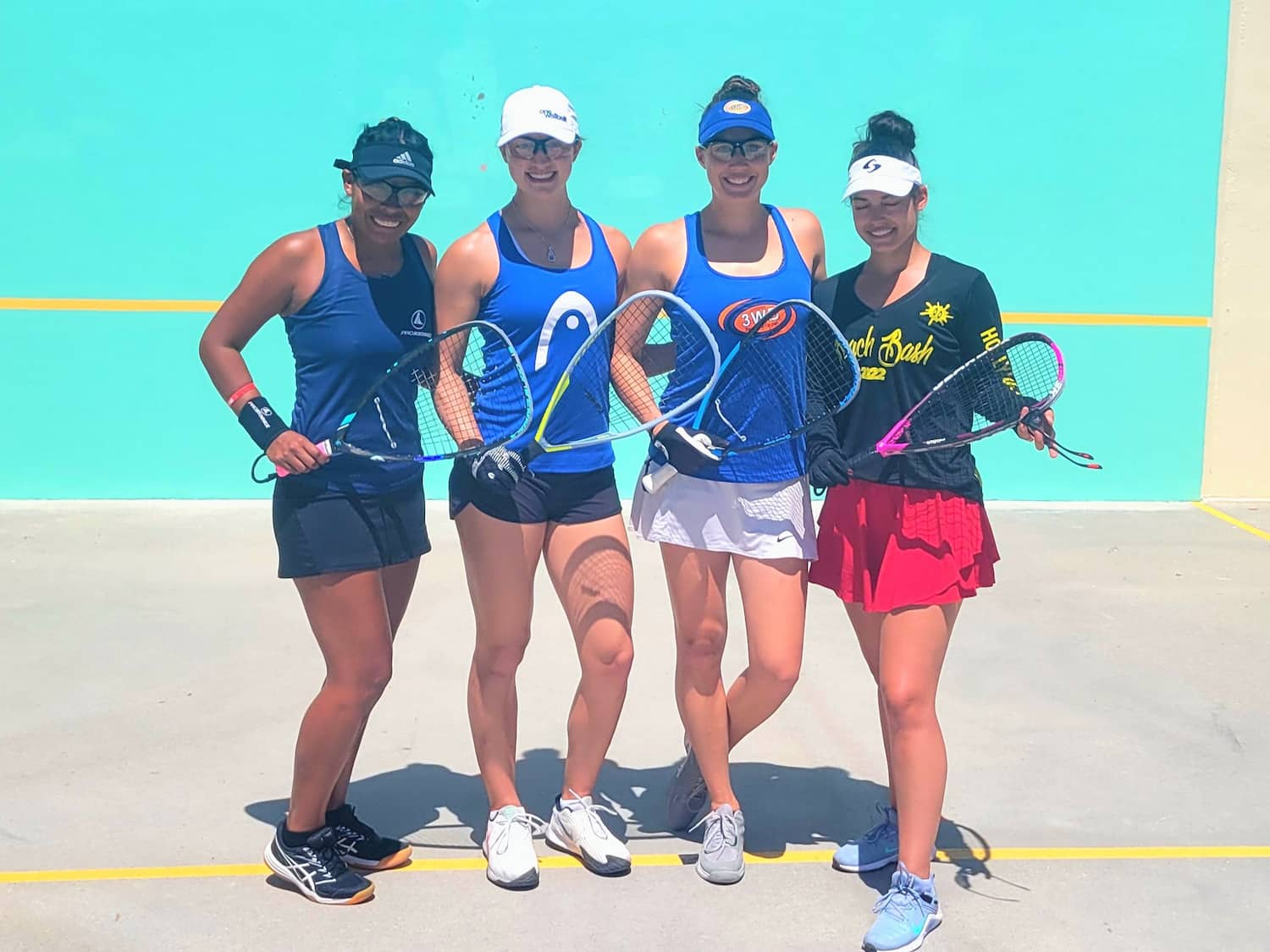 Women's pro doubles finalists. L-R Katie Neils, Erica Manilla, Michelle De La Rosa, and Hollie Scott. Photo by Rick Bernstein.
Match report in the PRS database: http://rball.pro/E72C77
Six teams competed for the Women's Pro Doubles title, including some throwback teams and some surprising new teams.
From the top of the draw, #1 seeds Michelle De La Rosa/Hollie Scott outlasted the Kathy Guinan/Maira Ramosteam (each of whom has won prior Pro Doubles titles here), in one semi, while the #6 seeds Erika Manilla and Katie Neils took out both the #2 and #3 seeds to get to the finals themselves.
In that final, outdoor veteran Neils and outdoor newbie (but red-hot lately) Manilla completed the sweep of the top seeds here, ousting the #1 seeds and overwhelming favorites Michelle De La Rosa and Hollie Scott to take the title. Final score: 8,(10),1.
Fun fact; every match in the Women's Pro Doubles draw went tiebreaker. Never seen that before.
__________________________
Match report in the PRS database: http://rball.pro/F553E8
The entire Mixed Pro draw was completed on Friday, all in the same day.
From the top half of the draw, what many think might be the best mixed doubles team of all time (the De La Rosa husband-wife pair) faced a stiff quarterfinal challenge against the under-seeded Rocky Carson/Kelani Lawrence team but moved on to face New York one-wall specialists David Blatt and Susan Stephen in one semi. The New Yorkers pressed the Arizona duo but fell 11-8 in the breaker.
From the bottom half, another under-seeded team of Eduardo Portillo and Hollie Scott upset two higher ranked teams (Pagan/Roehler in the 16s then Riffel/Neils in the quarters) to make the Mixed semis. There they met the very tough team of Sostre/Rivera, who cruised past the Manillas in the quarters. The east coast duo of Sostre/Rivera outlasted the young duo of Lalo/Hollie to advance to the final.
In the final, Masiel and Iceman tried to break the DLR streak of wins, but fell in the breaker, 11-5. The husband-wife team defended their 2019 title here and won their 14th career Pro Outdoor Mixed Doubles title together.
__________________________
Though not tracked in the ProRacquetballStats.com database, the CPRT takes on new importance in 2022 because it counts for the Cup series.
The top half of the CPRT draw went chalk, with #1 Alvaro Beltran and Rick "Soda Man" Koll advancing with ease into the semis. There they faced the sneaky-good Florida pair of Eric Faro and Ignacio "Iggy" Espinal.
The bottom half featured upsets, as 1988 IRT pro tour champ Ruben González put down the pickleball paddle he was playing with in Hilton Head and came out of retirement to team with Tito Montanez and upset the 3rd seeded team of one-wall experts Rolon/Young to advance to the semis. There they faced the dark-horse Florida team of Max Heymann and Seran Ramkissoon, who won two rounds and upset #2 Freddy Ramirez and Albert Jimenez to make the semis. Heymann and Seran made fast work of the legends to advance to the final.
In the final … the experience of Faro & Iggy (Faro is one of the few players who was at the original 2004 Outdoor One-Wall Nationals event and is still playing here this weekend) outlasted the upstart Floridians; they took the CPRT title, 7,7.
__________________________
Thanks for all the streaming, especially from the LPRT-sponsored broadcast team of Jeffrey Thompson, Vic Leibofsky, and friends. Thanks to Tourney Directors Peggine Tellez and Mike Coulter for putting this event on! And thanks especially to title sponsor APCON/MZ Companies, the holdings of Texas-based Abel Perez.
__________________________
Updates on the Outdoor Majors
Here's the latest news from the three Outdoor Major tournaments (see the upcoming events section for exact dates and locations):
Beach Bash 2022
See above recap. A great event and a great time was had by all. Thanks to all the players and sponsors who made it such a successful event.
Outdoor Nationals 2022
Title sponsors announced: Team Root and ProKennex! Thanks to Randy Root and Mike Martinez for your continued support of Outdoor Racquetball.
Team 3WallBall is taking a larger interest in this event as well, bringing their involvement into all three Outdoor Majors.
R2sports.com home page: https://www.r2sports.com/portfolio/r2-event.asp?TID=38652
Event Dates: 7/14/22 – 7/17/22; the dates have been pushed back a week to get the tournament away from being the same week as the July 4th holiday.
Other Gold sponsors of the 2022 event include Melissa's Restaurant, KWM Gutterman (Keith Minor), Gearbox (Rafael Filippini), Bloom Injury Law (Mark Bloom), Splathead (Joe Hall), Daily Racquetball (Jeffrey Thompson), Roundabout Entertainment, Coca Cola, and RH Enterprises.
3WallBall 2022
Contracts for the site and hotels are nearing completion, official announcement soon!
Tentative dates: 10/26/22 – 10/30/22
March 2022 WOR/Outdoor Tournament Result Recaps
Here's a run-through of other outdoor programming that has happened outside of the Beach Bash.
March 5, 2022: WOR AZ Battle Target Tolleson, Tolleson High School, Tolleson, Arizona. Tournament Director: Michelle De La Rosa.
R2sports site: https://www.r2sports.com/portfolio/r2-event.asp?TID=38070
The latest shootout in the Arizona "Battle" series was held March 5th in Tolleson, Arizona. Fourteen players battled it out in multiple doubles (and one singles) divisions. Here are the results/winners:
Open Doubles: Charlie Stalder & Susie Boulanger took the title, going 3-0 in the RR.
A Doubles: Luis Garcia & Curt Baumgarth went 3-1 in the RR and won the group by virtue of a tiebreaker over 2nd place Michelle De La Rosa & Russ Randolph.
B Doubles: Nicholas Rowley & Danielle Jones took the division.
Mixed Doubles: Father/Daughter team of Darold Key & Michelle De La Rosa went 3-0 to take the title, topping the Open Doubles champs Stalder/Boulanger in the process.
A Singles was battled out by two brave souls playing singles on the long-wall courts of Tolleson High School. Nick Coons topped Rob Craig 8,12 for the title.
Thanks to the continued support of Key Racquetball and WOR Arizona for the Battle Shootout Series. The final battle of the year took place the first weekend in April in Scottsdale.
======================
March 12-13, 2022: 2022 Outdoor Season Opener, Marina Park, Huntington Beach, California. Tournament Directors: Geoff Osberg & Jesus Ustarroz. Uppers and Lowers, doubles only shootout.
(Thanks to Steve Fitzsimons for the great recaps of the shootout, which provided the results listed here).
As part of their Outdoor Nationals tournament director duties, Geoff Osberg and Jesus Ustarroz also host several shootouts on the Marina Park courts to keep the competition flowing all year. This Season Opener was one of these shootouts. They hosted two divisions on Saturday and an age-based division Sunday of doubles.
Upper Doubles: Ten doubles teams competed on Saturday morning; they split into two RR groups with the top three advancing to the playoffs. The two RR groups were won by the top seeds in each bracket: the defending Outdoor National champions Jason Geis & Micah Rich in group A and two-time Outdoor national champs Rocky Carson & Jesus Ustarroz in the other. They each got byes into the knockout semis.
Knockout Round Quarterfinals:
Tourney Director Geoff Osberg and 2018 Outdoor Nationals Singles champ Luis Avila defeated top CPRT players Tony Berg/Scott Sinclair, 15-7
"Sweet" Lou Orosco (a frequent outdoor tournament director himself) and Caesar Chavez squeaked by Tom Quiroz/Alonzo Tavares, 15-14
Knockout Semifinals:
Defending Outdoor National champs Micah Rich/Jason Geis were pushed by Geoff Osberg/Luis Avila, 15-10.

Jesus Ustarroz/Rocky Carson

cruised past Lou Orosco/Caesar Chavez, 15-4.
Knockout Finals:
Micah Rich/Jason Geis defeated Jesus Ustarroz/Rocky Carson, 15-11, to take the crown and put down a statement about their intentions in the upcoming tournament.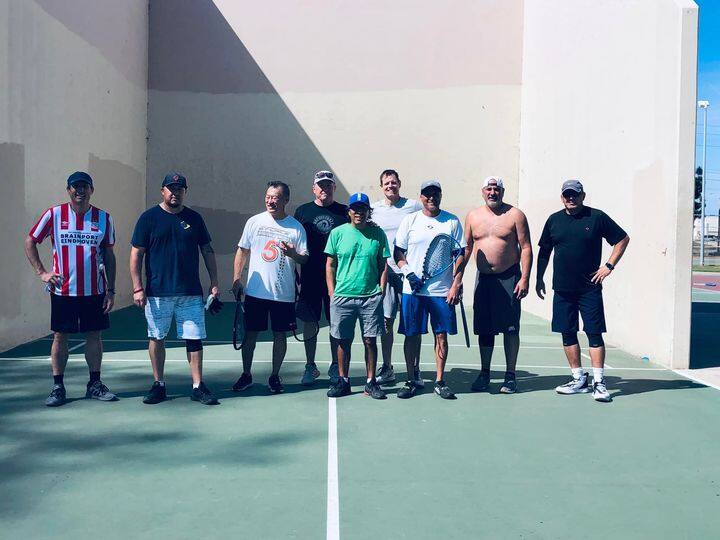 The competitors of the Lower group pose before competition. Photo courtesy of Ginnie Boetel.
Seven teams entered, playing in one big RR to determine the knockout round semifinalists.
Knockout Semis:
#1 Jerry Barriga/Chris defeated #4 Robert Godinez/Arturo, 11-9

#2

Scott Greenberg/Bill Rivera

defeated #3

Eric Rodriguez/ShaneAlotta

, 11-7
Knockout Final:
Jerry Barriga/Chris

bested Scott Greenberg/Bill Rivera 15-8 to complete an undefeated run on the day to take home the 1st place cash prize.
50+ Doubles
Sunday featured five solid teams entered into the 50+ Doubles draw; here's how it shook out. Each team played a twice-over Round Robin to get to a final.
RR results:
Scott Sinclair / Jesus Ustarroz (110 pts)

Mike Baham / Steve Ivers (108 pts)

Carlos Mercado / Tony Hernandez (106 pts)

Georges Barrera / Charlie Hernandez (81 pts)

Mark Wolenik / Paul Cha (32 pts)
In the final, #1 Scott Sinclair / Jesus Ustarroz finished an undefeated day by taking out #2 Mike Baham / Steve Ivers, 15-7, to capture the first place cash prize.
---
Thanks again to tournament directors Geoff Osberg & Jesus Ustarroz for organizing. Thanks to Jeffrey Thompson (aka "JTRBAll") for live streaming all weekend. Thanks to Stephen Fitzsimons for the great recaps posted to his Facebook page and subsequently borrowed to make this recap. And thanks to Ginnie Mahinay Boetel for all the pictures.
Mark your Calendars for these Upcoming Outdoor Events for 2022
April 2-3, 2022: WOR AZ Final Battle
. Horizon High School, Scottsdale, AZ
.
Tournament Directors: Maddie Melendez and Thao Le.
Racquetball and Paddleball events, rain-date 5/1/22.
Tournament Director: Rod Van Dyke.
In case of rain, commitment from Ron Miller to use his indoor courts.
One-day shootout the Sunday after the IRT event in Fullerton.
Early-May 2022: (tentative) Raybro Memorial Doubles Shootout, Tracy McDonald Park, Tracy, CA.
Tournament Director: Frank Biehl.
Mid-May 2022
(tentative) Marina Park Outdoor Shootout, Marina Park, Huntington Beach, CA.
Tournament Directors: Geoff Osberg & Jesus Ustarroz.
May 28-29, 2022
: Sacramento Outdoor Tournament, Florin High School, Sacramento, CA.
Tournament Director: Brent Hoskins.
June 3-5, 2022: Capital City Championships, Stratton Woods Park, Herndon, VA.
Tournament Directors: Amie Brewer and Carrie Handfinger Hoeft.
July 14-17, 2022: 2022 Outdoor Nationals
, Marina Park, Huntington Beach, CA.
Tournament Directors:
Geoff Osberg & Jesus Ustarroz.
Tournament Directors: Erica Williams & Walter Ramos.
September 24, 2022: Fallen Comrades 4
, St. Claire Shores Outdoor Courts, St. Claire Shores, MI.
Tournament Director: Tom Blakeslee.
https://www.r2sports.com/portfolio/r2-event.asp?TID=37864
Mid-September 2022
: Two-Day Shootout, Florin HS, Sacramento, CA.
Tournament Director: Frank Biehl.
October 26-30, 2022:
13th Annual 3WallBall Outdoor Championships, Las Vegas, NV. Tournament Directors: Mike Coulter & Peggine Tellez.
December 16-18, 2022:
2nd Annual Hollywood Beach Battle, Hollywood, FL. Tournament Directors: Maddie Melendez & Thao Le.
The Latest on Dane Elkins
There's been little new news in the search, other than Mrs. Elkins' attempts to spread the word on Tiktok getting her accounts banned for addressing "dangerous behavior" of kids "going missing." Sounds like the algorithms at TikTok are kind of missing the entire point; obviously she's not advising kids to go missing, she's asking for help for a kid who is already missing.
However, her persistence on that platform has led to a recent possible sighting in Elk Grove, just to the south of Sacramento. That location would make sense since Dane seems to be basically making his way north along California State Route 99, and most of the credible sightings to date have been in cities/areas along that road between LA and Sacramento.
If you see Dane or may know of his whereabouts, his mother Deborah Kassin Elkins respectfully asks you to contact her at 562-504-6005 and to send any pictures or videos to searchingfordaneelkins@gmail.com.
To keep updated, please consider joining the Facebook Group "Searching for Dane Elkins" at this link: https://www.facebook.com/groups/findingdaneelkins. The Elkins family is continually providing updates, possible sightings, and news articles/media coverage on the search.
Stay in Touch with WOR on Facebook
The absolute best way to stay abreast of Outdoor events is to follow WOR – Outdoor Racquetball on Facebook. We post updates for upcoming events as soon as they're available!
https://www.facebook.com/WorldOutdoorRacquetball/
Plus, there's a slew of geographic-specific groups that talk about play all over the country. Wherever you live, there's likely to be a group that coordinates play in your area. Reach out to WOR to find a Facebook group or a state director to help you out.
Contact WOR
If you have any questions, please email WORusaracquetball.com and we'll get back to you ASAP.