IRT Pros Return to Glass Court for the PapaNicholas Coffee 37th Annual Shamrock Shootout

It was an exciting St. Patrick's Day weekend as the Glass Court in Lombard, Illinois, welcomed back the International Racquetball Tour (IRT) and a full amateur draw of players eager to hit the courts after too long a wait!
With a new title sponsor in PapaNicholas Coffee, the 37th Annual PapaNicholas Shamrock Shootout presented by the Glass Court was one of the few events that did not get cancelled in 2020 or 2021 for the pandemic. The 2020 edition was competed on St. Patrick's Day weekend in 2020 and was the final professional tour event before everything shut down in late March. The 2021 Tournament was pushed back six months and became the 36.5th Annual Event only six months ago last September. It was also the site of Kane Waselenchuk's last singles championship on tour (#123) in 2020, a full two years ago, so there was much anticipation when Kane entered the event at the deadline.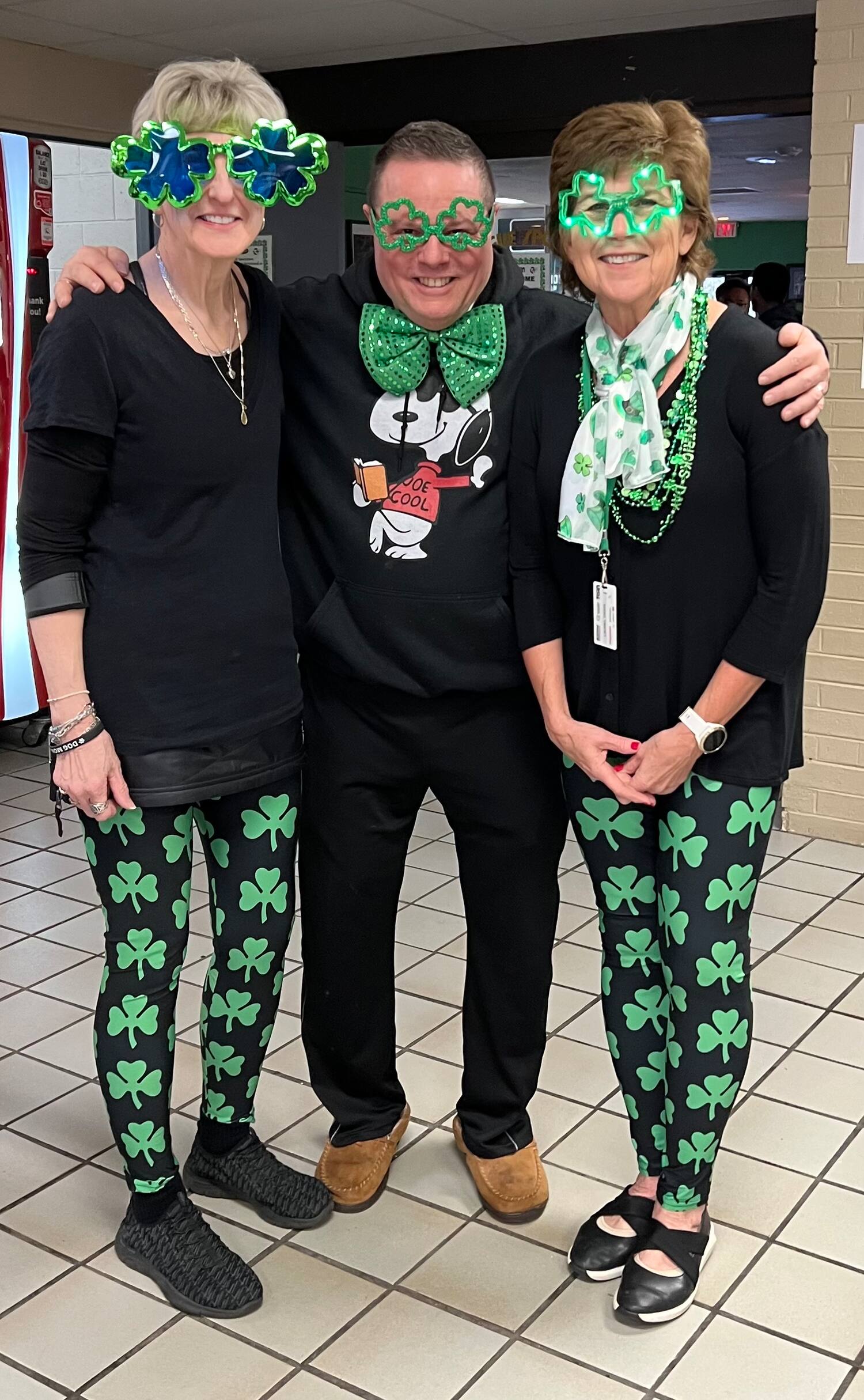 Leprechauns at the Shamrock -- Cheryl Kirk, Joe DeArmas, Laurel Davis. Photo by Mike Davern
It's a nervous time for (most) tournament directors as racquetball players seem to wait until the last minute before entering events while the TD's are trying to order shirts and meals for the correct number of players! Per usual, a late onslaught of entries over the last weekend filled out the amateur divisions for a competitive weekend of ball.
There was something for everyone! This Chicago tournament always tries to make the event a fun time for all, and this year's event included a lively Pro-Am Sponsor Doubles on Thursday night; live music by Sean Cantorna in the Lounge on Saturday night; a Silent Auction that raised over $600 with some fun prizes like PapaNicholas Coffee, pickleball paddles, and a Head tennis racquet; and a Junior Clinic with the Pros on Sunday morning where Erick Cuevas and Mario Mercado worked with 15 junior players, assisted by Junior Team Illinois Coaches Barry Dixon and John Thorson. Oh, let's not forget the Corned Beef and Cabbage Dinner, a tradition that was started by Diane DeArmas that has been continued by Glass Court President Dan Jaskier!
Thursday evening ProAm Sponsor Doubles. Photo by Cheryl Kirk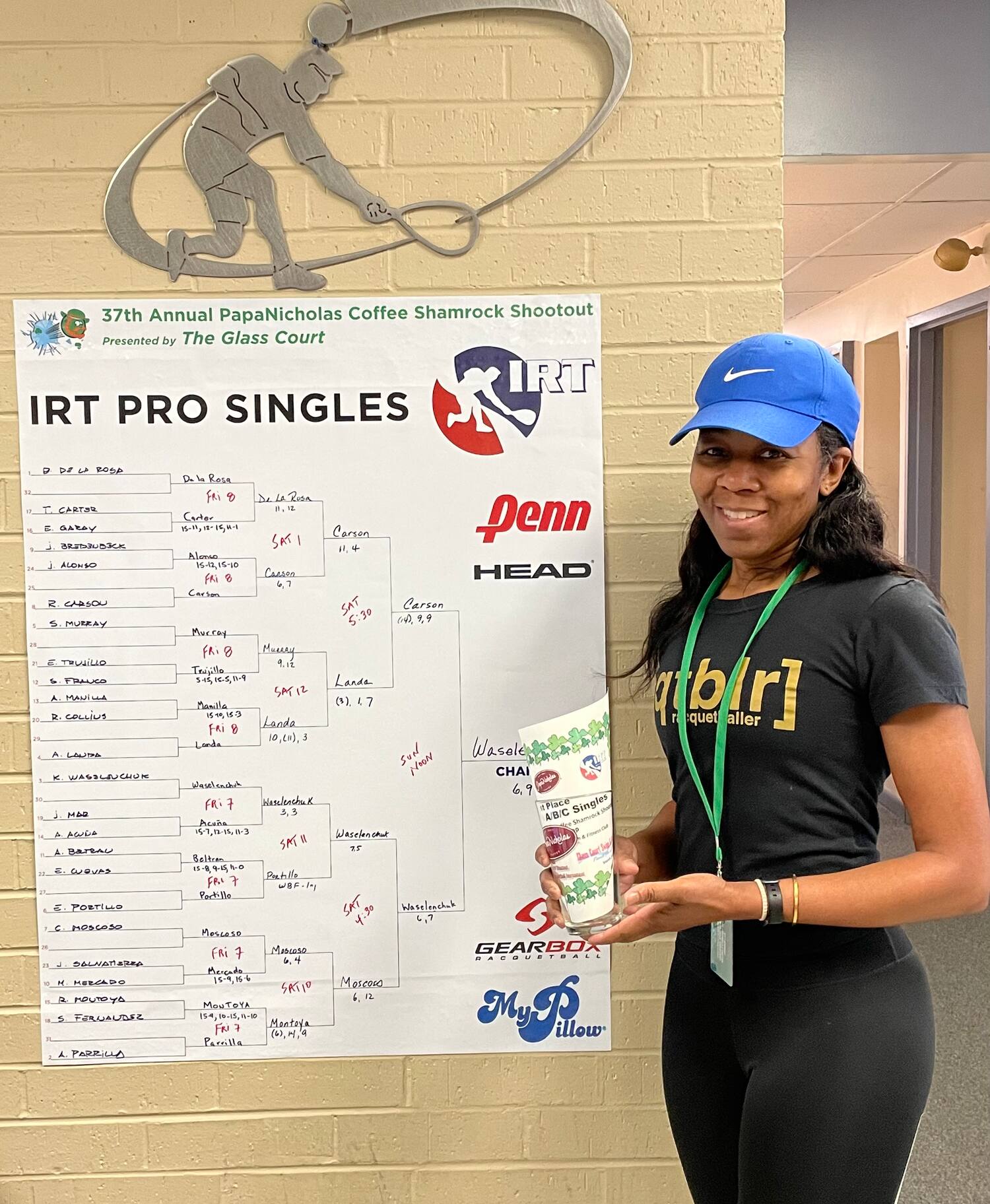 Tracie Valentine - Player and Volunteer Extraordinaire. Photo By Cheryl Kirk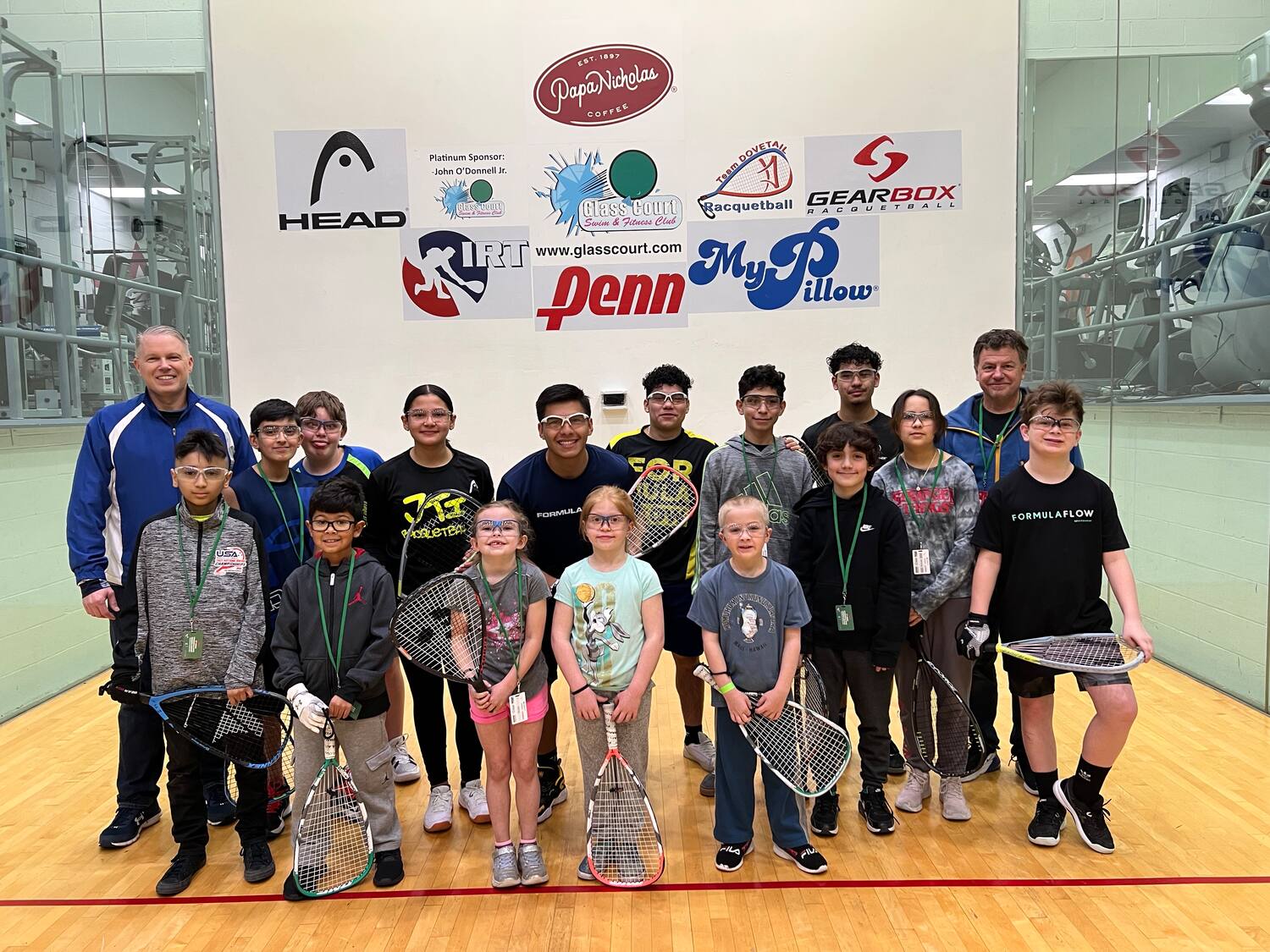 Junior Clinic with the Pros! Photo by Cheryl Kirk
On the courts, the competition was intense all weekend with full Amateur Results available here: https://www.r2sports.com/website/event-results.asp?TID=38590.
A few notable finishes included:
Colombia's Mario Mercado over Costa Rica's Andres Acuña in the large Men's Open (draw of 21)

Irfan Siddiqui won the A's (and a promotion to Open) over Thomas George

Alok Mehta continued his winning ways in the 45's, defeating Ferd Samson

Mike Grisz (VA) captured the 65's over Frank Taddonio (AZ): out-of-towners ruled

Eugene Coyle/Kyle Ulliman were the Open Doubles Champs over Andy Pitock/Jim Schlicher

But wait...Andy and Jim came back to take the Centurion Doubles over Jeffrey Hill/Jake Ryan

In the Women's Open, Canadian Juliette Parent took the title over sister Marjolaine Parent

Dan Jaskier/Kristen Coulter emerged Mixed Champions after effectively breaking through a three-way round robin tie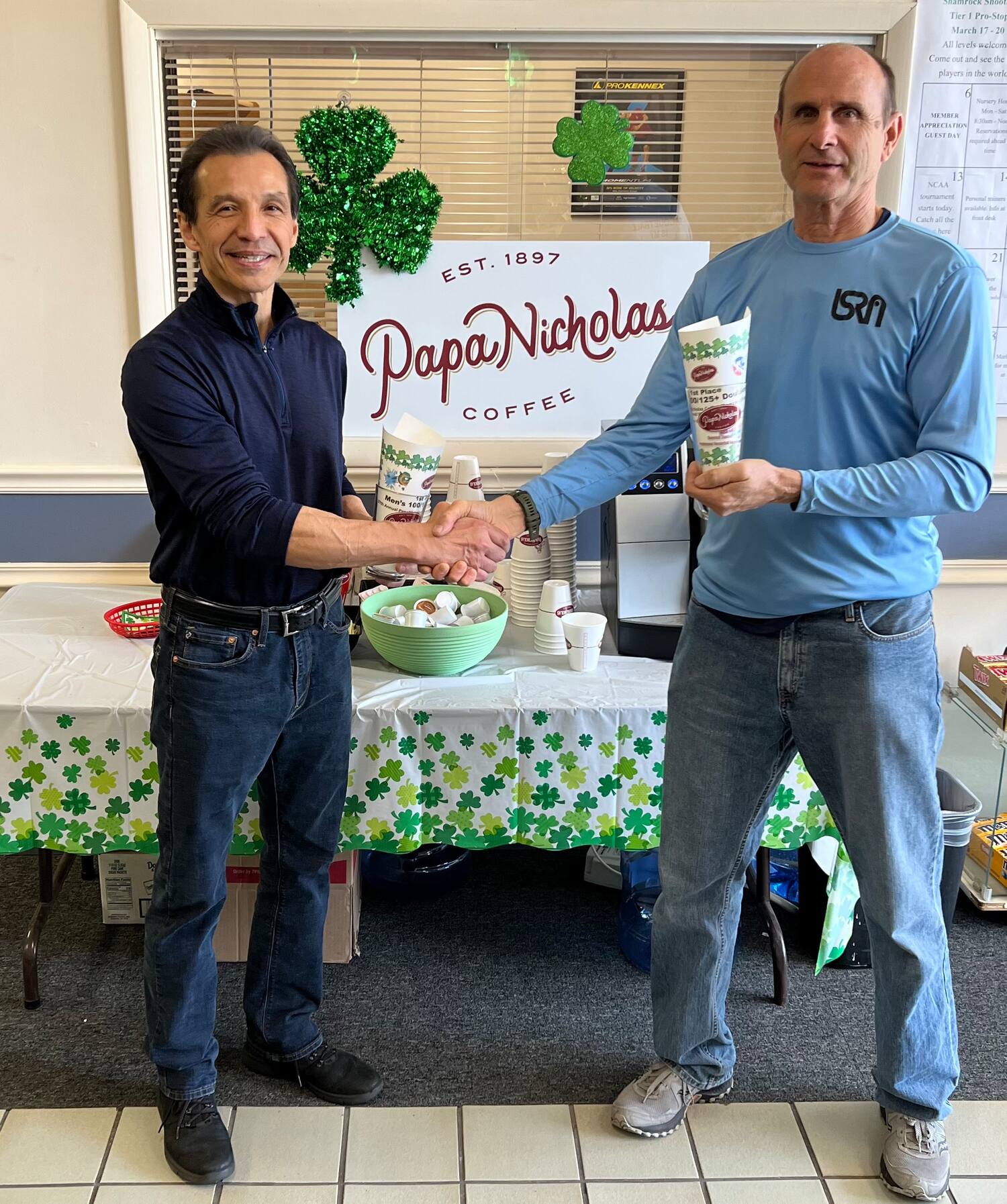 PapaNicholas Coffee Sponsor Jim Schlicher and Doubles Partner Andy Pitock. Photo By Cheryl Kirk
The Pros started showing up at the Glass Court on Tuesday afternoon to get used to the stadium court (three glass walls) which has been the site of Pro Tour battles since the 1980's. With the relatively late addition of Kane Waselenchuk to the draw, there were numerous social media posts articulating opinions about how he would play.
With Qualifying beginning on Thursday afternoon, there was no shortage of great racquetball to watch on multiple courts throughout the club. For those of you who are able to attend a Pro Stop in the future, we encourage you to attend the Qualifying and Round of 32 matches. They tend to be less crowded, and you will see some great racquetball as these players scrap to get "into the money"!
The Pro Singles had a number of early upsets in the 16's with #9 Jake Bredenbeck losing in two to a hot Jordy Alonso, and #11 Alvaro Beltran bowing out to Lalo Portillo. Andres Parilla (#2) lost a close tiebreaker to Rodrigo Montoya. In the Quarterfinals, Rocky Carson played errorless ball to eliminate #1 Daniel De La Rosa. Saturday night's semifinals were Rocky Carson (#8) facing off against Alex Landa (#4), and Kane Waselenchuk (#3) playing Conrrado Moscoso (#7). Rocky continued a great run, getting by Landa in a tight tiebreaker at 11-9, and Kane continued his dominant play by beating Moscoso in two straight.
Later on Saturday night, the Pro Doubles Semifinals featured Lalo Portillo/Rocky Carson who had beaten #1 Seeds and defending Champions Alvaro Beltran and Daniel De La Rosa the day before. Their opponents were Roland Keller/Conrrado Moscoso. On the other side of the draw, it was Jake Bredenbeck/Sam Murray vs. Javier Mar/Rodrigo Montoya. Javier and Rodrigo won in two straight hard-fought games, and Roland and Conrrado eked out an exciting 11-10 tiebreaker that many spectators thought was the best match of the tournament.
Geoff Peters recognized by the IRT. Courtesy of the IRT
On Sunday, in front of a great crowd both in person and on the IRT Network, the Kane Train continued rolling with Tour Win #124 in straight games (6 and 9) versus a rejuvenated Rocky as they met on tour for the 83rd time. World Champions Mar and Montoya took the Pro Doubles, also in two games (9 and 9).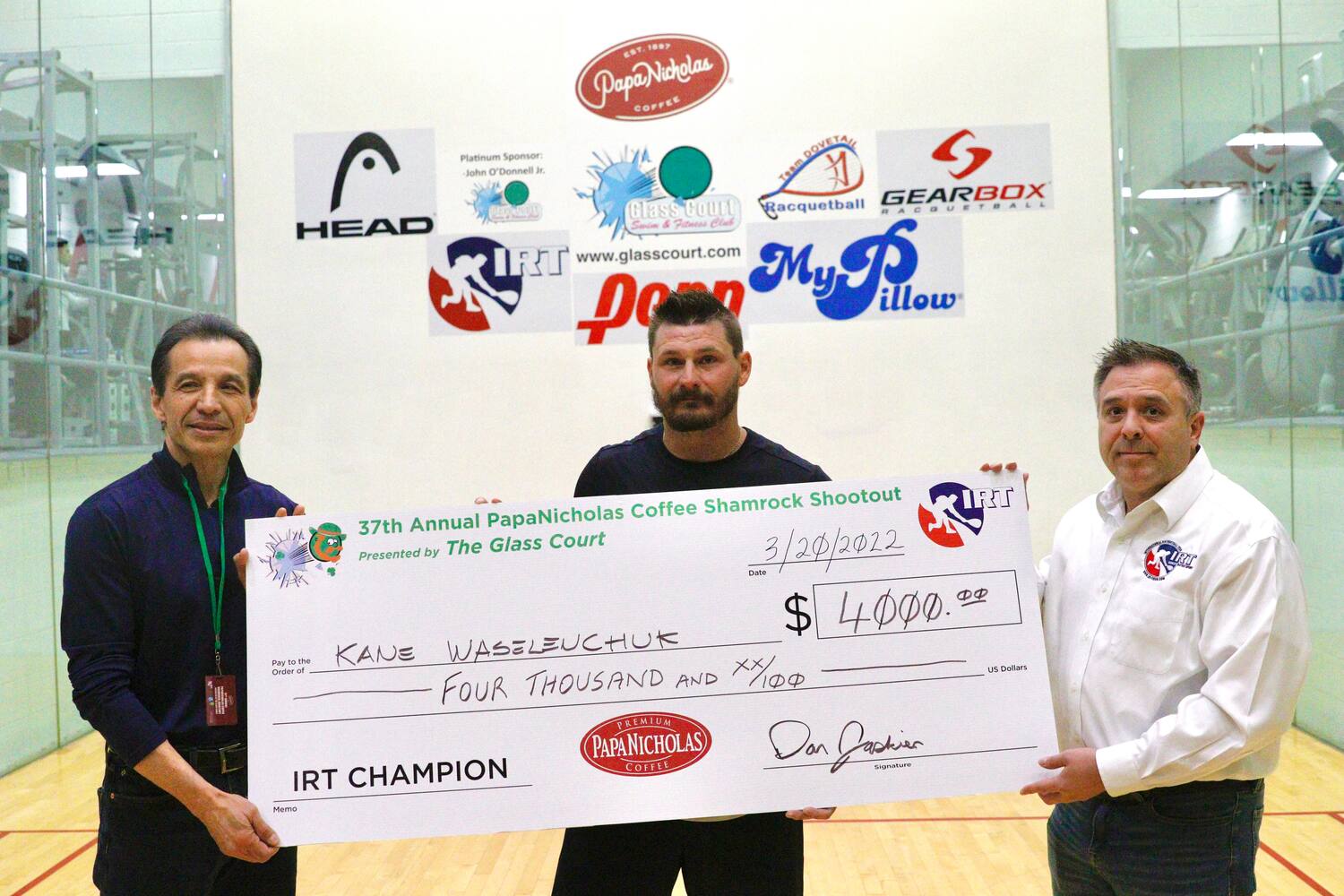 Jim Schlicher (PapaNicholas Coffee), Kane Waselenchuk, and Dean Baer (IRT). Photo by Cheryl Kirk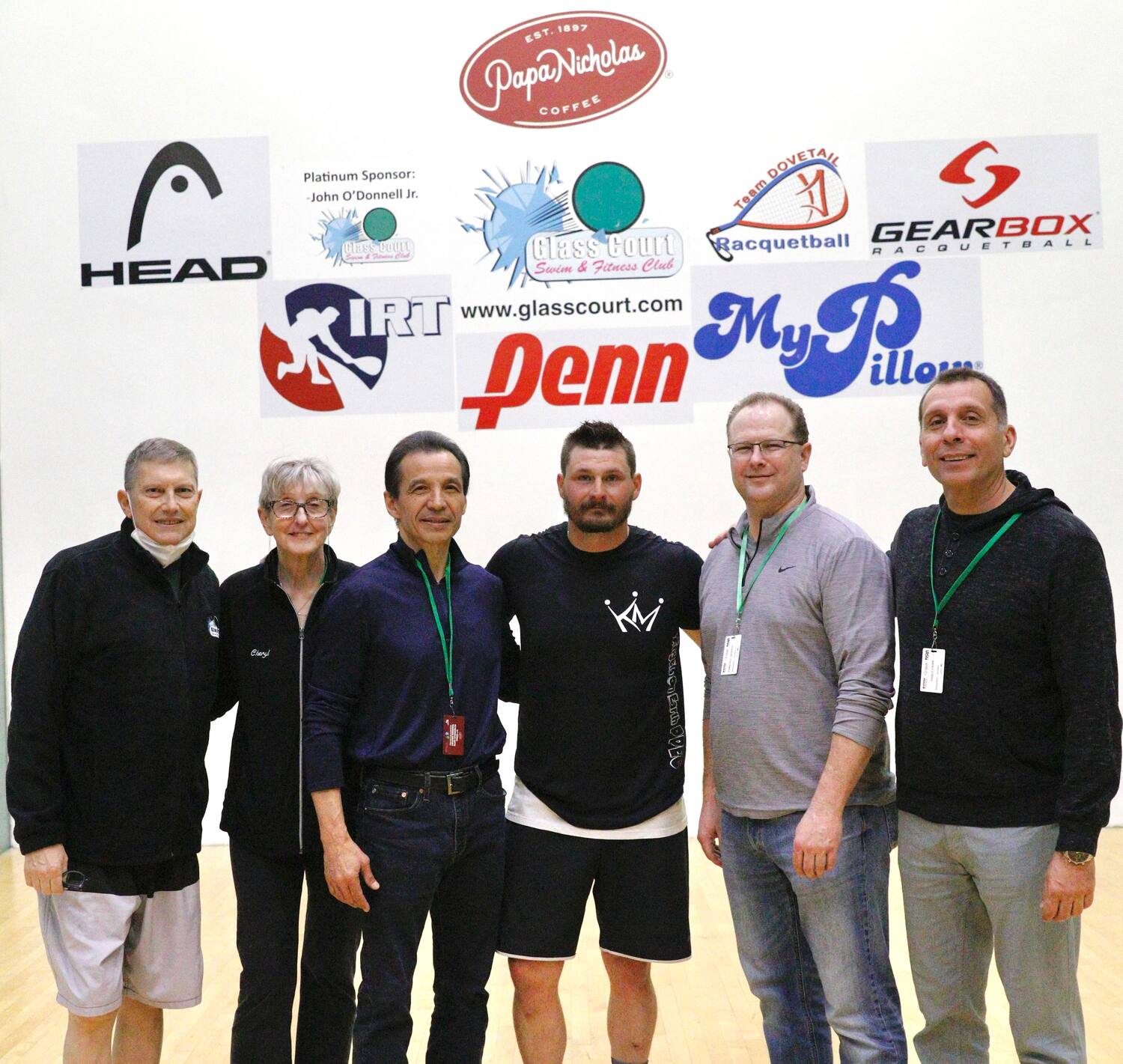 Geoff Peters, Cheryl Kirk, Jim Schlicher (sponsor), Kane Waselenchuk, Dan Jaskier, Pablo Fajre (IRT). Photo by John Thorson
One quick word about our sponsor PapaNicholas Coffee. They have made a special offer to all racquetball players to go to their home page at www.papanicholas.com and purchase ANY of the products on their website at 50% off! All you have to do is use the code racketball50 (this spelling is not a typo on our part!) and order as much as you like! PapaNicholas has many great coffees, and we want to reward and thank them as a valued sponsor, so PLEASE ORDER and enjoy!
The Glass Court Team––Owner Joe DeArmas and President Dan Jaskier as well as Geoff Peters, Cheryl Kirk, and an entire village of volunteers––would like to thank the IRT Team for their on-site partnership, including Tour Commissioner Pablo Fajre, CEO Mike Grisz, Director of Communications Dean Baer, and Broadcaster Extraordinaire Favio Soto for working to bring this event to the entire Racquetball community across the nation and around the world.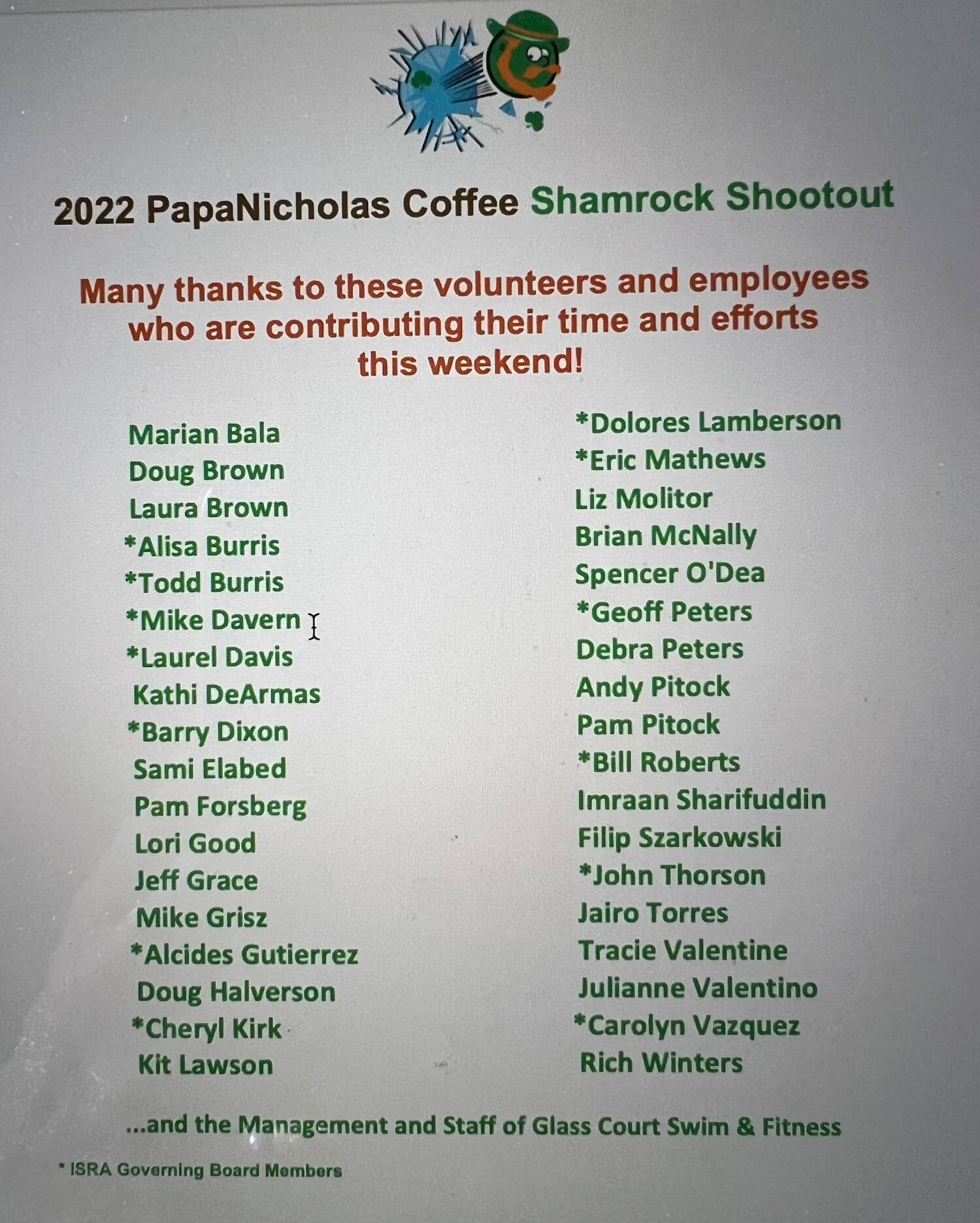 The Volunteer Village.