2022 Pan American Racquetball Championships Blog
Blog #8
XXXIII Pan American Racquetball Championships (PARC)
Santa Cruz de la Sierra, Bolivia
Saturday, April 16, 2022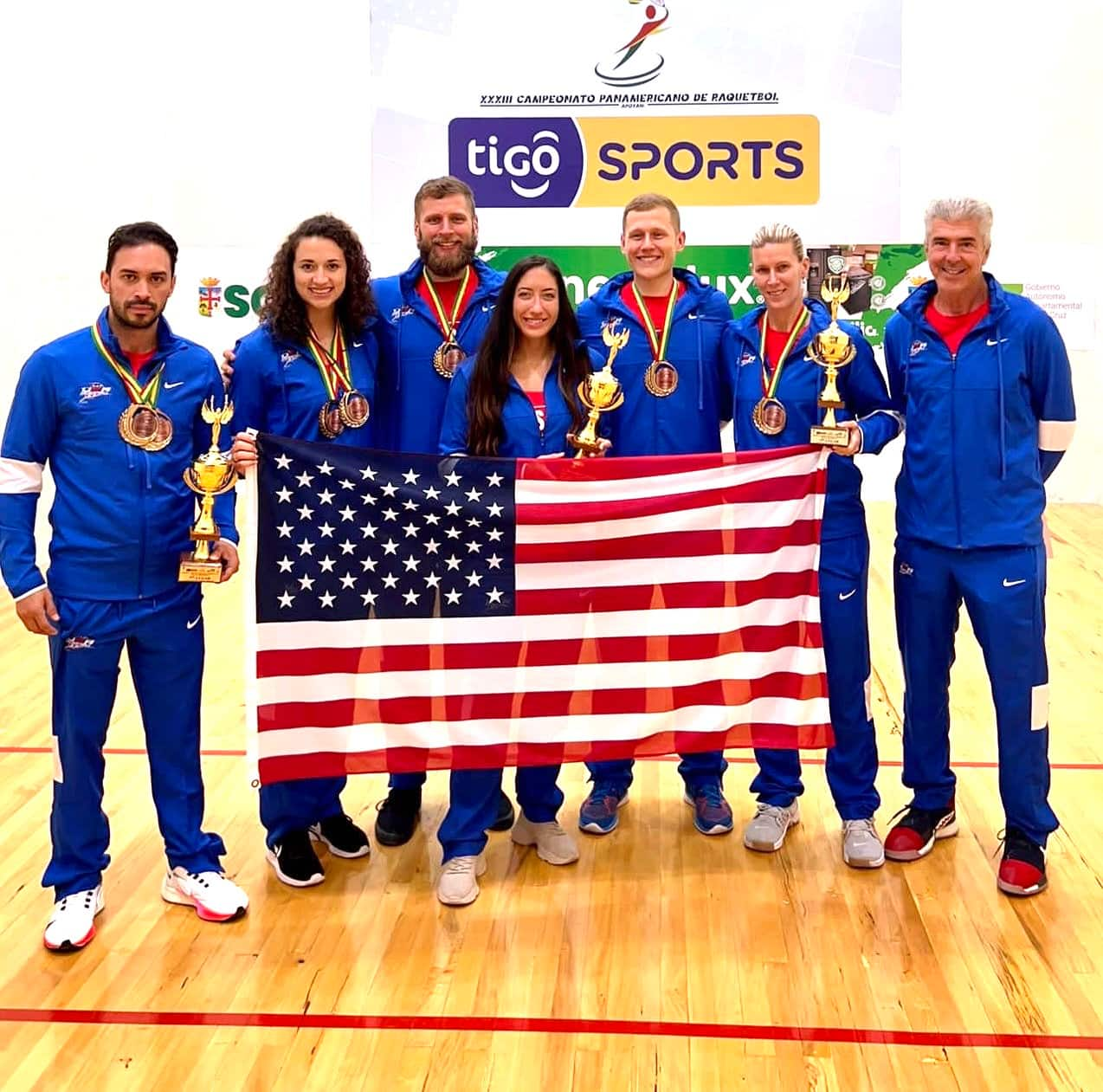 We had our last team meeting Friday evening. The team shared our appreciation for each other, the competitors that we faced all week, and all of the fans who donated their hard-earned money to make this trip possible. It's always good to be reminded of the generosity we receive when our racquetball community feels connected to the dedicated players who represent the United States on the international stage. Each player had a chance to express their appreciation and thoughts regarding the week's competition.
It was a challenging week. Matches ran two, three, and four hours late as the IRF grappled with the new rally scoring format. That made for long 8-12 hour days at the club. The new mixed doubles category was fun to watch, and the competition was stellar. Rally scoring also resulted in many more drama-packed matches with exciting must-win points like the one when Maria Vargas tried to surprise Erika Manilla with a jam serve at 9-10 in the tiebreaker. Manilla flat rolled a beautiful backhand winner for the match.
The awards ceremony on Saturday was very well organized. The Junior players were in attendance, and it was obvious that they appreciated being in the same ceremony as their adult racquetball heroes. Many had their pictures taken with adult players. Rhonda gave her shirt to a junior, and it brought the star-struck young lady to tears. Such moments make you realize how important international events are for our sport.
RESULTS
Women's Open Singles
1st Angelica Barrios (Bolivia)
2nd Maria Jose Vargas (Argentina)
3rd Carla Muñoz (Chile) / Ana Gabriela Martinez (Guatemala)
Men's Open Singles
1st Conrrado Moscoso (Bolivia)
2nd Andres Acuña (Costa Rica)
3rd Rodrigo Montoya (Mexico) / Alejandro Landa (United States)
Women's Open Doubles
1st Vargas/Mendez (Argentina)
2nd Salas/Herrera (Mexico)
3rd Manilla/Rajsich (United States) / Sabja/Meneses (Bolivia)
Men's Open Doubles
1st Iwaasa/Murray (Canada)
2nd Cueva/Ugalde (Ecuador)
3rd J. Bredenbeck/S. Bredenbeck (United States) / Garcia/Acuña (Costa Rica)
Mixed Open Doubles
1st Montoya/Salas (Mexico)
2nd Meneses/Moscoso (Bolivia)
3rd Manilla/Landa (United States) / Centellas/Garcia (Argentina)
Women's Team
1st Argentina
2nd Mexico
3rd United States / Bolivia
Men's Team
1st Bolivia
2nd Mexico
3rd United States / Costa Rica
Combined Team
1st Bolivia
2nd Mexico
3rd United States / Argentina
Thank You's
Team USA would like to give thanks to all who made it possible for this memorable event to occur. It is good to be back and playing an international schedule.
The local Santa Cruz Organizing Committee did a fantastic job of preparing the racquetball facility. The courts and the whole complex was clean and beautiful, the snack bar was well-run and stocked with economical water and food, and the shuttles ran on time. The awards ceremony was superb.
Mauro Grandio, Osvaldo Maggi, Marcelo Gómez Pacheco, Gary Mazaroff, Dean Schear, and the team of referees were on point and kept the tournament moving forward.
Pablo Fajre handled the technical details of live streaming.
Renee Isherwood provided team support, booking hotel rooms and handling the many details that got Team USA to Bolivia. Thanks to Aimee Roehler for posting match coverage every day.
A special thanks to everyone in the racquetball community who stepped up and answered Erika Manilla's call to action with a generous donation.
Thanks for reading!
-- Coach Jim Durham
_____________________________________________________________________________
Blog #7
XXXIII Pan American Racquetball Championships (PARC)
Santa Cruz de la Sierra, Bolivia
Friday, April 15, 2022
Today was the start of the team competition. The men earned the number two seed and a place in the quarterfinals against Guatemala. The IRF revised the match format to best three out of five games to eleven, with a tiebreaker having to be won by two. Eleven-point games go by quickly, and there's no room for working your way into a game slowly. They are over fast and comebacks are difficult.
Landa faced Edwin Galicia in the first match of the day. Galicia is a fast and rangy player but not the shot maker that Alex is. Landa's game was too much for Galicia. Alex cruised to a three-game victory.
Juan Salvatierra was up next against Jake Bredenbeck. Jake scored with a good mix of passes and pinches to take game one. Bredenbeck's drive serves were money in game two. Juan starting doing a little better job covering pinches but not enough to stop Jake from winning the game. Bredenbeck went DTL a little more in game three to keep Salvatierra guessing. It worked out well and Jake took the match in three. That meant that the USA had the two games they needed to get the team win over Guatemala and move into the semifinals without having to play the doubles match. I'm sure Sam would have preferred playing to get into the flow.
Our women were the third seed and faced the team from Chile in the quarters. Rhonda battled Carla Muñoz (again) in the first women's match. Rhonda has a pattern of starting slowly and working her way to victory as she becomes "one" with the ball, so the eleven-point rally scoring does not suit her game style well. Carla is playing, perhaps, the best ball of her career and she was tough today. Her drive serves were precise and her shooting was, too. Rhonda was focused and battled for the win, but Muñoz took the match in three.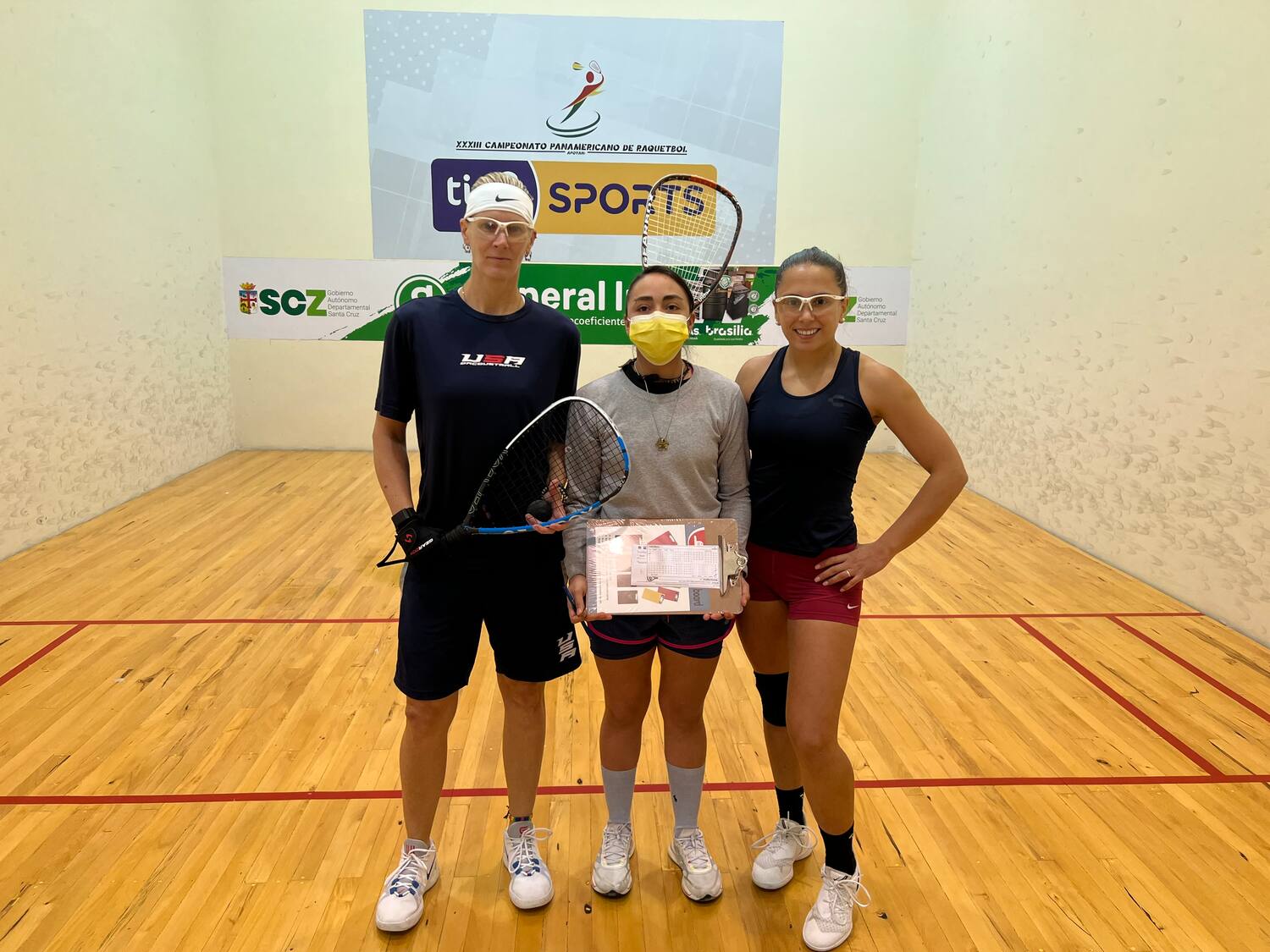 Kelani Lawrence met Paula Mansilla and we needed this one or we'd be out of the draw. Kelani was up to the challenge. Her drive serves were working and a deadly forehand was generating points. Mansilla was kept off balance by Kelani's good service mix; she was playing the serve-and-shoot game wonderfully. The match went to Team USA and now we had to win the doubles to advance.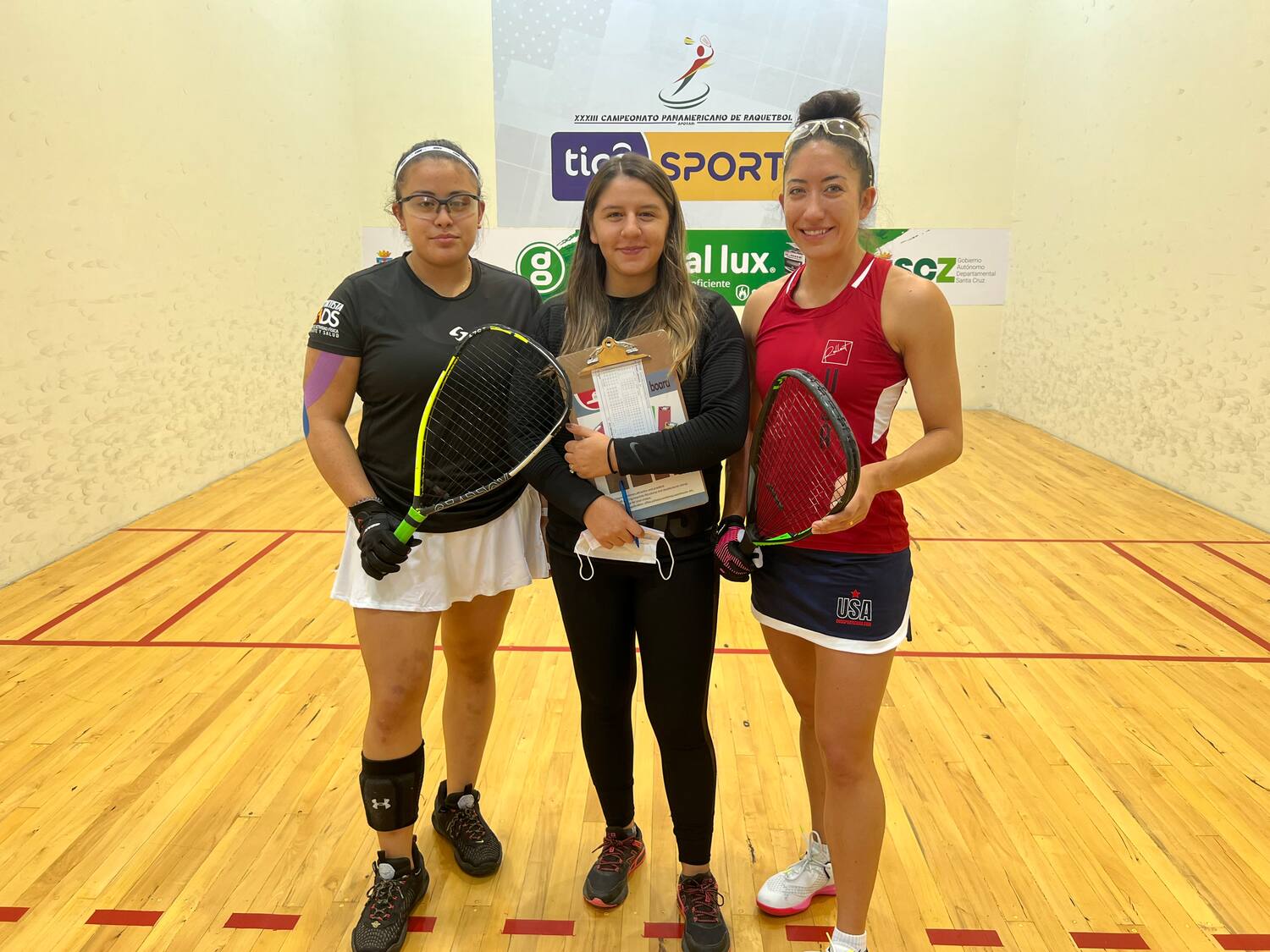 Rhonda/Erika were determined to get the team to the semifinals. Erikonda is turning into one of the best doubles teams in the world. Both have devastating DTL kills, excellent service returns, and a thirst for a challenging battle. Carla Muñoz /Paula Mansilla were the Chilean team. With Carla playing so tough, Erikonda kept the ball on Mansilla's side. Rhonda was hitting cross courts to Mansilla and Erika was serving a tough Z and killing her setups down the line.The Chileans never got going and Team USA kept their foot on the gas to take this one in three games and advance to the semis.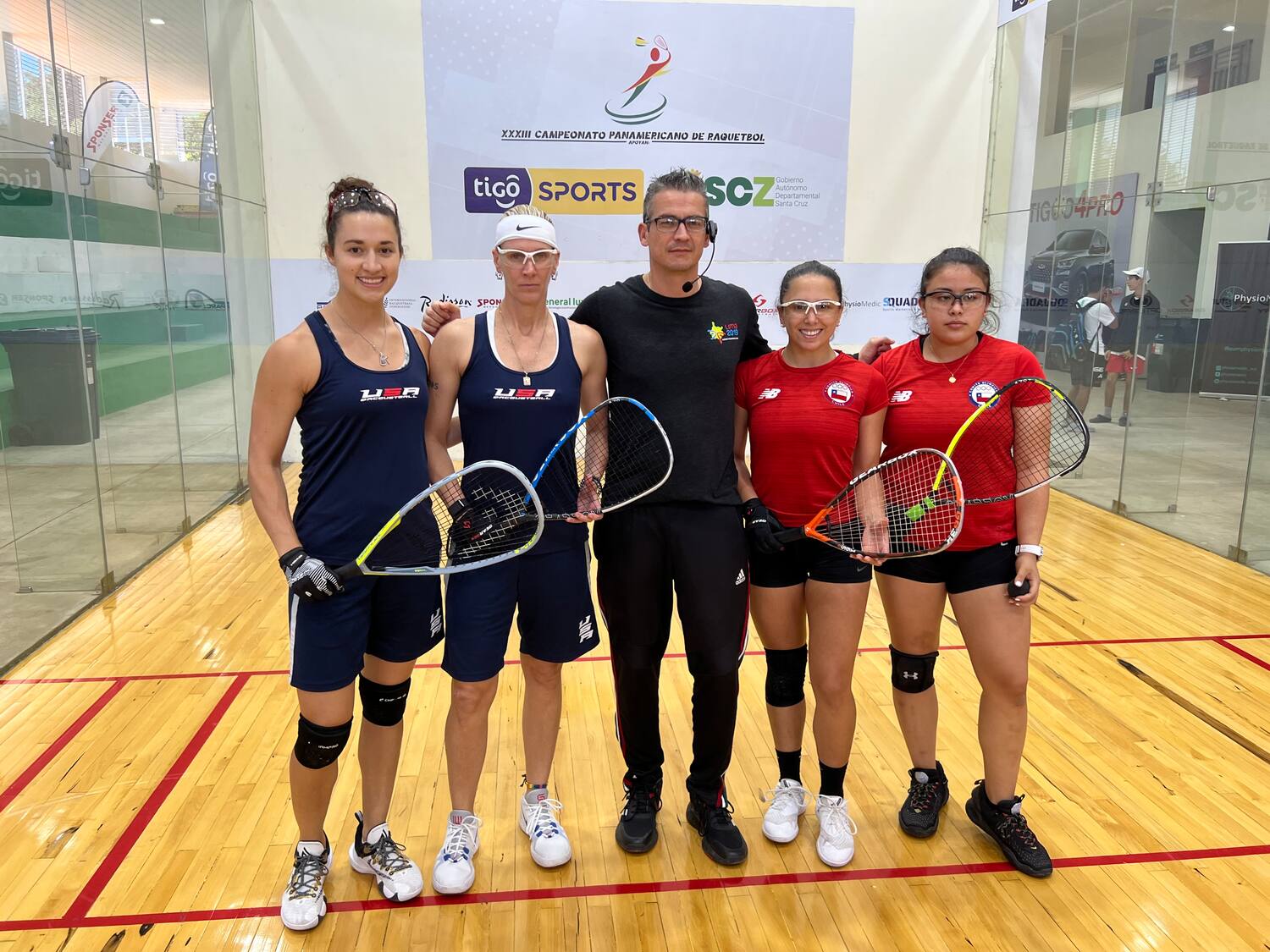 The semifinal men's match against Mexico started with Alex Landa playing the talented Rodrigo Montoya. Montoya was tough in this match, hitting pinch winners with his backhand off of back wall setups and getting to every Landa error. Landa was struggling with Montoya's serves and never mounted an effective offense. Montoya could smell victory and played at a quick pace to take advantage of the eleven-point game format. It worked, and he took the match in three quick games.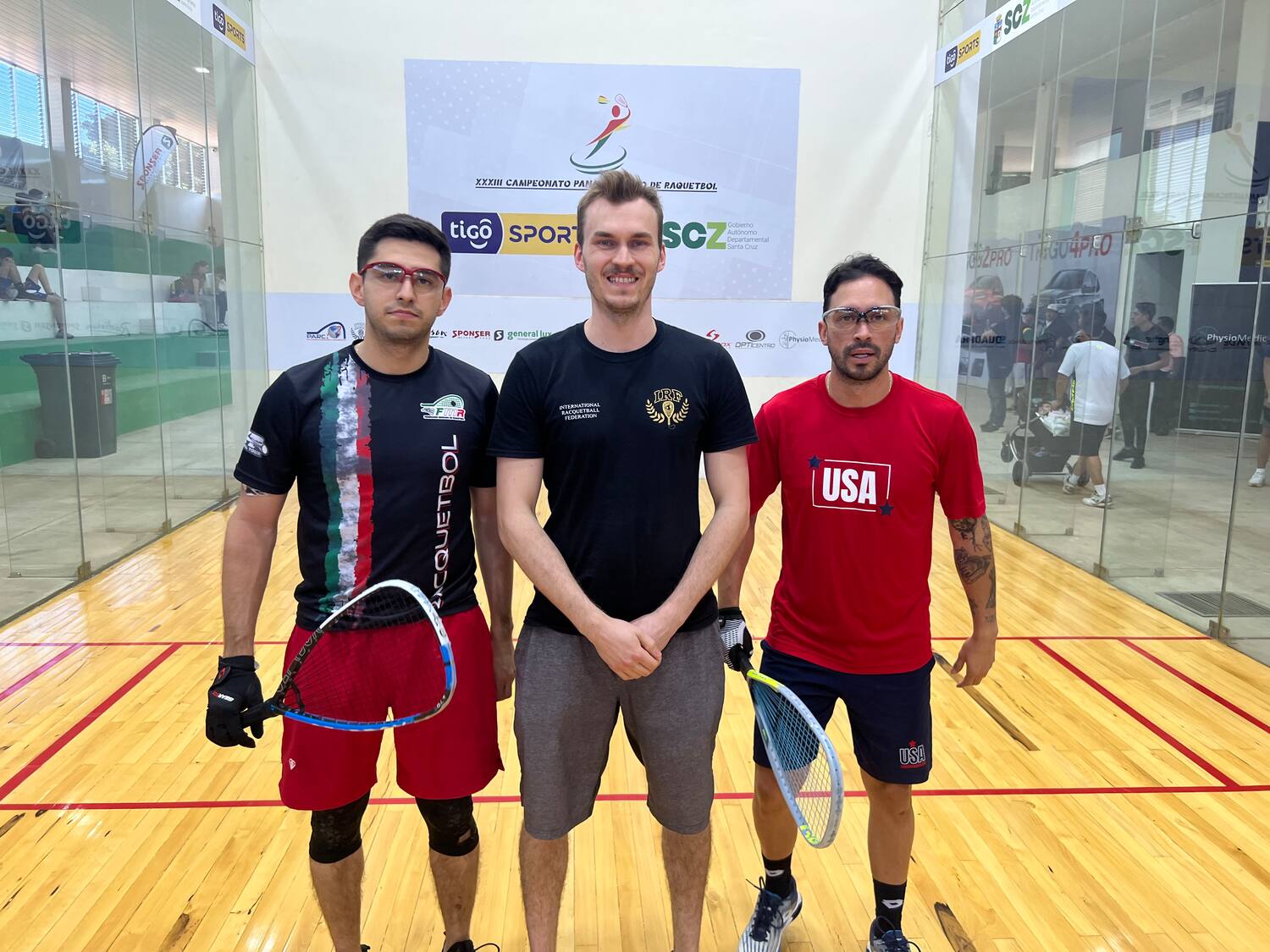 The Bredenbeck brothers had a tough task now to keep the USA in the hunt. The Mexican team of Montoya/Trujillo is a tough one. Montoya has won international titles and Trujillo is nails on the right. Sam and Jake played with heart and determination. Montoya was returning serve and playing in the zone. Trujillo was hitting well also and the Americans were finding points hard to come by. Jake's pinches were left up just a bit, and the Mexicans were getting to them and putting them away. On the left, Sam was having a tough time scoring against Montoya. In the end, Montoya controlled this match and the Mexicans eliminated Team USA with a three-game win.
Our Women's Team USA faced the powerhouse Bolivians in the other semifinal. The Rhonda Rajsich vs. Maria Vargas match got us started. Maria is ranked third on the LPRT and is a consistent and tough competitor. Rhonda, as we all know, is one of the most decorated international competitors in history. Playing in front of the home crowd gave Vargas some fuel for her competitive fire, and she played a strong match, keeping the American reaching for her drive serves and cleanly putting away winners. Rajsich fought gamely for Team USA but Vargas was too much in this one and the match went to Argentina.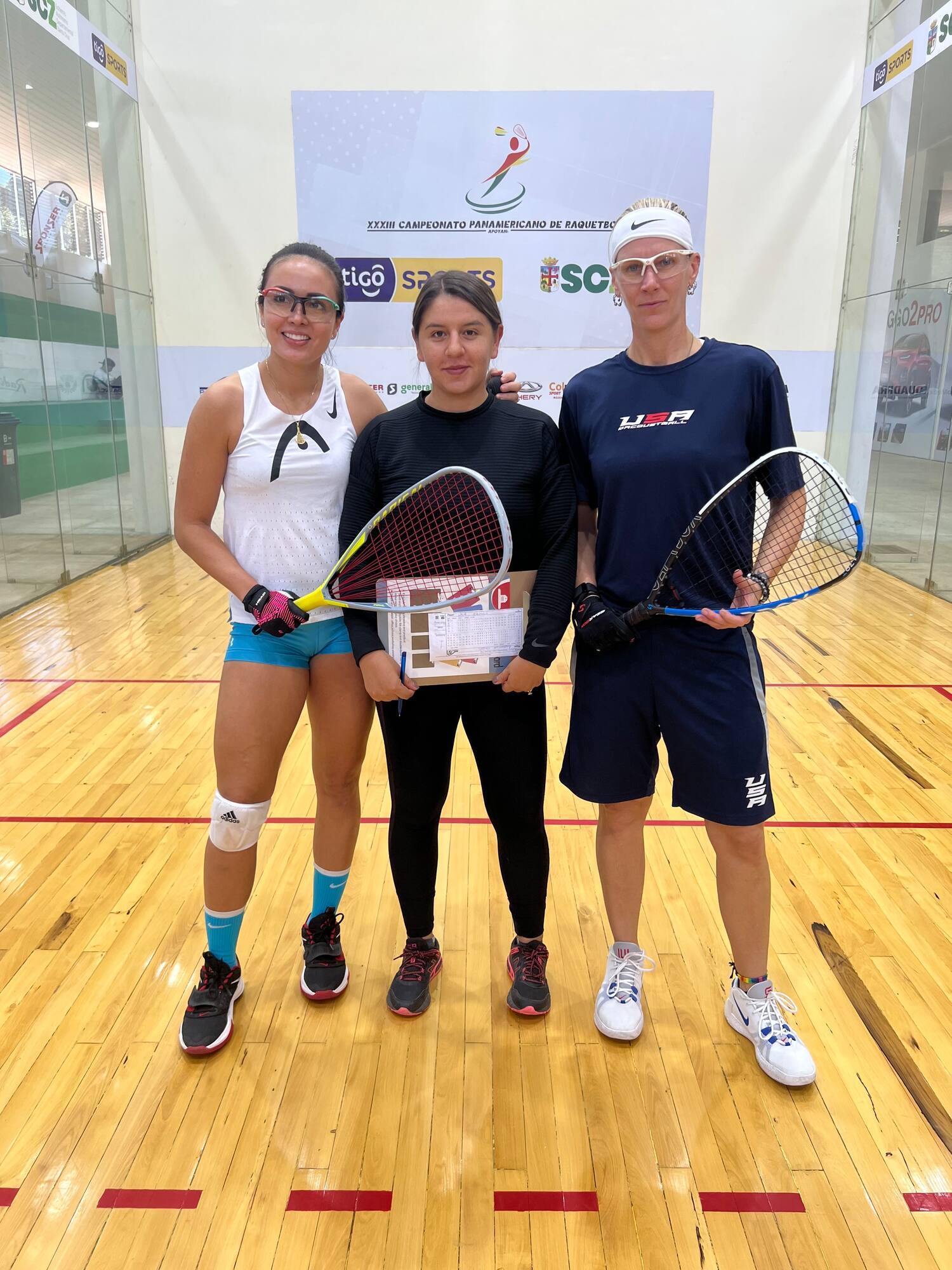 In one of the best doubles matches of the week, Rhonda/Erika were allied against Vargas/Mendez who had won the main draw championship the night before, beating Samantha Salas/Alexandra Herrera in a marathon five-game match after defeating the Americans in a gritty contest in the semis. Erika was using an excellent hard Z to Mendez on the right and getting some weak returns, then putting away plums with a powerful straight-in kill. Rhonda was drive serving Vargas on the left and scoring with her own straight-in backhand rollouts. It was like watching two matching rollout bookends. The Argentinians fought for pride and for the home crowd (they are Bolivians but play for Argentina). Mendez has a wicked good wallpaper lob down the forehand side. When it's perfect, it has to be scraped off the glass. Vargas was drive serving Rhonda and going for the occasional crack-out. That pretty much describes the match. Neither team varied much from that serving strategy. The difference was going to be in who was more precise and who scrapped and fought for every point most fiercely. That, and who would the racquetball gods smile upon with a sidewall crack rollout or a defensive return that ends up un-returnable in a back corner? The Americans rode their kill game to a close 11-9 win in the first. Game two, the score was reversed and went 11-9 to Argentina. All four were diving and stretching for every shot. You had the feeling that if they played all day there would never be more than a two-point separation. Argentina took game three, 11-9, and the Americans suddenly faced elimination. With their backs to the wall they played a superb fourth game. Rhonda and Erika both had that "not on me" mentality. Erika was upfront re-killing Mendez DTLs and cross court bombs from Vargas. Rhonda used a precise ceiling game and killed the first errant return from the Argentinians. Game four to the U.S. duo 11-5. The tiebreaker followed form. Both teams displaying the grit that makes them great. Vargas was diving and Mendez was smacking wide angles. Manilla covered front court and blasted straight-in kills. At 7-5 Argentina hit a retrieval way long down the middle. Rhonda and Erika both took a step to go get it and then both backed off thinking the other was on it. It looked like it was going to be a big break for the Argentinians, but Erika sprinted, dove, and hit a stabbed rollout winner. There's a huge difference between 7-6 and 8-5 in an eleven-point rally scoring game. Bullet dodged by the Americans. In the next rally, Rhonda was set up for a shot off the backwall at 38 feet. The ball spun awkwardly into her body and she hit a jump-back-flicked-wrist rollout to tie it 7-7. A four-point battle ensued. The Americans got the eleventh point when Vargas (at 9-10) tried to sneak a jam serve to Erika's backhand. Manilla ripped a flat winner, and this spectacular match went to Rajsich and Manilla.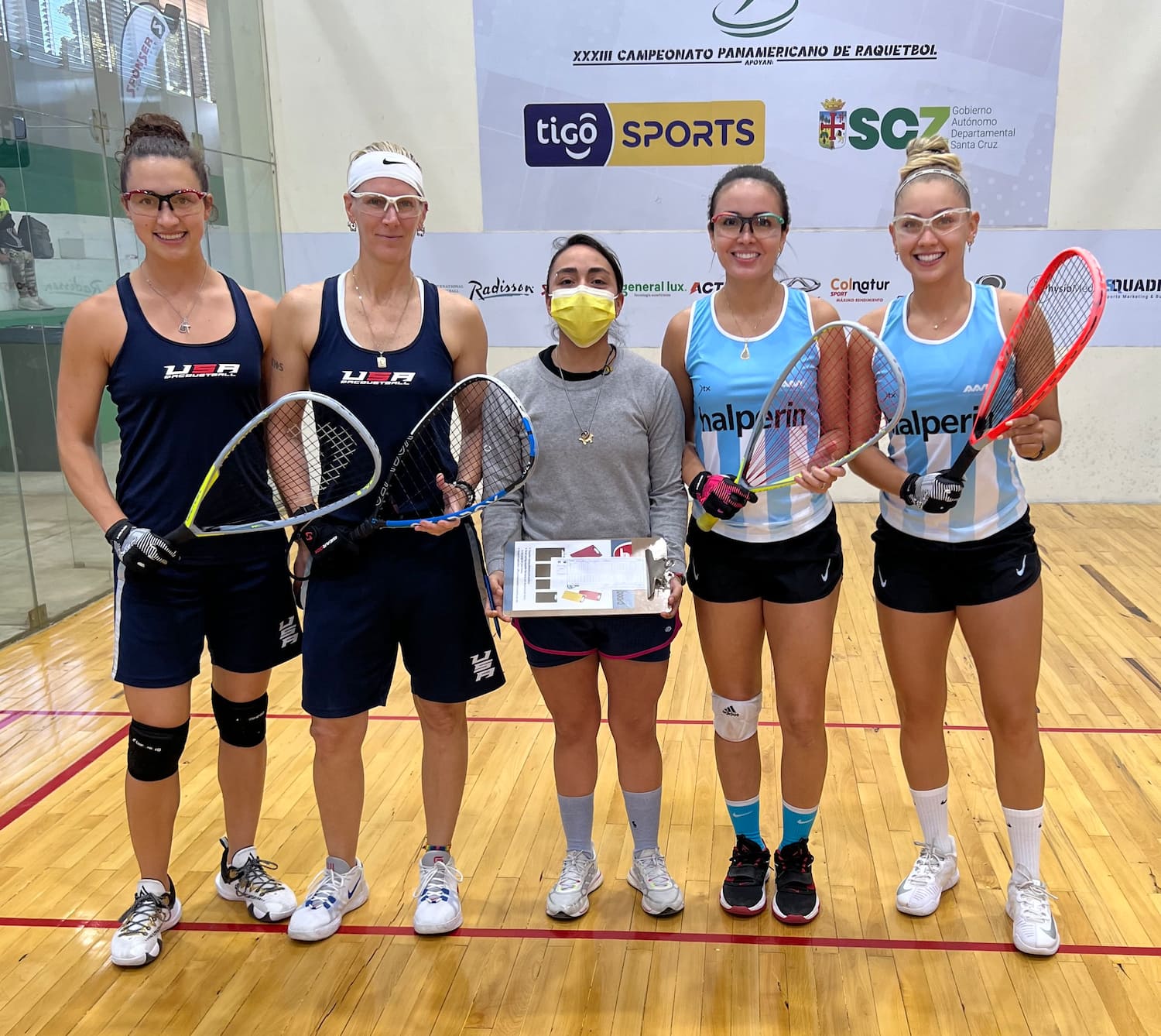 That set up the tiebreaker match pitting Kelani Lawrence against Natalia Mendez to decide who would advance to the finals against Mexico. Mendez was tremendous in this one Great serves followed by precise kills kept Lawrence from getting any momentum. Natalia was playing so well that Kelani (one of the best "getters" in the women's game) was not able to extend rallies with her speed. Kelani couldn't find a serve to score with, and this one was all Mendez. Argentina moved on to the finals.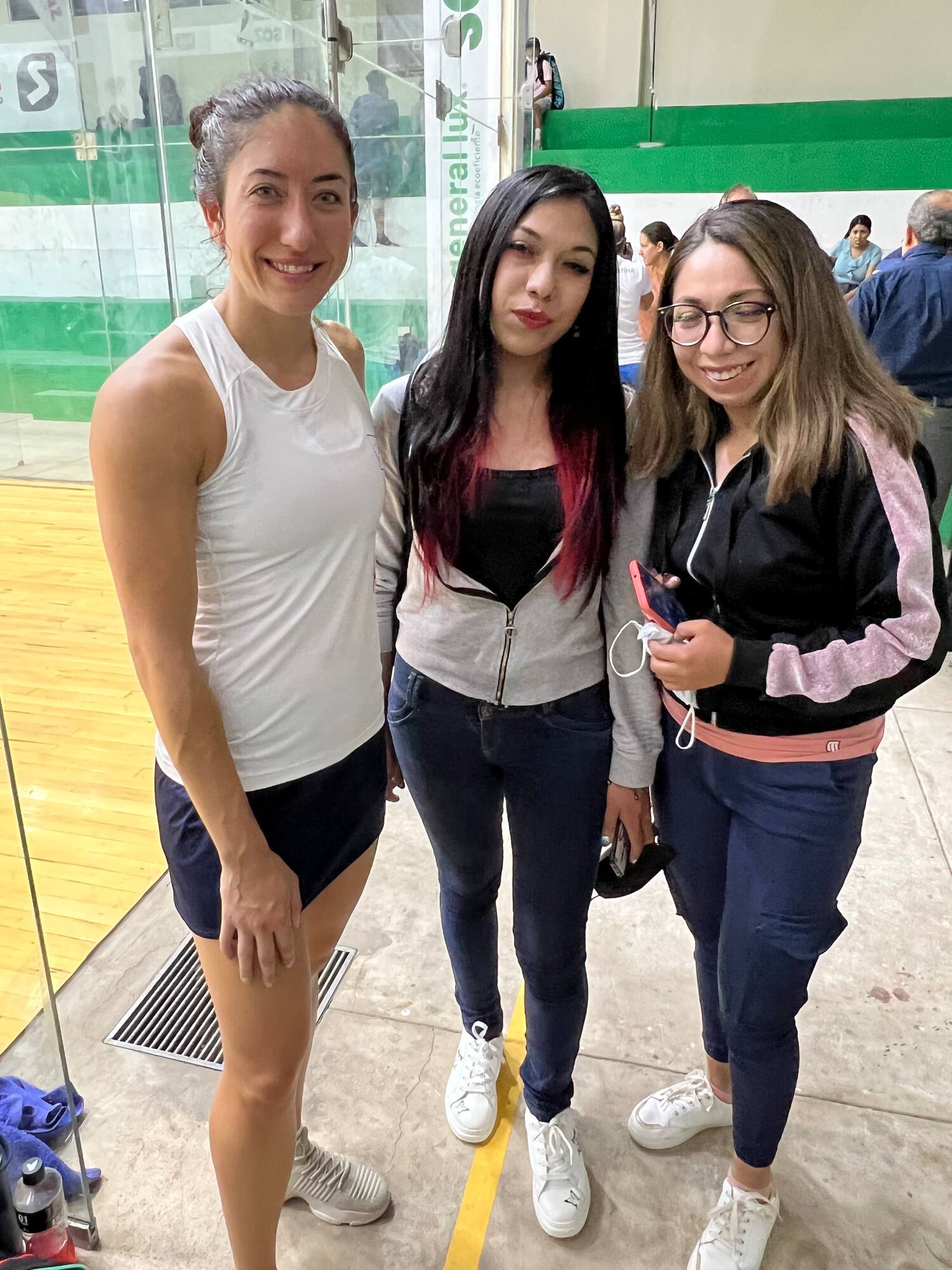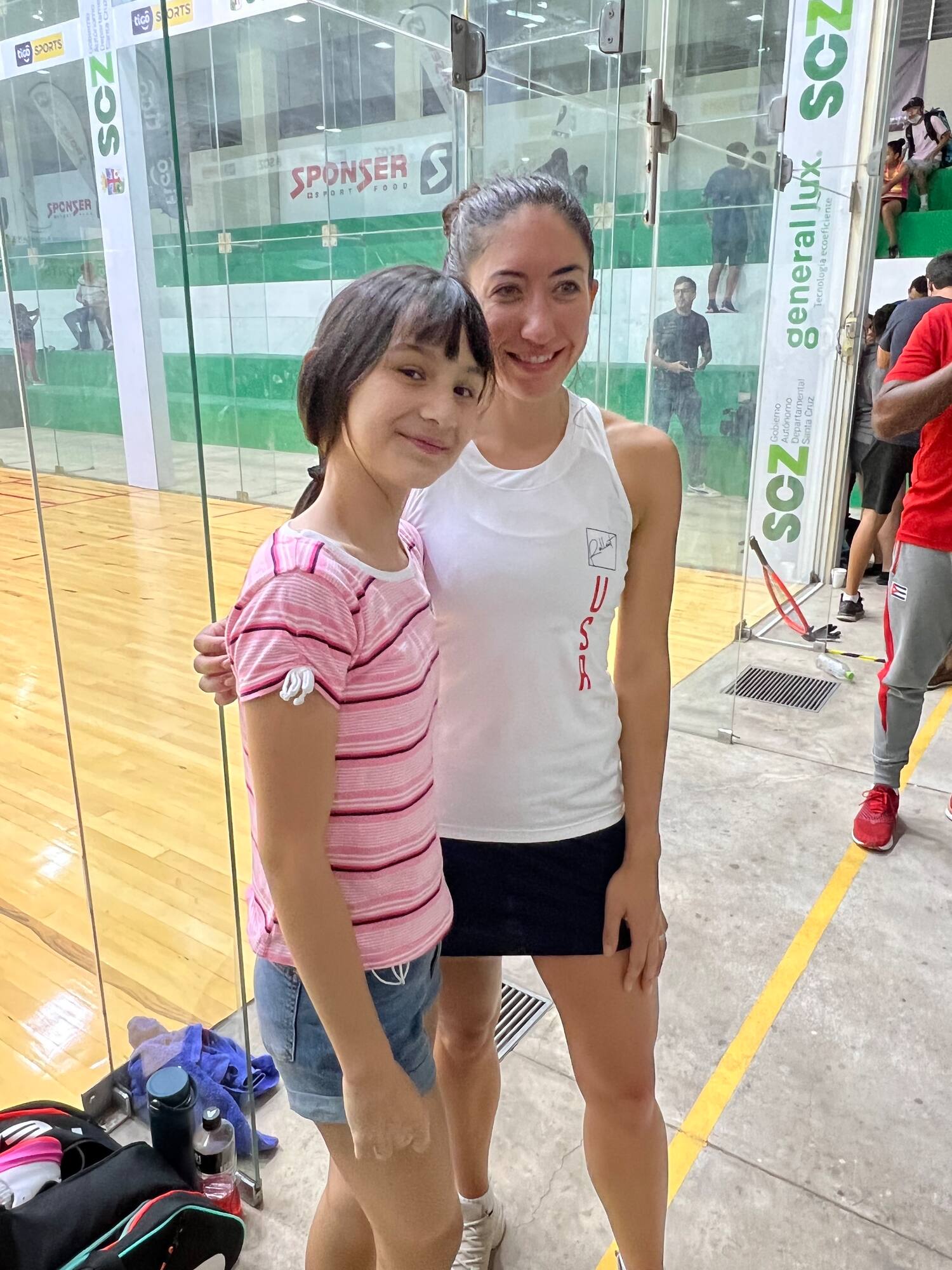 It's been a long week. Our team played with heart, and the racquetball community should be proud of them. It is also encouraging to see so many young people from the "Americas" learning about one another and building a community in and beyond racquetball that can only help to make this a better world...one where we value each other and build an enduring respect for the welfare of all.
The athletes would like to express their gratitude for those that have donated to their fundraising efforts.
Salvador Acosta
Matthew Bajan
John Behm
Don Barrows
Emily Bloedel
Georgette Blomquist
Craig C
Mary Caltagirone
Chad Copher
Matthew Dockter
James Douglas
Louis Drzewiecki
Jim Durham
Tom Durham
Shannon Feaster
Karen Guzman
Kevin Hayes
Tim Iseminger
Cheryl Jones
Renae Lampkin
Michael C Lippitt
Max Lopez
Moshe Mann
Dan Muths
Scott Nail
Brian Nagorski
Michael Pawka
Daniel Ramirez
Carrie Reitmeier
Thomas Resendez
Amy Risley
Randall Root
Stewart Solomon
Tracey Stevens
Joe H. Sullivan
Jeffrey Thompson
Jaime Torres
Oscar Vargas
Damian Zamorano
_____________________________________________________________________________
Blog #6
XXXIII Pan American Racquetball Championships (PARC)
Santa Cruz de la Sierra, Bolivia
Wednesday, April 13, 2022
Wednesday morning we saw a display of Bolivian weather that was impressive. A tropical storm that lasted at least four hours drenched the city with sheets of big ol fat rain. The streets were flooded and the Piray River, which is right in front of our hotel, was flowing brown and strong. Kelani, Alex, and I were riding to the club in an Uber that had a broken window in the back when a truck passed us and sent a sheet of water spraying through the cab. I was next to the broken window and got the worst of it. We all had a good laugh about it and it gave me a chance to do a "wall sit" the rest of the way to avoid the puddle that was now my seat.
It was semifinals day and Team USA had four matches to play, every one of them against some of the best players in the world.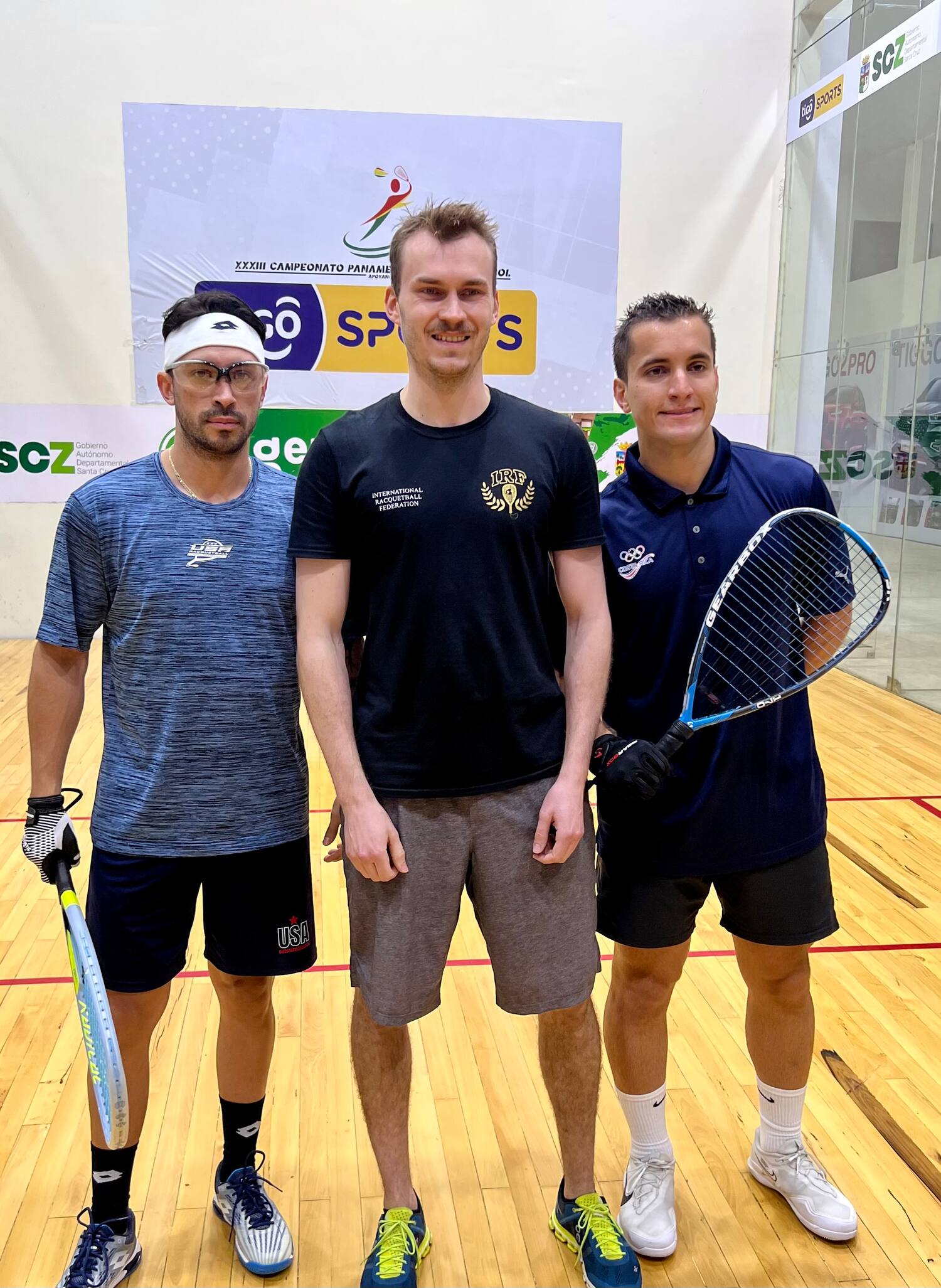 Alex Landa was first up at 9:45 am against Andres Acuña of Costa Rica. They met in the finals at the 2021 IRF World Championships in Guatemala City where Landa captured the World Champion title. Acuña was all business preparing for the match and looked determined to take this one. Alex was confident and relaxed during the warmup session. The play was intense from the start. Every minor mistake was punished. Alex's nick lob was working. Acuña was short hopping them and skipping. He was using his own nick lob, and Landa was judging them well and going to the ceiling or shooting them down the line. Both were drive serving with sporadic success on their first serve. Skipped service returns on Andres's part along and perfect down-the-line kills and passes by Landa generated points. Acuña was covering court and re-killing any Landa error. The game was tight all the way to the end with Andres just nipping the American,15-14. Landa regrouped, got his drive serve in, and cleaned up with precise DTL kills and passes. Acuña had now found the range on the short hop kill of Landa's nick lob. This put pressure on Alex to get his drive serve in, which he did. This one was tense to the end with Landa winning, 15-14. The Costa Rican covered the court well and played superb racquetball in the third. He was drive serving well to both sides, returning serve effectively, scrambling all over the court, and constantly pressuring Alex. Landa left just a few backhand DTLs off the sidewall and couldn't find an effective second serve. Game three to Acuna,15-12. Both players stepped up their already-impressive play to begin game four. Landa found some second serves (half lob Z right and half lob down the left side) that earned a few points, and his drive serve to the left was working. The Costa Rican mixed his drive serves well and was scoring with an occasional forehand serve. It was back and forth all the way. In two long rallies, with both players digging, diving, and scrapping for every shot, Landa finally got a little setup up ten feet from the front wall, but tried to hit bottom board and skipped them in. Those would have given him the game, but Acuña finished it out, taking the game and match, 15-14.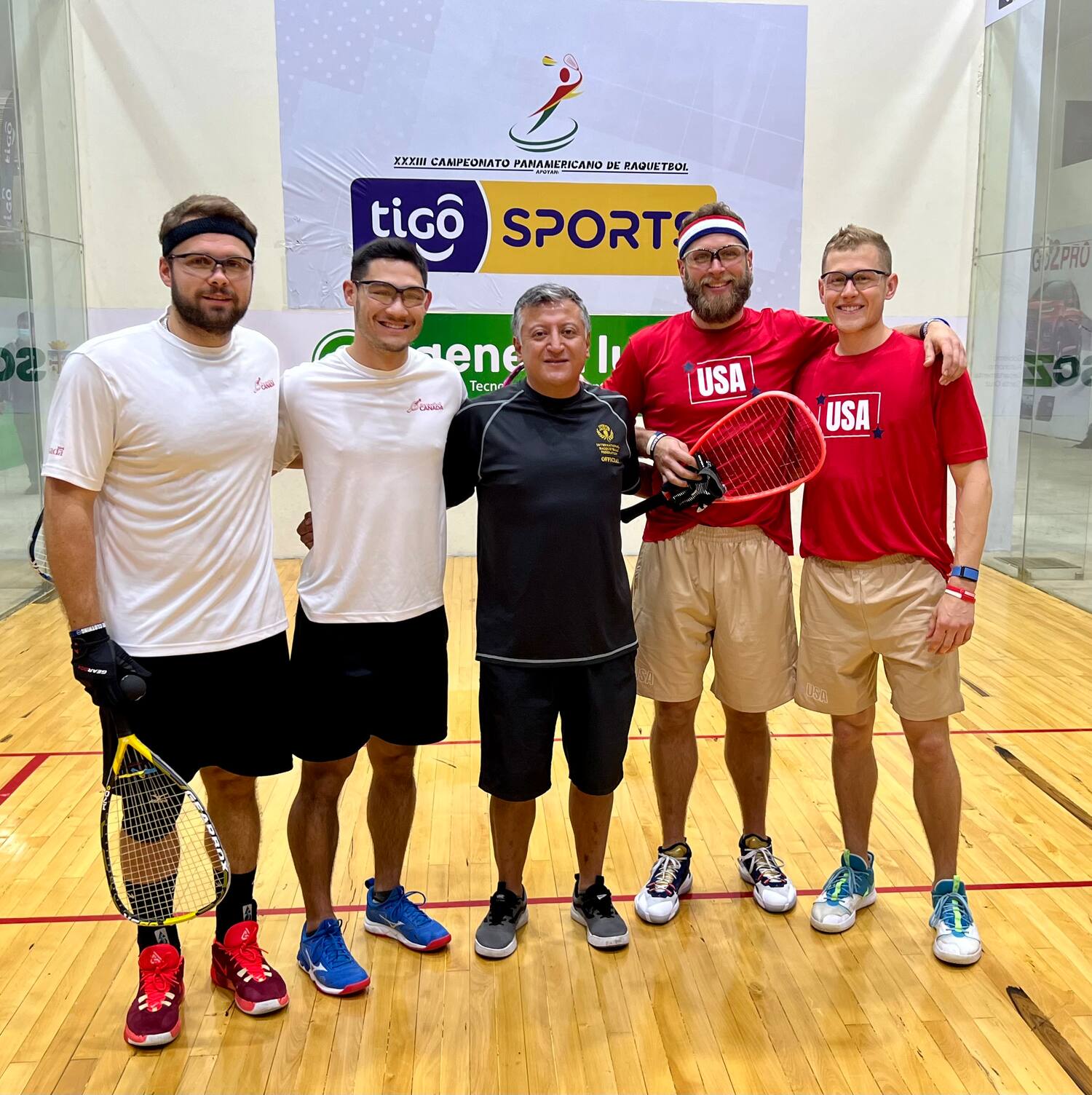 Jake and Sam Bredenbeck (AKA Team Kappa Kappa Rollout) vs. Coby Iwaasa/Samuel Murray of Canada was the match up next. Murray/Iwaasa are a talented and experienced doubles team. They have competed in international competitions many times, and they are a formidable pair. Jake and Sam had some tough work on their hands, and they knew it. Sam started his bomb of a drive serve and got some points out of Murray. Jake was hitting drives down the line and hard Zs at Iwaasa. The Canadians returned serve stubbornly and service points were hard to come by. Murray's lobs and Zs at Sam and Iwaasa's lobs down the line were getting points, but no one was making big service runs. Iwaasa made a few errors in the back corner to keep the game close. These four all play an aggressive style. Fast and furious rallies are the norm. Pinches have to be near-perfect to work. Wide angles were banged into the back wall or flat rolled if they wrapped around and off the back wall. The first game was close but the Canadians killed the ball a bit more effectively and a few errors by the brothers amounted to a Canadian first game win, 15-13. Coby was hitting a precise hard Z in the second game that Jake had to bang off of the glass, and Coby was rolling the returns. Murray was using the same serve on the left and getting points with it. Sam's drive serve was a point-getter when it stayed off of the back wall, and Jake's hard Z and lobs were working, too. There were no big point spreads in this one and once again a few more flat rolls by Murray (his back wall play is scary good) were the difference in this 15-13 Canadian win. Game three started with a run of points by Coby on the right side. Jake was ripping great returns down the forehand line but Coby was planted up front and tight to the wall for re-kills. The Americans were stroking the ball well but not gaining any momentum to mount a comeback. Jake and Sam switched sides late in the game and made a three-point run with Sam rolling out a couple of forehands and Jake ripping cross court to get him the setups. Murray and Iwaasa stayed steady, though, and took the game 15-12. Match to Canada.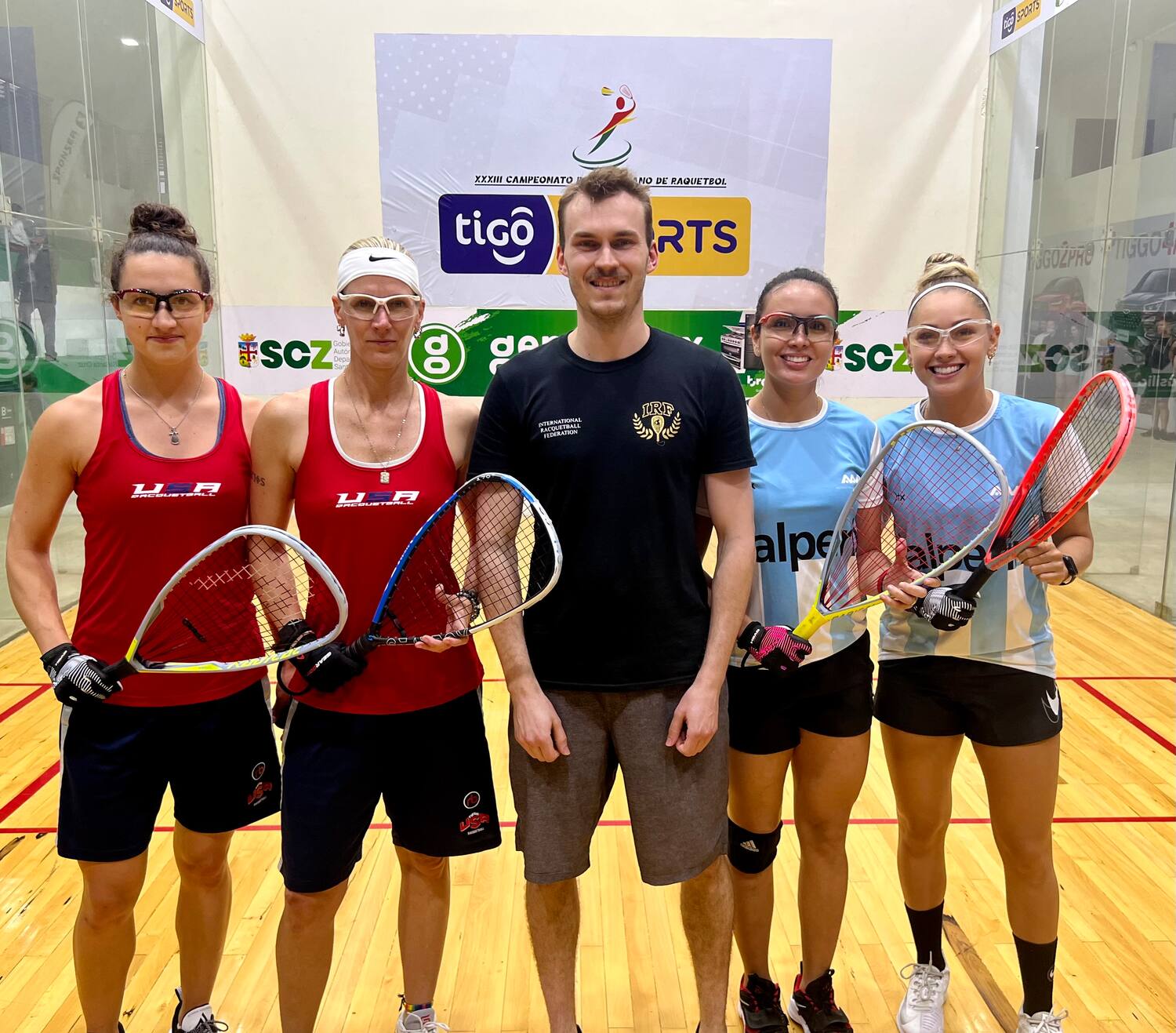 Rhonda Rajsich/Erika Manilla vs. Maria Jose Vargas/Natalia Mendez of Argentina. These two powerhouse teams are evenly matched. Mendez/Vargas are experienced in international play and one of the best teams in the world. Rajsich/Manilla are a newer pairing who have gelled quickly and inspired one another to victory in match after match. Mendez/Vargas came out strong with Mendez hitting a wickedly effective high lob down the right side glass. Rajsich hit some smooth straight-in kills and backhand reverse pinches but this one went to Argentina, 15-11. The Americans won game two with Rhonda hitting rollouts and Erika blasting down the line and extending rallies with stabbing gets. At one game each, both teams had found their grooves. Vargas was killing her back wall setups. Mendez's lob serve and cross court blasts were working. Rajsich was shooting straight down the line like a champ. Manilla's straight in kill was money. Team USA were winning most of the ceiling ball rallies. Mendez was hitting her ceiling ball with a bit too much angle and Rhonda was flat rolling them down the line. Neither team made a run to separate themselves from the other. It was one of those "who's going to get one little break or one shot" games. It was Argentina in this one, winning 15-14. Game four was the same. Rhonda and Erika killing their setups. Erika playing in front of the five-foot-line and re-killing anything that came her way. Rhonda staying steady on the left with her driving kills. Mendez and Vargas were on their game, killing setups and serving quality Zs and high lobs. Back and forth it went: six- and seven-shot ceiling ball rallies with both teams waiting for their chance for a kill. Erika was roaming the front court hitting forehand reverse pinches and driving passes left and right. In the end it was the same result as game three with Mendez/Vargas winning a heartbreaker,15-14. Game and match Argentina.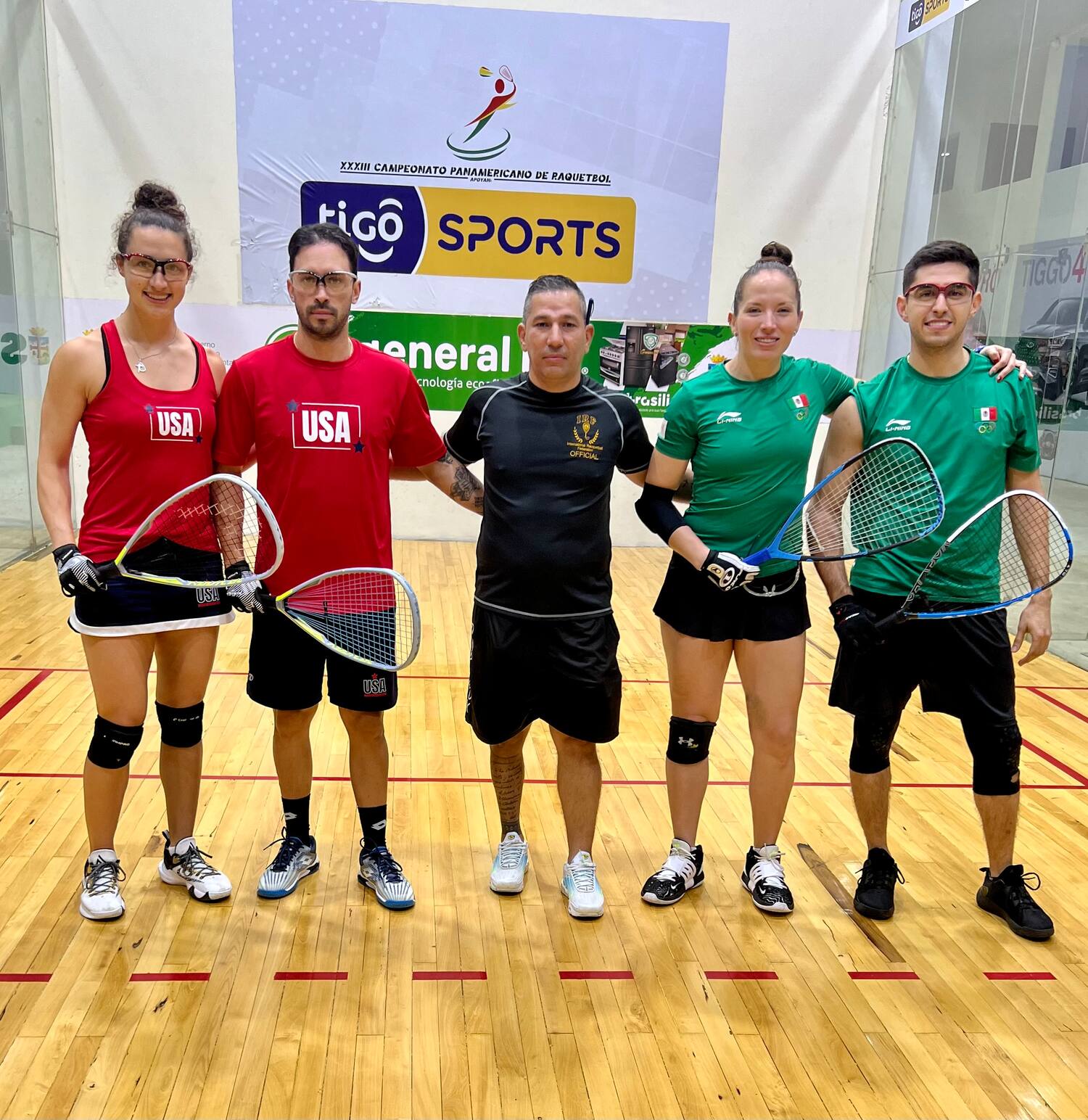 The last 4:30 match of the day (Landa/Manilla vs. Rodrigo Montoya/Samantha Salas) went off closer to 8:30. The broadcast team was gone. The cleanup crew was working and the ambulance drivers were nearly asleep. Both teams were ready to play for national pride, though. The newly-paired team (for this event) of Landa/Manilla have grown stronger as they made their way through pool play. Alex is the shooter and Manilla, although she shoots beautifully herself, was blasting passes down the line for winners and to keep the ball on her side. Montoya was on the left, and he has vast doubles experience. Even a perfect wide angle pass is tough to get by him. Salas loves the cross court wide angle, but Alex has the ability to put those away with backhand pinches, kills, and down-the-lines. That combination of Erika's DTL and Alex's shooting worked beautifully for the Americans, and they took games one and two 15-13, 15-12. The Mexicans came back in game three. Alex and Erika made a few more errors, and Montoya was scrambling for gets and hitting backhand pinch winners. Salas found her straight-in kill and the result was a 15-8 win for Mexico. About halfway through game four Alex got tripped up with Salas and fell to the floor. The ref did not stop play and a bit of a dangerous situation ensued with Alex on the floor and everyone else still playing. Landa got up and unhappily complained about the referee not stopping play and allowing a dangerous situation to continue, a bit too vociferously for the referee's liking, and he was given three technicals for continuing to argue. Game and match to Mexico.
On Friday we start the team competition. This tourney is far from over. The team is strong, and we are refocusing on winning the team crown, which is separate from the week's qualifying competition. Today (Thursday) we can relax a bit and let our bodies and minds recover.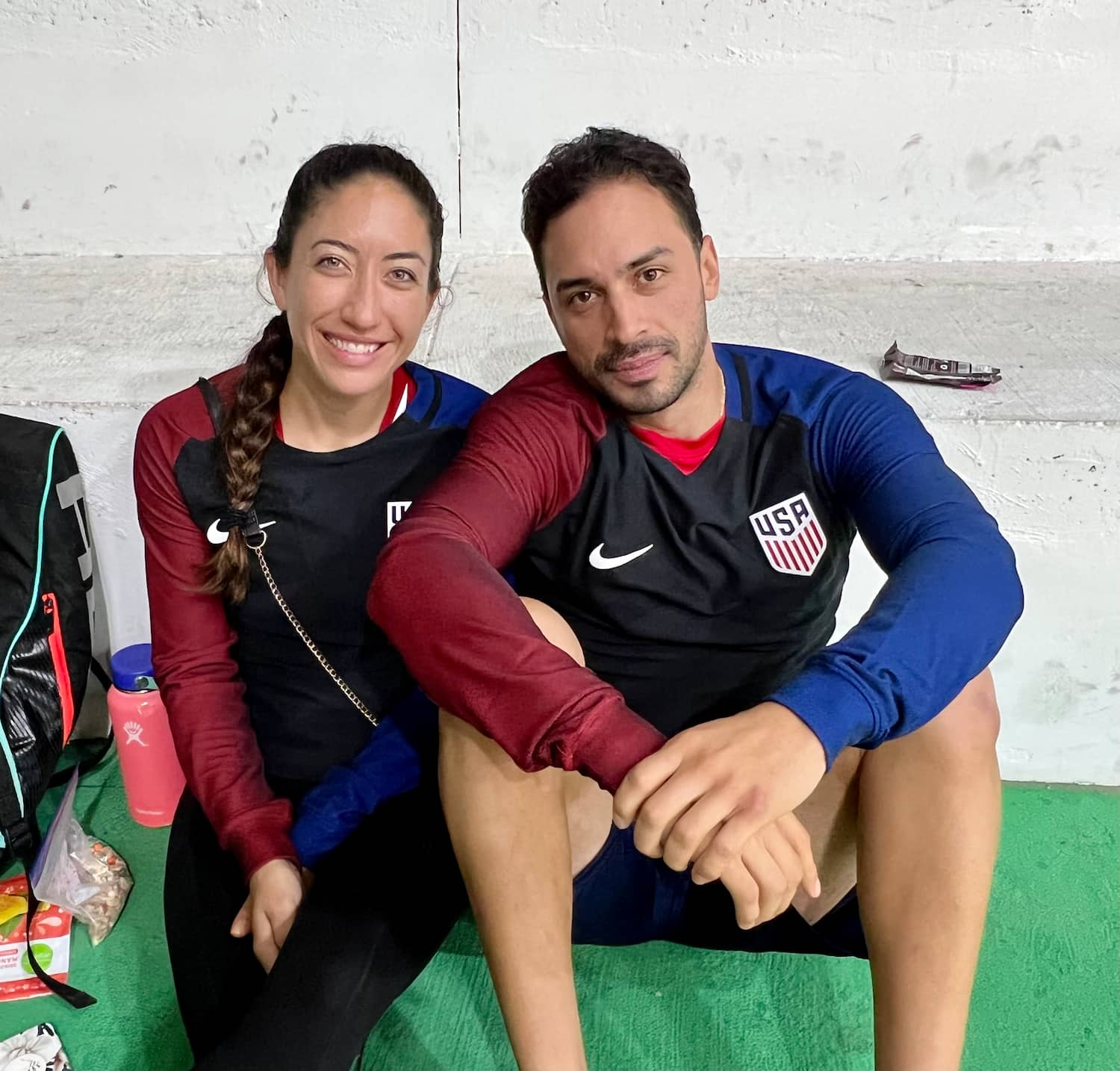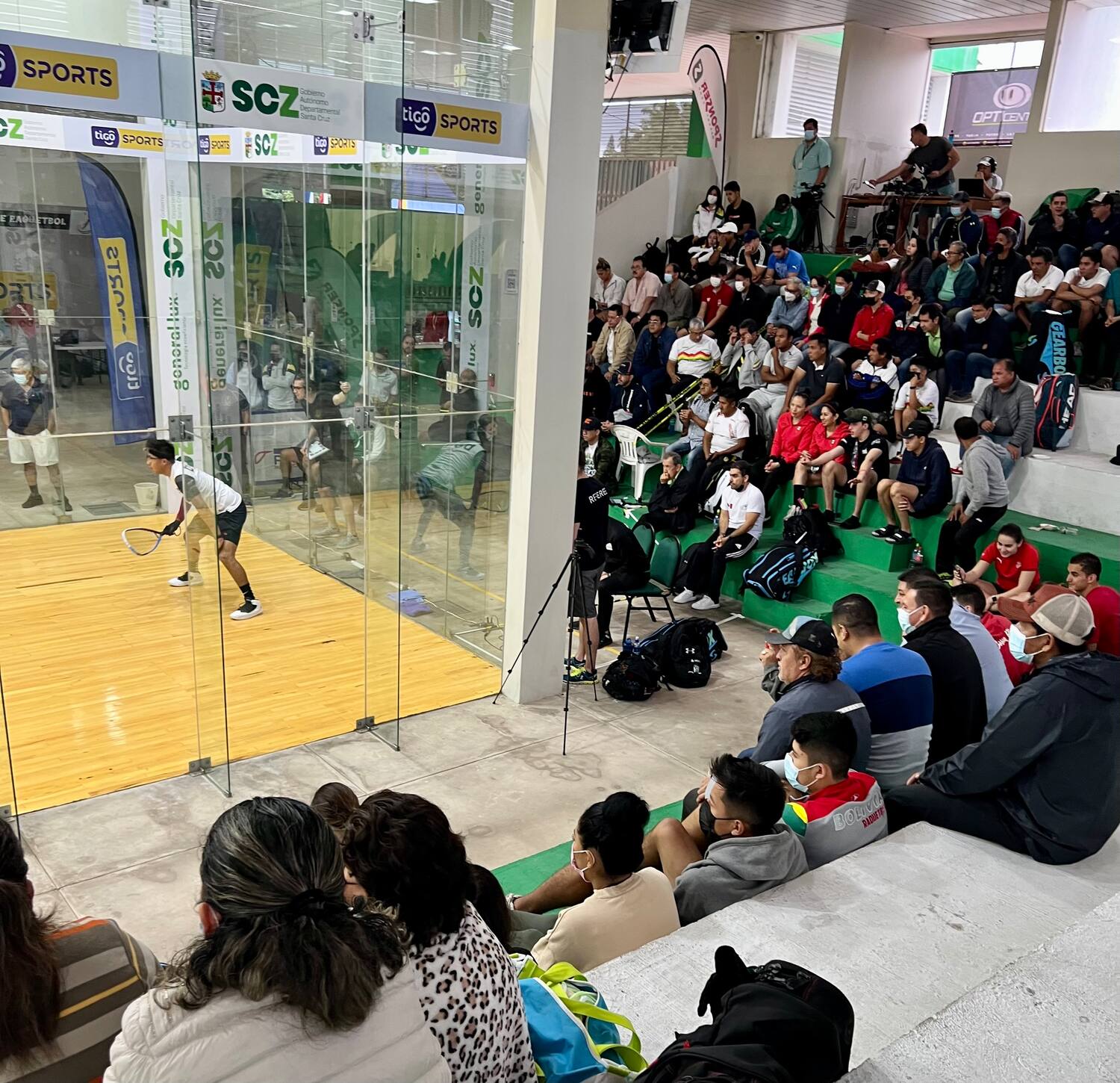 GO TEAM USA!!
_____________________________________________________________________________
Blog #5
XXXIII Pan American Racquetball Championships (PARC)
Santa Cruz de la Sierra, Bolivia
Tuesday, April 12, 2022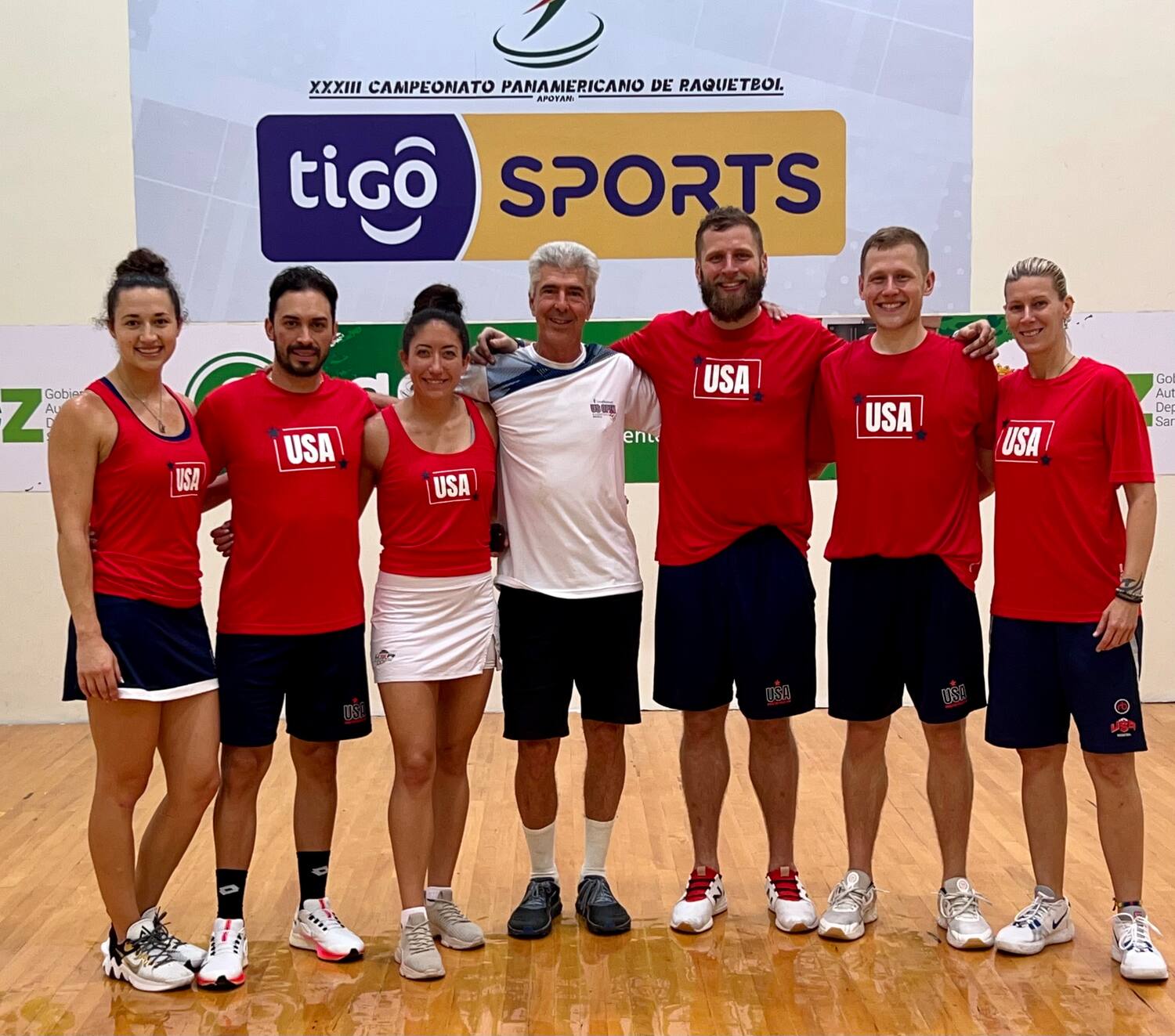 Kelani got the day started vs. the young Bolivian Angelica Barrios. Barrios is strong from either side, and Kelani struggled to find an effective serve in game one. Barrios was putting away her setups and stabbing back Kelani's passes with dink kills. Kelani played solid, but Angelica took the game, 15-7. In game two, Kelani began to hit some solid serves. A combination of a drive serves right and left and hard Zs were forcing weak returns. Kelani began hitting her cross courts a little wider and out of Barrios's reach. That well-executed serve and shot selection strategy was a winning combination. Kelani took game two, 15-10. She rode that momentum to a 5-0 lead in game three only to see Barrios sharpen her own game and slowly chip away at the lead until the two were tied up 10-10 late in the game. From there it was a close battle with Barrios getting to passing shots more effectively and Lawrence covering court and extending rallies. At 14-14 there was a long rally with both players pinching and covering in the front court. A Barrios backhand pinch caught Lawrence wrong-footed to end the game, 15-14. Angelica was energized by that comeback win and played with confidence and precision in the next two games. Kelani has no quit in her and she fought for every point, but the Bolivian served well, put away her setups, and killed any serve from Kelani that was not perfect. Game four and the match went to the Bolivian who then went on to defeat Alexandra Herrera (ranked #2 on the LPRT) in the quarterfinals.
Rhonda Rajsich vs. Carla Muñoz of Chile: it was a tight first game. Rhonda came out ready to win. Both players were using drive serves left and right as their main weapons. Rhonda likes to stand left of center and serve behind herself, but the referee was calling screen serves consistently on that, forcing Rajsich more to the middle. This opened up the down-the-line for Carla, and she hit that return effectively. Both of them were putting away their setups, and a few unforced errors error by Rhonda were the difference in the game with Muñoz winning, 15-13. Rajsich came back strong, serving well and shooting down the backhand line even better. She took game two, 15-10. The Chilean was competing with fearless determination in game three. She played the serve-and-shoot game well and took the third, 15-11. Now both players looked focused and bent on winning game four. The game had few unforced errors. Rhonda's drive serve to Carla's backhand was generating points and so was Carla's. Rhonda was putting away her setups while Carla was scrambling for every ball. Rajsich's diving gets in the front court put pressure on Muñoz and extended rallies. Rajsich fought to the end like the warrior that she is, but Muñoz stayed steady and pulled this one out to win the match, 15-13.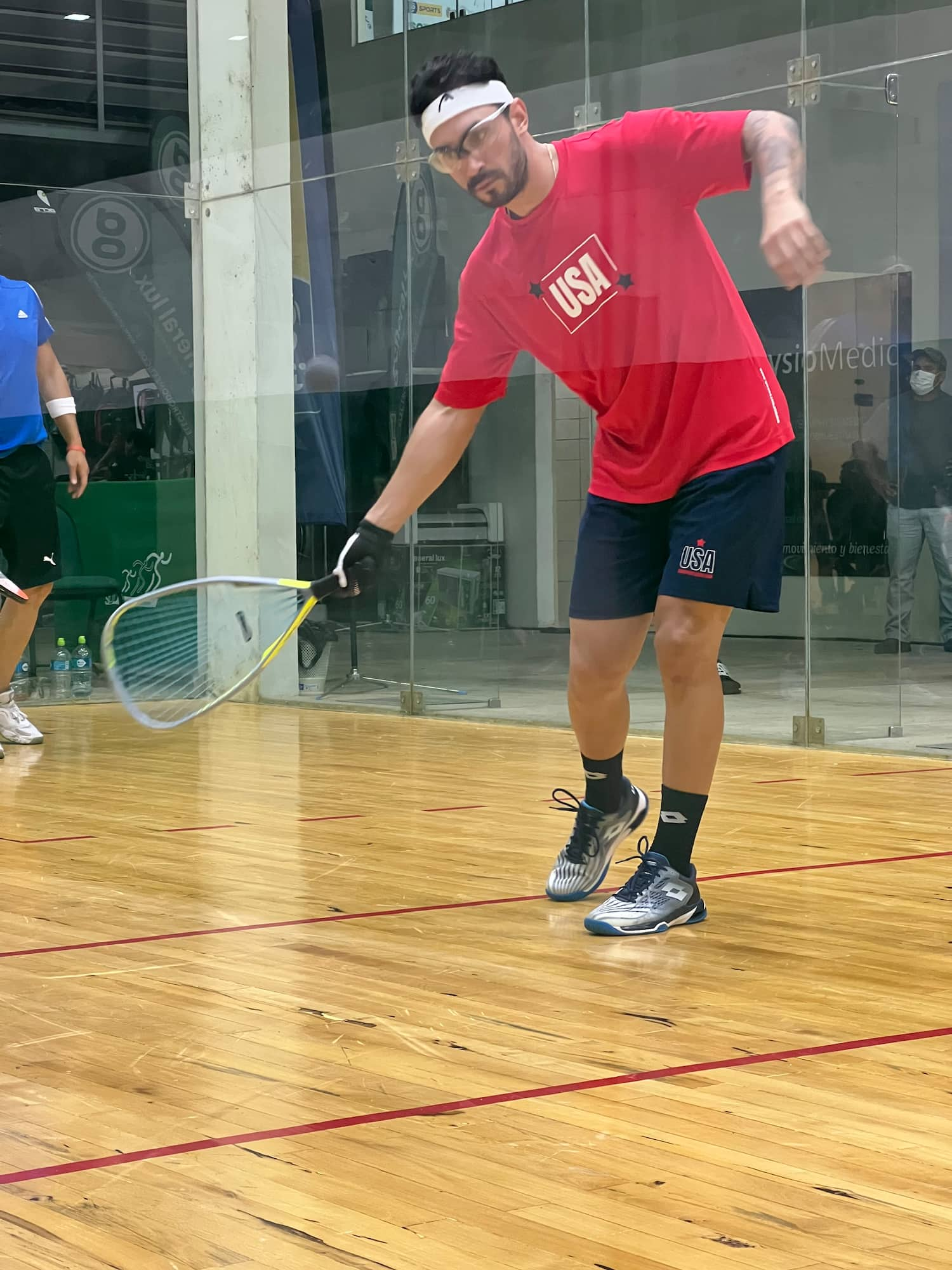 Alex Landa vs. Samuel Murray of Canada was next up. These are two titans of the IRT, and this would have been a good match up for the show court. Landa came out firing on all cylinders. His bullet drive serve left was going in and there was little Sam could do but stab it back. Landa was shooting and serving superbly, and Murray could not quite match that serving efficiency. The first game went to Alex,15-12. Murray showed his mettle in the second, covering court like a leopard on the prowl. Even near-perfect shots were covered and ripped somewhere. Rally Zs, ceiling balls, and around-the-wall balls struck at Mach speed made for an electric display of racquetball. Landa kept up his high percentage game of precise passes and the occasional pinch, but the Canadian's energy won game two, 15-9. Alex stayed steady in game three using the same blistering drive serve left and hitting tight down the line winners. Any backhand that caught sidewall and strayed off the wall more than a few inches was covered and put away by Murray. A super precise passing game won this one for Landa, 15-12. Samuel looked a bit fatigued in game four, and that led to just a few errors and few less retrievals. Alex kept the pressure on, and game four went his way,15-10. Match Landa.
Jake Bredenbeck vs. Rodrigo Montoya of Mexico was a rematch of their meeting in Guatemala that Jake won. Montoya is a clever old-schoolish control player while Jake is a power player with great getting ability, so they are an entertaining combo to watch. Montoya served well and pushed Bredenbeck around the court with a combination of pinches and passes. Jake couldn't find the flow in this match and seemed a step behind getting to Montoya's shots. The first game went Rodrigo's way, 15-9. In games two and three the Mexican handled Jake's drive serve well and played a solid high percentage game. Bredenbeck just couldn't find his mojo, and Montoya took advantage winning the next two, 15-8, 15-11.
Pool winners Jake and Sam Bredenbeck played Set Cubillos/Mario Mercado of Colombia in the quarterfinals. The Colombians came out playing well. Sam was missing his setups and Jake wasn't covering the court as well as he usually does. Cubillos/Mercado ran out to an early lead, and it looked like game one would be theirs, until Sam found his stroke and Jake began spanking rollouts on his side. They fought their way back and won, 15-14. Sam was hitting "photon" drive serves at Mercado and getting weak returns that led to points. Mercado asked for wet spot hinder several times because the serves were hit so hard that it looked like they were hitting a wet spot. That's a crushed drive serve, and Mercado never did catch up with it. Jake and Sam were both ripping wide angle cross courts that led to setups that they put away. Games two and three and the match went to the Bredenbeck brothers. 15-8, 15-11.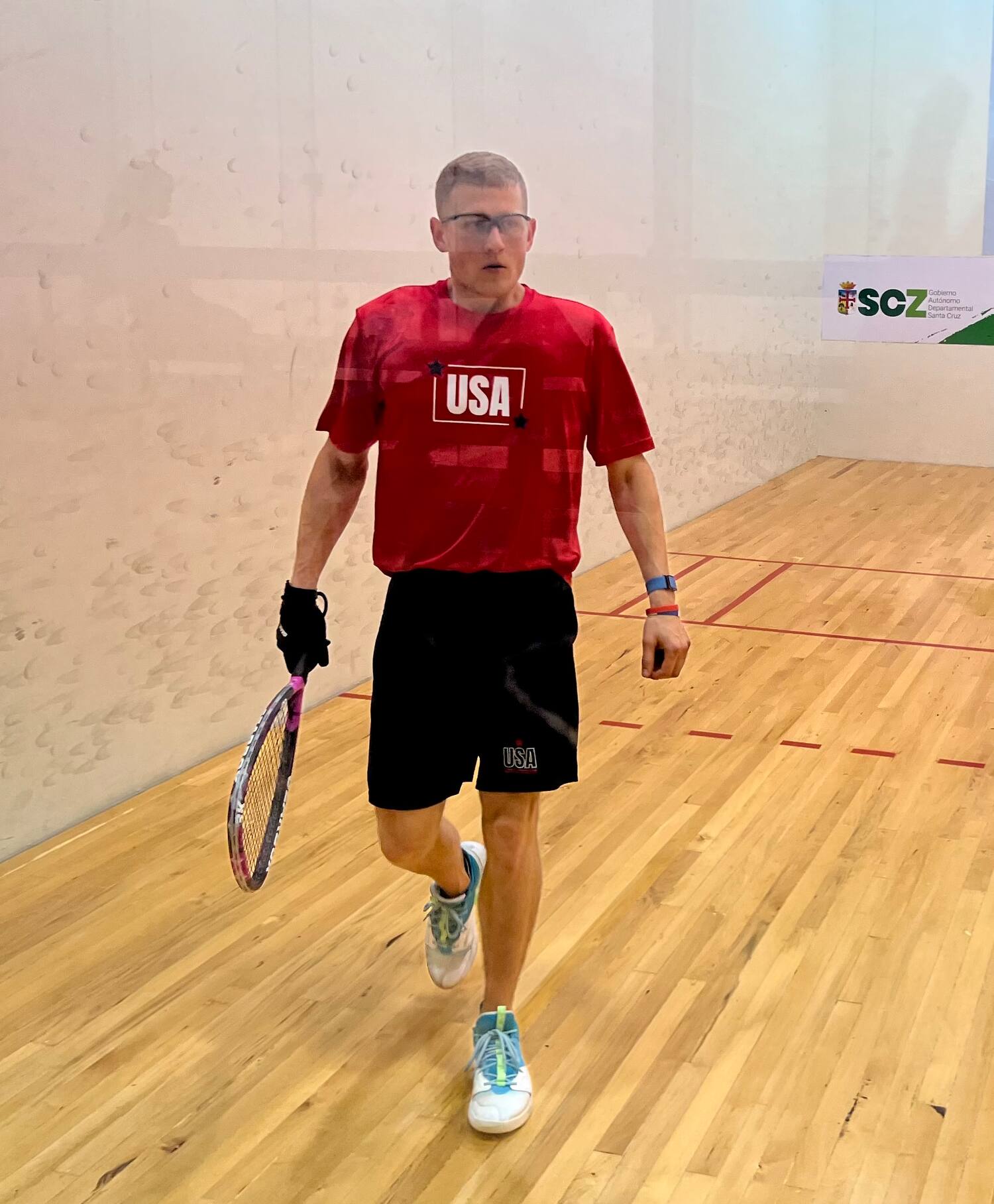 Rhonda/Erika's (Erikonda's) first round match was against the Colombian team of Cristina Amaya/Maria Paz Riquelme. Rhonda and Erika's doubles play is getting sharper as the week progresses, and this proved to be bad news for the Colombians. Cristina and Maria are a talented veteran doubles team. Maria is a lefty playing the right side and Cristina has a variety of weapons and serves on the left. Rhonda and Erika are power, serve, and shoot bombers. Both Americans were serving well and killing their setups. The Colombians could generate little offense and were often in retrieval mode. Rhonda's straight-in kills were generating points on the left and Erika was doing the same on the right. She had her high lob down the right sidewall working, and Amaya was stuck just scrapping it off of the sidewall. This match was all Erikonda, 15-9, 15-5, 15-11.
Alex Landa/Erika Manilla played Maricruz Ortiz/Felipe Camacho in our last match of the night. Maricruz and Camacho had just finished a five-game tiebreaker win and looked a bit fatigued going into this one. Alex and Erika played solid on both sides. The Americans committed few unforced errors and forced the Costa Ricans to earn every point. Maricruz has a solid forehand stroke and she put away her share of setups. Felipe could do little to score points against Landa on the left side. Alex and Erika finished this one out in workman-like style, winning in three straight, 15-6, 15-10, 15-6.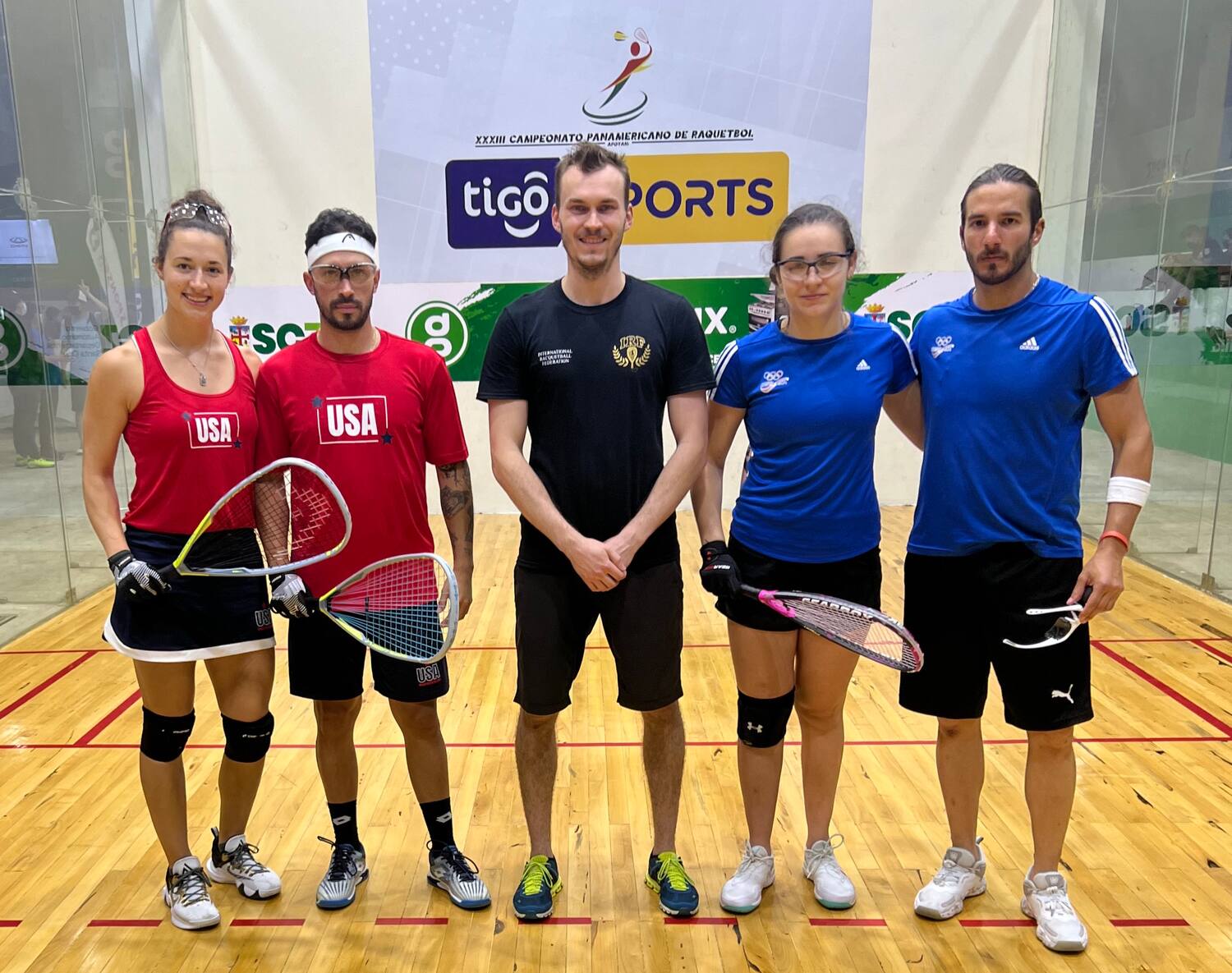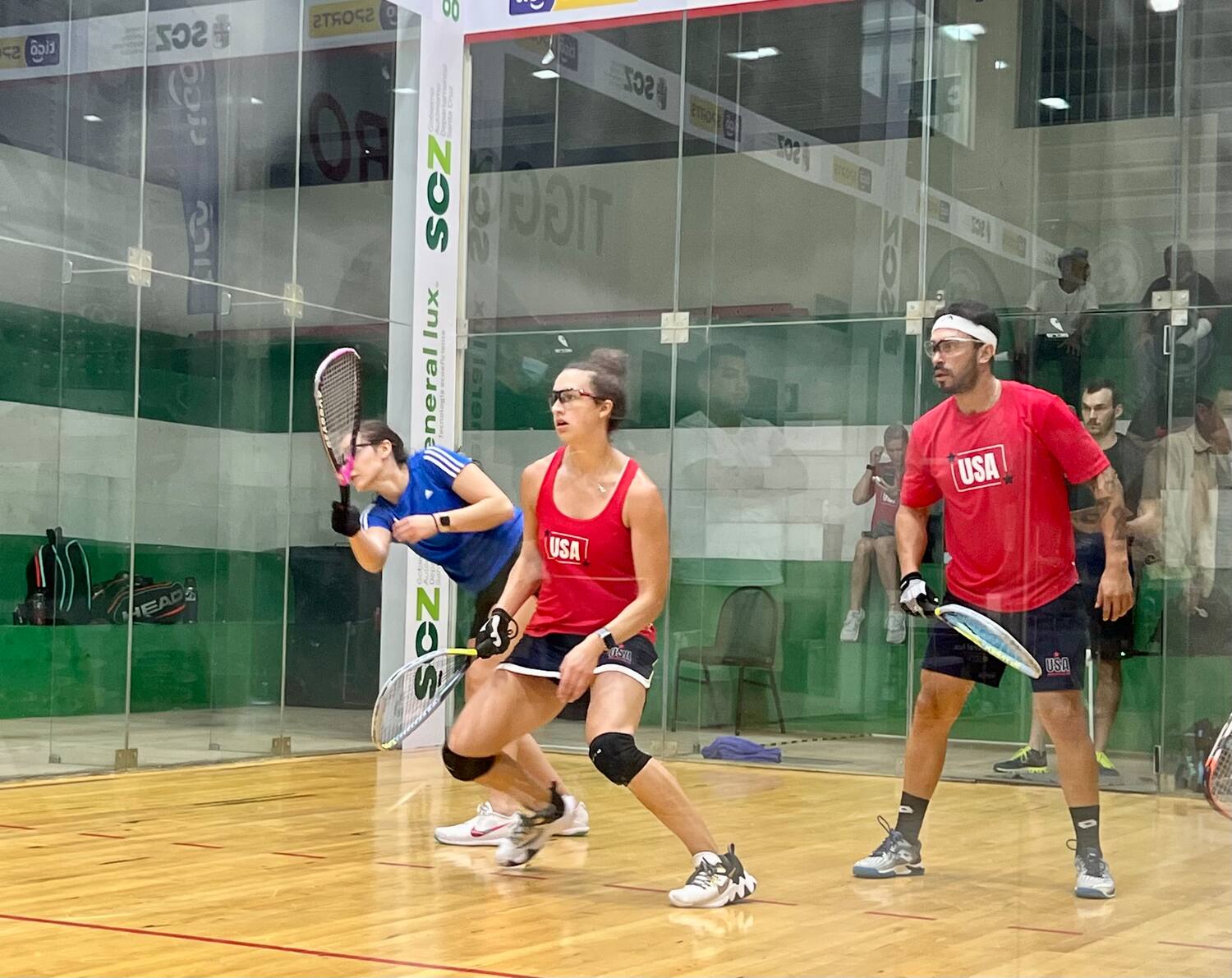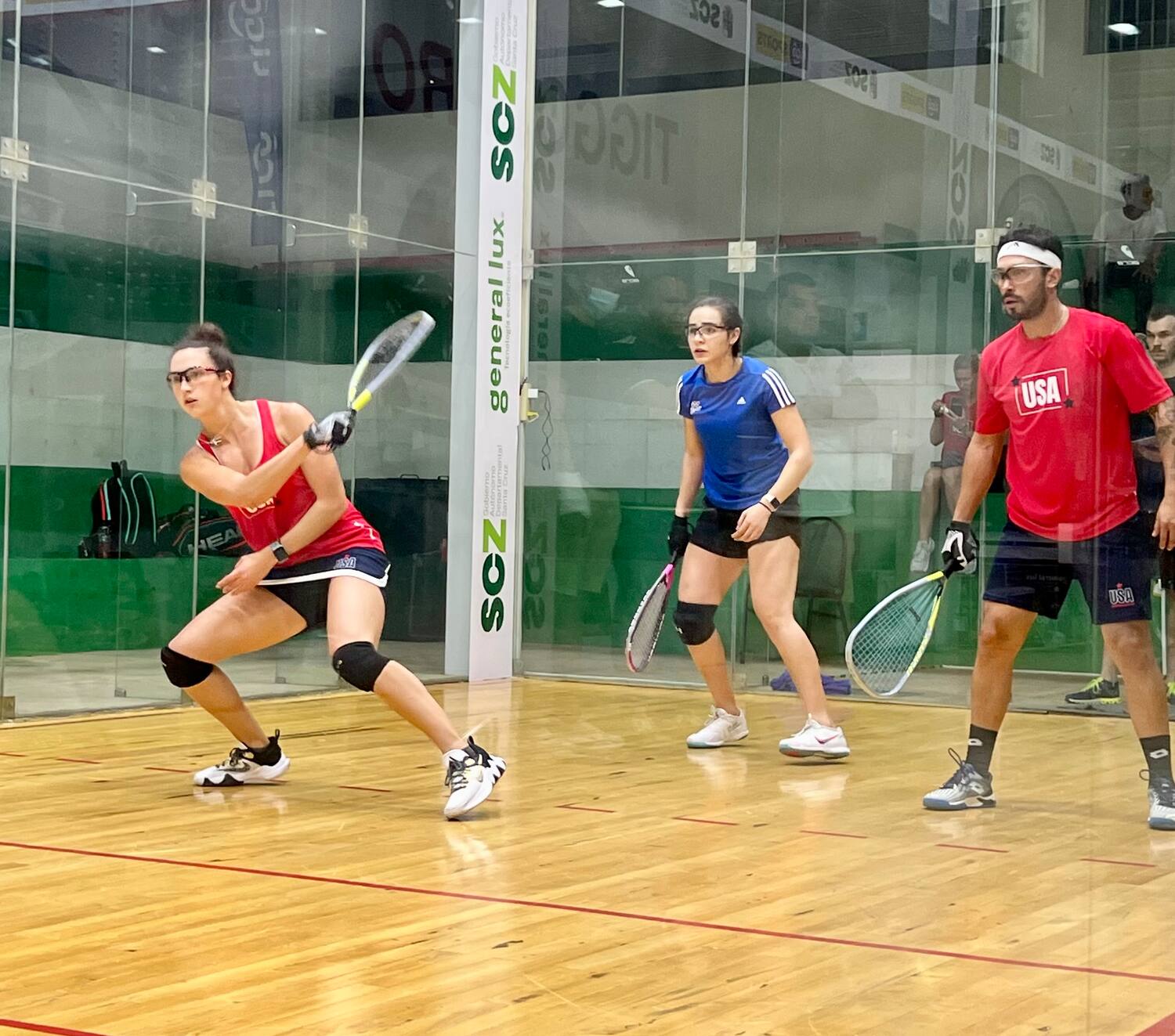 Tomorrow the semifinals of all divisions will be played. Every one of them will be tough!
GO TEAM USA!!
_____________________________________________________________________________
Blog #4
XXXIII Pan American Racquetball Championships (PARC)
Santa Cruz de la Sierra, Bolivia
Monday, April 11, 2022
Today was the last day of pool play. Now it's time for the main draw.

The team had another great day, winning six of our seven matches against some tough competition. The days are running much longer than expected. The matches (with the new rally scoring) are taking longer than anticipated, so the team is catching the 7:20 pm shuttle back to the hotel, showering, eating, and going to bed.

The atmosphere at the club is exciting, especially so when a Bolivian team is on one of the show courts. The U.S. Team's spirits are high, and the camaraderie they display toward one another is exceptional. The U.S. racquetball community can be very proud of them. Jake Bredenbeck and Alex Landa won their singles pool. Jake/Sam Bredenbeck and Alex/Erika Manilla won their doubles pool. Pool winners receive top spots in the draw. Erika/Rhonda were second in their doubles pool. Kelani Lawrence and Rhonda Rajsich were both second in their singles pools, earning them a spot in the number one draw.

In the first match of the day, Kelani played Angela Sabido. The young Mexican started well, retrieving Kelani's missed shots and hitting winners from both sides. Kelani was finding her rhythm as the first game went to Angela, 15-12. Kelani started using a hard Z left and a straight drive to the right. It was an effective combo. She rode those serves to a game two win, 15-6. Lawrence stayed with that service strategy. Her getting ability kept Sabido from making any runs, and she scored well off of weak service returns from Angela. Games three and four, 15-7, 15-13, and the match went to Kelani.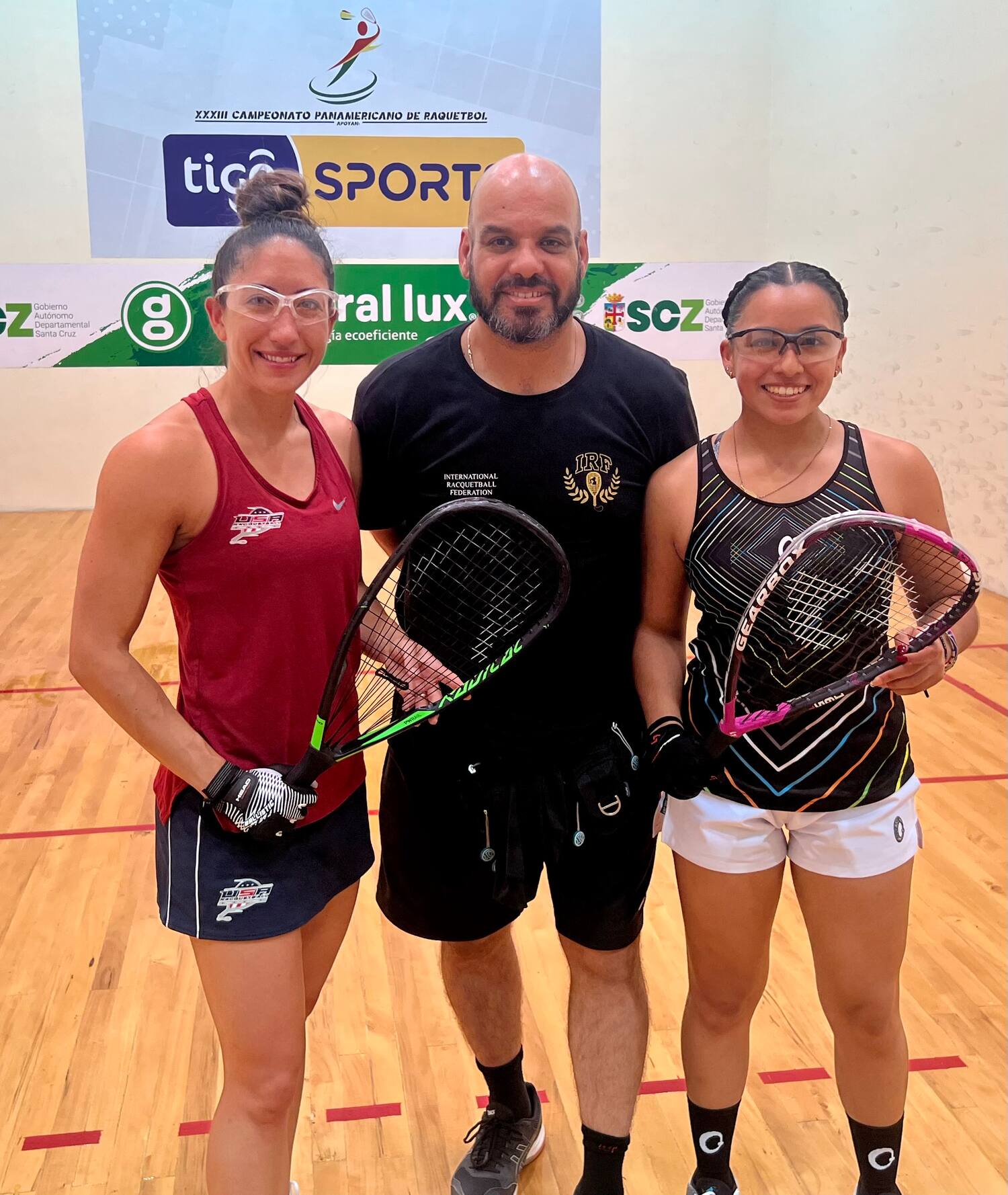 Rhonda Rajsich faced the tough and talented Gabriela Martinez of Guatemala. Gaby was all over the court, stretching and diving and putting pressure on Rhonda with blasted rollouts and passes. Martinez's passion was on display and she shot, dove, and hustled her way to a two-game lead, winning the first 15-4 and the second 15-5. Rhonda's drive serve percentage went up and she began using lobs effectively to counter Gaby's thirst for a fast-paced game. Rajsich started driving the ball down the line with precision and hitting enough pinches and cross courts to keep Gaby guessing. Game three to Rajsich 15-14. Game four went back and forth. Some of the energy was gone from the Guatemalan's game as Rhonda's service game was dictating a slower pace. Gaby was drive serving well and getting skips and returns she could handle. They both played tough, but this one went to Martinez,15-11, making her the pool winner.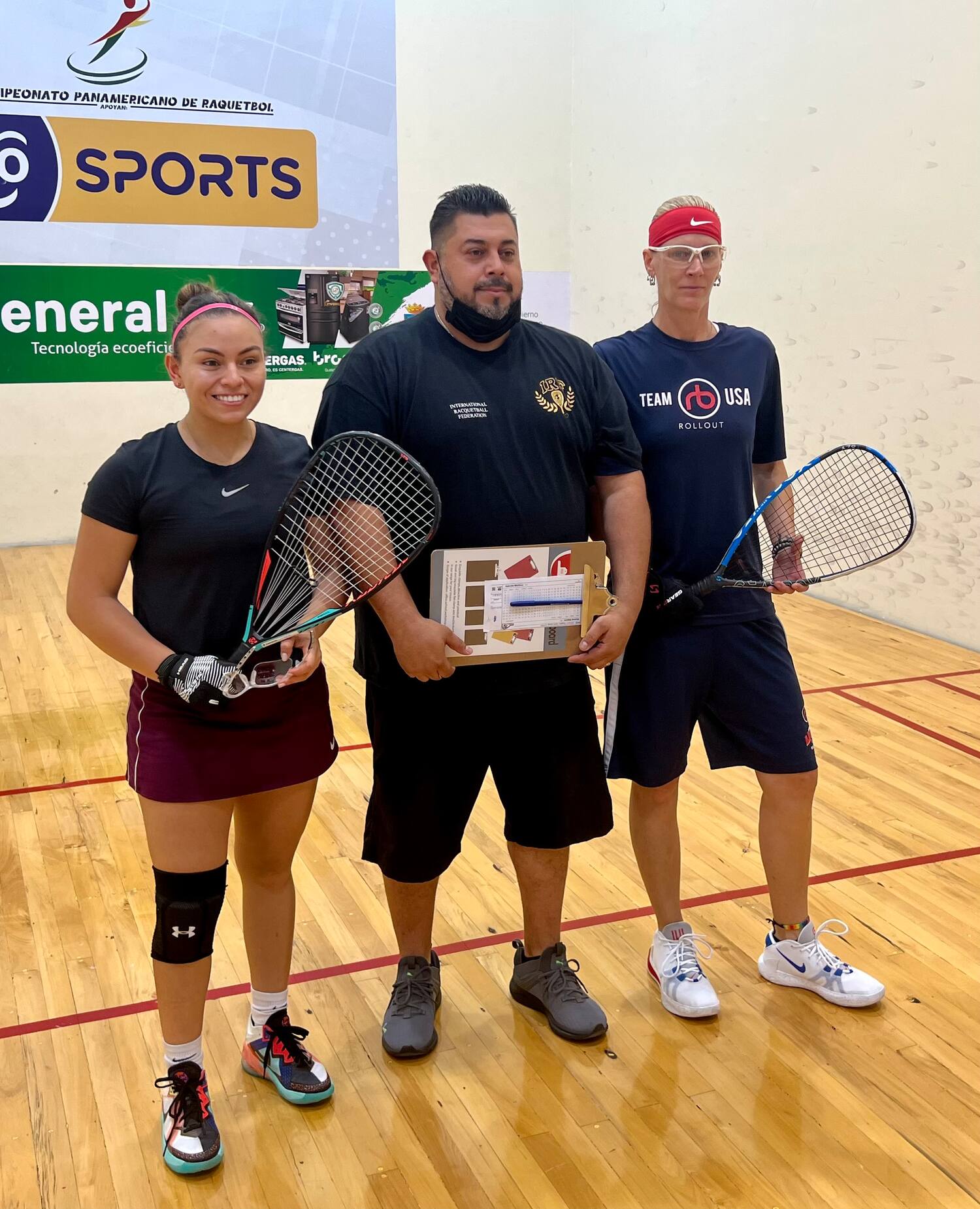 Jake Bredenbeck played Jose Ugalde of Ecuador in his third pool play match. Bredenbeck was all business. He looked determined to take this match in three games and then get ready for his doubles with Sam. That is exactly what he did. Jake's left-side drive serve consistently got pinch returns from Ugalde, and Jake was all over them. Bredenbeck was stroking his setups with authority. Jose was scrambling and getting to shots but generating little offense. Bredenbeck's court intelligence and energy led to a three game match (15-7, 15-13, 15-10), making him 3-0 in pool play.

Alex Landa played Juan Francisco Cueva of Guatemala. Juan was ready and pumped for this match. He had fans in the stands and celebrated every winning shot with gusto. Juan was hustling and putting away his setups well. Landa was metering out his energy and playing high percentage racquetball. Cueva's determination paid off with a 15-10 first-game win. Alex played the same high percentage style in games two and three. The Guatemalan's percentage of winners dipped a bit and Landa kept the pressure on, hitting rollout winners and precise angles. Both games went to Landa, 15-9, 15-7. Cueva was determined to get to a tiebreaker though, and he played with passion and intensity. Landa stayed consistent and forced Juan to make great gets and shots to win a rally. Cuevas's determination almost pushed the match to a tiebreaker, but Landa's perfect rollout forehand finished the match, 15-14.

Erika/Rhonda vs. Alexis Iwaasa/Cassie Prentice were up next. This match had a friendly and collegial atmosphere to it. Though Erikonda were in control the whole way, the Canadians played some smart ball. Iwaasa has a beautiful backhand when she sets up, and Prentice played well, too. After losing games one and two, Cassie and Alexis were up 8-2 in game three and looking to push it to a fourth. However, Erika and Rhonda mounted a comeback and took game three and the match, 15-13.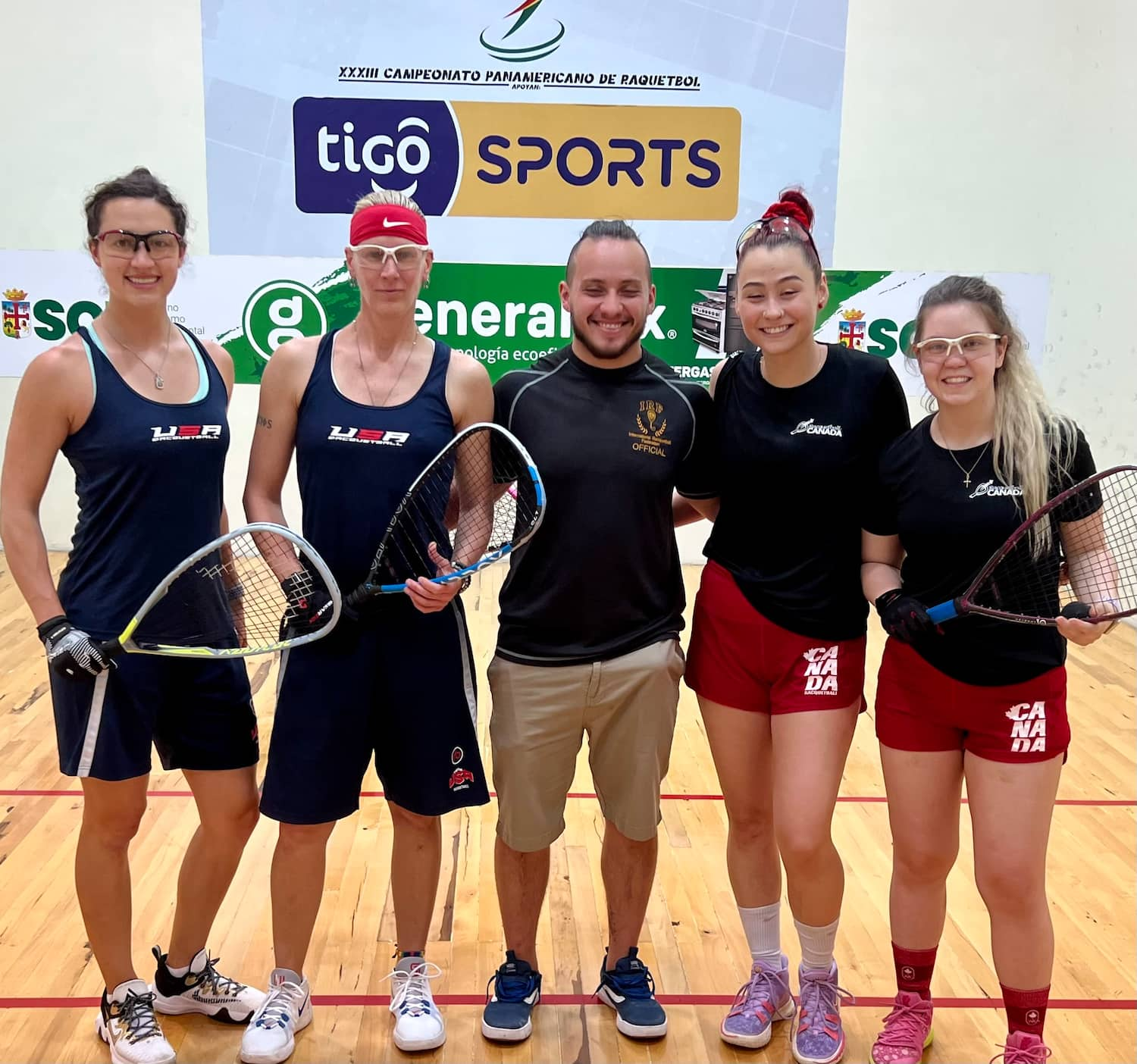 Jake/Sam Bredenbeck faced Kadim Carrasco/Carlos Keller to determine the pool winner. The Bolivians' fans showed up to cheer them on. They filled the viewing area behind the court. That atmosphere gave the match an electric feel. The Bredenbecks came out firing. Sam was hitting drive serve bombs and Jake was using a drive Z effectively to his opponent on the right. No one was up more than a few points this entire match; it was a back-and-forth battle all the way. Both teams were all over the court, displaying immense athleticism and anticipation. The Americans took the first 15-13. Game two was the same. Pinch shots had to be nearly perfect or else they were picked up and driven into the back court with rally Zs, wide angle passes, or ceiling balls. Shots were being drilled all over the court. The crowd roared its approval after every winning rally by the Bolivians. At 14-13, Sam hit a perfect drive serve ace for the game two win, 15-13. The Bolivians upped their game a notch in the third. Keller found his timing against Sam's photon serves and was re-killing them. Carrasco got hot on the right. He was hitting flat rolls from the back court. Keller was hitting a good nick lob to Sam on the left, and the Bolivians were killing the returns. Game three to the home team, 15-11. With the home crowd pushing them, Keller/Carrasco continued their inspired play. The Bredenbeck boys were back to their game one and two form, and the pace was fast and furious the whole way. Jake was sliding a high lob down the forehand glass wall to get weak returns. Keller's nick lob and Carrasco's drive serves were generating some offensive opportunities and the game was on. Wild rallies with all four players lunging, diving, and stretching for every shot got the crowd to their feet. At 14-14 in rally scoring, the next point wins no matter who's serving. With Jake playing all the way up in the service zone, Keller drove a cross court screamer right at him. Somehow, Jake with his trademark flicked-wrist abilities blasted a forehand and re-killed it into the right corner for the game and match.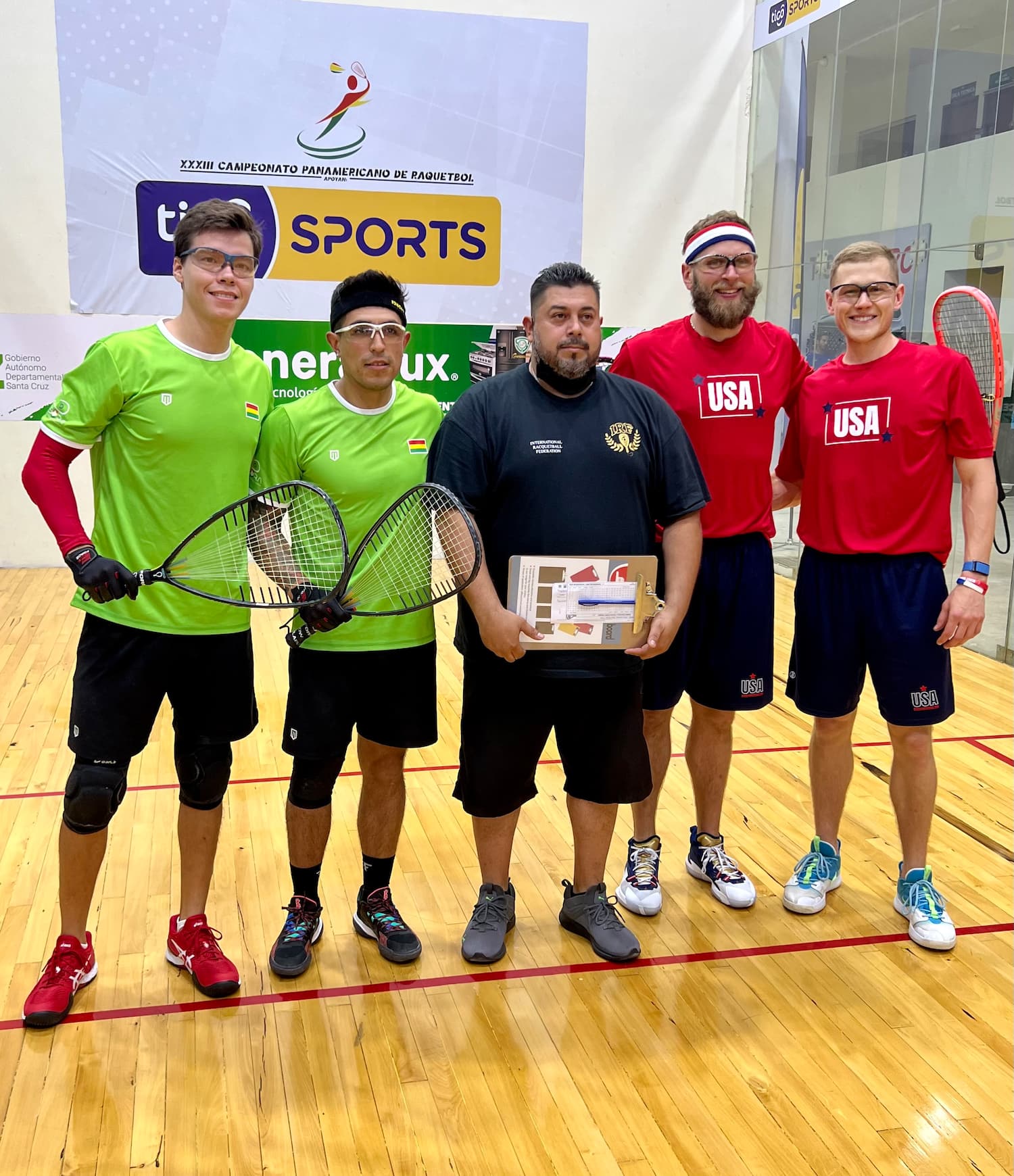 Landa/Manilla vs. the talented veteran Mexican team of Salas/Montoya would determine the pool winner. This was Erika's second go-round against Salas on the forehand side, and she was determined to win this one. With a couple of matches under their belt, Landa and Erika were beginning to look like a team. Erika played smart, keeping the shots on her side and away from Montoya, who is one of the best doubles players in the world. Landa was all over the court and there to kill any setups. Alex's percentage of winners when he is set up is amazing. That combo of smart play and killed setups was a winning formula for the Americans. Montoya was attempting to drive the ball at Manilla instead of taking a more strategic shot. This proved ineffective as Erika went to the ceiling or drove the ball down the forehand side. Manilla was getting weak returns from Salas off of tight high lobs down the forehand wall. After losing the first, Manilla/Landa took games two, three, and four, 15-12, 15-12, 15-8, to win their pool. It was impressive racquetball. They are definitely ready for draw play tomorrow.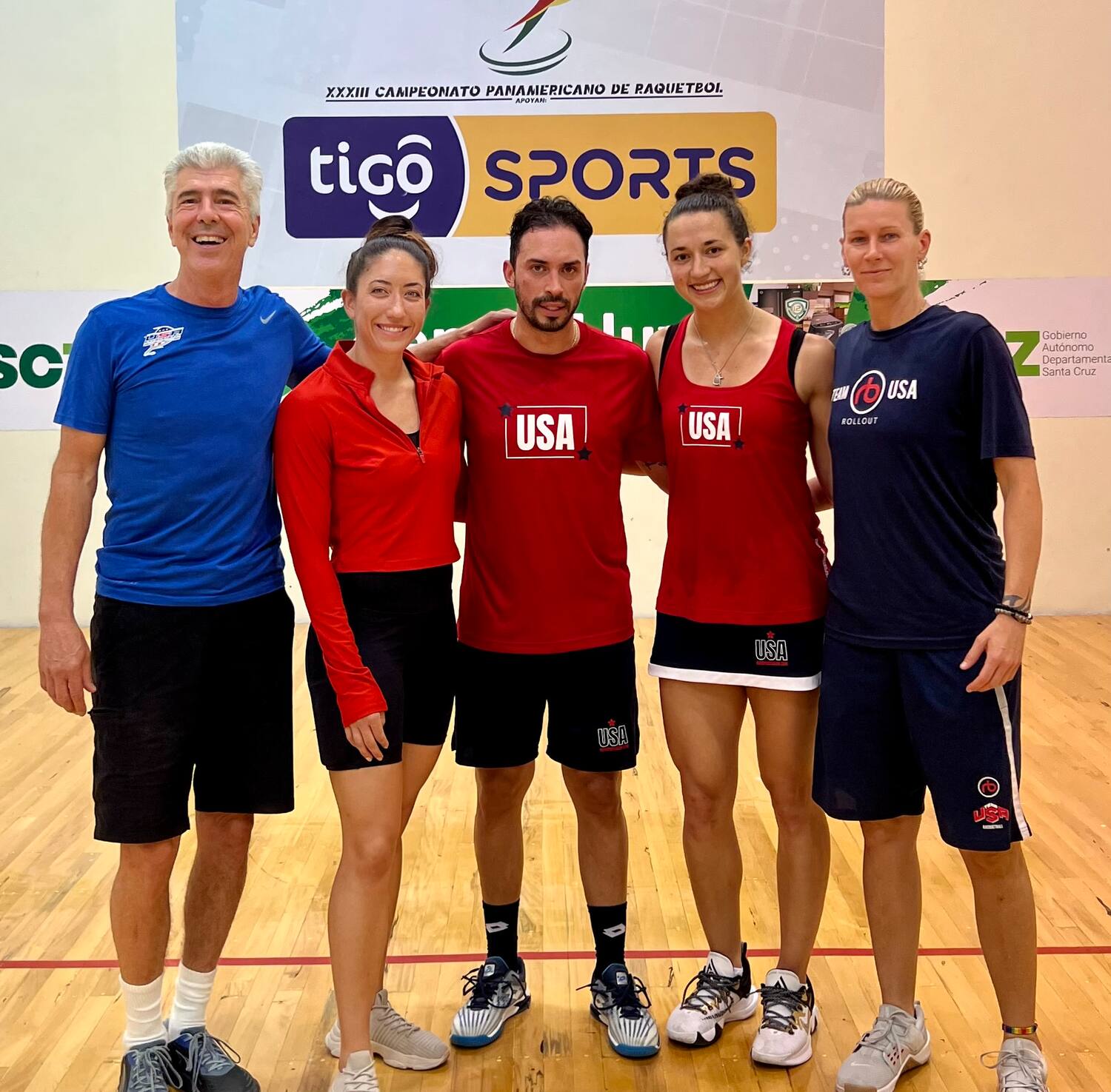 GO TEAM USA!!
_____________________________________________________________________________
Blog #3
XXXIII Pan American Racquetball Championships (PARC)
Santa Cruz de la Sierra, Bolivia
Sunday, April 10, 2022
Team USA started a hot humid Sunday with two women's singles matches. Kelani Lawrence played Juliette Parent of Canada. Kelani looked confident and relaxed today. She has the best wheels in the women's game and an incredible stretch step. Those skills make her one of the most effective retrievers in the game. She was hitting well from both sides in this match and that was bad news for the Canadian. Kelani took the first 15-10 and never looked back. She got to nearly every one of Juliette's shots and put away her setups with power and precision. Lawrence dominated games two and three, 15-1, 15-3, to take the match.
Rhonda faced a much-improved Michele Morissette from Canada. Michele consistently put away her setups from both sides in this match. She served well and was getting Rajsich to play defensive shots and then shooting them with authority. That strategy earned the Canadian games one and two, 15-11, 15-11. With her back against the wall, Rhonda began putting more offensive pressure on Morissette. Rajsich began serving effectively with a forehand lob and her trademark drive serves. She played some classic serve-and-shoot racquetball with precise down the line drives and kept Michele off balance and reaching. The American took games three and four, 15-11, 15-10, to push the match to a tiebreaker. Michele played tough, putting away setups and serving good Zs to Rhonda's backhand, but Rajsich's down-the-line drives made the difference in the end. Tiebreaker and match to Rajsich 11-7.
Jake Bredenbeck and Rodrigo Salgado of Chile were up next. Salgado is a tall rangy left hander. He did a great job getting to Jake's passes and putting away setups in the first game. Jake was lob serving and Rodrigo looked comfortable returning them for winners and effective offensive shots. First game to Salgado 15-11. Jake switched to drive serves right and left and hard Zs to keep Rodrigo off balance. All Salgado could do was throw up defensive ceiling balls. Bredenbeck was putting them all away and the Chilean began to lose a bit of steam. Jake kept his foot on the gas and there was nothing Salgado could do. Bredenbeck continued his smart and successful game plan, winning the next three games 15-2, 15-4, 15-8, to take the match.
Alex Landa played Ramon De Leon of the Dominican Republic. De Leon is fast and competent. World Champion Landa was determined to end this match as quickly as possible, though. Alex is one of the quickest players on tour. He is so quick that he rarely has to dive. He is also a precise and high percentage shooter. All of those traits were on display today. Excellent drives and Zs kept the Dominican guessing, and Landa was putting away setups cleanly and efficiently. This match was all Landa 15-5, 15-9, 15-9.
The last match of the day was a thrilling five gamer between Rhonda Rajsich/Erika Manilla and Yasmine Sabja/Micaela Meneses of Bolivia. The hometown team had a boisterous crowd to cheer them on. Both teams had experienced veterans paired with talented young partners. Sabja and Rajsich are experienced international veterans. Meneses and Manilla are young and beginning to make their mark in international and LPRT play. In game one the Bolivians came out strong. Sabja was shooting her backhand down the line with power and precision while Meneses was pinching her back wall setups for winners and hanging tough in the rallies. The Americans couldn't quite find their game, skipping a few and leaving shots off of the back wall. First game to Bolivia 15-8.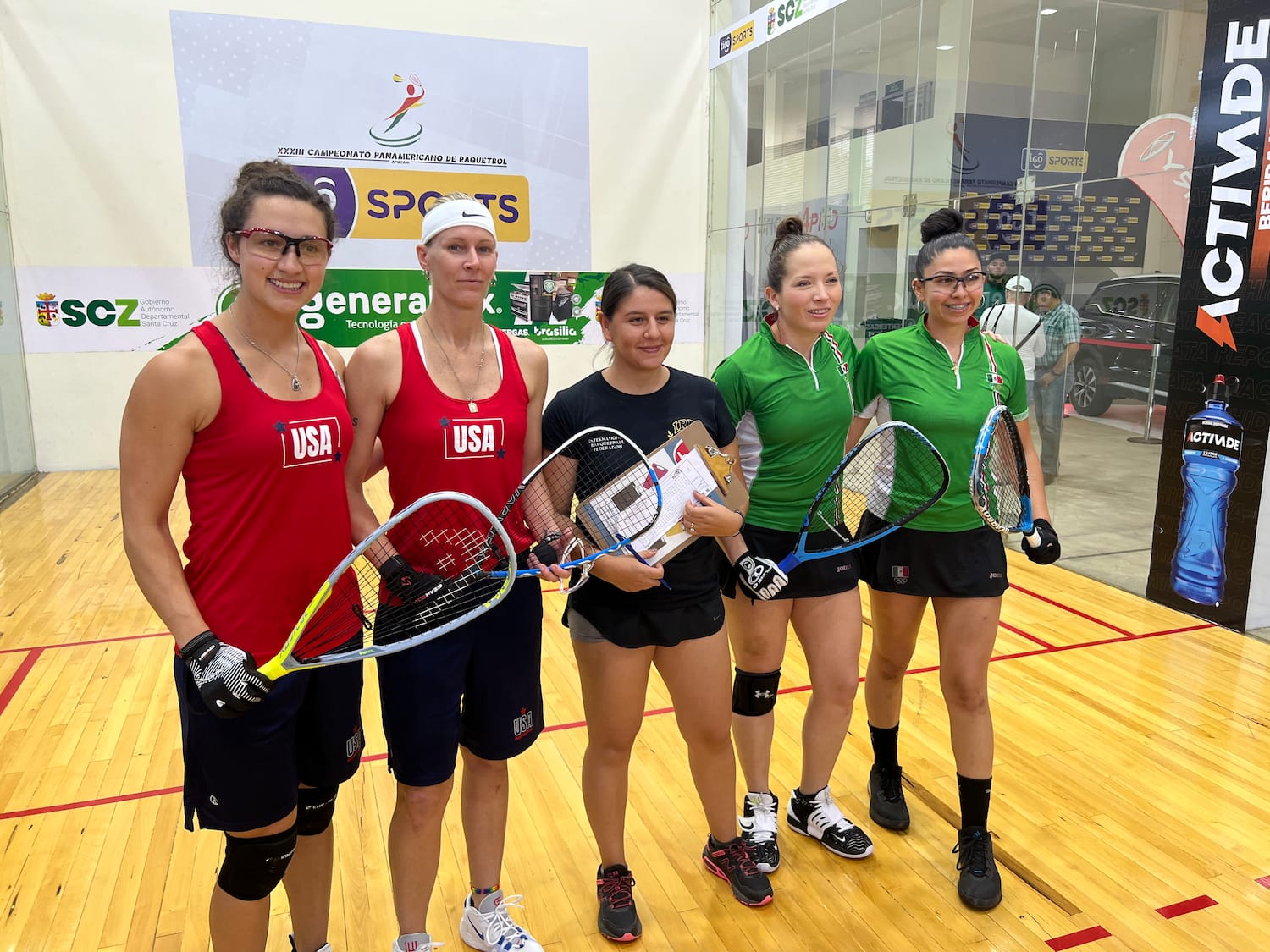 Rajsich and Manilla started to find the range in game two. Rhonda's backhands were low and precise down the line. She and Sabja were both playing tight racquetball, trading beautiful screamers down the glass on the backhand side. Erika began using her wide angle pass to keep the Bolivian team off balance and in the back court. Manilla's high lob down the forehand glass was getting points, and Rhonda's trademark drive serve left was, too. "Erikonda" were putting away setups, and game two went their way, 15-11. The Americans rode that same strategy in game three. They were even more precise with Erika's wide angle shots dying at the back wall and Rhonda's play along the sidewall forcing defensive returns. Game three went to Erikonda, 15-13. Game four saw the Bolivians make some clever adjustments. They began hitting lob serves to the middle and getting defensive returns. They took advantage shooting winners and putting points on the board. Sabja and Meneses both returned serve solidly, giving Erikonda fewer scoring chances. Game four was Bolivia's, 15-8. The fifth game tiebreaker was electric. The Bolivian crowd was into it, rocking the stands with booming enthusiasm after every won point by their team. The strategies for both teams stayed the same. Rajsich's drive serve down the line was sharp. Erika was lob serving to the middle and down the line with an occasional Z thrown in. Yasmine and Micaela stayed with the lob to the middle. The level of play went up a notch with diving gets and amazing retrievals. Erika was driving the ball cross court while Rhonda was finding bottom board consistently. A key point late in the game was a amazing twenty-one shot rally with two incredible diving gets by Rajsich and Sabja and crushed cross courts from Manilla. With Rhonda sprawled on the floor, the Bolivians returned a shot right at her. Rhonda slapped an overhead left from her knees that had both Bolivians sprawling along the glass in vain attempts to retrieve it. The appreciative Bolivian crowd thundered their approval. The difference in the end was Rajsich rolling out one setup after another. At 10-8, Sabja hit a good ceiling ball that barely came off the back wall and Rhonda stroked a perfect rollout for game and match.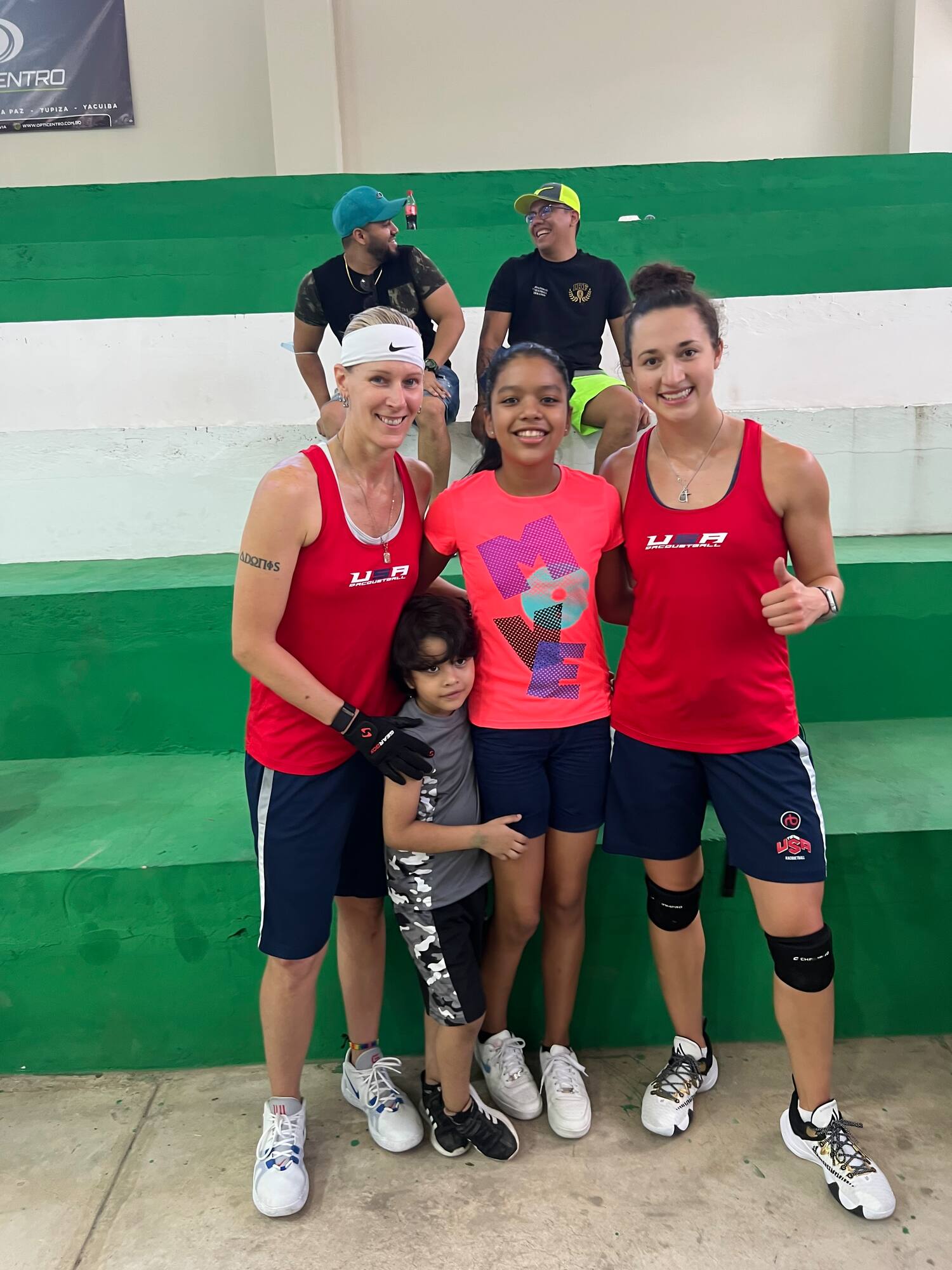 It was a good day of pool play for the U.S. Team. We won every match. Tomorrow is the last day of pool play that will determine the seeding for the draw that starts on Tuesday.
GO TEAM USA!!
______________________________________________________________________________
Blog #2
XXXIII Pan American Racquetball Championships (PARC)
Santa Cruz de la Sierra, Bolivia
Saturday, April 9, 2022
Saturday was the first day of full competitive pool play. Team USA started with two matches at 11:15am in the morning, and we boarded the bus back to the Radisson Hotel at 7:30 PM. We showered and ate dinner. By 10:00pm the team turned in for the night, fueled up and ready for a good night's sleep.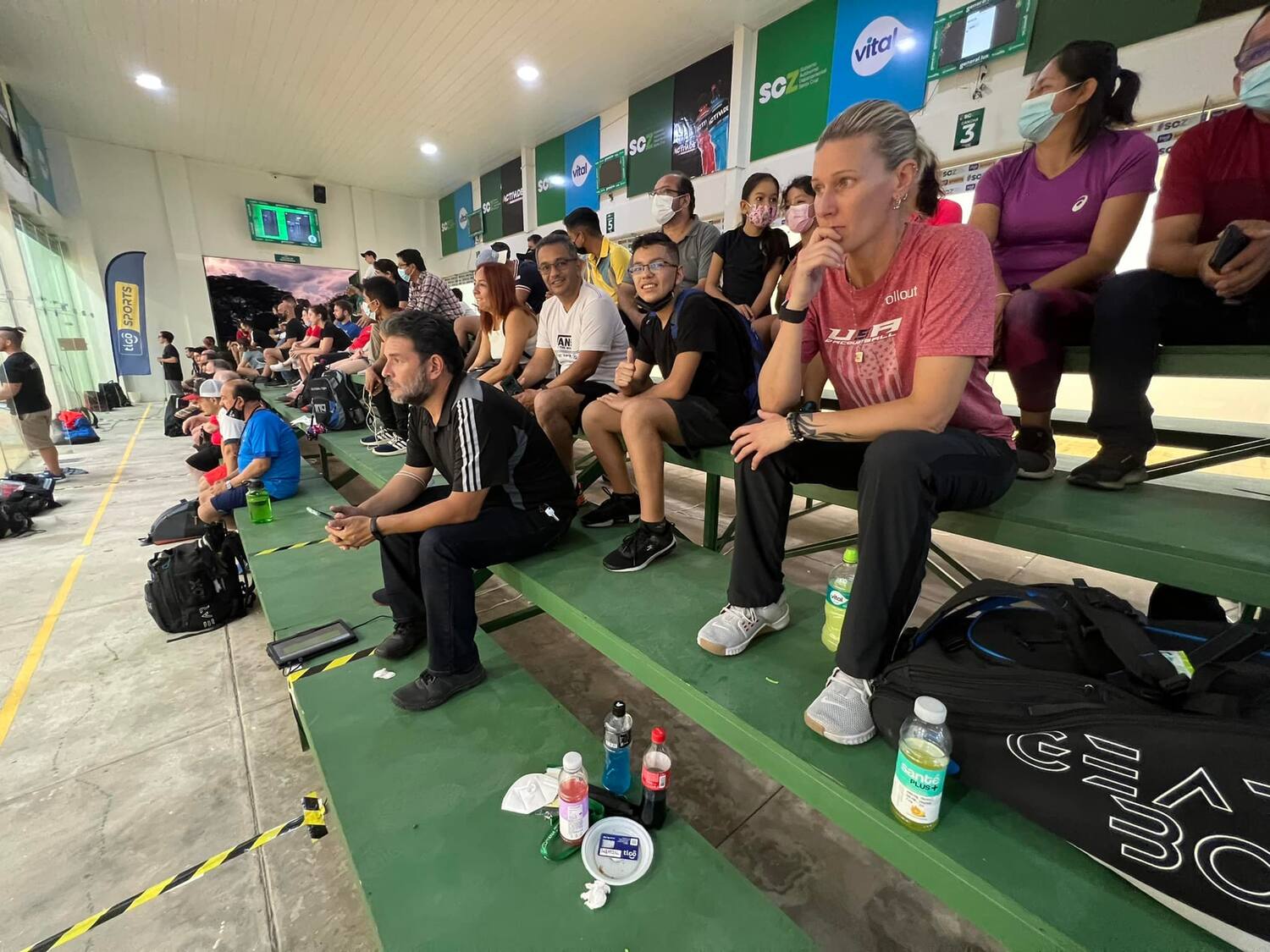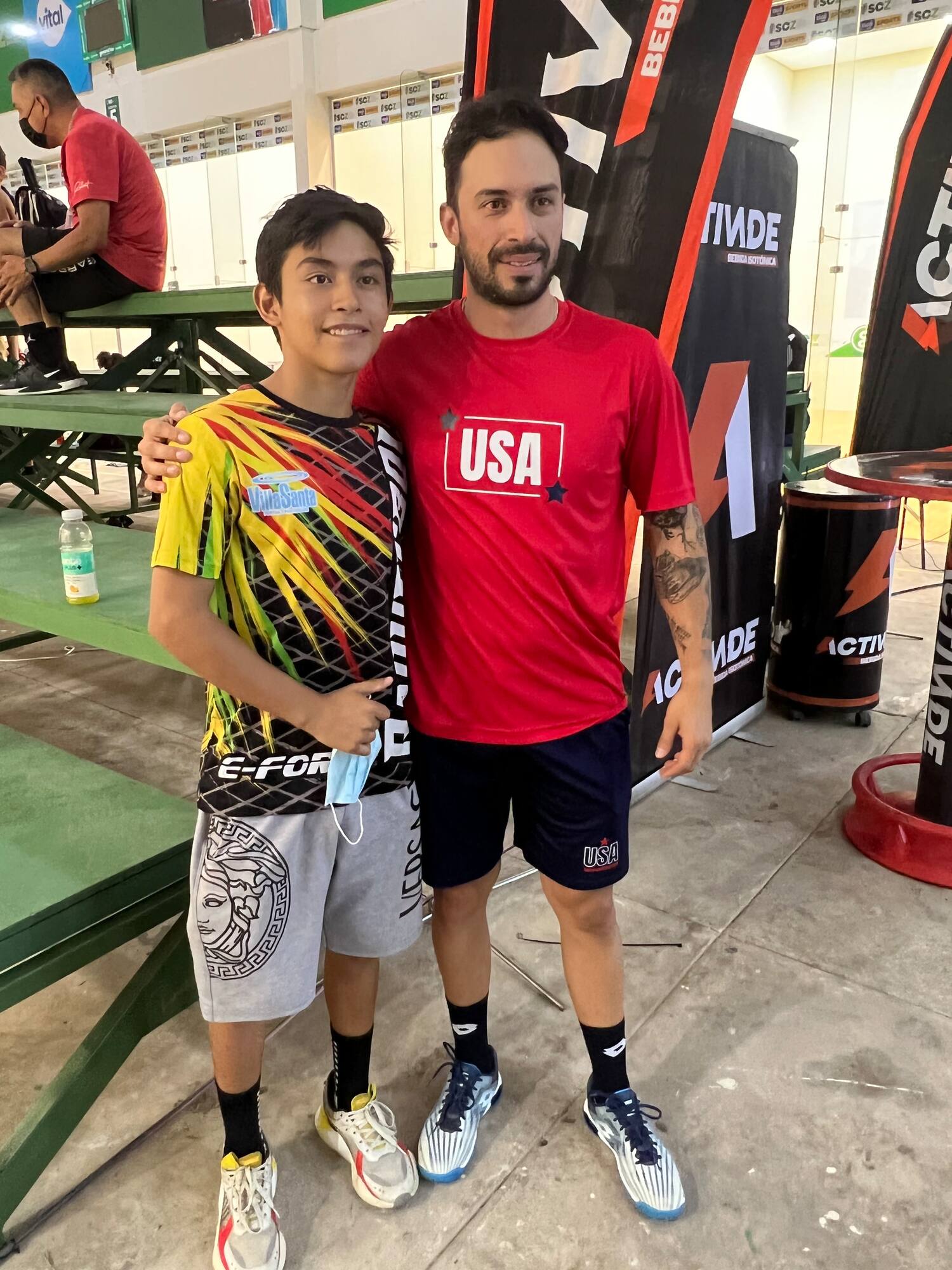 We started the day with Rhonda Rajsich facing off against Maricruz Ortiz of Costa Rica. Maricruz played solid inspired racquetball to take Rhonda to a tiebreaker. Rhonda was settling in and trying to find her game and her competitive drive and energy. Down 10-6 in the tiebreaker (rally scoring so she could lose just by losing her serve), Rhonda displayed the grit that makes her a legendary competitor by storming to an 11-10 lead before Maricruz could gain the serve. Ortiz got one more point before Rhonda sided her out and took the game and match, 11-15, 15-9, 15-9, 7-15, 13-11.
Our other 11:15am match was Kelani Lawrence vs. Carla Muñoz of Chile. Both of them were a bit ragged trying to find their form in this first-round match. Kelani took the first, 15-8, with a great combination of serves (drive serve right and left, jam off the BH sidewall, a backhand Z, and a good half lob to the BH side) that kept Carla off balance. In game two Carla was anticipating the serves better and started to find her own service game. Both players were making unforced errors and struggling to generate offense. Carla rode some good serves to a 15-10 win. Kelani came back and won game three 15-11 by getting to every errant shot. Carla showed some determination and again served well to get the game four win, 15-13. Kelani was right there but couldn't quite close it out. Muñoz went ahead early in the tiebreaker, and Kelani never could close the gap. Carla stayed steady as they traded serves and finished up the match with an 11-8 win.
Jake Bredenbeck was up next against Puerto Rican Abraham Mercado. Jake was all business, hitting effective serves and putting away his setups. Mercado has game but had no answers for Mr. Bredenbeck in this match. Jake finished the contest out quickly with 15-6, 15-3, 15-4 wins.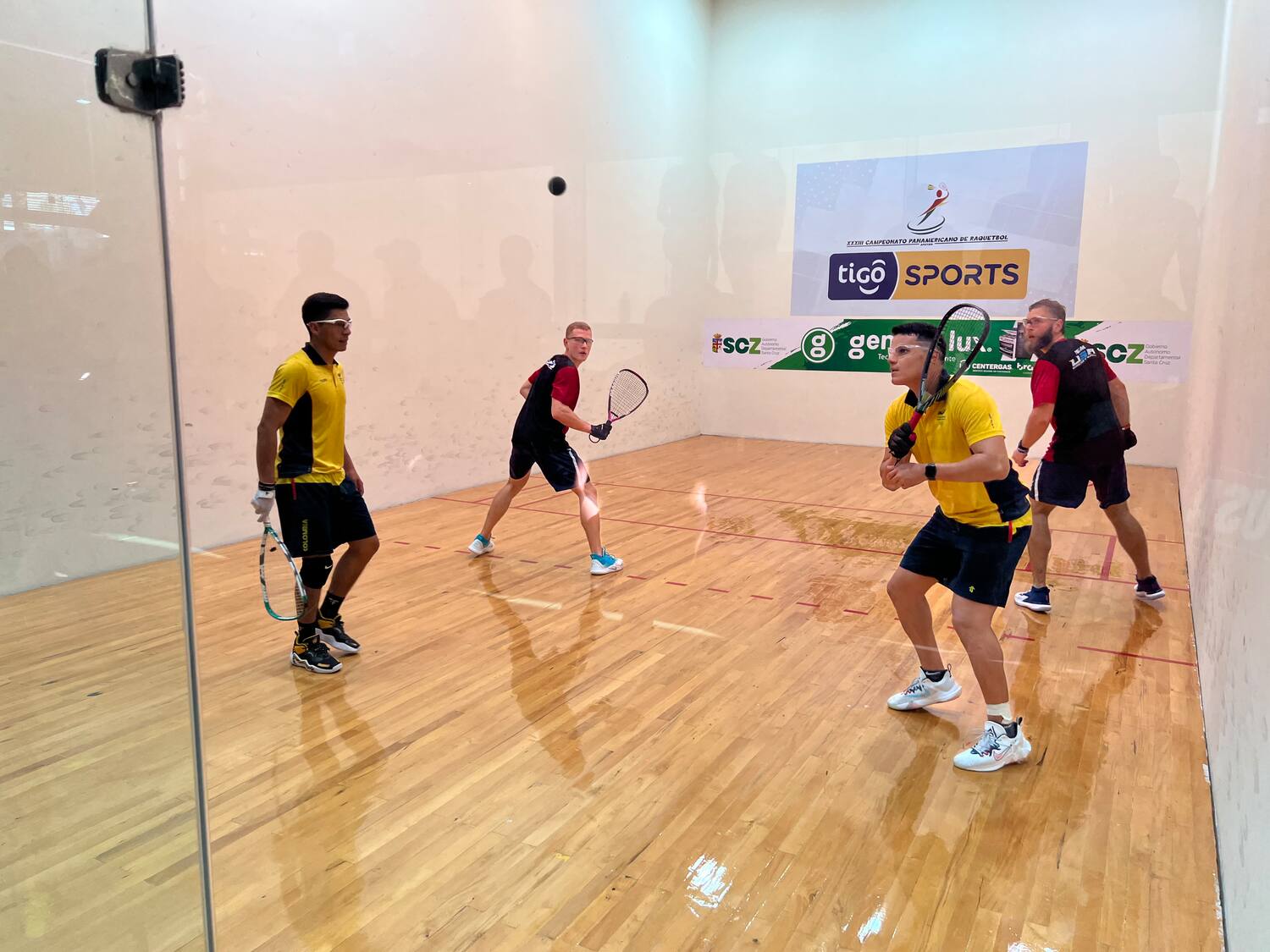 Premiering on show court #1, Rhonda and Erika (Erikonda) faced off against the new Mexican team of Samantha Salas/Alexandra Herrera. The Mexicans came out strong with Herrera hitting precise winners and Salas playing steady on the right. Erikonda were finding some good serves and their game. A few too many unforced errors from the Americans and game one was over, 15-10 to Salas and Herrera. Rhonda changed racquets (stiffer strings) in game two and it made a difference. Her skips were turning into rollout winners. Erika found an effective high lob to Salas, and Team USA was in business. Rhonda was guarding the backhand line and limiting Herrera's effectiveness while Erika was crushing winners and keeping Salas off balance. It was a tight game right to the end with Mexico taking it 15-14. Game three was much the same strategy, but the Mexicans were not quite as sharp. Their unforced errors, along with excellent play from the Americans, led to a 15-10 win. Game four was a battle. Samantha and Erika were constantly jockeying for court position just behind the five foot line. Rhonda and Alexandra were playing tight and forcing some avoidable hinder calls to be made. Rhonda was hitting jams and Zs to Salas, and Erika's high lob was getting her setups. Salas was using a hard Z to Erika. Erika was taking it early driving it cross court effectively. Herrera's Z to Rajsich was precise and effective. Both teams were getting everything and playing superbly. In the end, a few avoidable hinder calls and some great play by the Mexicans gave them a 15-14 win. Game and match to Mexico. We could meet them again when main draw play begins. That would be fun.
The men's doubles were up next. Our rookie (Sam Bredenbeck) and brother Jake squared off against Mario Mercado and Set Cubillos of Colombia. The boys from Minnesota knew that the key to victory here would be to make Cubillos beat them, as Mercado is one of the best left-side doubles players in the world and points would be difficult to get over there. Sam was blasting drive serves and Jake was hitting a combo of lobs and hard Zs. Cubillos played tough in the first and Mercado was hitting winners that led to a first game win for the Colombians, 15-14. Jake and Sam settled down, found their games, and came back to win a well-played second game, 15-12. After that, the play of the Americans continued to get better and more precise. Sam was winning points with smart wide angle passes, and Jake's serves were getting them setups that they were capitalizing on with well struck winnners. Mercado played steady and Cubillos was taking care of his setups, but the Americans were playing smart and precise racquetball. They won games three and four, 15-9, 15-9, to take the match.
The last match of the day pitted Landa/Manilla against Gabriela Martinez/Edwin Galicia of Guatemala. The matchup of Gabriela (Gabby) and Erika was fun to watch. Both are vocal and fiery on the court, and their aggressive game styles are much the same as well. This proved to be one of the best battles of the day. Gabby and Erika were trading winners and fist pumps the whole match with down the line winners and rollouts. Alex was steady on the left with very few unforced errors. Galicia was putting away his setups and staying tough as well. They traded wins with the Americans, taking the second and fourth games 15-7, 15-11, and the Guatemalans taking one and three, 15-10, 15-12. That set up a tiebreaker that used the eleven point/rally scoring/win by two format. The teams battled back and forth with Erika and Gabby still trading blows. Alex was playing stellar ball, rolling out setups and hitting an effective combination of Z serves. They traded match points at least five times at 10-10 with both teams getting setups to put the match away but not converting. In the end it was World Champion Landa's rollouts and precise down the lines that brought the Americans the win, 17-15.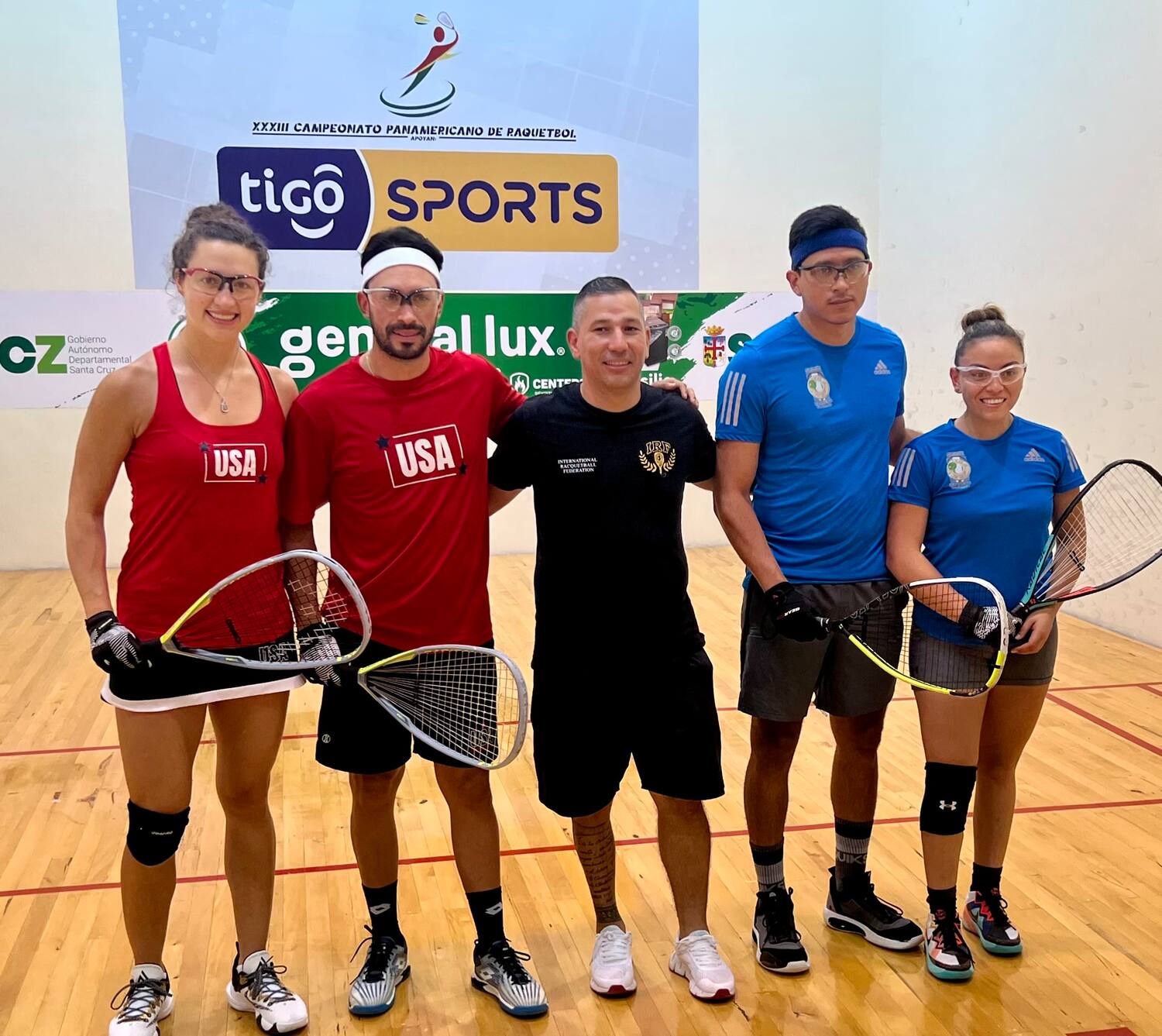 ______________________________________________________________________________
Blog #1
XXXIII Pan American Racquetball Championships (PARC)
Santa Cruz de la Sierra, Bolivia
Friday, April 8, 2022
U.S. Team Delegation
Alejandro (Alex) Landa, Texas: #1 Singles
Jake Bredenbeck, Minnesota: #2 Singles
Sam Brendenbeck, Oregon, and Jake Bredenbeck: Doubles
Rhonda Rajsich, Arizona: #1 Singles
Kelani Bailey Lawrence, Virginia: #2 Singles
Erika Manilla (Colorado) and Rhonda Rajsich: Doubles
Manilla and Landa: Mixed Doubles
Supporting our U.S. Team Athletes:
Jim Durham, California: Head Coach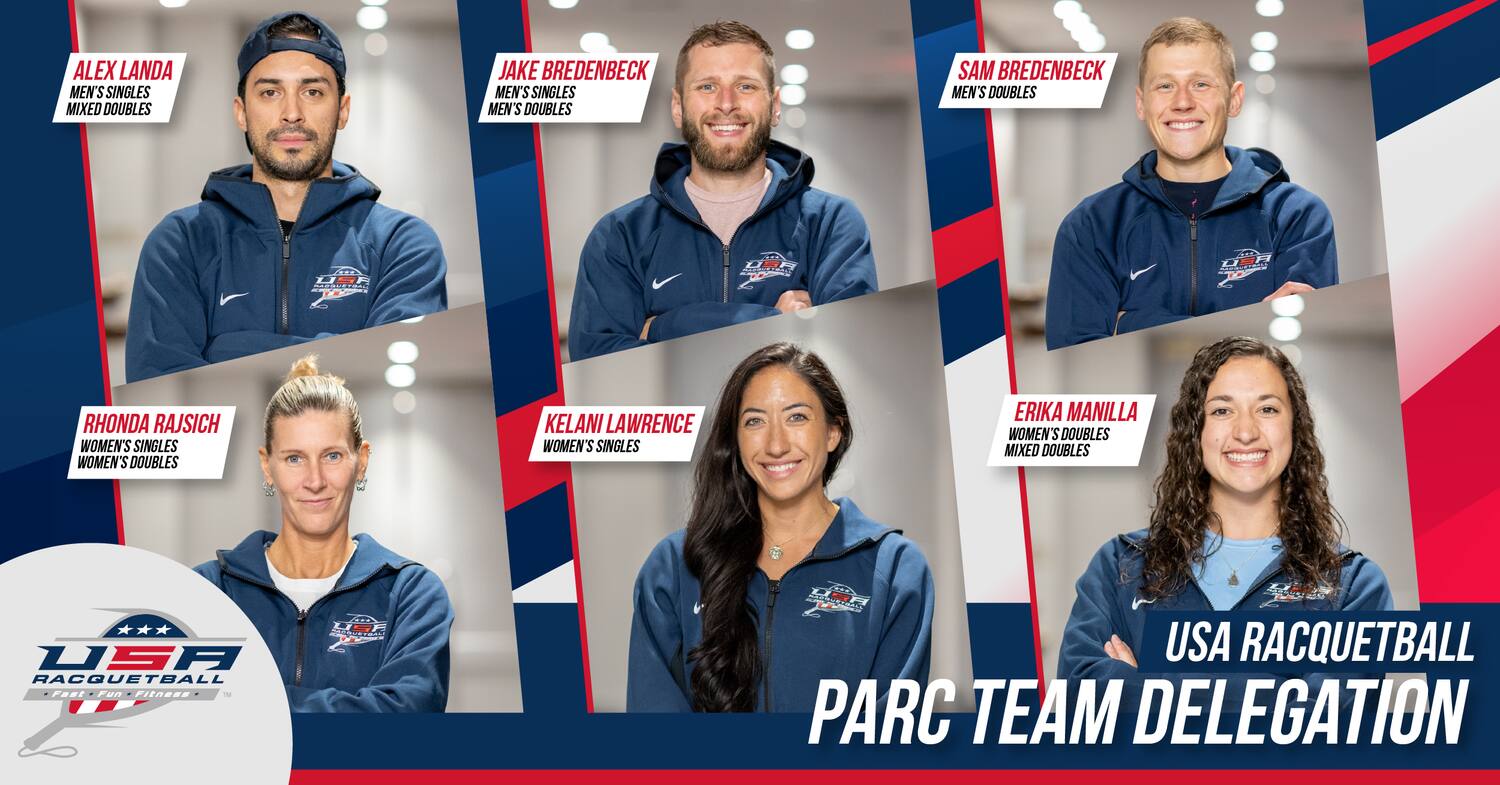 Greetings from Santa Cruz de la Sierra, Bolivia, where the entire U.S. Team Delegation had arrived and settled in on Wednesday. With matches beginning on Saturday, the team used Thursday and Friday to get acclimated to their new environment and get some much-needed court time in! Thanks to U.S. Team Head Coach Jim Durham, as Jim will be providing the daily blog post for all of us to read! Here is what Jim had to say about what's been happening in Bolivia so far.
Team USA got to work early this Friday with their practice time of 9:00-11:00 A.M. at the sport complex here in Santa Cruz de la Sierra, Bolivia. The International Racquetball Federation (IRF) has arranged with the Hotel Radisson to provide breakfast, lunch, and dinner for every player throughout the tournament. That is a wonderful perk for the team as we will be able to fuel up easily and conveniently. The food is good too. The shuttle takes thirty minutes to get the players to the racquetball complex. I noticed a restaurant on the way called "Vikingo." The sign featured a bearded Viking that looked like our own Jake Bredenbeck. We might have to check that place out.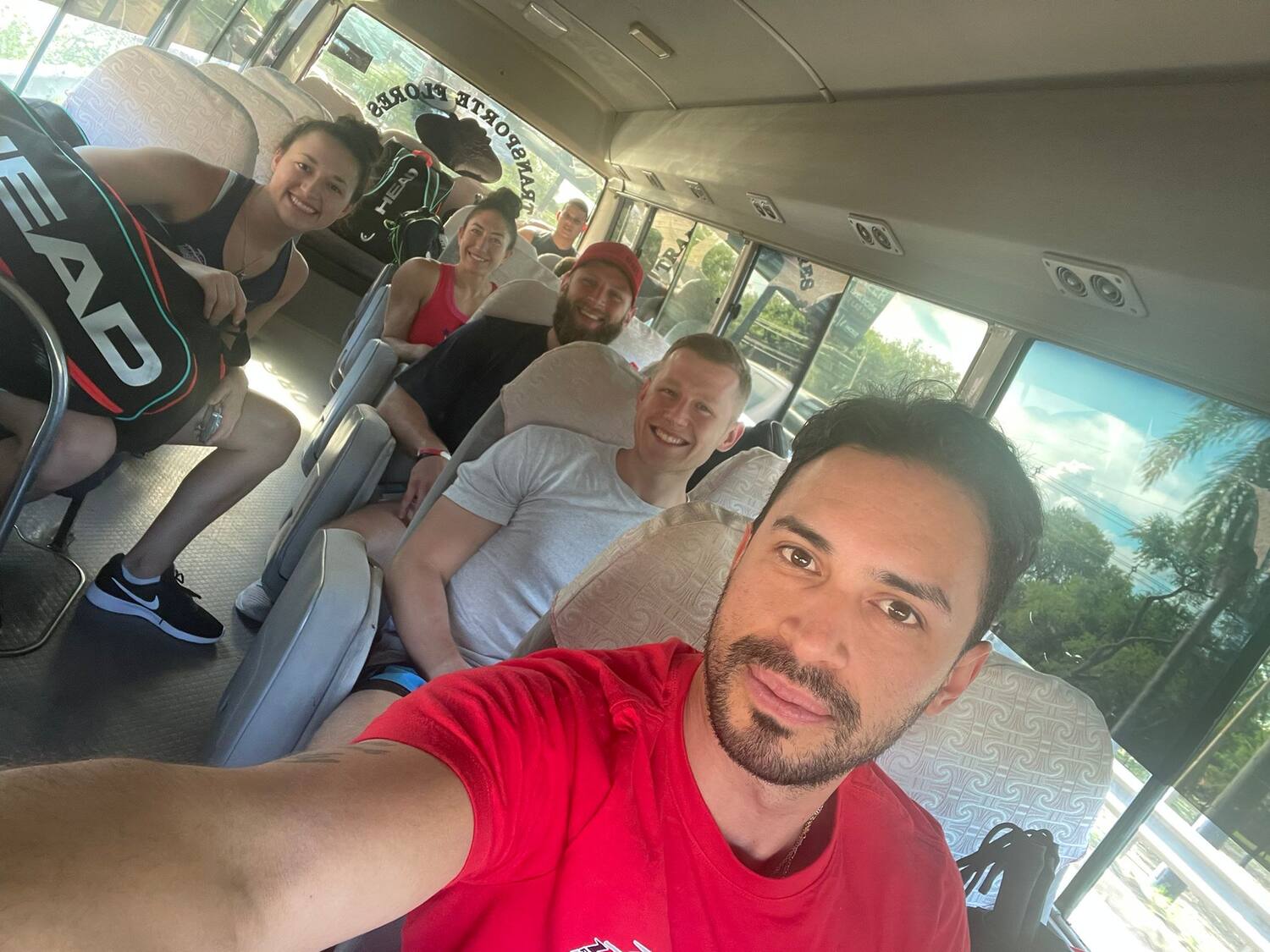 The courts are beautifully constructed, and the floors are grippy. The Bolivians have done a great job getting the facility ready for competition. There are two show courts with spectator seating and three walls of glass. The rest of the courts have seating and glass back walls. The Bolivians are known for having the most spirited fans in all of racquetball. This should be a fun week with them here cheering.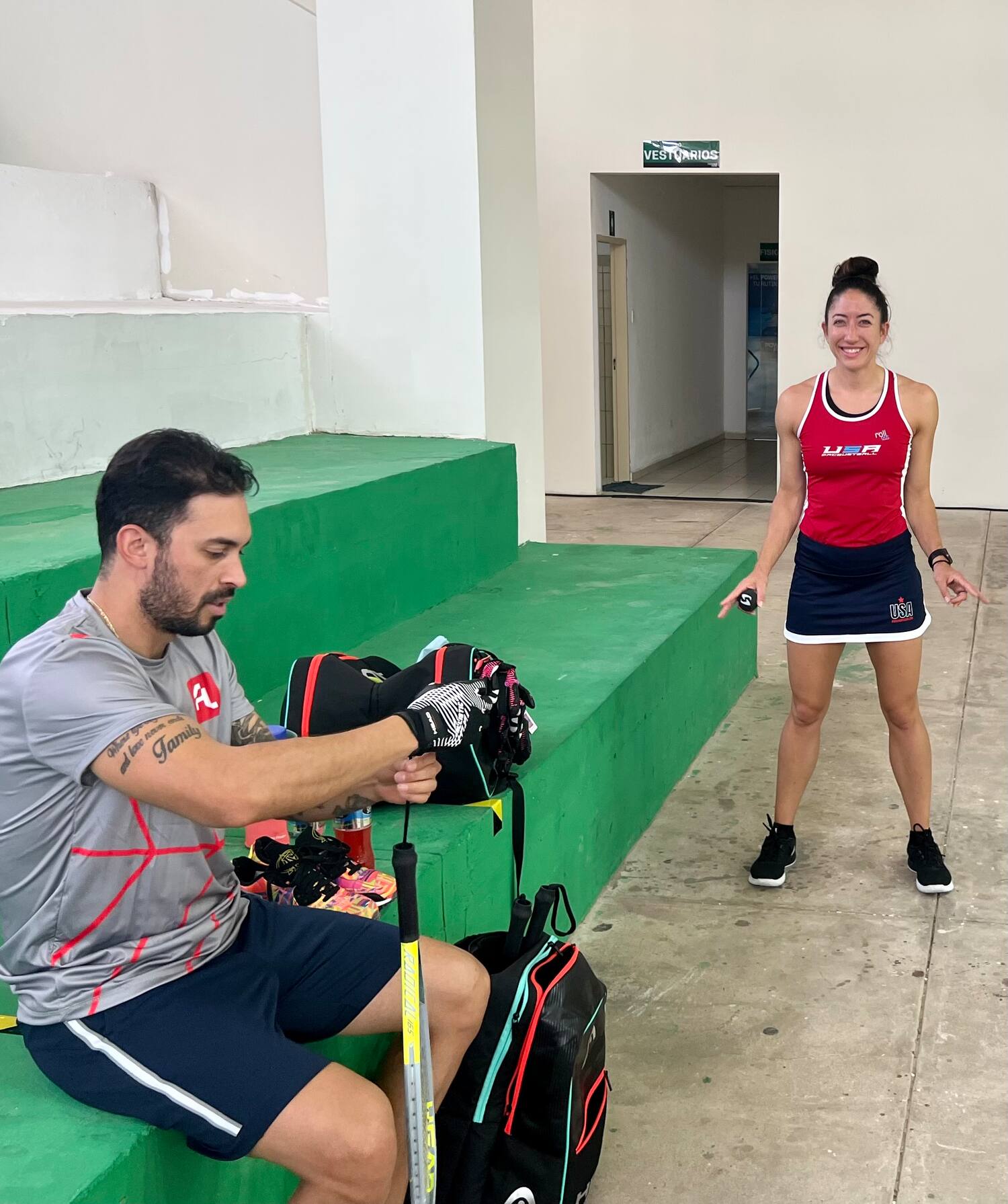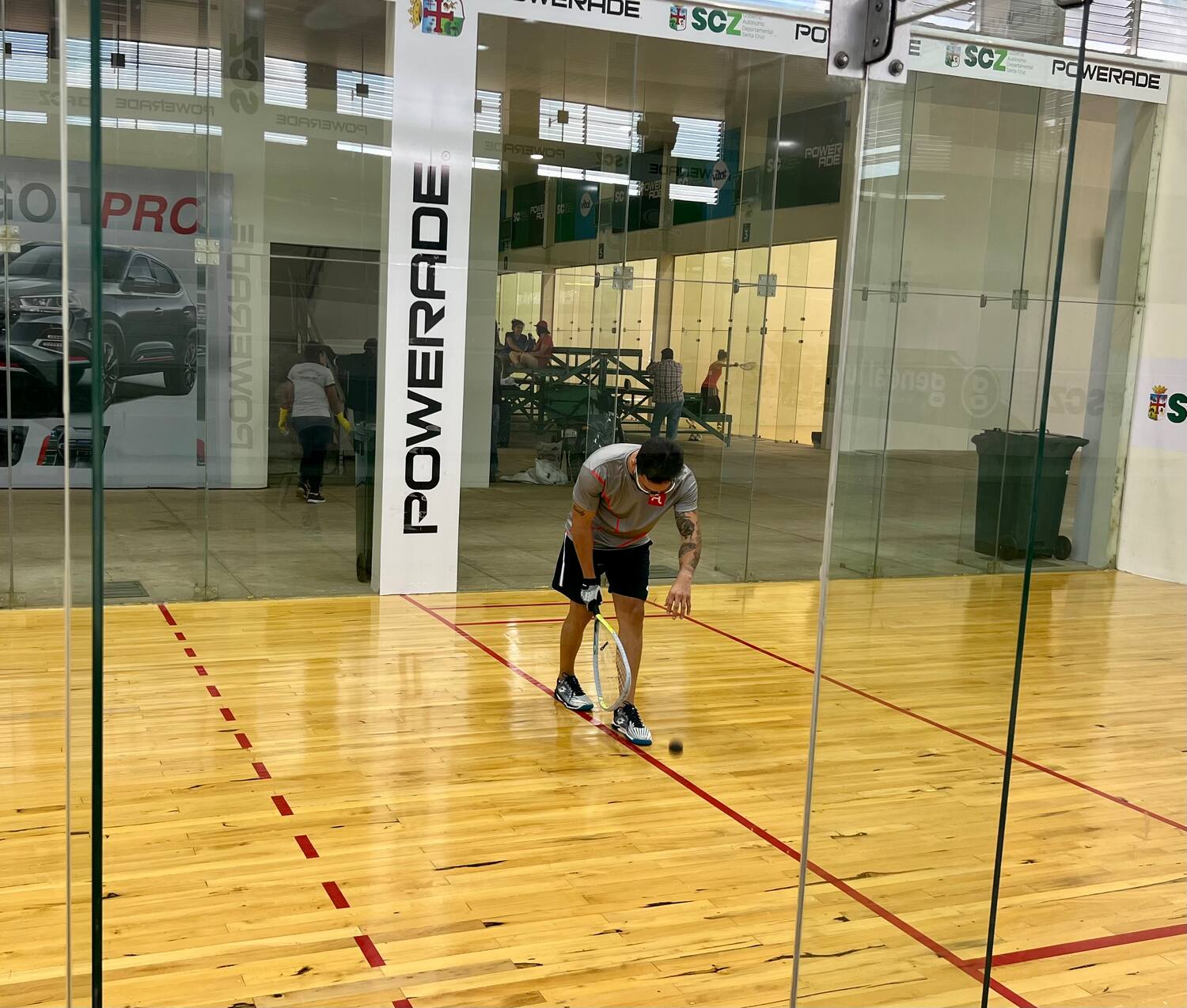 I got all of tomorrow's court assignments and took care of USA Racquetball and IRF business at the coaches meeting. The IRF is a well-run organization. The international racquetball events they run keep our great sport in the Pan American Games and the World Championships.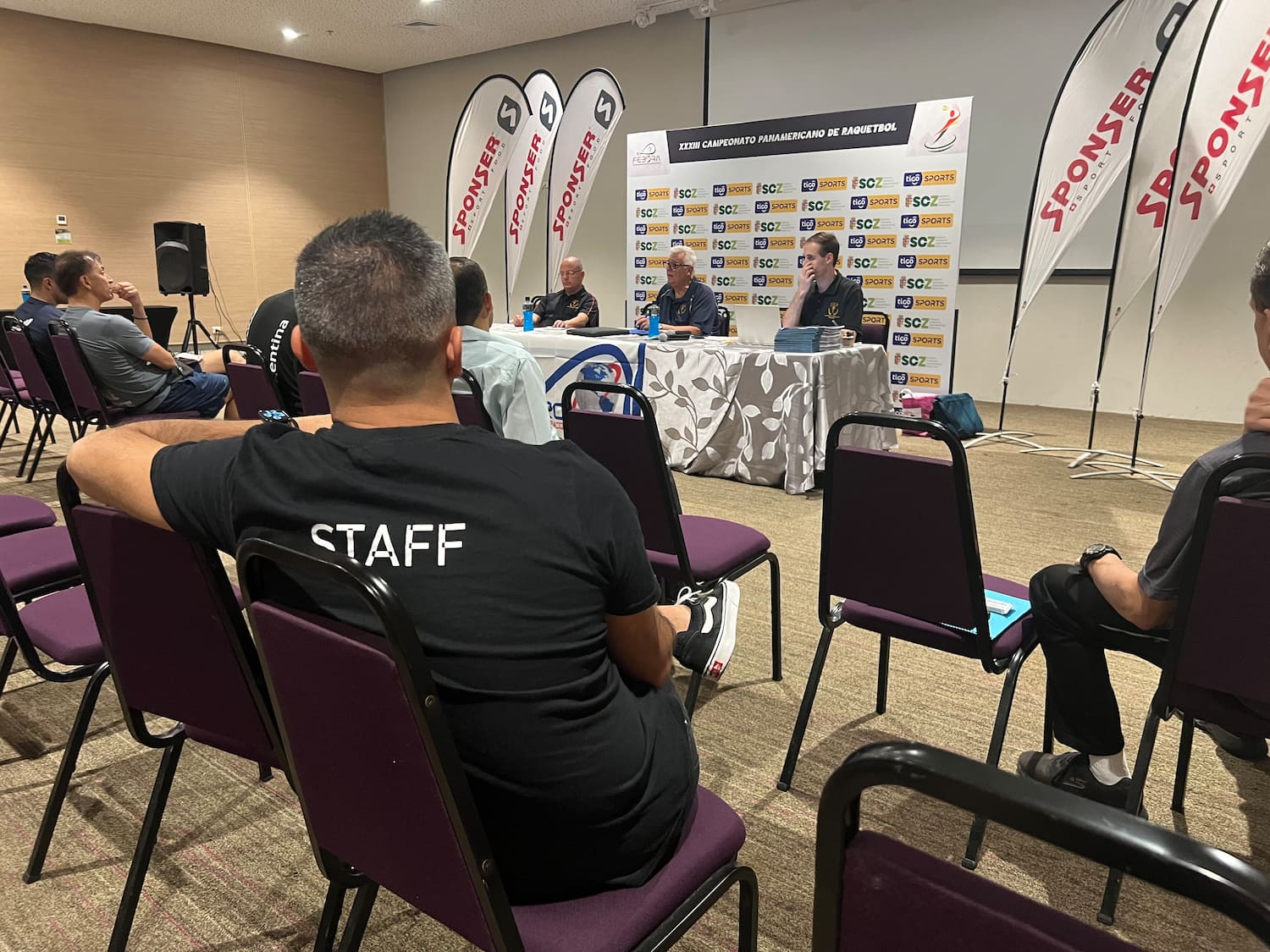 Saturday's Schedule
Although Alex does not play in Singles, he and Erika have a mixed doubles match which means our entire delegation will be on court.
11:15am -- Kelani Lawrence vs. Carla Muñoz (CHI)
11:15am -- Rhonda Rajsich vs. Maricruz Ortiz (CRI)
12:00pm -- Jake Bredenbeck vs. Abraham Mercado (PUR)
1:30pm -- Rajsich/Manilla vs. Manilla/Salas Solis (MEX)
3:00pm -- Bredenbeck/Bredenbeck vs. Cubillos/Mercado (COL)
4:30pm -- Manilla/Landa vs. Martinez/Galicia (GUA)
All divisions and draws can be viewed on the International Racquetball Federation website at https://www.r2sports.com/website/event-website.asp?TID=39092
The broadcast team will not be here until next week, so your best chance to catch some of the action will be to check Erika Manilla, Kelani Lawrence, or Jim Durham's Facebook feeds. We will be actively posting on social media as well. So check it out and cheer us on.
GO TEAM USA!!