We Are USA Racquetball Infographic: #11 - Technology
This WE ARE USA RACQUETBALL infographic describes the role USAR plays in the sport of Racquetball.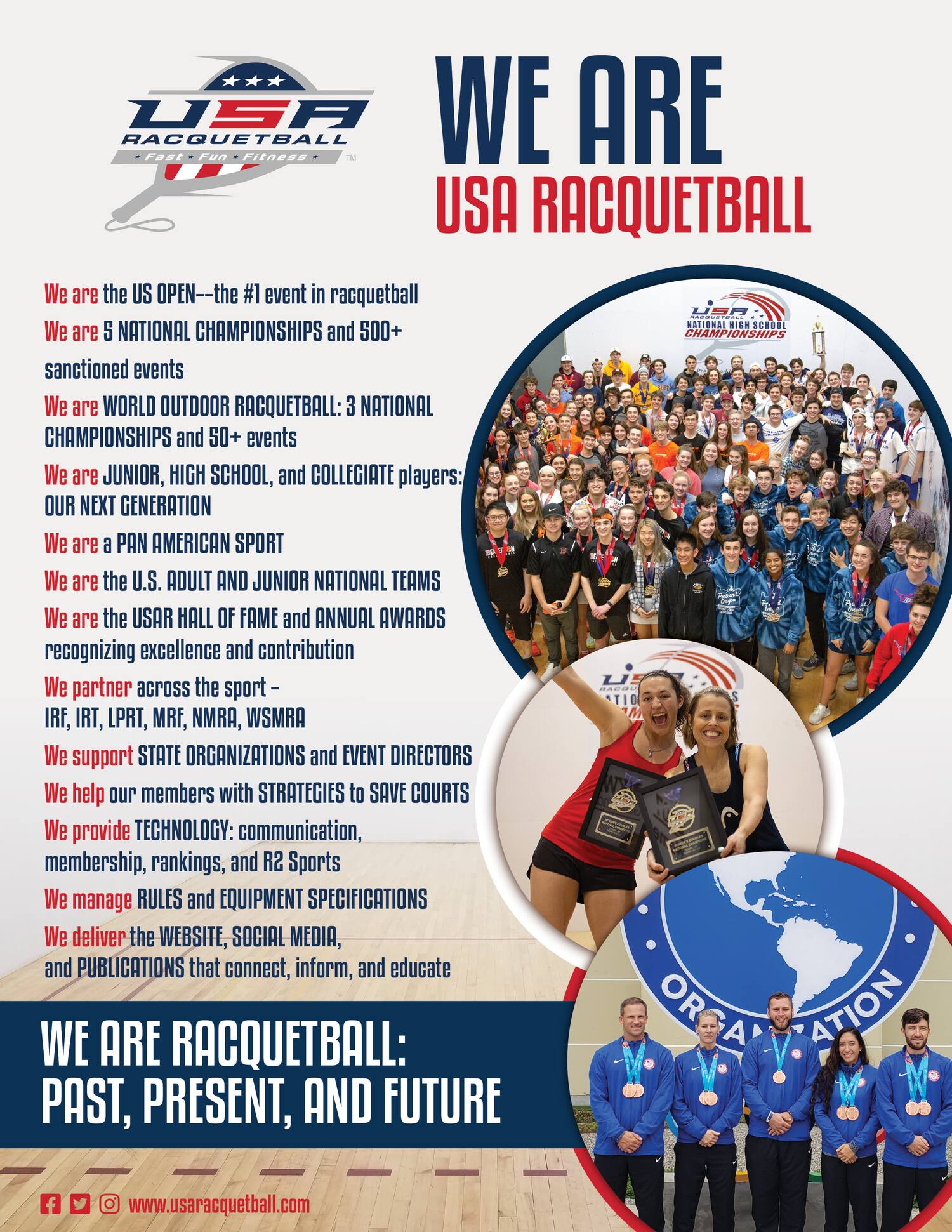 Dear USA Racquetball Members (and Racquetball Players Across the United States),
The USA Racquetball infographic above has appeared in the last fifteen issues of Serving Up the News. The contributors and editors of this newsletter have observed that while many of our members appreciate the infographic's high-level description of the value USA Racquetball brings, perhaps they would appreciate more detail on each point, to understand more about what USA Racquetball provides to the infrastructure of our sport.
We covered #1 US OPEN and #6 U.S. Adult and Junior National Teams in the May 2021 of this newsletter. In June 2021, we continued with #2 National Championships/Sanctioned Events, #4 Junior, High School, and Collegiate, #12 Rules and Equipment Specifications; August 2021 was #3 World Outdoor Racquetball and #13 Website, Social Media, and Publications; September we covered #7 Hall of Fame and Annual Awards, and in October we discussed #8 Our Partners Across the Sport.
We'll continue here to grab another of the 13 points on the infographic and give more detail.
#11 Technology: Communication, Membership, Rankings, and R2Sports
USA Racquetball is proud to offer the latest technology in the sport so that you, the player can keep up to date on all things racquetball, whether it's your favorite players and how they are doing in a tournament, your current doubles ranking, or following our National Teams at an upcoming event.
Communication – USA Racquetball strives to keep in close contact with its members by using various means to communicate. Email marketing, social media, and our website our different platforms that any racquetball player can go to or sign up for to receive the latest news in racquetball. For instance, our monthly newsletter Serving Up the News is a great way to receive your monthly dose of racquetball all wrapped up in one email!
Membership – Renewing your membership is as easy as 1, 2, 3! With member benefits such as the below, you want to make sure you sign up!
Online access to Racquetball publications like our online newsletter

Regular USA Racquetball and State Racquetball Association updates including National Team news

Current USA Racquetball rules and online training tips

Great discounts on United Airlines and at all IHG properties around the world

Shopping discounts through

PinchPerks

Eligibility to compete in over 450 annual tournaments including USA Racquetball Championship events (six annually)

Secondary accident insurance

Right to vote in National Board elections and participate in member surveys

Last but not least, being a USA Racquetball member (and encouraging friends and family to become members as well) supports

your

sport for this generation and the ones to come.
Rankings – Ever wonder about your ranking in your state? Or how you stand rankings-wise against your arch nemesis? Our ranking system is on our website and you can easily punch in your first and last name and find out your national and state rankings for both singles and doubles.
R2Sports – R2Sports is aracquetball tournament management system customized for USA Racquetball. Owners Ryan and Tish Rodgers designed a cutting-edge tournament management program to benefit everyone involved including tournament directors, organization directors and staff, players, fans, media, and sponsors. You can also follow your favorite racquetball player during a tournament while using the R2Sports app on your phone!
In conclusion, we take our role very seriously in serving all of you and in saving and strengthening our sport, and we hope this resonates with you as an inspiration for workingtogetherto dowhatever we canto preserve this treasure in our lives. It will take all of us to do it, and USA Racquetball accepts and embraces our sacred responsibility to lead and to inspire everyone to participate in solutions.
Sincerely,
The Staff, Board, and Volunteers of USA Racquetball