The 12th edition of the Las Vegas 3WallBall World Championships presented by KWM Gutterman is in the history books, and what an event it was! The booths were back this year, the state tents were back on site, people were able to gather and mingle and socialize in a more relaxed atmosphere. With our streaming partners, LPRT and IRT, pro matches streamed at the same time with over 150,000 views of matches played during and after the event. We give thanks to AGE Solutions and ProKennex for hosting this unique event as well as THE STRAT for our location on the Las Vegas Strip.
To all our sponsors: we appreciate you more than you know and work to increase your visibility with pre and post event promotion. Everyone, please support our major sponsors whenever possible as well as all those support this event. See www.3WallBall.com for complete sponsor information. Major sponsors - Ahern Rental, Roscoe Halsey of LPL Financial, SodaMan Vending, Bella Vista Windows, MZ Companies, Team Root, and our official ball provided by Gearbox. We also saw the return of HEAD to the event. We thank our partners -- USAR, WOR, NPA, and MRF/MACS.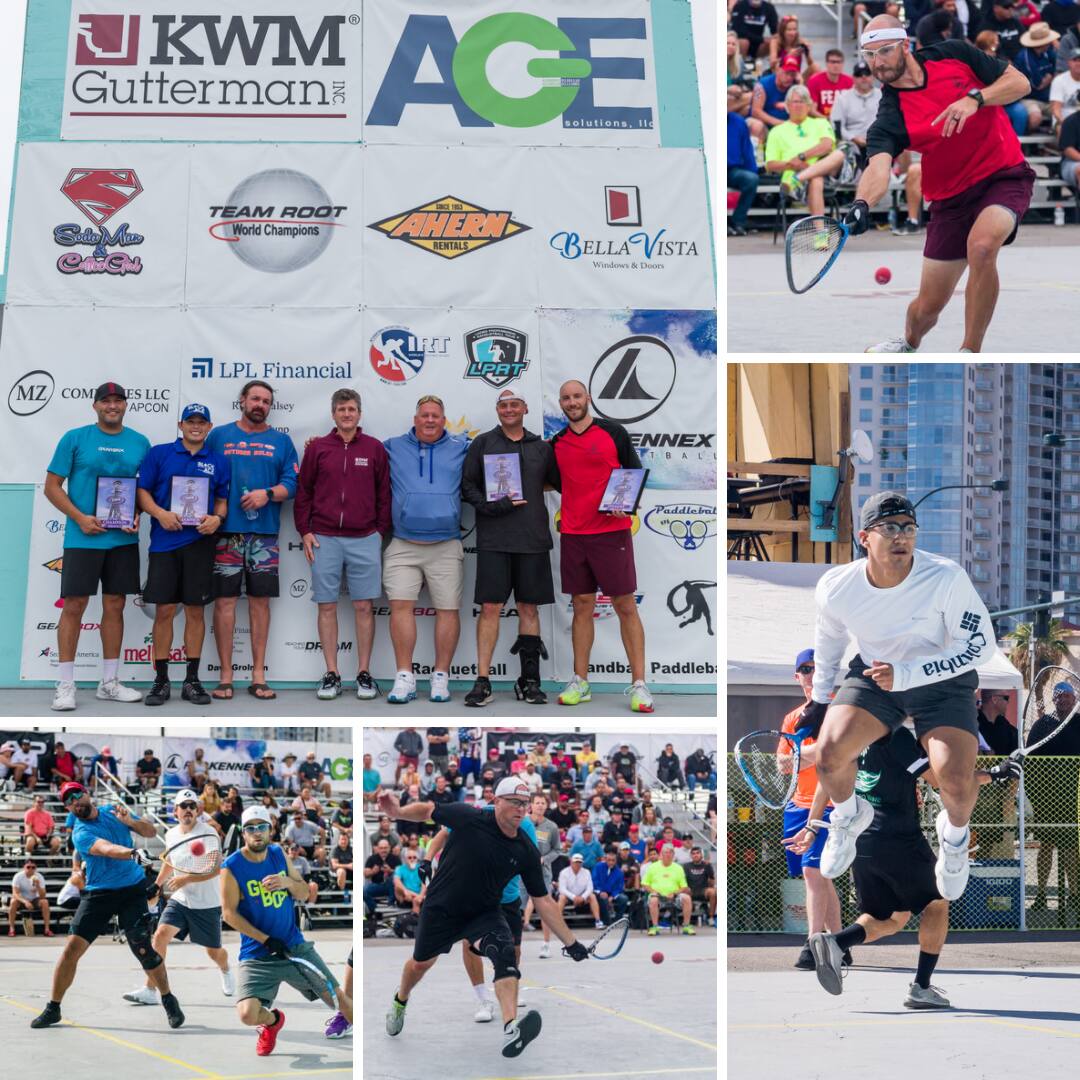 Photos by Mike Augustin
For the first time a paddleball match featuring handball players was showcased on our live stream, emphasizing the beauty of a true multisport event, which is indeed what this major outdoor competition is about.
On a very crowded weekend in Vegas with EDC, a pool tournament, two conventions, a WSP poker event a month, and both hometown sports teams in action, the 2021 3WB edition brought 450 players to THE STRAT for excellent competition with stellar examples of the grace and athleticism of racquetball. A prize purse of over $24,000 and an additional $6,500 in handball and paddleball drew a crowd of players.
Kicking off the event was a well-attended MRF/MACS Pro-Am Doubles in support of their mission to provide sporting opportunities to our wounded service members. Twelve amateur players battled with their Pro partners to find Brian Pineda and Larry Cesareo taking on Daniel De La Rosa and Roscoe Halsey in the playoff. This was a great way to provide significant support, and all donations are greatly appreciated!
Thursday night brought the return of our special event Ladies Night sponsored by Bella Vista Windows & Doors with Susie Boulanger, Lisa Bu, and Maddie Melendez hosting. And, we introduced the ice cream social on Friday hosted by SodaMan – Rick Koll.
Saturday dawned with a bit of a change of scenery as a freak wind event in the very early morning hours tore down virtually every canopy and sent the ProKennex booth (20x'x20') tumbling onto the courts. It was all cleaned up quickly and play continued a few hours later as if it hadn't happened. (Thank you, Ruben Antilla.) Then it was on to the military Up/Down division demonstrating the skills of adaptive athletes alongside generous volunteers.
Working our way through 66 divisions; the return of the adaptive up/down racquetball division; and introducing a specialty event to crown Eric Fernandez King of the Court, we moved to the 2021 CPRT final as the highlight of Saturday night with Ironman Robert Sostre and Greg Solis besting Tom Gerhart and Patrick Allin. The Rancho High School ROTC Color Guard followed in a ceremony to honor our Heroes and Adaptive racquetball players.
Sunday morning began with high anticipation – 3-Wall Finals! The Men's Pro Singles featured Mario Mercado over Alan Natera and the Women's Pro Singles went to Carla Muñoz with Erica Williams taking second. The Men's Pro doubles match was competed between defending (and repeating, as it turned out) champions Daniel De La Rosa and Alvaro Beltran vs. first-time finalists Jason Geis and Micha Rich. In a reversal of fortunes, the Women's Pro Doubles saw last year's finalists Carla Muñoz and Michelle De La Rosa defeat Janel Tisinger-Ledkins (8 months pregnant this year!) and Katie Neils.
The showcase Mixed Pro Doubles reunited Greg Solis and Janel Tisinger-Ledkins vs. Daniel De La Rosa and Michelle De La Rosa. Team DLR continues to dominate as the winningest Pro Mixed team in 3WallBall-Vegas' history with 7 of the 8 finals going their way.
The One-Wall Pro Divisions had Nick Riffel and Adam Manilla over Alan Natera and Charlie Pratt in the Men's; Victoria Rodriguez and Katie Neils taking the Women's; and Mixed team of Rick Koll partnering with Michelle DLR to top Amie Brewer and Tom Gerhart.
On the Amateur side, the largest draw of 26 teams had Vegas locals Larry Cesareo and Rob Hanson besting Gary Durbin and Bill Craig in the Men's A Doubles division. In another substantial draw, Sawyer Lloyd caught a WBF as his opponent CJ Sanders tumbled, striking his head on the ground in a frightening accident. Happy to report that CJ is okay!
A hearty thank you to all those involved in making this event happen, literally from the ground up! From the folks who construct the courts to the desk operations staff who ran the event on time all weekend, the streaming teams, the medical team that kept our players healthy and safe, all the volunteers who helped with reffing and monitoring the courts -- we could not have made it through the week without all of you.
Racquetball Family, this takes serious time and money – be a supporter of the 3WallBall experience. We need you, and the sport needs you!
The 2021 event is behind us now. We had a chance to play together and experience a return to a more normal celebration of our sport. Encouraged by the number of indoor players becoming regular enthusiasts of the outdoor game, happily we recognize that racquetball is racquetball no matter the number of walls. Skill, experience, attitude, and just plain bangin' the ball is what makes racquetball so great!
The full results for the 2021 3WallBall World Championships can be found at https://www.r2sports.com/website/event-results.asp?TID=37761.
And don't forget that you can watch (and re-watch!) a number of the Pro matches, from early pairings to the finals, at https://www.youtube.com/channel/UC3IUtyASra8EXpJCdNieGXw.
We don't know yet what 2022 might bring - stay tuned!!