World Outdoor Racquetball Update for October 2021
Updates on the Outdoor Majors
Here's the latest news from the three Outdoor Major tournaments (see the upcoming events section for exact dates and locations):
Beach Bash 2022
We still do not have an official kickoff announcement for the event, just a couple of placeholders for now.
Tentative dates: 3/24/22 – 3/27/22

R2sports.com website:

https://www.r2sports.com/portfolio/r2-event.asp?TID=31509

The first event to be held at the Garfield Street courts since March 2019 is scheduled for December 18-19, hosted by frequent DC-area outdoor programmers Maddie Melendez and Thao Le.
Outdoor Nationals 2021
No news for 2022 event at the current time.
Tentative dates: 7/7/22 – 7/10/22
3WallBall 2022
No news for 2022 event at the current time
Tentative dates: 10/19/22 – 10/23/22
November 2021 WOR/Outdoor Tournament Result Recaps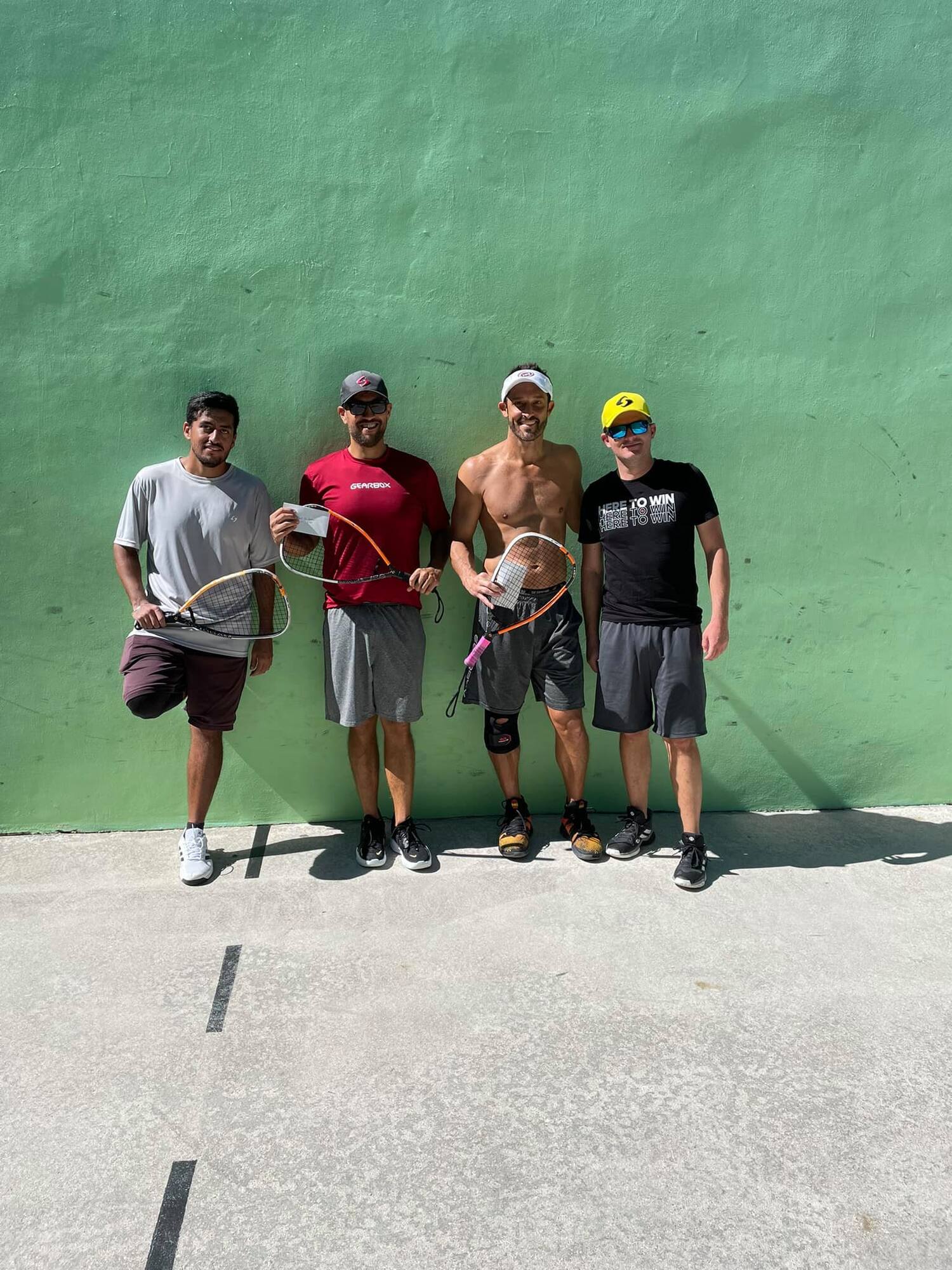 Caption: Men's pro doubles finalists pose with their winnings. From L-R Roy Hernandez, Marcos Gravier, Jonathan Burns, Mike Harmon. Photo courtesy of Rob Mijares.
Outdoor season is mostly over for most of the country, now that we're heading into the winter months. But there are events scheduled in the warmer weather states all winter. One of those is the big annual recurring 2021 WOR Florida State Long-Wall Championships, held on November 6th and 7th at Waterford Park in Davie, Florida. Waterford Park houses eight long-wall courts, four of which are lit, and is tucked into a residential neighborhood in the suburbs north of Miami.
The R2sports home page for this event is here: https://www.r2sports.com/portfolio/r2-event.asp?TID=37824
Players numbering 86 entered and competed in both singles and doubles. They were mostly from Florida but included some traveling players from Arizona, New York, Virginia, and elsewhere. Here are some highlights from the top divisions.
In the Men's Pro Doubles division, seven teams entered, highlighted by the #1 seeded team of Roy Hernandez and Marcos Gravier. They advanced to the final by topping the upset-minded team of Tony Gonzalez and Nicola Chafloque, who took out the #4 seeded team of Yelandi Rivero and Robert Sostre in the quarters. On the bottom half, #2 seeds and long-time top Florida indoor players Jonathan Burns and Mike Harmon showed they have some outdoor chops too, taking an 11-10 nail biter in the semis over the tough outdoor team of Joe Young and Carlos Bravo to make the final.
In the final…The #1 seeds held serve and Hernandez/Gravier topped Burns/Harmon to take the title, 10, 12.
In the Men's CPRT 40+ Pro Doubles division, 11 teams entered, highlighted by the #1 seeded team of Aaron Metcalf and Ross Greenberg. Metcalf is among the best long-wall players in the country, a long-time indoor star and former IRT touring pro who turned to outdoor when the last of the indoor racquetball clubs closed in his native Jacksonville. He's been a force at long-wall ever since.
However, the #1 seeds were toppled in the semis by Burns and Gravier, who advanced 12, 7 to make the final from the top half. In the bottom half, Rivera and Young took a tiebreaker win over #2 seeds Thomas Gerhardt and Sostre to make the final.

In the final….Young used his pace to help drive his team to the title, with Young/Rivero topping Burns/Gravier 14, 4.
In the Women's Doubles Pro division, the #1 seed was the traveling team from Virginia of Amie Brewer and Carrie Handfinger Hoeft, who earned their long-wall chops on the long-wall courts at Stratton Woods Outdoor Racquetball in Herndon, Virginia. They were challenged by three all-Florida teams in a round robin group for the title.

Without dropping a game, the Virginia team swept its three round robin matches to take the title Saturday morning. The #2 seeds Teri Delgado and Claudia Andrade finished 2nd.
In the Mixed Pro Doubles division, six teams challenged for the title.

The all-Florida team of Harmon and Luanne Pazos Bryant defeated the #2 and #1 teams en route to the title. In the semis they toppled Gerhardt and Amie Brewer, and in the final bested Roy Hernandez playing with Carrie Handfinger Hoeft.
Four brave souls entered the Men's Pro Singles division. Singles in long-wall is a test of racquetball shot-making and endurance, with players not only having to cover pinch shots up front but long bounding shots to the deep of the court.
In the semis, #1 Iceman Sostre took out long-time Florida outdoor player Mike Blackney, who grew up playing at the famous "Spanish Monastery" courts in North Miami. On the bottom side, Hernandez got a solid win over multi-state champion Harmon.
In the final…Hernandez dominated the New York Hall of Famer and took the title 8, 7.
Thanks to tournament organizers Rob Mijares (who does so much for Florida outdoor racquetball) and Marcos Gravier for organizing this event.
Mark your calendars for these Upcoming Outdoor Events for 2021 and beyond
January 2, 2022: WOR AZ Battle Clash of Chavez
January 30, 2022: WOR AZ Battle of Rose's
March 5, 2022: WOR AZ Battle Target Tolleson
March 24-27, 2022: 2022 Beach Bash. Garfield Street Courts, Hollywood, Florida. https://www.r2sports.com/portfolio/r2-event.asp?TID=31509
April 2-3, 2022: WOR AZ Final Battle
July 8-10, 2022 (tentative): 2022 Outdoor Nationals, Huntington Beach, California. Tournament Directors: Geoff Osberg & Jesus Ustarroz
August 12-14, 2022: Windy City 3Wall Brawl Championships, Chicago, Illinois. Tournament Director: Joey Logan
October 20-23, 2022 (tentative): 13th Annual 3WallBall Outdoor Championships, Las Vegas, Nevada. Tournament Directors: Mike Coulter & Peggine Tellez
Tournament Directors: when you setup your Outdoor events in R2sports, PLEASE make sure you select "World Outdoor Racquetball (WOR)" as your organization. That way your event will show up on the new WOR webpage we're working on in the dynamic "Upcoming Events" widget. If your event doesn't show up in this link below, then it isn't referencing the correct org in the tourney setup page.
https://www.r2sports.com/r2sports-event-search.asp?searchNow=YES&eventSportOrgID=58
The Latest on Dane Elkins Search
There is no substantial update from last month. Dane continues to be missing, but the family is confident about his whereabouts. He is in the Modesto area and has been getting assistance from someone to provide food and shelter. Since he's an adult and is not a danger to himself or others, this is not a police matter, but the family would still like to get in touch with him to reconnect after nearly a year apart. Please keep the Elkins family in your thoughts as they approach one year of being separated from Dane, which is especially difficult around the holiday season.
If you see Dane or may know about his whereabouts, his mother Deborah Kassin Elkins respectfully asks you to contact her at 562-504-6005 and to send any pictures or videos to searchingfordaneelkins@gmail.com.
To keep updated, please consider joining the Facebook Group "Searching for Dane Elkins" at this link: https://www.facebook.com/groups/findingdaneelkins. The Elkins family is continually providing updates, possible sightings, and news articles/media coverage on the search.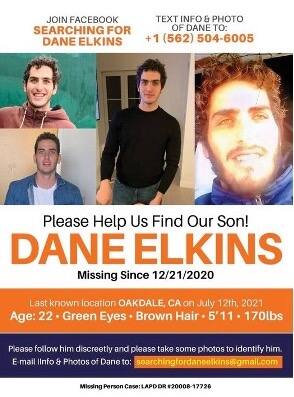 Latest Dane Elkins Missing flyer from "Searching for Dane Elkins" Facebook group/Elkins family.