IRF World Championships Recap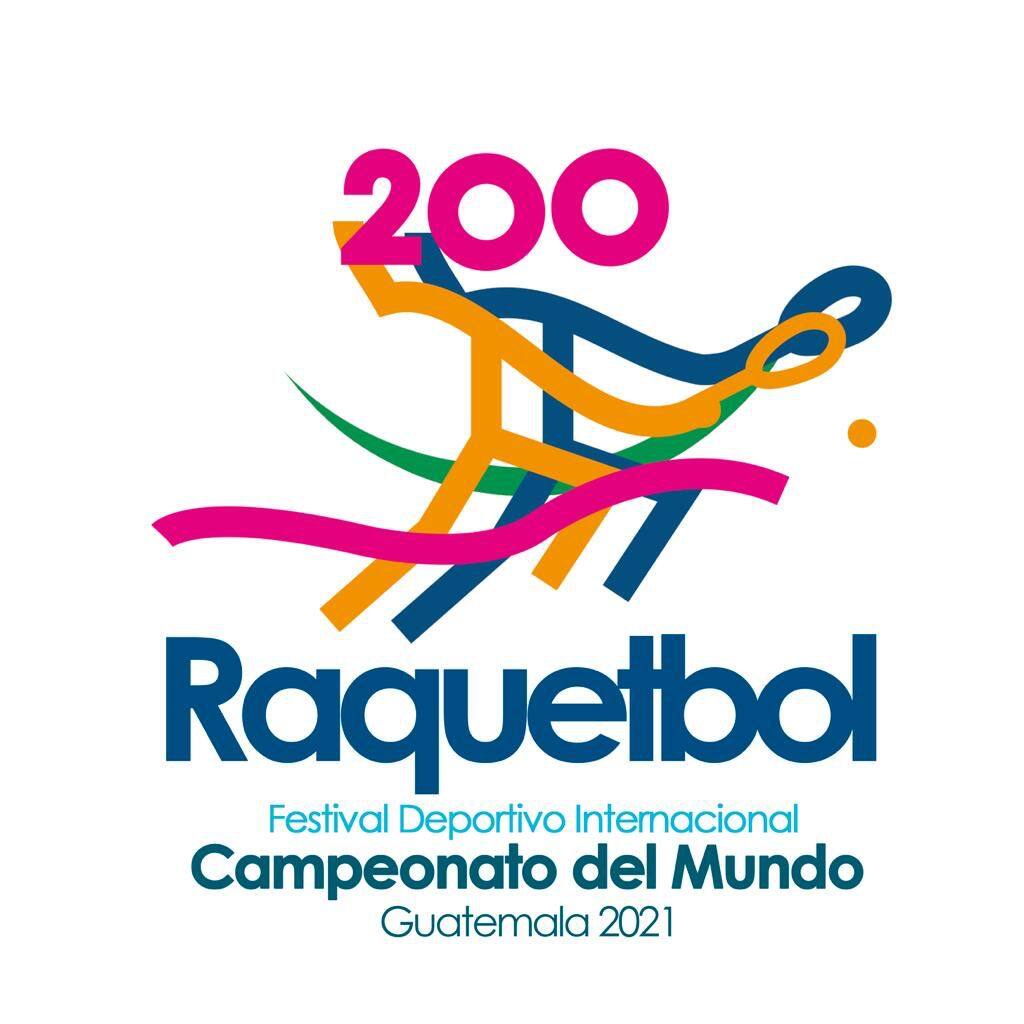 International Racquetball Federation (IRF) World Racquetball Championships
Guatemala City, Guatemala
11/29/21 - 12/6/21
By Cheryl Kirk
During the first week of December in Guatemala City, six U.S. Team athletes competed in Singles and Doubles against 13 other countries. The countries competing for gold and glory in Guatemala City were Argentina, Bolivia, Canada, Chile, Colombia, Costa Rica, Dominican Republic, Ecuador, Guatemala, Ireland, Japan, Korea, Mexico, and the United States.
U.S. Team/Delegation
Men's Team
Alejandro (Alex) Landa, Texas: #1 Singles
Jake Bredenbeck, Minnesota: #2 Singles
Charlie Pratt, Oregon, and Alex Landa: Doubles
Women's Team
Rhonda Rajsich, Arizona: #1 Singles
Kelani Lawrence, Virginia: #2 Singles
Erika Manilla, Colorado, and Rhonda Rajsich: Doubles
Staff
Jim Durham, California, Head Coach
Malia Bailey, Virginia, Assistant Coach
Rodger Fleming, Georgia, Athletic Trainer
Cheryl Kirk, Illinois, Team Leader
Dome Complejo de Raquetbol
Compliments and congratulations to the Guatemala National Racquetball Association for the debut of their racquetball facility: Domo Complejo de Racquetball. Nine beautiful courts awaited the players. A tenth will be completed soon, but these nine were more than sufficient for the IRF's needs at these World Championships. Compliments to Guatemala for producing this wonderful contribution to international racquetball. Warm thanks and admiration go to the wonderful individuals from Guatemala who hosted the event, working so hard to manage all of the details.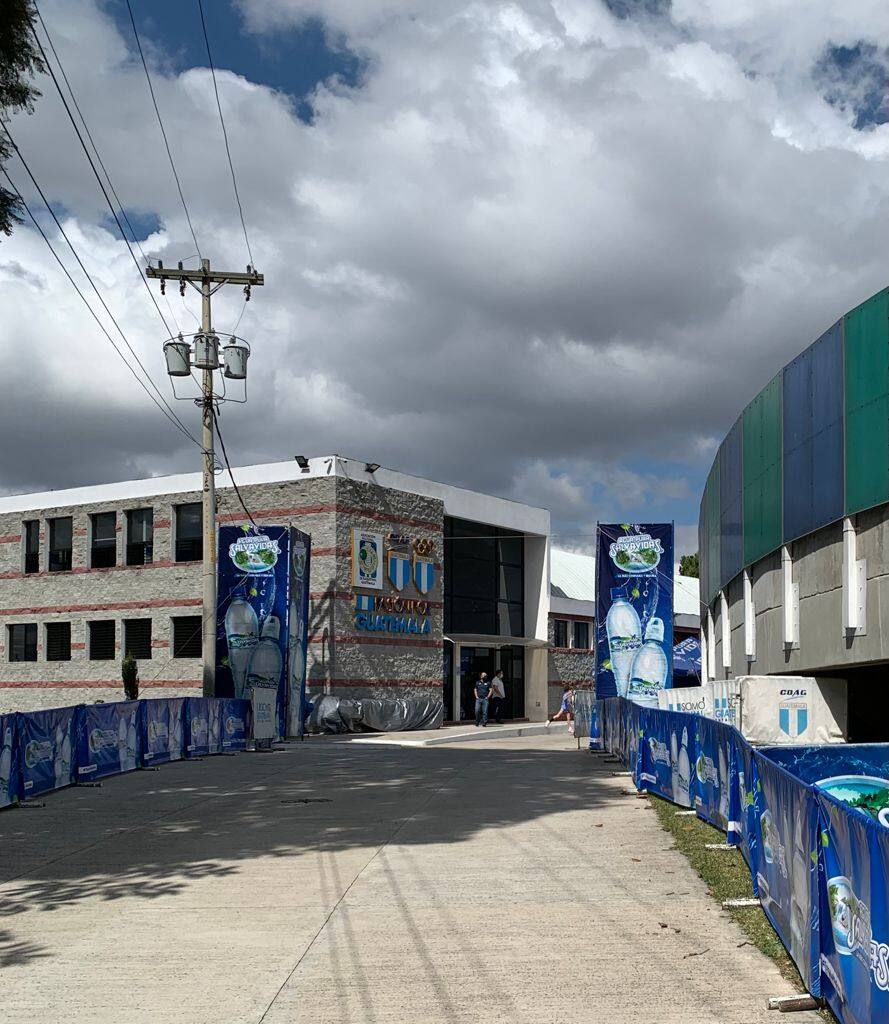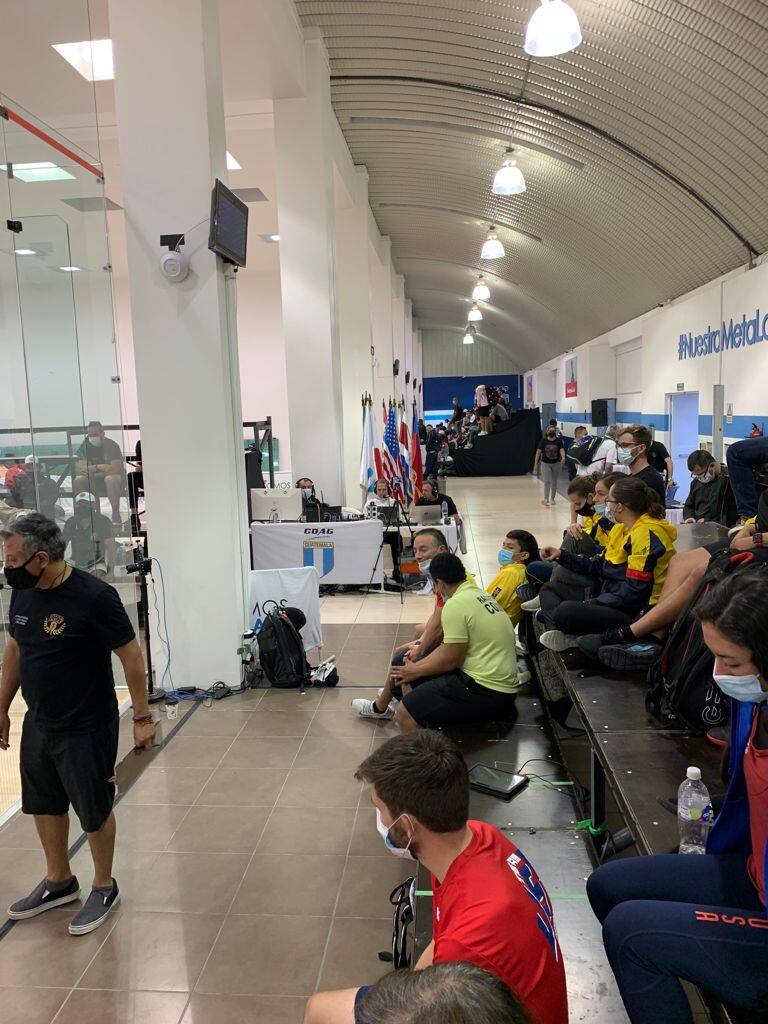 The referees (in Spanish, arbitros) are the unsung heroes of each event, officiating many hours a day, which ensures that athletes get experienced referees and never have to think about being referees themselves. Many thanks to these individuals for their expertise and long hours in support of Racquetball and the IRF.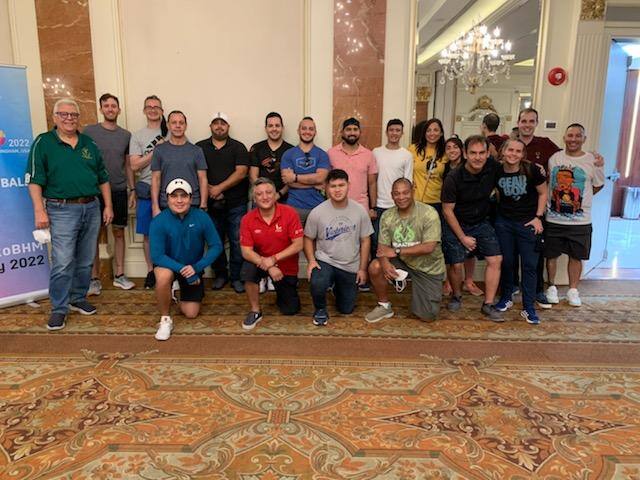 Besides the U.S. Team Delegation (and Tom Travers who coaches for Costa Rica), several more familiar names and faces were in attendance. Dean Schear (Texas) manages WADA (anti-doping) and financial matters for the IRF. Pablo Fajre (California) produced live streaming, leveraging color commentary provided by Gary Mazaroff (New Mexico), a key contributor to the IRF over many years, and Dean Baer (New York).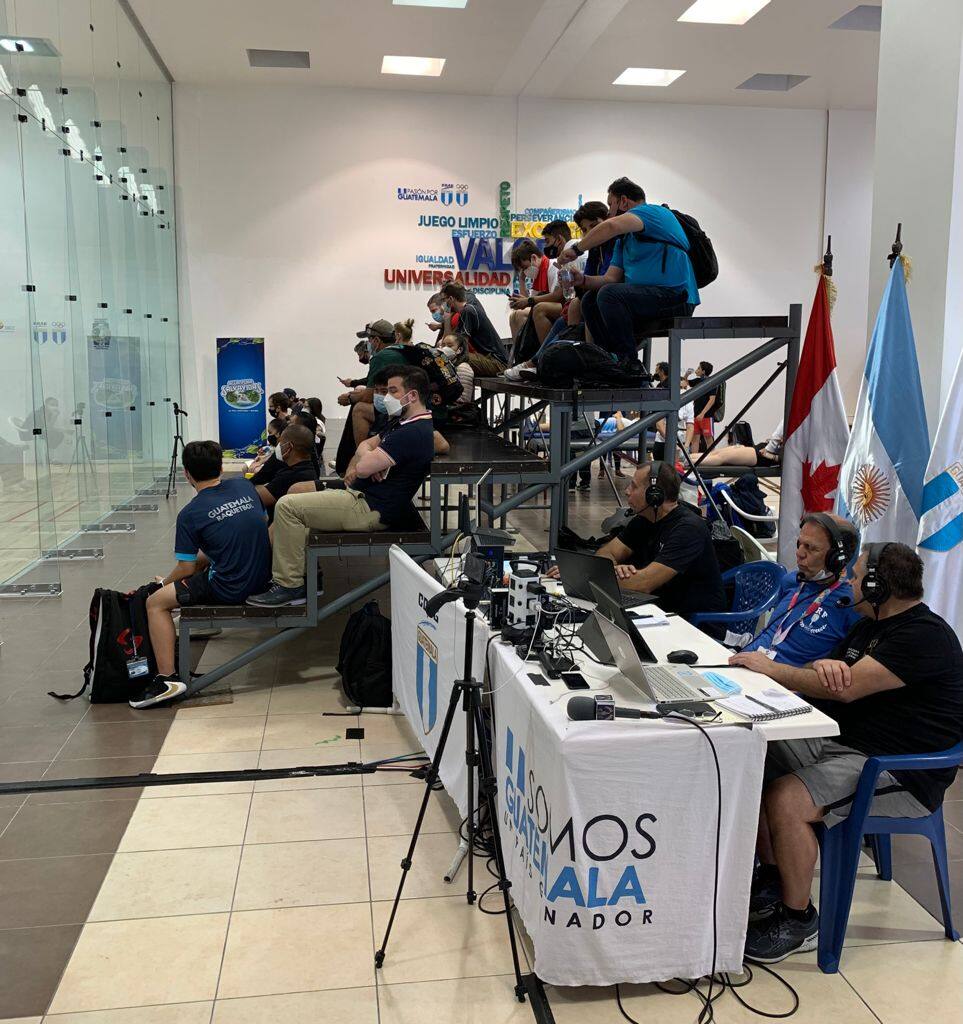 Championships Format
Round robin pools were the format of the initial phase followed by a main draw in each division. For singles, this was not the customary single elimination format. Matches continued in order to assign a place to each and every male and female singles player competing here. This is because the event served also as a singles qualifier for The World Games in Birmingham, Alabama, USA, next July.
IRF World Congress
The IRF World Congress met on Sunday, 11/28. meeting was about 2.5 hours long. A full agenda included minutes approvals; financial reports and an anti-doping update from Dean Schear; elections; and the President's report that included three topics from the Technical Committee. A rules change will be coming relative to appeals; a change to future Junior division age categories will be announced; and the World Congress voted to direct the IRF Technical Committee and Executive Committee to apply the concept, research, and details of implementing rally scoring for the IRF. The latter, while a significant change in international racquetball, is a valuable long-term investment in the sport.
Regarding elections, three IRF Board Executive Committee members were re-elected at-large by the World Congress and then voted by the Board itself to remain in their roles: President Osvaldo Maggi (Argentina), Vice President Marcelo Gómez Pacheco (Costa Rica), and Secretary Cheryl Kirk (USA).
Team USA's Secret Weapon -- Rodger Fleming
Team USA was extremely fortunate for the presence, service, skill, and knowledge of Rodger Fleming, an experienced and accomplished athletic trainer. Rodger worked 10 years in professional baseball; toured with a Rock & Roll Hall of Fame musician; worked on the set of "42" as an athletic trainer and Licensed Massage Therapist (LMT) for a lead actor; worked with Cirque Du Soleil performers from "Quidam" ... and much more. To say he is a master of his trade would be an understatement, and Team USA was the grateful recipient of Rodger's care and expertise. This was his first time working with racquetball athletes, and he fit in beautifully.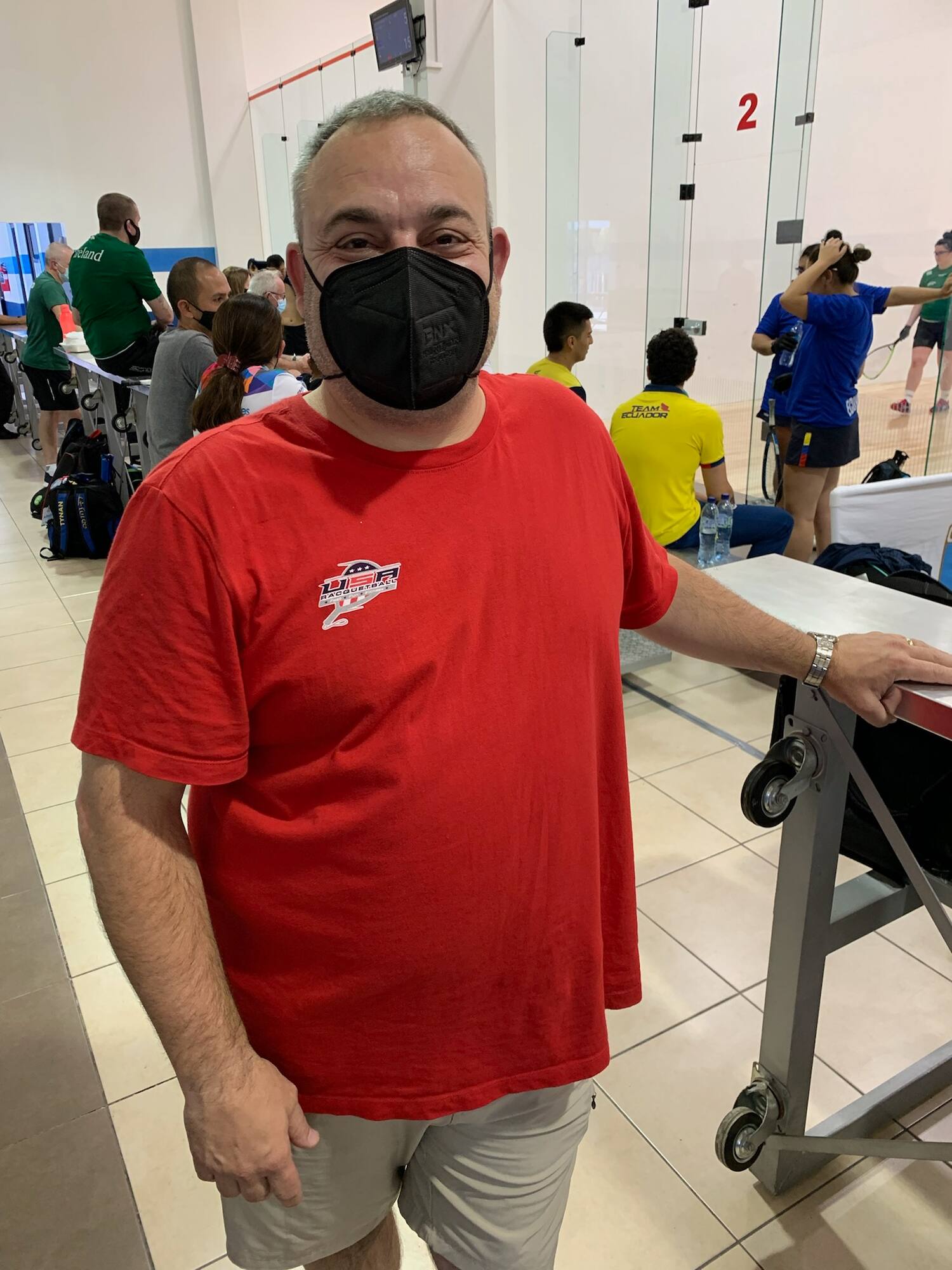 Juniors Arrive
The atmosphere of the club changed when junior players and their families began to arrive mid-week for practice to prepare for the IRF World Junior Championships to begin on Friday. This is the first time an adult and junior IRF event took place at the same location. Youthful energy (the 18-and-younger variety) was injected into the club. Players numbering 104 from nine countries competed through December 11th for their own individual medals and team trophies.
Team USA and USA Racquetball recognize with pride and admiration the athletes of the U.S. Junior National Team. They did not make the trip this year, but they continue to work hard in anticipation of next year's event. We can't wait to see them back in competition!
IRF World Championship Results
Congratulations to all of the countries for their efforts and results at the IRF World Championships! Team USA was first in Men's Team, second in Women's Team, and first in Overall Combined Team! We're incredibly proud of the effort everyone put in to play their hearts out and support each other as spectators as well. Words can't describe the euphoria when you realize your team has come out on top. Great job, Team USA!!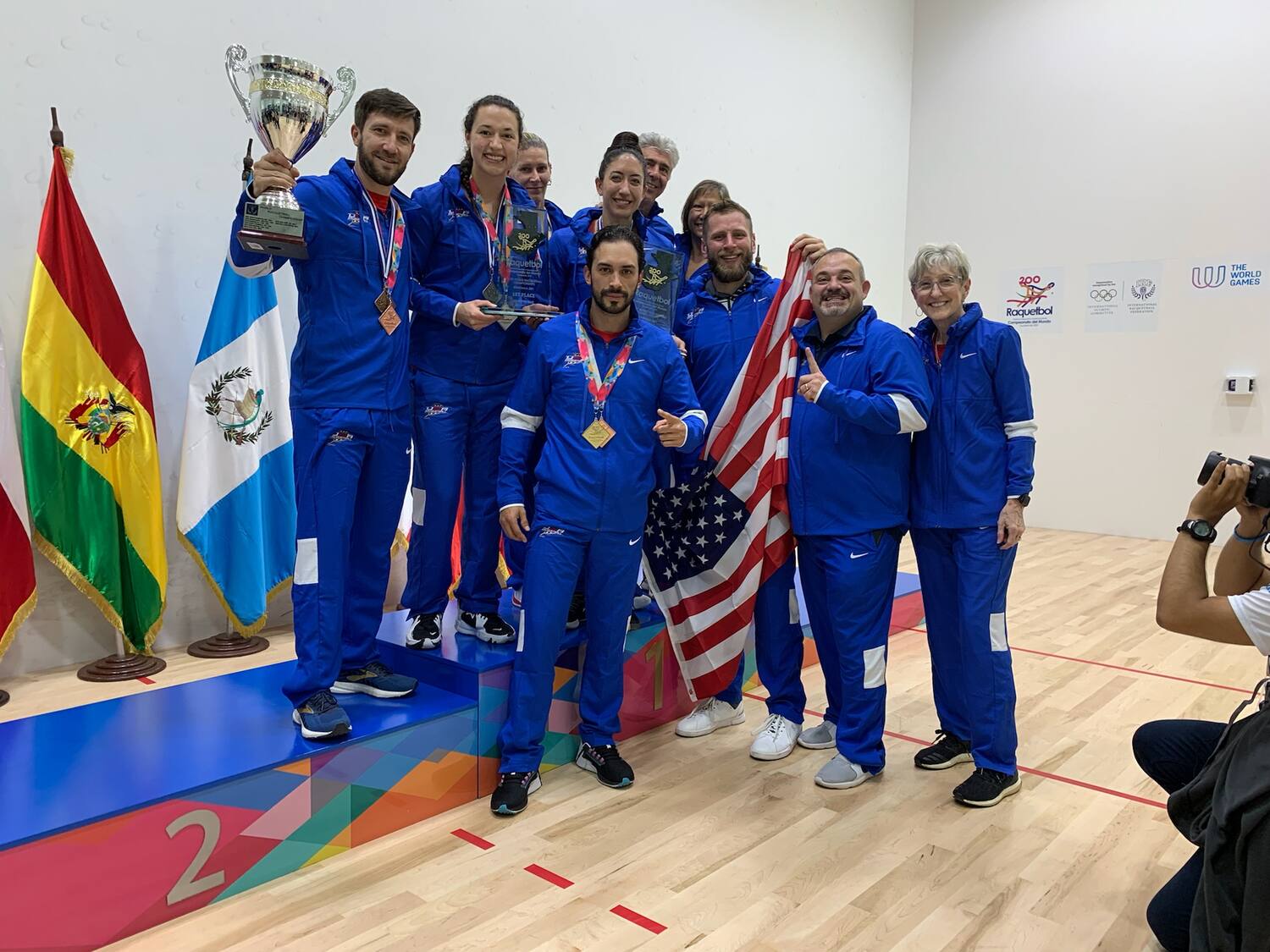 Team USA Medalists
Singles
Alex Landa -- Gold
Kelani Lawrence -- Silver
Rhonda Rajsich -- Bronze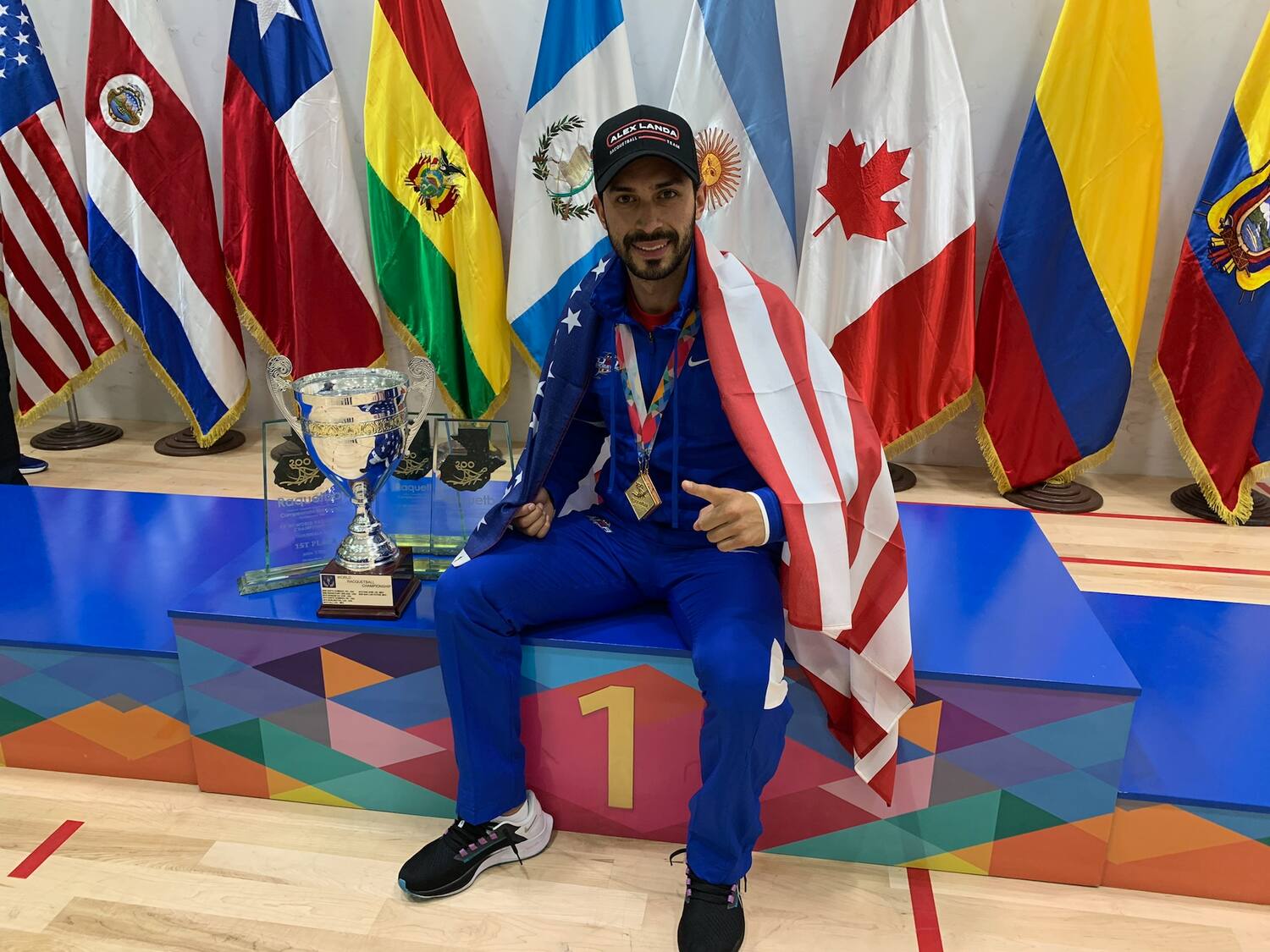 Doubles
Rhonda Rajsich/Erika Manilla -- Silver
Charlie Pratt/Alex Landa -- Bronze
Overall Combined Team
1 - USA
2 - Mexico
3 - Bolivia
4 - Argentina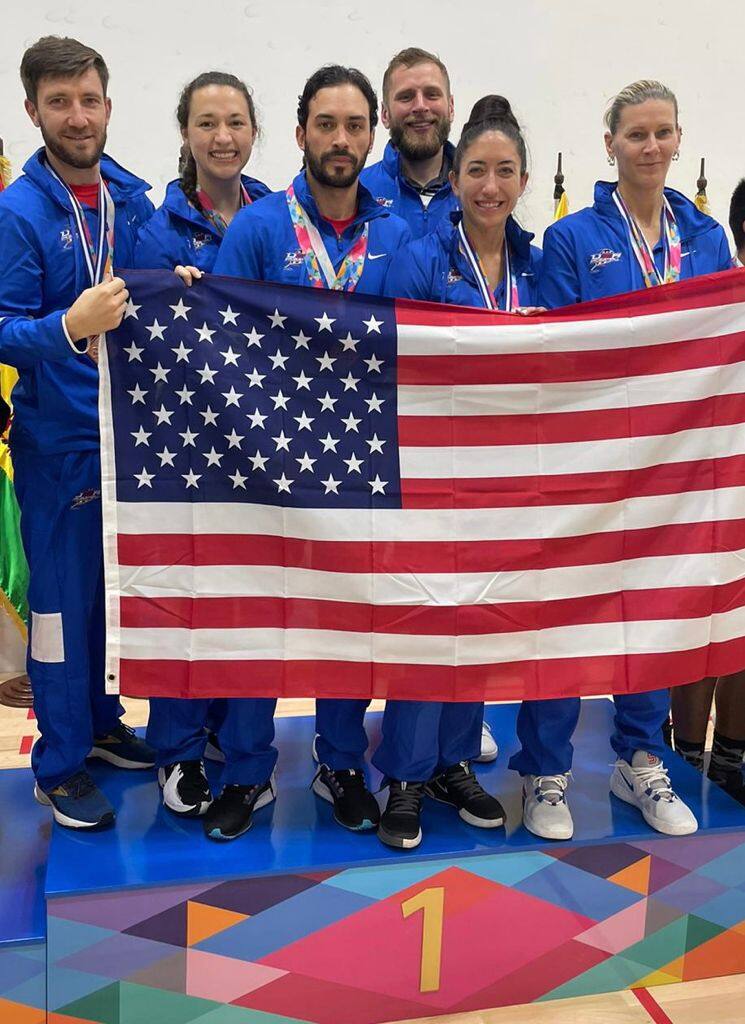 Men's Team
1 - USA
2 - Mexico
3 - Bolivia
4 - Costa Rica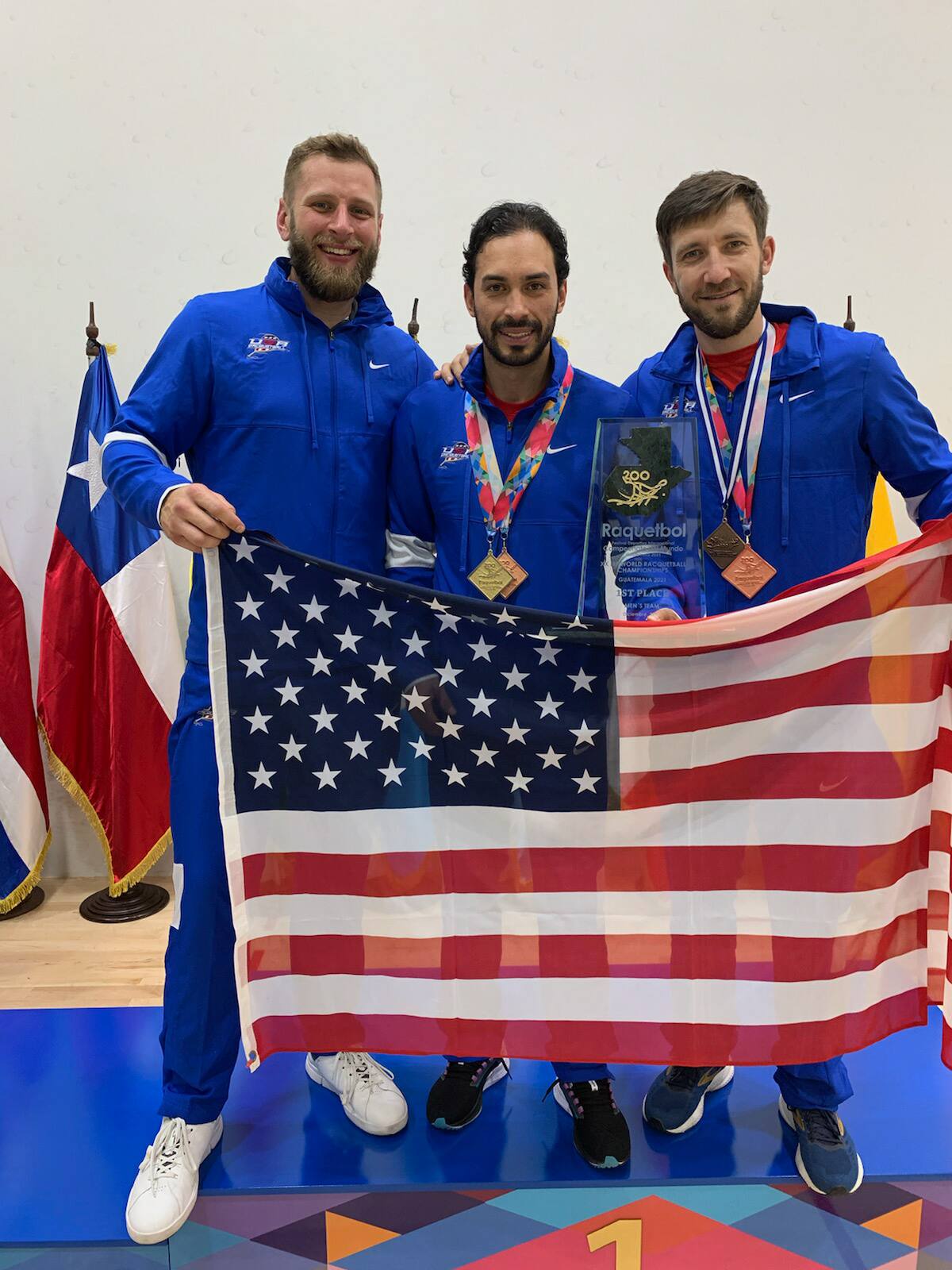 Women's Team
1 - Mexico
2 - USA
3 - Argentina
4 - Guatemala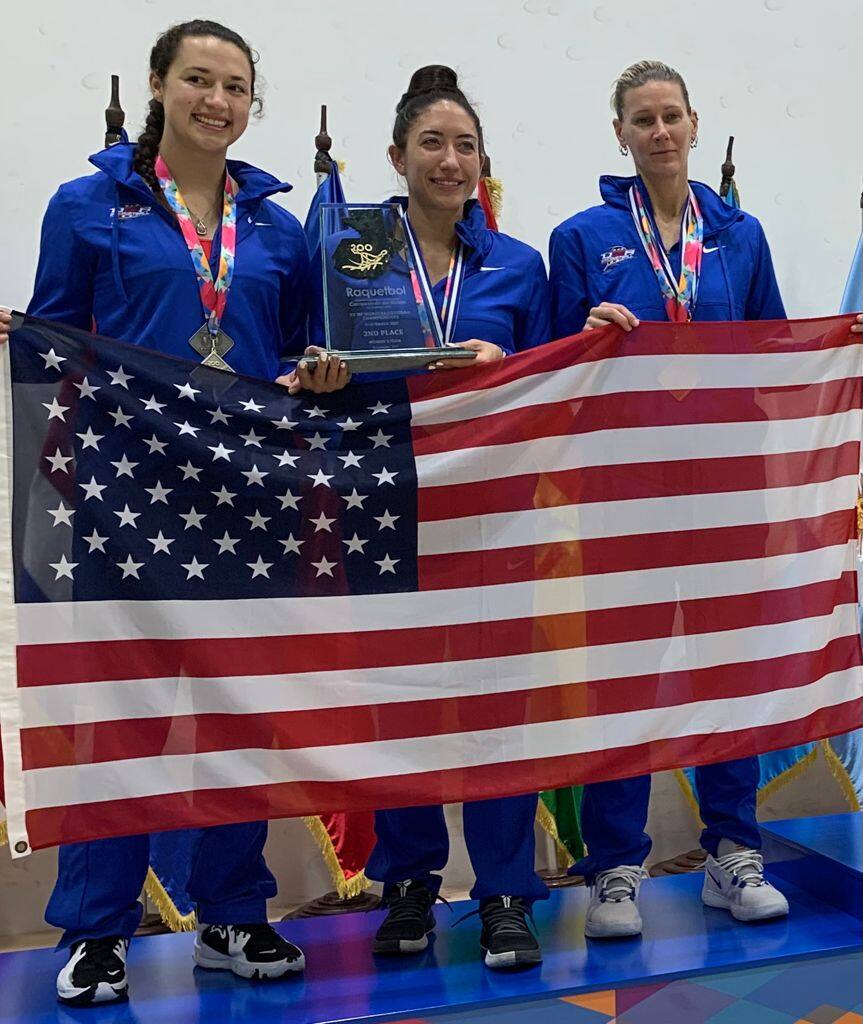 Division Winners
Men's Singles -- Alex Landa (USA)
Women's Singles -- Paola Longoria (Mexico)
Men's Doubles -- Rodrigo Montoya/Javier Mar (Mexico)
Women's Doubles -- Samantha Salas/Paola Longoria (Mexico)
All divisions and draws can be viewed on the International Racquetball Federation website at https://www.internationalracquetball.com/xx-world-racquetball-championships-guatemala-2021/.
Thank You's
The U.S. Team Delegation wishes to deliver much gratitude to those who made this event so truly memorable:
Guatemala National Racquetball Association (Local Organizing Committee), headed by Dr. Estuardo Wer, for hosting this very successful event. The work behind the scenes to host a tournament of this magnitude is extensive. Congratulations for a job very well done! From the hotel to the transportation, the awards, the coordination, this experience was smooth and enjoyable.
The club staff members, the many volunteers at the club, and the shuttle drivers who provided excellent service and hospitality. You did your country proud! (Special thanks to Juan Diego Blas for bringing such gracious and dedicated volunteers to the event!)
Marie Gomar deserves a very special thank you for the many, many things she did for Team USA and for the multitudes of questions she answered immediately upon receiving them. What a blessing to have such a wonderful friend to help us navigate logistics and details on this 11-day trip!
IRF Leadership and Staff
IRF President Osvaldo Maggi and IRF Vice President Marcelo Gomez Pacheco for their leadership and dedication to Racquetball and its development around the world. Also to Luke St. Onge and Keith Calkins whose earlier work set a solid foundation for the future.
Staff members who deserve so much appreciation and respect as well for their time and expertise. Mauro Grandio (Argentina), who expertly organizes so many of the behind-the-scenes IRF functions, was joined at the tournament desk by Pablo Berriel, Adrian Macrino, and Veronique Guillemette (Argentina). Maria Paz Riquelme (Colombia) worked on the social media coverage of the event.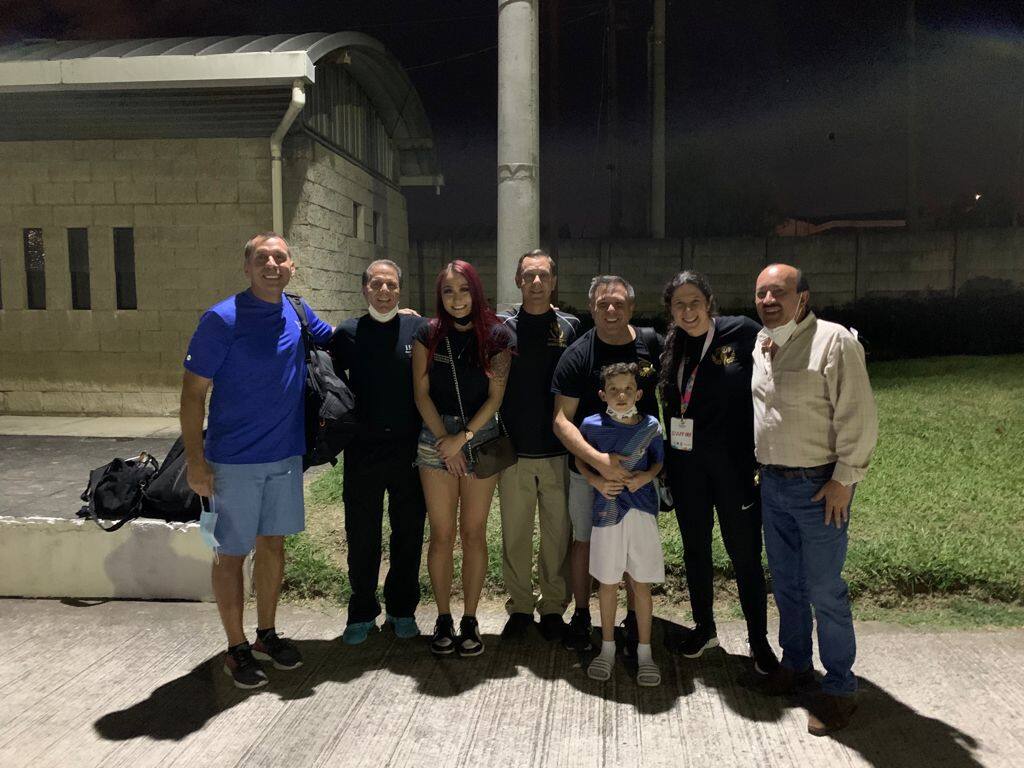 Sponsor
IRF sponsor Gearbox who contributes significantly to these international events.
USA Racquetball
Renée Isherwood for her considerable behind-the-scenes support such as booking flights, arranging insurance coverage for Team USA, etc., and Aimee Roehler and Renée who stopped whatever else they might have been doing as soon as a blog and photos were ready for posting.
Racquetball Fans
Last but not least, to all the blog readers of this blog, some reaching out with comments, who helped Team USA feel the love from back home!
Team USA -- It's a Wrap!
Besides the impressive achievement of winning the IRF World Championships, we're also very happy to report that all four singles players (Landa, Bredenbeck, Rajsich, and Lawrence) earned the right to compete in The World Games in Birmingham, Alabama, USA, next July. Congratulations to all four!
In the final team meeting after the awards ceremony on Monday evening, Coach Jim Durham led off with messages of appreciation for the delegation, one by one, and others followed.
Charlie Pratt, who is also the U.S. Junior Team Head Coach, dedicated with everyone's blessing the IRF World Championship traveling trophy to the U.S. Junior Team in recognition of their hard work and desire to get back to competition. We look very much forward to having them back in international events in 2022!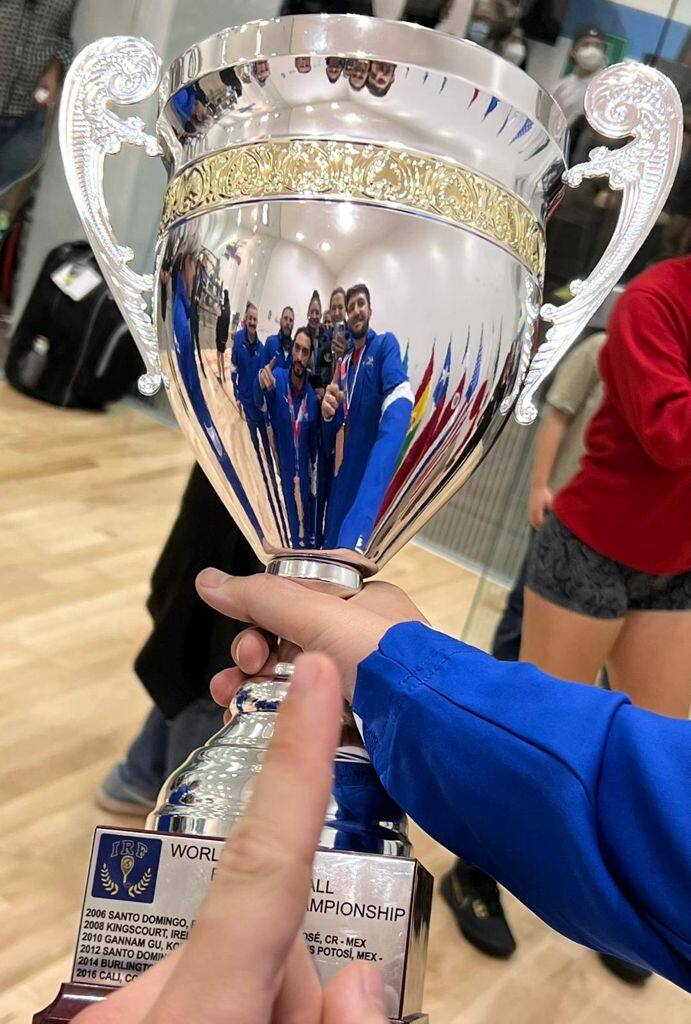 GO TEAM USA!