WOR Update July 2021
by Todd Boss, Contributors: Erica Williams, Greg Lewerenz, Cyrus Chinoy, Jim Bove, and Mike Coulter
This month, we highlight one of the most active promoters of Outdoor Racquetball: Erica Williams. Williams is the director of WOR for Northern California and has been instrumental in setting up a series of outdoor tournaments all around the Bay Area of San Francisco this year. She's also very involved in bringing leagues back to her home club (the Bay Club in Walnut Creek).
Here's Erica's background, how she got into Racquetball, and her biggest influencers.
Erica Williams Racquetball Biography, July 2021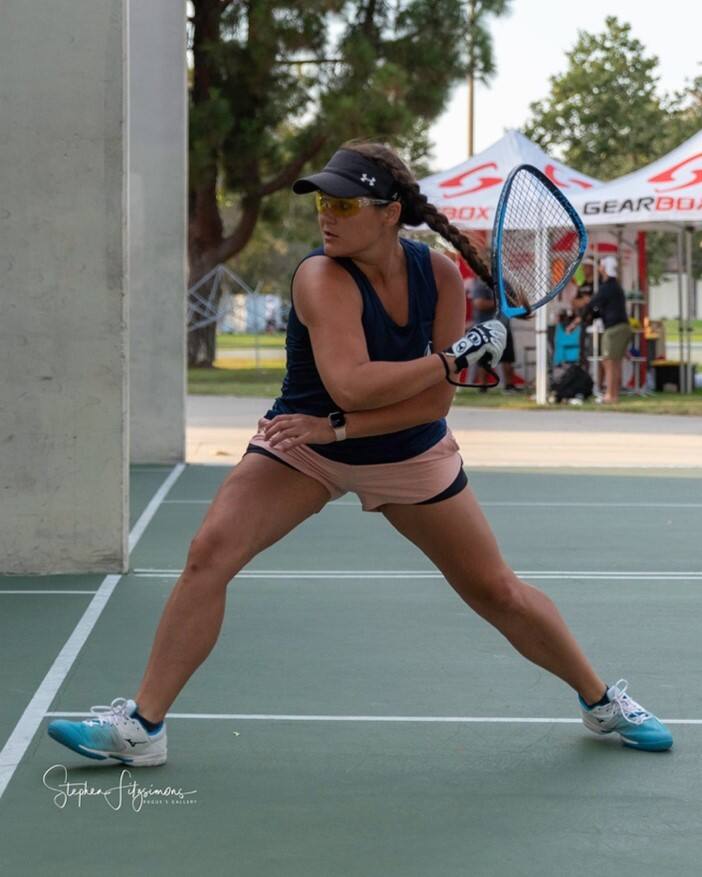 I remember hitting the ball around the racquetball court with my brother when I was young. We didn't know the rules, and we were in the daycare of my parents' club at the time. It was a short experience, but we both had a lot of fun. Flash forward about five years or so, I was in junior high attending Alta Mesa Elementary School in Redding, California. We had a field trip to the nearby club. During the trip, we had access to the club's entire amenities – swimming, workout machines, tennis courts, and racquetball courts. I hit around a bit with tennis, and we quickly gave up. Then I meandered with my friends and we found racquetball. A few friends and I attempted doubles. It was a lot of fun, even though no one knew how to play well. At one point, I swung, and the ball disappeared. After a few minutes of us kids looking around, we realized it was jammed in the middle of my racquet below the strings and above the handle. That would be the last time I was on a racquetball court for another five or six years!
The next time I played, my family had moved to a private community in Cottonwood, California, called Lake California. It was still hot out during the summertime, so we had to find somewhere inside to stay cool and spend our days. My parents had us join a gym in Anderson, which had two racquetball courts. That summer, my dad, my brother, and I spent our days playing cutthroat against each other. (My mom was too hesitant to get on the court with all of us banging the ball around, so she stayed outside and watched after her workouts.) My dad had played racquetball in college, so he showed us how to play. It was a lot of fun for all of us.
It would be a few years more before I entered competitive racquetball. In the fall of 2017 when I was 17, I went to UC Davis for my undergraduate degree. I had spent about six years of my youth playing softball, but I went to three high schools and gave it up my last year. Instead, I tried track and field and had an opportunity to walk on the track and field team at UC Davis for throwing/discus due to my one-year performance my senior year at high school. However, my dad was adamant that I not play college sports because he was worried that I would get injured. I wanted to stay active, though, so I reviewed the P.E. list to enroll in some type of sport. Lo and behold, I found out that UC Davis had many, many racquetball courses. I was excited because I remembered the few times I had played having a ton of fun, and it was a great workout. I signed up right away, and the next quarter I signed up for more. The quarter after, I signed up for even more, until I eventually was taking four courses per quarter in racquetball (2 hours, 4 days a week) before my core classes. I maxed out my available P.E. credits but continued to sign up.
It was through these P.E. courses that I met several friends, two of whom went on to become the President and Vice President of the UC Davis racquetball club. They spent a good year trying to have me join the club. I didn't think I was good enough for a club, and I had limited time. My schedule was extremely challenging since I had a full-time course load, worked part-time, and was involved in several on-campus church groups, including choir, which conflicted with the club times. However, one quarter the church choir was suspended because the choir minister left for another job opportunity. I had no more schedule conflicts! In the winter quarter of my junior year (about January of 2010), I finally started the racquetball club. I don't believe I was able to participate in the first collegiate tournament because of work, but I was able to participate later. For four consecutive quarters, I took the title for our local intercollegiate tournaments for upper women's divisions singles. It was through these events that I met John Ellis.
John was actually the person who pulled me into competitive racquetball outside of the collegiate circle. He encouraged my friends and me to attend. Given my limited resources and having to work to put myself through college, I asked him to help us participate by giving us a lower entry fee. John, being the nice guy he is, agreed and discounted our entry fees while we were all still in college. As much as I could, I would go to his tournaments and bring as many friends from our racquetball club as I could with me. Through John, I also was able to obtain my first player sponsorship through Ektelon.
Unfortunately, after graduating UC Davis in September 2011, I had to take some time away from racquetball. I had to deal with some health issues that caused me to gain weight for a short bit, and I worked 50+ hours a week at a miserable job where my managers micromanaged everyone. It was during the recession though, so opportunities were limited. I decided to break free and go back to school. Through prayer and after a lot of thought, I decided to go to law school. I had to work quickly though to complete the LSAT and finish the application processes before the admissions deadlines. I missed a few of them because of how busy my life was at that time, but I did it! I started law school the fall of 2012 in San Francisco.
I gave law school everything I had until I graduated in May 2015, but I still tried to play racquetball. I didn't know where any courts were in the Bay Area, but I tried to find them and play as much as I could. I played at a club in Santa Clara for a short while when I rented a room from some of my former UCD racquetball friends. I moved to Hayward eventually but had a hard time finding courts. I found a couple at the 24/7 Fitness in Pleasanton and played there a handful of times. Eventually, City Sports built its gym and included new racquetball courts. Just as I was getting back into the sport, I moved again to Walnut Creek/Concord in November 2016. That is when I discovered my current club, Bay Club in Walnut Creek (previously the Renaissance Club Sport). I finally had the motivation to re-dedicate myself to the sport and my fitness. I participated in a couple of John's local tournaments the following year, but it wasn't until 2017 that I truly began participating heavily in racquetball tournaments again. I played as much as I could. I played in all of the local tournaments that I could attend. I also traveled almost every weekend to play recreationally since there weren't any racquetball players at my club. (I didn't know the Big C had evening play during these times!) I also took a few private lessons, but I mostly tried learning how to get better from whomever would teach me or give me words of advice.
In early 2018, I decided to again seek sponsorships. I was using mixed gear at the time: my old Ektelon racquets and Pro Kennex gloves and eyewear. I loved the PK gloves, so I researched the company more. I sent an email message to their online website to inquire about player packages. It was then that I found out that Vic Mandella was the Northern CA representative. I had talked to him at several tournaments previously, so we had a laugh when he called me in response to my inquiry. Mandella wanted to get me on board with Pro Kennex, but I wanted to demo the racquets before I made my decision. He referred me to his local representative, Walter Ramos.
Walter called me several times to try to meet up, but I was very busy with work (billable hours!) and some time passed without us meeting up to demo the PK racquets. That summer, I entered an indoor tournament in nearby Pleasanton. During one of my amateur matches, a man I had never seen reffed my match. I remember being a bit frustrated at the ref's calls, but I tried my best. After, I leaving the court and beginning to pack my stuff away, the ref came down from upstairs to speak with me. I became flabbergasted and a bit (okay, very) awkward when the ref approached and started talking to me. I noticed he was very handsome, and he was smiling big and his eyes were shining bright as he spoke to me. He told me his name was Walter, and he had been the one trying to get in touch for the past few months to demo his racquets.
Based on his voicemails and talking to him on the phone, I thought Walter was much, much older than the man I saw before me. Next I know, I was stumbling over my words and couldn't hear anything even though he was talking clearly. I was a goof, and he just laughed at me. That was the first time we met in person. Later on, he gave me the demos to try, which I loved, and I decided to sign on with Pro Kennex. A few months later, Walter gave me coaching lessons, and our friendship (and relationship) grew over those many months. Our mutual love of racquetball kept bringing us back into each other's lives, and, over the years as we became very good friends, our love for each other grew and grew.
I knew that Walter loved outdoor racquetball, but I was still focused on my indoor game and was hesitant to try it. Through playing many indoor tournaments, I met Scott Warren when we ended up being partners in a Mixed Open tournament. Warren also told me more about outdoor racquetball, and my interest grew. A few months later, in spring of 2019, I received a text from Scott to join their outdoor racquetball group out at Florin High School in Sacramento. I had heard about outdoor racquetball but was hesitant in the years before to try it. This time, though, I was so in love with racquetball and was trying to play as much as I could that I said to myself, "Why not?" I told Scott I was in I've been playing both indoor and outdoor racquetball as much as I can ever since, and I will continue to do so for as long as I can.
When the pandemic hit, I couldn't just let racquetball die. I felt like I had worked so hard over the years to incorporate racquetball into my life that I couldn't imagine not having it. That is when I began my "rebel racquetball tournaments" for those who felt comfortable participating in outdoor racquetball. I also began lessons with Coach Jim Winterton through his virtual training camp and subsequent virtual video analysis lessons, and he helped me push my game to the next level.
Today, I am continuing to balance my life working as a full-time lawyer and professional women's racquetball player and being there for my family. I will keep pushing myself and breaking through as many glass ceilings as I can.
For those wondering where I find my strength and endurance, I honestly am filled because of my faith in Christ Jesus. As it is written in 1 Corinthians Chapter 10, verse 13: "No temptation has overtaken you except what is common to mankind. And God is faithful; he will not let you be tempted beyond what you can bear. But when you are tempted, he will also provide a way out so that you can endure it." I thank God for the blessings in my life and for giving me the strength I need to keep pushing myself to new heights.
Update on the Outdoor Majors
Big News: 3WallBall has added a stand-alone Pickleball event running from October 18-20 onsite.
The main event has also added Pickleball, meaning there will be a four-sport festival on the grounds of The STRAT Hotel, Casino & Skypod.
Official Ball announced for the event will be Gearbox.
The reserved hotel block of rooms is running out at The STRAT due to multiple other competing events in Las Vegas. If you are coming, please reserve your room asap. Hotel Code C-3BW21.
Follow 3WB on Facebook for all the latest new as it happens for this event and partner tournaments.
R2Sports home page for the main 3WB tournament.
Beach Bash 2022
Nothing to report for now; the 2022 event remains tentative for the time being.
Outdoor Nationals 2022
The 2021 event was a successful return for tournament directors Geoff Osberg and Jesus Ustarroz, and the event was covered at length in the July 2021 Serving Up the News newsletter. Congrats to all the winners and thanks to all participants!
Nothing to report for 2022 at this time.
July 2021 WOR/Outdoor Tournament Result Recaps
In addition to the big 2021 Outdoor Nationals (which we covered in the last newsletter), there were a few other outdoor tournaments/shootouts held around the country in July 2021.
July 10: Southfield Racquet Sports Triathlon (Racquetball, Paddleball and Squash) Southfield Civic Center, Southfield, MI. Michigan WOR director (and former WOR National Events coordinator) Greg Lewerenz runs a fun event where participants play all three of these court disciplines in one day.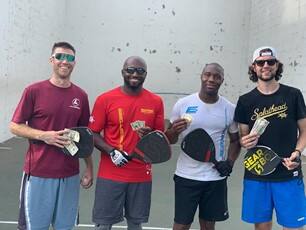 Photo credit: Greg Lewerenz
July 24: One-Day Outdoor One-wall Racquetball Doubles - Constitution Beach, Boston, MA. Tournament Director: Jim Bove. Bove's monthly summer series throughout New England stopped off at the courts that started it all in downtown Boston.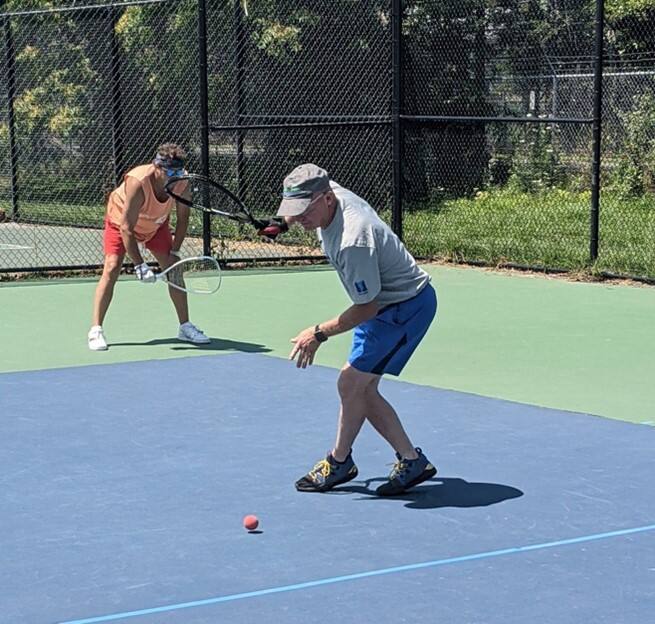 Photo Credit: Jim Bove
July 31: Can You Stand the Heat, St. Clair Shores Civic Arena, St. Clair Shores, MI. Tournament Director: Tom Blakeslee. More than 50 players competed in this St. Clair Shores doubles event, part of a summer-long series in various locations around Michigan.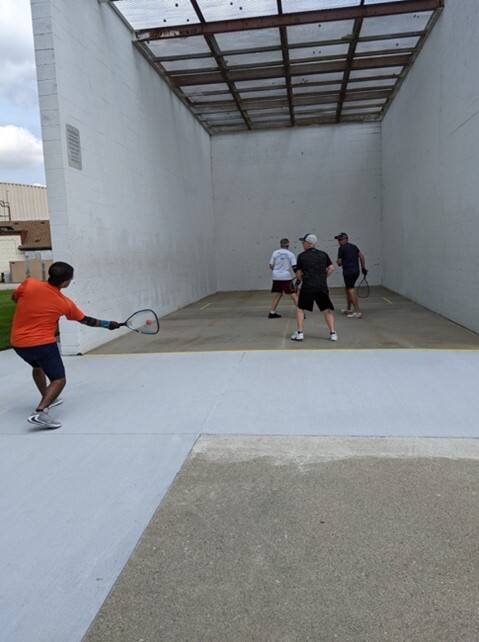 Photo Credit: Cyrus Chinoy
Mark your Calendars for these Upcoming Outdoor Events for 2021
August 14-15: Windy City 3Wall Brawl Championships, Chicago, IL. Tournament Director: Joey Logan.
August 14-15: So Cal Vegas Warm-up Doubles Shoot-out presented by 3WallBall, Esperanza HS Anaheim, CA. Tournament Director : Peggine Tellez.
August 21-22: 2021 New Smyrna Beach CPRT Shootout, New Smyrna Beach, FL. Tournament Director: Rob Mijares.
August 21: New London Outdoor One-Wall Doubles, Toby May Park, New London, CT. Tournament Director: Danny Lee.
August 27-28: "Hot Tamales" Shootout, Stratton Woods Park, Herndon VA. Tournament Directors: Thao Le & Maddie Melendez. SOLD OUT: waiting list only.
August 28: Defeat the Heat, Indoor/Outdoor Shootout one day/no frills at Greenbriar North YMCA in Chesapeake, VA. Tournament Director: Malia Bailey.
August 28-29: Colorado Springs Outdoor tournament, Memorial Park, Colorado Springs, CO. See Colorado Outdoor Racquetball group for details.
September 1: Outdoor Racquetball Camp/Clinic, Redlands, CA. Point of Contact: Ruben Antilla.
September TBD: Florin High School Shootout, Sacramento CA. Tournament Director: Erica Williams. Might be moving to Tracy due to construction delays at Florin.
September TBD: Saco Maine LongWall Shootout, Date TBD. Tournament Director: Jim Bove.
September 19: Fallen Comrades, St. Clair Shores Civic Arena, St. Clair Shores, MI. Tournament Director: Tom Blakeslee.
October 21-24: 12th Annual 3WallBall Outdoor Championships, Las Vegas, NV. Tournament Directors: Peggine Tellez & Mike Coulter.
November 6-7: 2021 WOR Florida State Long-Wall Championships, Waterford Park, Davie, FL. Tournament Director: Rob Mijares.
The Latest on the Dane Elkins Search
Possible sightings continue to flow in, including in upper Northern California and as far east as Reno.
If you see Dane or may know about his whereabouts, his mother Deborah Kassin Elkins respectfully asks you to contact her at 562-504-6005 and to send any pictures or videos to searchingfordaneelkins@gmail.com.
To keep updated, please consider joining the Facebook Group "Searching for Dane Elkins". The Elkins family is continually providing updates, possible sightings, and news articles/media coverage on the search.
Stay in Touch with WOR on Facebook
The absolute best way to stay abreast of Outdoor events is to follow WOR – Outdoor Racquetball on Facebook. We post updates for upcoming events as soon as they're available!
Plus, there's a slew of geographic-specific groups that talk about play all over the country. Wherever you live, there's likely to be a group that coordinates play in your area. Reach out to WOR to find a Facebook group or a state director to help you out.
Contact WOR
If you have any questions, please email WOR@usaracquetball.com and we'll get back to you ASAP.