2018 IRF World Racquetball Championships Blog
San José Indoor Club
Web Page: http://www.indoorclub.com/index.php


Blog #10 --
XIX IRF World Racquetball Championships
Saturday, August 18, 2018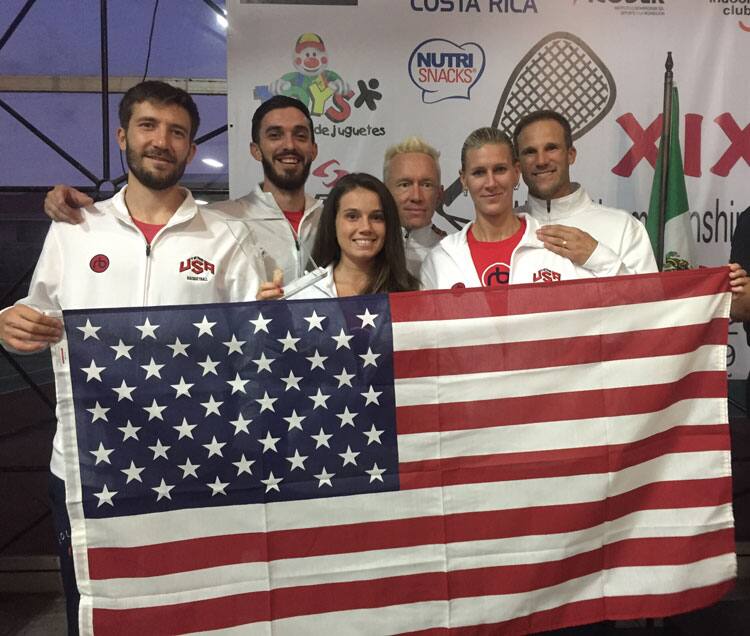 Greetings! Here's the final blog from the XIX IRF World Racquetball Championships in San José:
Coach Dave's

Comments -- It's a Wrap!
The 2018 World Championships has concluded with the US Team taking second place in the Overall Championship. The day started with Charlie Pratt playing Rodrigo Montoya of Mexico. Rodrigo is tough, and at 22 years of age, he has a great future ahead of him. Charlie is tough, too, and it was a battle with the lead changing several times. Charlie got to 14 and served what appeared to be a perfect left side crack ace. The referee called point only to be overturned by both line judges. There were a couple of more side outs, and then Rodrigo scored a point to take Game 1. Game 2 was also a back-and-forth battle with Montoya winning by a score of 15-9. Charlie had a great tournament with some important wins throughout. Congrats to Charlie on winning the silver medal!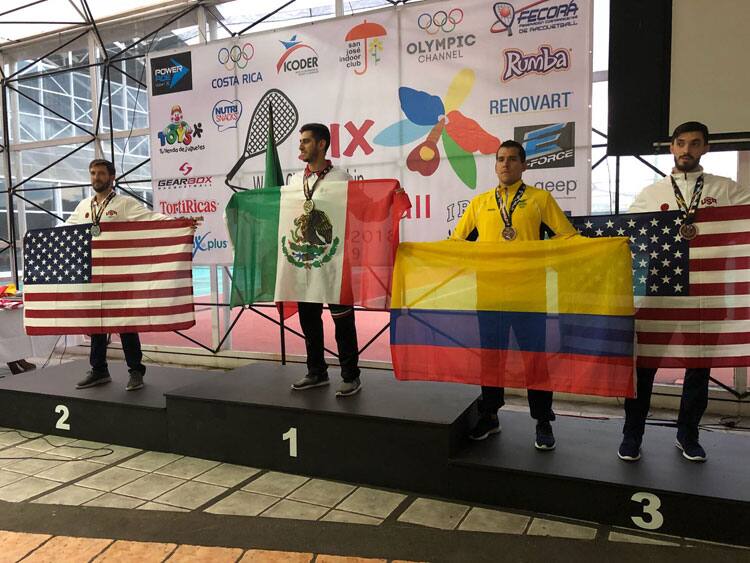 The Men's Doubles final featured Rocky Carson and Sudsy Monchik, holders of eight #1 end-of-the-season professional finishes. They have an average age of 41. The match pitted them against Daniel De La Rosa and Alvaro Beltrán, Mexico's National Doubles Champions. The first game had several lead changes resulting in a win for Suds and Rocky. The Mexican strategy was classic racquetball -- make them beat you from the back of the court. Daniel and Alvaro hit lots of ceiling balls, made possible by the slower Gearbox ball. Sudsy was pounding these, leaving the shots up only slightly but enough to keep Mexico in the rallies. With Rocky up front, Sudsy patrolled the back, retrieving shots over and over again. In the tiebreaker, De La Rosa found an effective high nick serve that, coupled with the slippery left wall, was very difficult to return. He took advantage and killed shots with accuracy to win the match.
My infinite gratitude goes out to our players, our Costa Rican hosts, and our staff members, Cheryl Kirk and Brent Huff.
Our next adult international event will be the Pan American Racquetball Championships during Easter Week of 2019. It's rumored to be in Mexico. US Team players will have the option to participate or not for this one. If those offered a spot decide not to participate, other Team USA members will be called upon to fill in the positions.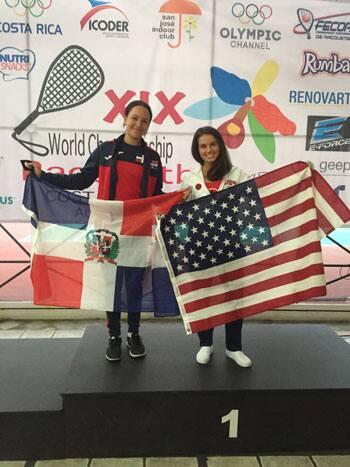 Sheryl def. Alejandra Jimenez (Dominican Republic), 15-8, 15-4
Charlie lost to Rodrigo Montoya (Mexico), 14-15, 9-15
Rocky/Sudsy lost to Alvaro Beltrán/Daniel De La Rosa (Mexico), 15-10, 9-15, 2-11
Directly after the last match, medals stands were set up in the restaurant at the club and the ceremony commenced. The restaurant was a nice alternative to the usual awards presentations held on a court -- people could sit at tables and relax, order a beverage and a snack, and watch the ceremony. Medals were awarded to those who placed first, second, and third (in IRF events, both semifinal places receive bronze medals). Prior to the awarding of medals and team trophies, Cheryl Kirk and Marcelo Gómez recognized Luke St. Onge with the following words that elicited a standing ovation from the sizable audience:
We have the honor of recognizing Luke St. Onge for his induction into the IRF Hall of Fame last November in Minneapolis. Luke had to leave for a family emergency then and was not able to be there. It is appropriate tonight with delegates, players, and friends here from 18 countries to again give our congratulations to Luke for entering the IRF Hall of Fame.
Luke has devoted his life's work to Racquetball. He arguably knows more about the sport and its history than any other person on the planet. He is a treasure.
Please join us in congratulating Luke and thanking him for his countless contributions to all of us and to the sport of Racquetball.
Congratulations to Team USA for a fine showing at the IRF World Championships!
Team USA Individual Medalists
Rocky Carson/Sudsy Monchik - Silver
Sheryl Lotts - Gold in Consolation Division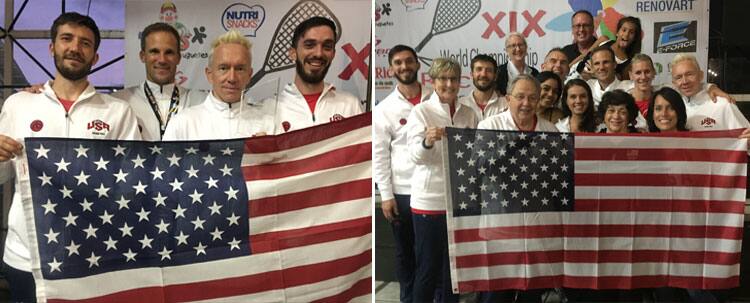 It is customary to have a Team Toast and final meeting after the competition is completely over. Lots of inspirational remarks, as well as those of thanks, were made immediately after the medals ceremony back in room 706 at the hotel. All players expressed gratitude to each other and to the staff. The international tournaments are special. Racquetball is an individual sport and the players go it alone when playing their various pro tours. They find it refreshing to play in a situation where there are teammates and a support staff. Dave, Cheryl, and Brent appreciated receiving gifts from the players -- beautiful hardbound books about Costa Rica with handwritten personal messages from each player on the inside cover.
After the team meeting, we attended a fantastic party back at the Indoor Club that went late into Saturday evening. A huge area (I think it was actually the tennis courts) was transformed into a disco atmosphere with complimentary beverages, food stations, rows and rows of tables and chairs, and a DJ who played energetic Latin music, ensuring the dance floor was packed most of the night.

Midway through the evening, as is the tradition at IRF events, countries had the opportunity to thank the Local Organizing Committee. On behalf of the US Team, Dave presented a gift and a card signed by the US Team to Marcelo Gómez who is IRF Vice President, President of the Costa Rica Racquetball Federation, and Head of the Local Organizing Committee.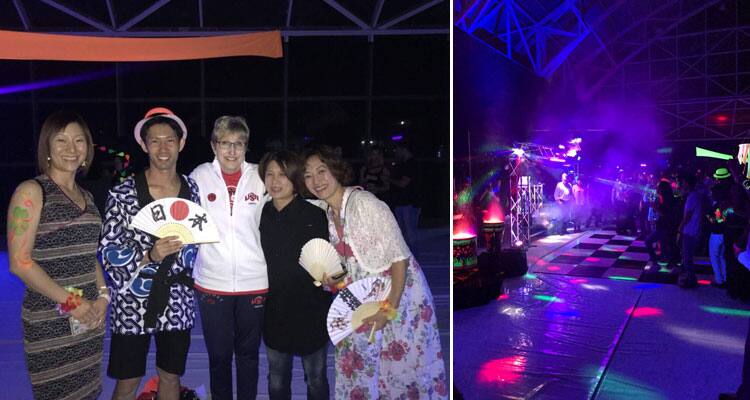 The US Team Delegation wishes to deliver our gratitude to those who made this event so truly memorable:
The Local Organizing Committee, headed by Marcelo Gómez, for putting on this very successful event. The work behind the scenes to host a tournament of this magnitude is extensive. This was compounded by the fact that they had fewer than two months to pull it off. Due to an unforeseen set of circumstances, locations in China, Colombia, and Mexico fell through, leaving the IRF with no host country in the third week of June. Enter Marcelo and his group of sponsors and volunteers. They stepped forward and, in an extremely organized fashion, hosted a smooth and enjoyable event. Congratulations for a job very well done! From the hotel to the transportation, the awards, the coordination, this experience was completely first class.
The tournament staff (Gustavo Farell, Mauro Grandio Buzeleh, Pablo Berriel, Maria De Los Angeles Sarria, and Gustavo Farell).
The referees from seven countries who were on hand to provide a quality experience for the players (see Blog #8 for names and nationalities).
Pablo Fajre for bringing live streaming of quarterfinals, semifinals, and finals action, and to Tim Baghurst and Laura McCormick for providing many hours of entertaining commentary. A shout-out goes to Terra-Leigh Baghurst who took a great many photographs including one of the Bolivian women after their win that appeared on the cover of a Bolivian newspaper!
The staff of the Hyatt Place/Pinares who were friendly, efficient, and responsive to all requests. I can't say enough about their service attitude and professionalism.
The shuttle drivers who worked many long hours transporting players back and forth between the club and the hotel in extremely challenging traffic.
The management and staff of the Indoor Club for providing a superior facility for this competition.
The Team USA cheerleaders who were there for every match, living every point as if they were out there playing themselves. In order of appearance, they were: Pat Ellis, Veronica Sotomayor and baby Juliana, Kelly North, Lorena Malo, Tommy, Debbra, and Kara Nichols, Deb Pratt, and Ceci Pratt. Loved having you there with us!
USAR Official Apparel Sponsor Rollout Racquetball (Jonathan and Carolyn Clay) -- the US Team looked great in the Rollout 2018 Team USA apparel line. Go to http://wearrollout.com to order what the team wears!
USA Racquetball sponsor RockTape for providing superior materials for our trainer Brent Huff to use in service to the US Team (see more info in Blog #5).
IRF sponsors E-Force and Gearbox who contribute significantly to these international events.
All the individuals who made contributions large and small...every bit counts! The Team USA Challenge (Team Behind the Team) on

www.usaracquetball.com

provides the opportunity for racquetball players to support the US Teams with their participation at international competitions.
Last but not least, Renée Gundolff for her work behind the scenes to book flights and arrange insurance coverage for Team USA, and Leo Vasquez who stopped whatever else he might have been doing as soon as a blog and photos were ready for posting (even in the wee hours!).
Thanks to everyone who followed the US Team over the past eleven days. These gifted athletes are so deserving of the visibility an event like this provides.
The US Adult Team sends regards and encouragement to the US Junior Team as they prepare for the IRF World Junior Championships to be competed in San Luis Potosí, Mexico, November 3-10, 2018. Tune in for the blogs at www.usaracquetball.com beginning November 2nd!

GO

TEAM

USA!
---
Blog #9 --
XIX IRF World Racquetball Championships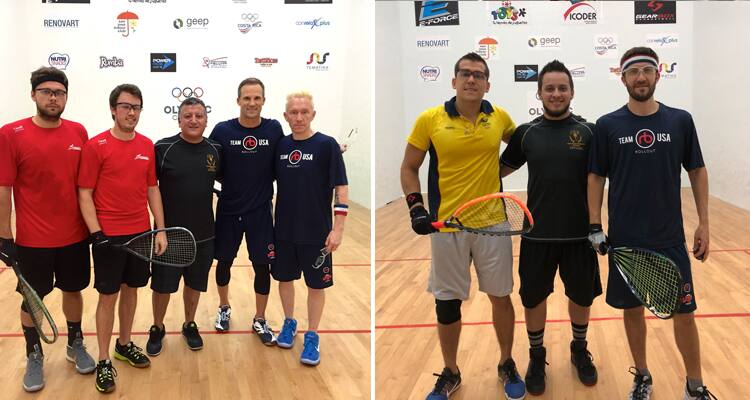 Dave Weighs in on Friday's Action
It was semifinal day today, and Bobby Horn led us off with a match against Rodrigo Montoya of Mexico. Both are outstanding racquetball players in every regard: serving, returning serve, offensive shots, and defensive gets when necessary. Montoya simply rockets drive serves, yet Bobby is right there to hit basic ceiling ball returns. There were many classic rallies, and the match lasted 90 minutes. Montoya had only a slight edge on many rallies and ended up winning, 15-9, 15 - 8. Trust me, the match was much closer than the scores indicated.
Charlie Pratt was Team USA's next semifinalist, playing Sebastian Franco of Colombia. Sebastian had upset #1 seed Daniel De La Rosa in the quarterfinals. Charlie, still playing his steady game, won the first by a score of 15-8. The second game was hard-fought with both players giving it 110 percent. Sebastian led most of the way with a run of points early, but at 12-12, Charlie scored three points to move into the finals tomorrow against Montoya.
Our last match pitted our doubles team of Sudsy and Rocky against Canada. Canada jumped out to a sizeable lead the first game, but our guys stayed calm and tough and caught up. From there the match was back and forth, with Team USA closing it out 15-12. Sudsy was totally fired up and was in Rocky's ear, working to fire him up and emphasizing the need to close it out as soon as possible. That's exactly what Team USA did, winning the second 15-2.
We are totally proud of our finalists, and we're happy that we're in two of the four finals tomorrow. After the competition, we'll have the award ceremonies, a team toast, and then "la fiesta de la despedida," (the closing thank you's and a party). Pat and I are facing a full day of travel on Sunday with an itinerary that will take us to Miami, Charlotte, and then Sacramento, California. We're both looking forward to seeing our Stockton friends and being home.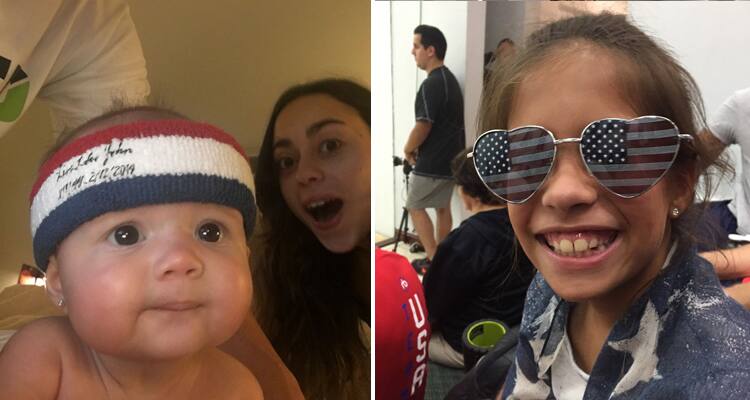 Bobby lost to Rodrigo Montoya (Mexico), 9-15, 8-15
Charlie def. Sebastian Franco (Colombia), 15-8, 15-13
Sheryl def. Aisling Hickey (Ireland)
Rocky/Sudsy def. Samuel Murray/Tim Landeryou (Canada), 15-12, 15-2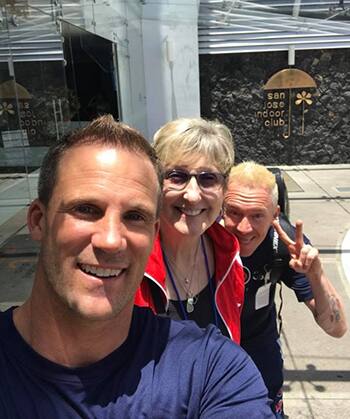 Question of the Day
If you won the Mega Millions lottery, what is the first thing you would do?
Dave: I would construct a huge racquetball center with 20 courts and with plenty of programming, international, and national tournaments. Alongside would be a reasonably priced hotel.
Brent: For fun...buy a Lamborghini (my favorite car). For real, finish taking the classes I want to take, open my own training facility, give everyone in my family $1 million.
Cheryl: Donate to organizations benefiting children around the world. Extensively fund efforts to eradicate puppy mills. Create an animal sanctuary.
Rocky: For Jenn and I, we would give 10% up front to either a church or a foundation that means a lot to us.
Charlie: Rescue as many animals as possible. Help veterans.
Pat: Invest, some travel probably with my husband, build my husband a pavilion so he'll stop talking about the one he gave up, and set up my son and his family for life.
Sudsy: Immediately set up my kids with a trust fund. We would donate to charities. Definitely build a Mecca racquetball facility that can be used as training and events. Donate to every racquetball federation on the planet. And have the most amazing professional and amateur event of all time. Make the US OPEN look like a Saturday morning league shootout.
Kara: Donate to Saint Peter's University Hospital.
J. Josey (South Carolina): After long deliberation, I've decided to do all the typical things someone would do after winning the lottery. I would build more racquetball courts and most importantly buy my parents dinner finally.
Aaron Booker (South Carolina): Pay off my student loans. Buy houses in two countries, probably Puerto Rico and somewhere in Europe. Take off a year to travel.
María Renée Rodríguez (Guatemala): Finish the 10 new courts in Guatemala. Create a program for the kids at The Tracks to play racquetball on these courts.
Kit Lawson: Okay, with the portion I keep for myself (I would have arranged family and friends to receive significant amounts along with my share), I would fly first class with my wife for a several week trip to France and Spain.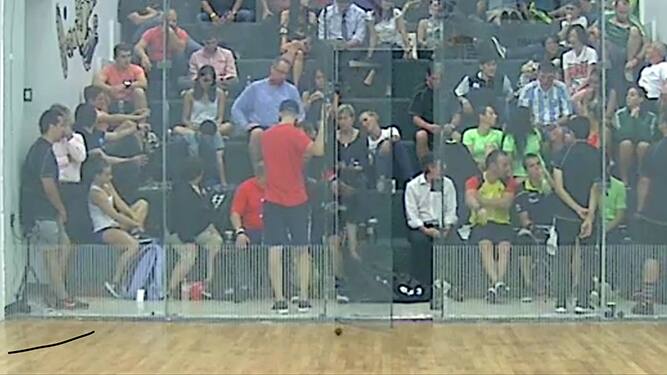 One more day at the IRF World Racquetball Championships! Here's the lineup:
10:00 Sheryl vs. Alejandra Jimenez (Dominican Republic)
1:00 Sheryl def. Lilian Zea (Venezuela), WBF
FINAL 11:00 Charlie vs. Rodrigo Montoya (Mexico)
FINAL 1:00 Rocky/Sudsy vs. Alvaro Beltran/Daniel De La Rosa (Mexico)
As Dave mentioned, after the last match tomorrow the awards ceremony will be held on the basketball court at the Indoor Club. The team will return for a final meeting and celebratory toast, then we'll go back over to the club for the farewell party.
Stay tuned for one more blog Saturday night (or Sunday during a layover at Miami International Airport)!
---
Blog #8 --
XIX IRF World Racquetball Championships
Thursday, August 16, 2018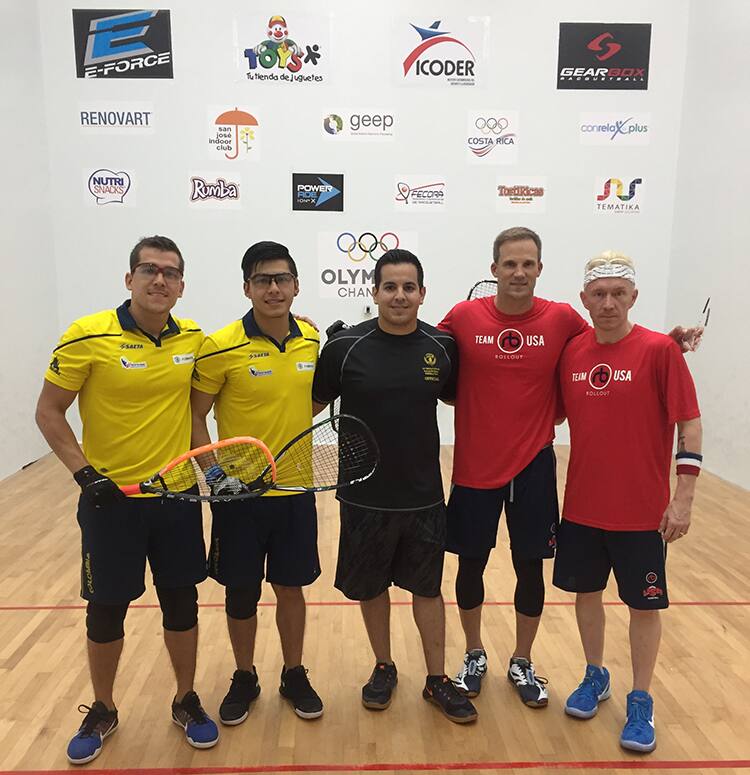 We ended the blog yesterday with a pre-birthday shout-out to our athletic trainer/massage therapist Brent Huff. Today was the day! Happy Birthday, Brent! There aren't enough words to describe how much you mean to Team USA.
Dave's Comments on the Quarterfinals
Greetings once again from San José, Costa Rica. Today started off in frustrating fashion for Team USA as our #1 singles player Rhonda Rajsich ran into a combination of circumstances. Playing Natalia Mendez (Argentina), Rhonda did not bring the drive serve that was so awesome in Chile, allowing her to win the 2018 Pan American Championships earlier this year. Combine that with Natalia's consistent good shots along with some, let me say, fortunate bounces and cracks. Losing the first game quickly, Rhonda found herself way behind in the second. Then she started to move, closing the score to 12-12. RR couldn't close it out and lost the second game and the match, 13-15.
Charlie Pratt played Samuel Murray of Canada. Samuel is known for his very tough play, great shots, and outstanding retrievals. Charlie dominated the first game with the second going back and forth towards the end. Charlie ended it by getting setups off his consistently good lob nick serves and using them to his advantage.
Bobby Horn was next up for Team USA, and his quarterfinal opponent was Mario Mercado of Colombia. Both players are very quick which led to many interesting rallies. Bobby is truly amazing with some of the retrievals he makes defying comprehension. He was more consistent the first game and ended up winning 15-12. During the first part of the second game, Mario had a modest lead at 6-3. Bobby then scored the needed points to catch up and did not give up any more with his excellent returns, closing out the match 15-6.
Sheryl and Rhonda squared off against a tough Bolivian team,
Yasmine Sabja and Valeria Centellas.
The Bolivians hit lots of well-placed passes and kill shots and took the first game. In the second game, our ladies started off with eight straight points, and it looked like it would be a tiebreaker for sure. Three more chances to serve only brought one additional point. The Bolivians then started to score with solid serves and weak returns on our part. We did not recapture the momentum and lost the second by a score of 15-10.


Rocky Carson and Sudsy Monchik had two matches today. The first was with the Korean team. After winning the first game, they relaxed and lost the second, 14-15. Rock and Suds dominated the tiebreaker 11-3. A little later came the big match on the show court against the solid Colombian pair Sebastian Franco and Mario Mercado. Sudsy has been in Rocky's ear all week about "being there," and Rocky rose to the occasion. Both were hitting great shots, making many gets, and communicating well with each other. Rocky tends to move up to the service zone, while Suds patrols the back of the court. At 12-12, half out, the guys exchanged sides allowing Rocky to use his familiar Z-serve. This move resulted in setups and three quick points to close out the match.
One more match involved Sheryl Lotts in the Friendship division. She defeated Donna Ryder of Ireland by scores of
15-7, 15-6.
Everyone is looking forward to the three USA semifinals involving Bobby Horn, Charlie Pratt, and Rocky Carson/Sudsy Monchik. As always, please send us positive thoughts and good vibes!
Rhonda lost to Natalia Mendez (Argentina), 1-15, 13-15
Charlie def. Samuel Murray (Canada), 15-2, 15-12
Bobby def. Mario Mercado (Bolivia), 15-12, 15-6
Rocky/Sudsy def. Moon Gyun Kim/Dae Yong Kwan (Korea), 15-4, 14-15, 11-3
Rhonda/Sheryl lost to Yasmine Sabja/Valeria Centellas (Bolivia), 12-15, 10-15
Rocky/Sudsy def. Mario Mercado/Sebastian Franco (Colombia), 15-11, 15-13
Sheryl def. Donna Ryder (Ireland), 15-7, 15-6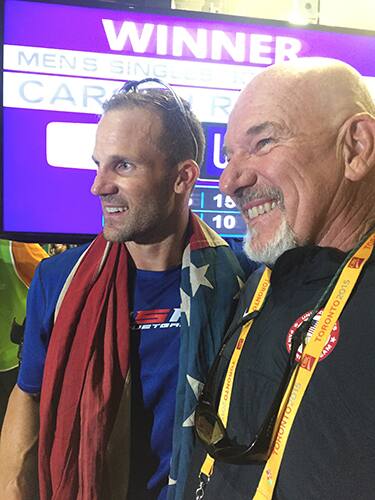 Featured Player of the Day – Rocky Carson
Rocky Carson

has been a California guy all his life. He was born in Newport Beach and currently resides in Ladera Ranch. Rocky and Jenn have been married for 17 years, and they are parents to daughter Jasmine, 14, and son Christian, 12.
So how did you get started playing racquetball?

"My parents, RO and Lauren Carson, owned health/racquetball clubs when I was a kid. I was on the racquetball court at 18 months with a ball and racquet. My parents used the court as childcare. They knew I loved it because I cried every time I had to get off the court. When I was six years old, we moved to Santa Maria, California. Santa Maria is a small town and there was no junior program, so I had to play with the adults. I believe having to play adults gave me an advantage when I did start playing juniors. My first big juniors tournament was in Dallas, and I was 10 years old. From then on, we were hooked! All of our family vacations revolved around Junior Nationals. At age 19 in 1998, I had qualified as an alternate on Team USA. That year, three days before the World Championships started in Bolivia, I got a call from USA Racquetball saying that I needed to grab my passport and get to Bolivia as one of our players had gotten hurt. That was my first experience being part of Team USA, and I've been a part of it ever since."
Other hobbies/interests?

"Surfing (sometimes with my son and daughter), hanging out with my family, coaching my son's sports teams, being Jasmine's biggest fan with her cross country high school team. Both kids play racquetball, too. I also do some training and teaching out of Renaissance ClubSports in Aliso Viejo."
Whom would you like to recognize for their support?

"Racquetball has been a big blessing in my life. I'm grateful to my wife Jenn for giving me the support to pursue my dreams, as well as Jasmine and Christian, my sister Dawn, and of course my parents who have always understood my passion for racquetball. Thanks to my sponsors Head/Penn, RacquetWorld, Rollout Racquetball, CourtGrabbers, and Renaissance ClubSports. Fran Davis has been my coach for half of my professional career and has been such an incremental part of my success. Lastly, but most importantly, I'd like to thank God for blessing me with this wonderful opportunity and the gifts he has given me.
"I have always considered it to not only be an honor but also a blessing to play for the US Team. America is the best. It is also nice to be a part of a team in which we are all trying to win the gold, individually and collectively."
Featured Staff Member of the Day – Cheryl Kirk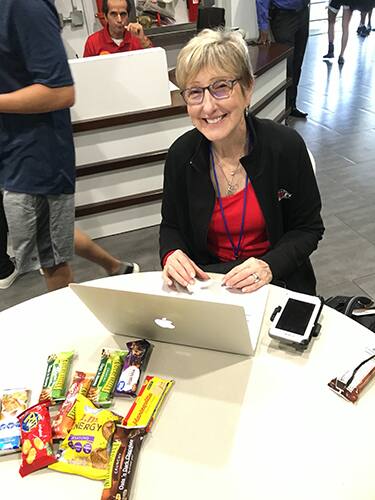 Team Leader Cheryl Kirk
grew up in Decatur, Illinois, and resides in Naperville, Illinois, with her husband of 21 years, Kit Lawson and dog Hayley. She is involved with and supportive of animal rights issues.
Cheryl began playing and competing in racquetball 41 years ago but didn't really get heavily into the administrative side of things until after she retired in 2007 after a 27-year career with McDonald's Corporation (Operations/Training/Olympics activation in Atlanta 1996, Athens 2004, and Torino 2006).
Cheryl served as President of USA Racquetball from 2008-2012. She is an Officer on the Boards of USA Racquetball, the International Racquetball Federation (IRF), and the Pan American Racquetball Confederation (PARC). She also serves on the Boards of the Illinois State Racquetball Association and the Ladies Professional Racquetball Tour (LPRT). Cheryl is a tournament director and tournament player as well.
"Being Team Leader for the US Adult and Junior Teams is a pleasure and an honor. I enjoy ensuring things go well -- removing logistical worries and concerns from the athletes' minds so they can go onto the court and do their best. I couldn't be prouder of our US Team members and staff for their skill and their heart both on and off the court!
"From the bottom of my heart, I want to thank my husband and best friend Kit Lawson. He has supported me 100% over the years with anything I wanted to tackle."
What's the best advice you have ever received?
Brent (birthday guy): Always be you. Friends will come and go, but your real friends will always accept you for you and be there, no matter how close or far.
Cheryl: Playing it safe isn't always playing it safe.
Dave: Don't be so serious all the time. (Note: What???)
Pat: Appearance is important because it gives a positive first impression. Dave says it got me a husband. In retrospect, maybe it wasn't the best advice, LOL.
Charlie: There will always be people who have it better than you, and there will always be people who have it worse than you.
Rocky: My dad from an early age always preached to me the law of reciprocity/golden rule - you get what you give/treat others how you want to be treated.
Bobby: Live life with a smile.
Sudsy: Say please and thank you.
Jules: Use your words (Usa tus palabras)
Debbra: Sleep when the baby sleeps.
Anonymous: If you come to a fork in the road, take it. - Yogi Berra
Mike Lippitt: Best advice ever

-- to marry Heidi. <3
Kit Lawson: Having a positive attitude changes everything.
Bonus Feature - International QOD
A number of folks from other countries were asked to weigh in: What is your favorite word or phrase in English? Answers included like; really; outstanding (no word in Spanish for this); I love you; free food; no pain/no gain; never give up; strong; I'm free!
From Bob Fong (Aussie slang): No prob (pronounced as one syllable followed by four lines of explanation and analysis that we really don't have time for right now)
IRF World Championship Referees and Staff
Level 3 referees from seven countries are here in Costa Rica to officiate all matches. The IRF has invested extensively to ensure that the athletes themselves never have to referee after playing. A warm thank you goes to German Coppolecchia (Argentina), Adrian Macrino (Argentina), Felipe Arenas (Colombia), Francisco Gomez (Colombia), Fabian Torres (Colombia/Costa Rica), Pablo Freer (Costa Rica), Andres Montero (Costa Rica), Raaj Mohan (India/USA), Ricardo "Tucky" Gonzalez (Mexico), Eleni Guzman (Mexico), Jaime Martell (Mexico), Ivan Valdez (Mexico), and Alejandro Morales (Mexico/Canada).
The IRF staff members who have run the event over these seven days of competition are Gustavo Farell (USA), Mauro Grandio Buzeleh (Argentina), Pablo Berriel (Argentina), and Maria de los Angeles Sarria (Colombia). Thank you from our hearts for an enjoyable event!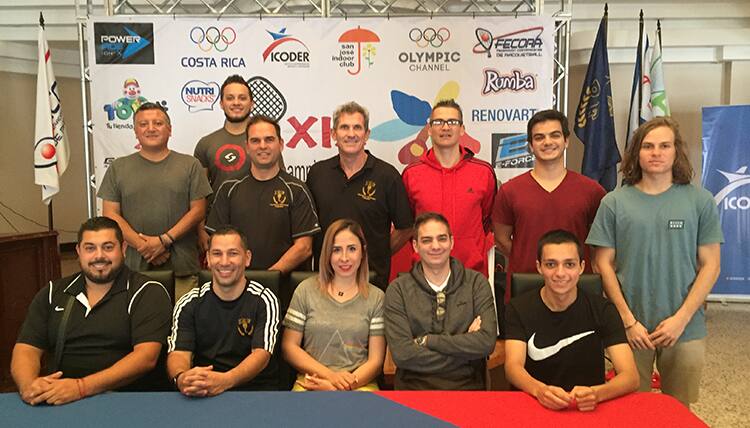 Sympathy for the Spectators!
Racquetball players and fans know how it is to be at a tournament as a spectator. We often watch friends play when we're not on the court ourselves. Let's see if I can accurately describe what it's like to be the one outside the court looking in at the IRF World Championships.
I think it's a lot easier to play than to watch. This is about control. On the court you can control what's going on to an extent; when you're an onlooker, you're helpless and can't control a darned thing. All you can do is try to channel your nervousness toward cheering, or checking your messages, or raiding the snack bag. Oreos do help...so do peanut M&M's. Lots of them.
When you're riveted to the action, the adrenalin of watching a match creates symptoms: weakness, shortness of breath, near-physical pain when a shot is skipped or an appeal is overturned. What do you mean that was a skip??
You stand or sit on a hard surface a good part of the day. You live and die on every point.
Multiply this by six matches every day for a week with each one crucial toward a potential world title, and you wonder for just a split second if this is good for your physical and mental health.
Nah, it's great. Love this game!
So let's see what tomorrow will look like at the Indoor Club...
Friday's Schedule -- The Semifinals!
The streaming schedule will be jam packed with matches on Court 1, the Stadium Court. Thanks to Pablo Fajre, Laura McCormick, and Tim Baghurst for their hard work in bringing matches to a monitor, laptop, or phone near you. Remember, all times are the same as US Mountain time.
12:00 Bobby vs. Rodrigo Montoya (Mexico)
1:00 Charlie vs. Sebastian Franco (Colombia)
3:00 Sheryl vs. Aisling Hickey (Ireland)
4:00 Rocky/Sudsy vs. Samuel Murray/Tim Landeryou (Canada)
See you tomorrow night...and

GO

TEAM

USA!!
---
Blog #7 -- XIX IRF World Racquetball Championships
San José, Costa Rica
Wednesday, August 15, 2018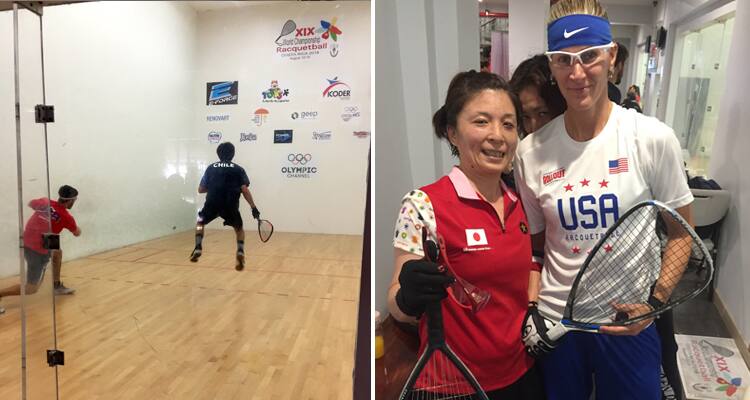 This is a national holiday in Costa Rica -- it's Mother's Day. Happy Mother's Day to the moms in our delegation -- Pat, Deb, Debbra, Veronica, and Lorena!
Coach Dave Comments on Day One of the Main Draw
First up today was Sheryl Lotts against Canada's Jen Saunders. Watching Jen play gives a perfect lesson on how power is really of secondary importance and often drastically overrated compared to angle and placement. Sheryl has been working really hard in her preparation, but she just couldn't seem to drive the Canadian veteran out of center court. Jen was totally accurate with her 50 mile per hour passes and her 20 mph front wall/side wall pinches. Sheryl couldn't seem to keep the ball away from her, and Saunders advanced to the next round.
Charlie drew a young Chilean who will be a future threat, for sure. As for now, however, Charlie's game is way too tough. Charlie continues to hit precise drive serves and excellent lob nicks to gain an advantage. His contact point is only about 12 inches above the floor, and shot after shot are perfectly placed for winners.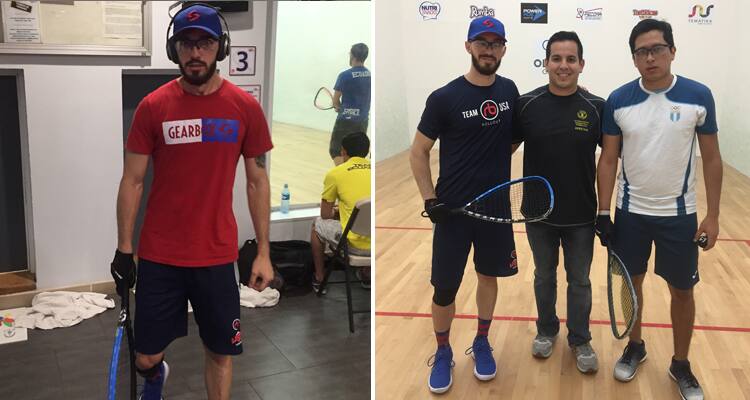 Bobby was third up and he drew Mark Murphy of Ireland. The first game was played somewhat erratically, with Bobby hitting a lot of good (but not perfect) passing shots. There were lots of fun rallies. The second game was all Team USA as the #1 seed bore down, executed good footwork, and killed 17 balls to win the match in two games.
Rhonda, the #2 seed, drew
Harumi Kajino
from Japan. Harumi is a diminutive player who gave all of 100% effort. Rhonda was missing some shots early but then found her rhythm and had Harumi moving all over the court, scampering and diving on most of the rallies. The Japanese opponent has developed her game to become a solid Women's Open player, and she hit many winners throughout the match. All who watched were thinking, "You've got to love her." Rhonda settled down and finished off the match in two games,
15-7, 15-5.
Last up for Team USA was Bobby Horn with a match against Guatemala's Edwin Galicia. Under the tutelage of former Team USA Coach Tom Travers, each of the Guatemalan players has improved markedly. Edwin matches Bobby's speed on the court and had the lead most of the first game. At 12 -14, Bobby called a time out, settled down, and returned to the court to score three quick points. The second game was all Team USA, with the match ending with scores of 15-14, 15-3. This was a good win for Bobby. Coming back to win the first game has got to give him confidence moving forward.
Sheryl lost to Jen Saunders (Canada), 10-15, 1-15
Charlie def. Johan Igor (Chile), 15-5, 15-3
Bobby def. Mark Murphy (Ireland), 15-3, 15-1
Rhonda def. Harumi Kajino (Japan), 15-7, 15-5
Charlie def. Fernando Kurzbard (Argentina), won by forfeit
Bobby def. Edwin Galicia (Guatemala), 15-14, 15-3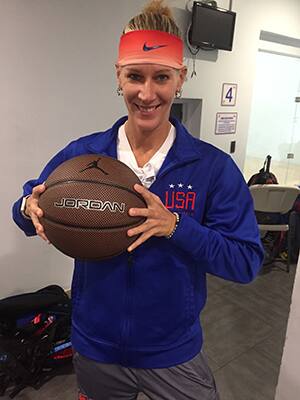 Featured Player of the Day – Rhonda Rajsich
Rhonda Rajsich, of Phoenix, Arizona (born and raised), has played racquetball for most of her life, having hit the courts under her father and godfather's influence at the tender age of 2. Her occupation? She says with a smile, "Pro athlete, lover of life." When she's not playing the LPRT, she conducts racquetball and basketball lessons and clinics.
When asked about her most memorable moment in racquetball, Rhonda replied, "Winning the IRF Worlds in Ireland in 2008. I wasn't supposed to be there and ended up winning the World Championship. That was my first World title, with the second in 2010 in Korea."
Rhonda thanks her sponsors: Rollout Racquetball, Racquetball Warehouse, Restrung Magazine, and 3WallBall. She wants to recognize her mother Deneen Thurow and her late father Dennis Rajsich for their lifelong support, and she also thanks Coach Jim Winterton, Trainers Travis Stoetzel, Jarrett East and Jim Walter, Brent Huff (US Team Trainer), Jeff Kettering (agent), Jason Bronson, Kristi Turner (massage therapist), Dr. Michael Leff (chiropractor), and Toni Delos Santos (mental coach). Rhonda would also like to thank her real, true, unwavering friends: "You know who you are!"
Some of Rhonda's other interests/hobbies beyond racquetball include basketball, training, playing outside, music/movies/shows, and eating. In answer to a recent question (What is your favorite childhood memory?), Rhonda reminisces, "Going to Disneyland and Huntington Beach with my parents."
Featured Staff Member of the Day – Dave Ellis, Team USA Coach
Pat Ellis Muñoz and I have now been married almost 48 years. We met teaching at a junior high school in Stockton, California. She had started teaching there a year earlier, and when I first saw her, all I could say to myself was, 'WOW.' Besides being colleagues, we became friends. We were involved in other relationships at the time, but the following year, we became attracted to each other. She asked me to come over for dinner one Saturday. I told her, "No, I'd rather take you out for dinner." We went out on the date, and we were married six weeks later.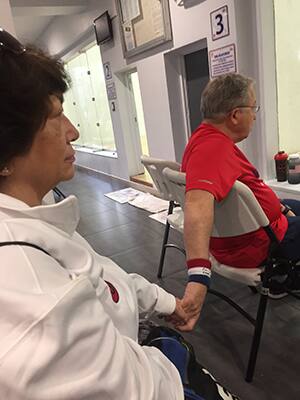 Pat and I are the proud parents of son John, married to Jennifer, and grandparents of Julius, 16, and Jordan, 10-1/2. John was a professional racquetball player for 15+ years and continues to promote racquetball through his business, Pro Racquetball Academy. As a matter of fact, John has 20+ tournaments scheduled each year. Jennifer teaches in Stockton. Julius and Jordan have become interested in racquetball, which makes our efforts a family affair.
John, Jody Nance, and I work with juniors twice a week during the school year, and we have a successful program. We recently returned from the Junior Olympic Championships in Des Moines, having had 20 of our kids participating. Besides our junior classes, John and I have embarked upon the ambitious project of establishing junior racquetball programs throughout Northern California. We are supported by Reaching Your Dream Foundation (RYDF) of Danville, California. We use a two-phase presentation that has been well received now by eight different clubs. If you are interested, please email me at

DAVEELLIS665@comcast.net

. We call our efforts "SOC" which stands for "Save Our Courts."
There are so many things about our sport that I love, but I think the one I most cherish is the friendships and family atmosphere during tournaments. For the most part, racquetball players are "down to earth" people, who are friendly, generous and caring. Our junior program is so grateful to all those who made possible our trip to the Junior Olympic Championships. THANK YOU.
I hold a Bachelor of Liberal Arts from the University of the Pacific and a Masters in Philosophy from the University of California, Berkeley. I am particularly proud of my California State Bilingual Teaching Credential. I taught Mathematics in both English and Spanish for 38 years at the high school level, from fundamentals to advanced placement calculus before retiring from teaching in 2006.
Dave's other interests/hobbies?

"Spanish and Italian languages, watching way too much Netflix, and working out for at least an hour per day. I like to go dancing, but usually Pat and I just become couch potatoes in the evening. I love the NBA, and I've been watching it for 50 years. By the way, I'm far too addicted to Facebook. I get nervous if I haven't checked during the last 15 minutes, LOL.
Whom would you like to recognize for their support?
First and foremost, my family, Pat, John, Jennifer, Julius, and Jordan for all the support they give to our racquetball efforts. Secondly, I recognize the Team USA players, past and present, who have dedicated their time, energy, and effort into playing the game. The majority are professionals who take time away from the tours to represent our country. Thirdly, I recognize our staff of Cheryl Kirk (Team Leader) and Brent Huff (Athletic Trainer) who are always ready, day or night, to give support to our delegation. I'm grateful to John Ellis, RO Carson, Debbie Tisinger, Mike Guidry, and David Horn who have all served as Assistant Coaches in the past. Thanks go out to the USAR Board of DIrectors, to National Team Committee Chairperson Larry Haemmerle, and to many others for their efforts on behalf of Team USA. Of course, infinite gratitude goes to Jonathan Clay and Rollout Racquetball for always keeping Team USA looking sharp. Last but not least, the players and I are grateful to all contributors who have helped fund player expenses, team dinners, equipment, etc., for our various delegations. RYDF particularly stands out in my mind. These people in the past and present have been lifesavers for Team USA.
Thoughts about competing here in San Jose, Costa Rica?

Coaching Team USA is not as glamorous as it sounds. After all, it is a tournament, and the great majority of time is spent at the club and at the hotel. The history of USAR was to spread the game worldwide, and an excellent job was done in this effort. As such, our competition is now very strong. A number of countries send very competitive delegations. As participants from other countries have brought home medals, particularly from the Pan American Games, many are well-financed by their Olympic Federations, with many of their athletes even receiving salaries. We've got our work cut out for us!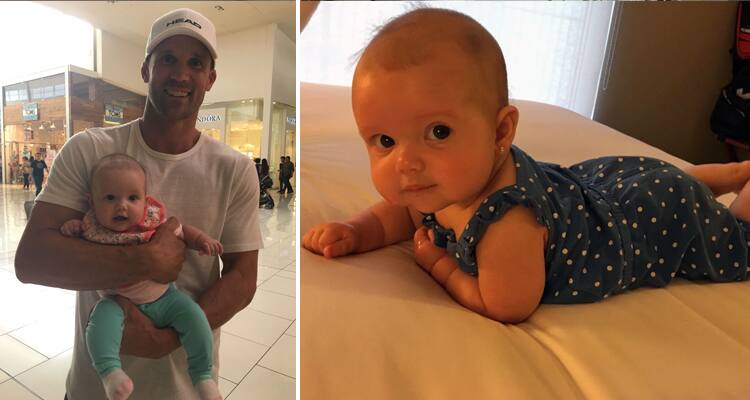 Question of the Day
What is a fun fact that practically no one knows about you (until now)?
Brent: I am good at designing and building things...furniture, decks, etc.
Rocky: I love to build things and do projects around my house. Just recently I realized I'm pretty bad at it, according to my wife. Can't stop me, won't stop me.
Charlie: I make my own corn tortillas. I will never buy tortillas in the store again. Also, I know more about Ancient Egypt than 95% of people.
Bobby: I love to cook alone at home. Could spend hours trying to cook things, I have no idea how to cook. LOL (Note: Bobby, we'd like to introduce you to Charlie...)
Dave: I was a yoyo CHAMP in the 5th grade. (Cheryl responded, "That explains a lot, Dave." Rhonda added, "For me, it only raises more questions...")
Pat: I was a pitcher on a softball team that went to the state championship in Colorado.
Sudsy: I won the 5th grade spelling bee contest in my school and the Spanish speaking award in junior high school (8th grade). Veronica (answering for her) is amazing at puzzles (written and jigsaw).
Jules: Everyone tells me I look like Tweetie Bird, and when I'm tired I hide my face and don't want to look at anyone. And, my racquetball pedigree is pretty impressive.
Deb Pratt: Sailed from Seattle to Honolulu. Loved it, 23 days offshore.
Debbra (Sudsy's sister): I beat Sudsy at racquetball, possibly the only girl ever. It was in 1979; I was 9 and he was 5.
Kara

(Sudsy's niece)

: I never saw racquetball before until Monday when I watched Uncle Suds play.
Cheryl: I was a swimming instructor at my local YMCA circa 1977, and that's where I first was exposed to racquetball.
Tommy (Sudsy's brother-in-law): I feel healthy just being around you guys.
Charlie (from 6 feet away): Dave? Dave! Coach Dave?!
Brent: Charlie, try texting him.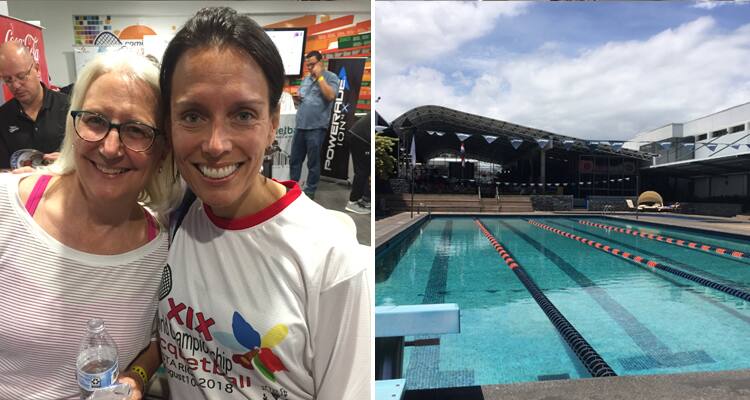 More Americans in Costa Rica
If you've been following these blogs, you know that we have a total of 19 athletes, staff, and family/guests attached to the US Delegation. There are additional Americans here at Worlds in Costa Rica as well: Luke St. Onge (IRF Secretary General), Gustavo Farell (IRF staff/floor manager), Tim and Terra-Leigh Baghurst (IRF streaming and social media support), Laura McCormick (streaming), Aaron Booker (playing for Puerto Rico), Shai Manzuri (playing for Argentina), and Alok Mehta (playing for India). Tom Travers and Fran Davis are here as coaches for the Guatemalan team (Tom) and Paola Longoria (Fran).
Streaming continues Thursday, Friday, and Saturday for selected matches on Court #1. Visit the www.internationalracquetball.com homepage for the schedule on any given day.
Here's tomorrow's lineup!
10:00 Charlie vs. Samuel Murray (Canada)
10:00 Rhonda vs. Natalia Mendez (Argentina)
12:00 Bobby vs. Mario Mercado (Bolivia)
1:00 Rocky/Sudsy vs. Moon Gyun Kim/Dae Yong Kwan (Korea)
With the win, 4:00 vs. the winner of Colombia vs. Guatemala
3:00 Rhonda/Sheryl vs. winner of Bolivia and Chile
Sheryl 5:00 vs. Donna Ryder Ireland
P.S. Hey, tomorrow is Brent Huff's birthday! The US Team appreciates him each and every day and especially on this

important day in history!
---
Blog #6 -- XIX IRF World Racquetball Championships
San José, Costa Rica
Tuesday, August 14, 2018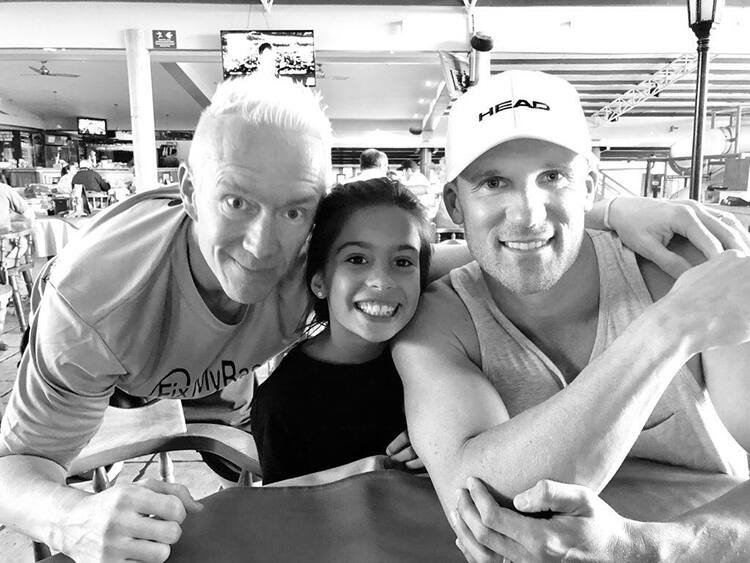 The US Delegation is now complete with the arrival of (drum roll, please) Ceci Pratt and Deb Pratt (Charlie's wife and mother). Welcome aboard, ladies! You're just in time for the action tomorrow.
Dave's Comments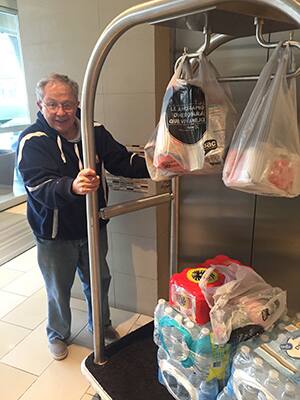 Last night we had our traditional team dinner, and all enjoyed the delicious food provided by the Sushi restaurant right here in our complex. We did two activities, and the first included our team guests, Tom (Sud's brother in law), Veronica Sotomayor (Sud's wife), Kara (Sud's niece), and Kelly. The first activity was to tell a memorable moment relating to racquetball. Within the group of veterans on the delegation, many had trouble limiting their stories to just one. Here are just a few of the moments: Cheryl mentioned having the US Team delegation watching and rooting for her during the 2017 trip to Costa Rica; Rocky winning an outdoor tournament with a good friend; Rhonda playing on an aircraft carrier during a military racquetball tournament; Sudsy going to St. Jude Children's Hospital during an early US Open; Brent defeating a player that had been an earlier idol; Charlie winning an IRT Tier 1 in his home town; Bobby winning the US National Singles Championship with family watching; Pat executing a backhand for the first time; Veronica going to Canada from the United States only to find out she needed a visa, and had to pay $300 to be a Canadian citizen for four days, and Sheryl mentioned winning a doubles LPRT tournament in Mexico with Rhonda.
The other activity we did is called "stroking." Stroking first appeared in written form during the World Championships in 2002, in a team issued "newspaper." Some years ago, stroking evolved into a real life activity. All team members receive randomly a name of another team member. Then, taking turns, each goes and stands behind their person and says positive and appreciative things about their person. It's a very nice team bonding activity.
Featured Player of the Day -- Sudsy Monchik
Sudsy Monchik is a racquetball professional (coach, ambassador and public speaker), and he added US Team Member back onto his current list of activities this past season when he and Rocky Carson won National Doubles and secured their spots on the US Team.
Sudsy got his start in racquetball when his father and Russ Mannino were business partners in New York City. His best friend Jason Mannino introduced him to the game.
Sudsy is married to Veronica Sotomayor, and they welcomed daughter Juliana to their family this year. Sudsy is also dad to son Derek and daughter Lauren.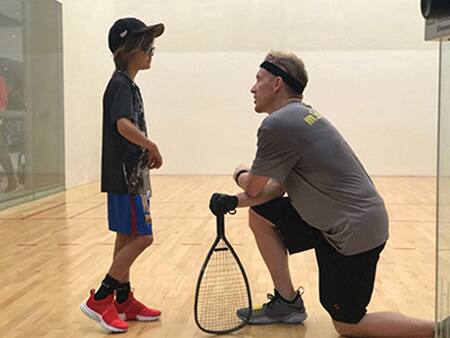 His name just might be fairly recognizable in the racquetball world. Sudsy is a five-time #1 Ranked Player in the World (IRT), a four-time US Open Champion, and a Pan American Games Gold Medalist for Team USA. He is the only player in history to have won every age division in both singles and doubles at Junior Nationals. Sudsy was inducted into the USA Racquetball Hall of Fame in 2015.
Sudsy has diverse hobbies and interests -- inspiring and motivating others, coaching players in life on and off the court, public speaking, New York Yankees, Air Jordans, and "cooking with my wife and changing diapers."
When asked who he would like to recognize for their support: "Dr.Paul Apilado who is now family. Kenneth Poole. Mi esposa Veronica. My sponsors - Fix My Racquet and EBoost. Every single fan who constantly sends messages of encouragement and support. Thank you to all. Grateful. And of course, THE TEAM BEHIND THE TEAM! Your support of TEAM USA does not go unnoticed."
Sudsy, how does it feel to be competing with USA on your back at th
e IRF Worlds in Costa Rica
? "One of my greatest memories and accomplishments in my career was competing for Team USA in the first-ever Pan American Games in Buenos Aires, Argentina. That feeling of hearing the national anthem after winning the gold medal will stay with me forever. Being able to do it again is beyond awesome and something I will not take for granted. We never know when or if we will ever have such an amazing opportunity again in our lives. Once again, I will embrace every moment of this journey and represent the United States of America with honor, pride, humility, and professionalism.
Featured Staff Member of the Day – Brent Huff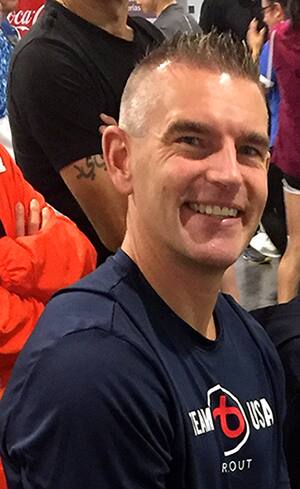 Brent Huff, now living in Phoenix, AZ, is our US Team Athletic Trainer/Massage Therapist. He holds a Masters degree in Sports Medicine from the US Sports Academy and possesses 18 years' experience as a Certified Athletic Trainer with the NATA (National Athletic Trainers Association). Brent also holds certifications as a Certified Strength and Conditioning Specialist, Holistic Lifestyle Coaching with the CHEK Institute (Corrective Holistic Exercise Kinesiology), and is also licensed as a Massage Therapist (AMTA).
In his capacity as Team Athletic Trainer/Massage Therapist, Brent provides everything from prevention to assessment to emergency care. Rehab services for athletes and on-site coverage for athletic events are part of his repertoire as well. His experience encompasses everything from "little kids to professional athletes."
Brent is a Wilson and Rollout Racquetball sponsored player who took up the sport 35+ years ago. He was the recipient of the 2016 USA Racquetball Joe Sobek Outstanding Contribution Award.
"It's a privilege and an honor to make the trip with the US Team again. It's an opportunity to work with the best racquetball athletes in the world and to put my professions to use in a sport that's my passion and my hobby as well."
This is really nothing like a shootout. When we looked at Brent's new zapatas that arrived with him last Friday, the subject turned to shoes: who brought the most pairs and whose are the coolest. (The latter is incredibly subjective. So far, Brent's are out front. This could change.)
Brent 6, Pat 2, Cheryl 4, Bobby 7, Rhonda 4, Dave 3, Sheryl 6, Charlie 2, Rocky 4, Sudsy 8, Veronica 6. Wait, what?
That's a total of 46 pairs for Team USA. Not sure why this is relevant, but it's a slow blog day, so what the heck. It would seem that Sudsy has won on quantity, but there is still research to be done in consideration of some underlying issues.
Esprit Junior Coach Jen Meyer sent me a long list of "Would you rather" questions. Thanks, Jen!
Live without the Internet or live without AC and heating?
Get one free international plane ticket every year or be able to fly domestically anytime for free?
H
ave unlimited sushi for life or unlimited tacos for life?
Brent: No AC/heating; fly domestically free; tacos
Dave: Same as Brent and Rhonda
Pat: No Internet; unlimited domestic; tacos
Charlie: No Internet; domestic for free; sushi
Rocky: No Internet (simplify my life); international flight (discover world history and surf); probably sushi
Sudsy: No Internet; international flight; sushi
Veronica: No Internet; international flight; sushi
Sheryl: No Internet; domestic flights; tacos
Cheryl: No AC/heating (except in Chicago in January); domestic flights; tacos
Tim Baghurst: No Internet; international flight; sushi
Terra-Leigh Baghurst: Same as Tim
Deb Pratt: Live without AC and heating; free domestic flights; tacos -- they are a staple in our household now and I'm pretty certain most of the raw fish we enjoy in sushi would actually be great in tacos. (Note: Great logic, Deb!)
Charlie: Bobby singing "Push it to the limit" as he jams his laundry into the bag.
Dear Racquetball Fans, this is how I spent my free day...
Brent: Workout, relaxing, working on players
Charlie: Practiced, light workout, food, relax, sports documentaries, hanging with Mom and Ceci
Cheryl: 4.5 hour IRF Board meeting, lunch with good buddies, trip to Walmart with Dave, worked on blog, nap, IRF World Congress meeting, finished blog (obviously)
Sheryl: Breakfast, lunch, lots of sleeping, worked out by picking up a case of 35 bottles of water from team leader's room
Bobby: Practiced, workout, and Netflix
Sudsy: Spent day with family, partner at club. te lunch there. Played some intense riddle games led by Rocky where my 8-year-old niece Kara beat us all. And ate more ice cream.
Jules: Spent day at club visiting with family. Took a nap or two.
Dave: Stroll around the complex, Mexican lunch, YouTube "scouting," trip to Walmart for team necessities, and a major nap
Pat: Same as Dave except for the YouTube and Walmart
Rhonda: Put together team schedule on new computer
It's the first day of the main draw! Here's how it shakes out...
9:00 #11 Sheryl vs. #22 Jen Saunders (Canada). With the win -- 4:00 vs. #6 Ana Gabriela Martinez (Guatemala)
11:00 #3 Charlie vs. #30 Johan Igor (Chile). With the win -- 5:00 vs. winner of #19 Ricardo Gomez (Venezuela) and #14 Fernando Kurzbard (Argentina)
1:00 #1 Bobby vs. winner of #33 Alberto Rojas (Switzerland) and #32 Mark Murphy (Ireland). With the win -- 6:00 vs. winner of #17 Shai Manzuri (Argentina) and #16 Edwin Galicia (Guatemala)
3:00 #2 Rhonda vs. winner of #15 Harumi Kajino (Japan) and #18 Aisling Hickey (Ireland)
No Doubles on Wednesday - that action commences on Thursday!
P.S. Happy Birthday on Wednesday to my dear friend

Barbara

Curran!
---
Blog #5 -- XIX IRF World Racquetball Championships
San José, Costa Rica
Monday, August 13, 2018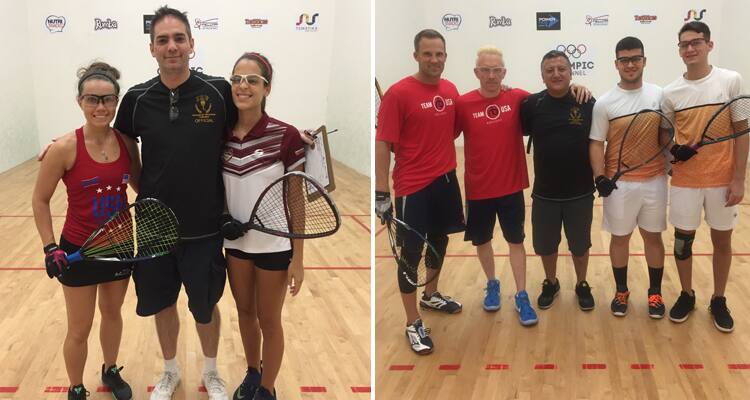 Coach Dave Speaks on the Day
Six matches today for Team USA and so happy we had six wins. Bobby Horn started us off early this morning with a match against
Moon Gyun Kim
from Korea. The Korean player was tough in the sense that he was able to get to a lot of Bobby's shots and then do something with them. Bobby kept him on the move throughout and in the end proved to be too tough with scores of 15-7, 15-4. Bobby was really anxious to play today after getting a bye yesterday.
Rhonda Rajsich drew
Naomi Wakimoto
from Japan. Rhonda was way too much and won easily by scores of 15-2, 15-3. After the match, the Japanese contingent presented her with a decorative fan, and Rhonda later used it to help cool off Charlie Pratt during one of his timeouts.
Speaking of Charlie, our #2 singles player drew Venezuela's
Luis Felipe Zea.
They played on court 6, known for its strange lighting as the right side wall faces outside with a slightly translucent shield covering the right side wall, and the floor is completely white (as are the walls and ceiling). Charlie dominated his earlier matches, and the first game today was no exception. In the second game, however, he had a significant lead only to experience some great shots and some perfect lob serves into the back left corner by the Venezuelan, along with a few skips by Charlie himself. All of a sudden, he was behind 12-11. Charlie then used both sides to hit well-placed nick serves that resulted in setups, allowing him to close out the match.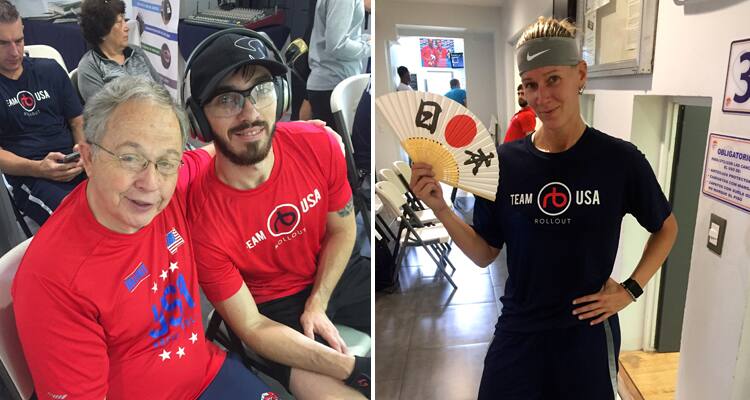 Fourth up for Team USA was Sheryl Lotts. Sheryl continues to feel increasingly comfortable on the court, and it is showing throughout her play. She received one six-word instruction, "Warm up your serves with intensity." Our gal brought a variety of well-placed serves against her Venezuelan opponent and won easily in two games.
Of great interest to all is the doubles team of Sudsy Monchik and Rocky Carson. The two veterans have an average age of 40, but their play reflects efforts of two twenty-five-year-olds. Sudsy's classic backhand is as it once was, a stroke that allowed him to finish the professional tour in first place five times. Rocky continued to push forward to cover all slightly less-than-perfect kill shots by their Venezuelan opponents. The guys complement each other like "ham and eggs."
Rhonda and Sheryl had the battle of the day with their play against a very good Korean doubles team.
Mi Ok An
is a strong, powerful player who is very aggressive.
Jim Young Seok
is stable and is a battler. Team USA won the first game, but Korea was too much in the second game. Tiebreaker at hand, and it was all USA. Sheryl got setups with tough wallpaper serves down the right side that earned five quick points. Rhonda served backhand semi-hard Z serves that came in high but not off the back wall. The left side player finally moved all the way to the left side wall to cut them off. Rhonda alertly served the ball straight at her and the adjustment paid off. Donut time as Team USA won 11-0.
Today's play ends the round robin/group play. Tomorrow, Tuesday, is a free day that will be enjoyed by all. Then on Wednesday, we move into the medal/elimination portion of the tournament. We're in excellent position to compete for the Overall with all players having decent seeding. As always, send us good vibrations -- Go Team USA, 2018 edition!
Monday's Results in San José
Bobby def. Moon Gyun Kim (Korea), 15-7, 15-4
Rhonda def. Naomi Wakimoto (Japan), 15-2, 15-3
Charlie def. Luis Felipe Zea (Venezuela), 15-6, 15-13
Sheryl def. Lilian Zea (Venezuela), 15-5, 15-3
Rocky/Sudsy def. Ricardo Gomez/Luis Felipe Zea (Venezuela), 15-2, 15-2
Rhonda/Sheryl def. Mi Ok An/Jim Young Seok (Korea), 15-10, 8-15, 11-0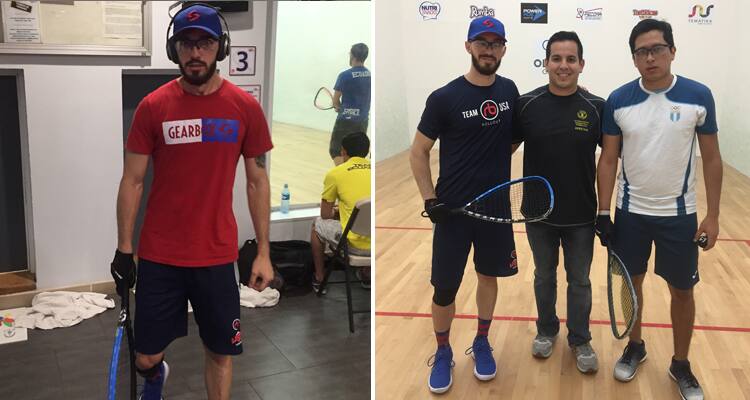 Featured Player of the Day - David "Bobby" Horn
Born and raised in Stockton, California, and now playing out of Pleasanton, California, Bobby, 28, is a charter member of the "the 209." He is ranked #1 on the WRT and #10 in USA Racquetball's ranking system. His mother Michelle Horn, grandmother Anna Martin, sister Nichole Lossi, and nephew and niece Aubrey and Kayden stay avidly tuned in to his racquetball career.
Bobby graduated from Cal State East Bay in 2016 with a Bachelors degree in Liberal Studies (teaching) with a minor in Spanish. His hobbies include basketball, golf, playing cards with friends, and fishing.
Additionally, "
I do a lot of training, teaching, and spending time with my family.
"
How did you get started playing racquetball?

"I started playing at 15 when I met teammate Jose Diaz at the gym. He pulled me onto the court, and I have played off and on since that day.
"I want to thank my entire team that has helped me get this far: my people in Stockton -- Dave and John Ellis, Jody Nance, Jesse Serna, and all the guys there who I grew up playing with. My current coach Jim Winterton. Also a shout-out to "The Donkeys" at home, I know they are always watching. I want to thank my friends in the East Bay area including Elaine Dexter, Ken Stone, and Carlos Contreras as well for their support and help to get to this point. Thank you to my sponsors who allow me to play this sport regularly: Gearbox Racquetball, Reaching Your Dream Foundation, ClubSport Pleasanton, Sam Sorokin and Premium Properties, OB Noodle House, and Doctor Sanchez with FITLAB Solutions.
"I feel privileged to have the opportunity to play for the USA at this event. I am so happy and grateful to play in my first World Championships. I know I am prepared and ready to represent our country well. Let's Go USA!"
What is your biggest pet peeve?
Sudsy:

Someone who shakes with left hand. Non-handicap people parking in handicap spots.
People blocking exit coming off elevator because they can't wait to get in or people walking into elevator before you even walk out!!!! Who does this?!!!
Veronica

: I don't like when people chew or eat with mouth open.
Bobby

: People moving past you without saying excuse me.
Charlie

: People who don't say thank you when you hold the door for them.
Cheryl

: Arriving in a hotel room and finding hair in the sink, shower, or on the sheets. Ick. (Note: this didn't happen here at this excellent hotel.)
Sheryl

: Water on the sink, anywhere. Why can't people clean up after themselves? If other people get close to the sink, then they get wet. (Disclaimer: Rhonda doesn't do this.)
Dave

: People who say, "May I ask a question?" Here's the scoop: that

is

a question.
Pat

: Wet spots on the floor (from water, coffee, etc.). I can tell where Dave has been by following the trail.
Rocky

: Lack of gratefulness, especially for myself with the opportunities living in the USA. One thing I am truly grateful for is playing for my country and the opportunity to see the world. In some of these countries where racquetball has taken me, I have seen those who are extremely poor, I've seen people find joy in the smallest of things when they have almost NOTHING. Yet in the States we sometimes find ourselves complaining about the pettiest of things. Biggest pet peeve is when I find myself guilty of that. Feel so blessed to have these opportunities and live where I live.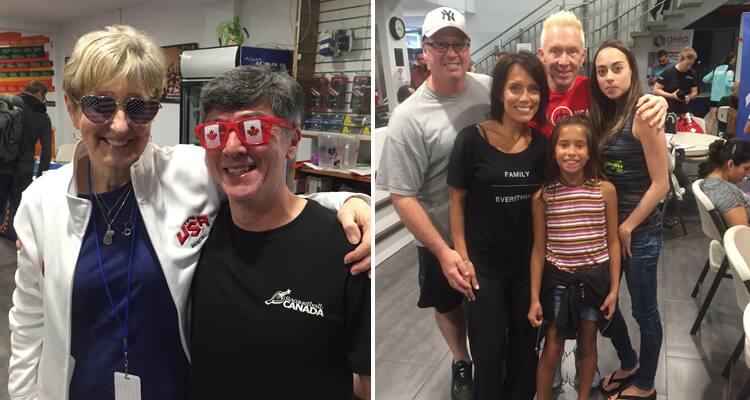 Sudsy's family has turned out in force to support him and the US Team. Veronica's mom Lorena Malo is here watching over Jules while her mom and dad compete. Sudsy's sister Debbra Nichols, brother-in-law Tommy Nichols, and their daughter Kara Keegan-Nichols (Sudsy's niece and goddaughter) arrived this afternoon in time for the Men's Doubles match. Welcome, new Team USA cheerleaders!
There are two more family members arriving tomorrow (a little more suspense in store). Team USA thinks it's so great to have family and friends supporting us here!
The athletes and staff send a huge shout-out to Jonathan and Carolyn Clay of Rollout Racquetball for being the Official Apparel Sponsor of USA Racquetball and the US Team. Our newly designed uniforms are getting a lot of positive attention here at IRF Worlds. Each team member received an ample supply of shirts, shorts, and a warm-up jacket and pants, and they are lookin' good!
Our Athletic Trainer Brent Huff is so glad RockTape is a USA Racquetball sponsor. RockTape is a premium kinesiology tape that provides Brent a great resource as he supports the US Team. Visit www.rocktape.com.
We also want to thank Gearbox, E-Force, and the many local sponsors who have made it possible for Marcelo Gómez and the Local Organizing Committee to provide a first-class experience to the 18 country delegations here in San José.
The racquetball community in the United States and around the world benefits to an enormous degree on sponsorships and donations from those who regard this sport as an important part of their own lives and one that is worthwhile to the lives of others. In the U.S., if you would like to contribute to the US Team and US Junior Team, please go to https://www.givedirect.org/donate/?cid=74 and put Team USA Challenge in the comments box. Every contribution helps, large or small!
Martes en San José (Tuesday in San José)
At the traditional team dinner this evening, the US Team Delegation had the chance to dine together, relax, and tell racquetball stories. Tuesday is a Free Day, an anticipated and well-deserved rest for everyone in the middle of a pretty long trip. Plans are being made as I write this, but Bobby and Charlie requested court time for 10:00 tomorrow morning, and that has been accomplished. The concept of getting laundry done is a given; the rest is up for grabs. Tomorrow's blog will chronicle how team members spent their free day, and the schedule for Wednesday will be included as well!
Have a great day off,
Team USA!
---
Blog #4 --
XIX IRF World Racquetball Championships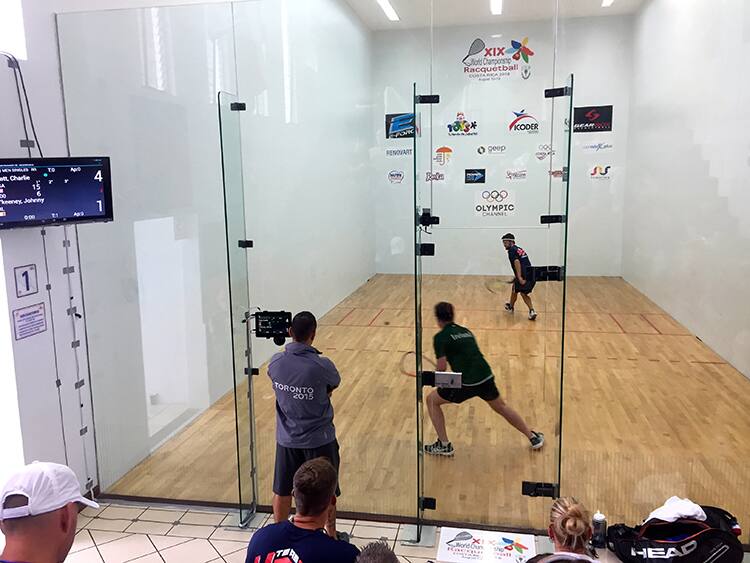 Coach Dave Gets the Ball Rolling
Only three matches today, and all were against our friends from Ireland. Sheryl started us off with a toughie against Aisling Hickey. Both games went back and forth with multiple changes of lead. Both ladies used a variety of serves, and in the end, it was our Sheryl who returned more successfully. Lotts ended up winning by scores 15-11, 15-12. She appeared more relaxed and confident today, and I'm betting that this comfort level will continue to improve again tomorrow against Venezuela.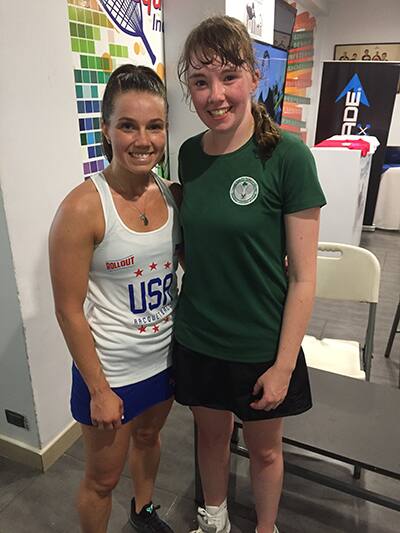 Charlie Pratt drew Johnny O'Keeney. O'Keeney is a remarkable player who can retrieve shot after shot. Charlie, however, controlled the court completely, and O'Keeney was sent to the back of the court, sprinting and diving multiple times. Charlie is a joy to watch, and it's clear why he is one of the only 40 men to win a Tier I pro stop in the history of racquetball.
Sudsy and Rocky were up next. Many felt that, in the first game yesterday against a strong Ecuador team, our guys were a little out of control, free swinging and over hitting. Today the guys were determined to put their game under control, and both played solid doubles throughout. They were reading each other well with good consistent communication.
Sheryl def. Aisling Hickey (Ireland), 15-11, 15-12
Charlie def. Johnny O'Keeney (Ireland), 15-6, 15-1
Rocky/Sudsy def. Ken Cottrell/Eoin Tynan (Ireland), 15-5, 15-1
________________________________________
Featured Player of the Day -- Charlie Pratt
Colorado State University – Pueblo, Psychology
Portland Community College, Small Business Development
Cornell University, Nutrition
Personal Trainer and Nutritionist
Wife Ceci, parents Deb and Charley Pratt, younger sister Katie.
How did you get started playing racquetball?
"My mom took me to the local club (Sunset Athletic Club in Portland). I saw some people playing doubles. I stood there trying to figure out the rules as a six-year-old. My mom recalls that I pointed to the court and said, "I have to try that." She signed me up for the free Sunday Junior Clinic. We had a great program at our club, both juniors and adults. I played my first in-house tournament a few months later, then my first Oregon Junior tournament a few months after that. My mom remembers being in the club all day watching me play and thought to herself "Please don't let Charlie fall in love with this sport. I really don't want to spend my weekends stuck inside an athletic club all day." Sorry, Mom!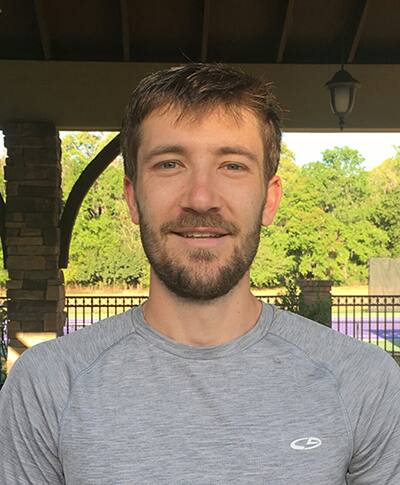 Competition history?
I was always pretty good as a junior. Eventually I won the 10 & Under National Championship in Baltimore, Maryland, at the Merritt Athletic Club, which is still probably the coolest club I have ever been to. On a side note, I refereed 30 matches during the tournament at $5 per match and earned $150 so I could buy a pair of Oakley sunglasses. I still have the sunglasses. They also let me referee the exhibition match between Andy Roberts and Ruben Gonzalez. Again, I was 10 years old. Not surprising that I became referee of the IRT!
I continued to do well at the National level in Juniors, finishing in the semifinals or better in all of the National Championships, winning 16 & Under in New Hampshire. I made the Junior Team five years in a row and competed in Worlds many times.
After Juniors, I wasn't sure what to do with racquetball. I attended Colorado State University, a great school for racquetball. I played some pro tournaments but quickly realized I was a long way from being at that level. Luckily for me, the IRT referee position opened up. I applied and got it the job! I decided to give myself a year to see how I did. I climbed to #11, then eventually #8. After about six years on tour I gave up the referee position and have been part-time on tour while working full time as a personal trainer. My game has elevated significantly since starting my new job, mostly because now I work in a gym and take my training and nutrition more seriously. I was actually ready to walk away from professional racquetball, but then I was asked to play for the US Team at the Pan American Racquetball Championships in 2017, a huge honor. I earned the silver medal, which was quite the surprise. Then I got the motivation to apply for the USA Junior Team Head Coach position, and I got the position! Another huge honor. I loved every second of my years on the junior team. All of a sudden I was inspired again. We went to the World Junior Championships in Minneapolis and had the experience of a lifetime. Then shortly after that, I won my first IRT Pro Stop in my home city of Portland, Oregon, at the same club where I used to watch Sudsy, Cliff, Mannino, Ellis, and all the other pros compete when I was eight years old. I had never even made a final before, and here I was winning in my home city. I couldn't have ever dreamed of that. It's funny, as soon as I was thinking of leaving competitive racquetball behind, it had a way of pulling me back in. The year 2017 was an unforgettable year. Now I am competing for the USA at the IRF World Championships, something I have dreamed of since I was a kid.
Other interests/hobbies?

For whatever reason, I have been consumed with learning as much as I can about Ancient Egypt and Astronomy. I used to hate studying for the most part. I was always into sports, and school took a back seat. Now I am interested in learning. I find these two subjects fascinating. Aside from the nerdy stuff, I love cycling, golf, traveling, road trips, music, yoga, cooking vegan meals, etc.
Whom would you like to recognize for their support?
My parents for all the years they put up with me as a kid. My wife for putting up with me as an adult. My coaches, Matt Hanners, Darrin McNally, and Cliff Swain. My friends all around the racquetball world. So many more...
How does it feel to be competing with USA on your back at the IRF Worlds in Costa Rica?
An honor. And what makes it even cooler are my teammates. I grew up watching Sudsy play. He was, and probably still is, my favorite player (although Cliff might be tied for first). And of course Rocky Carson is the most decorated USA Player in history and been a huge role model for me. Bobby Horn has become a great friend and inspiration; he also coached the USA Junior Team with me last year. Rhonda Rajsich, one of the greatest players of all time. I have had the privilege of getting to know Rhonda the past few years. One of the coolest people I have ever met. Plus I have finally found someone who can hang with me in basketball! Maybe Rocky can join for a shoot-around? And to cap it off, Sheryl Lotts and I go way back to junior days on the USA Team. She is a ton of fun, never a dull moment. She has proven herself to be one of the best American players, and I am excited to watch her compete in both divisions!
The best part for me is being part of a team. It doesn't happen often in racquetball. It is still an individual sport, but knowing you are all chasing the same goal of a team title makes it special. I am excited to compete, and equally excited to be there with my team.
______________________________________________
What is your favorite word or phrase in Spanish?
Dave:

Hay un gran trecho entre dicho y hecho. (There is a long stretch between saying and doing.)
Charlie:

Word - Madrugada ("dawn"). I like the way it sounds. Phrase - Andale pues, which means "Go on!" or "Go for it!" Ceci and her mom say it all the time.
Cheryl:

Word - Estacionamiento (parking lot). It just rolls off the tongue.
Phrase - Mucho trabajo, poquito dinero. (A lot of work, a little money.). Makes people laugh...
Rocky:

Phrase - El amor es todo lo que necesitas. (Love is all you need.)
Brent:

Phrase - Pura vida! (Pure life!)
Bobby:

Word - Siempre (always)
Sheryl:

No hablo español... (I do not speak Spanish.)
Rhonda:

¿Habrá comida y puedo usar ropa de gimnasia? (Will there be food and can I wear gym clothes?)
Sudsy:

Word - GRINGO!. Phrase - Que hacemos en vida va en la eternidad. (What we do in life goes in eternity.)
Veronica:

Word - Pepa (good or like "nice"). Phrase - La unica forma de hacer buen trabajo es amar lo que haces. (The only way to do good work is to love what you do.)
Juliana:

Word - Agu (pronounced ah-goo'). (Note: Since Jules is only four months old, no one really knows if that's Spanish, English, or multilingual baby talk. We may never know.)
Charlie: Massages hurt! Is that because of my thin, tender vegan muscles?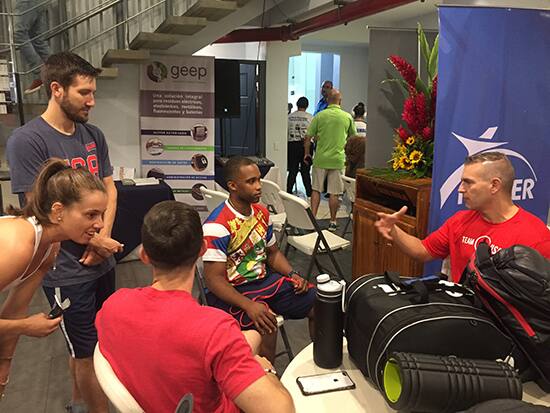 Mail From Home
Online and via email, we're hearing from people like Deb Pratt (OR), Deneen Thurow (AZ), and Dianne Arp (IL) who offered encouragement and, in Dianne's case, an expression of disbelief that I didn't provide more texture on the shopping list (what kind of bread...were there seeds in the jam...what kind of M&M's, that kind of thing). She's like that...
We
received a special email from Wendall Pelham, father of John Pelham (see Blog #2 re the Live Like John wristbands we are all honored to wear). He said, "So nice to get to know the players, coaches, and all of you supporting them during these exciting times through your blogs. Grateful to be a small part of the event through the Live Like John gear. I am sure John has a front row seat for all the matches and is pulling for all of our players." Thank you, Wendall, we know he is. To learn more about Live Like John, please visit https://www.livelikejohn.us.
A special shout-out to Joanne Pomodoro and her family who are focusing all their love and support toward Joanne's niece Jackie who fell ill and has been in the hospital for weeks. Racquetball family, please send all of your prayers in Jackie's direction for a full recovery!
Happy for two successful days here at the IRF Worlds, tomorrow is the last day of the round robin/pool play phase of the competition. After the results are complete and seedings are established, draws will be provided for the second part of the competition, the main draw, beginning on Wednesday.
9:00 #1 Bobby vs. #19 Moon Gyun Kim (Korea)
10:00 #2 Rhonda vs. #16 Naomi Wakimoto (Japan)
11:00 #3 Charlie vs. #21 Luis Felipe Zea (Venezuela)
12:00 #4 Sheryl vs. #18 Lilian Zea (Venezuela)
3:00 #3 Rocky/Sudsy vs. #11 Ricardo Gomez/Luis Felipe Zea (Venezuela)
4:00 #2 Rhonda/Sheryl vs. #10 Mi Ok An/Jim Young Seok (Korea)
Not sure of the streaming schedule as of this writing, but check the International Racquetball Federation home page at www.internationalracquetball.com. Thanks for everyone's support!
---
Blog #3 --
XIX IRF World Racquetball Championships
Saturday, August 11, 2018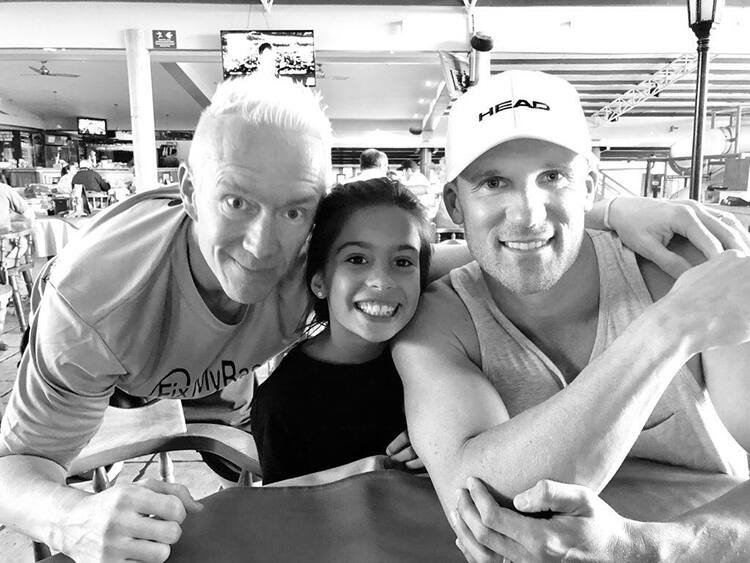 Greetings from San
José where the weather continues cloudy and rainy but temperate in the high 70's. Traffic continued fairly brisk (that's code for nearly standstill) on the return early this evening.
Some stats to get us going on Day 3: There are 18 countries participating at the IRF Worlds -- Argentina, Bolivia, Canada, Chile, Colombia, Costa Rica, Dominican Republic, Ecuador, Guatemala, India, Ireland, Japan, Korea, Mexico, Puerto Rico, Switzerland, USA, and Venezuela.
There are a total of 34 men and 26 women competing in singles and doubles divisions. The format is round robin/pool play for the first three days, the results of which create the seeding for the main rounds that will begin on Wednesday. Live streaming will be available on the IRF website, www.internationalracquetball.com.
Day One - Coach Dave's Recap
On this initial day of competition, Bobby Horn led us off with excellent play against Luis Perez from the Dominican Republic. Bobby was on his game with a nice variety of soft serves to Luis' forehand. Luis had trouble with these, and Bobby was right there to finish off rallies. Bobby's return of serve was consistently good, and his shots were well-placed during the rallies.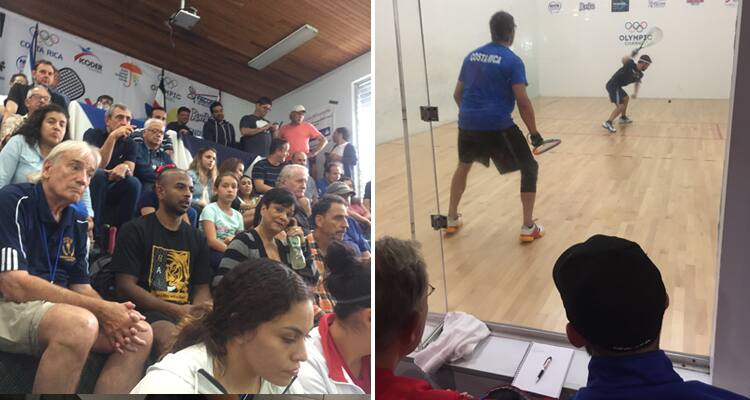 Charlie Pratt's first serves were extremely effective: drives left and right, an occasional jam serve, and a crack ace. A lob nick consistently placed was used if a second serve was needed. Felipe Camacho of Costa Rica is a determined player, but he could not match up to Charlie's precise shots and excellent "gets."
Rhonda Rajsich played
Young Ock Lee
of Korea, and the scores were one-sided in RR's favor. She got off to a slow start early, evidently due to a racquet problem that seemed to bring about numerous skips. With a change of racquet, Rhonda quickly closed out the match in two games.
Sheryl Lotts drew the tough
María Renée
of Guatemala. She earned a big lead the first game, and it tightened up near the end. Then
María Renée
went on a tear, ending many rallies with well-hit pinches.
María Renée
dominated the tiebreaker with excellent near screen serves from left of center, prompting weak returns and ending rallies with more pinches.
In doubles, Rhonda and Sheryl drew Team Japan in their first match. Our women won in two, 15-10, 15-4. Veterans Sudsy and Rocky played against a tough Ecuador team. The guys had a fight on their hands in Game One. Excellent right side player Topo (Ugalde) was killing ball after ball, and Ecuador jumped to a 9-4 lead. Rocky positioned himself farther forward, making Topo hit not just good shots but perfect shots. At 10-11, Rocky and Suds switched sides to give Rocky the opportunity to use his well-known drive z's. Our guys pushed it to 14-11 and then had five game points before finally completing the first game, 15-14. Game Two was all Team USA with Team USA winning by a score of 15-2.
Watching other matches today, it is obvious that we have our work cut out for us. There will be serious competition from Mexico, Bolivia, Colombia, Argentina, Ecuador, and Canada. It's going to be tough throughout but lots of fun as well!
Bobby def. Luis Perez (Dominican Republic), 15-5, 15-7
Rhonda def. Young Ock Lee (Korea), 15-2, 15-4
Charlie def. Felipe Camacho (Costa Rica), 15-5, 15-9
Sheryl lost to María Renée Rodríguez (Guatemala), 15-8, 6-15, 4-11
Rocky /Sudsy def. Jose Daniel Ugalde/Juan Francisco Cueva (Ecuador), 15-14, 15-2
Rhonda/Sheryl def. Naomi Wakimoto/Maiko Sato (Japan), 15-10, 15-4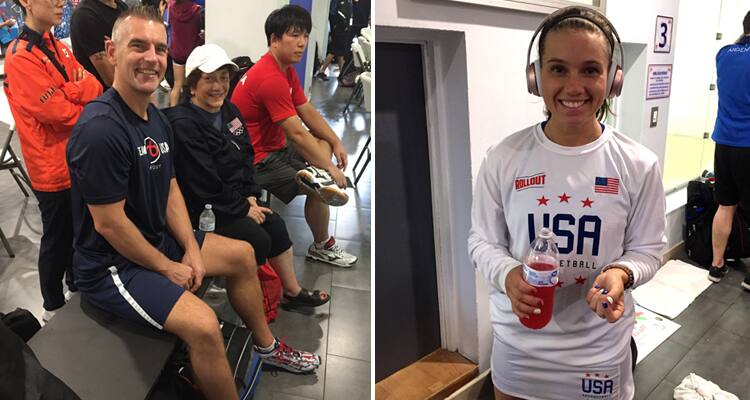 Arrivals in the Past 24 Hours...
Team Trainer Brent Huff hit the hotel about midnight last night after several flight delays and was up early to be there for Team USA's first match this morning. More about Brent in a later blog, but everyone feels better when Brent is on the scene!
Hey, one of the mystery arrivals mentioned in Blogs 1 and 2 landed at the San José Airport this afternoon. It's Kelly North from the great State of Ohio! Kelly had never been to an international event before, and Sheryl Lotts, whom Kelly has coached since last October, said, "Hey, why don't you come and see what it's all about?" Kelly thought that was a fine idea, and here he is! He even brought a few items requested from the team members via Sheryl. Welcome, Kelly!
The suspense isn't over yet...we have a few more family members yet to arrive. Stay tuned...
In Blog #1, Paragraph #1, I mentioned a missing bag that did not arrive with the rest. Apparently, it was the right thing not to jinx the process by providing details, because THE BAG IS HERE!Welcome, bag!
Backstory: Sudsy and Veronica live in Ecuador part of the year. It can be tough (and expensive) to get items delivered there from the United States. In a bag that Dave Ellis brought here to Costa Rica for Sudsy were most of his Team USA uniforms, some sponsor clothing, and various items from Amazon. This bag was mixed up with another passenger's at baggage claim upon arrival. It went MIA. It was AWOL. Dave went on a mission to locate the bag only to come up with nada (that's Spanish for no bag). He had to tell Sudsy "no bag." All were distraught. The hotel manager Diego made calls to assist. Still nada, and we thought the bag's contents might be up for sale somewhere by now. But wait! Tonight, right after Sudsy and Rocky's victory, Dave came back to the hotel and the bag was in his room. It was magic! We think this is a very good omen for the rest of the tournament.
What would your dream vacation look like?
Bobby: Beach, fishing, and golf. That's all I need. Maybe somewhere like Belize.
Charlie: Hawaii, golf, wild coconuts, hiking, snorkeling, cycling, stargazing. Then a flight to Egypt to see the pyramids.
Rocky: Warm weather, tropical beaches, great overhead surf. And of course my family. Maybe even some good outdoor racquetball.
Sudsy: Family. Secluded. Beach or natural springs. No cell phones (maybe once a day.) Tiki bar or Santorini, Greece, would do.
Brent: Anywhere with beaches, lots of sun, golf, snorkeling, good food and beer (that's for Jake, LOL).
Dave: I'd like to travel in Italy, studying the language and seeing the sights, with Pat, of course.
Pat: Go with our family to a warm place like Hawaii. Have fun with the grandkids Julius and Jordan and give John and Jen have some alone time together. That's what I would like to do for Christmas. Stay in a nice hotel, fly first class. (Note: Dave, you heard it here first!)
Cheryl: An Alaskan or Mediterranean cruise. I'd love to set foot on the continent of Africa.
Sheryl: Some beach somewhere! A nice quiet beach house with the ocean off the back yard for snorkeling and tanning! Of course, with no worries...
Kelly (new contributor): Sailng in the British Virgin Islands!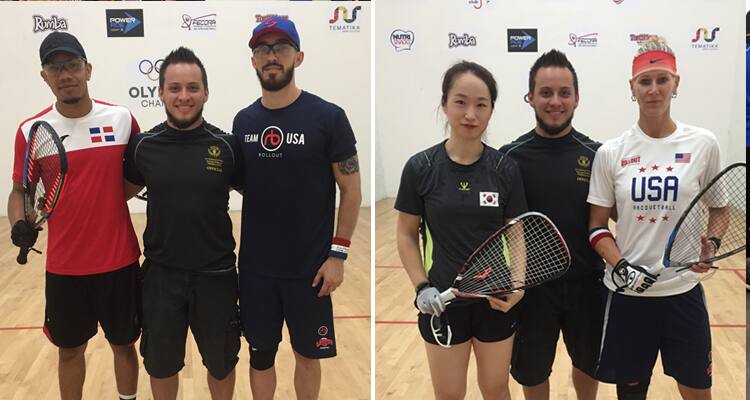 "Bobby is the only person I know who can pull off competing blues." (Rhonda, commenting on the fact that Bobby's hat and shoes were a very different shade of blue from his shirt and shorts.

It worked for him.)
Featured Player of the Day -- Sheryl Lotts
Sheryl was born and raised in Bedford, Ohio, and is currently living in Columbus. She plays on the Ladies Professional Racquetball Tour.
Sheryl is the daughter of Judi and Greg Lotts and sister of Eric Lotts. She graduated from Baldwin Wallace University with a Bachelor's degree in Exercise Science and Orthopedic Assessment and Treatment. "I am employed by lululemon athletica, an excellent company that supports my racquetball career."
How did you get started playing racquetball?

"I learned how to play racquetball from my dad. He has been playing since I was born, and he would take me to the club with him. I was 9 when I started playing."
Other interests/hobbies?

"I love playing all sports for fun. I enjoy Orangetheory Fitness, yoga, and crossfit. I also love to play golf and do just about anything outdoors. I am always up for a challenge!"
Whom would you like to recognize for their support?

"I would like to recognize my entire family for their unconditional support through the years. They have always helped me attend all of the tournaments, traveling all over the country and taking off work to help me get where I am. I would like to thank Team Head/Penn for all of their support, ever since I was a junior player. They are a great company, and I appreciate everything they have done to help me. Also, thanks to Jonathan Clay (Rollout) for these awesome uniforms this year. I am thankful for my coach Kelly North for going above and beyond, always pushing me to be better and teaching me so much about this game. To the lululemon community, I appreciate your incredible amount of support, allowing me to travel and pushing me to crush goals and be better every day. Finally, saving the best for last, I want to thank my boyfriend, Andrew, and our puppy Wally for being there for me through all of the traveling and training. Andrew is such a great supporter, and I appreciate him very much!"
Thoughts about competing here in San Jose?
"I am very excited to be competing on the U.S. Adult Team. This is my first Adult World Championships, and I am so happy to be representing USA. Costa Rica is an awesome country, and I am so glad to be back. I have been a part of the US Team for eight years, and I am thrilled to continue my journey and be a part of such a great Team representing the USA!"
Team Leader's note: I have once again named Sheryl to the post of Assistant Team Leader in recognition of her outstanding support. She's positive and helpful, plus she has a great name (although slightly misspelled). Now that I have a staff, I am automatically promoted to Chief Team Leader. We are both ecstatic about our promotions, and we couldn't be happier about our 100% salary increases. Someone asked if team protocol should have indicated a vote on this recent staff change. Reply from the Team Leader Dept. – "Did someone mistakenly inform you that this is a democracy?"
Hey, I have received a number of well wishes for the US Team via email from blog readers. Many thanks to Kit Lawson (IL), Jen Meyer (CO), Keith Calkins (CA), Mike Lippitt (CA), John O'Donnell, Jr. (IL), Maureen Keough (IL), Sharron Bradford (OR), Lori Good (IL), Mike Mahon (IL), Anna Martin (CA), and Caitlin Lanning (OH) for checking in with encouraging comments! We appreciate your good vibes! (

Note: There

are a lot of posts and comments on Facebook as well -- thanks to all!)
It will be a light day for Team USA with only three matches, all with our friends from Ireland.
12:00 #4 Sheryl vs. #25 Aisling Hickey (Ireland)
1:00 #3 Charlie vs. #34 Johnny O'Keeney (Ireland)
3:00 #3 Rocky/Sudsy vs. #14 Ken Cottrell/Eoin Tynan (Ireland)
Bobby in the men's singles, Rhonda in the women's singles, and Rhonda/Sheryl in the women's doubles all have byes tomorrow.
While there were no US matches streamed on Facebook today, I have it on pretty good authority that Sheryl's match vs. Ireland will be streamed. (Local time is the same as US Mountain Time).
P.S. Hoping Charlie Pratt's wife Ceci had a very nice birthday today! Happy Birthday from Team USA!!
---
Blog #2 -- XIX IRF World Racquetball Championships
San José, Costa Rica
August 10, 2018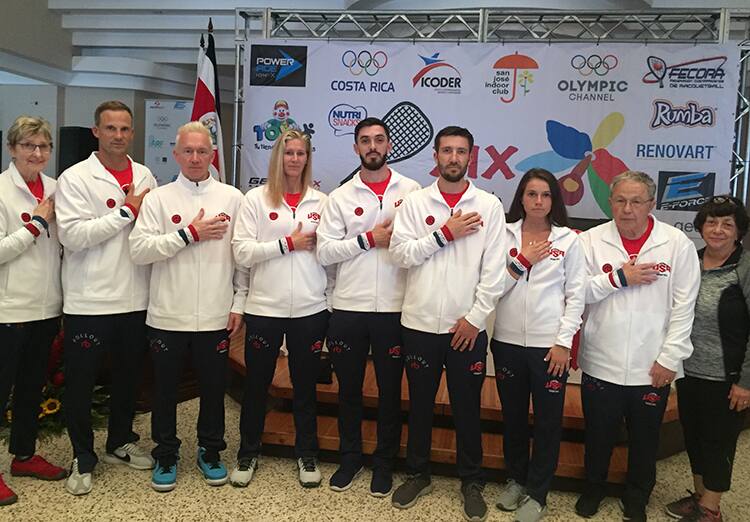 Hello from San
José
where the weather is decidedly cloudy with intermittent weak sun. This is the rainy season here; I'm still trying to figure out this weather app that predicts 90-100% chance of rain every afternoon, but the overall chance of rain in the summary below says 40%. What is that? Does that make sense??
I forgot to relate that yesterday Dave Ellis and I made the customary trip for team supplies. We gathered the players' wish list at the team meeting and walked over to WalMart to shop.
To help you truly feel like you're here with us, here's what we bought. You know you want to know.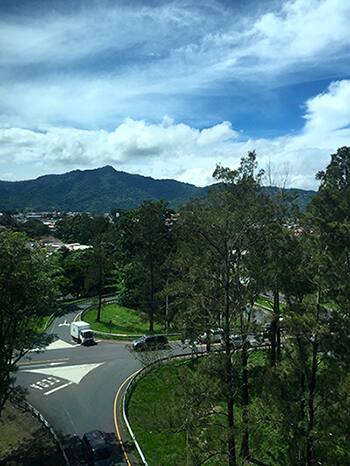 We got bread, peanut butter, strawberry jam, granola bars, gluten free bars, dark chocolate bars, M&M's, rice cakes, nuts, paper towels and Windex (for shoes), snacks (crackers, Oreos, etc.) for the snack bag we take to the club, and gold Sharpies to sign Gearbox black racquetballs. Oh, yes, and a case of water bottles. And bunches of bananas that turned out to be very large plantains. That was a fail...
No way we were walking back with all of that, so we caught a taxi back across the street. The shortest trip of his day, the driver graciously helped us load and unload. Everything then went up to my habitación where the supplies were organized by room and team members came by to pick theirs up.
There's a process for everything.
Feeling pretty terrible that they didn't have Rhonda's peanut butter M&M's, there could be a reprieve. They just might show up. How? We have someone arriving tomorrow afternoon. The suspense continues...
Hey, let's talk about racquetball!
Coach Dave Reports on the Day
"Our practice was scheduled for early this morning with two courts reserved at 9:30. Charlie, Bobby, Rhonda, Sudsy, Rocky, Sheryl, and I all made our way through heavy traffic to the wonderful Indoor Club of San Jose, Costa Rica. Yesterday, we were given the best three courts for two hours. Today we got the "sun" courts for two hours. One little detail, one of the courts didn't have a door...
"As always, Team USA works to make the best of the situation. Rhonda and Sudsy practiced together on the doorless one, simply hitting a complete variety of shots to each other. Sudsy's claim to fame is his backhand and it is awesome. The more I watch him, the more I'm impressed with his forehand as well. Rhonda and Suds worked together for about 40 minutes, and then decided that was enough the day before the tournament. Bobby and Sheryl worked together on the other court, basically practicing serves most of the time. Looking for competition, Bobby jumped in with Tim Baghurst and Gustavo Farell, playing a little two on one. Gustavo found himself in the wrong place on a wrap around, and Bobby, totally concentrating on the ball, gave Gus a memorable souvenir on the leg. I should have taken a photo as it was impressive. Charlie and Rocky pretty much stayed on the doorless court, practicing shots, limiting themselves to a little court time. Rocky went to the weight room and worked out for a half hour or so, mentioning that he was happy there were mirrors, LOL.
"At noon, Team Leader Cheryl Kirk and I had the privilege of attending the Coaches' meeting. It lasted about an hour, and at the conclusion, all coaches were issued the draws for the first part of the tournament, i.e., the group play for seeding into the elimination rounds. At 4 pm, there was an abbreviated Opening Ceremony that did not include the Parade of Nations due to a huge event commencing at the club in a short while. A very nice ceremony, there were lots of acknowledgements and thank you's, as always.
"Tomorrow, it's "Go" time, with our first match at 9 am. We'll have four singles matches along with two doubles matches. Our delegation consists of distinguished players, each with a lot of experience. I like our chances."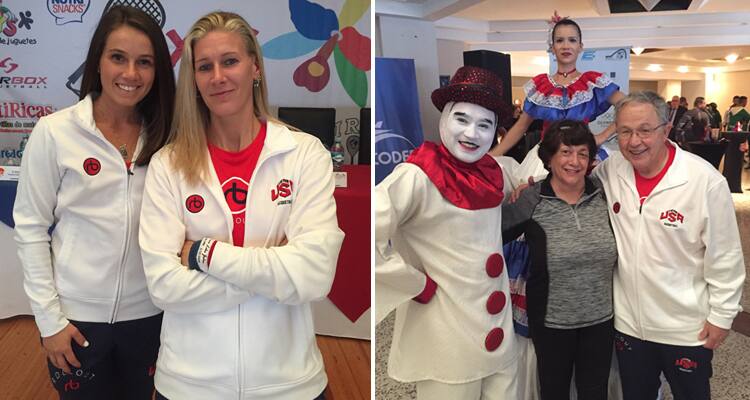 Question of the Day -- What Do We Like?
Welcome to Question of the Day where every 24 hours the delegation will answer a (not always) thought-provoking question for the entertainment of blog readers, especially those who may not be diehard racquetball fans. If that's even possible.

So, what do we like so far about being here in Costa Rica?
Bobby:

Restaurants are right next to the hotel. Really convenient.
Dave:

I love our delegation that carries humor, seriousness, and fun. I love seeing all of our international friends. I'm always happy hearing and speaking Spanish. I'm happy la Reina de mi casa nos está acompañado.
Charlie:

I really like the hotel and the club. Only places we have been really. Hotel is very nice, club is very cool.
Rocky:

The convenience of the hotel to restaurants. Enjoying the beauty of CR. Being here is exciting. Makes us feel like kids again.
Sudsy:

The excitement and acceptance of the club staff, members, and fans of having us here is awesome. The hotel staff always welcomes with open arms.

Don't

love so much the 4 pm commute from the airport with an infant. Mental strength and conditioning training for anyone who wants to babysit for a few hours!
Pat:

The good relationships that the team has with each other. How much fun they have together.
Sheryl: I love everything about Costa Rica. The hotel and club are fabulous. The people are so kind and it is great to have everything close! Plus we have a pretty awesome team!
Cheryl:

A room with plenty of space to get organized. The great hotel staff and the kindness of everyone here. Love taking a delegation to a place where it's not the first time to visit -- no surprises!
Rhonda:

Everything!! My teammates are amazing, super stoked to rep the Red, White, and Blue with all of them. The team uniforms are absolute fire, and our coach, team mom, trainer, and team leader are stellar! Not to mention, Costa Rica is my favorite place on the planet and don't even get me started on the food. I am sincerely grateful to be here.
Overheard from Sudsy: "We just had an Uber that was smaller than Jules' carriage. Hahaha."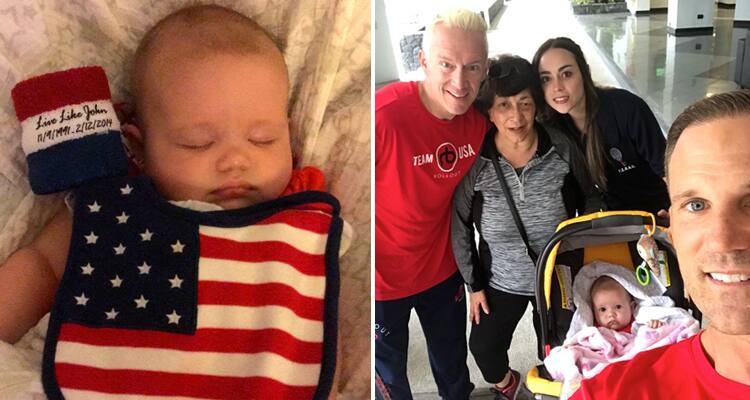 A Proud and Solemn Moment for Team USA
Tim Prigo wrote an IRT article in the Spring issue of Racquetball magazine where he described a very special event,
The John Pelham Memorial Pro Kennex Tournament of Champions at the Multonomah Athletic Club (MAC) in Portland, Oregon. John Pelham was a 22-year-old Army specialist serving a tour of duty in Afghanistan when he made the ultimate sacrifice for his country in February 2014. He was a racquetball player from Beaverton, Oregon, who, just five days before his death, posted on social media, "I can't wait to play racquetball again." Following his death, John's father, Wendall Pelham, took up the spirit of activism and service that had fueled his son's life. Wendall created the non-profit Live Like John Foundation to raise awareness for Gold Star Families and to help returning veterans adjust to civilian life.
US Team Member Charlie Pratt won that tournament. At our team meeting Thursday morning, Charlie brought red, white, and blue wristbands for everyone in memory of John Pelham. The wristbands bear the message Live Like John, 11/9/91 - 2/12/2014. The Team was pleased to wear their wristbands today and to create a photo of respect for John. They are proud to compete here at Worlds in John's memory tomorrow.
Saturday -- Let the Games Begin
So, it's time! Here's the schedule for Team USA beginning first thing in the morning and going through late afternoon:
9:00 #1 Bobby vs. #18 Luis Perez (Dominican Republic)
11:00 #3 Charlie vs. #16 Felipe Camacho (Costa Rica)
10:00 #2 Rhonda vs. #13 Young Ock Lee (Korea)
12:00 #4 Sheryl vs. #11 Maria Renee Rodriguez (Guatemala)
3:00 #3 Rocky Carson/Sudsy Monchik vs. #6 Jose Daniel Ugalde/Juan Francisco Cueva (Ecuador)
4:00 #2 Rhonda Rajsich/Sheryl Lotts vs. #7 Naomi Wakimoto/Maiko Sato (Japan)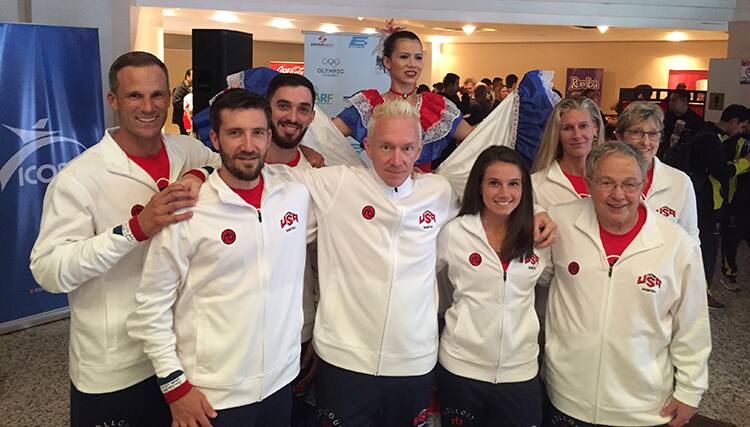 To view Facebook Live streaming, Tim Baghurst suggests that everyone interested go to the International Racquetball Federation Facebook page and hit "like." You'll be able to see 4-5 matches per day, depending upon how Tim's energy holds up!
Next week beginning with the quarterfinals, Pablo Fajre, et al., will stream matches through the finals of the event on Saturday 8/18. To view group draws and results (the first phase of this competition), visit www.internationalracquetball.com and click on the link at the top of the home page.
Team USA asks for every good thought and positive vibe as the IRF Worlds commence!
---

Blog #1 --
XIX IRF World Racquetball Championships, San José, Costa Rica

August 9, 2018

San José Indoor Club

Web Page:
http://www.indoorclub.com/index.php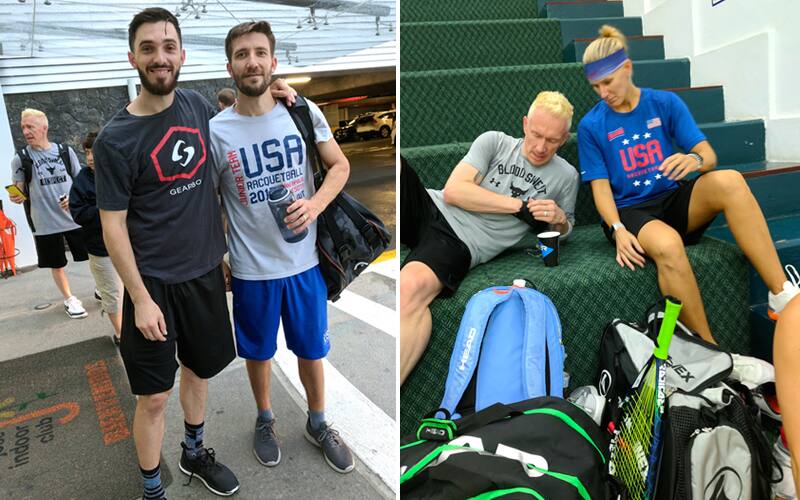 Time in San
José: Same as US Mountain Time
Welcome to the Daily Blogs of the IRF World Racquetball Championships! Nearly all of our delegation has arrived with a minimum of angst (except for one missing bag we are still trying to locate). I won't jinx this process with more details but will be happy to share the whole story when we have the stray bag safely in our care.
These blogs will contain many of the features that Daily Blog fans have come to know and love: comments from Coach Dave, match results and the next day's schedule, Featured Player of the Day, Question of the Day, information about streaming, and a whole lot more. The objective is to help readers feel like they're here with the US Team. You are our Team Behind the Team!
Without further ado, let's meet the delegation:
David "Bobby" Horn, California: #1 Singles
Charlie Pratt, Florida: #2 Singles
Rocky Carson, California/Sudsy Monchik, New York: Doubles
Rhonda Rajsich, Arizona: #1 Singles
Sheryl Lotts, Ohio: #2 Singles
Rhonda Rajsich/Sheryl Lotts: Doubles
Dave Ellis, California -- Head Coach
Brent Huff, Arizona -- Team Trainer
Cheryl Kirk, Illinois -- Team Leader
Pat Ellis, who we firmly agree is Dave's exponentially better half (Dave thinks so, too), is with us as Team Mom. Sudsy's wife Veronica Sotomayor and sweet little Juliana (4 months) are here also, with the interesting and cool twist that Veronica is competing for her home country of Ecuador. It remains to be observed for whom Juliana (aka Jules) will be rooting for as the event unfolds. Check back here for updates...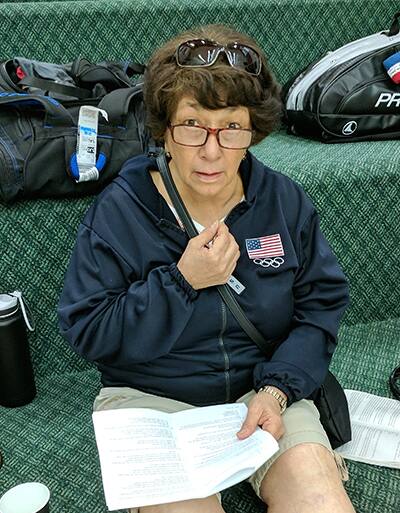 There will be more family members and friends arriving in the next few days. I will announce who they are when they arrive. No, no, I'm sorry, you'll have to wait. A blog should rightfully contain an air of mystery and intrigue.
Hey, let's hear from Coach Dave:
"Hi everyone, greetings from the outskirts of San José, Costa Rica. Except for trainer Brent Huff, all of our delegation assembled here at the hotel for our team meeting this afternoon. No surprise, Rocky Carson and Rhonda Rajsich were once again elected captains. Our agenda covered expressions of gratitude, the importance of checking and double checking times, refereeing and international rules, diplomacy, five team rules, working with the trainer, Opening and Closing Ceremonies, tournament schedule, safety, blogs, and statements by all in attendance. All in all, it was a lively and fun get together.
"Practice took place midafternoon, and players spent time getting used to the courts, the ball, and the altitude (3,845 ft. above sea level). All warmed up individually. Then Sudsy and Rocky played Rhonda and Sheryl. Charlie and Bobby worked on serves and returns without rallies. It's becoming really obvious that all of the players admire and respect each other."
National animal:
White-tailed deer
Costa Rica is a rugged, rain forested Central American country with coastlines on the Caribbean and Pacific. Though its capital, San José, is home to cultural institutions like the Pre-Columbian Gold Museum, Costa Rica is known for its beaches, volcanoes, and biodiversity. Roughly a quarter of its area is made up of protected jungle, teeming with wildlife including spider monkeys and quetzal birds. (Source: Google Search)
The country's secret is something that virtually no other country in the world can claim — no standing army. It has used the savings from defense spending to improve education, health care and a durable social safety net. In 2018, Costa Rica will mark its 70th anniversary since it abolished its military, and that seems to suit the population. It ranked first in Latin America and 12th in world in happiness, according to the 2017 World Happiness Index. The Happy Planet Index ranked it No. 1 in the world. (Source: Excerpt from USA Today article, Jan. 5, 2018)
Well, the US Team is certainly happy to be in Costa Rica! We were here for the Pan American Racquetball Championships in March 2017, and we enjoy the people, the area, the hotel, and the club. The Costa Rican Federation led by Marcelo Gómez stepped up on short notice to host this biennial event when plans fell through with two other locations. We can't thank Marcelo and the Local Organizing Committee enough for their time and efforts in preparation.
Coming up tomorrow...a busy day!
In the morning, US Team athletes will continue to train and acclimate themselves to the courts. Dave and I will attend the Coaches meeting at 12:00 noon to hear the rules and procure the schedule and draws (round robin pool plays for the first half of this Worlds competition on Saturday, Sunday, and Monday, to determine seeding for the main draws). An Athletes' meeting will commence at 3:00 pm, directly followed by Opening Ceremonies at 4:00 pm.
Cheryl Kirk