IRT Boston Rally for our Warriors
by Todd Boss and Karen Grisz
The IRT was in Marlborough, Massachusetts shortly after the end of the Pan American Games in Santiago, Chile, where many of the IRT professionals battled for medals for their countries. Thanks to Tournament Director Stewart Solomon and all of the tournament sponsors for hosting us!
Congratulations to Andree Parrilla for earning his 3rd IRT career title!
Tournament Recap:
In the round of 32s, we saw the return to singles of 14-time IRT season-ending champion Kane Waselenchuk, nearly 14 months after he tore his Achilles heel, and on the weekend of his 42nd birthday. He had an easy time with Robby Collins, winning 15-5, 15-5; with an excited crowd watching the GOAT back in action.
In the 16s:
- #8 seed Andres Acuña got a nice win against the streaking Alan Natera 15-13, 15-13.
– Kane continued to show the racquetball world that he meant business, taking out a top ranked opponent in #6 Adam Manilla with ease 15-2, 15-4.
– #7 Samuel Murray was taken to a breaker by veteran lefty #10 Thomas Carter but rebounded to advance in three.
- # 3 seed Conrrado Moscoso defeating the upstart Carlos Ramirez from Colombia 15-2, 15-7
In the Quarters:
– #1 Daniel De La Rosa was pushed to the limit by Costa Rican Acuna, advancing 15-14, 15-14, in an exciting, tense match.
– #5 Parrilla reversed a recent trend of losing to his long time Mexican rival #4 Rodrigo Montoya , winning an 11-7 breaker to move into the semis.
– In a highly anticipated match, former #1 King Kane faced off against #3 Conrrado Moscoso, who has been ranking #1 off and on throughout the season, and won 15-8, 15-6. Kane mixed up power and touch masterfully, using power-based accuracy on his serves to force attackable returns from Conrrado, and then using his amazing touch in the front court to dink balls away for winners. Moscoso was unable to adapt his all-attack game and had no answers really for Kane's approach.
– #2 Jake Bredenbeck survived match point against versus Sam Murray, his sometime doubles partner, to move on to the semis for the 8th time in 9 tournaments this year, continuing to be the most consistent player on tour.
In the Semis:
– #1 De La Rosa frittered away game one 15-14 against Parrilla and then played catchup most of game 2 before losing 15-13, missing out on an opportunity to seal the 2023 title.
– #2 Bredenbeck showed more of a game plan against Kane than the opponents prior, but still had to survive another match point against in game two to get this to a tiebreaker. There, a physically hampered Kane limped his way to an 11-4 game 3 loss.
In the Finals, Andree and Jake gave a fantastic showing, with the match going to the very end. Andree takes the title with an 11-10 thriller. If you didn't watch it – find it on the IRT's YouTube channel – it was an amazing match by both players.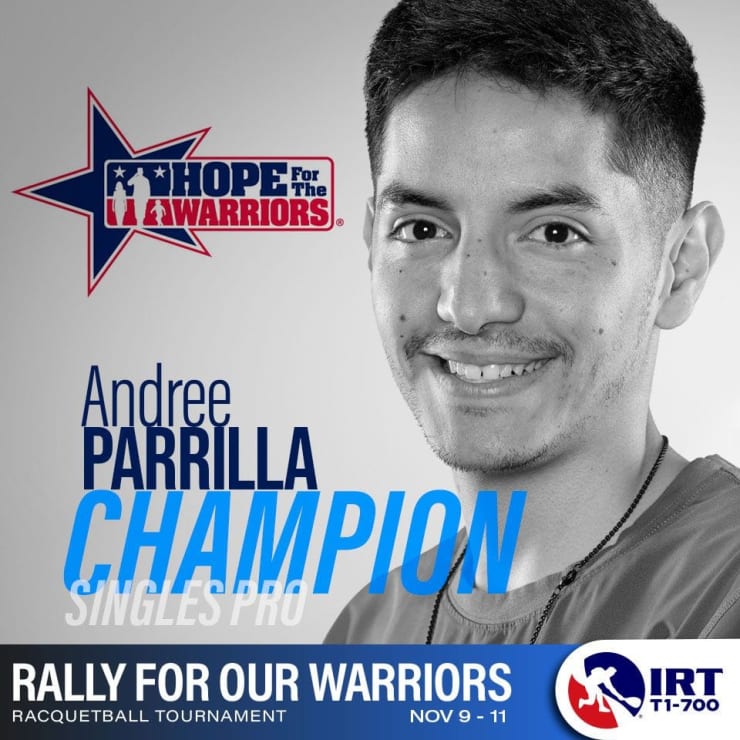 With the win, Andree becomes the 5th different player to take a tier 1 title this year. Each of the top 5 ranked players on tour have taken a title this year, after 6 different players won last year, continuing to show the diversity on tour that we have right now.
In the short term, making the finals vaulted Jake to the #1 spot on tour, with DLR #2. This is the first time Jake has officially ascended to #1.
What is the impact on the points race? With the win, Jake cut DLR's "season to date" lead to just 256 points, while Conrrado' s early exit has eliminated him from the possibility of winning the year end title. So, it all comes down to Pleasanton. Right now, Pleasanton is slated to be an IRT-700/Regular Tier 1 tournament, and De La Rosa can sew up the year end title for certain by making at least the semis there (even a quarter final's exit coupled with a Jake win could be enough, but it'd be way too close for comfort for Daniel).
Watch videos, get updates, and find out all about our players and tour stats at the following websites:
https://www.proracquetballstats.com/cgi-bin/results_front_new.pl?tour=IRT
https://www.youtube.com/@RacquetballTour