Marty Hogan-2016 Inductee for WORHOF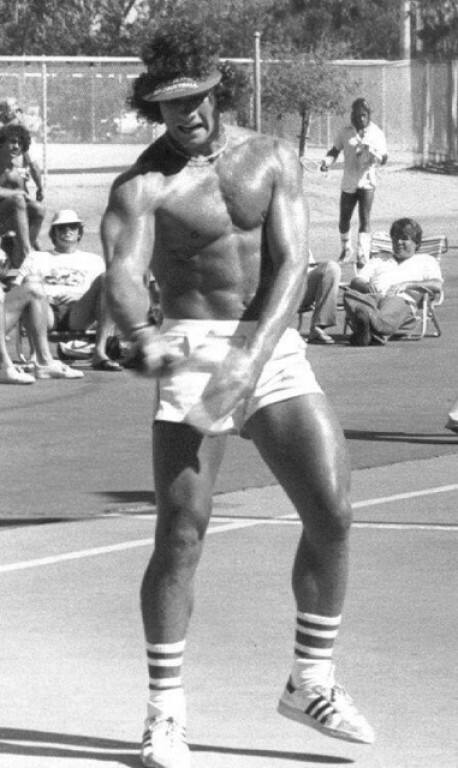 (Born January 22, 1958 in St. Louis, Missouri-Nominated by Scott Hirsh and Charlie Brumfield)

"Marty Hogan has an unparalleled, forty year career winning professional racquetball tournaments both indoors and outdoors. Marty has won more pro titles than any other player in history with over one hundred and fifty combined pro tournament victories. He won his first professional tile in 1975 at in Burlington, Vermont at the NRC New England Pro Am defeating Brumfield, Serot and Keeley the three top ranked players in the world in succession. Hogan had the greatest year in the history of pro racquetball--Marty went undefeated from September of 1978 to November of 1979 while winning the Pro Nationals, the Outdoor National, the Paddleball Nationals and the Pro Doubles Nationals with Steve Mondry. The single season Grand Slam is an unequaled accomplishment to this day." And at 56 years of age, he teamed up with Joe Young to win the 2015 FL. Ektelon Long Wall Pro Doubles Championships. (Wikipedia)

View Marty's acceptance speech here

RACQUETBALL CAREER HIGHLIGHTS:
OUTDOOR RACQUETBALL ACHIEVEMENTS-(including 13 Major Outdoor Pro Titles):
"Marty has won more pro titles [indoors and outdoors] than any other player in history with over 150 pro tournament victories. He also has both the most watched instructional video, "Power Racquetball" and the most watched outdoorracquetball instructional video of all time titled, "Secrets of Power Racquetball the Outdoor Game" (Scott Hirsh, co-nominator).
Marty Hogan has been a leading contributor/ambassador to outdoor racquetball for over 40 years. He played the very first outdoor nationals in 1974 when he made an appearance in the pro division as an up and coming 16 year old indoor player. It's significant Marty played in the inaugural open/pro event representing our sport--losing to champ Charlie. Brumfield 21-8/11 in the round of 16's (32 pros entered). Hogan beat Martinez 21-14, 19-21 earlier. (1974).
2nd Place, National Outdoor Singles Open. Lost to Pro Davey Bledsoe 21-20, 16-21, 11-9 (1978).
Champion, National Outdoor Singles Open (top division) over Rich Wagner 21-15, 21-16 (1979).
8-Time Champion Black Sand World Outdoor Pro Doubles Championships Hawaii- (BSWC): http://blacksandchronicles.blogspot.com/2008/08/racquetball-legends-cliff-swain-marty.html w/Rod Felton, Scott Bourman & Cliff Swain. (1998, 1999, 2001, 2002, 2003, 2004, 2005 & 2007).
2nd Place, WOR Nationals Pro US Doubles Championship w/Cliff Swain. (2004).
Champion, Red Swain Memorial Outdoor Long Wall Doubles Champ, with Corey Brysman (2005)
Champion, at age 50, of Black Sand World Pro Doubles Championship with Scott Bouman. Defeated defending National Doubles Champions Rocky Carson and Rob Hoff in finals (2007).
Champion, WOR-Pro Kennex Outdoor US Open Pro Doubles Championship w/Cliff Swain (2008).
2nd Place, WOR Beach Bash Nat'l 1-Wall Championship, 40+ Pro Doubles w/F. Ramirez (2009).
Semi-Finalist, WOR Nat'l 1-Wall Championship Beach Bash Pro Doubles w/Joe Young (2011).
Champion, WOR Las Vegas, Open Doubles Shootout with Scott Davis (2012).
Finalist, WOR Beach Bash National One Wall Championships, CPRT 40+ doubles with Eric Faro and semi-finalist Beach Bash Pro/Open Division with Joe Young (2014).
Champion, Outdoor Pro Doubles w/Joe Young-WOR Ektelon Long Wall Championship Fl. (2015).
Hogan is the only player in history to win the "triple crown" the same year- the Pro Racquetball Nationals; the Outdoor Racquetball Nationals and the Paddleball Nationals. (Wikipedia).

INDOOR RACQUETBALL ACHIEVEMENTS (and Miscellaneous):
United States Racquetball Association, Junior Racquetball Champion (1975).
Five time NRC/Leach Pro National Champion (1978, 1979, 1980, 1981 and 1982) and finalist in (1976, 1977, 1983, 1984 and 1985). NRC Pro Doubles Champion w/Steve Mondry (1979).
2-Time Ektelon Pro Nat'l Champion (1981, 1986) and 2 time IRA/IPRO Natl Champ (1977/1978).


SENIOR/AGE BRACKET INDOOR RACQUETBALL ACHIEVEMENTS-
3-Time USRA National Doubles Amateur Championships-25+ with Jeff Conine in 1994; 35+ with Steve Trent in 1996 and Dave Peck in 2001).
Marty Hogan founded "The Legends (Senior Pro) Racquetball Tour" (2002) and won the most victories of any participant in the Legends Tour, winning 14 events (dates varied).
Legends Racquetball Nationals 35+ champion (2002 and 2003) and 45+ Champ (2015). US Open Legends Singles Champion (2004); Nat'l Doubles Champ w/Cliff Swain (2004 & 2005).
National Paddleball Singles Champion (1979 and 1987).
RACQUETBALL HONORS:
USA Racquetball Pro Hall of Fame (1997) & Int'l Jewish Racquetball Hall of Fame (1996).
8-Time Pro Racquetball Player of the Year (1977, 1978, 1979, 1980, 1981, 1982, 1986 &1989).
Voted "1980's Racquetball Player of the Decade" (by USRA/Legends Tour). Note- Dr. Bud Muehleisen won for the 1960s, Charlie Brumfield for 70's, Hogan for 80's and Cliff Swain for 90's. Awards given at 2003 St Louis JCC USRA Legends Banquet-home of first IRA Nat'l in 1969.


NOTABLES ON HOGAN:
"Hogan turned professional and won his first professional racquetball title [at 17] in Burlington, Vermont, in 1975 defeating Steve Keeley in the finals." (Wikipedia)
"He went on to become the first millionaire in the history of racquetball. "Hogan was ranked either #1 or 2 in the world from 1976 to 1990." (Wikipedia). From 1978 to 1981, he reached the finals of 62 consecutive tournaments, winning 56 of them." (Int'l Jewish Sports Hall of Fame).
"Hogan was so dominant that he lost only four matches in three years during his prime. He lost only one match in 1977, two matches in 1978, and one match in 1979." (Wikipedia).
"Hogan was ranked either number one or number two in the world from 1976 to 1990. (Wikipedia). Marty went undefeated from Sept 1978 to Nov 1979. (Scott Hirsch, co-nominator).
"Hogan is credited with revolutionizing the game of racquetball, with a serve that drove the ball as fast as 142 miles per hour. (Wikipedia). His career has spanned five decades of competition.
QUOTABLES ON HOGAN:
"Hogan Keeps Promise for Racquetball Title"-"When Marty Hogan won the Nat'l indoor racquetball title three weeks ago at Tempe, AZ; he told the crowd there he was going to Costa Mesa to win the outdoor title. Hogan is a man of his words. Today he is the indoor and outdoor national champion after disposing of Rich Wagener from San Diego 21, 15, 21-16 Sunday at Orange Coast College. For Hogan, it was a bit of comeback after losing the outdoor championships to Davey Bledsoe last year in a thrilling finale 21-20, 16-21, 11-9." (1979 article).
"The tournament drew 295 players. There were 11 divisions…from Jr. to senior classifications. About 5000 spectators watched the 3 day tournament. "(Quote in a local 1979 paper).
Barry Wallace, the tournament's co- founder said, "…the key to Hogan's win was motivation. I think Marty was overconfident last year. He was fresh from winning the indoor title and figured he'd' come over here and blow the field away. "(Quote from a local paper in 1979).
"#1 ranked racquetball player of all time" by National Racquetball Magazine (when he retired).