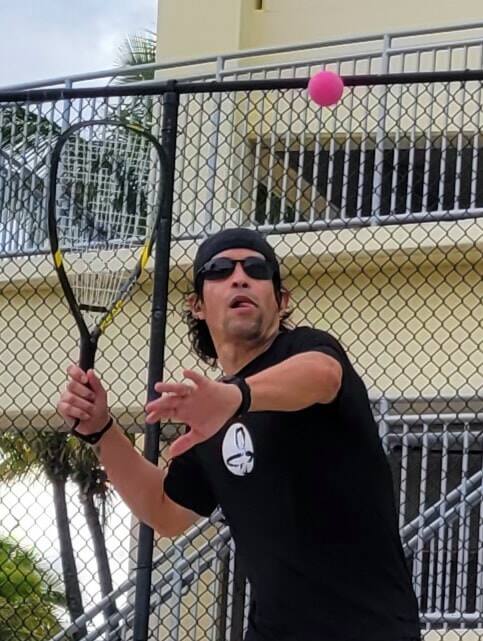 Portland, OR; March 19, 2015 – On behalf of World Outdoor Racquetball and

the Outdoor Racquetball Hall of Fame (WORHOF), it is a distinct honor to announce the
first inductee to the 2015 outdoor racquetball Hall of Fame, Mr. Freddy Ramirez. Mr.

Ramirez is a one-wall legend who hails from New York; is a person who has one of the greatest streaks in racquetball history (along with partner Robert Sostre, 2014 inductee) by never losing a pro/open doubles match in New York one-wall ball for 12 straight years and is a famous action photographer and the editor of the widely acclaimed racquetball magazine titled, "Restrung Magazine." WORHOF celebrates nominees who are "hybrid candidate"—those unique, one of kind player and special racquetball contributors like Freddy Ramirez." Clearly, Freddy epitomizes the term "hybrid candidate" in every way possible way.
First off, we want to thank some incredible people who made this happen including

Belinda Dettman for her outstanding public nomination of Freddy Ramirez; Brett Elkins who is the WORHOF chairman and its founder; to our past WORHOFF inductees who also vote--20x national, 3-wall legendary pro/open singles champ Brian Hawkes; the dynamic doubles team of Martha and Greg McDonald; the outdoor/indoor racquetball godfather Charlie Brumfield; Barry Wallace and Bob Wetzel who are the founding fathers of outdoor racquetball/famous pro players and of course Robert "The Ice-man" Sostre who starred with Freddy Ramirez for many years including this year. And a very special thanks goes out to Hank Marcus, WOR Executive Director and Greg Lewerenz, WOR National Director whom we have to thank for this great annual event.
Where does one begin with documenting this living legend who only last year took a

current top 4 indoor pro Daniel De La Rosa to a sensational tiebreaker in the national one-wall pro singles championships. Freddy Ramirez, in fact, upon being told that he was being inducted stopped practicing, composed himself after clearly being overwhelmed and thanked our committee for this great honor. When asked about his greatest moment/memory in outdoor racquetball, he said unequivocally, "It was when I travelled from New York to Florida in 2004 to play in the National One-Wall Outdoor Championships (The Beach Bash). Going there pulled me away from the world of one-wall by meeting legends like Jason Mannino and Cliff Swain and by playing and competing against other legends who also played three-wall ball. Doing this, made me want to play in every WOR Outdoor event. I believe I have only missed two championships since that time."
Freddy Ramirez stature has grown along with his hoist of major multiple championship

titles-an ironman string of 12 years without losing any one-wall pro/open New York tournament in doubles with his partner Robert "the Iceman" Sostre," along with winning 9, 1-wall national titles (Beach Bash) at the generally acknowledged one-wall championships, plus many other victories in 3-wall championships and several semis at major events and many CPRT final appearances. As recently as this year (and last), he finished second at the national 1-Wall Beach Bash in Florida in pro singles. Freddy's accomplishment (along with Robert Sostre) of not losing a single tournament in one walls for 12 years in a row made racquetball's noted 2015 list of the top 10 greatest streaks in racquetball history (indoor or outdoor). He also is the 17-time New York State One-Wall Doubles Champion (with Robert Sostre). His resume is below and it is an honor to present to you Mr. Sportsmanship himself…Freddy Ramirez.
FREDDY RAMIREZ'S RESUME – 2015 WORHOF HALL OF FAME
Quotables
"Freddy Ramirez should be a nominee, in the sense that I can't imagine him not being in

the World Outdoor Racquetball Hall of Fame. He is a legend in outdoor racquetball. Ramirez is listed as one of the top ten players with the Greatest Streaks in Racquetball History." (Belinda Dettman, in her submission notes for Freddy's nomination) "Just as you begin to take that all in--12 consecutive undefeated years in Pro/Open in [National One-Wall} doubles, you then realize that he is also a force to be reckoned with in his singles game. He started that Doubles streak in 1997. And here it is 18 years later, and at last year's Beach Bash 2014, Ramirez took Daniel De La Rosa (IRT #4 ranked Pro Player) to tiebreaker in the Men's Pro Singles Finals." (Belinda Dettman on her reasons for nominating Freddy).
"There is something to be said when excellence is personified not only through skill, but

through "on the court" behavior. Respect is earned, not given. Freddy is someone that the juniors, and up-and-coming, can look up to. Every match is played with intensity and integrity, a true champion. For all of these reasons, and countless others, it is my honor to nominate Freddy Ramirez to the World Outdoor Racquetball Hall of Fame." (Belinda Dettman, summary on why she nominated Freddy Ramirez)
"I have never argued a call in competition, outside an appeal-ever." (Freddy Ramirez)
His Greatest Outdoor Racquetball Achievements
1) 16-Time, New York State 1-Wall Pro Doubles Champion w/Robert Sostre. This

event was the first major held for 1-wall. (Winner in 1997-2009, 2010, 2011,
2) 12 consecutive years of going undefeated in all Pro/Open 1-Wall New York

tournaments from 1997-2009 with his same partner—the 2014 outdoor hall of
famer, Robert Sostre. They ultimately lost in a smaller NY tournament when

Sostre suffered an Achilles tendon injury in 2009 and again in 2012 at the NY
championships (1997-2009)
3) 1-Time Champion, National 1-Wall Pro Doubles Championships (inaugural year)

held in Florida in 2004 (with partner Robert Sostre). This is now considered a
National Championship event called the "Beach Bash". Note-The event stopped

for 2 years while the historic courts were remodeled and resumed in 2007. (2004)
4) 9-Time Consecutive 1-Wall Pro Doubles Champion w/Robert Sostre at Florida's

Beach Bash (National 1-Wall Championships). (2004-2012). [The streak ended in
2013 with a second place finish.]
5) 2-Time Finalist, 1-Wall Pro Doubles Championships w/Robert Sostre at Florida's

"Major" Beach Bash-National Championship (2013 and 2014)
6) 1-Time Finalist, 1-Wall Pro Mixed Doubles Champion w/Yoannis Garcia at

Florida's "Major" Beach Bash-The National One-Wall Championship. (2012)
7) 2-Time Finalist, 1-Wall Men's Pro Singles at Florida's Major Beach Bash--The

National One-Wall Championship (2014 and 2015)
8) 3-Time Champion, 1-Wall Men's Pro Doubles Championships, Pro-Kennex

Central Park Open w/partner Robert Sostre (2011, 2013, 2014)
9) 1-Time Champion-Two Divisions: 1-Wall Men's Pro Doubles, Hartford Open

Championships–w/Robert Sostre and Pro/A Division w/Danny Olmo (2012)
10) 2-Time Finalist-3-Wall, CPRT Doubles at the WOR Championships Huntington

Beach with Mike Peters (2011 and 2012)
11) 1-Time Finalist, 3-Wall Ball CPRT Pro Doubles Finalist Vegas (2nd Place

w/Robert Sostre). Note-Cliff Swain/Clubber Lane won the finals (2010)
Additional Outdoor Racquetball Achievements, Contributions & Awards

Publisher/Chief Photographer of the highly acclaimed, racquetball magazine "Restrung Magazine" (www.RestrungMagazine.com). Considered "the opinion leader" in
racquetball programming with a large racquetball audience that rivals most major

publications in our industry, his publication covers indoor and outdoor events with
brilliant, captivating articles and scintillating digital action photography. (2011-present)
Official Photographer-US Open, 2011-2014 for the International Racquetball Tour (IRT) and a frequent contributor to USA Racquetball Magazine. Ramirez has also
written numerous articles for the IRT and is a heavy contributor (photos/articles) for USA

Racquetball's Racquetball Magazine. (2011-2014)
Personal Quotes and Reflections About His Career
From Freddy Ramirez on his career and his reflections: "The highlights of my career

are: 1) the 2004 One-Wall Nationals--the first ever at Garfield. It was truly a big event and that's where I met players for the first time that I have been friends with ever since guys like Cliff Swain, Sudsy Monchik and Jason Mannino 2) I'd have to include Rob [Sostre] and I finishing in the Semis at the 2005 WOR 3-Wall Championships [as one-wall players]. 3) The first time we came back at Garfield (one-wall championships) after many years."4) Many of Vic Leibosky's tournament. 5) "The first ever 3-Wall Ball." 6) Our final tie-breaker against Swain/Lane in the Pro CPRT." 7) "It was the ability to be able to travel to WOR tournaments that connected me with the IRT and USAR as a photographer writer."
OOR Rules Commissioner.