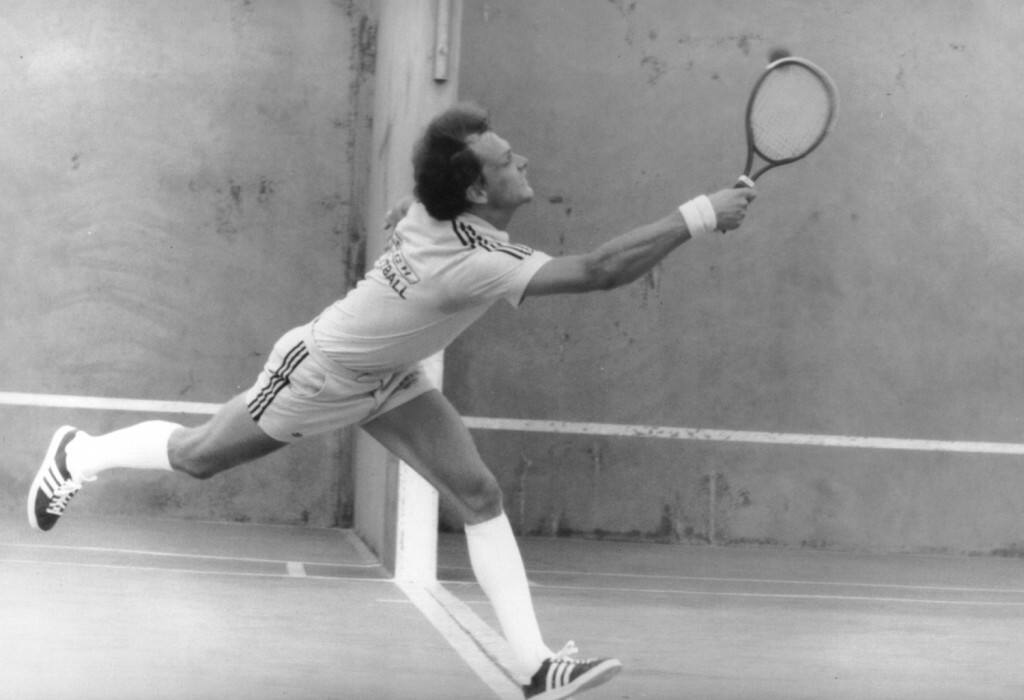 WORHOF is pleased to announce Davey Bledsoe as the third 2019 Outdoor Hall of Fame inductee
(joining Mike Coulter-- founder of Vegas 3WallBall and pro doubles star Mike Peters):
The World Outdoor Racquetball Hall of Fame (WORHOF) Committee is honored to make a very special announcement...Legendary indoor and outdoor pro Davey Bledsoe has been inducted into the 2019 Outdoor Hall of Fame.
Davey Bledsoe, is one of the fastest and most talented indoor/outdoor stars who was nicknamed (in sport's publications) the "Golden Retriever" due to his blond, flowing hair and his unforgettable retrievals and great speed at tracking down every shot sometimes 60 feet away. He was a legendary pro who played indoor and outdoor racquetball from the 1970's and 1980's.
Bledsoe is one of the few pros to have been inducted into both the USAR Hall of Fame (indoor) and WOR Outdoor Hall of Fame. He joins indoor/outdoor legends--Dr. Bud, Charlie Brumfeld, Brian Hawkes, Lynn Adams Clay, Marty Hogan and contributor Bud Held, (the founder of Ektelon Racquetball) as the few inductees to achieve this great honor.
Davey received glowing endorsement from our early outdoor stars like Martha McDonald, Marty Hogan and Charlie Brumfeld for being one of the games' greatest players and many on the committee feel he was the sport's fastest outdoor player ever.
According to Hogan, "Davey Bledsoe is only the fourth player in indoor/outdoor history to win the sport's true triple crown." (Pro Nationals Indoor Singles, National Indoor Doubles and Outdoor National Singles in (1978).This rare accomplishment has only been achieved by Charlie Brumfield, Davey Bledsoe, Rocky Carson and myself and is worthy of induction into every racquetball HOF."
At the Outdoor Nationals, Bledsoe had a lot of success beating 6 top singles National Outdoor finalists/champions including: Marty Hogan (the 1978 singles champ); Dan Southern (the 1980/1985 singles champ); Rich Wagner (the 1979 singles finalist): Ed Andrews (the 1986 singles finalist): Lindsay Meyers (the 1982 singles finalist) and Bobby Stocker (the 1980 singles finalist) or "Murderer's Row."
Interestingly, and like almost all of the early indoor pros, Bledsoe paid his own way to play in the early outdoor tournaments during the late 1970's and early 1980's covering his own tournament fees, food, gas, hotels and travel due to his sponsors, Leach and Wilson, not generally having the funds to cover the outdoor championships. But like all early great indoor stars (and most today), he wanted to compete against the best outdoor players in the world and to help grow the sport. Keep in mind there was also no prize money for winning Outdoor Nationals most years so you were only playing for pride and love of the game. Yet the prestige of being the best in outdoor racquetball was too great to turn down, so he drove down to California with his girlfriend in his Porsche convertible paying his own way to attend this one of a kind event (and eventually winning). That is how much outdoor racquetball meant to him. Without these early legendary stars like Davey, Marty and Charlie (or the sport's original "influencers") and their genuine endorsement for outdoor racquetball, the sport itself would have probably remained a distant afterthought in the racquetball community.
Instead, in 1978, during his epic win over Hogan, roughly 5,000-6,000 spectators showed up and watched the event according to Bledsoe--it was that grand! The early pro stars wanted to be able to complete against the outdoor Jedi masters like a Martha or Greg McDonald, a crafy Dan Southern or attempt to return a serve against the greatest outdoor star ever, Brian Hawkes and true to form, most failed miserably. Davey brought a great attitude with him and had an even better outdoor game and not surprisingly achieved a remarkable level of success. He also brought with him a legion of loyal fans to the Outdoor Nationals who came to see who would win his showdown with the outdoor stars. Davey Bledsoe also ran a famous outdoor clinic and penned many articles about the exploits of outdoor racquetball and on its proper instruction. The committee even mentioned that, "...Davey could wreck havoc to any outdoor draw" and "how he became one of the greatest outdoor players of his era in their voting." He was that good according to the unanimous vote taken.
Greg Lewerenz, WOR National Director stated, "Congratulations to the double racquetball Hall of Famer Davey Bledsoe (WORHOF and USAR Hall of Fame) on his incredible accomplishments which took place during the glory years of racquetball. Davey had an impressive string of top finishes at Outdoor Nationals in both singles and doubles including a national title over Hogan in singles, several finals and he was a dominant early pro contributor. We are honored to celebrate him as part of racquetball lore and to include him in WORHOF."
Brett Elkins, chairman/co-founder of the WORHOF stated, "Davey was a sensational outdoor player whom his HOF peers absolutely raved about being a generational type player, but what really impressed me is that he payed for his own way to the Outdoor Nationals for many years and was able to dethrone nearly every great player of the early era including Marty Hogan in a tiebreaker 11-10 finale to win the 1978 singles title (and even Dan Southern). I have seen early pictures and slides of him that are part of the collection I keep for WOR and he was something special. Congratulations on a well deserved honor!
Davey's induction is part of a WOR's campaign during the next five years to help celebrate the sport's founders; its major tournament directors; and going forward to induct all of the legendary early stars from the 1960's-1990's. Public submissions of a detailed and fully completed resume are required for any candidate to be considered. Completed resumes only please can be submitted to Brett Elkins at Brett@trafficeducation.net. Please be sure to include in your resume submission all of their important major titles (or top 4 major finishes) by year along with the name of the tournaments, awards, contributions, lessons, volunteering and any other important information/ athletic information you have on them. Use any of our previously submitted resume on the WORHOF site at WorldOutdoorRacquetball.net -- under Hall of Fame "inductees." As you might expect, WORHOF can only vote on the candidates who are submitted formally and with full documentation.We regret that we cannot take general Hall of Fame candidate suggestions-- only completed resume submissions of your favorite stars.
Most importantly, please take a moment below to celebrate Davey Bledsoe' accomplishments by reviewing his resume below. The induction ceremony will take place "outdoor style" as we stop play at the event that started it all--the famously fabulously fun and can't miss one of a kind event--The" World Outdoor Championships" which takes place in Huntington Beach, CA at Marina Park on July 11-14, 2019 (with the Hall of Fame induction ceremony occurring in the afternoon around 2 pm on Saturday, July 13, 2019. We suspect that Davey Bledsoe could also (or instead) make a cameo in September at the famous Las Vegas 3WallBall Nationals (the week of 9-25-19) which is also player famous for having the greatest player tournament food in the history of any racquetball event--the most unbelievable multiple player buffet(s) at the Stratosphere Hotel and Casino so stay tuned for more information on these two classic and can't miss (culinary) event(s). Whether you play these events to support outdoor racquetball or come to watch and cheer on Davey Bledsoe, we hope to see you there!
The WORHOF committee is composed of WOR founder Hank Marcus and WOR National Director Greg Lewerenz; WORHOF chairman Brett Elkins and all of the past great inductees who vote including these legends: Brian Hawkes, Martha and Greg McDonald, Bob Wetzel and Barry Wallace, Charlie Brumfield, Dr. Bud., Robert "Iceman" Sostre, Freddy Ramirez, Marty Hogan, Craig "Clubber" Lane, Scott Hirsch, Franklin "Bud" Held, Lynn Adams Clay, Dan Southern, Vic Leibofsky, Greg Solis, Mike Coulter, Mike Peters and now Davey Bledsoe.
Davey Bledsoe: Hall of Fame Nomination-Class of 2019
Nicknamed "The Golden Retriever" for his curly blond hair & retrieval speed. Born 3-7-51
"I would like to nominate one of the true pioneer of outdoor and indoor racquetball-- Davey Bledsoe, an 11-time indoor/outdoor National Champion to the WOR Hall of Fame (HOF). In the forty-four years that pro racquetball and the Outdoor Nationals have existed, only four players have won the coveted "Racquetball's Triple Crown: 1) The Pro Nationals (indoors/singles); 2)The Pro National Doubles (indoors) and 3)The Outdoor National Singles. This rare accomplishment has only been achieved by Charlie Brumfield, Davey Bledsoe, Rocky Carson and myself and is worthy of induction into every racquetball HOF." (Hall of Famer Marty Hogan).
A) Davey Bledsoe's Top 10 Greatest Achievements:
Davey Bledsoe is only the fourth player in Indoor/outdoor history to win the vaulted "outdoor triple crown." (Pro Nationals Singles, Doubles and Outdoor National Singles (1978).
Davey Bledsoe won the 1978 Outdoor Nationals Singles Championships (Pro/Open) defeating Marty Hogan in the finals in a stunning 11-10 tiebreaker to win the 1978 Outdoor Nationals. The match, according to Marty Hogan, was "… one of the best and longest matches ever at Orange Coast College (OCC)."
Davey Bledsoe is a 3-time Outdoor National Finalist. He lost to Hall of Famer's Barry Wallace in 1976 and in 1978 won the coveted singles crown in singles vs Marty Hogan. In doubles he took 2nd w/Wagner vs. Chadwick/Bowen 1978).
Davey Bledsoe had a run of four men's pro singles top four finishes from 1976 to 1984 (possibly 5?). In 1976, he finished 2nd to HOF Barry Wallace; in 1977 he made the semis; in 1978, he won the championship over HOF Marty Hogan 21-20, 10-21 11-10 and in 1981 lost to HOF Brian Hawkes in the semis. Davey Bledsoe and Rich Wagner took 2nd at National Outdoor in doubles (1978).
At Outdoor Nationals, Davey Bledsoe has beaten most of his eras top outdoor pro singles national champions and other top pro stars including these seven: Marty Hogan, Dan Southern, Rich Wagner, Dave Peck, Ed Andrews, Lindsay Meyers, Bobby Stocker and many others.
Davey Bledsoe was unanimously inducted into the USA Racquetball Hall of Fame in 2010 (racquetball's greatest honor).
Davey Bledsoe wasn't just a great player; he was also a legendary outdoor contributor: Bledsoe taught outdoor racquetball lessons during the 1970's and 1980s; he ran the popular Steamboat Springs Outdoor Camps; authored numerous outdoor events and publications and he was one of the sport's greatest stars during racquetball's heyday. Bledsoe was the Leach and Wilson "National Player Rep." for both indoor and outdoor players. Davey Bledsoe along with Dr. Bud, Charlie Brumfeld and Marty Hogan were the indoor legends who heavily promoted the Outdoor Nationals annually bringing and then competing against the best top indoor pros (along with the outdoor greats). And he was able to complete at the highest level outdoors for two decades. This was an era when indoor pros knew they would not be considered as legendary if they didn't win outdoor Nationals and he played with class, elegance and a style all his own.
(Notable indoor racquetball achievements include: a) Davey Bledsoe won the 1977 NRC/Leach Pro Nationals (the indoor championships) b) He won the most prestigious event on the rival IPRO Tour winning the 1976 Tanner Coca Cola classic with a win over Charlie Brumfeld c) He won the famous NRC Pro National Doubles Championship in Las Vegas with Mike Zietman (1975) and d) was one of three players along with Charlie Brumfeld and Marty Hogan to win consecutive NRC indoor pro stops in the 1970's.
According to Hall of Famer Scott Hirsch, Bledsoe was the coach of the worlds most famous ever racquetball player... Elvis Presley. Bledsoe was Presley's main racquetball coach and worked with him for around 18 months before he built the racquetball court at Graceland (Elvis played just a few hours hours in the morning before he died). (Note: Mike Zeitman and Dave Fleetwood also worked with Elvis). Bledsoe was recommended to Pressley by Elvis personal physician Dr. Nick who also played.
Davey Bledsoe has won hundreds of racquetball tournaments (both indoor and out) between 1973 to 1994.
B) Davey Bledsoe- Winner of Eleven Major National Titles:
1973 IRA Intercollegiate National Doubles with Randy Stafford.
1975 NRC Pro National Doubles with Mike Zeitman.
1977 NRC Pro National Singles def Marty Hogan.
1978 Outdoor National Singles def Marty Hogan.
1983 DP Leach National Singles Men's 25+ Champion.
1984 DP Leach National singles Men's 30+ Champion.
1990 AARA National singles Men's 35+ Champion.
.
1991 AARA National Singles Men's 40+ Champion.
1992 AARA National Doubles 40+ Champion with Jim Bailey.
1993 AARA National 40+ Doubles Champion with Jim Bailey.
1994 AARA National 40+ Doubles Champion with Jim Bailey.
Note: "I believe Davey Bldesoe and Rich Wagner actually won an early national outdoor doubles title together." (Marty Hogan)
C) QUOTABLES:
Marty Hogan Quotes:
"The Triple Crown is an accomplishment that in itself is worth of induction in every racquetball HOF. Davey Bledsoe accomplished this and much more." "Davey Bledsoe was an all-time great player." (Marty Hogan).
"Davey was a great outdoor player and there were only a few in each generation. It is why he was in at least five national singles semifinals or better." (Marty Hogan). [Note: His era was famous for its massive, outdoor pro/openopen draws and included many top indoor legends and outdoor stars.
"Bledsoe should be judged on the same basis as I, Charlie and Bud who all won titles in limited opportunities. In fact, "the best players from the 1960's and 1970's won't and can't have huge stats as only six national outdoor events were held in the 1970's." (Marty Hogan).
Why Bledsoe was so Special:
"Davey made the semifinals outdoors at least five times between 1975 and 1984.Twice he made it to the singles final (once in doubles) where he lost to outdoor champ/ Outdoor National founder Barry Wallace (1976) and then he beat a guy named Hogan (1978) to become one of outdoor's greatest. He was the fastest player I've ever seen and possessed the best forehand pinch that he pronounced "peench." (Marty Hogan).
"In my outdoor historical collection, I have seen several early slides of Davey gliding to the ball. Most of the top pros in that golden era tried to win indoor and outdoors and were usually underwhelming going against outdoor stars like a Brian Hawkes or Dan Southern. Davey did have a lot of success." (Brett Elkins, Chair, WORHOF).
"From 1974 till about 1980, a magnificent competition existed between the pros/top amateurs of INDOOR racquetball AGAINST the monsters of the 3-Wall OUTDOOR racquetbal.. In 1974, the Indoor pros were mostly blown right out the door by a blizzard of outdoor shots, coverages, fan support and guts. Davey Bledsoe was a one-man wrecking crew who dared to battle the 3-wall wizards at their own game. Bledsoe spent more time hitting from the stands than any player of his time. A world class forehand was complemented by a coverage speed which I don't believe has ever been equaled. Bledsoe was not only quick but he had forty-foot SPEED as well. He was likeable, but deadly. Davey loved all forms of court sports and also excelled in indoor racquetball, indoor paddles and handball (outdoor). He was a fine doubles player, and in outdoors doubles, he could and did cover for good shooters and the teamwork was always impressive. Bledsoe is one of those FEW athletes who I think could do as well in the modern game. He simply had all the weapons!!! " (Warmly, Charlie Brumfield).
The National Professional Championships on June 11, 1977 at Atlas Heath Club:
"It was like Rocky [Balboa] winning. The massive underdog [Bledsoe] against the huge favorite [Marty Hogan]. Bookmakers would have take this mis-match off the board. ...Davey Beldsoe won the National Professional (Indoor) Championships. ..It was the greatest upset in the history of the Nationals." (National Racquetball Cover July 1977 only $1.00)
One of the Greatest Matches in History:
"After Charlie, Dr. Bud, and Marty, Davey was the prominent indoor player who could wreck the outdoor draw. I reffed his doubles finals w/Wagner vs. Chadwick/Bowen 1978). One of the 3 greatest shots of all outdoor time occurred in that match. Brian (Hawkes) and Marty (Hogan) own the other two. Wagner ran back well onto the next court and ripped the purest backhand for a 60 foot cross-court kill. I still can hear the eruption of the crowd. Greg and I describe that shot to folks who think a 50 ft. kill shot is a big deal. Those dimensions are not part of the indoor game." (Martha McDonald, hall of famer).
Davey in his Own Words:
"I had to pay my own way to the Outdoor Champs [and most players did as Bo Keely wrote; I also had to pay the entrance fee, food and travel, but the event was special and we made it a fun vacation. I remember driving down with my girlfriend in a Porche with a sunroof off." Even without any prize money given to the winners when I played it and won it, it was always incredible to play this event. I also remember a crowd of 6000-7000 in 1978 the year I won."
On Elvis Pressley who took lesson from Davey for about 18 months,"Elvis didn't listen to the rules and did it his way, but eventually he came around. His Dr. (famed Dr. Nick) wanted him to get any exercise and eventually he fell in love with the sport."
On trying to retrieve Brian Hawkes' serve in outdoors: "I played him one time in singles and Hawkes was completely unstoppable. His serve (the famed z serve out the door) was unretrievable and I couldn't over play his z serve or he'd do the same thing to the other side. He was absolutely that good and I was really fast too." (Davey Bledsoe)
"I stopped playing when Jerry Hilecher and I weren't invited to the National Invitationals (Indoor Champs). I had a great career but can't play anymore. I had a lot of fun.. I stay in touch with Charlie Brumfeld, Marty Hogan, Dr Bud etc and have a lot of great memories of racquetball. " (Davey Bledsoe)
"Congratulations to the double racquetball Hall of Famer Davey Bledsoe (WORHOF and USAR Hall of Fame) on his incredible accomplishments which took place during the glory years of racquetball. Davey had an impressive string of top finishes at Outdoor Nationals inn both singles and doubles including a national title over Hogan in singles, several finals and he was a dominate early pro contributor. We are honored to celebrate him as part of racquetball lore and to include him in WORHOFF)." Greg Lewerenze, (WOR National Director).