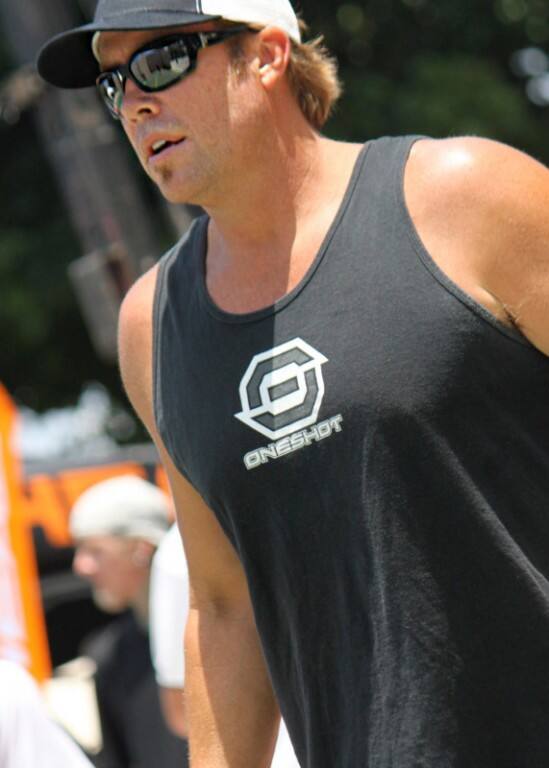 Craig "Clubber" Lane has had a spectacular racquetball career with numerous, major championship titles spanning over three decades and a career which includes many major pro singles and doubles championships. He also sports the most clever and unique nickname in outdoor racquetball history. During his outstanding career, "Clubber" has won 18 major outdoor pro championships while adding several bookends, indoor national amateur championship age titles. Craig Lane is not only famous for being an athletic and a fiercely talented competitor, but for his power which is of epic, legendary proportion. In fact, many believe that he is one of the hardest hitting players ever to play outdoor racquetball and long ago, he was anointed with the nickname "Clubber Lane." Yet, despite his power on the court, Craig Lane is known for his gentle disposition and sportsmanship both on and off the court.

Craig's list of outdoor accomplishments is so extensive that he is the only pro outdoor racquetball player to ever win 3 national outdoor championship titles in a row with 2 different partners (Cliff Swain/Jesus Ustarroz). In racquetball, it is a well know truth that the company you keep in doubles shows the caliber of player you are and Craig's doubles partner resume reads like a "Who's Who of Racquetball. He has won several outdoor pro national titles with Brian Hawkes-the winningest player in outdoor history; Cliff Swain, the best combined outdoor/indoor player in history, Rhonda Rajsich who has won countless indoor and outdoor pro and number 1 titles; outdoor star Greg Solis and also the talented Jesus Ustarroz. Craig is married with a daughter and a son appropriately named "Carson." He earned a PHD in Kinesiology from Auburn University, which has come in handy on and off the racquetball court.
OUTDOOR RACQUETBALL ACHIEVEMENTS – (including 18 Major Outdoor Pro Titles)
6-Time, National Outdoor Pro Doubles Champions: 3 with Brian Hawkes and 3 with Greg Solis (1991, 1992, 1993, 2004, 2005 and 2006).
2-Time US Open of Outdoors Champion in Pro Singles and Pro Doubles (2007).
Pro Doubles Champion, Belle Island Long Wall National Championship; Semis Pro Singles (2007).
1-Time Mixed Pro Doubles Champion, WOR Championships with Rhonda Rhajsich (2009).
1-Time Mixed Pro Doubles Finalist, WOR Championships with Rhonda Rhajsich (2010).
4-Time CPRT Doubles Champion (Senior Pro Racquetball Tour), 3-Wall Ball Outdoor Championship: 3 with Cliff Swain and 1 with Jesus Ustarroz (2010, 2011, 2013 and 2014).
4-Time CRPT Doubles Champion, WOR Championships with Cliff Swain (2010-2014).
3-Time, National Outdoor Pro Doubles Semi-Finalist (years vary) and 1-Time Finalist (2014).
1-Time CPRT Semi-Finalist, 3-Wall Ball Outdoor Championships (year unknown).
3-Time Pro Outdoor National Singles, Semifinalist, (years vary).

INDOOR RACQUETBALL ACHIEVEMENTS:

1-Time Alabama State Racquetball Champion Open/Pro Division (1998).

2-Time, USAR National Doubles Racquetball Champion, 30+ divisions (2008, 2009).

1-Time USAR National Doubles Racquetball Finalist, 30 + divisions (2010).
MISCELLANEOUS ACHIEVEMENTS:

Bachelor's Degree and Master's Degree from UNLV in Kinesiology.
Phd, Kinesiology, Auburn University, Magna Cum Laude.

Played Scout Team Baseball for the Toronto Blue Jays and Texas Rangers affiliate teams.

A legendary contributor over many years to junior racquetball and at numerous WOR/CPRT and other charity events for outdoor racquetball. He is a rare person who volunteers on his own for almost any significant racquetball cause. Craig turned pro in 1991
QUOTABLES:

"Clubber Lane hits the ball as hard as any player I saw growing up. One time, he accidentally hit a player in the calf and unfortunately drew blood hitting the ball so hard." (Mike Coulter in his hall of fame nomination of Craig Lane).

"Craig was famous for helping with any charity or junior event. He volunteered to help at any 3 Wall Ball/CPRT charity events in advance without ever being asked. That is what type of person Craig is both on and off the court. And that is why I nominated him to be a part of the 2016 Outdoor Hall of Fame Class." (Mike Coulter, in his hall of fame nomination).