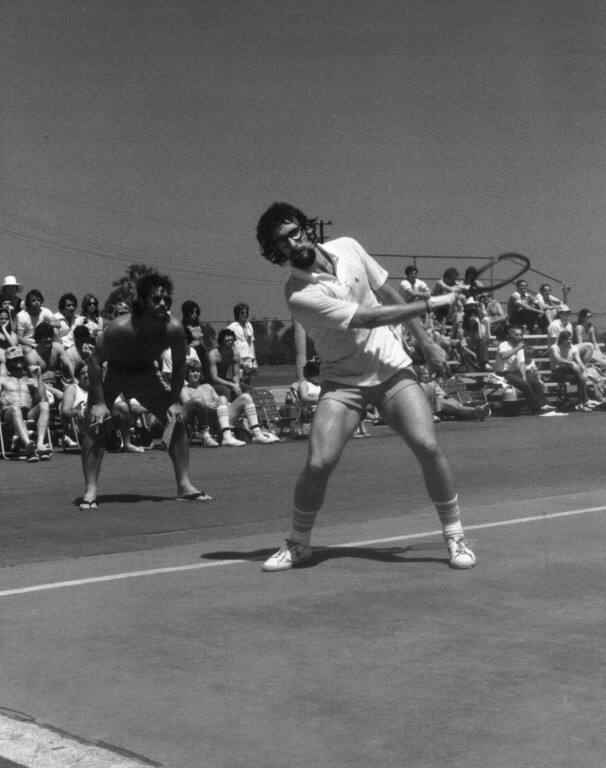 The World Outdoor Hall of Fame (WORHOF) is honored to announce that legendary pro player and innovative contributor, Charlie Brumfield, will join Martha and Greg McDonald as WOR's second inductees into the outdoor racquetball hall of fame's special class of 2013. Charlie Brumfield is one of the founding fathers of both indoor and outdoor racquetball and he was instrumental in helping legitimize the immediate acceptance of outdoor racquetball within the indoor pro community by encouraging many of the top indoor pros to compete in the initial outdoor championships as a way to dominate all aspects of racquetball. The reality was however, according to Brumfield that about 75% of the pros including hall of famer "Bo" Steve Keely lost in the first round in Orange County CA in 1975 etc. mostly to unknown local outdoor stars.

Charlie Brumfield dominated the first outdoor events and won three of the sport's first four pro outdoor championships in singles and doubles titles in 1974 and 1975 including the first two in singles. In the inaugural outdoor championships in 1974, he beat close friend Steve Serot in the pro singles finals at the old Orange Coast College location and a year later in 1975, Brumfield repeated as the singles champion against a "fierce competitor" named Barry Wallace who helped found this famous event.
Brumfield also won the outdoor pro doubles championships in 1974 with indoor hall of fame partner Dr. Bud Muehleisen. In 1975 in his perhaps his only racquetball loss with "the good Dr.," the first doubles champions actually lost in the finals to the founders of this event Wallace and Wetzel. Nevertheless, 1975 would be a very special year for Mr. Brumfield (possibly his best) where he won the rare "triple crown of singles" winning the pro singles indoor championships, the pro singles paddleball championships (NPA) and the pro outdoor singles championships. This feat was only duplicated later by Marty Hogan and just in singles. Charlie not only made his mark in the early days of the outdoor event, but he also brought along a bevy of other indoor top pros to the first championships making the outdoor championships a Mecca for racquetball.

When asked about his top moment in racquetball indoor or out, he surprised the hall of fame chairman by stating, "I am most proud of winning the first outdoor championships because of the fact that outdoor players had a huge advantage over the indoor players and they could serve off the court at will. 75% of the indoor pros lost in the first round especially with tournament director Wallace scheduling the indoor pros when the sun was cresting so we couldn't even see the ball let alone hit it." When Brumfield was asked why he travelled to the first championship, he replied, "I always enjoyed something new, but more importantly to be considered the greatest players of all time, you had to excel in all aspects of the game and that included singles and doubles, outdoor and indoor racquetball and to win at paddleball. I wanted to accomplish something that no other player would be able to equal to be the greatest and so I knew that I had to excel in outdoors too."

Before the first championship event was held, Charlie travelled early to practice and learn the nuances of outdoor racquetball. In a panic, he called his doubles partner Dr. Bud Muehleisen and said,"Dr. Bud you had better come down here before this tournament or we'll get our lunch served. When Dr. Bud came up shortly after, we lost to a couple of local guys who at the end asked us if we were going to be playing in the tournament that weekend. When I said yes, one of the guys told us they were really hoping to win C's and I was dumfounded never telling them that we were playing in the pros." Another interesting story he shared was as follows, "I warned Wallace before the second singles finals that he had better play with a shirt on or that I was going to be outlining his body with images of the ball since in those days racquetball was all about winning. Wallace didn't listen of course and I can honestly say that I particularly enjoyed the sound of the ball travelling against his body… and on many occasions." Brumfield was a famous psychological player who was famous for winning by using his skill, determination, intimidation, working the refs and doing whatever it took to win and Wallace would have no part of it refusing to back down and having more than enough souvenirs to take home.

Charlie Brumfield eventually became an attorney, but decided to play on the pro tour instead of practicing because back in the day, he could make up to $75,000 which was more (and more fun) than practicing law. According to Wikipedia he was, "The number 1 player on the men's pro tour for most of the 1970's." Charlie Brumfield was born on June 9, 1948, won his first professional racquetball championship in 1972 (and later in 1973, 1975 and 1976) and he would become the 6th inductee into the indoor hall of fame in 1988. He is immortalized as part of the famous 1978 Leroy Neiman painting of Marty Hogan and Charlie Brumfield at pro nationals. According to doubles partner Dr. Bud Muehleisen in Wikipedia, "The team of Brumfield and Muehleisen never lost a game-let alone a match in national level competition play [they did however lose in outdoors in 1975 according to Charlie Brumfield himself as he recalled in his 2013 for this written history]." Hall of fame pro Marty Hogan in Wikipedia also described "Brumfield as both
the best doubles player, and the best outdoor player ever to play the game." Charlie Brumfield finished his storied career by also winning his last national paddleball title in 2009 in the masters 45's double group even though he was 60 years old.

It is a distinct honor to announce the induction of Charlie Brumfield into the WOR Hall of Fame for the class of 2013 as the third inductee ever along with Martha and Greg McDonald who are the 29-time Pro or open national outdoor champions and a husband and wife team who forever changed our sport by allowing woman equal access into all men's divisions due to Title 9. They successfully challenged the governing bodies of racquetball to allow equal access for men and woman and to permit them to play in men's doubles if no mixed doubles category took place. The WORHOF outdoor Hall of fame ceremonies will take place on Saturday July 13 in Huntington Beach CA at the famed Marina Park. Everyone is welcome to attend. We stop all outdoor competition at this time to celebrate our hall of fame inductees in an entirely unique ceremony (outdoor style) where the inductees are typically inducted in their shorts along with a very memorable ceremony you will never forget. The "short" ceremony happens Saturday July 13, 2013 at the tournament itself on the main pro courts at approximately 3:30 pm.

Hank Marcus, WOR Executive Director stated, "In the history of outdoor no one brought the sport more into the mainstream while not only winning the first championship but acting as a Pied Piper bringing all the other pros to the events from San Diego" Brett Elkins, WORHOF Outdoor Racquetball Hall of Fame Chairman said, "Charlie Brumfield is one of, if not the most famous of the sport's early founding players, whose achievements on and off the court are unparalleled in history. This year, I had an opportunity to meet Charlie in person with my two sons Dane and Cody at the California State Junior Championships. He showed up unannounced, support some junior he was mentoring including Ernesto Renteria. Charlie was the star of the event signing autograph and making the juniors feel at home. When I arrived home, I was surprised to find that he had signed and send me the original program of the third outdoor championship which is now on the WOR home page and one that will be part of a travelling display soon. As such it is a special honor to induct a legend into our sports hall of fame. Greg Lewerenz, WOR National Director, stated , "Charlie Brumfield was the master magician-one who could trick you with his calculating and cunning style of play. Most of all, he was an incredibly talented player with an engaging and charismatic personality who won over fans and competitors alike through his love of racquetball. He is one of the all time great racquetball legends and we are proud to immortalize his accomplishments in the outdoor hall of fame."

Charlie Brumfield's Career Highlights
• 3 time Pro Outdoor Champion in the Year One and Two Years of the Outdoor Championships (1974 and 1975 singles; 1975 doubles with Muehleisen at Orange Coast College).
• 2nd place Pro Outdoor Doubles Championship with Steve Serot (1975 Orange Coast College).
• Won the Triple Crown of Singles by winning the Pro Racquetball Singles Championships (indoor), Pro Singles (outdoor) and Pro Paddle Championship (1975). Note: He also did this in doubles.
• The Person Most Pros Credit with Promoting the Outdoor Championships… making it a Required Pro Event Destination (1974 and ongoing).
• Won the First National Paddleball Association (NPA) Pro Singles Championship (1969).
• 2nd Place Singles at the First Indoor National Championships Losing a Close Tie-Breaker to Dr Bud. Muehleisen (1969 J.C.C. St. Louis).
• Won the First National Open Indoor Doubles Title w/Muehleisen (1969 J.C.C St Louis).
• Won the National Indoor Pro Doubles Championships with Serot (1973) and McCoy (1975).
• Won 4 Pro Indoor National Singles Championships (1972, 1973, 1975and 1976).
• Won 20 consecutive Pro Indoor titles (in 1972 and 1973).
• Inducted into the USAR Indoor Racquetball Hall of Fame as the 6th Person (1988).
• Made History by Being ½ (with Marty Hogan) of the Famous Leroy Neiman Racquetball Painting Created at the 1978 Pro Nationals (1978).
• Never Lost an Indoor Doubles Game or Match with Muehleisen (no one scored more than 13 points to 21). They did Lose to Wallace and Wetzel at the Outdoor Champs (1975).