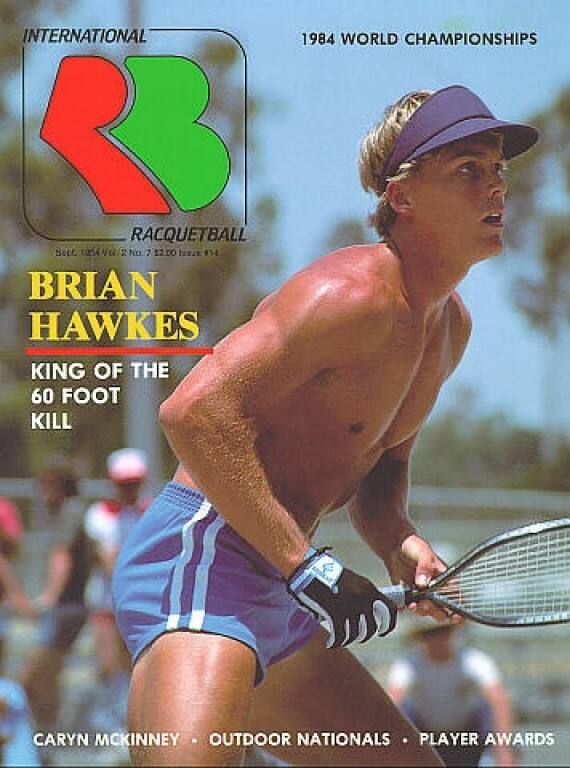 Portland, OR; February 18, 2012 – World Outdoor Racquetball is proud to announce that Brian Hawkes will be the inaugural inductee into the newly created World Outdoor Racquetball Hall of Fame. The WOR Hall of Fame is dedicated to recognizing the greatest Outdoor players and contributors in the history of the sport. Hawkes, 48, considered the greatest Outdoor racquetball player in history will be the sole inductee in the Hall of Fame class of 2012 which will be inducted in July at the WOR Championships.
Hawkes was the most dominate Outdoor player in the history of the sport having won major National or World singles titles spanning three decades. Hawkes started playing racquetball in 1976 won 20 World or National Pro Singles Titles, dominating Outdoor racquetball as no one has ever done before. Hawkes won the National Pro Outdoor singles title an unprecedented 20 times from 1981 to 1996.
<p">Hawkes' last National Pro Outdoor championship title came in 2005 during his comeback attempt while in his mid-40's after a several year hiatus from competition. In that event he defeated many famous Indoor and Outdoor pros en route to victory including wins over legendary pros Cliff Swain and Rocky Carson. His final victory proved beyond a doubt that this "principled" high school teacher was the best ever to set foot on an Outdoor racquetball court. Hawkes is also an 8-time National Outdoor Doubles Champion and was an accomplished indoor player rising to the rank of #7 on the International Racquetball Tour, including a win at the Toronto Pro-Am in 1992.</p">
<p">After Hawkes retired from Outdoor competition, Outdoor racquetball developed the "Hawkes Rules" which eliminated the use of his famous and almost un-returnable serve that literally went "out the door" with almost no chance of anyone returning it (other than from a lucky spectator).</p">
<p">Hawkes currently lives in Lake Forrest, a suburb of Orange County and is married to Brandi Hawkes with two children, Connor and Amber who both also play racquetball. Hawkes is a regular at many local and national racquetball events and ceremonies. He has retired from competition as one of the few sports legends that decided to leave at the top of his career with many believing that he was the greatest Outdoor player of all time.</p">
WOR Executive Director Hank Marcus celebrated this announcement "It's a special privilege to announce Brian Hawkes as the inaugural inductee into WOR Hall of Fame, it's a honor and tribute to a very special player and person as well as fitting way to open the WOR Hall of Fame."
Further announcements and information will be available on worldoutdoorracquetball.net.
Brian Hawkes' Racquetball Accomplishments
20-time World or National Outdoor Singles Champion: 1981 – 1984, 1986 – 1989, 1991 – 1996, 1998 – 2001, 2003, 2005
Junior National Outdoor Singles Champion: 1979, 1980
8-time National Outdoor Doubles Champion: 1982 – 1997
Indoor National Amateur Singles Champion: 1984
Indoor National Amateur Doubles Champion: 1988
Member of the US National Racquetball Team: 1989, 1991
Tournament of the Americas Doubles Gold Medalist: 1989
Olympic Festival Doubles Gold Medalist: 1991
International Racquetball Tour Professional: Highest Ranking: #7
Toronto Pro-Am Champion: 1992
Coach for Team Argentina at the Pan-Am Games: 2002