Hall of Fame Inductees: Barry Wallace and Bob Wetzel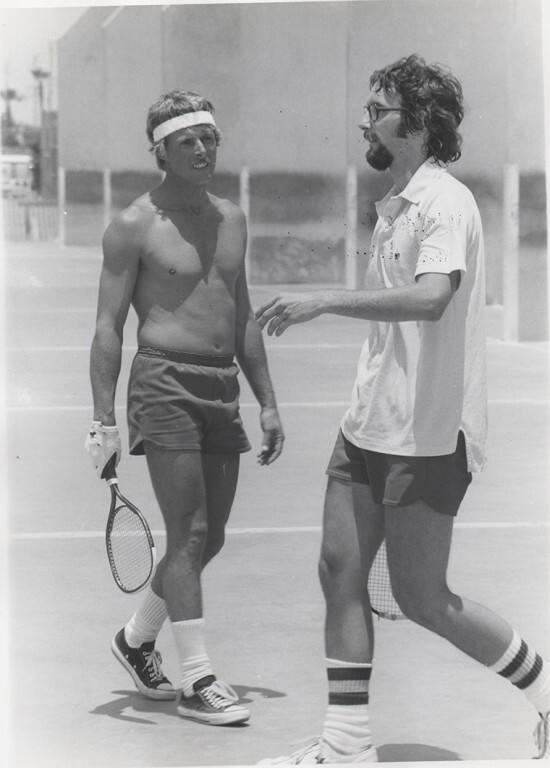 (L-R) Barry Wallace and Charlie Brumfield battle at the first Outdoor Nationals in 1974. Photo via Barry Wallace
(1964-1970) THE PRE-NATIONAL CHAMPIONSHIP TOURNAMENT ERA)
Bob Wetzel started teaching PE at Orange Coast College (OCC) around 1964 and was soon joined by Barry Wallace. The two close friends competed daily in numerous sports especially outdoor handball. Barry Wallace coached the soccer, baseball and badminton teams while Bob Wetzel coached the men's basketball and volleyball teams and they both taught PE classes at OCC. They would create the first outdoor racquetball tournament at OCC, the first California State Championships and the first Outdoor Nationals which by year one had become a major event featuring many of the top indoor pros. Their efforts established, organized and promoted the sport of outdoor racquetball making them some of the first founders of our sport.

1971 to 1973 (OUTDOOR RACQUETBALL IS FOUNDED/THE 1st CA STATE OUTDOOR CHAMPIONSHIPS)
A) Outdoor Racquetball was founded in 1971/1972 when RO Carson (Rocky Carson's father-a top pro) and Rich Carson (Rocky's Uncle) came to the OCC handball courts to play Wallace/Wetzel in handball. RO proclaims, "Let's play ball…with these racquets." No one had ever seen it played outside before. Wallace remembers it being fiberglass or metal and from there, according to Wetzel, "Everyone started watching us since our group was skilled in handball." Wallace added, "RO Carson is responsible for founding outdoor racquetball and ironically his son Rocky is still dominating the sport 45 years later as its top outdoor pro." (1971/1972)
B) Wallace and Wetzel decide to hold the first California State Outdoor Tournaments which were a great success in 1971-1973. About 50 players played annually at States in either men's or woman's singles such as D, C, B, A, open or doubles (no mixed).
C) Wallace/Wetzel, in their 30's, decided their state championship should be the defining outdoor national championship and to make it, "The best tournament in the history of racquetball." (Wallace)They visited San Diego to promote the nationals becoming friends with indoor pro Charlie Brumfield who enlisted racquetball's first president Bob Kendler to help get indoor pros. Without Dr. Bud Muehleisen/Charlie Brumfield's efforts to continually promote the event it never would have happened ensuring it was a huge success from day one. The indoor pros wanted to show the world their talents (or lack of them) outdoors. The Outdoor Nationals first ran at OCC for 6 years, moved to Golden West College, Edison Park and now Marina Park.

1974 (1st NATIONAL OUTDOOR CHAMPIONSHIP OCC COLLEGE-ORANGE COUNTY CA, JUNE 28-30, 1974)
Wallace/Wetzel decided that to make the outdoor national championships fun and competitive "with a special camaraderie" by creatively placing the top indoor pros vs the top outdoor pros and seeding them by their indoor or outdoor ranking. "California outdoor players were very good and we thought, let's bring the indoor pros to see how good they were outdoors." (Wallace). "Fortunately, the indoor pros came outdoors to compete and came away sunburned and usually in defeat." (Wetzel)

The indoor pros included Steve Keely-#1 seed, Steve Serot, Charlie Brumfield, Bill Schmidtke Steve Strandemo, Jerry Hilecher, Paul Lawrence, Craig McCoy and Marty Hogan. In doubles the pros were Schmidtke/Serot, Lawerence/Lund & Drake/Keely. The leading ladies included Peggy Steding, Kathy Williams, Jan Campbell, Mary Crouch and Joy Koppel, the state singles champ.

"Bob Wetzel & I did it all-we wore all of the hats as promoters, bankers, tournament directors, getting sponsors, teachers, event planners & competing in the event. My entire family also helped. My wife scored matches, my daughter shagged balls, my mother in law ran hospitality, my father handled the tickets & the players loved it for being so well organized." (Wallace) Martha Byrd McDonald (2013 WOR HOF inductee) came from Florida. She played in year one and every year until 2014 (ongoing) except for the year when she had a baby. "The interest in the event and in outdoor racquetball skyrocketed after the great success we had in 1974. " (Wallace)

Indoor pro Charlie Brumfield played in 1974 because, "To be considered the greatest players of all time you had to excel in all aspects of the game & that included singles/doubles/outdoor/indoor racquetball & to win at paddleball. I wanted to accomplish something no other player would be able to equal to be the greatest & so I knew that I had to excel in outdoors too." But my defining moment was when, "I warned Wallace before the 2nd singles finals that he had better play w/a shirt on or that I was going to be outlining his body w/images of the ball since in those days racquetball was all about winning. Wallace didn't listen of course & I can honestly say that I particularly enjoyed the sound of the ball travelling against his body & on many occasions."

The OCC Press Release stated: "Over 250 of the nation's best players will compete in the June 28-30 [1974 ] event. Leach Industries is (co-sponsoring) the event. Bleachers will be set up w/fans charged $1 each for admittance since 1000 fans are expected. 4 divisions will be held in the men's category, Open, Bee, Senior (35 to 44] & Masters [45+] and Bee & Open for the woman. The cost is $15 or $25 for singles & doubles. Tournament bags, racquetballs, shirts & refreshments & trophies will be awarded to 1st & 2nd place finishers & the consolation winner in each bracket." Wallace stated, "Our 2 state tournaments were big successes & were looking for a large nationwide turnout for the national championships. Note: "Four of the top 5 indoor pros and 8 of top 12 played." (OCC Press Release). Voit was the official tournament ball.

"The courts at OCC were 23 feet wide x 44 feet long x 22 feet tall- front wall." (Wetzel). "Special bleachers were set up for the tournament. We had 6 indoor courts (not used for tourney) & 13 outdoor courts or enough for a party!" (Wallace). Afterwards Chuck Levy, NRC president wrote, "First let me congratulate you on the excellent job you did running the 1st outdoor national championships. We think outdoor 3-wall is the game of the future." The OCC press on 4/1975 also said, "Last year [1974], 107 players took part in a tournament that was viewed by more than 3,000 sunbaked fans."

1974 RESULTS FOR WALLACE & WETZEL (1st OUTDOOR NATIONAL CHAMPIONSHIPS-OCC COLLEGE, June 28-30, 1974)
3rd Place, Barry Wallace, Men's Open Singles (top division) losing to Steve Serot 21-3, 21-11 (1974).

2nd Place, Barry Wallace/Bob Wetzel, Men's Open Doubles (top division) by a score of 21-20, 21-16 losing to indoor hall of fame legends Dr. Bud Muehleisen-(42 years old)/Charlie Brumfield. "Dr. Bud hit five consecutive kill shots for the match. (press 1974)

Consolation Finals Winner, Bob Wetzel, Men's Open Singles, beating Charlie Drake 21-6, 21-4 (Top 16 overall). (1974)

1974 Notes: Charlie Brumfield beats fellow indoor pro star Steve Serot in 1st open singles 21-20, 21-11. Bette Weed #2 seed wins open singles vs Joy Koppel 9-21, 21-14, 21-0. Myron Roderick beats Dr Bud Meuhleisen in seniors 21-19, 15-21, 21-15.

1975 RESULTS FOR WALLACE & WETZEL (2nd OUTDOOR NATIONAL CHAMPIONSHIP-OCC COLLEGE JUNE 22, 1975)
1st Place, Barry Wallace/Bob Wetzel, Men's Open Doubles. The founders had now finally won a national title beating indoor legends Charlie Brumfield/ Dr. Bud Muehleisen 21-14, 21-14. "Our match made racquetball history as it was the first time Brumfield/ Muehleisen had ever lost in doubles & in a standing room crowd only."(Wallace). After Brumfield complained about a call on the very first point of the match, someone in the crowd hollered, "Your glasses are fogged, Charlie!" Don Jacobs added, "To win the historic match, Wallace hit a corner shot and Meuhleisen hit a passing shot wide to close it out." (1975)

Dr. Bud Muehleisen in Wikipedia said, "The team of Brumfield & Muehleisen never lost a game-let alone a match in national level competition play." Brumfield did correct the "good doctor" noting, "Yes…but we did lose in outdoors in 1975." (1975)

2nd Place, Barry Wallace, Men's Open Singles- losing to Charlie Brumfield 21-15, 21-18 in the finals. (1975)

1975 Notes & Quotes: "Entry fee is $15 for 1st event & $10 for the 2nd event entered…limited to 2 events." (4/75 OCC Press). Don Jacobs quipped, "Charlie Brumfield ['75 NRC & IRA champ] is the best racquetball player in the world today, if you don't believe that just ask him-he'll tell you." "Wallace [& Wetzel] ran precision tourney w/matches run w/watch-like regularity." (Don Jacobs Press). Diane Heims, 22, who "…just took up the game in January" upset champ Bette Weed in woman's open 21-6, 21-7. (Don Jacobs). Dr. Bud Muehleisen wins the seniors "absolutely destroying the field in 1975." He beat Roger Killam 21-8, 21-4.

1976 RESULTS FOR WALLACE AND WETZEL (3rd OUTDOOR NATIONAL CHAMPIONSHIP OCC COLLEGE JULY 2-4 '76)
1st Place, Barry Wallace, Men's Open Singles over 1976 indoor national champ pro Davey Bledsoe 21-17, 21-10. "Attack is what Wallace did; keeping Bledsoe constantly moving, giving him little time to set up for a shot." (Local Newspaper) (1976)

2nd Place, Barry Wallace/Bob Wetzel (#1 seeds), Men's Open Doubles lost to Jim Carson & Rick Kossler 21-11, 21-17. (1976)

1st Place, Bob Wetzel, Men's Combined Senior Division vs. Dr. Bud Muehleisen. "Wetzel began the match serving with an awesome ferocity."(Racquetball/Handball News Aug 1976) (1976)

The 1976 tournament program said, "Welcome to the 3rd annual outdoor 3-wall national tournament! This year's tournament promises to be the finest outdoor tournament in racquetball history w/more than 225 of the finest players from around the nation vying for the top prizes."

280 played in the 1976 event & approximately 1500 fans came to watch 10 divisions for free.

Historical Notes: Darryl Weed wins 1st juniors-16 over Steve Cuniff. Steve Varblovich is 3rd. Martha Byrd McDonald (unmarried) beats Betty Weed in woman's open. Aubrey DiNatale/Kathy Graden win in doubles over David/Gribiin (Rball/Handball News 1976). Note: the 1977 official program disputes the above results saying the order was reversed for woman's doubles. "Local favorites Barry Wallace & Bob Wetzel dominated…"(Rball/Handball News). Marty Hogan, 18, plays here in a venue he later wins. A new type of Voit ball is used.

1977 RESULTS FOR WALLACE AND WETZEL (4th OUTDOOR NATIONAL CHAMPIONSHIP OCC COLLEGE)
Barry Wallace loses in singles to Jim Carson (round unknown). Rich Kossler wins men's singles. (1977)

1st Place, Barry Wallace/Bob Wetzel, Men's Open Doubles. (Opponent unknown at this time) (1977)

The 1977 program said, "About 250 of the top racquetball players from across the nation will be vying for top honors in nine divisions. A crowd of 5000 is expected to attend the three day competition." Dr. Bud wins seniors. Woman winner is unknown.

1978 RESULTS FOR WALLACE AND WETZEL (5th OUTDOOR NATIONAL CHAMPIONSHIP OCC COLLEGE)
1st Place, Bob Wetzel, Men's Senior Doubles vs Dr. Bud Muehleisen. "Wetzel won his 3rd senior singles crown, defeating archrival Bud Meuhleisen of San Diego. Wetzel beat Muehleisen for the championship in 1976, 1978 & 1979. Meuhleiesen grabbed the crown in 1977." (Newspaper). Drew Bledsoe wins vs Marty Hogan in a breaker. Woman's winner unknown. (1978)

1979 RESULTS FOR WALLACE AND WETZEL (6th OUTDOOR NATIONALS OCC COLLEGE)
1st Place, Bob Wetzel, Men's Senior Doubles over Dr. Bud Muehleisen 21-18, 12-21, 11-9 . (1979)

2nd Place Barry Wallace/Bob Wetzel, Men's Open Doubles losing to Dave Trettin/Steve Fey. Marty Hogan beats Rich Wagener 21-15, 21-16 in the open finals and Hall of Fame indoor pro legend Lynn Adams defeats Laura Martino. (1979)

MISCELLANEOUS RESULTS AND QUOTES FROM BOB WETZEL:
3rd Place, Indoor Nationals & Worlds-50-54 age. "I cracked 3 ace serves in that semi match & was the clear winner but the referee, a close friend of the opponent called them short. I proved it in 1986 winning the next year w/a different ref." (1985/87)

1st Place, Indoor Nationals, 50-54 Age Div, Houston w/34 courts (1986).

"The best match I saw was the Barry Wallace/Steve Serot match [year #1 nationals]. They hit each other 12 times in a full out war." "I loved Hogan standing 40 feet outdoor, not cutting off any shots and trying to kill the ball unsuccessfully-But Marty did learn fast after that!" "I battled Dr. Bud several times in the open finals and he was one of the top players of that era." (1986)

MISCELLANEOUS RESULTS AND QUOTES FROM BARRY WALLACE:
Wallace/Wetzel ran it for 6 years but w/the advent of the faster balls & bigger racquets they decided to hand it off. They played doubles together for 6 years total & did very well.
"Brian Hawkes was the greatest player of all time because no one could return his serve with the faster ball. He was sensational." "The top women-Martha Byrd/Diane Himes/Joe Cappell wanted to play in men's divisions & did destroying the woman's draw."
"In the early days, the OCC had 19 courts. Racquetball was so popular we had packed classes hourly from 8 am-8 pm. What killed racquetball was: 1) larger racquets 2) faster balls so people couldn't rally? In 1977 at the men's outdoor semis, I timed a match w/a stop watch that went 21-18. It took but 3 minutes to complete. In my day, we had rallies that lasted 3 minutes alone not a whole match. ""I left after people stopped coming into to our classes (down to one per day) and it stopped being fun."
"Charlie Brumfield was incorrect-I never purposely scheduled the indoor players during the sunniest times. Unlike indoor racquetball that can be played until 4 am, we had 10 outdoor courts facing the east from 7 am-7 pm & sun is part of the game."
"We tried to create a tournament no one would forget as the best tournament in racquetball history-I think we did pretty well!"