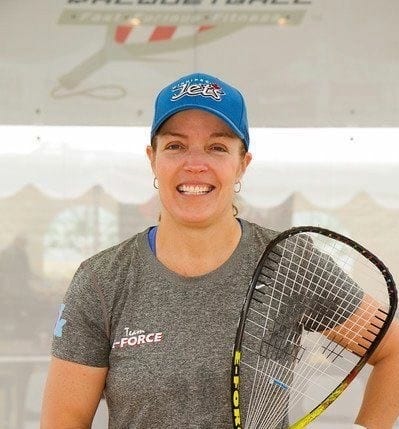 Cheryl Gudinas | Naperville, Illinois
(Amateur Open, Inducted 2019)
Cheryl Gudinas, 52, of Naperville, Illinois, has been involved in the sport of racquetball for over 30 years at the time of her induction into the USA Racquetball Hall of Fame. As a USA National Team member for 23 consecutive seasons, she captured two US OPEN championships, three IRF World Championships in singles, four Gold medals at the Pan American Racquetball Championships and two Gold medals at the Pan American Games. In addition to her success on Team USA, Cheryl also won at least 37 pro stop titles and went four consecutive years with year-end #1 ranking on tour.
Cheryl has had a profound impact on the game, both as an amateur and professional. She has been a role model for both domestic and international players, and she selflessly served as a coach for the US Junior National Team for many years, exerting a strong and lasting positive influence on young players for Team USA.
Photo by: Geoff Thomsen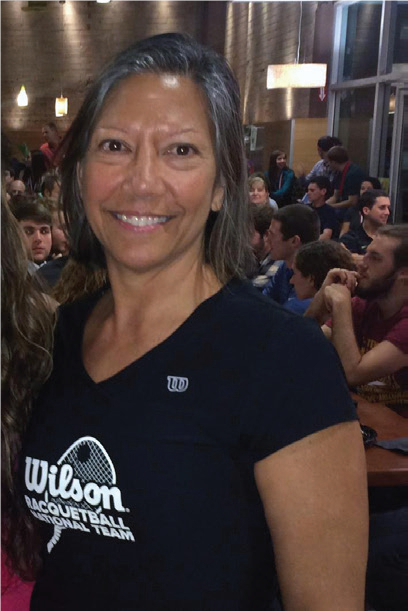 Malia Bailey | Norfolk, Virginia
(Amateur Age Player, Inducted 2019)
At the time of her induction into the USA Racquetball Hall of Fame in 2019, Malia Bailey, 61, of Norfolk, Virginia, had dedicated over 35 years to the sport of racquetball. In amateur competition alone, Bailey is credited with capturing 63 national and international gold medals. She qualified for the U.S. National Team on multiple occasions and represented the American Amateur Racquetball Association (AARA), the United States Racquetball Association (USRA), and USA Racquetball (USAR) in numerous international competitions. Not only did Malia craft a stellar career for herself, she and husband Jim have passed along their lifelong passion for the sport to their daughter, Kelani.
While achieving on-court success, Malia at the same time was working diligently on the sport's behalf in boardrooms, as a clinician and goodwill ambassador, a state association volunteer spanning decades, a coach and athlete advisor, and a local club program promoter and professional instructor.