2021 NorCal Bay Bash Outdoor Shootout Results
2021 NorCal Bay Bash Outdoor Shootout Results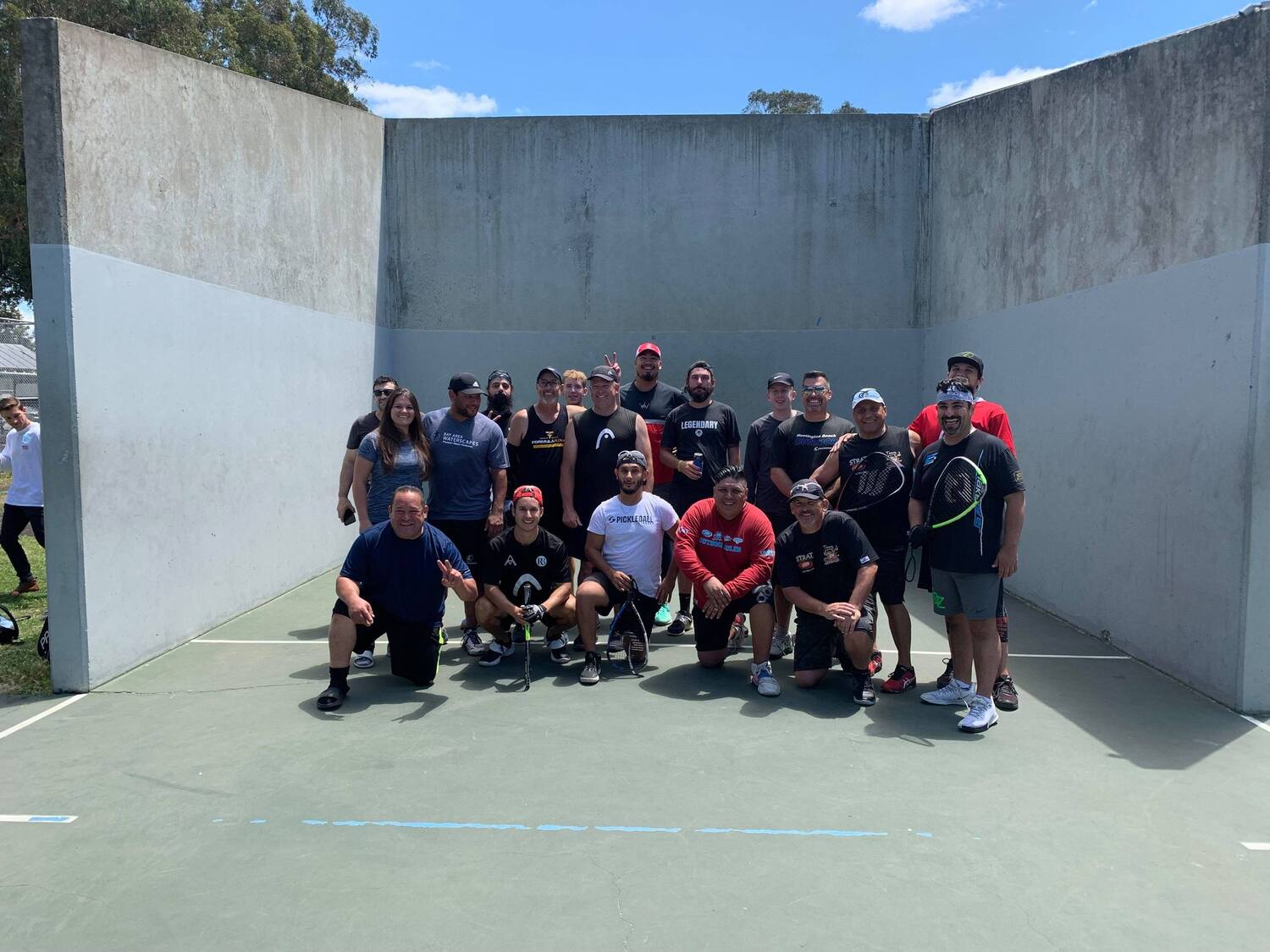 R2sports site: https://www.r2sports.com/portfolio/r2-event.asp?TID=37624
Thirty Outdoor racquetball players travelled to Palo Alto, California to play in the first sanctioned WOR shootout of the NorCal 2021 outdoor series. They competed on Saturday May 15th at Mitchell Park, a 4-court 3-wall/mid-wall facility with a big grassy area in-between the courts for hanging out, BBQ and socializing.
There were three doubles divisions on the day; results are online at the above R2sports link. Each group featured pool play with the top two teams advancing to the knockout round. Here's how the brackets shook out:
In the Men's Pro/Open division, 9 teams entered and competed in round robin preliminary pools to determine the playoff knockout bracket.
In the semis:
Top Seeds Jose Diaz and Adam Manilla cruised into the final over Jeremy McGlothin and Will Reynolds.
#2 seeds Walter Ramos and Israel Torresadvanced into the final over Joseph Lopez and Alfonso Ybarra
In the final, both RR group winners faced off, with both teams featuring a strong lefty-righty pair. The edge though was with the two IRT pros Diaz/Manilla, who dominated the final over the local Northern California outdoor specialists Ramos/Torres and took the title 11-1, 11-2. IRT veteran and bay area resident Bobby Horn was the volunteer ref in the final.
---
In the Men's Elite/A division¸8 teams competed in two pools. Here's how the playoffs shook out:
In the semis:
Group winners Katie Neils and Aaron Dumas were upset by Tracy natives Donny Piworwarski and Sal Alejandre in the top semi.
Similarly, group winners Brian Laney / Kimberly Randolph were knocked out by Luis Almanza/Adam Koehler in the bottom semi.
In the final, Almanza/Koehler took the title in two close games over Piowowarski/Alejandre 10,7.
---
In the Mixed Doubles division 6 teams played a true RR to determine the knockout seedings.
In the semis:
Katie Neils/Jeremy McGlothin

advanced over Frank Biehl/Kimberly Randolph
Tournament hosts Walter Ramos/Erica Williams could not take out #2 seeds Cody Thomas/Jazmin Trevino, failing to convert a match point opportunity and falling 15-14.
In the final, Neils/McGlothin made the most of their trip up from the Phoenix area and took the title in dominant fashion, winning 2,1 over the East Bay duo of Thomas/Trevino.
---
Thanks to tournament directors Erica Williams & Walter Ramos for organizing. Thanks to sponsors Bay Area Waterscapes, Pro Kennex, and Reaching Your Dream Foundation, which allowed for more than $2,000 in cash prizes to be awarded on the day. And thanks to all the players, especially the travelling players, for making this a pretty strong tourney for a one-day.