Tommy Medina Mofford Park Shootout Results March, 2021
Tommy Medina Mofford Park Shootout Results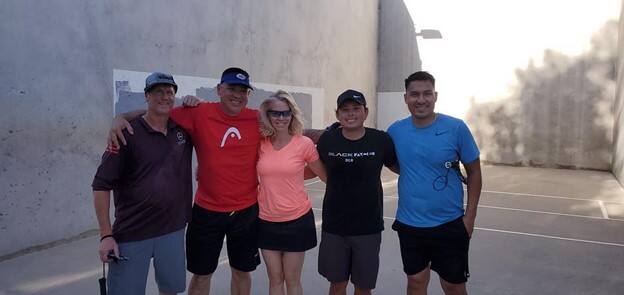 Rose Mofford Sports Complex, Phoenix, AZ. March 20th, 20201
Twenty-One (21) Teams turned out for the first Arizona shootout of the year, hosted by Tommy Medina, held at the Rose Mofford Sports Complex in North Phoenix. The courts at Mofford, like many on the north and west side of Phoenix, are three-wall Long wall, which makes for some fun and unique play for those players (indoor or outdoor) who have never played it.
The groups split up and played two big round robin one-game brackets to arrive at a knockout round. From there, the competition increased.
In the knockout rounds Semis:
Juan Mendoza/Darin Randles (the #1 seed) beat James Garcia/Terry Kisling
Daniel De La Rosa/Marti McCurdy (the #3 seeds) beat Matt John/Jim Hughes
In the finals: Current #5 ranked IRT pro and dominant outdoor presence De La Rosa, teamed with McCurdy, beat Mendoza/Randles despite an 8-point game handicap. De La Rosa patrolled the back court playing in I-formation and hit bombs to drive the win while the lefty McCurdy poached up front.
There was great play all day with great friends from in and around the Phoenix outdoor community. Thanks for all who supported this Arizona outdoor racquetball event through participation and additional funding, special thanks to Spirit Gives for Food, and Kyle K, Thomas Gerhardt, Preston Tribble, Dave Lee, and Jim Winterton for their cash support. Thanks to Tommy Medina for organizing and hosting, and thanks to David Lee for helping to provide results and to get the word out on Facebook.
We are looking forward to another event on April 10, 2021. More details to come.