WOR Shootout at Tropical Park, Shootout Results March 20, 2021
WOR Shootout at Tropical Park, Shootout Results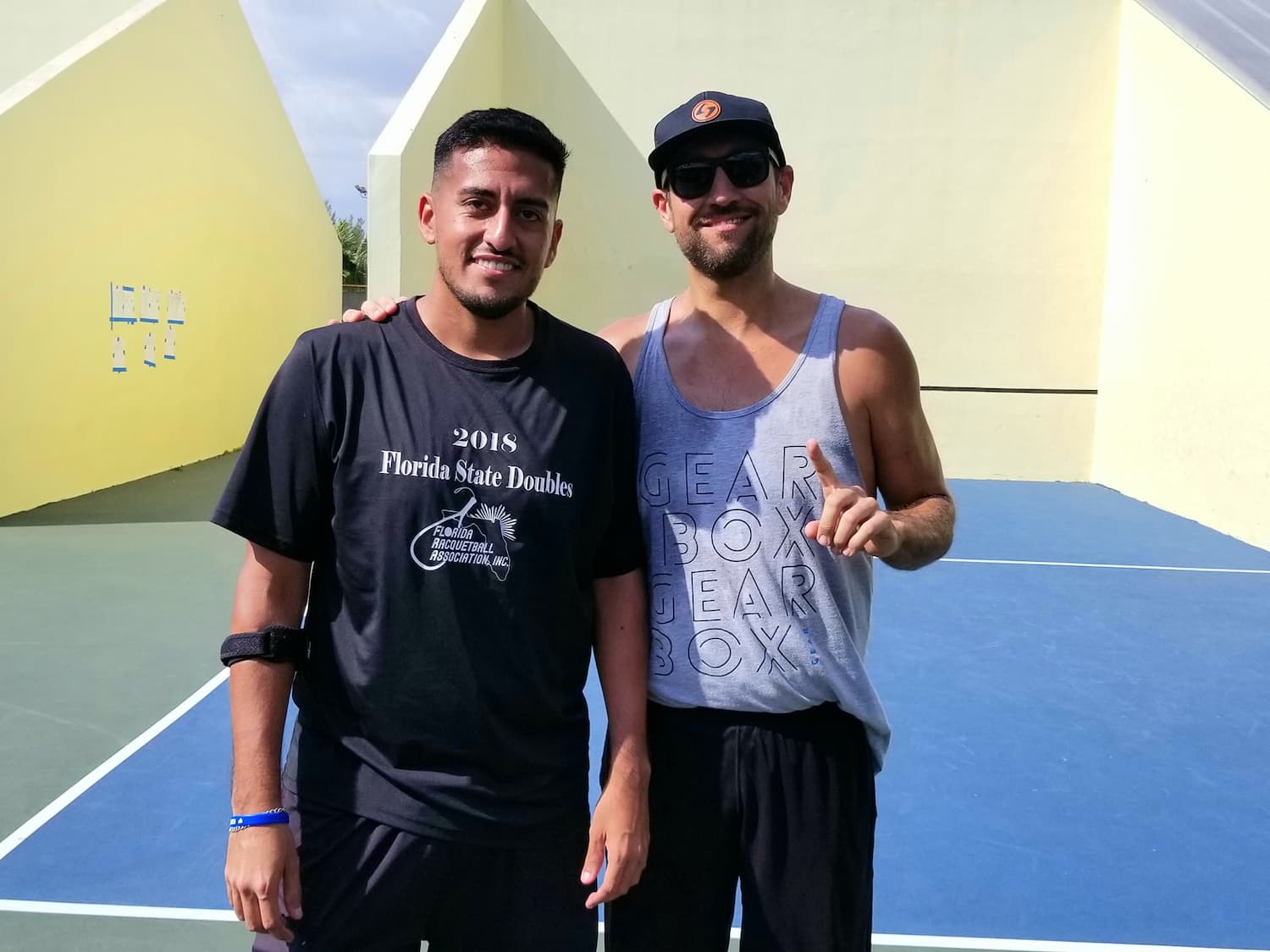 March 20th, 2021 Tropical Park, Miami Florida
https://www.r2sports.com/portfolio/r2-event.asp?TID=32193
52 players entered the March 2021 WOR Shootout, held at Tropical Park in Miami, FL to compete on a beautiful sunny spring day. Tropical Park's courts are "small 3-wall courts" in that they are mid-wall, the short line is at just 16' and the entire court plays well under the size of a conventional racquetball court. These dimensions end up favoring home-court players and promote really fast play and lots of quick hands on the court.
Here's a quick run-through of the top/pro division results on the day:
The Men's Open/Pro division featured nine teams of top Florida players; they played a round robin to determine the playoff semi-finalists. In those semis:
Roy Hernandez/Marcos Gravier defeated Mike Harmon/Jonathan Burns 4,7
Ismael Noa/Kevin Vazquez defeated Maykel Rodriguez/Garry Smith in a tiebreaker.
In the final, Hernandez/Gravier downed Noa/Vazquez in a close tiebreaker 9-15, 15-11, 11-9.
---
The Women's Pro/Elite division featured four teams, who played a round robin competition to determine the winner. In the end, one of the classified "elite" teams took it to the two open teams and came out on top. 1st place goes to Miriam Benard/Carolina Pisana, 2nd place to Valeria Clemmensen/Ileana Villarreal.
---
In the Mixed Pro/Open division, four mixed teams competed in a round robin for the title. First place was taken by Mike Harmon/Sara Noyes. Visiting long-wall specialist and former WOR National tourney director Greg Lewerenz teamed up with Valeria Clemmensen to take 2nd place.
---
There was also a huge Elite men's draw, a 40+ draw, Elite Mixed doubles and an All-Age draw. Lots of racquetball being played on the day.
---
Thanks to tourney directors Roy Hernandez and Marcos Gravier for hosting and organizing the event. Thanks to Rick Bernstein for posting pictures and updates all weekend. Thanks to William and Miriam Bernard for food sponsorship for the event. And thanks to Hernandez and Lewerenz for giving me results to write up this post.
If you're not a member of the WOR Facebook page, you're missing out! Like/Follow https://www.facebook.com/WorldOutdoorRacquetball to get in the loop and see all the action shots from the weekend).