NorCal WOR Warmup
by Frank Biehl, edited by Todd Boss
NorCal WOR Warmups, West High School, Tracy, CA, June 19, 2021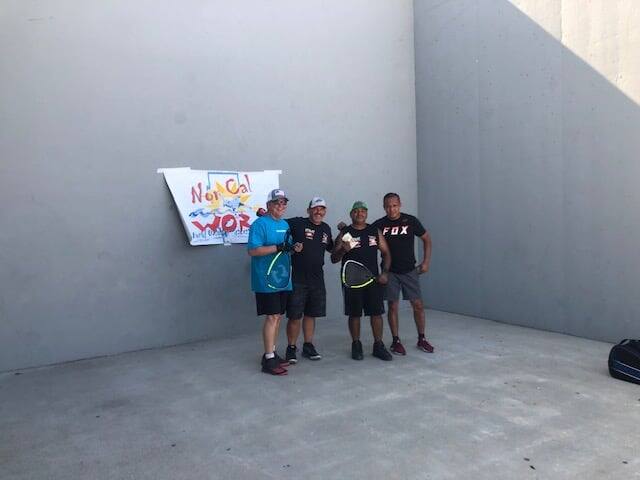 Thank you to all that came out to play in the Tracy CA outdoor racquetball shootout. It sure was smoking hot out with temperatures reaching 107 out on the high school blacktop at West High School.
TEAM NorCal Racquetball is fortunate to have many dedicated players in the sport of racquetball supporting this one-day shootout. AM doubles included a 17-team combined round robin split into 3 pools. Eventually, the 2 women teams spilt off into their own playoffs and other top 8 competing in the AM UPPERS playoffs and lower teams competing in the AM LOWERS playoffs.
The AM recap of divisions is as follows:
The Women's AM Playoff winners Rosa and Andrea Picon took out Erica Williams and Vicki Onesti-Warren in a sizzling full match final.
The AM Session UPPER division had 8 teams battle it out.
In the semis:
Walk-ons Jazmin Trevino and Jesse Rojas making the semis to face Warren/ Vezey. Warren/Vezey would take this semi and move on to the finals.

Top side would see yours truly Biehl/Barron taking on Izzy/Walter. Izzy and Walter's serve's and kill shots were too much to handle as they cruise to the finals.
In the Final, Upper's winners and familiar faces Izzy Torres and Walter Ramos got the best of other familiar NorCal players Scottie Warren and Greg Vezey in 2 games to 11. This is a battle that will continue to play out in future years, but this time Izzy and Walt just played great all day and were not going to be denied the title!
The AM Session LOWER division had 7 teams battle it out.
In the Semis:
Ivan V/Luis A took on local foes Ybarra/Garcia, with Ivan/Luis cruising to the finals

Butch / George defeated familiar face Kim R and partner Brian L.
In the finals the heat was taking its toll as Ivan /Luis took on Butch/George. In a tie breaker Billy just had enough of the heat and bowed out leaving the win to Ivan and partner Luis A. Nice playing Ivan and Luis!
The PM Session is where things get a little tricky with the heat, reapplying suntan lotion, having a great raffle and stuffing our faces with an amazing taco lunch.
3 teams of Combined 75's got started on pool play and finished up fairly quickly resulting in Gerardo/Javy taking on tourney directors Biehl/Fish. Biehl and Fish take this one in a 2-game torcher. Congrats to all our combined 75 teams for hanging in there to battle the heat and compete.
Mixed Doubles featured 5 teams battle it out in the pool play resulting in semi's of Walt/Erica taking on Kim/Izzy and the other semi Rosa /Will taking on Jazmin/Mitch. Great matches in both semis but Walt/Erica and Will/Rosa would go on to meet up in the finals. By this time everyone was running out of gas and literally melting but somehow Walt /Erica went on to victory!
Great playing to all of our mix doubles teams, not sure how you all hung in there with the heat.
---
Thank you again co-director Butch Fish for helping out with the upfront deposits and for your help throughout this event. Huge thank you to Yvonne and Ana Marie for volunteering to keep everyone in line for check in and picking up and setting up lunch. Your help was really appreciated! Thank you again to our sponsors for coming together to sponsor prize money in 5 divisions with a little something going to 1st and 2nd place, sponsoring an amazing lunch and providing some awesome raffle prizes.
In all the 2021 post Covid Tracy NORCAL WOR WARMUPS was a huge success! Thank you again sponsors, volunteers and all those that came out to battle in the heat. Hope you can all can make it to the upcoming WOR Championships in Huntington Beach July 8th – 11th and Las Vegas World WOR Championships in October 21-24th.
Play on …………….
Till next time, Frankie B