14th Annual Memorial at Holiday Park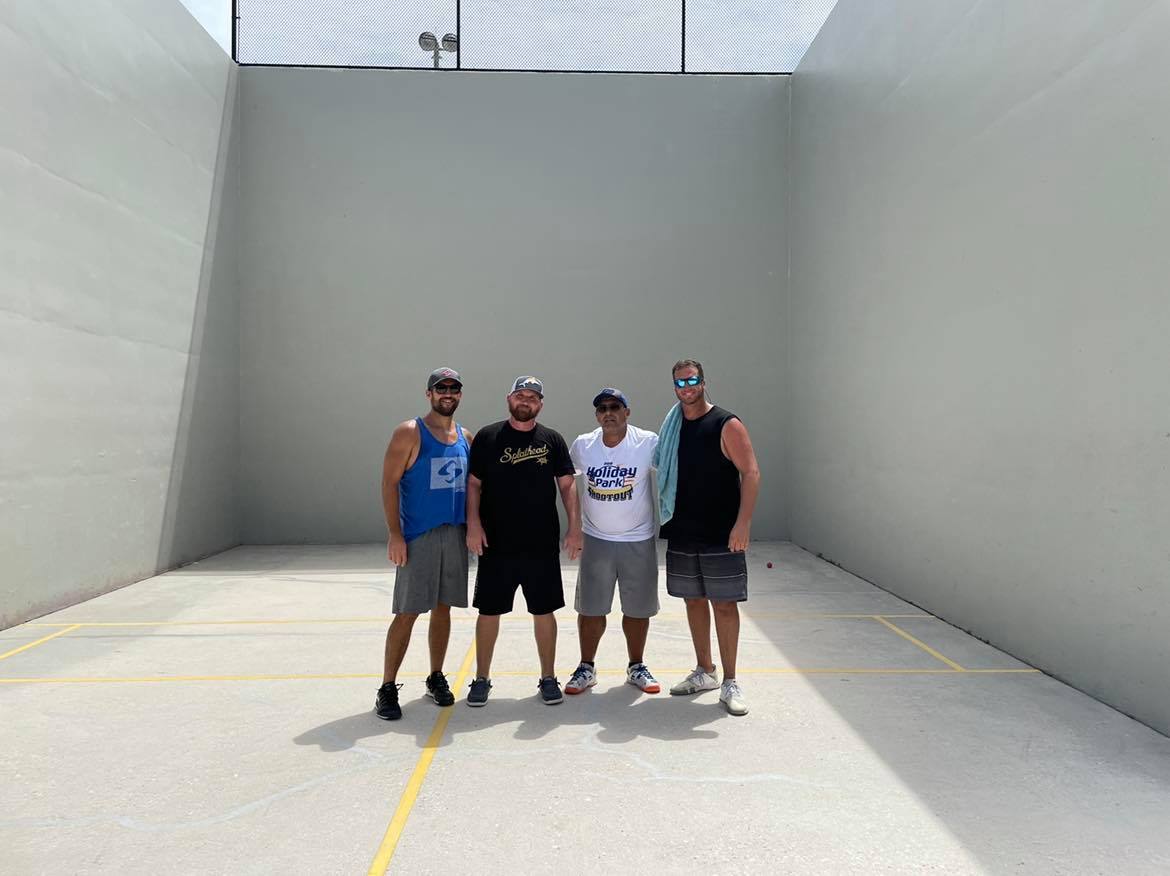 One of the longest running and more storied Outdoor racquetball tournaments was held this weekend; the annual Memorial Tournament at Holiday Park in Ft. Lauderdale, FL. Held at one of the leading historic outdoor parks in all of Florida, the former stomping grounds of outdoor legends such as Big Dave Smith, Ken Grandy, and current legend Rob Mijares.
The Memorial was created many years ago to initially recognize a leading Holiday park player who had passed away in Dave Conway. In the years since, other regular players who have moved on have been added to the memorial list. Rob Mijares has run the event every year since its inception, and ran the event this year as well.
Florida's permitting issues persist, so the event was announced last minute, but a solid crew of 30 players arrived to compete in two doubles divisions on the unique Holiday park courts (they're quite a bit wider than your normal racquetball court, which makes for a great home-court advantage for regular Holiday Park players)..
r2sports link: https://www.r2sports.com/website/event-website.asp?TID=37737
Here's the results:
In the Men's Pro, two groups of 4 teams battled out in RR fashion to determine a knockout bracket.
- In the Knockout Semis; Joe Young / Marcos Gravier topped Carlos Bravo / Roy Hernandezwhile Garry Smith / Yelandi Rivero topped Nicola Chafloque / Joe Linnell. Both matches went tiebreaker, but the two #1 seeds moved into the final.
- In the final, Young & Gravier topped Smith/Rivero for the title.
In the Men's Elite/Women's Pro division, 7 teams competed in RR to determine the knockout round:
- In the Knockout semis, Yasmani Perez / Hale Sakoffknocked off the top seeded Eric Gomez / Jonathan Telles, while Zeus Morillo / Andres Morilloupset the #2 seeds Scott Brewer / Carlos Ramos to move into the final.
- In the final, Perez & Sakoff took an 11-8 tie-breaker win to capture the crown.
---
Thanks to tournament director Rob Mijares for putting this on last minute. The players were able to raise $550 through the tournament proceeds and donations for RYDF.