Windy City 3Wall Brawl Championships Wrap-Up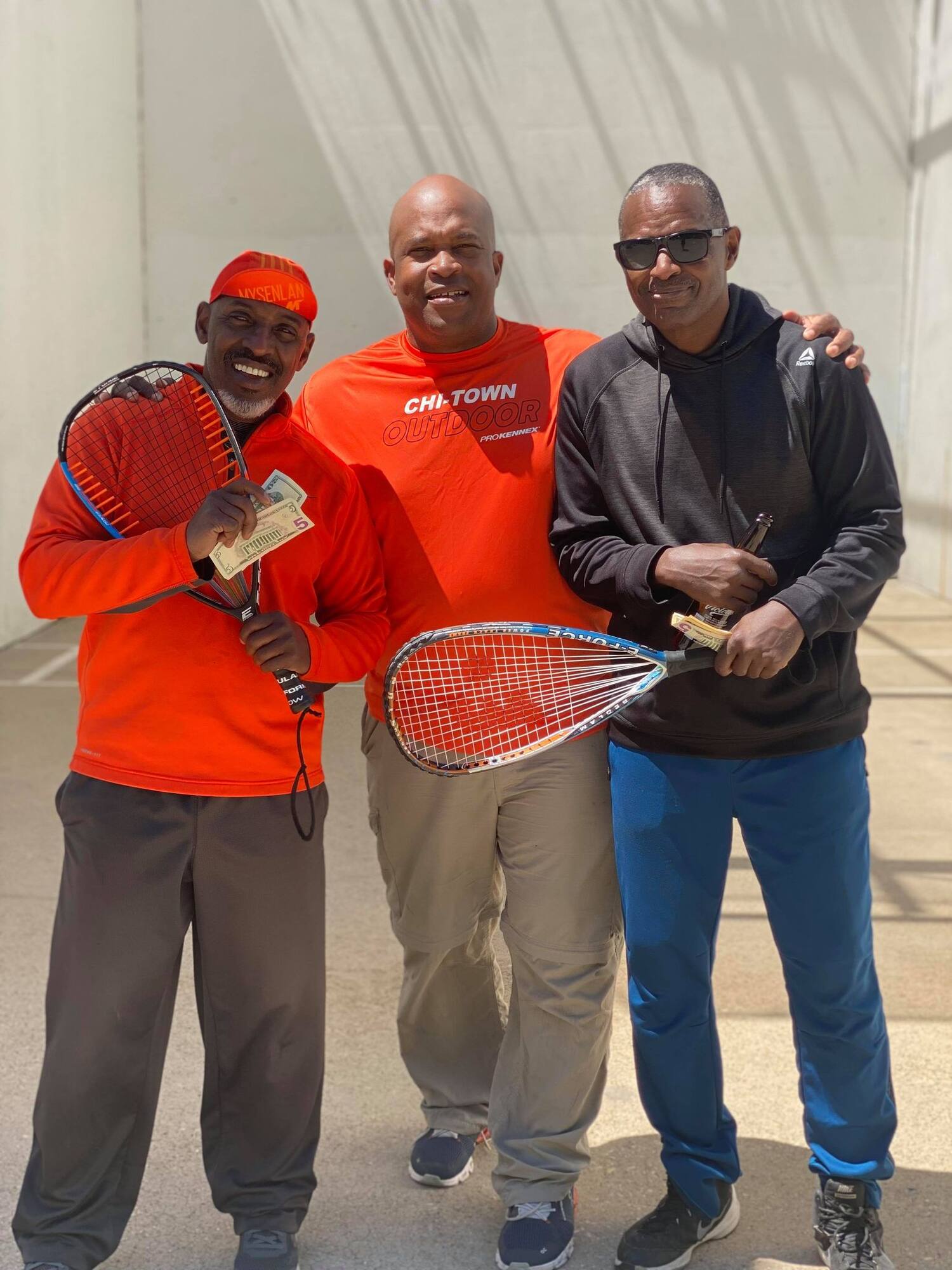 Summertime in Chicago is AWESOME and if you haven't been to the Chi, you're missing out! The weather is warm and the views of the city from Lake Michigan are breathtaking. Now for the racquetball enthusiast, upgrade it to include playing in Chicago's premiere outdoor event the WindyCity3Wall Brawl at Rainbow Beach sponsored by Splathead and Pro Kennex. Ask anyone about this hidden gem tournament and YOU will add it to your annual calendar-it is host to a great family of players, one of a kind Chicago hospitality and it is a perfect finish to your summer list of fun things to do in the "Chi".
The weather was absolutely perfect this past weekend for an outdoor racquetball reunion of sorts with players ready to turn the heat up in competition. Guests from all over the U.S. visited Chicago's Rainbow Beach representing Indiana, Maryland, Virginia, Minnesota, California, Wisconsin, Iowa, Wisconsin, Arizona and Michigan to name a few. Showing up in full force was the Belle Isle crew bringing some Detroit heat to the courts with their games unofficially making that long outdoor rivalry between Belle Isle and Chicago a new hot ticket brewing on the horizon for 2022. Starting out with a slow groove in the morning, players stepped it up quickly with a round robin format that culminated into to some hot matches to finish out in all divisions. As an outdoor event, spectators were able to relax listen to some good HOUSE music (a Chicago thang) and enjoy the excitement of watching players dive for shots in long rallies where the action was non-stop. As a racquetball enthusiast it is a truly a heart-warming experience to see people emerge from the past year finally able to enjoy family, friends and the pure energy from outdoor racquetball. New to the event this year, there was live streaming of the matches and this was a welcome addition for guests that couldn't join in. Every year the planning team steps it up and this year was super tasty. Participants were treated to outstanding hospitality with hot and fresh Chicago Style burgers and Polish hotdogs with plenty grilled onions but NO KETCHUP (a Chicago thang too), hot turkey sandwiches, salads/fresh fruit and sweets all provided by Lil Baby Sister's & Lil Bit of Everything Catering.
As always, there is continued support for the community and their back-to-school efforts. The increased need to expose youth to the sport leads to the development of an outdoor youth racquetball program. The future is bright for young players and moving forward with your help underserved youth looking for a way to stay active and have fun will soon have the outdoor racquetball experience. Sending out a BIG THANKS to all of the event sponsors for helping make the 2021 tournament great-you are AWESOME partners. So, if you are looking for that great summer vacation getaway with family so you can get your racquetball fix while experiencing Chicago-you can't get more Chicago than the WindyCity3Wall Brawl Tournament. Amazing views of the city courtside, the smell of Chicago style grilling (it's the onions) and the down to earth Midwest family vibes from the players and spectators makes this a must do on your summer list of places to visit AND play. See you in August next year at Rainbow Beach!
Carolyn Vazquez