AZ VII Final Battle Wrap-Up
by Darold Key & Michelle De La Rosa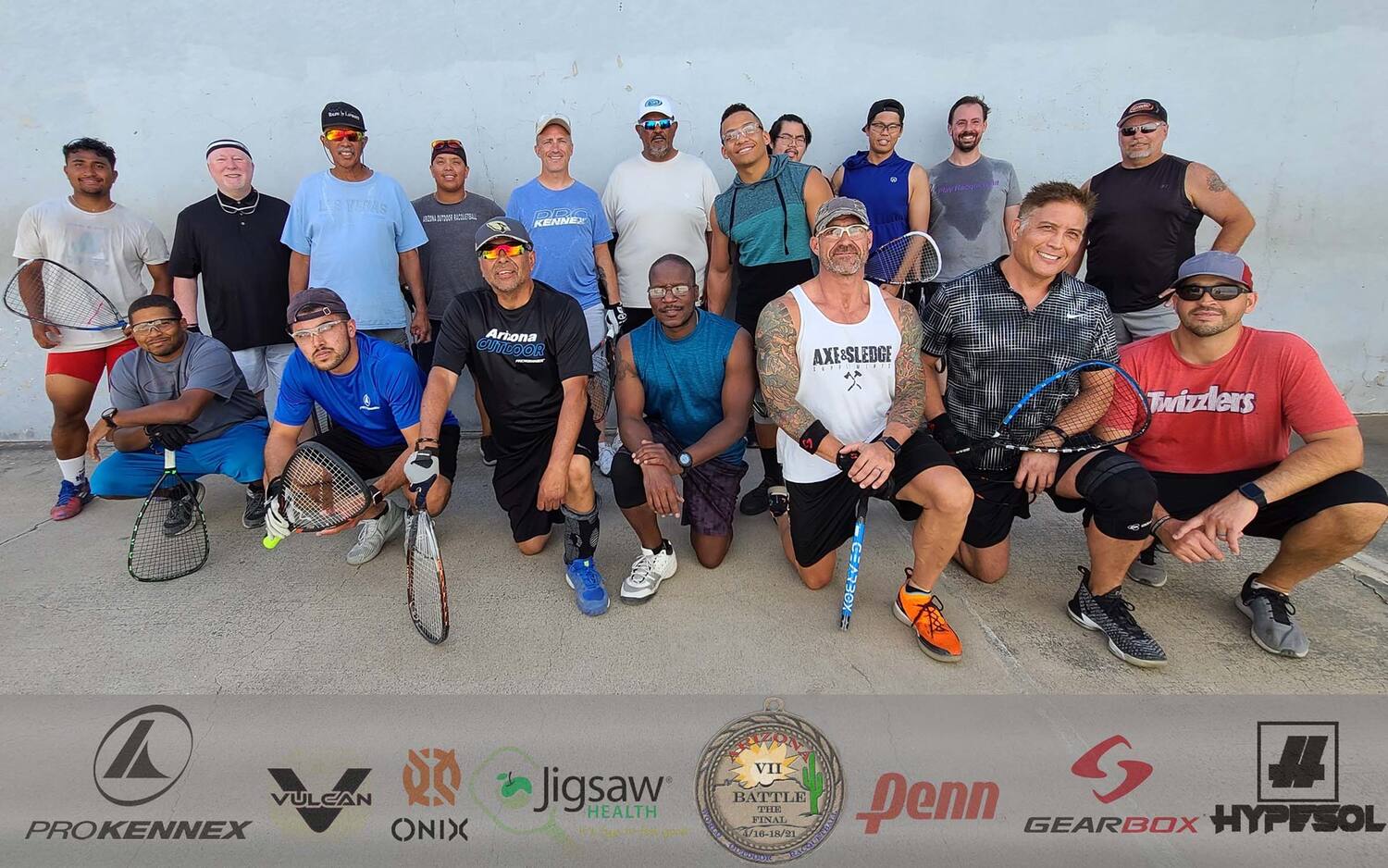 We are elated to be back playing again. This was our first event since COVID and what a success. Words will never be able to describe the feeling of reconnecting with our friends again. We appreciate all the people who came out to support the event, we hope you had a great time. We really want to thank everyone who pitched in and helped out. People who weren't able to play still contributed. We missed some of our regulars who were unable to make it this time but can't wait to see them at the next one. Thanks for all your love and support, you are what makes this event special.
It was great to have the gang back together again.
This event was the first time we have done Racquetball and Pickleball at one time. We love that our racquetball and pickleball friends were able to merge and become part of the family. It was incredible to see the crossover of athletes and spectators from both sports.
Special thanks to our sponsors who made this event awesome. It was great to have Mike Martinez set up and hang out at the event. Thanks to Gearbox for sending Alvaro to play some pickleball. Shout out to the Hypesole gang for setting up and representing some sweet gear. Thanks to Vulcan, ProKennex, Gearbox for hooking it up with some killer prizes! Thank you Jigsaw for the giveaways, the pickleball cocktail saved our players. The balls were provided by Key Sports and Head Penn. Thanks to the city of Glendale for allowing this event to happen and the park rangers for being so accommodating. Thank you JT with Daily Racquetball for coming out and live streaming and playing.
Congratulations to all our participants and division champions.
List of winners:
Racquetball
100+ Ellis Murphy and Luis Garcia
Open Dbls Matt Barcellos and Charlie Stalder
A Singles Ellis Murphy
A Dbls James Garcia and Terry Kisling
B Singles James Lamont
B Dbls Ellis Murphy and Angelo Denicola
C Dbls Damian Zamorano(off hand) and Andrew Clark
Mixed Intermediate: Karin Mannon and Curt Baumgarth
Mixed Advanced: Michelle de la Rosa and Matt Barcellos
Pickleball
Advanced: Daniel de la Rosa and Alvaro Beltran
Intermediate: Eric Brown and Jorge Rodriguez
Beginner: Russ Randolph and David Lee
Juniors: Cayden Hammond and Jackson Hammond
Thanks again! See you at the next one.