The IRT in Atlanta
by Todd Boss and Karen Grisz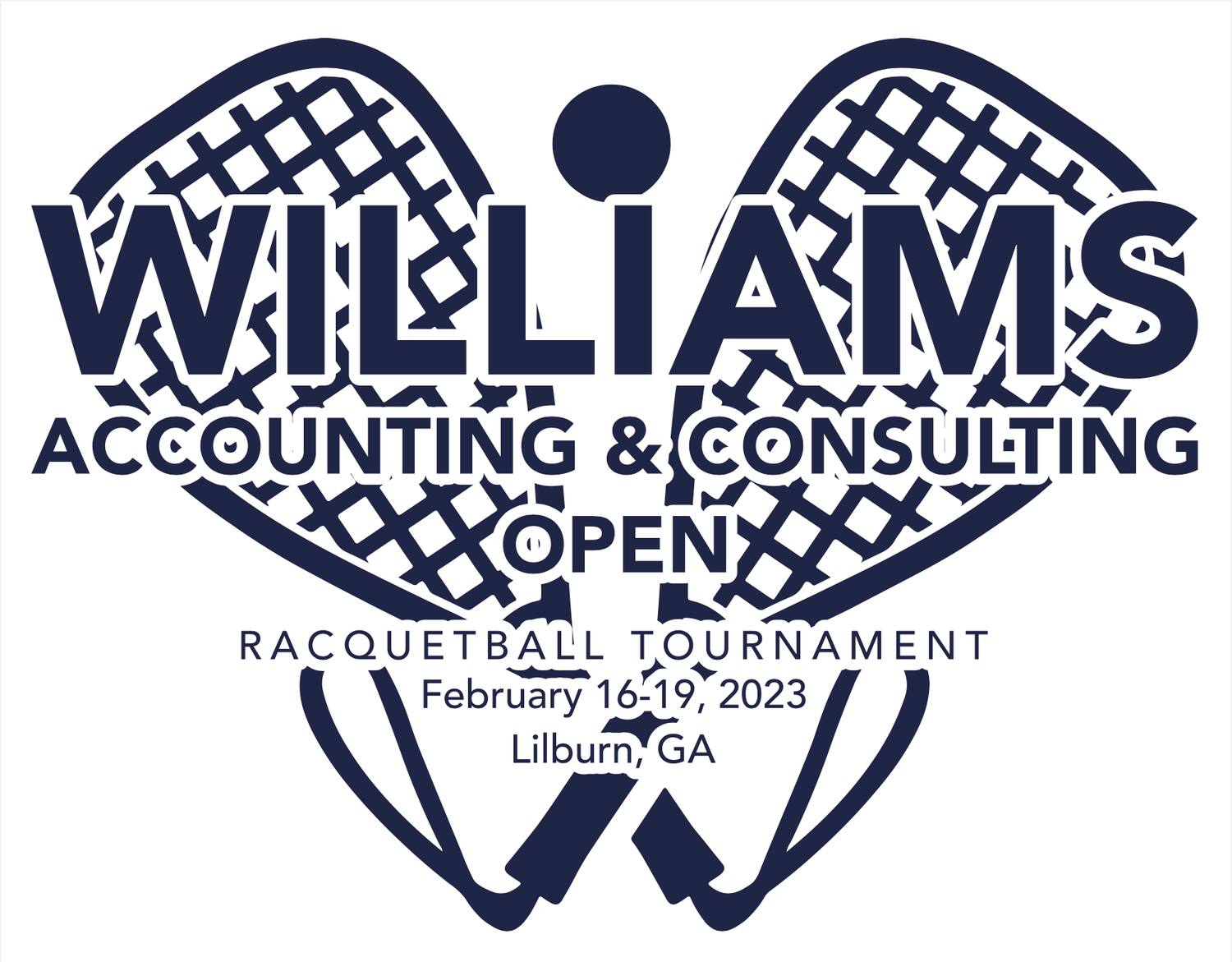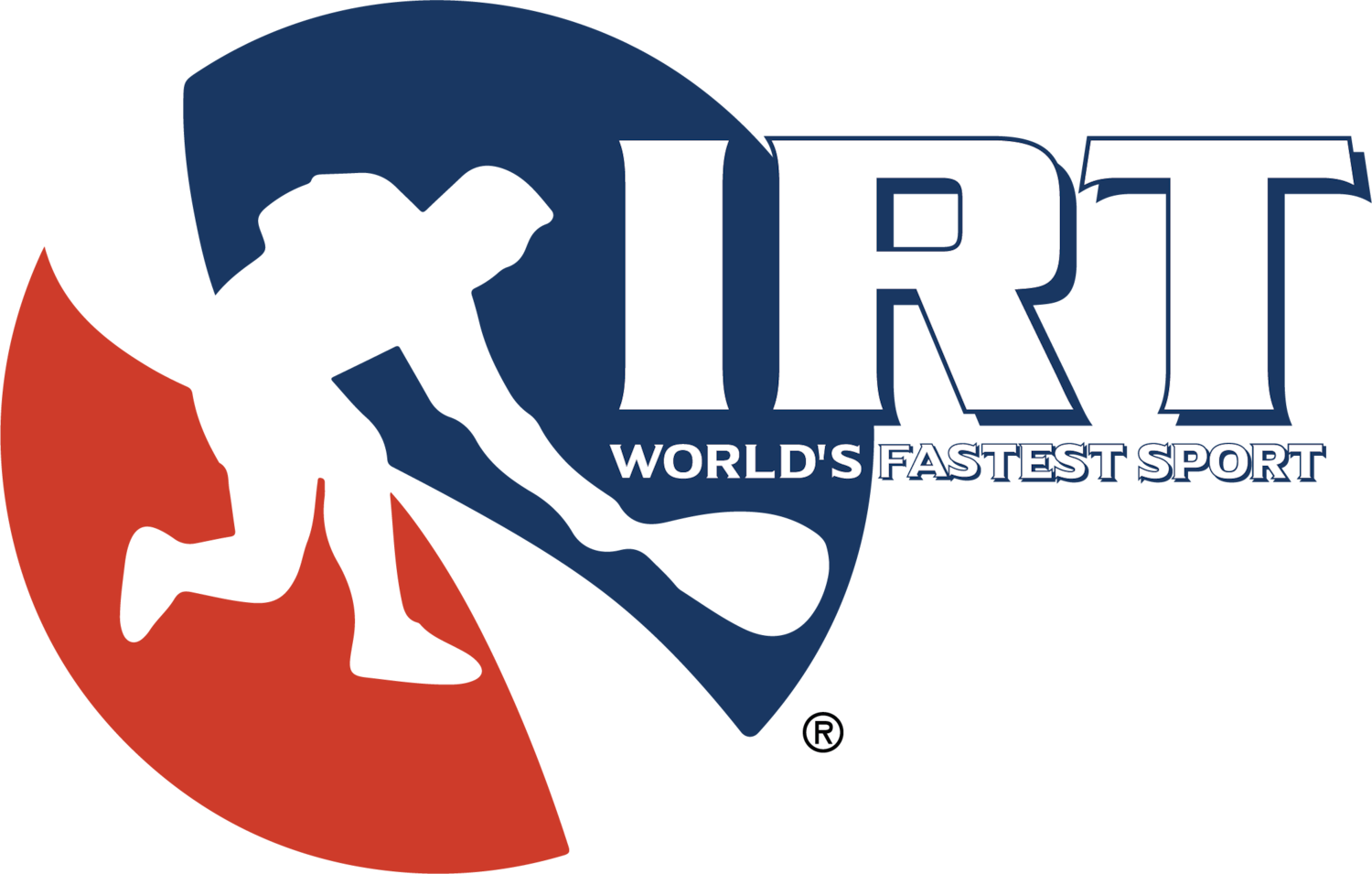 The IRT returned to the Recreation-ATL Fitness Center in Lilburn, Georgia, for the 2023 Williams Accounting & Consulting Open on President's Day weekend. We were so happy to be returning to this Grand Slam event and to be back at one of the best venues for racquetball in the nation. With the #1 IRT ranking on the line again, the excitement was palpable for pros and amateurs alike.
Big shout out to Donald Williams and all the event's sponsors; Tournament Director Mike Miller; our IRT sponsors; and IRT Commissioner Pablo Fajre and his technical team.
Going into the tournament, the IRT had seen a number of individual event winners emerge through the fall and winter. Conrrado Moscoso, Daniel De La Rosa, and Andree Parrilla all had tour wins, and then Jake Bredenbeck won in Portland in December to become the latest first-time winner on tour. De La Rosa won at the Longhorn in January but lost to Moscoso at the Lewis Drug tournament two weeks later.
This draw was a little different from what we normally see. Moscoso couldn't attend due to commitments in Bolivia, and Canadian Sam Murray returned after a few months off due to injury. Also, Javier Mar and Eduardo (Lalo) Portillo were out due to injury. The top Mexican and American players were coming off their respective national championships two weeks earlier.
Pro Singles Recap
In the Round of 32, there were a couple of interesting results. Bolivian Kadim Carrasco lost to Guatemalan #1 Juan Salvatierra, 15-8, 15-14. Even though these two are similar in stature on the world rankings stage, Carrasco has more tour experience, so this seemed like a bit of an upset. Jose Daniel Ugalde bested Erick Trujillo, 15-8, 15-11. Ugalde, not seen on the tour very often, would now play into Andres Acuña, who he defeated at the 2022 IRF Worlds. Erick Cuevas beat Jesus Guillermo Ortega in a gripping first-round tiebreaker. Ortega had beaten Cuevas in their last few meetings.
In the Round of 16, #4 Alejandro Landa held off the usually dangerous Jaime Martell in two. The biggest upset was #11 Sebastian Franco beating #6 Rodrigo Montoya with ease, 15-4, 15-11. Montoya did not appear to be playing his best this weekend while Franco turned the tables on his recent form to advance. Ugalde could not continue his run, and Acuña took him out with ease to move into the quarters.
In the Quarterfinals, everything went according to ranking: #1 De La Rosa beat Adam Manilla; #4 Landa defeated his long-time doubles partner Samuel Murray in a tiebreaker; #3 Jake Bredenbeck easily beat Franco, 15-8, 15-3, to make the semis for the 4th time in his last 6 IRT events; and #2 Andree Parrilla took out #7 Andres Acuña, 15-3, 15-4, to move into the semifinals.
In the Semis, De La Rosa got a walk-over against Landa (his doubles partner both this weekend and on the future 2023-24 U.S. Team) after Landa tweaked his ankle in their doubles match earlier in the day. Bredenbeck got a solid win over his long-time rival Parrilla to move into his 3rd final in his last 6 events.
In the Finals, De La Rosa and Bredenbeck played a close match, as expected, with De La Rosa winning 15-10, 15-12. De La Rosa claims his 11th career IRT title, and he is now tied for 12th all-time in the tour's history.
With Moscoso absent and De La Rosa's win, De La Rosa re-gains the #1 ranking on tour for the time being. And going forward for a while, it will be a dogfight at the top as both De La Rosa and Moscoso have varying results expiring; we may see more flip flopping. Portillo's absence costs him; he'll drop slightly in the rankings. Despite his early loss, Montoya will move up to #7. Adam Manilla moves up to #9, his career best.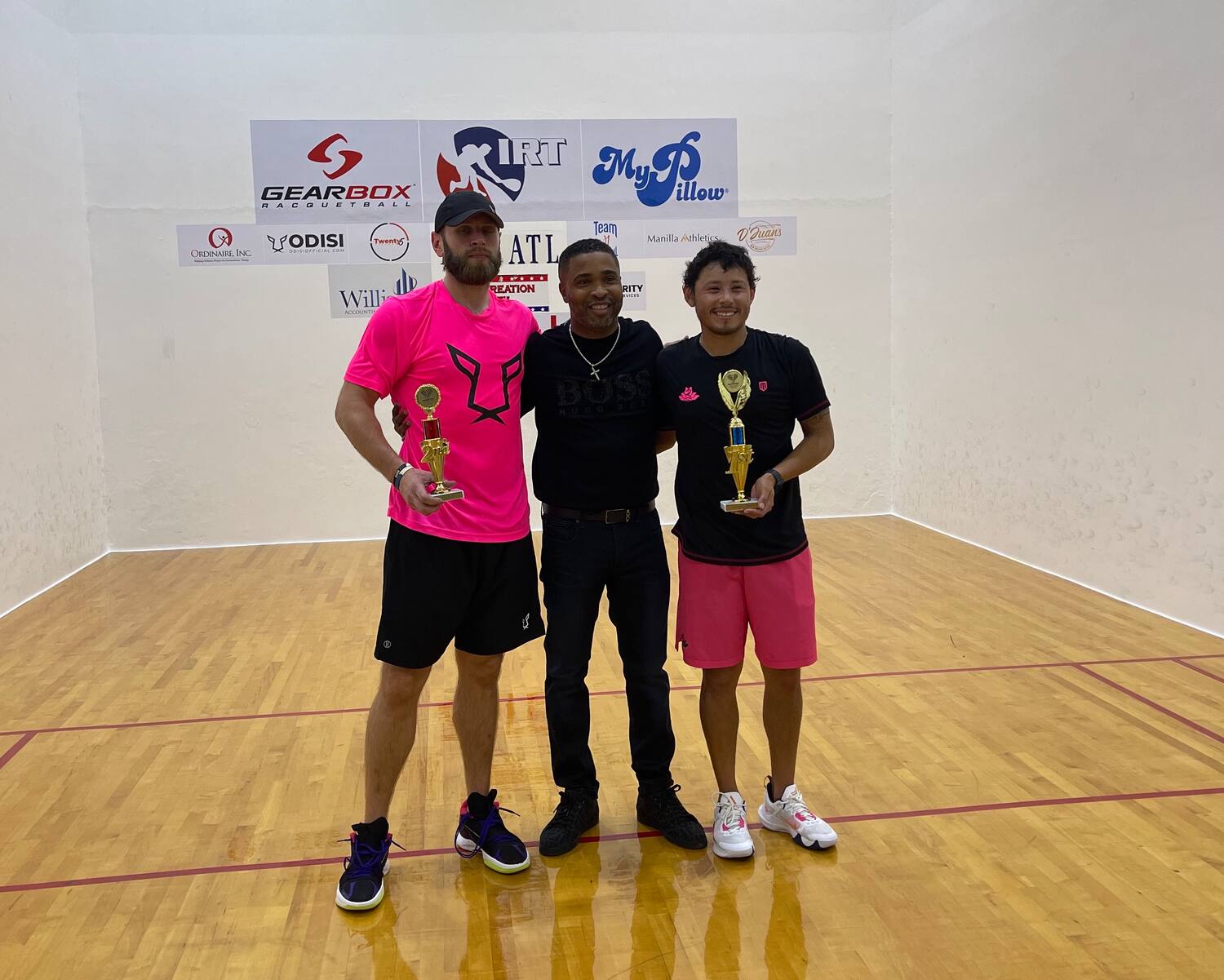 Jake Bredenbeck, Donald Williams, and Daniel De La Rosa

Doubles Recap
The doubles draw overall went according to seed, with the top 4 teams advancing to the semis and the top 2 teams to the final. The semifinal between #2 seeds De La Rosa/Landa and #3 seeds Murray/Bredenbeck was a tense, gripping battle. Despite Landa twisting his ankle, along with some controversy at the end, Landa/De La Rosa moved on to the finals.
Landa was clearly hobbled. His ankle was definitely an issue, but he has also had back troubles recently. De La Rosa took many shots that normally Landa would be handling. Parrilla and Montoya tried to work the ball to the right-hand side as much as possible; when it was left out in the middle, more often than not De La Rosa would bury it. The match still went breaker, but ultimately Parrilla and Montoya won 11-6 to take the doubles title.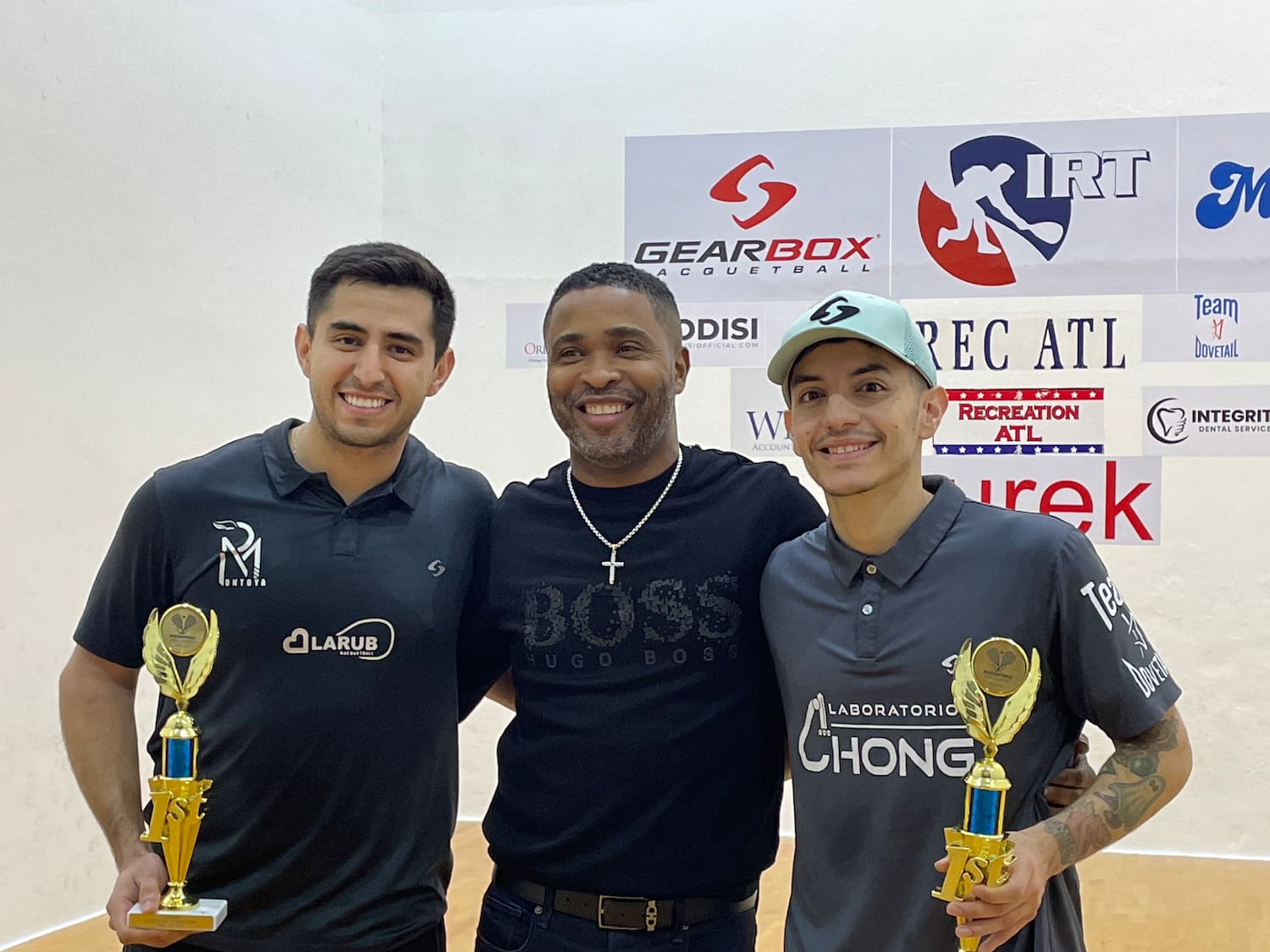 Rodrigo Montoya, Donald Williams, and Andree Parrilla

Congratulations to the winners!

Singles: Daniel De La Rosa

Doubles: Rodrigo Montoya and Andree Parrilla
View results here: https://www.r2sports.com/tourney/viewResults.asp?TID=39119
See more IRT statistics at: https://www.proracquetballstats.com/cgi-bin/results_front_new.pl?tour=IRT
Photos by Karen Grisz