USA Racquetball Membership – An Investment in the Sport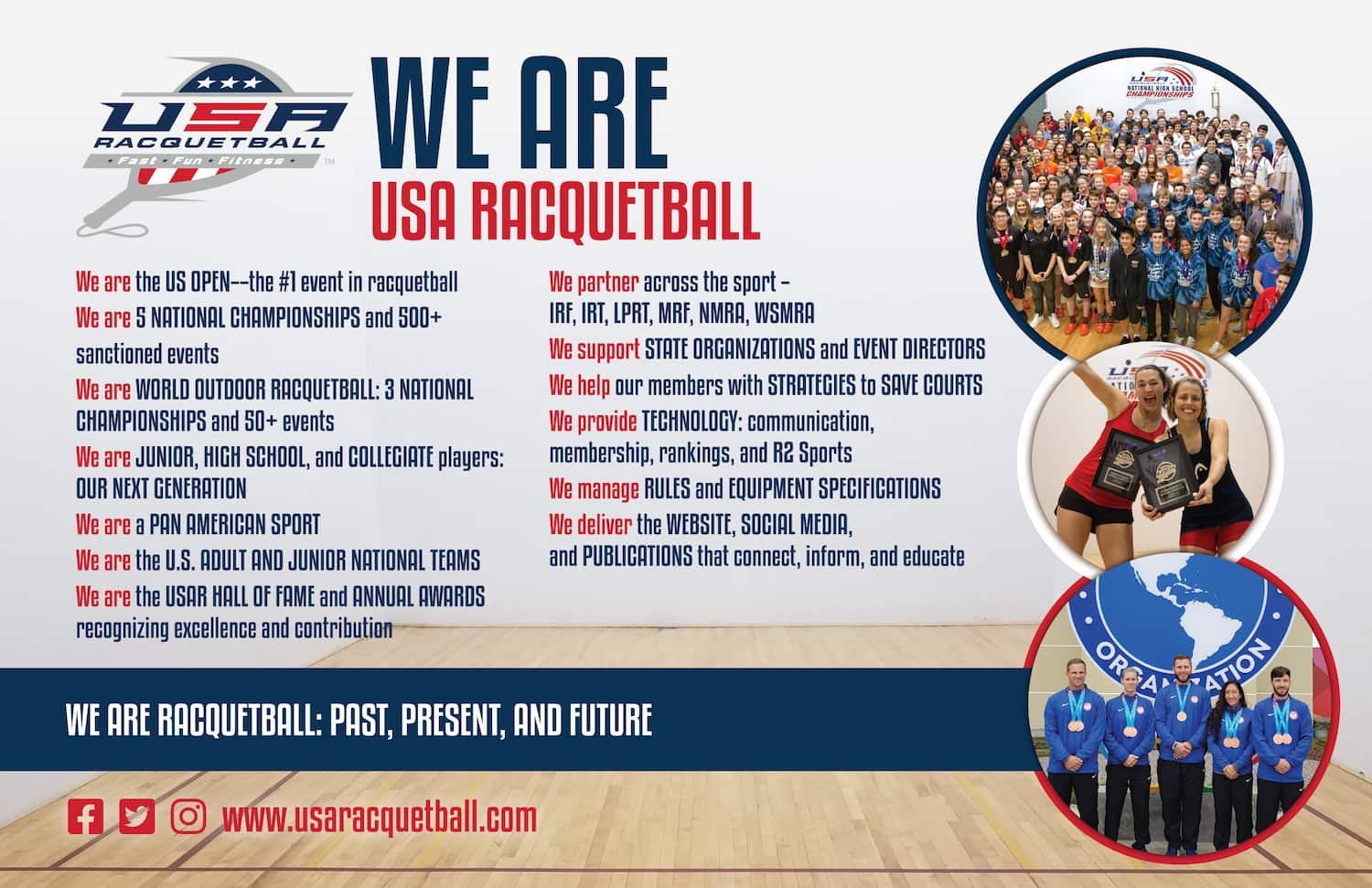 GREETINGS, FEBRUARY 2023 SERVING UP THE NEWS READERS: This article, with its links to more detailed value point descriptions, first appeared last month as a consolidation, to give our members and supporters access to a "one-stop shopping" collection of information. Why? To bring us all together in support of our National Governing Body, USA Racquetball. Please use everything here, including the links, to talk about Racquetball's infrastructure in the USA and what it brings to lives,from childhood to old age!
In August 2020, this We Are USA Racquetball infographic was created to answer these frequently heard questions:
"What does USA Racquetball do for our sport?"
"What does USA Racquetball do for me?"
The following article was published in September 2020's Serving Up the News, and what followed was a number of features that pretty thoroughly described how each of these 13 infographic points contribute to the total picture of USA Racquetball as the NGB (National Governing Body) for our sport. (Click HERE)
Everything written below still resonates currently as we move into 2023. Do you agree?
USAR realizes revenue growth via sanctioning and memberships, and from membership fees from national events. The value­­––the points on the infographic––USA Racquetball brings can then come to fruition.
But what happens when we don't have events…the National Championships and the US OPEN, and local and state events as well? Our culture has always been that members are reluctant to renew when they won't be playing in a sanctioned event for a while.
Will this infographic change our entire culture and inspire all of our expired and about-to-expire members to renew? Not by itself, but it does provide a resource to answer the questions posed by our members (past/present/future) when we ask them to renew/join.

In the present (2023, can we believe it?), the follow-on question–the Big One --becomes:
As we are hopefully seeing the pandemic in the rearview mirror and taking stock of the ongoing challenges in our sport, which of these things listed in this infographic are we okay doing without? When we have to go progressively leaner in order to survive, will racquetball players wish they had remained conscious of the fact that their $65/year ($5.42/month; 18 cents/day) membership renewals could have made all the difference?
It's ironic to contemplate that the mindset of, "I'm not going to renew my membership until I play tournaments again" could in reality equate someday to, "I'm not going to be able to enjoy tournaments anymore because I didn't renew my membership.
"What can you do to help? Well, please renew your membership! Be an ambassador –become familiar with the content and behind-the-scenes details of this resource, carry it in your phone, post it on the bulletin boards and racquetball hallways in your club. In essence, help others understand. Ask your state association board members what you can do to help.
To download/print the USAR Value infographic, please go to www.usaracquetball.com and choose About from the menu dropdown, then Resources and Forms, We Are USA Racquetball (PDF).

Together…We Are USA Racquetball!