WOR/Outdoor Racquetball Update – April 2023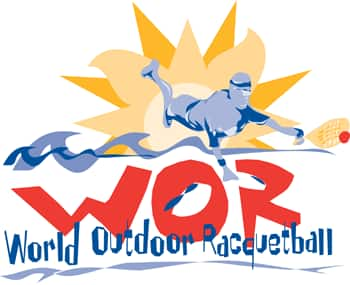 2023 Apcon Beach Bash Recap
The first leg of the Outdoor Majors is in the books. Let's take a look back at the fast-paced action at this year's Beach Bash, held on the historic Garfield Street courts in Hollywood, Florida.
Congrats to your Pro winners on the weekend:
Men's Pro Doubles: Daniel De La Rosa & Javier Mar

Women's Pro Doubles: Hollie Scott & Kelani Lawrence

Mixed Pro Doubles: Daniel De La Rosa & Hollie Scott

Men's Pro Singles:

Daniel De La Rosa

Women's Pro Singles: Veronica Sotomayor
R2 Sports app home page for event: https://www.r2sports.com/website/event-website.asp?TID=39926
Read on for a recap of all the Pro and Major draw action plus a quick update on the standings of the 2023 Outdoor Cup Series.
Men's Pro Doubles Recap
The Men's Pro Doubles draw was incredibly deep this year. Most of the round of 16 matches were coin flips, and six of them went tiebreaker. Once we settled down though into the semis, it was mostly chalk. The top 3 seeded teams advanced with straight-game wins, to be joined by the upstart 12th seeds of Marcos Gravier and Roy Hernandez, who took out #5 and #4 to make the semis here.
From there, it had to come down to #1 vs #2 in the final. Hall of Famer Ice Man Robert Sostre paired with former BB champ Benny Goldenberg to take on the current IRT #1 De La Rosa, playing this tournament with the underrated Javier Mar. The final was a shootout between DLR and Iceman on the left-hand side, with Sostre showing fast hands and Daniel showing even faster put backs. In the end, the two touring pros won a solid 8, 11 final to cap the weekend.
With the win, Mar repeats as Beach Bash Champion. But with this win, Daniel becomes the first male to win the career "Grand Slam" of Men's Pro Doubles events (Beach Bash, Outdoor Nationals, and Vegas). Several women's pros have done it (Rhonda, Janel, Michelle, and Aimee) but never a male until today. H/T to Vic Leibofsky for this observation.
Women's Pro Doubles
The 6th seeded former USA National Champs Kelani Lawrence and Hollie Scott took their first Outdoor Pro Doubles title together by ousting the #3, #2, and #1 seeds in order. First, they took out the NY pair of Ramos & Guinan, then they downed the pre-tourney favorites Muñoz & Laime in the semis before taking out the top-seeded team of Roehler and Sotomayor in the final in a breaker.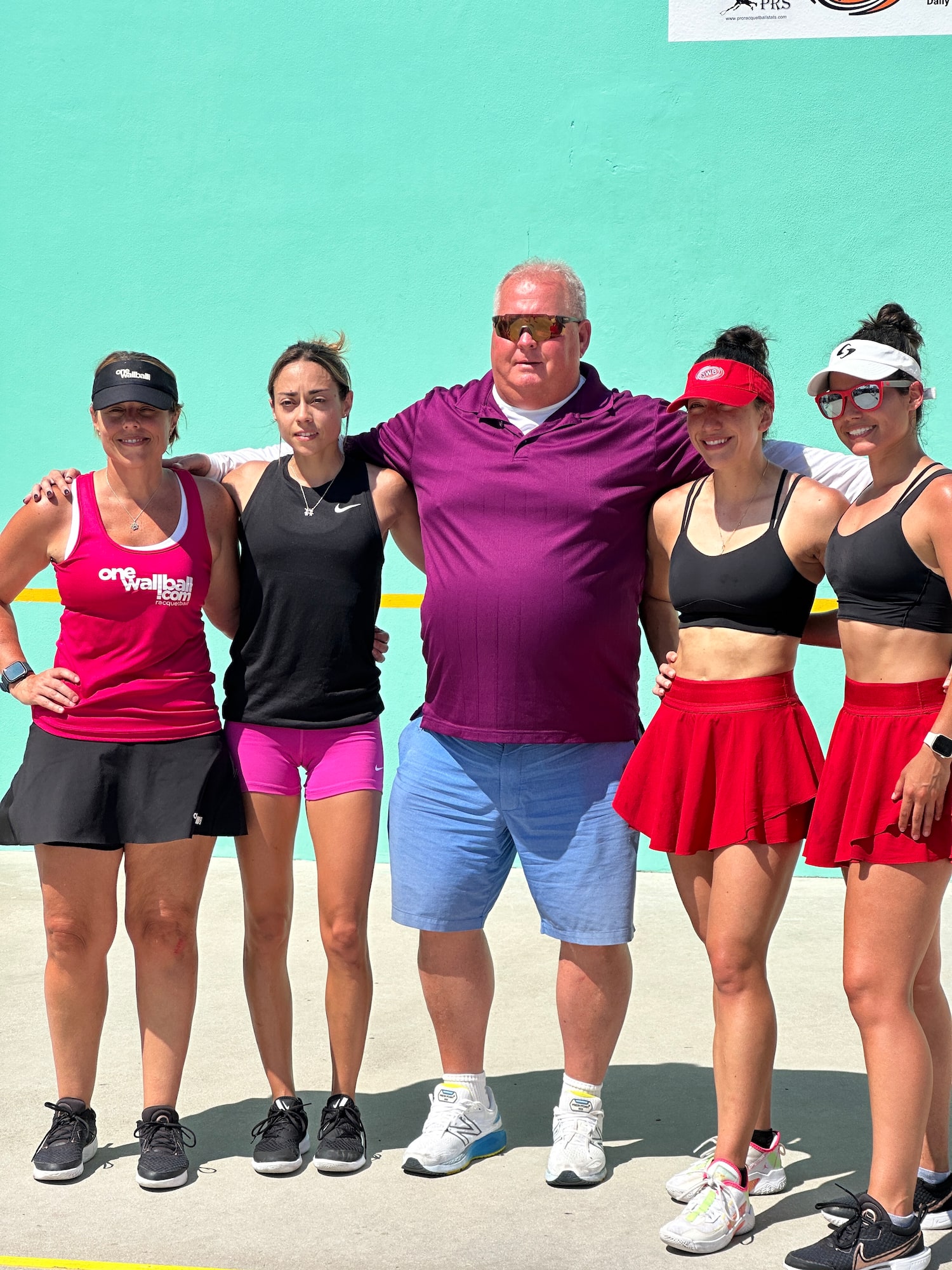 Aimee Roehler, Veronica Sotomayor, Mike Coulter, Kelani Lawrence, and Hollie Scott
Mixed Pro Doubles
De La Rosa repeated as Beach Bash Mixed champion, albeit with a new partner for 2023, winning the final as the #2 seed with Hollie Scott in a tiebreaker. They met two relative newbies to Outdoor racquetball in the final in Eduardo Portillo and Alexandra Herrera, who took out the #1 seeds Robert Sostre and Caridad Morales in the semis.
This win represents Daniel's 18th Mixed Pro Major outdoor title, his fourth in Florida.
Men's Pro Singles
Daniel De La Rosa blew through the singles draw, giving up a combined 19 points in three games to repeat as Beach Bash Singles champion. He defeated #3 seed Maryland native Dylan Pruitt in the final. DLR's adeptness at one-wall was apparent throughout the Thursday competition, mixing in soft slice lobs off of drive serves with pin-point accuracy of drive kills and angled passing shots.
Women's Pro Singles
Sotomayor, who had never played outdoor racquetball prior to this event and was thus seeded last, ground out victories against Carla Muñoz (who has won both 3-wall singles titles at the last two Outdoor Majors) in the quarters, Kelani Lawrence in the semis, then upset the 3-time defending Beach Bash Singles Champion Hollie Scott in the finals, 21-14. Sotomayor crushed her backhand all day, hitting bottom-board from shoulder height overhead serves and demoralizing her opponents. A great performance.
Other Notable Draws
- CPRT 40+ Doubles: Well, they say you can't teach an old dog new tricks. Tell that to the 48-year-old five-time IRT Champion Sudsy Monchik, who teamed with fellow 40-something Rocky Carson to take the loaded CPRT 40+ doubles draw. They topped two tough outdoor veterans in Joe Young and Thomas Gerhardt in the final, 11-8.
Two IRT legends teamed up, one with decades of outdoor experience in Rocky Carson, the other with almost none (and a broken hand to go with it) in Sudsy Monchik. They beat teams that included the best outdoor players Florida has to offer in Rob Mijares, Marcos J. Gravier, the #2 seeds Rolon & Sostre in the semis, then former BB champ Joe Young paired with #1 ranked 3-wall singles player Thomas Gerhardt in the finals.
- Men's 75+: in what turned out to be the biggest draw of the event (20) teams, the final had some familiar names and was a nice warm-up for the weekend's Pro Doubles. Two-time defending Outdoor Nationals champs Micah Rich and Jason Geis reached the final from the top half, while Rocky (who has won 11 Major Outdoor Pro Doubles titles but none in one-wall) partnered with Barcelo to reach the final from the bottom.
In an excellent final, Rocky/Barcelo took out Rich/Geis, 11-7 in the breaker.
- Men's 100+: Hall of Famer Marty Hogan teamed up with the venerable Richard Miller to take the 100+ doubles draw. They were seeded 12th out of 12 teams, and beat the 11th seeded team of Jose Nivela and Martin Gonzalez in the final.
Thanks for all the streaming from the LPRT video crew, with JT R Ball leading the way and bringing in all sorts of characters into the booth (including the Warrior, Sudsy, Mikey D, Vic Leibofsky, and the like).
Thanks to Tourney Directors Peggine Tellez, Jen O'Meara, Mike Coulter, and the entire 3Wall Ball crew for putting this event on and ensuring the legacy of outdoor majors.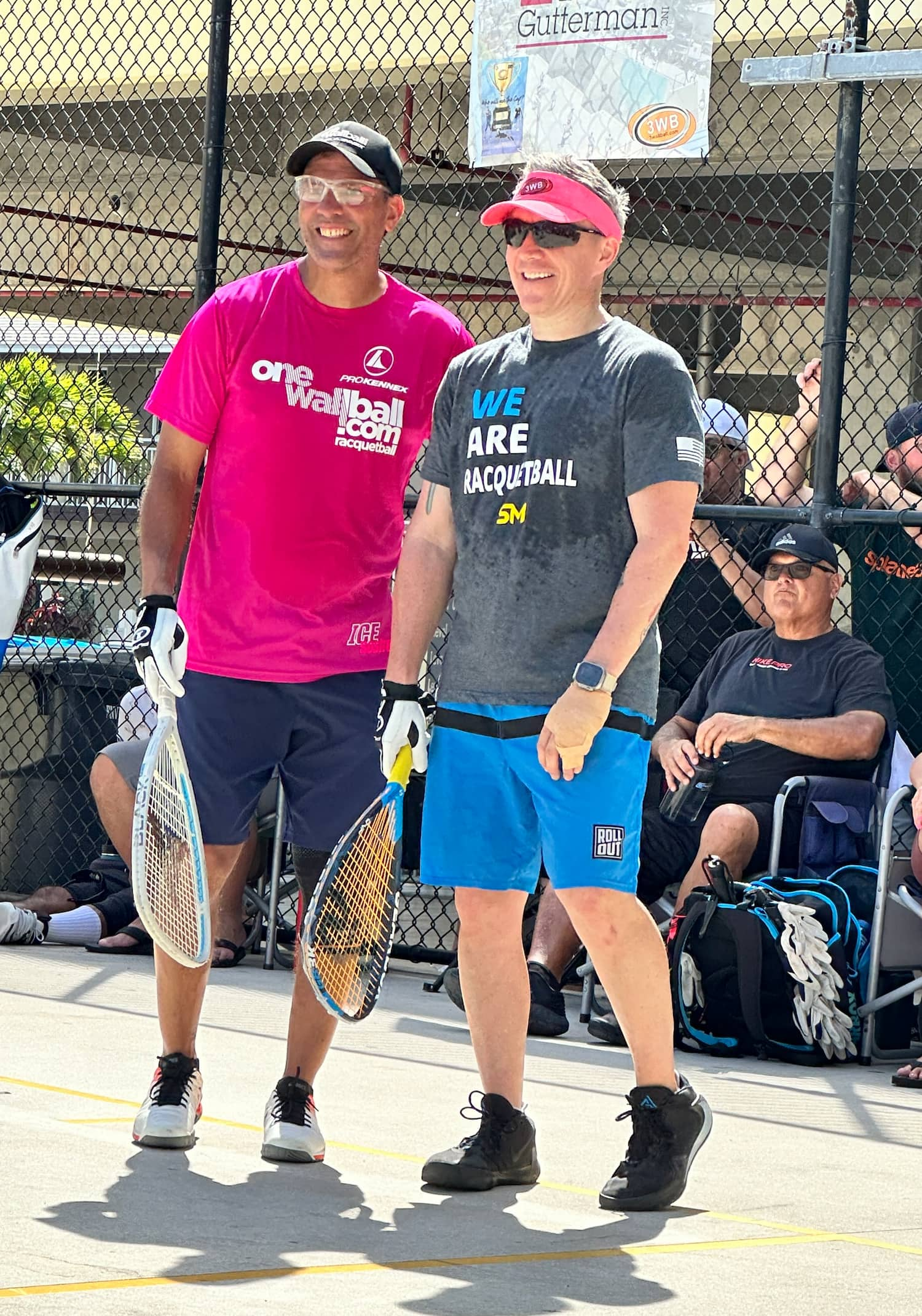 Robert Sostre & Sudsy Monchik
------------------
Beach Bash and Outdoor Tourney Reports on ProRacquetballStats.com:
Match reports for 2023 Beach Bash
Triple Crown Reports for all past WOR Major champions
Outdoor Cup Series 2023 Standings
The Cup Series is back for 2023; this is a year-long competition that captures the best performances in the three Outdoor Majors (Beach Bash in March, Outdoor Nationals in July, and 3WallBall in Vegas in September) and gives out prizes at the end of the season. This year's prize pool features cash prizes to the top two finishers along with a complimentary suite stay at The STRAT in Las Vegas.
The cup series for the Women is sponsored for the second year in a row by LPL Financial's Rosco Halsey and Jason Hupp. The cup series for the Men is sponsored for the second year in a row by KWM Gutterman and Keith Minor. Thanks to all parties for your continued support of Outdoor Racquetball.
The first Major is in the books, so let's take a look at who's in the lead.
Women's LPL Financial Cup Series Standings, Post Beach Bash
Here's the current Top 5 after Beach Bash:
| Rank | Player | Sum of pts |
| --- | --- | --- |
| 1 | Scott, Hollie | 400 |
| 2 | Sotomayor, Veronica | 255 |
| 3 | Herrera, Alexandra | 231.25 |
| 4 | Lawrence, Kelani | 206.25 |
| 5 | Roehler, Aimee | 167.5 |
Scott takes a commanding lead of the Cup Series after a dominant performance in Florida, where she took home both Women's and Mixed Doubles titles and finished second in the Pro Singles. Thanks to the size of the Mixed draw, her title there was weighted more heavily and propelled her to the top.
Sotomayor, who had never played Outdoor before, had a fantastic debut in Florida, taking the singles title over Scott and finishing runner-up in Women's Doubles. She sits in the second spot.
Top ranked LPRT Pro Herrera made the Mixed final and the Pro Women's Doubles semifinal to secure third place.
Rounding out the top five are Women's Pro Doubles Champ Lawrence and Hall of Famer Roehler (Pro Doubles finalist with Sotomayor).
Expect to see some changes in this top five, though, as the second leg in California features spacious three wall courts and has not generally seen east coasters like Roehler and Sotomayor make the trip.
For the full LPL cup standings, go to this Google spreadsheet here: https://rball.pro/0b1
Men's KWM Gutterman Cup Series Standings, Post Beach Bash
Here's the current Top 5 after Beach Bash:
| Rank | Player | Sum of pts |
| --- | --- | --- |
| 1 | De La Rosa, Daniel | 500 |
| 2 | Mar, Javier | 343.75 |
| 3 | Carson, Rocky | 312.5 |
| 4 | Sostre, Robert | 268.75 |
| 5 | Monchik, Sudsy | 250 |
De La Rosa takes a commanding lead and is the favorite to repeat as Cup champion. He entered three divisions in Florida and won, taking maximum points. Mar sits in second on the back of being DLR's doubles partner for the win.
Rocky surprisingly sits in third place. He did not enter Singles or Mixed in Florida and was upset early in doubles but got the win in the large CPRT division.
Hall of Famer Sostre sits in fourth with a finals appearance in Pro Doubles and semis in two other divisions.
Surprisingly in 5th place is Monchik, a relative newcomer to Outdoor who entered just one division (CPRT) but won it and now has an outside chance at moving up if he competes in the next two outdoor events.
For the full cup standings, go to this Google spreadsheet: https://rball.pro/3x8.
Mark Your Calendars for These Upcoming Outdoor Events for 2023
Here's a quick guide to known upcoming WOR/Outdoor racquetball events.

April 30, 2023: Spring Fling Racquetball/Paddleball, Stratton Woods, Herndon, Virginia
Tournament Director: Maddie Melendez
https://www.r2sports.com/portfolio/r2-event.asp?TID=40731

June 4, 2023: Capital City WOR Championships, Stratton Woods, Herndon, Virginia
Tournament Directors: Carrie Hoeft & Amie Brewer
https://www.r2sports.com/website/event-website.asp?TID=40627

July 15-18, 2023: Outdoor Nationals, Marina Park, Huntington Beach, California
Tournament Directors: Geoff Osberg & Jesus Ustarroz
https://www.r2sports.com/website/event-website.asp?TID=40547

Sept 10, 2023: Florida Outdoor Series, Forbes Recreation Center, Clearwater, Florida

Sept 27-Oct 1, 2023: 14th Annual KWM Gutterman 3WallBall, Las Vegas, Nevada

Tournament Directors: Mike Coulter, Peggine Tellez, and Jen O'Meara
https://www.r2sports.com/portfolio/r2-event.asp?TID=40604

November 5, 2023: Florida State Outdoor Championships, Davie, Florida